INSIDE

RI

NGSIDE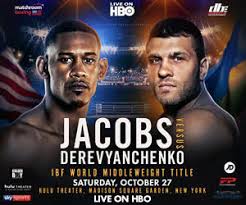 Eddie Hearn and his band Match Room Promotions are not the Beatles or The Rolling Stones, still his pugilistic British invasion resembles a inaugural rock tour of the USA.
Story by Frank Bartolini
Things got started in early October in middle America. A couple weeks later the British Invasion landed in Boston, then "The Big Apple" New York City seven days later. All these nights featured championship fights and numerous world class boxers.
Excited boxing fans from around the five boroughs of New York City filled all the 5,600 seats in the Hulu Theater at Madison Square Garden. Whether their warrior won or lost every one of them departed knowing they got bang for their buck.
A stirring Main Event pitted former WBA Middleweight King Danny Jacobs, Brooklyn, against Ukrainian Sergiy Derevyanchenko, who now also lives in Brooklyn NY for the vacant IBF Middleweight Championship of the world. Some people may have looked at this matchup as Jacobs being spoon fed a title. Derevyanchenko only had a dozen bouts entering the contest without much exposure. Regardless of that, the insiders were still whispering the outcome was a toss up.
Wasting little time feeling each other out. Lighting their fuses both released bombs with Sergiy getting the better of the exchanges. Gaining momentum, Derevyanchenko had round one won when with only a few seconds left an overhand right to the head from Jacobs,159.6 lbs., had the Ukrainian hitting the floor. Jacobs carries 160 pounds in a big way, his biceps look like they belong to a heavyweight. Leaving his corner for the second, Derevyanchenko, 159.4 lbs., showed no ill effects from his fall. Having mastered the art of cutting off the ring, Sergiy kept cornering or backing Jacobs against the ropes, scoring with heavy shots in the process. Derevyanchenko continued to have hit Jacobs to body throughout. Offsetting the offensive in front of him, Jacobs bounced hard leather off his foe's head. Ten rounds of oohs, aahs and roaring cheers left the alacritous throng wanting to witness the championship sessions. Not disappointing the faithful, both soldiers willingly engaged in a slugfest the last six minutes. Once the final second ticked off, the house cleared their lungs with a booming loud approval.
Sometimes a tenseness is felt when waiting to hear a decision in a close match. Those moments slow down the clock as each second feels longer than the previous. A that moment, Ring Announcer Miguel Flores put the microphone close to his mouth "Ladies and Gentlemen……" and went on the announce Danny Jacobs as the new IBF middleweight king by split decision. Julie Lederman 114-113 had it Derevyanchenko , but she was overruled by Tom Shreck and Steve Weisfeld 115-112 both for Jacobs.
After giving kudos to Derevyanchenko , Jacobs said "We absolutely want Canelo. It's a fight the fans want. Now that I have the belt there will be more in the pudding for everyone."
With Canelo and Jacobs both connected to streaming sports network the DAZN this fight could be happen soon.
Even though Derevyanchenko lost, he has proved himself among the elite in the talent laden middleweight division. Suffering his first loss Sergiy's record is now 12-1 (10 KO's). With a new belt to hold up his pants Jacobs now marches forward with a 35-2 (29 KO's} slate.
Lou DiBella's DiBella Entertainment partnered with Match Room to promote the show.
Negotiating a big dollar deal with DAZN to promote thirty two fights a year, Hearn has decided to finally enter the American market.
Tevin Farmer KO's James Tennyson in 5 to retain IBF World Super Feather Title
Story by Frank Bartolini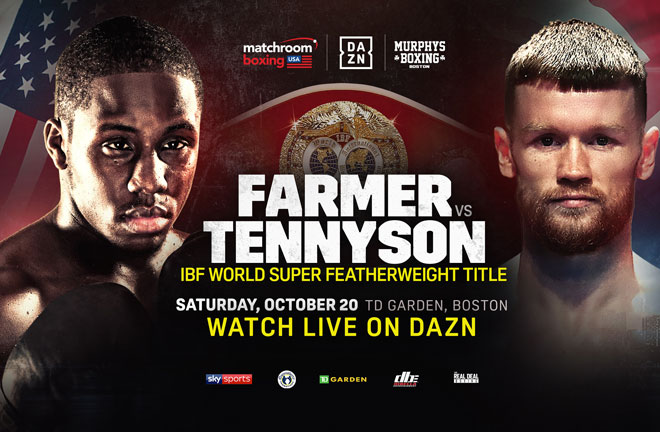 Over 8,500 fight fans filled the TD Garden, formerly known as the Boston Garden, and nearly a thousand of them traveled from Great Britain and Ireland. The majority of the remaining were "Southies" (Boston residents of Irish descent from southside of city). "Southies" are a group of devout Roman Catholics who take no crap and fanatically support anyone connected to the Emerald Isle. Most of those in the crowd had surnames such as O'Grady, Malone, McQuade, Sullivan and so on.
This was the hostile environment that newly minted IBF Super Featherweight Champ Tevin Farmer, 28, had to endure when making his first defense against Belfast, Northern Ireland citizen James "The Assassin" Tennyson. A native of North Philly, Farmer did not let this distract him from his mission.
Not long after the first bell chimed, a fired up Tennyson, 130, began aggressively pursuing Farmer, 129.6. This seemed to disrupt Tevin's rhythm and when the session ended, the crowd, which included Ireland's own WBO featherweight champ Carl Frampton and the pride of Irish scrappers Conor McGregor, erupted in loud and enthusiastic approval. Physically bigger and appearing to be stronger, Tennyson, 25, adorned in velvet green trunks, was effective in landing sneaky right uppercuts to Farmer's head.
Signs of what were in store for Tennyson began to surface as the fleet-footed champion planted his toes and started scoring quick and accurate combos to the head and digging hard shots to the body. A precise left to the liver from the southpaw Farmer dropped Tennyson in the fourth.
Farmer continued hurting Tennyson with blows to the gut early in the fifth, and then finished off the challenger with one last laser sharp smack to the liver, leaving the Irishman hitting the deck on all fours wincing in pain. Seeing this, Referee Arthur Mercante Jr. jumped in waved things off at 1:21 of the session. It may have seemed Mercante pulled the trigger a little to quickly, but the lack of complaint from Tennyson's staff certified that it was the right call.
Without a doubt this was the performance of the evening. Considering the volume of world class boxers on the fight card, it was an honorable accomplishment for Tevin. As trainer Chino Rivas unwrapped the Lou DiBella Promoted Farmer's hands, it did not go unnoticed the amount of attention paid to him by Match Room promoter Eddie Hearn.
Standing in the ring in his furry pink and lime green attire, Farmer thanked him team and went on to say, "I pushed the fighter who was trying to push me back. I got the belt and I want Gervonta Davis."
It has been eighteen months since this writer watched the mouthy Gervonta Davis get in Farmer's face, spewing smack from his lips in the lobby at the MGM National Harbor in Oxen Hill, Maryland. This took place after Tevin's stablemate Jason Sosa lost in his bout against Vasily Lomanchecko. A group of Davis' friends from Washington D.C. got their kicks listening to his diatribe. Who is laughing now as Davis runs around partying at close to a 160 pounds with pal Adrian Broner? Meanwhile, anyone around the Philly fight scene will tell you Farmer is always fit, continues to train whether or not he has a scheduled bout. By showing improved power in his last few outings, the pundits are now making Farmer the favorite against Davis.
Going home across the Atlantic, Tennyson licks his wounds with a 22-3 (18 KO's) mark. Scheduled to compete again on the Canelo vs. Fielding show at Madison Garden on December 15, Farmer raised his record to 27-4-1 (6 KO's).
 
Pleasing the fans with their second American promotion, Match Room partnered with Boston-based promoter Murphy Boxing.
– October 20, 2018.
Gary Russel Jr. outpoints Joseph Diaz to retain his WBC Featherweight Title
– Story by Frank Bartolini –
Photos courtesy of SHOWTIME Network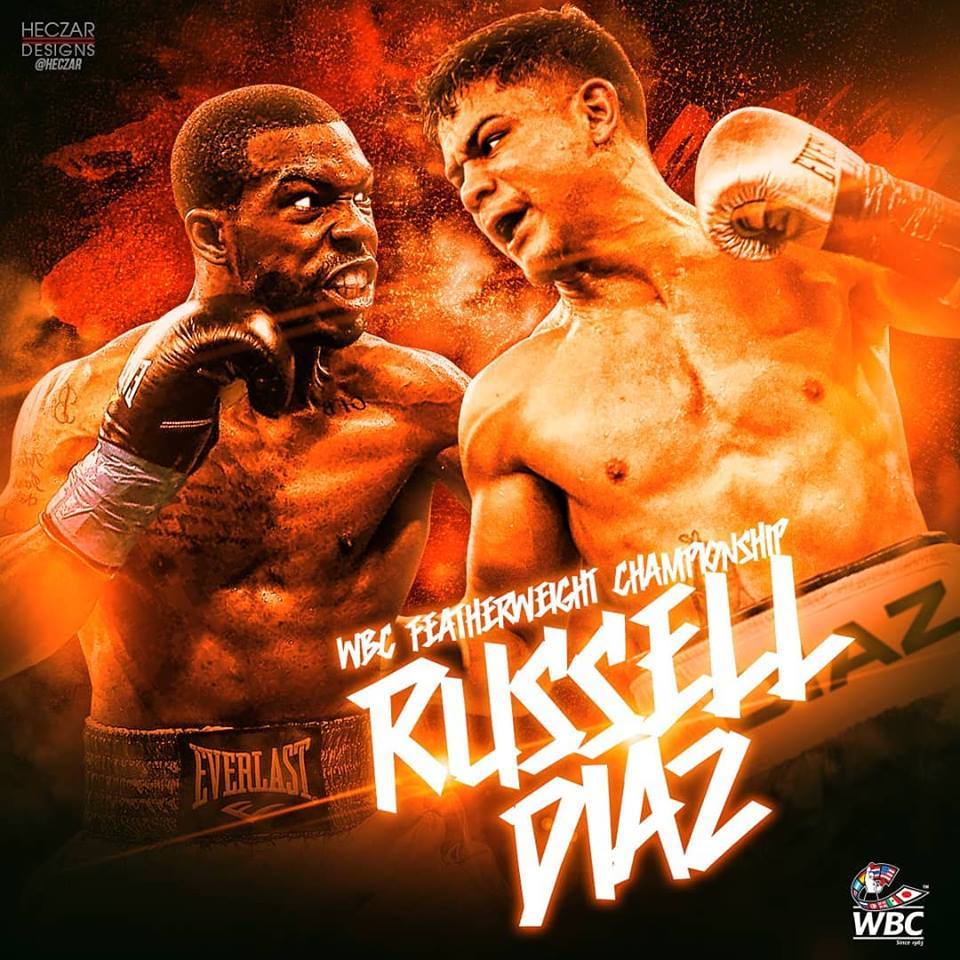 MGM National Harbor – Oxon Hill, MD. Nothing better than taking a ride down south down the east coast from the Jersey Shore to southern Maryland during late spring. Checked in at the Red Roof Inn in Aberdeen, Maryland, then scooted down Interstate 95 for approximately forty-five minutes until arriving at The MGM Grand in Oxon Hill.
Drawing a crowd of spectators from the DC/Baltimore insures a sellout and a good atmosphere. As of this writing, DC is home for three world champions, Gervonta Davis, Jarrett Hurd and Gary Russell Jr. A few more top-ranked contenders and a talent pool of prospects continue to feed the system.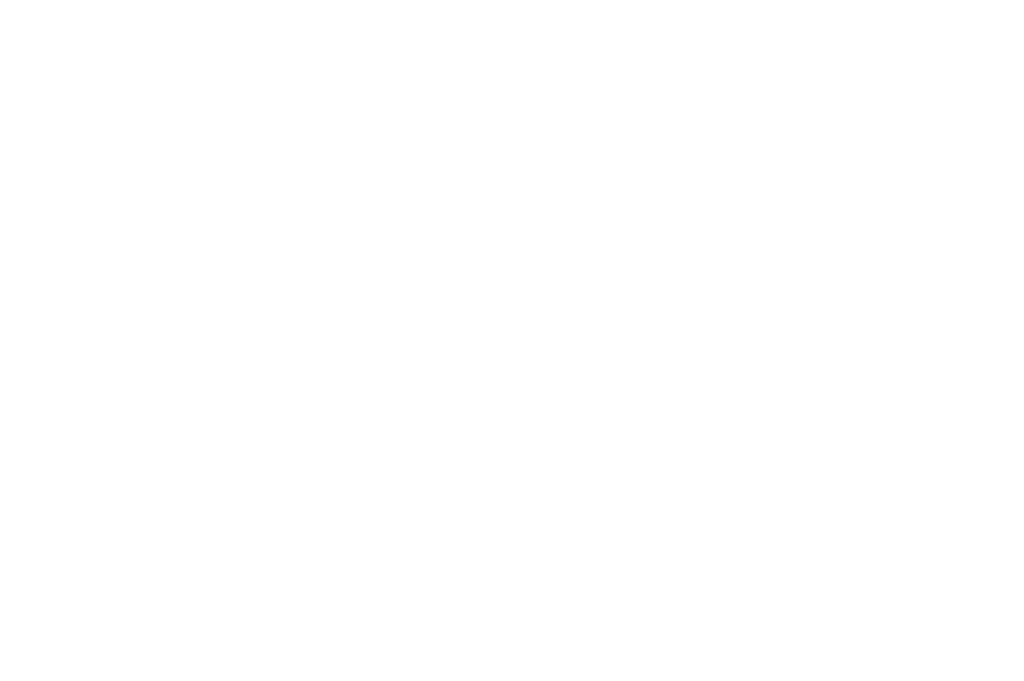 On this night, Gary Russell Jr, of Capital Heights, MD, headlined in a World Boxing Council World Featherweight title defense vs "Jo Jo" Diaz, of Downey, CA.
Twenty-one year-old Diaz, 126, is a personable young man, that has star power. Not only that, he has the skills, focus and pop in his punch to achieve it. Much to the surprise of those on hand, Diaz gained control of the contest early, backing up Russell, 125 ½, and landing hard right uppercuts to the champion's body. These blows by Diaz had Russell disturbed and the able veteran quickly looked to adjust. Originally when Russell retaliated by turning up the heat by releasing a larger volume of strikes, the challenger was able to match his foe's offense.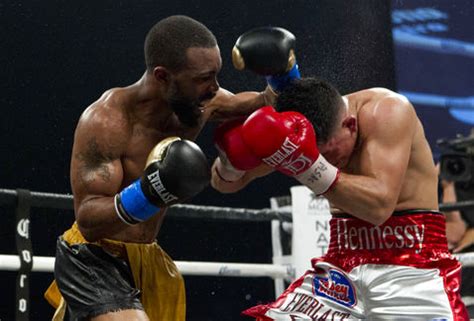 Momentum shifted to Russell's favor in round seven as Diaz absorbed swift combo's to his head. As Diaz slowed down Russell quick pace took over the proceedings. Experience and guile worked in Russell's favor helping him finish strong to earn control of the contest and the unanimous twelve-round decision.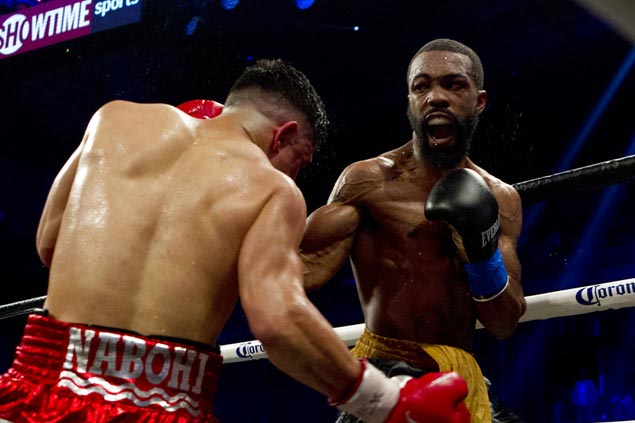 "My speed offset everything he tried to do coming forward," said Russell as he raised his record to 29-1 (17 KO's).
Diaz fell to 26-1 (14 KO's) with the loss.
Two thousand fans bought every seat in the sold-out venue. The show was promoted by Tom Brown Promotions injunction with Premier Boxing Champions.
By displaying an abundance of ability, Diaz has become a piece in the vastly talented featherweight division. Jumping back into the thick of things, Diaz, 25, will soon be challenging Jesus Rojas in his next fight for the World Boxing Association featherweight belt.
After the bout, Russell, 30, indicated that he wanted to unify the alphabets. By maintaining a light schedule, Russell has diminished his own appeal. No one has even heard rumors of Russell getting the weight class' two big names WBA king Leo Santa Cruz or Carl Frampton in the ring. Until Russell can lasso a big match he has options against tough opposition such as the UK's Scott Quigg, Lee Selby, or recently crowned IBF emperor Scott Warrington. Victories over any of those three English gentlemen would up Russell's stock. Snatching Warrington's laurels away from him would make a Santa Cruz match too enticing not to make. Most importantly, Russell needs to engage his fists more often.
If this soup is stirred right, the 126-pounders have many good dishes ahead of them.
-May 19, 2018
Around and about the United States
– with FRANK BARTOLINI –

The Young and the Restless

Philadelphia PA 2300 ARENA 5/12/28 For all the fights that have taken place over the last hundred years or so in this municipality, one thing never occurred. That being said,  Showtime network broadcasted a show from the city on the Delaware River.

On this night the up-and-coming promoting team of Will Ruiz and Manny Rivera of Hard Hitting put together a event worthy of  the cable network. Headlining the night, nineteen year old Devin Haney, Las Vegas, Nevada displayed hand speed great footwork and talent beyond his years. By doing so, Haney,134.75 lbs.,  hard punchng Mason Menard, Rayne, LA. Outclassed by the teenager, Menard, 134.25 lbs., did not score a significant punch throughout the fray. Potential is a understatement when referring to Haney's future. Already this early in his career Haney's skills and athleticism can be compared  to just about about any active prize fighter. From the first bell until the conclusion Haney dazzle spectators with defensive ability that did not allow a effective blow to score on him. Both the USBA and NABF vacant lightweight titles were on the line in this ten rounder.

With no chance at victory, and beginning to get banged up,  Menard did not answer the bell for the tenth. Owning two new belts to hold up his pants Haney rises to 19-0 13 KO''s. Menard,  who was a win away from a title shot eighteen months ago, has now lost and been stopped two out of his last three bouts falling to 33-3  24 KO''s.

Another match on this ShoBox broadcast saw Glen Dezurn, Baltimore, MD, engage in a lively scrap versus Joshua Greer Jr, Chicago Ill. Both these junior featherweights had both power and skill.These were even until Greer,122.25 lbs.,  got to  Dezurn, 122.25 lbs. in round eight  of this planned ten rounder. A minute into the session Greer Jarred Dezurn with a left  hand straight right to the head. Twenty three year old Greer followed up on his advantage and Dezurn crumbled. Gamely rising to his feet Dezurn could not fend off Greer. As Greer punched away at a cornered Dezurn the referee jumped in to halt it at 1:47 . Greer moves on at 17-1-1 9 KO''s.  Dezurn drops to 9-2-1 6 KO''s.

Knockout of the night belong to Craig Duncan, Apopka, Fl. Duncan, 175.75 lbs.,  who pole-axed David Murray, Wilmington, Delaware 2:45 of the fourth of six round bout. A booming overhand caught Murray,176.5 lbs., on the chin. Upon impact Newton's law of gravity took hold as Murray fell face first onto the canvas. Murray regained his consciousness holding a record of 7-2-1 6 KO''s. Limited in talent department Murray has vast amount of  power and strength lifting his resume to 11-1-1 8 KO's.   
Frank at the Fillmore
Hard Hitting Promotions of Philadelphia runs a regular series of fight cards throughout the city. Having a winners corner vs losers corner is normal for their events. Partners Manny Rivera and Will Ruiz of HHP have a few tough boxers in their stable that they guide along by getting them wins, excuse me, I meant fights on these nights. Though they sell slots to fill out the bout sheets, they still deliver a quality product that has a huge fan base.
This evening's affair was stage at the Fillmore Theater. Fillmore is a first class venue that is located in the shadow of The SugarHouse Casino.
Promoters Rock Nation, and Greg Cohen had fighters engaging in combat during the evening's battles.
Topping things off Philadelphia native, tough Ray Serrano, 146.8 lbs, fringe contender/clubfighter status took a backward step towards being a journeyman after dropping a ten round unanimous nod to young prospect Malik Hawkins of Baltimore. Weighing in at 146.1 lbs, Hawkins started strong backing Serrano up, scoring sharp stinging shots to his head. At the halfway point Hawkins seemed well ahead by scoring hard shots to the body and cranium . Serrano was staggered in the fifth when he caught a combo with his scalp. A very skilled boxer who unleashes straight precision streamline punches Hawkins has a tool box full of talent. Somewhat outclassed Serrano put forth a effort that entailed brawling and rough housing . Adopting this strategy Sarrano made things interesting. While landing more punches the last few rounds, Serrano looked to close the gap, still that was not enough to capture victory.
All three judges saw it for Hawkins, who is promoted by Greg Cohen. Final scores were 97-93, 98-92, 96-94. Hawkins stays undefeated at 13-0 , 9 KO's. Serrano drops to 24-5, 10 KO's.
Many people around the sport of boxing would tell you Rock Nation's boxing is on the ropes because of their big name fighters Andre Ward retirement and Guillermo Rigondeaux advancing age. Rock Nation still has a number of prospects in the paddocks. One of them being twenty one year old, heavyweight Darmani Rock of Philadelphia. Rock is loved within the city limits.
Always soft around the middle, Rock took his poor conditioning to another level weighing in at a career high of 262 lbs. Facing a portly soft touch, Ronny Hale of Austin Texas, Rock finished off his foe at 1:07 of the second. Hale rolled into the ring at 280 lbs. Hales sinks to a lousy 4-12 4 ko's. Having talent and good punching power Rock's will have to overcome his excessive girth to advance into the rankings down the road. Rock moves up to 11-0 7 ko's.
Young eighteen year old Branden Pizarro, Philadelphia, PA. has the most potential of Hard Hitting's prizefighters. Coming back from his first loss Pizarro, 139.3 lbs, cruised to a unanimous four round shutout victory over Pablo Cupul, San Diego, California. A game effort by Cupul , 138 lbs let him hear the final bell. No doubt what the judges scores would be Pizarro won by scores 40-36 across the board. Pizarro rises to 9-1, 4 ko's. This was Cupul twenty fourth loss with just nine wins four of those triumphs by kayo.
Aftermath: Hard Hitting perseverance has paid off by landing a Showtime Shobox promotion that will air May 11th from Philadelphia's 2300 Arena and it looks to ba a good show.
When slick Las Vagasian Devin Haney's tows the line against power punching Mason Menard of Louisiana in the Main Event.
Evander Holyfield's Real Deal Promotions sells out Philly venue 
Philadelphia, PA: Having former heavyweight champion Evander Holyfield doing a meet and greet at every show where they promote Real Deal Promotions fills seats in the entire venue that host their fight cards.
SugarHouse Casino has become a hot spot in The City of Brotherly Love to present pugilism. Every evening of professional fist fights since its inaugural boxing event in August of 2016 has been a sellout. Bursting at the seams with humanity, close to fifteen hundred guys and gals crammed into the conference hall for Real Deal Promotions first fight card in Philly.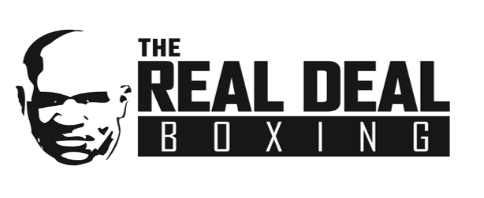 SugarHouse respects the attention boxing pro boxing has brought to the relatively new casino. A first rate move by the gambling house was to bring in two other heavyweight champs,  Michael Spinks and Larry Holmes, who were both in attendance.
Steve Ortiz, of Philadelphia, PA, sent the crowd home early by steamrolling an ill-prepared Joshua Davis of Washing DC. Not long into the second Ortiz, 133.75 landed a left hook to the chops felled Davis. Arising to his feet, Davis, 133.25 lbs, hit the deck again courtesy of an Ortiz right that crashed up side to his head. Once again Joshua stood upright only to get dropped again by a right hand cross to his face. No count this time as ref waved it off. Official time was 2:21 of round 2.
Ortiz is now 8-0 (3 KO's). Joshua takes the Beltway home with a 11-3 (5 KO's). Joshua has been stopped his last two fights.
While fans began exiting, Craig Houk, a retired journeyman from the late eighties to a couple years past the turn of the 21st century, introduced me to Ray Shields. Shields aka Sugar Ray Seales was the sole Boxing Gold Medalist from the USA at the tragic-filled 1972 Summer Olympics in Munich. During our ensuing conversation it blew my mind when Seales pulled his Gold Medal out of his pocket. Never before have I been this close to one. Noticing I was unable to hide my excitement. Mr. Seales than draped the hardware around my neck. Suddenly a bolt of energy shot through me as all those Olympic memories ran through my mind. There was the newsreels of Jesse Owens in Berlin, George Foreman waving miniature US flags following his Gold medal winning effort, and Franz Klammer death defying downhill ski run among others. What a mesmerizing  instant of time. Sincere thank yous for sharing your gold piece Mr. Sugar Ray Seales.
Winter at Champions Rest
Winter at "Champions Rest" consisted of cold rains and nor'easters.  Although thunder, snow, and outright frigidity enveloped the great state of New Jersey, that was not enough to stifle Atlantic City's slowly re-emerging fight scene. No major attractions yet, as all these evenings consist of club shows.
Expanding their horizon, LaManna's family Rising Star Promotions moved this show to the recently reopened Showboat Hotel. The Showboat Hotel and Casino fell under the knife in the summer of '14, when several casinos were shuttering the doors and walking away from a one-time thriving casino resort. Around the same time the AC boxing scene became non-existent.
Going into the Christmas season of 2015, the "City by the Sea" trans-substantiated. An epiphany of a soon to be future as Rising Star Promotions promoted the first of a regular series of standing room shows at the Claridge-Radisson Hotel. After proving club shows could be successful in AC, other promoters began following Rising Star's lead. These days professional pugilism is almost a monthly happenstance at the shore.
It was the first night of fights at the venue in eight years.  Showboat Hotel was recently purchased for a mere twenty three million clams by Philly investor Bart Blatstein. For the moment, though, the Showboat stands as a hotel with some restaurants, while Blatstein is in the process applying for a casino license.
Consequently, this left attendees positioning their buggies three blocks away. No problem for this author whose waterproof Van Heusen fedora managed to keep his locks dry.  Faded signs from this dwelling gambling era greeted patrons. On top of the building the huge lettering that spelled out Showboat are no longer a glistening beacon. Viewing these dimly lit alphabets was actually agonizing for this lifelong "Jersey Boy".
Through revolving doors hotel guests queued to check in and fans waited patiently to purchase tickets. On the other side of the room a curtain stretched out over one hundred feet, behind loomed a prize ring where once stood, blackjack and craps tables intermingle with slot machines and roulette wheels.
In that squared ring beloved popular New Jersey fan favorite Thomas LaManna, of Millville, NJ looked to have done enough to beat Gabriel Bracero, Brooklyn, NY, but had to settle for a ten round draw. With both combatants sporting good records and impressive reputations, each one knew a victory would propel them to a world ranking. Bracero is promoted by Dibella Entertainment.
Twenty six year old LaManna weighed in at 146.3 lbs., meanwhile eleven years his senior Bracero was a pound lighter at 145.3 LBS.
Keys to victory were simple LaManna had close to an eight inch height advantage and had to keep Bracero on the end of his punches. Meanwhile, Bracero needed to work his way inside.
Lamanna's strategy was more effective taking the first half of the contest backing Bracero up behind a stinging jab. Around the midway point Bracero began to out hustle his foe. Landing blows to LaManna sides. Sensing a momentum change LaManna dug deep and outfought Bracero in the seventh. During the eighth stunned LaManna with straight rights to the chin. Going into the final round Bracero had come back enough to make the decision ambiguous. Discerned by this possibility, LaManna planted his toes and unleashed straight rights off of the side of Bracero's head. Bracero could not initiate an offensive and LaManna clearly won the session.
All the judges scores were decidedly different Joe Pasquale saw it 98-92 LaManna, Pierre Benoist 97-93 and Larry Layton 95-95 achieving the outcome of a split draw.
Always a good draw for LaManna battles, over thousand guys and dolls filled the seats. A large contingent from Brooklyn made the trip to support Bracero. Bracero record stands at 24-3-1 (5 KO's). LaManna's mark now stands at 25-2-1 9ko's.
The eleven bout A Side-B Sided continued until the next day ending close to twelve thirty am. Hired hand matchmaker Russell Peltz kept all clashes  even. No soft touches for the local ticket sellers.
AFTERMATH: A few weeks afterwards LaManna broke into the WBO welterweight rankings at number 13. Rising Star Promotions is taking it show on the road on April 21 to Paramus  New Jersey for Bergen Brawls 1. Thomas LaManna will be in the ring that night
Miss Downing Promotions carried her torch into the Claridge-Radisson Hotel in Atlantic City.  A bunch of locals filled the bout sheet and their fans did the same packing in the 700 seat theater.
With two of the featured contests canceled, good matchmaking by Nick Tiberi made things entertaining.
Elevated to the headliner heavyweight Chazz Witherspoon, Paulsboro, NJ, won an eight round unanimous decision over  Lamont Capers of Philadelphia, PA
All the rounds were close and the judges gave the questionable ones to Witherspoon, 236.5 lbs. The USA Boxing News saw it for Capers, 207.5 lbs.  77-75, meanwhile two judges had 78-74 twice and 77-75. Without ever facing a credible opponent in his fourteen year career, Witherspoon is now 37-3 (38 KO's). Better than his record indicates the light punching Caper's mark stands at 9-11-4 (1 KO).
The essence of this show is folks spending an evening in Atlantic City  for dining and gambling and taking in a show, which happens to be pugilism. Most them go home counting there losses having a buzz and full stomach. When Monday rolls around  all will say it was a grand time but none of them may be able to name any fighters outside of the kid that sold them tickets.
FALL MEMORIES
 The Holiday is over and and I look back at when the season the festive season began.
Northeastern boxing was served three courses in one week wrapped around the Thanksgiving holiday. First night of action took place on Saturday  along the shores of the "City by the Sea" and three nights later at a repurposed Bethlehem Steel mill, culminating in the "Big Apple" two days after Turkey Day.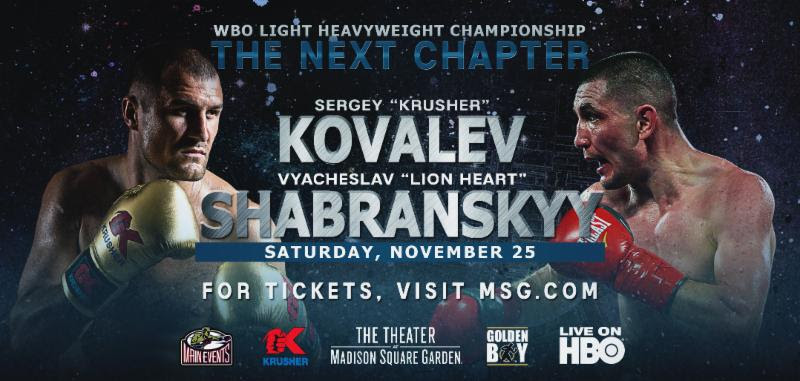 November 25 – Madison Square Garden Theater, Manhattan, NY.  Answering a inquiry on who is the best light heavyweight in the universe is now elementary since Sergey "Krusher" Kovalev, of Chelyabinsk, Russia, but now residing in Fort Lauderdale, FL, annihilated Vyacheslav Shabranskyy, of Zhytomry, Ukraine, but now residing in Los Angeles, CA, in under six minutes. Earning the vacant WBO light heavyweight championship belt, Kovalev's performance stapled the naysayers' mouths shut. These misanthropes consign to oblivion that Kovalev's first loss to Andre Ward was highly disputed. Needless to reference three bops to the Russian's minerals resulted to a controversial end of the rematch. Fact is at the current moment, Kovalev stands at the top of  the heap amongst  the globes one hundred-seventy-five pounders.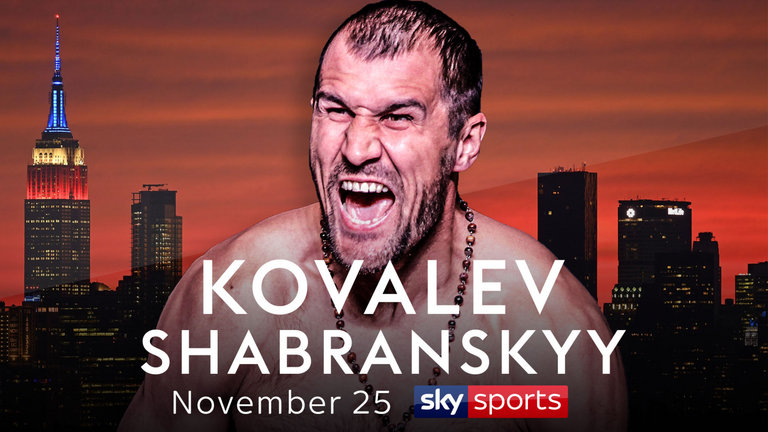 "No longer does Sergey, 34, have to go chase down opponents to fight him. Now they have to come  to him. "You have to go through Sergey to be the best light heavyweight," said Main Event promotions CEO and Kovalev's promoter Kathy Duva.
The World Boxing Organization (WBO) light heavy title became vacant upon Andre Ward leaving the pro ranks. Kovalev wore this crown for over three years before Ward took it off his head in their first fight.
Restoring his claim to  the WBO  baubles, a lean well conditioned Kovalev, 174, began bannging jabs to Shabranskyy's head and gut from the opening ding of this scheduled twelve-rounder. Gallantry was no help for Shabranskyy, 30, after getting clocked to the side of the head by a Kovalev straight right over his left jab. The effect of the blow put Shabranskyy's tailbone on the apron. Climbing to his feet and allowed to continue, Shabranskyy hit the deck again from a barrage, seconds before the session ended.
No question about the outcome when Shabranskyy answered the bell for the second, Kovalev seeked and began to conquer. Faced tanned red from Kovalev leather tenderizing, an outclassed Shabrankyy, 174.8,  toughed it out. A Kovalev right to the temple flattened Shabranskyy once again. Rising up, surrendering never crossed Shabranskyy's mind. Moments after action continued Referee Harvey Dock mercifully ended the slaughter at 2:36.
Sporting a new WBO  cumberbund, Kovalev said, "Here tonight was great boxing for me. I am ready for any champion. It's my goal to be best in this division. I love boxing. I love to make great fights."
 Kovalev marches on with a 31-2-1 (27 KO's) record, while Shabrankskyy tumbled to 19-2 (16 KO's).
Sergey seemed happy about coming back to "Gotham City" saying, "I like New York City. I am Russian and there are many Russians here. I have friends."
Warming up for the main event, Cuban native and current Miami, Florida resident Sullivan Barrera, 174.5, cranked out a ten-round decision over Felix Valera, of Santo Domingo, Dominican Republic. Valera 174.25,  had three points deducted during the fight for low blows.
 Valero dropped to 15-2 (13 KO's) as Barrera rose to 21-1 (14 KO's) as he positions himself for a title shot.
Aftermath: Main Event Promotions announced Kovalev will return to MSG Theater to make his first defense of his WBO laurels on March 3 against the WBO's #5-ranked contender Igor Mikhalkin, of Russia. Barrera's victory earned him a shot to face Dmitry Bivol for the WBA Light Heavyweight  Crown on the same March 3 fight card.
 November 18 – Claridge Radisson Hotel – Atlantic City NJ. House favorite Thomas "Cornflake" LaManna, of Millville, NJ, mopped up on Samuel Amoako, 33, of Accra, Ghana in a ten-round main event promoted by his family's company Rising Star Promotions and Greg Cohen Promotions. LaManna, 147 captured a unanimous ten-round nod against the overmatched Amoako, 147, in the last fight of the year for Atlantic City's most active one.  in recent memory. Lamanna, 26, is now 24-2 (9 KO's) as Amoako slumps down to 24-16 (17 KO's).
More interesting was the contest following LaManna's victory. Titled as a special attraction, Raymond Serrano, of Philadelphia, PA, squared off against Enver Halili, of Klina, Kosovo, and currently living in Brooklyn, NY, in a crossroads matchup. Halili was coming off a solid win against undefeated Wesley Tucker.
 Proving he was not ready to become a stepping stone. Serrano, 146.75, gained momentum in his favor by round five of this scheduled ten. Hotly contested and entertaining, it had a soiled ending. After having three points deducted for losing his mouthpiece, Halili, 146.5, was disqualified  for the same infraction in Round 8.  By ending this way, Serrano was deprived a well deserved victory, Serrano, 28, is now 24-3 (10 KO's). Suffering his first defeat, Halili, 29, fell to 10-1 (3 KO'
Aftermath: LaManna and Rising Star Promotions are taking their game up a notch and will return on February 24 at the Showboat Casino Hotel in Atlantic City. LaManna will face Gabriel Bracero, of Brooklyn, NY, in the Main Event.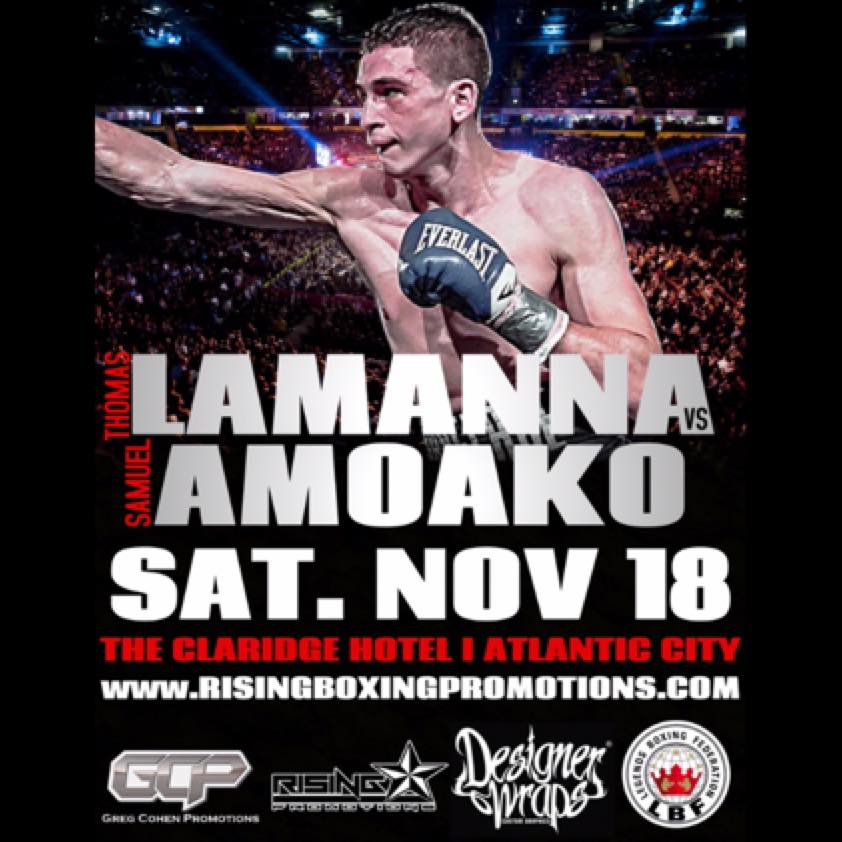 November 21 – SANDS CASINO RESORT – Bethlehem, PA. On the Tuesday night before Thanksgiving Day, talented up and comer Frank DeAlba's scheduled ten was called when his adversary showed up ten pounds overweight. Promoter Marshall Kaufman, the CEO of Kings Promotions, replaced the main even with Mykal "The Professor" Fox, of  Forestville, Maryland, who won a easy ten-round decision over Manuel Alejandro Reyes, Los Angeles, CA. The tall rangy Fox, 143, kept Reyes, 146, at the end of his punches to take almost every round. Fox, 22, remained unbeaten at 15-0 (4 KO's). Reyes, 27, lost for the first time in ten fights as his record dropped to now 11-4-1 (5 KO's).

 Aftermath: Both DeAlba and Fox return to The Sands February 13 in scheduled eights. DeAlba will be the main event and Fox the semi windup.
 SUMMER MEMORIES
Ten miles inland from the great Atlantic Ocean is where my abode titled "Champions Rest" is nested.  While autumns taking a lazy stroll on arrival, I begin to reflect on summer's sporting experiences. 
Always the first sign of upcoming sunny season of boxing is the Pennsylvania Boxing Hall of Fame Banquet and Induction Ceremony. Veterans Boxing Association "Ring One" of Philadelphia, is the oldest VBA in the United States. Ring One organizers this affair. 
Inductees included "Smokin" Bert Cooper,  heavyweight contender from the turn of the twentieth century Peter Maher and David Bey. Bey challenge heavyweight Monarch Larry Holmes back in 1985 and gave him a good scrap before succumbing to "The Easton Assassin" in the tenth.   Most pertinent was Bey's inclusion, not long afterwards he  died while working on a construction site in a horrid accident.
Sitting at a table next to mine was Frank "The Animal" Fletcher. Getting rapped by the "three strikes law" , "The Animal" did a long stint at Graterford Correctional Institution. Only a couple weeks earlier Fletcher was sprung.
Nothing is better than spending Memorial Day weekend on the Jersey Shore.
Atlantic City Boxing Hall of Fame held its inaugural induction ceremonies. A three day event beginning on Friday night of the unofficial start of summer in these parts. Saturdays itinerary began with autograph session and memorabilia show in the afternoon and  the evening a Black Tie Gala that  was a first rate elegant gathering.  The initial class of honorees included promoters , Don King , Don Elbaum and Russell Peltz all three were in attendance. Plus enshrined boxers Mike Rossman, Michael Spinks and Dwight Muhammad Qawi were on hand and posthumously Arturo Gatti, LeVander Johnson and Matthew Saad Muhammad.  Most importantly our very own Jack Obermayer was on the honor roll.  Lifetime Atlantic City resident, Ray McClines brainchild came to fruition without flaw. Held at the historic Claridge-Radisson Hotel located smack square on the famous Boardwalk.
A  tint of fall's colors on the oak trees at "Champions Rest"  and a pinch of chill in the evenings air as my thoughts roll back to my drive to Turning Stone Casino in Verona New York. My riding companion on the New Thruway heading  "Upstate" was the Hudson River.
Friday  night  of The International Boxing Hall of Fame weekend the Casino was hosting a DiBella Entertainment promoted fight card. The USA Boxing News scribe Kirk Lang diligently took notes for his ringside report. Meanwhile I viewed the action and conversed with former heavyweight contender Gerry Cooney. Gentleman Gerry lives up to his moniker, shaking hands, signing autographs and posing  for photos with every fan that approached him. Our conversation went from boxing to our families to at times exchanging barbs. Yours truly, can eat it and dish out while being a world class wise ass which led to some funny remarks between us. Seated next to the former heavyweight contender was Randy Gordon who delighted listening to  the banter as a Irish guy from Long Island and a Italian from the Jersey Shore poke fun at each other. Ultimately it was two baby boomers content with their lives and families  enjoying a friday night at the fights together. Two of the nicest guys you could meet Gerry and Randy have partnered up to host a talk radio show on SiriusXM  that starts at 6 pm ET every Monday and Friday.


TWO WORLD TITLE FIGHTS INCLUDING AMERICA'S
YOUNGEST WORLD CHAMPION GERVONTA DAVIS FACING FRANCISCO FONSECA ANNOUNCED FOR MAYWEATHER vs. McGREGOR SHOWTIME PPV® UNDERCARD
Badou Jack Challenges 175-Pound Champ Nathan Cleverly & Undefeated Andrew Tabiti Takes on Two-Time World Champion Steve Cunningham In Trio Of High-Stakes Matchups Preceding
Mayweather vs. McGregor Main Event
Saturday, Aug. 26 Live on SHOWTIME PPV at 9 p.m. ET/6 p.m. PT
From T-Mobile Arena In Las Vegas 
LAS VEGAS (August 10, 2017) – Two world championship fights including a title defense by America's youngest world champion are part of the trio of high stakes matchups on the Mayweather vs. McGregor SHOWTIME PPV undercard on Saturday, Aug. 26 from T-Mobile Arena in Las Vegas and presented by Mayweather Promotions.
The four-fight SHOWTIME PPV event, beginning live at 9 p.m. ET/6 p.m. PT, is headlined by the unprecedented super welterweight matchup between boxing's undefeated all-time great Floyd Mayweather and UFC superstar Conor McGregor.  In the co-featured bout, undefeated rising star Gervonta "Tank" Davis will make the second defense of his IBF Junior Lightweight World Championship against undefeated challenger Francisco Fonseca as the 22-year-old looks to continue his reign as the youngest current champion from the U.S.
WBA Light Heavyweight Titlist Nathan Cleverly will defend his title against former 168-pound world champion Badou Jack "The Ripper", who is stepping up in weight and into this world title tilt.
The pay-per-view telecast will open with undefeated rising cruiserweight contender Andrew "The Beast" Tabiti taking ontwo-time world champion Steve "U.S.S." Cunningham in a 10-round bout for the USBA cruiserweight title.
"What a night this will be for fight fans," said Leonard Ellerbe, CEO of Mayweather Promotions. "Not only will they witness a first of its kind main event, but they will also see two incredible world title fights, as Mayweather Promotions' very own current and former world champions go head-to-head in separate bouts. Gervonta Davis is nothing short of pure boxing talent with dynamite power.  Former super middleweight world champion Badou Jack is making his light heavyweight debut, and looking to take the title away from a tough and experienced Nathan Cleverly.  But first, Andrew "The Beast" Tabiti will open the pay-per-view telecast with what I expect to be a magnificent performance.  This diverse card is an epic, international affair stacked with talent.  Make sure you don't miss the biggest event the sport has ever seen."
"This undercard includes three meaningful matches featuring fighters we've seen develop over the years on SHOWTIME," said Stephen Espinoza, Executive Vice President and General Manager, SHOWTIME Sports.  "Gervonta Davis has fast-tracked himself to stardom on this network, we've seen Badou Jack develop from prospect to champion, and we're now witnessing similar growth with Andrew Tabiti.  We're excited to watch them compete in tough, competitive matchups on this global stage."
Gervonta Davis vs. Francisco Fonseca – IBF Junior Lightweight World Championship
One of the fastest-rising young stars in the sport, Davis (18-0, 17 KOs) became the youngest reigning champion from the U.S. when he knocked out Jose Pedraza in January to capture the IBF 130-pound crown. The 22-year-old made his first title defense in style when he went to London and stopped Liam Walsh in May. Both bouts aired live on SHOWTIME.  Representing Baltimore, Davis won the 2012 National Golden Gloves championship and scored knockouts in his first eight fights after turning pro in 2013. He enters this matchup on a streak of nine-straight fights that have ended with a knockout victory.
"I'm really excited to fight as the co-main event on the biggest card in combat sports history," said Davis. "I plan to put on a great show for everyone in attendance in Las Vegas and for those who purchase the PPV. I want to thank my team for this incredible opportunity. I'm ready for Floyd Mayweather to pass his torch to me. To my fans, I appreciate all of you. Support me and I'll fight for you!"
Fighting out of San Ramon, Costa Rica, Fonseca (19-0-1, 13 KOs) has won 19 straight fights after turning pro with a majority draw in 2013. Fonseca quickly established himself as one of the top fighters from his country with victory after victory, including a fourth-round knockout of Luis Gonzlaez to capture a regional 130-pound belt last August. The 23-year-old will make his U.S. debut when he faces Davis and he enters this contest having won his last five bouts inside of the distance. Fonseca began his 2017 with a third round knockout of Eliecer Lanzas in March and is trained by two-time world champion Ivan Calderon.
"I am super grateful for this great opportunity," said Fonseca. "The dream of every young boxer is to fight for the world title and this opportunity comes at the best moment of my career and in the biggest in the history of this sport. I will beat Gervonta Davis and I will shock the world that night." 
Nathan Cleverly vs. Badou Jack – WBA Light Heavyweight World Championship
A two-time world champion at light heavyweight, Cleverly (30-3, 16 KOs) bounced back from a defeat to Andrzej Fonfara in a 2015 Fight of the Year contender to defeat hometown champ Juergen Braehmer last October to pick up his WBA title. Cleverly's previous title reign saw him take down the likes of Tony Bellew, Nadjib Mohammedi, Shawn Hawk and Tommy Karpency before dropping a contest to Sergey Kovalev. The Wales resident will make his fourth start in the U.S., having won two of his first three contests stateside.
"This is a fight I have wanted ever since Badou Jack moved to light heavyweight and I'm delighted to fight in Vegas on an event like this," said Cleverly. "I've trained long and hard for this fight and I'm ready to be let off the leash. This is the biggest fight of my career so far and I'm going to do a number on Badou Jack on August 26."
Now fighting in the 175-pound division, Jack's final fight at 168 pounds came in a title unification on SHOWTIME in January against James DeGale.  Jack (21-1-2, 12 KOs) shook off an early knockdown to floor DeGale in the final round in a close majority draw in which both fighters retained their belts. The 2008 Olympian from Gambia won his world title in 2015 by defeating then unbeaten Anthony Dirrell and defended the belt against current champion George Groves and former champion Lucian Bute. The 33-year-old is unbeaten in his last six bouts as he seeks a world title in a second weight class.
"I'm thankful for this opportunity and I'm excited about getting another shot at a world title," said Jack. "To be a part of this event and fighting on this card is historic. Nothing beats it. I'm excited to get back in the ring. I'm getting ready to take that belt, and win a title in my second weight class. The biggest difference between past training camps and preparing for this fight is the fact that I was training to get the weight down, now I'm training to build muscle and perfect my boxing strategy. This will be a tough fight, but I don't see any issues getting through it. I feel confident and fans can expect a win by knockout or decision. He's not leaving with that belt. It's staying right here in Las Vegas."
Andrew Tabiti vs. Steve Cunningham – 10 Round Cruiserweight Bout
Originally from Chicago but fighting out of Las Vegas, Tabiti (14-0, 12 KOs) recorded victories against previously unbeaten fighters Keith Tapia and Quantis Graves in his last two outings – both on ShoBox: The New Generation – as he works to solidify himself as a contender in the red hot cruiserweight division. The 27-year-old turned pro in 2013 after amassing a solid 32-6 amateur record and scored knockout victories in his first 10 fights. He'll battle his most experienced opponent to date when he faces the multiple-time champion Cunningham.
"I've always been dedicated when it comes to training and this camp has been no different," said Tabiti. "I know I am fighting a veteran who has a lot of experience, so I can't slack on my conditioning and training. He's tough and he's only been stopped once and that was when he moved up in weight to heavyweight, so it would be a big statement for me to stop him. This fight is a test for me. Anytime you get in the ring you never really know how things will pan out, but I have a great team. To the fans, expect a victory and a great fight on August 26th because I am going to make sure I come out on top."
Representing the great fight city of Philadelphia, Cunningham (29-8-1, 13 KOs) returned to action in March with a victory over Felipe Romero after an exciting challenge of cruiserweight champion Krzysztof Glowacki in April 2016. Twice a world champion as a cruiserweight, he defeated Krzysztof Wlodarczyk in 2006 to capture his belt before successfully defending his title against Marco Huck via a twelfth-round TKO. He became a world champion again in 2010 when he stopped Troy Ross in the fifth round. The experienced veteran also owns victories over previously unbeaten fighters Amir Mansour and Natu Visinia and scored a knockdown of Tyson Fury in a losing effort during their 2013 bout.
"This is one of the biggest cards of the decade and its mind blowing to be a part of it," said Cunningham. "I have to top it off with a victory. Taking on a good, undefeated young prospect is a challenge in itself, but a victory will prove age is just a number. Hard work is a part of my everyday life."
MAYWEATHER vs. McGREGOR
Floyd Mayweather vs. Conor McGregor is a 12-round super welterweight matchup that pits the legendary boxer Mayweather against the all-time MMA great McGregor in the main event of an unprecedented four-fight pay-per-view boxing event.  Mayweather vs. McGregor takes place on Saturday, August 26 at 9 p.m. ET/6 p.m. PT at T-Mobile Arena in Las Vegas.  The event is produced and distributed live by SHOWTIME PPV and promoted by Mayweather Promotions.
For more information visit www.sho.com/sports and www.t-mobilearena.com, follow on Twitter @FloydMayweather, @TheNotoriousMMA, @MayweatherPromo, @UFC, @ShowtimeBoxing, @SHOSports, and @Swanson_Comm or become a fan on Facebook at www.facebook.com/MayweatherPromotions, www.Facebook.com/SHOSports andwww.Facebook.com/UFC

Exciting Former World Champion Shawn Porter Meets Former Title Challenger Thomas Dulorme in Welterweight Battle That Headlines Mayweather vs. McGregor Preliminary Bouts on FOX & FOX Deportes
Plus! A Battle Between Unbeaten Prospects Juan Heraldez & Jose Miguel Borrego in the Co-Feature
Saturday, August 26 From T-Mobile Arena in Las Vegas
FOX & FOX Deportes Begins Live at 7 p.m. ET/4 p.m. PT
Four-Fight SHOWTIME PPV Telecast Begins at 9 p.m. ET/PT
 LAS VEGAS (August, 10, 2017) – Former world champion and top welterweight contender "Showtime" Shawn Porter (27-2-1, 17 KOs) will take on former title challenger Thomas Dulorme (24-2, 18 KOs) in a 10-round showdown that headlines Mayweather vs. McGregor preliminary bouts presented by Mayweather Promotions live on FOX and FOX Deportes Saturday, Aug. 26 from T-Mobile Arena in Las Vegas.
"As always I'm just excited to get in the ring and perform," said Porter. "I think fighting on network television again will be awesome and a huge opportunity for me. And to do it before one of the most anticipated sporting events ever is even more exciting. I feel like I've earned this spot and I'm ready to give the people the appetizer they deserve! 'Showtime' Shawn Porter never disappoints and I will prove that again on August 26."
"I'm thankful for this opportunity on August 26," said Dulorme. "I have been blessed with great fans and my last fight helped me to gain a little more recognition, but I am just getting started. I had a great performance back in January with a TKO victory, and this fight I plan to bring that same mindset into the ring. I am ready to win and to fight on Floyd Mayweather's card is a blessing. I have a great team behind me and I am confident. I know my opponent is tough, but he's just the opponent I need to really show everyone that I am even tougher."
Saturday's coverage begins on FOX and FOX Deportes with a one-hour Prefight Show at 6 p.m. ET/3 p.m. PT. Prelims on FOX and FOX Deportes begin at 7 p.m. ET/4 p.m. PT and leads directly into the Mayweather vs. McGregor event that will be produced and distributed by SHOWTIME PPV beginning at 9 p.m. ET/6 p.m. PT.
Action on FOX and FOX Deportes will include a 10-round super lightweight bout between unbeaten prospects Juan Heraldez (12-0, 8 KOs) and Jose Miguel Borrego (13-0, 12 KOs).
"After my last fight, I gained a lot of inspiration to show more to my fans," said Heraldez. "I'm bringing the best Juan Heraldez to this fight. My last few performances have been great, and I've shown that I can have the power to knock my opponents out. I'm familiar with my opponent, but truthfully he's not a factor and on fight night my 0 will not go."
"This is a great chance for me to continue to show that I have the skills to be a future world champion," said Borrego. "I'm going to leave everything in the ring and put on a great show for the fans like I always do. I respect my opponent and I think this will be a great fight, but I will end the night victorious."
"The fans are in for a show," said Leonard Ellerbe, CEO of Mayweather Promotions. "Not only do we have an amazing lineup of fights on our PPV telecast, we have a stacked undercard and plan to give the fans more. More fights, more access. We plan to get the fans excitement brewing with matchups like Dulorme vs. Porter and Heraldez vs. Borrego all on network TV. These are some even matchups and we are happy to have FOX and FOX Deportes on board to showcase this talent ahead of the grand finale that is, Mayweather vs. McGregor."
A physically gifted fighter who had a strong amateur career, Porter became the WBC's number one contender with a stoppage of Andre Berto in April after a close loss to unified champion Keith Thurman in June 2016 that garnered unanimous Fight of the Year consideration. The 29-year-old won a welterweight world title when he defeated Devon Alexander in 2013 in Brooklyn before defending the title with a dominant stoppage of Paulie Malignaggi. The Akron, Ohio-native now lives and trains in Las Vegas and he bounced back from a previous defeat to Kell Brook to knockout Erick Bone and earn a unanimous over four-division world champion Adrien Broner in 2015.
Representing Puerto Rico, by way of French Guiana, Dulorme last fought in January when he stopped Brian Jones in the sixth-round to pick up his second straight win after the 27-year-old had previously challenged Terrence Crawford for a vacant world title in 2015. Prior to his title opportunity, Dulorme picked up impressive victories over Hank Lundy, Karim Mayfield and DeMarcus Corley. He will look to make a big statement on his way to another world title opportunity with a win against Porter.
Unbeaten and fighting out of Las Vegas under the Mayweather Promotions banner, Heraldez is unbeaten since turning pro in 2009, including a successful 2017 debut that saw him go eight rounds for the first time as he dropped Alfonso Olvera on his way to a unanimous decision. The 27-year-old earned five victories from 2015 through 2016 and will have an opportunity to make a statement against his toughest opponent to date on August 26.
At just 19-years-old, Borrego has burst onto the scene displaying big knockout power as he made his U.S. debut in February with a first round stoppage and followed it by stopping John Delperdang in the seventh-round of a televised contest this April. Fighting out of Aguascalientes, Mexico, Borrego most recently scored a fourth-round stoppage of once-beaten Kevin Watts in June and enters this contest on an 11-fight knockout streak.
The undercard bouts in the arena will kick-off with 2016 Great Britain Olympian Savannah Marshall making her pro debut in a four-round super middleweight attraction. The 26-year-old from Hartlepool, England was an Amateur World Champion, a Commonwealth Games gold medalist and the only boxer to have ever defeated two-time Olympic gold medalist Claressa Shields.
Philadelphia fight Action at the SugarHouse
8/11/17 – THE SUGARHOUSE CASINO, Philadelphia, PA  Just a few weeks past his High School graduation in July of last year, Christian Carto blasted into the pro ranks by finishing  off his adversary inside the distance.  Carto, a Rowan College student who graduated just a little over a year ago, headlined a ten bout fight card promoted by KIngs Promotions. Taking out all ten of his previous rivals before the gong of the final bell rang,  Carto entertained  a packed house at Philly's hottest boxing hall and whooped Philip Adyaka, St Paul. Minn.,  into submission just two minutes and forty three seconds into the second.
Having his way from the onset, Carto, 118.75, had Adyaka, 118.75, merely surviving seconds into the battle as he scored with quick combos to the head mixed in with blows to his adversary body
Carto simply outclassed Adyaka right from the opening bell.
Staggered by absorbing yet another salvo to his head, Adyako saw Referee Gary Rosato jump in to halt the action as Carto moved in for the kill with seventeen seconds to go in  round two of a scheduled six.
Prior to the start, the audience jumped out of their chairs like bottle rockets when hearing Carto's introduction. Adored by the "City of Brotherly Love" the charismatic Carto, had the faithful release a roar of approval, before he even threw a punch.
Kings Promotions CEO Marshall Kaufman,  is the hardest working and most prolific promoter in the nation, known for putting on nothing but top quality talent in his shows and headliners. The fact that the merely nineteen years old Carto was showcased on the top, only goes to show his talent and potential star power. Plus there was a rumor that proved to be true circulating that nationally renowned New York based promoter Dibella Entertainment sent a representative out to woo Carto. With the proper handling and maneuvering, the matinee idol Carto, nowadays sporting blonde locks has the talent and charisma to achieve great success in the sport. Right now, Carto looks like he does financially well from tee shirts sales and from the numerous sponsors posted on his sparkled trunks.
Starching each man he faced Carto stays perfect at 11-0 11 ko's. Having ice placed on his swollen right eye Adyako is now 7-10 4 ko's.
Flying under the radar native Philadelphian,   Brandon Robinson, 166.5 won his fifth straight since losing his pro debut.  Robinson turned pro last October and was stopped in three, but that  altercation was contested at cruiserweight. Since then the twenty nine year old Robinson has scaled down to super middleweight and looks quite fierce at the lower poundage. No doubt Shane Pearson, Statesville NC, came to fight. Early in round two Pearson, 166.75,  was rocked by a left hook to his chin. Wasting no time Robinson, 166.5,  cornered Pearson and banged away. Crumbling to the canvas from a bombardment of Robinson missilled fists, Pearson was saved by from any further punishment when the referee Blair Talmadge stopped it twenty seconds into the stanza. Robinson is now 5-1 4 ko's. Pearson dips to 2-2 2 ko's.
Batting one thousand, Kings Promotions has sold out all three fight nights at this locale that holds twelve hundred fans. One year ago, SugarHouse Casino held its  inaugural boxing event and The SugarHouse Casino has had a full capacity crowd in all seven boxing events it has hosted.
Claridge Radisson Hotel in Atlantic City hosts a fistfull of Boxing
Claridge Radisson Hotel, Atlantic City NJ- Beloved local favorite, southpaw, Derrick "TAKE IT TO THE BANK" Webster, Glassboro, NJ, deposited right hooks and straight lefts directly  into Lamar Harris's, ST Louis, MO,  mug earning a second round technical knockout, Saturday night.
Bedeck in camouflage trunks with a matching zippered warm up vest Webster, 167.8, was accompanied into the arena by all time great Roy Jones Jr.. Ascending the stairs and climbing through the strands Jones literally was busting a rap about his career. Not a impromptu spur of the moment by Jones, this verse had a studio produced sound track.
Bearing a facial resemblance of one time Philly brawler and recently sprung Frank "The Animal" Fletcher, Harris, 167.9,  rushed Webster against the ropes and released his fists the initial twenty seconds. Tactically  stepping to the side and returning the action to the center of the ring Webster began pumping a stiff jab off Harris;s face. As of late the one time dance master Webster is fighting more flat footed which i creates much more bang in his punches. Cornered and hurt by a right hook to the side Harris ate resin dust after Webster land a straight left to his head at rounds end.
Between stanzas the tall lean muscular and tattooed Webster stayed on his feet. It did not take long for the stalking Webster to finish Harris. After being staggered by a straight left and back into a corner, Harris absorbed Webster entire onslaught. When referee Shad' Murdoch stepped in to stop it at twenty eight seconds, Harris cornerman Richard Schwartz protested the closure while sitting on his stool. It was a good call by the referee, no need to let a beat down become a slaughter in this scheduled eight rounder. .
Following Webster called ou WBA Super Middle King George Groves of the United Kingdom. " I am looking for a title. I want George Groves".
Keeping active Webster has won five in a row, three by kayo since June of 2016. Webster's record now stands at 24-1 13 ko's. Harris dips to a unflattering 9-14-4 5 ko's
The semi wind up had Prince Badi Ajamu, Camden, NJ return to the fight game. Following eight years of inactivity, the Price shook off accumulated rust earning  a unanimous eight round nod against Edgar Perez, Chicago, IL.
Winning every exchange and all the rounds Badi, 191.4,  won by scores of 79- 73 and 80-72  twice. Badi mark rises to 28-3-1 15 ko's. Weighing in at 190. Perez falls to 7-22 3 ko's.
World ranked heavyweight Zhang Zhilei, Zhoukou, China  destroyed Nick Guivas, Topeka Kansas in two minutes forty three seconds in the evenings only ten round match.  A 2008 Olympic Silver Medalist,  Zhilei, 254.8, beat the crap out of Guivas 238.  Taking a knee after getting tagged by a right hook, Guivas was dropped again moments later and Referee Murdoch  wave wave it off. Looking to raise his stock Zhilei remains undefeated 17-0 13 ko's. For personal health reasons Guivas should not face boxers of Zhilei caliber but does live to fight another day with a deceiving 13-8-2 record.
Thirty one seconds of mayhem ended when super middleweights Lamont McLaughlin, Philadelphia, PA, fell like a sack of potatoes after taking two rights to the side of his face Tahlik Taylor, Freeport, NY. McLaughlin, 167.2 , and Taylor, 172.8 toed the line and unloaded bombs from the onset and then it was over. McLaughlin still looking for his first win is 0-2. An overjoyed Taylor sports 2-7 1 KO record.
Fight cards always sell out this venue that holds six hundred fans. These shows are always lively and tonight the house was entertained by a female rapper out of Camden during one break. Miss Downing Promotions and Square Ring Promotions  delivered the night's affairs.
Other results from the six bout fight card:
Cruiserweight Mike Hilton, Trenton, NJ was extended the distance for the first time in his career. Awkward Willis Lockett, Takoma Park. MD frustrating style had him winning a couple rounds on one judges card,  in route to losing a unanimous six round decision to Hilton, 198.5. Weighing in at 194.6, Lockett might be better than his 14-21-6 5 ko's slate indicates. Hilton remains undefeated 7-0 6 ko's. Judges scoring 60-53, 60-54, 58-56.
Shaddy Gamhour, 163.5, Pensacola, Fl, kayoed Jessie Singletary, 167.3, Washington DC,  in 1:43 of round one in a scheduled four. Gamhour 4-0 3 ko's and Singletary 0-3.
Frank Bartolini is a columnist for The USA Boxing News www.theusaboxingnews.com

MAYWEATHER vs. McGREGOR MEDIA DAYS VIA SATELLITE & YOUTUBE
THURSDAY: Floyd Mayweather At 5 p.m. ET / 2 p.m. PT
FRIDAY: Conor McGregor At 6 p.m. ET / 3 p.m. PT
Live Coverage Available For All News Outlets; Satellite Coordinates, Embed Codes & Instructions To Download Promotional B-Roll Are Below
WHAT: SHOWTIME Sports will present live HD Satellite and Internet coverage from Floyd Mayweather and Conor McGregor Media Days as the boxing legend and UFC superstar open their training camps in preparation for their August 26 SHOWTIME PPV® blockbuster from T-Mobile Arena in Las Vegas.
Satellite coordinates, YouTube links/embed codes, and instructions to download past-fight, workout and lifestyle b-roll footage are included below. All Footage must credit SHOWTIME.
THURSDAY – Floyd Mayweather Media Day:
5 p.m. ET/2 p.m. PT From Mayweather Boxing Club in Las Vegas
Satellite Window:  5 p.m. PT/2 p.m. PT to 9 p.m. ET/6 p.m. PT.  Approx. 60 Minutes
Satellite Coordinates: Galaxy 25, Transponder 14K Slot AB; Location: 93 degrees west; Bandwidth: 18 MHz; Uplink Freq: 14262 Mhz V; Downlink Freq: 11962 Mhz H; Video: HD 1080i/59.94; Compression: MPEG 2; Chroma: 4:2:0; Modulation: DVBS-2, 8PSK; FEC Rate: 2/3; Symbol Rate: 15.0 Msym/s; Data Rate: 29.709543 mbps; Audio PID(s): 256: Ch. 1: Mono; Ch. 2: Mono
YouTube Link: http://s.sho.com/2uGDwY7
FRIDAY – Conor McGregor Media Day
6 p.m. ET/3 p.m. PT From UFC Performance Institute in Las Vegas
Satellite Window:  6 p.m. ET/3 p.m. PT to 9 p.m. ET/6 p.m. PT.  Approx. 60 Minutes
Satellite Coordinates: Galaxy 25, Transponder 14K Slot AB; Location: 93 degrees west; Bandwidth: 18 MHz; Uplink Freq: 14262 Mhz V; Downlink Freq: 11962 Mhz H; Video: HD 1080i/59.94; Compression: MPEG 2; Chroma: 4:2:0; Modulation: DVBS-2, 8PSK; FEC Rate: 2/3; Symbol Rate: 15.0 Msym/s; Data Rate: 29.709543 mbps; Audio PID(s): 256: Ch. 1: Mono; Ch. 2: Mono
YouTube Link: http://s.sho.com/2vPrbpI
SHOWTIME Sports BOX LINK: https://cbs.box.com/s/ogkrd7925aoahng4a4vy8yp4au5z83sv
Available B-Roll Footage Includes:
Mayweather vs. McGregor World Tour Highlights

Floyd Mayweather: Past-fight highlights, Workout & Lifestyle footage

Conor McGregor: Past-fight highlights & Lifestyle footage
TECHNICAL/SATELLITE CONTACT:
Matt Huennekens: 702-525-4202
MAYWEATHER vs. McGREGOR
Floyd Mayweather vs. Conor McGregor is a 12-round super welterweight matchup that pits the legendary boxer Mayweather against the all-time MMA great McGregor in the main event of an unprecedented four-fight pay-per-view boxing event.  Mayweather vs. McGregor takes place on Saturday, August 26 at 9 p.m. ET/6 p.m. PT at T-Mobile Arena in Las Vegas.  The event is produced and distributed live by SHOWTIME PPV and promoted by Mayweather Promotions. 
Fireworks at the Floyd Mayweather-McGregor Press Conference!
Story by Frank Bartolini and Joseph Rinaldi
July 13 – Brooklyn NY – The Barclay Center.  An event more popular than peanut butter and jelly will take place August 26 at the T-Mobile Arena  in Las Vegas, NV. Conor McGregor vs Floyd Mayweather is not about two men sporting ten-ounce mittens in a battle of fists. Communication advancement of social media has allowed pop culture to enter the arena of boxing. Not the result,  but the atmosphere is what those yelling Five million pay per view buys at a hundred bucks a pop may be grossly underestimated.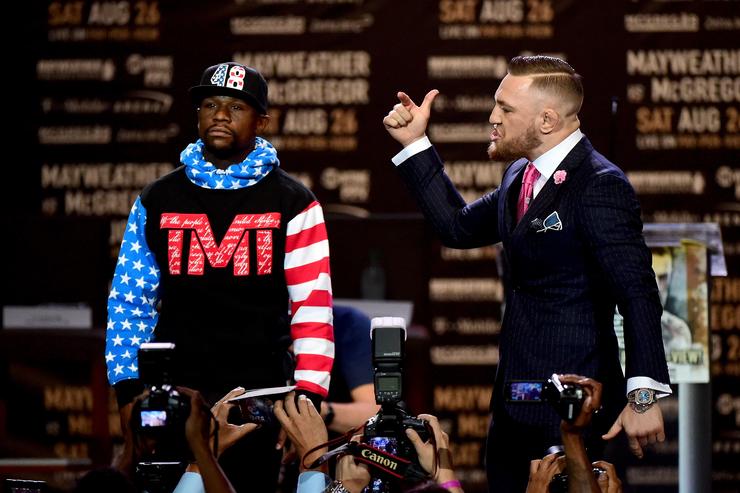 "If we break the pay per view buy record. We will be breaking my own record," said Mayweather as he was gaining steam to a point where just under 14,000 fans crowded the Barclay Center for the thrilling press conference cheered on.  There is no doubt that previous totals regarding promotional boxing revenues will be shattered.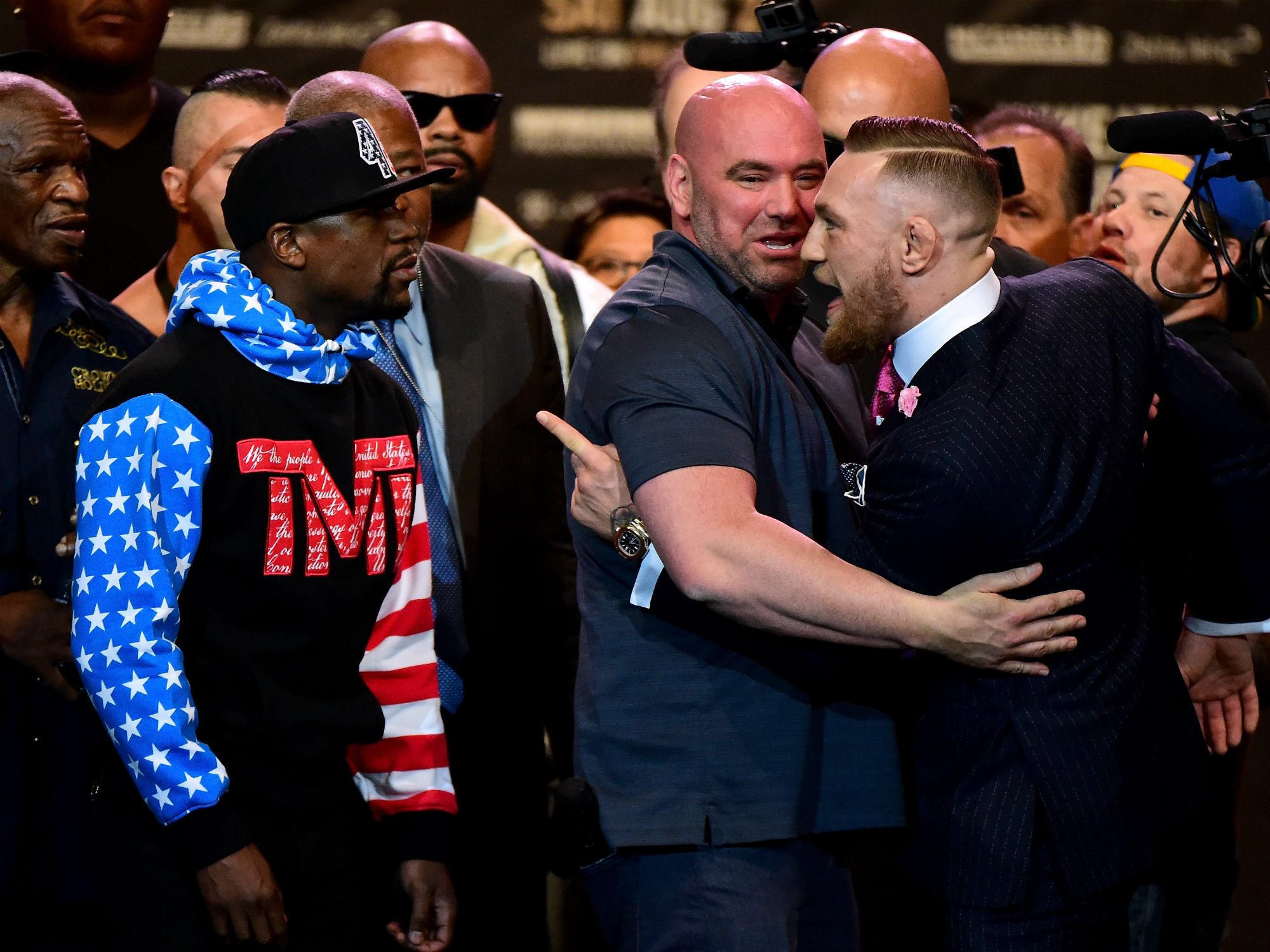 Floyd Mayweather Jr. entered the arena draped in Ireland's National flag. Telling PETA to kiss his behind, McGregor arrived strutting on the catwalk with a serpent adorned mink coat he purchased on Fifth Ave earlier in the day. 
Filled up with screaming millennials, McGregor was certainly the power source that ignited the electrical atmosphere at the proceedings. Not to be upstaged, Floyd pulled out a gym bag full of cash, reached into its contents and began throwing hundreds of dollar bills in the air!  Not since the Joker tossed out greenbacks to the Gotham City residents in the parade scene featured in the 1989 film Batman, have people gone in a frenzy grabbing up dollars.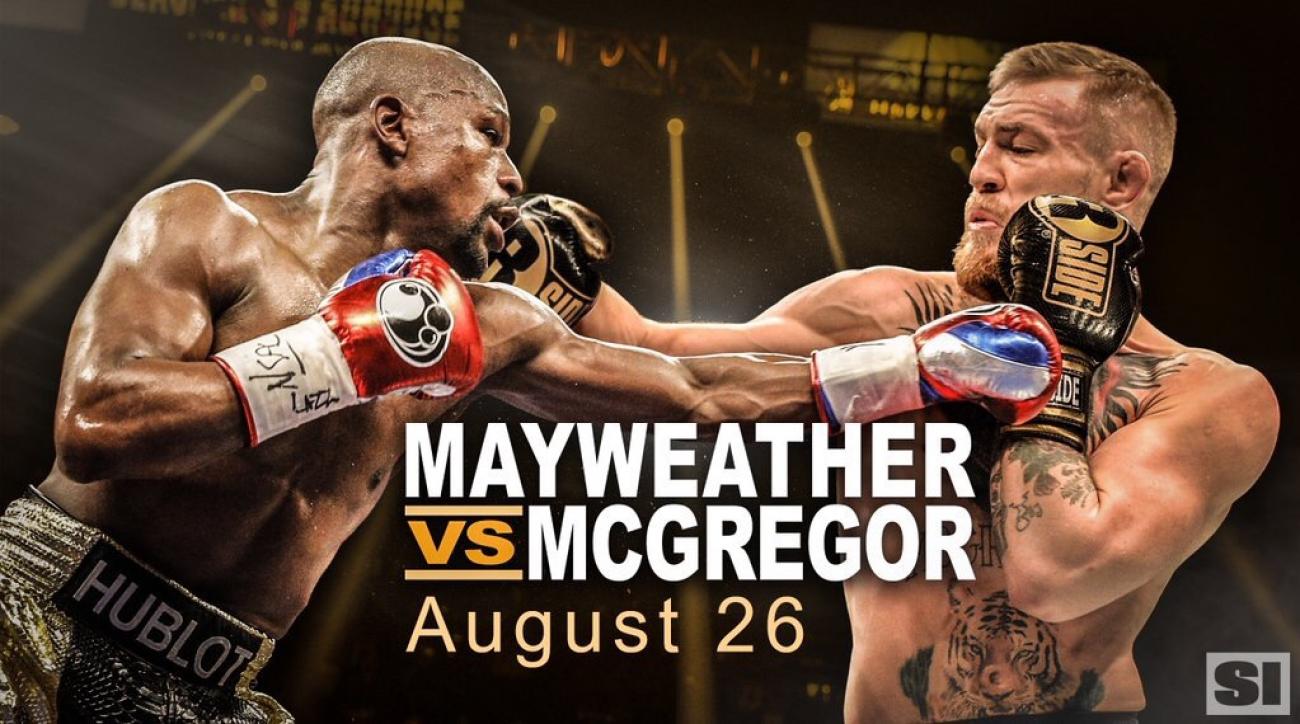 Getting in each other face for a staredown created a deafening outburst of roars. Then both camps charged each other and a non physical brouhaha occurred. 
McGregor bellowed, "I'm not getting tired of this It's really a lot of fun. I could never get tired of this. It's such a great time to be a fight fan."
Outside of the boxing purists, who disdain this, mainstream America is latching on. When August 27 rolls around, unless South Korea actually gets that IBC nuclear warhead off the ground and detonates on the west coast, all the chatter and water cooler conversations in America will be directed towards this contest.
Working in the sport of boxing, this show's exposure of pugilism to our new millennial generation will draw a broader audience in the future. After the outcome of this promotion, where boxing should shine over McGregor's style of fighting, it will be a great thing for the sport to attract the younger generation, where millennials outnumber the aging baby boomers.
Many thanks to Floyd Mayweather Jr.  for signing the dotted line. And of course much gratitude to the charismatic Conor McGregor for  reconstructing boxing into a mainstream sport again.  
What Floyd "P.T. Barnum" Mayweather has done was to come out of his self-imposed retirement in a flashy way by taking on such a colorful opponent as McGregor, who is doing his fair share of turning this boxing match into the sports event of the year.
While the NFL ratings have been tanking over the past year, boxing is on a major resurgence and this matchup could be the start of a comeback. Match that with the best heavyweight division in nearly two decades, and it shows that boxing is getting set for a meteoric rise once again.
Ringling Brothers may have closed their show too early! John and Alex Rinaldi
THEHE USA BOXING NEWS
Two days worth of Philly's slugfests!
Story by Frank Bartolini
Back to back evenings of super middleweight main events highlighted the Philly fight scene. Friday night in South Philadelphia and Saturday night in the beautifully antiquated Bristol, Pennsylvania, talented regional favorites showcased their wares.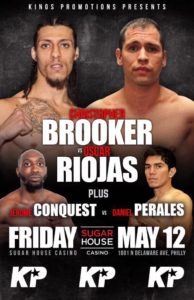 May 12 – SugarHouse Casino – Philadelphia, PA.SugarHouse Casino has become Philly's sizzling venue to present pugilism. Kings Promotions had Christopher Brooker, of Philadelphia, PA, headlining the festivities. The rugged Brooker, mugged, pushed and belted Oscar Riojas, of Monterrey, Mexico, en route to an eight-round unanimous decision.
Returning to action after two straight defeats, Brooker, 168 1/4, started slowly and the southpaw Riojas, 169, gained early momentum in his favor. During the third, Brooker began imposing his personal style of roughing things up. Squashing the distance between himself and his adversary, the Philly fighter limited Riojas'offensive effort.
Falling hard, Riojas'back hit the strands after Brooker delivered a thudding left in the waning seconds of the eighth. Hurt and buzzed, Oscar was fortunate it was not ruled a knockdown as the strings kept him afloat. Battling for victory until the end, Riojas came up short. Ultimately, Brooker's strength enabled him to brawl his way to triumph.
All three judges had it in Christopher's favor at 78-74. Back on the winning track, Brooker is 12-3 (5 KO's). Always matched against tough competition, Riojas'mark stands at 14-8-1 (4 KO's).
Onerous matchmaking insured each participant earned their purses. Residents of housing in nearby neighborhoods, the practicing prizefighters were not fed cream puffs on this night.  
House favorite Jerome Conquest, of Philadelphia, PA, won a six-round unanimous decision over Daniel Perales, of Saltillo, Mexico, in a lightweight battle. Not a big banger, Conquest, 133.6, worked hard to win five of the scheduled six rounds. Perales, 137.2, had enough bite on his punches to keep the proceedings combative. Conquest is now 7-2-1 (1 KO) and Perales slides to 10-10-1 (5 KO's).
 Bombs away for two young junior welterweights in a scheduled four-rounder as Kashon Hutchinson, of Reading PA, uncorked his full blitz and landed his bombs on Jeffrey Torres, of Dingmans Ferry, PA. Although Hutchinson, 142.2, absorbed the fusillade of leather that Jeffrey Torres threw at him, Torres, 139.5, was still able to capture the unanimous decision. Staying undefeated, Torres improved to 3-0 (1 KO).  Hutchinson now has more losses than wins as he dropped to 2-3 (1 KO).
Another sold out crowd of over twelve hundred attendees packed into the SugarHouse conference room.
Next night at the Grundy Arena in Bristol, PA, Derrick Webster, of Glassboro, NJ, captured his fourth straight win by knocking out Frankie Fillippone, of Norfolk, VA, in round seven of a scheduled ten. Webster, 167, took advantage of his half-foot skeletal superiority and repeatedly shot his right jab into the face of Fillippone in this battle of southpaws.
Winning six in a row entering the ring, Fillippone 166.5, hoped a victory would move him a couple rungs up the ladder. Six hundreds fans were all there to root for Webster in Mis Downing Promotion's inaugural promotional boxing event. Even all-time great Roy Jones Jr. worked Webster's corner.
Never giving Fillippone a chance, Webster kept a quick pace. Hurt, stunned and rocked, Frankie hit the deck a few times throughout.  After digesting Webster's jolting combinations early round seven, the fallen pugilist stayed on his knee and took the count of ten. Time of the stoppage was thirty-two seconds. Webster seems to be patient about taking on bigger prey as he improved to 23-1 (12 KO's). Club fighter Fillippopne dropped a notch to 22-6-1 (7 KO's).
Junior lightweight contender Tevin Farmer earns hard-fought decision over Arturo Santos Reyes
Story by Frank Bartolini
April 29 – Philadelphia, PA. At Temple University's Liacouras Center, the Urban League of Philadelphia had Hard Hitting Promotions put on a five-fight card to support their night of Celebrity Boxing.
On loan from DiBella Entertainment was world-ranked junior lightweight Tevin Farmer, of Philadelphia, PA, who fought one armed for the last eight rounds to outpoint Arturo Santos Reyes, of Sonora Mexico, in a scheduled ten.
Chugging forward, Reyes, 129, pressured southpaw Farmer, 132, into a corner and landed well to the body. Surprisingly, Reyes snuck a few punches past Farmer's high guard. During the second stanza, Tevin suffered what turned out to be a pulled right bicep muscle. Adjusting immediately, Farmer turned orthodox and jabbed away at his foe. Once the Philly fighter became comfortable literally combating with only one loaded gun, he planted his feet and slugged away.
Tevin Farmer vs. Arturo Santos Reyes poster.
In an attempt to pull off an upset, Reyes trapped his adversary against the strands and occasionally scored solidly.
Finishing in full control, Farmer won a unanimous decision by tallies of 97-93, 98-94 and 96-94. Hoping to lasso a ranked marquee foe, Tevin stays active battling tough, but non-descript adversaries. Not losing since 2012, Farmer has won eighteen straight, raising his resume to 25-4-1 (5 KO's). Following his gutsy effort, Reyes tumbled to 19-8 (5 KO's).
Warming things up, one of Philadelphia's hottest young prospects, 20 year-old Christian Carto, punched out a resistant Samuel Gutierrez, of Saltillo, Mexico in a six-round affair. Never ceasing his game effort, Gutierrez, 117.75, did not come out for the final round. "The City of Brotherly Love" new fan favorite Carto, 118, remained a perfect 9-0 9 (9 KO's). Tough guy Gutierrez falls to 14-19-5 (5 KO's).
Just over a thousand fans were in attendance.
Edner Cherry wins controversial decision over Omar Douglas at Bethlehem, PA fight card
Story by Frank Bartolini
Photos courtesy of Premier Boxing Champions
April 4 – Bethlehem, PA – Sands Casino Resort – A questionable decision over Omar Douglas, of Wilmington, Delaware, has extended Edner Cherry's of the Bahamas, but now residing in Wauchula, FL, usefulness in the 130-pound ranks. Having failed in both his attempts at snatching a piece of a super featherweight/junior lightweight world title, Edner, 34, kept his hopes alive for that one last chance. Calculate the digits, seventeen years in the pro ranks, seven losses on his ledger, still Cherry can be optimistic. Give Cherry's perseverance credit.
 Early on the resolute Cherry, 129.5, kept up a steady attack of left hooks and right hands to Douglas' head. Fighting back, Omar poked with his jab trying to generate a substantial offense. Both swapped blows during the early phase.
Advancing towards fight's end Douglas, 129.3, restricted Edner's assailment. Hard left hooks by Omar were landing repeatedly off Cherry's cranium. Scoring sweet combinations, Douglas won the second half of match. Unable to keep his guard up, Edner seemed winded over the last six minutes.
Catcalls greeted the verdict as all three judges had Cherry victorious by tallies of 98-92 and 96-94 twice. The USA Boxing News saw it 96-94 for Douglas.  Dropping two straight, Douglas falls to 17-2 (12 KO's). Losing only one time since 2008, and that was for a shot at the IBF Super featherweight crown in October of 2015, Cherry lifted his mark to 36-7-2 (19 KO's).
Two respected young prospects, willing to put in on the line made for a wonderfully contested super featherweight eight-rounder. Tenacious Frank DeAlba, of Bethlehem, PA, refused to lose and constantly sustained an offensive in winning a unanimous eight-round decision over Ryan Kielczweski, of Quincy, MA.
Both combatants tipped the scales at 130.2 pounds, although Kielczweski looked physically bigger.  Sedulous punching gave DeAlba the edge. Rigidly fought throughout the contest, neither combatant felt they were defeated. Two of the judges confirmed the closeness – tabulating digits 77-75, but the third was way off 80-72.
The winner DeAlba improved to 22-2-2 (9 KO's). Begrudgingly, Kielczweski tumbled to 26-3 (8 KO's).
Kings Promotions and Premier Boxing Champions  promoted the event that aired nationally on Fox Sports 1  television network.
Super Brawls 3  excites crowd at Syland's Events Center in Randolph, New Jersey
Further details on WBC heavyweight champion Deontay Wilder's marvelous win over Gerald Washington along with quotes and photos of the fighters, along with the undercard warriors
Photos by Ryan Hafey / Premier Boxing Champions
Reported by Frank Bartolini – The U.S.A. Boxing News
BIRMINGHAM, AL. (February 25, 2017) – Undefeated heavyweight world champion Deontay "The Bronze Bomber" Wilder (38-0, 37 KO's) knocked out Gerald "El Gallo Negro" Washington (18-1-1, 12 KO's) in the fifth round of the main event of Premier Boxing Champions on FOX and FOX Deportes at the Legacy Arena in Birmingham, AL.
In front of a crowd of 12,346 fans, Wilder was able to give his home state crowd another scintillating victory. Although Washington stole some of the early rounds, Wilder's patience paid off as he was able to find his pace and finish Washington in the fifth frame.
In the blistering televised opener, Dominic Breazeale (18-1, 16 KO's) stopped previously unbeaten Izuagbe Ugonoh (17-1, 14 KO's). Ugonoh controlled the fight early landing heavy blows to both Breazeale's body and head, but Breazeale was able to compose himself and stormed back to knock out Ugonoh in impressive fashion.
The co-main event featured Jarrett Hurd (20-0, 14 KOs) knocking out Tony Harrison (24-2, 20 KOs) in the ninth round of their contest.
Here is what the fighters had to say following their bouts:
DEONTAY WILDER
 "I knew he was going to come in excited to fight for a world title. I just kept calm and found my rhythm. I really knew he was going to tire out, and when he did I took advantage.  "It was all about timing. I'm very smart when it comes to using different tactics in the ring."
"Fighting here in Alabama is a blessing. The people here show up to support me and I love them for it. I'm always going to support and be here for my Alabama family. To see the crowd's response tonight meant a lot to me."
"As I've been saying, I'm looking to unify the division. I think it's critical to have one fighter and one champion, and that's Deontay Wilder. Let's hope Joseph Parker is ready for me because I'm definitely ready for him."
GERALD WASHINGTON
"I just got a little impatient. I was trying to go for it. It was an even boxing match. I could have kept it like that and kept it boring. I don't know why I fell asleep there. I guess I lost a little focus."
"I caught him with one shot when he was coming in. But instead of me keeping that play going and keep pushing him back and keep him in control by keeping him in the center of the ring, I tried to get on him. I was trying to play a little counter punch role and catch him coming in. He just caught me."
"It's just an experience. You have to follow the game plan and stay focused, stay patient. You may not get all the shots you want in the beginning, but you have to play the game all the way out and then things will start to happen."
JARRETT HURD
"We wanted to take our time with him because Harrison can box and move. But every time he fights he wears down toward the end."
 "During the sixth round, he caught me with a good shot inside my left eye. But I managed to fight through it and get the win."
"It feels great to be a champion. I've never had a feeling this great before. It's pure Accokeek power. I can finally pull my pants up now. My pants were falling down, but I finally got my belt."
DOMINIC BREAZEALE
"It took a little time for me to find my pace, but eventually I found my Rhythm. Izu came in in great shape and with guns blazing. He came at me with some stuff that I wasn't expecting. Him being the lighter guy I wasn't really expecting the power he possessed."
"I was able to connect some big shots tonight, especially with my right hand. You see what happens when I put him down and he never really recovered."
"Coming off the loss to Joshua, this win puts me right back in there. This is what I've always asked for. My team does an incredible job of getting me any fight I ask for, and I wanted to fight an undefeated guy like Izu. He's a big, strong, athletic guy."
 "Tonight, the story was about me having the heart of a lion, getting knocked down, but getting right back up to finish this fight."
IZUAGBE UGONOH
 "I expected that I was going to knock him out. I believed I would accomplish that, but he didn't surprise me with anything. I was landing some good shots to both his body and his face."
"Breazeale showed a lot of heart though, and I think that his experience really helped him. I think a fight like Anthony Joshua really helped him realize that he could take anything and win the fight. He did that tonight."
"Honestly, I just got tired. I gave him what I had and then I got tired. When he came back at me I wasn't able to keep up and finish through on my game plan."
"The plan was to really use my double jab, and I'm not making any excuses. This is the fight game. This was a great opportunity for me, a big step up, and I was hoping to get it done. I didn't, but that is part of sports. I'm not used to losing, but that time came today. I'm still a dangerous man to fight."
The card was promoted by DiBella Entertainment in association with TGB Promotions and Bruno Event Team.
Great Boxing Looms Large at the Maryland's Rosecraft Raceway
2/11/17  Fort Washington, Maryland, Rosecroft Raceway : With a  weekends itinerary snowed out. Original  travel plans would have  placed me in  Toledo, Ohio to attend Robert Easter's first defense of his IBF Lightweight Title. Scratched due to "Mother Nature" , I hit America's highway for the three and a half hour jaunt   to southern Maryland. What I found there was a standardbred racetrack that housed a very large parimutuel batting parlor. Over eight hundred fans gathered upstairs in the banquet/conference hall to view  Marshall Kaufman's Kings Promotions host a outstanding club show..
Undefeated Mykal Fox of Forestville, MD, took on rugged Tresean Wiggins of Newburgh, NY, in a  eight round duel of southpaw participants. Using his Long and lean physical stature Fox,141.4, tries to keep his foes at the end of his jab. Wiggins,142.4, likes to land the big kahuna.
A quintessential  feeling out process took place during the first three minutes. Next session saw Wiggins moving forward scoring with right hooks. Finding his range after that, Fox, got on his toes, tapping Wiggins with his  elongated right jab.  Following up behind that jab Fox unleashed combinations but his lack of starch on his blows prevented him from taking complete charge.  By being able to absorb Fox's strikes Wiggins was able to keep it close even stunning Fox during the fourth. Staying on course Fox remained patient out boxing Wiggins without inflicting much damage. By jabbing and getting out of the way and following up with one-two's during the seventh Wiggins put himself back in the mix. Tenacious and vigorous Fox continuously punch the final three minutes. By being this aggressive Fox sealed the triumph.  Capturing a  majority decision by scores of 76-76, 77-75, 78-74 Fox ascends to 13-0, 4 ko's.
Perceiving they were robbed, cheated and victimized by a hometown decision Wiggins camp noisily protested.  Wiggins slate slides to 7-3 6 ko's. The USA Boxing News scored it 77-76 for Fox
Explosive thirty eight year old cruiserweight Luther Smith of Bowie, MD, scored the fifth first round stoppage of his career, icing Darnell Pierce of Austin, Texas at 1:59.  These rivals introduced themselves by whacking each other upside the cranium.  Getting the better of the belligerent activity Pierce, ,193.8, beamed with certainty of victory. Abruptly that changed after Pierce's chin was mashed by a Smith,198.8, right. Gravity took control upon impact as Pierce fell straight back.  The back of Pierce's head would have slammed off the mat but was rescued by the bottom strand. That was it for this six rounder Pierce was able to stand by the count of nine but the wise referee concluded the action at 1:59. Smith is now 7-1 6 KO's. Pierce moves on at 5-1  (1 KO).
Justin Hurd of Accokeek, MD, belted Dawond Pickney . Hot Springs, AK around for two rounds before the ringside physician would not it to continue after round two of this slated four, Hurd, 153, a decorated amatuer   is the younger brother of top rated super welterweight Jarret Hurd..Earning his pay Pierce,155.4,  hung in there until the referee did not let him continue after round two.  Traveling down a glistening path to a bright future Hurd is 2-0 2 ko's. Pickney adds a loss to his dismal record and is now 1-4-1.
Like my favorite haunt Philadelphia, Washington DC has it's own fight scene. DC as the locals  call it, always has area  boxing luminaries in attendance. , in the venue this evening were Jarrett Hurd, Dusty Hernandez Harrison, Lamont Peterson. Then there is a crew of stalwarts announcer Discombobulating Jones,  boxing glove gut Juice Gatlin, plus Digital Williams doing live audio  broadcasting. DC boxing  is cool place and thrives under the radar but that does not stop it from being in the same class as other  more notable regions.
"The New" Ray Robinson pummels Edwin Palacio at Philly's Sugar House Casino
 February 3 – Philadelphia, PA – Sugar House Casino. Since Sugar House hosted its inaugural show back in August 2016, they have always had a packed house filled with fans.  With this being their fourth event, they filled the seats once more. All of the fight shows have been promoted by Hard Hitting Promotions. By this time the pundits were hoping for a higher level of quality engagements. That was not the case, outside of a six-round decision, the other six matches lasted a total of eighteen minutes and 12 seconds!
"The New" Ray Robinson, of Philadelphia, PA, annihilated hapless Edwin Palacio, of Leon, Nicaragua. Just prior to the gong to conclude round one, southpaw Robinson, 150.5,  scored a straight to the cranium that hurt and floored Palacio, 150.3.
Decked two more times in the second, first by another straight left upstairs, Palacio bravely beat the count and continued until Robinson's ensuing onslaught, punctuated by a left uppercut to the chin, had the Nicaraguan dining on resin dust. Unable to beat the count, Palacio was cooked at 2:39 of the stanza.
No one took Robinson seriously when he called out fellow Philadelphian WBC Welterweight king Danny Garcia. Until Robinson triumphs over some world class 147-pounders, his shouts for Garcia will not be answered.
Robinson resume now reads at 22-2 (11 KO's).  Not as good as his record, Palacio will next fool the bout sheet readers, holding a ledger of 12-5-1 (8 KO's).
As far as the undercard…no comment!
Thomas "Cornflake" LaManna returns to the ring and soundly beats Eduardo Flores as he tops exciting bill at the Claridge Hotel and Casino
January 28 –  Claridge Hotel Atlantic City, NJ – LaManna family's Rising Star Promotions has kept Atlantic City boxing's heart pumping by regularly promoting shows at this venue since December of 2015. Topping the bill, Thomas "Cornflake" LaManna, of Millville, NJ, shellacked Eduardo Flores, of Salcedo, Ecuador in a scheduled eight rounder. At the top of the show, Rising Star Promotion's franchise boxer "Cornflake" was bouncing back from his close, and some say disputed, decision loss against Dusty Hernandez back in September for the vacant USBA Welterweight Championship.
 As usual, the joint was packed to the gills with about 700 folks in attendance to witness LaManna. What they received in addition was a night of matches filled with a bunch of local clubbers squaring up against a slew of opponents that came to win. This formula made for some good duals.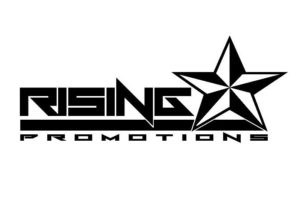 Eduardo Flores, 154, may not have much skill, hand speed or anything else that makes a pugilist good, but what he surely has is a granite jaw.  At 154, LaManna looks strong, well-conditioned, fit and comfortable. Getting right back on his horse, Thomas looks to have refined an already well-schooled left glove by unleashing left hooks and left uppercuts to the head and body. "Cornflake" followed those with stinging straight rights to the head and right uppercuts to the body.  Flores never quit and took his punishment like a gritty warrior too proud to stop trying. 
All three judges saw Flores absorption of punishment at the hands of LaManna the same way by scoring it a shutout at 80-72 for the New Jersey native. With the loss, Flores fell to 25-25-3 (15 KO's).
Never one to sit around waiting for a money fight against a name opponent is what makes LaManna special.  This activity keeps his name on fans' lips. As the rumor mill churns about possible upcoming opponents, or LaManna being inked by some big time promoter, his won/loss total lifts to 22-2 (9 KO's).
Garden State educators earn a better than average salary, receive  quality health benefits and a pension when they retire. Then why would  thirty-seven year-old public school guidance counselor Chuck Mussachio, of Wildwood, NJ, want to trade blows with anyone? At the pre-fight press conference light heavyweight, Mussachio explained by using Michael Corleone dialogue from the movie The Godfather 3,  "Every time I get out. I get pulled back in."
Billed as the "Rising Star Promotions Light Heavyweight Championship" and scheduled for six, Mussachio was pitted against Michael Mitchell, of Paterson, NJ. Supposedly a safe opponent, Mitchell was anything but. Haymakers abound was Mitchell's strategy. Rocked by a booming right to the chin, Chuck staggered back, clearly hurt and his legs were like wet noodles in  the second. Mitchell took advantage of his weakened foe and chased him around the squared circle, hammering Mussachio with jolting shots.
This pattern continued in all six rounds.  Still in possession of sharp skills, in the stanzas Mussachio was able to stay away and box, he did quite well. In search of one big smackaroo, Mitchell loaded and when he landed Mussachio wobbled badly.
After six heats of kicking up dust, one judge saw it a draw at 57-57, while two had it for Mitchell 60-53 and 59-56.
Going back to his Guidance Office at Lower Cape May High School, Mushaccio will have his fedora hat, but nothing to display on his office wall and a record standing at 19-4-2 (5 KO's). Meanwhile, Mitchell, who improved to 4-7-2 (1 KO), has a brand new belt buckle holding up his pants.
 Climbing back into the ring since suffering his first career loss back in July, southpaw Gabriel Pham, of Atlantic City, NJ, crushed Jose Valderrama, of Manati, Puerto Rico. Pham, 167 ¼, cornered Valderamma in round two and connected with a thudding  left to his adversary's jaw. Jose was unable to beat the count and Pham was declared the winner at the 2:50 mark. Pham rose to 7-1 (5 KO's) and Valderamma dropped down to 5-18 (3 KO's).
Former champion Zab Judah returns to the ring to demolish Jorge Luis Munguia
January 21 – Sun National Bank Arena – Trenton, NJ. Boss Lady Promotions brought  prizefighting back to the State Capitol with the second installment of Bridge Wars.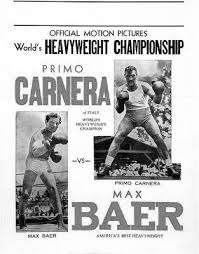 Former two-weight division world champ Zab Judah, of Brooklyn, NY, was impressive in his first fight in four years.  Scheduled for ten rounds Judah showed little rust, if any at all. Still in possession of quick and sharp fists Judah, 143, whooped Jorge Luis Munguia, of Tegucigalpa, Honduras.
The totally outclassed Jorge Luis could do little, but accept his fate. A low blow put Munguia on a knee and surprisingly the referee began a count. Regardless, Judah was giving Luis' face a shoe polishing. Give Munguia, 142, credit for sticking it out the first three minutes and answering the bell for round two. Southpaw Judah still moves well and uncorked a beautiful combo that crashed landed on his rival. No bother for a count, referee wisely ended it at 1:27.  With the win, Judah climbs to 43-9 (30 KO's). Jorge Luis Munguia slides to 13-8 (4 KO's) with the defeat. At the pre-fight press conference, Judah indicated he will campaign at junior welterweight. 
 Warming up for the main event, southpaw Derrick Webster, of Paulsboro, NJ, outfoxed Thomas Awinbono, of Accra, Ghana, over ten rounds to capture the vacant IBO/USBO Super Middleweight title belt.  Possessing super skills, Webster kept on his toes scoring well by sticking Awinbono with a right jab to the face.
Sweeping the first six rounds without sustaining any damage to himself, Webster would firmly plant his feet and release lightning combos that pounded into his foe's head and body, and then he would swiftly move out of the harm's way. Trying to make an attempt to get himself back into the contest, Awinbono charged forward and swung overhand rights, but to no avail.
Both weighed in right on the mark at 168 pounds.  No doubt about the decision as two judges saw it 98-92 and the third had it a clean sweep 100-90 all for Webster. On a three-fight winning streak, the new champ Webster forges ahead at 22-1 (11 KO's).
 In the unofficial main event, the last exchanges of leather paired cruiserweight State Capitol resident Mike Hilton versus Niagara Falls, NY, pugilist Eric George. A National Golden Glove champ as an amateur, Hilton has fists of thunder. Looking considerably smaller, George, 199, made a valiant effort in this entertaining blowout.
 Hilton, 200, fired pile driving shots that broke down George. During the fourth, head snapping uppercuts saw Eric lose his mouthpiece for the third time and a point was deducted.
 After two trips to the floor by George in the fifth, it was over without a count. Time of stoppage was 1:27.  George falls to 4-14 (0) KO's). Local fans filled the seats for the beloved Hilton, who stays perfect at 5-0 (5 KO's).
 Close to a thousand spectators saw the second installment of Bridge Wars. Boss Lady promotions CEO Renee Aikens indicated that her company will return to the banks of the Delaware River in April. A full plate was served this evening with an appetizer of a half dozen  amateur contests and a dinner of seven pro bouts.
In conclusion, Judah looked very good, Hilton shows promise, and Webster now owns a shiny strap.
January 13 – Michael's Eighth Avenue – Glen Burnie, Maryland.   Promoter Jake Smith served an eight-bout PRO/AM held at Michael's Eighth Avenue. Four amatuer bouts kicked things off. Three of the tiffs were matched with skilled amateurs. The fun to watch amatuer finale was more a tough man contest than a display of skills. Four pro fights were topped off by popular local super middleweight Jessie Nicklow, of nearby Brooklyn, Maryland, battling Chauncey Fields, of Lynchburg VA. Lacking the experience of his adversary, Fields, 163.6, arrived in shape and ready. The light punching Nicklow, 164, had not fought in over a year since being kayoed over twelve months ago by Sergiy Derevyanchenko.
Jessie utilized his slugger's style of crouching, bobbing and weaving, moving forward scored well to the body and head. Absorbing the assault with ease, Chauncey swung punches to defend himself. Obviously lacking any starch on his blows, Nicklow maintained control, but still had to continue a strong pace. Jessie usually wins his bouts by overwhelming his foes with a large punch output, which is what he accomplished tonight.
Tough guy Fields' highlight came during round four when a soft right scored on an off balanced Nicklow, sending him to the canvas.  Things continued the same way and finished with a spirited last stanza. Winning a unanimous eight-round decision, Nicklow improved to 26-8-3 (8 KO's), while Fields dropped to 4-1 (2 KO's).
Local bragging rights were on the line in a six-round super middleweight affair where Donald Wallace, of Baltimore, Maryland, won a close unanimous nod against Tahir Thomas, of Salisbury, Maryland.
Neither man gave a inch in this battle royale as Wallace, 166,  went down hard on all fours during the fourth from a two-fisted barrage by Thomas. Head snapping, bone jarring punches hit off of both warriors and when the dust cleared Wallace raised his record 2-0 (1 KO) by winning a close unanimous decision by scores of 57-56 twice and a bit off base 59-55. Thomas, 167, fell to 4-2-1 (3 KO's). These small club shows are the pulse of boxing and the overjoyed, and probably a bit buzzed (alcohol was flowing), crowd of just over five hundred were satisfied they got a good bang for their buck.
December 16 – Sugar House Casino – Philadelphia PA. For the third time in as many shows, Hard Hitting Promotions produced a sell-out audience as Christmas came early for most the local scrappers on the agenda. Outcomes of all the contests were predictable, but matchmaker Reyes did not bring soft touches, though they were tough competitors with losing records that kept things interesting for as long as they lasted.
Luis Lebron, of San Juan, Puerto Rico won a hard fought, yet one-sided match over a game and willing to fight Roberto Corea, of Rivas, Nicaragua, in the eight-round show topper. Toughness and strength kept Corea, 125.75, pressing forward. Handling his foe's strategy with ease, the more skillful Puerto Rican boxer kept out of harm's way. One sided yet entertaining, Lebron received a unanimous victory, raising his mark to 7-0 (3 KO's). It looks like Corea will never even be a .500 fighter as he stepped down to 9-12-4 (4 KO's).
Philly's two hottest prospects scored kayo's on the undercard. Matinee Idol Christian Carto, of Philadelphia, PA, steamrolled over Alex Reyes, of Fajardo, Puerto Rico, in two heats. Both weighed 117.75.
 A barrage of blows punctuated by a left hook to midsection floored Reyes, who went down, but never got up to beat the count. The time of the knockout was at 1:55 of round two.
Turning pro in July of 2016, an active power punching Carto remained undefeated at 6-0 (6 KO's). Reyes tumbled to 2-6 (O KO's).
 Since entering the paid ranks in April of 2016, Jarron Ennis, of Philadelphia, PA, has compiled an 8-0 record with 7 KO's. Victim number eight, Marcus Beckford, of Lafayette, LA, withstood a trouncing as the southpaw Ennis, 146.6, showed no mercy and Beckford, 149, had too much pride. Wisely, the referee did not let it go the distance, halting the assault at fifty-five seconds of the sixth and final round.
Beckford sunk to 3-5 (0 KO's) with the loss.
Continued success is forecasted for both these future stars in 2017. Ennis is 19 years-old and Carto just turned 20, so there is no hurry to develop these young talented athletes. Look for Ennis to step up in class and make a move at year's end. It appears as if Carto's team will take a more patient approach. These young prizefighters are two are big time ticket sellers and already have a huge fan base.
December 2 – 2300 Arena – Philadelphia, PA.   Peltz Promotions/ Bam Promotions in conjunction with DiBella Entertainment put on a show with a bunch of locals on the undercard highlighted by classy Tevin Farmer showcasing his world class skills. Farmer, of Philadelphia, PA, easily obtained a ten-round unanimous verdict over Kosovo native, Dardan Zenunaj 128.9.
Rated number three in the world at junior lightweight by the WBC, Farmer 129, was in full control. Hardly a glove released by his adversary scored on Farmer. So elusive, it seems like ages that a significant blow broke through Farmer's defense.  In all reality, Tevin hardly digested a solid shot in all four of scraps in 2016. Referred to as a reincarnated primed Pernell Whitaker, it is hard to envision Farmer losing too soon as his record rose to 24-3-1 (5 KO's).
Hard to judge how qualified of a boxer Zenunaj is since he was in way over his head. Maybe with a bit more nurturing Zanunaj can improve his 12-3 (9 KO's) ledger.  Promoted by Lou DiBella, Farmer's team should secure him a world title shot in 2017.  If Farmer could square off with a top-ten opponent, before long look for him to join his friend WBA Super Featherweight king Jason Sosa as a world title strap owner.
Stylin' Garret Wilson, of Philadelphia,  PA, trumped Lamont Capers, of Hawley, PA,  taking a six-round majority decision.  Listed at  five-foot-eight inches tall, Wilson, 200.4, packs bulging muscles in his frame.  Across the way, Capers was long and lean. Typical of a match with such contrasting statures, Capers moved around the ring, jabbed, countered and stood his ground in heated exchanges. Wilson only used one gear and that was forward movement winging bombs.
As the proverbial dust cleared, Wilson 17-11-1 (9 KO's) won by scores 58-56 twice and 57-57. Matched tough from early in his career, the very sound pugilist Capers is now 7-9-2, with no knockouts.
November 18 – Downtown Las Vegas Events Center. On the eve of the one of the biggest fights of the year, Kovalev vs. Ward, Roy Jones Jr. Promotions put on a competitive seven-bout affair. 
With all the times I've been to Sin City, this was the first time I visited downtown in over thirty years. At that time, Freemont Street  was dusty and old and filled with locals consisting of cowboys, harlots, pickpockets, flim-flam men and Native Americans. That look is a thing of the past as today Freemont Street is paved with glossy cobblestones and motor vehicles are not permitted. It is not just Freemont Street anymore, it is now billed as "The Freemont Street Experience" where a "SlotZilla" zip line the runs twelve stories above ground with people zipping by faster than forty miles per hour as a rider is strapped in the Superman flying position. For the less adventurous thrill, one can soar through the air just under the "Man of Steel" wannabes in a sitting position. Several stages are set up on Freemont Street and all sorts of characters roam amongst the tourists.  One of these stages was used for the weigh-in the evening before the contests. A sizable crowd gathered in front of the stage, not as much to see the combatants hit the scale, but to get a glimpse of the all-time great former champion Roy Jones.
Tough guy Demond Brock, of New Orleans, LA,  eked  out a close verdict over versatile champion Reynaldo Blanco, of Mantancita, Dominican Republic, for his WBA/NABA USA Lightweight belt.
Kicking things off, Brock, 135, answered the opening bell aggressively, bullying Blanco by crashing bombs on his anatomy. He was in so much control during the first stanza that it appeared Brock was on his way to an early stoppage win. Not so as Blanco 133.8,  asserted his jab with wise foot movement, putting momentum on his side. Not considered a big bomber, Brock hurt Blanco a few times. A determined Blanco kept coming back every time in the thrilling seesaw battle.
A left jab followed by an overhand to the noggin' was working well for Brock in round four. Taking advantage of his foe's slower pace, Blanco threw bolo shots to the body, uppercuts, and straight rights upstairs with much success. 
Going into the last three minutes, Blanco looked worse for wear with both eyes swollen and a cut left eye and the two pugilists fought as if they needed the stanza for a successful verdict.   Mixed reception from the crowd of eight hundred greeted the split decision of 96-94 twice for Brock and 97-93 Blanco.  Brock improved to 13-3 (4 KO's). Blanco's mark now stands at 13-3 (7 KO's).
A boxer to keep an eye on is junior lightweight Randy Moreno, of Las Vegas, NV,  as he improved 7-0 (6 KO's) by finishing off Daniel Perales, of Nuevo Leon, Mexico.  Perales, 131, withstood a shellacking from Moreno, 129.6. Perales heads "South of the Border" with a mark of 7-6-1 (4 KO's).
Exiting the arena speaking with HBO boxing judge Harold Lederman, we walked down Fremont Street.  During our stroll I watched a cast of men and women in absurd outfits dancing to live music and the waif of wacky weed billowing.  It then occurred to me that Brock, a native of New Orleans, was a fitting main event, because nowadays Fremont Street was 24/7, 365 days a year of Mardi Gras!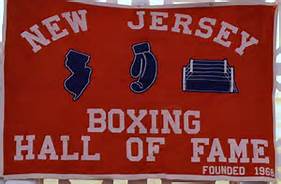 The New Jersey Boxing Hall of Fame 2016 Induction Ceremony
November 3 – Garfield, NJ – Venetian Banquet Hall. The New Jersey Boxing Hall of Fame held its Forrty-Seventh annual induction and award ceremony. President Henry Hascup always does a great job and this year was no different. Notable inductees included Pat Lynch, who has managed a number of boxers throughout his career, the most famous being the late Arturo Gatti. Professional Judge Debra Barnes joined this year's class. New Jersey State Athletic commissioner Larry Hazzard was courteous as usual posing for photographs and shaking hands with a good deal of the sold-out crowd of 550 fans in attendance. 
 Of course the real life "Rocky" – "The Bayonne Brawler" Chuck Wepner mingled amidst the diners. Who else could be picked other than 2016 Olympic Silver Medalist Shakur Stevenson as the Amatuer Boxer of The Year? Unfortunately, the fighter was unable to attend and  Shakur's dad was on hand with the Silver Medal to accept his son's award. Stevenson just signed a managerial agreement to handle his pro career with Light Heavyweight World Champ Andre Ward, James Price and Josh Dubin. Price manages Andre Ward.
Drove up and dined with great guy Vinnny LaManna . Vinny's the dad of promising welterweight/junior middleweight,  Thomas "Cornflake" LaManna. LaManna family Rising Star Promotions kept Atlantic City Boxing alive in 2016.
The annual New Jersey Boxing Hall of Fame belts are designed by SARTONK – the originator of the modern boxing championship belts.
Boxing Erupts in Philadelphia
 November 11 – Philadelphia, PA -2300 Arena. GH3 Promotions combined with Victory Boxing Promotions to deliver ten solid fights to seven hundred fans on this night. Carlos Valcarcel,  of Miami, FL, arrived in shape and ready, but that was nearly not enough to overcome odds on favorite Adam Lopez, of San Antonio, Texas, in the main event.Possessing too much talent Lopez, 124, easily outhustled Valcarel,, 124 ½.  Scheduled for eight, Lopez pounded Carlos round after round. Lopez looked quite impressive as he hurt opponent throught the bruising contest. Suddenly, a crushing left to the body dropped Valcarcel. Rolling on the ground in pain, Carlos was counted out at 1:47 of the last frame. Moving forward, Lopez is 16-0-1 (8 KO's). On his way to a .500 record, Valcarel drops down to 14-9-4 (5 KO's).
Brawl of the evening pitted so-called opponent Teanal Goyco, 169 ½, versus prospect Jerry Odom, 167 ½, in a super middleweight contest scheduled for eight rounds. Things played out to script when Odom stunned Goyco in the first. As Jerry unloaded a arsenal of bombs, it appeared a staggered Goyco was going to make an early exit. Nothing changed in the second, but by the third it was obvious that Jerry emptied his tank trying to finish his adversary. Now it was Goyco's turn and the Philly native began getting the better of the spirited exchanges. 
Round five was all Goyco as he staggered, stunned and battered Odom from pillar to post, who lacked the strength to defend himself. After a fall to the floor that was ruled a slip, Odom slowly returned his stool at the bell. Not getting out of his seat for the sixth, Odom handed Goyco the upset victory. Upset yes, a surprise ending, definitely not for those who have seen Goyco in action before.
After picking up a couple of solid wins this year Goyco evens his mark at 9-9-1 (4 KO's). Still unable to get his career completely off the ground, Odom goes from prospect to question mark, dropping to  14-3-1 (13 KO's).
After a twelve-month spell of inactivity, super middleweight Derrick Webste, of Glassboro, NJ,  looked sharp in his second bout since July. Hungarian,  Zoltan Sera, 167, entered this six rounder thinking win. What Sera got was a severe beating and was stopped at 1:28 of the fifth. Never in doubt, southpaw Webster,170, dropped Sera with a right hook to jaw in the fourth.  No arguments when the ref halted the action.
It is time for the capable Webster, 20-1 (11 KO's) to step up on his game. It will be interesting to see how he is matched up next year. Sera will go home to the land of goulash with a 26-11 (17 KO's) record.
October 28 – Philadelphia, PA – Sugar House Casino. Hard Hitting Promotions scored with a another sold-out crowd in its second promotion hosted by Sugar House Casino. A couple of late scratches scaled the show down to six contests. Topping things off  was "The New" Ray Robinson, of Philadelphia, PA,  who issued a severe beating to Santos Benavidez, of Cohntales, Nicaragua. Late in round one, Benavides, 150 ½, had to pick his butt off the canvas that placed him there from a Robinson left-right combo to the chin. Showing no rust Robinson, 151 ½, looked sharp creating scoring opportunities with footwork that allowed him to land punishing shots frequently.
To his credit, Benavidez kept trying, but his valiant effort achieved little. No one complained when the ringside physician did not let Benavidez out for the fifth – giving Robinson a win by TKO 4. A ten-year veteran, inactivity has been Robinson's greatest foe. Ranked fifth in the world by the WBC and living in the same city as the organization's Welterweight King Danny Garcia, the road to the title is still very long for Ray. For his own sake Robinson enters the ring again soon as his record now stands at 21-2 (10 KO's). Losing on a regular basis nowadays, Benavides heads south with a 25-11-2 (19 KO's) slate.
Fan favorite, ticket seller and matinee idol Christian Carto, of Philadelphia PA, won by technical knockout at 1:42 of round two over Angel Carvajal, of Chicago, Il. Carto,117 ½, turned professional in July and has been impressive in all his outings. Carto stays perfect at 4-0 4 (4 KO's). Weighing in at 115 ¾, Angel Carvajal sunk to 2-4 (0 KO's).
A efficient run night of action had this writer back home in the swamps of Jersey in time to watch The Honeymooners. Bang zoom to the moon!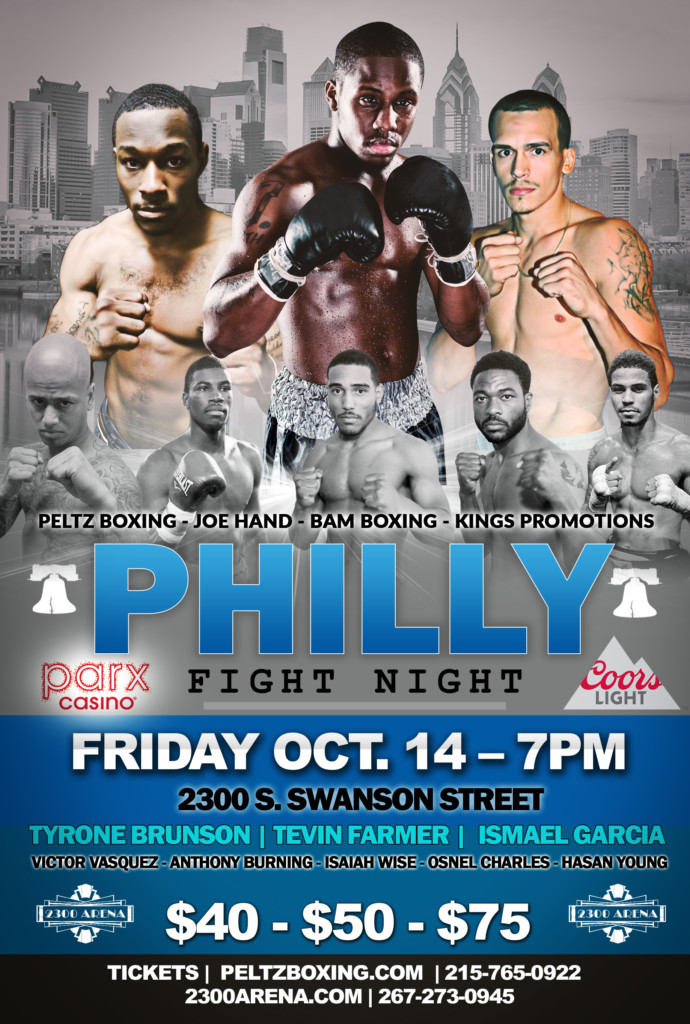 October 14 – Philadelphia, PA – 2300 Arena. Say  the name of promoter Russell Peltz in Philly and tickets begin selling regardless of what the featured bout is. Popular and talented Tevin Farmer, of Philadelphia, PA, easily cruised  to an eight-round decision victory over Orlando Rizo, of Managua, Nicaragua. Quick and sharp, Farmer tapped jabs off of Rizo's face. On his way to his sixteenth straight win, Farmer, who must now be considered a world class fighter, had no difficulty against the clubber facing him. Scoring a lucky punch was a very long shot for Rizo, 131.4, as Farmer, 132.6, chose to play it safe and pick his foe apart. A point was deducted from Tevin in the fourth and final heat for low blows. Even with the penalty points it was never in doubt as Farmer won a unanimous decision by scores of 78-72 twice and  77-73 on the third scorecard. Farmer is now 23-4-1 (5 KO's). The tough journeyman  Rizo fell to 19-8 (11 KO's) with the defeat.

In what looked as if there could be some real fireworks, Tyrone Brunson, of Philadelphia, PA, and Ismael Garcia, of Vineland, NJ, both showed up in great condition trying  to make a name for themselves, but had to settle for a eight-round majority draw. At times Garcia, 154, pressed the action, but Brunson, 155, kept him in check by issuing the stiffer shots.Nothing much as far as sustained action occurred until the last stanza when Brunson began to unload thudding rights that cut and swelled up Garcia's left eye. The judges were mixed as one saw it 78-74 for Garcia and another one saw it for Brunson by the same score. Meanwhile, there was no tie break as the third judge saw it 76-76. Remaining undefeated, Garcia is 11-0-2 (4 KO's) and Brunson is now 23-6-2 (22 KO's).
Farmer's stablemate lightweight Steve Ortiz, of Philadelphia PA, was impressive in stopping Daniel Tran, of Oklahoma City, OK, at 2:20 of round two in a scheduled six. Tran, 136.6, had his head snapped back violently from a left hook by Ortiz, 135.3, that prompted the referee stoppage. A young talent to keep a eye on, Ortiz, 23, is now 5-0 (1 KO). Losing his sixth straight, Tran sinks to 4-6-1 (1 KO).
Close to 1,200 seats were filled for the night promoted Peltz Promotions Bam Boxing Promotions.
August 5 – Philadelphia – PA 2300 Arena. Philly fight fans are as good as any fanatic in sports. Over five hundred hometown spectators were on hand this Friday night to cheer what they love most, which is a prizefighter from The City of Brotherly Love. The undercard littered with locals had everyone out of their seats from the onset when debuting Jeffrey Torres, of Philadelphia, PA, thrashed fellow debutant Mariano Rolon, of Reading, PA. Mariano, 136, did not last long before falling from a well placed left hook to the body by Torres, 136. Two more trips to the floor by Mariano had referee Eric Dahle waving things off 2:23 into the affair.
Stoking the fire of a night of brawls, a classic Philly slugger performance saw Tyrone Brunson, of Philadelphia, PA, in his fourth-round stoppage of Carlos Garcia, of Aguada, Puerto Rico. Scheduled for eight, this bout almost did not leave the first frame when Garcia was canvassed by a stinging right hand off the chin. Table turning second saw Brunson taking a seat on the apron two times. Back to the barn for round three as both loaded up haymakers. Tyrone, 157,  dug a left hook into Garcia's liver that folded his adversary in half and eating resin dust while taking the full ten-count  25 seconds into the fourth. Back on the winning track after losing four straight, Brunson improved to 23-6-1 (22 KO's). Tougher than his record indicates, Garcia fell to10-17-1 (8 KO's).
With less than twenty-four hours notice, Naim Nelson, of Philadelphia, PA, gave a game effort, but could not overcome world rated Alejandro Luna, of Bellflower, CA. Fighting ten pounds above his natural weight did not deter Nelson, who tipped the scales at 143 ½. Setting a quick pace Luna,144, was getting the better of the action. A slashing body assault was maintained throughout by Alejandro, although the resilient Nelson held his ground and chose to slug it out. Dominant as he was, Luna did not go unscathed, having considerable swelling around his left eye. In the end all three judges had Luna winning by a large margin 97-93, 98-92, 99-91. Luna rose to 21-0 (15 KO's).  "It wasn't my natural size. I knew I was taking a shot at a ranked guy, but I was in the gym and in shape. It was a chance to step up and be on national TV," said Luna.
Taking the short cab ride home, Nelson is now 13-2 (1 KO).
What is a stepping stone? When is a boxer classified as one? One thing is certain, no pugilist likes to be referred to as one. At the very least a step stoner is given a shot to win by the pundits. In the present time period Denis "Momma's Boy" Doughlin, of Marlboro, NJ, has become a building block. Warming up across from Doughlin, 168.8, was hot prospect David Benavidez, of Phoenix, AZ. Trained by his mother, "Momma's Boy" had a good game plan of jabbing his way inside and mixing things up in close. Dictating the tempo Denis did well early, however,  he was buzzed by his opponent's lefts to the body, followed by straight rights to the face.
After seven heats the nod was still up for grabs. "I was in this fight. I was in great shape," remarked Doughlin.
A searing left hook to the liver creased Doughlin in half during the eighth frame. Taking complete charge the next session Benavides, 167, floored Doughlin with a left off his adversary's chin.  Hardly given a chance to get off his stool, a trapped Doughlin was bushwhacked in his own corner. Benavidez's storm finally concluded when referee Rosato halted matters forty-five seconds into the tenth stanza.
Now 16-0 (15 KO's), Benavidez said, "This is a good victory for me. It shows everybody that I am just as strong in the late rounds as I am early on." Doughlin improved to 20-5 (13 KO's). Roughly five hundred people were on hand for Marshall Kaufman's Kings Promotions in conjunction Premier Boxing Champions Promoted event.
August 6 – Grundy Arena – Bristol, PA. Record padders and set-ups were brought in to beef up a bunch of prospects victory totals, as very good heavyweight Chazz Witherspoon, of Paulsboro, NJ, headlined the show. Witherspoon 235, finished off Mike Marrone at 1:31 of the second. A ten-year veteran, Marrone, of Vero Beach, FL, picks up one paycheck a year entering the squared circle as fodder. Eleven months earlier Marrone got stopped in two by Shannon Briggs. With no real ambition to furthering his career, Marrone's record stands at 21-6 (15 KO's). See you next year Marrone!
On the other hand, Witherspoon has the tools to continue to build his career and ups his mark to 35-3 (26 KO's).
The bout was promoted by Doc Nowicki and David Price, D and D Promotions and billed as the Rumble at the Rink 2. None of the battles were evenly matched, but the out of town second raters gave it all they had before succumbing to their fate. Refusing to back down and rising after being felled, Matt Murphy, of  St, Louis MO, absorbed a horrific beat down from Jarron Ennis, 144, of Philadelphia, PA, who is one of The City of Brotherly Love's  hottest rising stars. After Ennis nailed Murphy with a drilling right to the body, Matt crumbled and the fight was stopped at 2:57 of round two. By going out on his shield and falling to 1-3 (1 KO), Murphy can go home with his swollen head held high. Not to be taken lightly Ennis 5-0 (5 KO's) has polished off his first five opponents before the final bell.  He is certainly one young boxer to keep an eye on.
____________________________________________________________________
Last fall, after a twenty some odd year hiatus, I was ready to bring my  notebook and pen  back to ringside, once again. Fortunately, "The Boxing Twins"were kind enough to oblige me . My first  assignment was a small club show in Beach Haven, N.J. As I picked up my media credential, I asked "Where's Obermayer?" If anyone was going to show up at this  thriving summer beach resort in late September , when it is a Ghost Town, it was Jack. And, there he sat, my friend from days gone by, when the Blue Horizon and  Atlantic City Casino's alone,  kept us and other companions  together ringside,  close to  fifty fight cards per year.  After pulling up a chair next to him we picked up right where we left off.   As if we had not seen each other for just a couple of days.   By the way, this was new town #400 for "KOJO". Shortly thereafter, before the first bell  chimed,  "I'm calling Jowett Boy," Jack said. Putting the phone to his ear, "Hey Jowett Boy, guess who's here – Frank Bartolini, you remember, Butt Crack!" Everything seemed back to normal.  Who knew  by the early part of the following summer, myself  and the boxing world would be mourning Jack's death. Thank God for giving me the last few months with him.  Rest In Peace Jack "KOJO"Obermayer.  You will be missed and loved forever.
Starting June off, made my way to the Grundy Arena  in vintage Bristol, PA for a pre-fight public workout. Promoters Doc Nowicki and David Price of D and D promotions set up a ring in the parking lot and made every boxer available to the press for questioning. A very cordial Derrick Webster sat and spoke with us and announced he would be getting married in the fall.  Following the press event, the gracious promoters took us to a local Tavern for appetizers, where the popular Philadelphia ring announcer Nino Del Buono introduced the fighters to the patrons.
A couple days later  on June 3, I traveled to my birthplace Queens, NY for a night of boxing promoted by Dibella Entertainment at Resorts World Casino. It was the first time  I witnessed a  sanctioned female battle. 153 lb. Alicia Napoleon, of Lindenhurst , NY, 6-0 (5 KO's) brought a large fan base with her. They all went home happy after Napoleon trounced Latasha Burton, 162, of Houma, LA  4-7 (O KO's), stopping her in the eighth and final round.
June 3 – "I shook up the world. I'm a bad man. I am the greatest of all time"– not just the boxing community, not just the United States, not just the world, but the entire universe mourned Muhammad Ali's passing.
June 4- Grundy Arena for a PRO-AM .  Writer Jeff Jowett was there judging the amateur fights before returning to press row for the pro action. Very impressed with the punching power of former National Golden Glove champ Mike "The Beast"Hilton, 199, of Trenton, NJ. Hilton beat the stuffing  out of  Dave Valeyko, of Neptune, NJ, dropping his foe a couple times before ring physician Dr. James P. Quinn stepped in between rounds two and three to stop the action. Hilton is now 2-0 (2 KO's). In need of finding a new profession, after his eighth straight loss, Valeyko,198, slides to 4-8 (0 KO's). Sadly, this night of fights would be the last one, Jack "KOJO"Obermayer would ever attend. RIP Jack!
Arrived on Thursday June 9 for the International Boxing Hall of Fame Induction Weekend. Met up with the gang at the Turning Stone Resort and Casino. I went over to the parking lot of Graziano World Famous Restaurant and Hotel, which is across the street from the IBHOF. There I met with the big time players of the Boxing Memorabilia world, unbelievable some of the pieces these men acquired. Holding a ticket  in my hands for the last bare knuckle World Heavyweight Championship match between John L Sullivan vs. Jake Kilrain made my imagination wander back to that field in Richburg, Mississippi  July 9, 1889 (see Bare Knuckle Hall of Fame section on website).
June 10 – Muhammad Ali is laid to rest.  He now joins such former foes as Joe Frazier, Sonny Liston, Cleveland Williams, Zora Folley, Ron Lyle, and sadly many others.
Saturday night – June 11 -Turning Stone Casino – the main event saw John Molina win UD 12 Rulan Provodnikov, also Demetrius Andrade KO 12 Willie Nelson (both reports on website). All the seats were filled for a interesting undercard  as WBC #1-ranked DeJan Ziaticanin, 134, became the first world champion from the country of Montenegro when he stopped last-minute substitute WBC #5-ranked Franklin Mamani, 133.5,  of La Paz, Bolivia, at 0:54  of Round 3 for the vacant WBC Lightweight World title. Afterwards, Ziaticanin said, "I came to win for all my countrymen. I knew I'd knock him out. I am one hundred percent here to knock him out." Dejan who is now 17-0 (11 KO's), went on to declare, "I am a world champion now. I'll fight anyone any day any time. I want to be one of the best."Mamani boarded his plane back home 21-3-1 (12 KO's).
June 12 – Started the day by attending the IBHOF parade that runs down Main Street in Canastota. Next came the induction ceremonies,  being enshrined this year was, Hector "Macho"Camacho, posthumously.  His son Hector Camacho Jr, accepted the award. Others included Mexico's Lupe Pintor, Panama's Hilario Zapata, Judge HaroldLederman, Newark Star Ledger sports writer Jerry Izenberg , former Nevada State Athletic Commishioner Marc Ratner, and broadcaster Colonel Bob Sheridan.
No one on the main stage was happier for Zapata, than the legendary Roberto Duran. Unable to stay in his seat, Duran stood with Zapata when he received his plaque and draped the two weight class world champ in the Panamanian flag. From Ray Leonard to Chuck Walker, the entire 1976 USA Olympic boxing team was there celebrating the fortieth anniversary of dominating the Montreal Olympics. Val Barker Trophy winner Howard Davis Jr., who died this past December, was eulogized by Ray Leonard.
June 25 –  Jack "KOJO" Obermayer took the ten-count and ringside will never be the same. After fifty years  espousing his love for of our great sport, the internet and social media  lit up with obits, memorials, but most of all anecdotes of Jacks life. Man – Jack was loved by everyone from promoters, matchmakers, managers, trainers, world champions, four-round pugs, and most of all fans and his fellow scribes.  I  love and miss you Jack, Rest in Peace, until we meet again! 
Kings Promotions staged three nights of fights in a eleven-day period for The Premier Boxing Championsseries. Not a easy feat, but still all shows ran smoothly.
First one took place  on June 28 at Sands Bethlehem. My son Joe was the photographer. It was the first boxing matches he has ever been to.
Top of the card had capable veteran Edner Cherry, of Wauchula, FL,  facing off against Lydell Rhodes, of Las Vegas, Nevada. Kicking things off, both combatant came out at the opening bell looking for a fight with Rhodes,132.9,  landing a few heavy overhands rights and Cherry, 131.7, scoring nice combos. That all ended in the second round after  Lydell was hurt with a left hook to the noggin'. After that it was ugly and one-sided in Cherry's favor. Edner tried to make a fight of it, but all Rhodes did was hold and grapple. As early as round six Cherry gave referee Gary Rosato a befuddled look and commented on Rhodes'tactics and said, "Damn!"
Without intervention, Rosato let it happen all night. At the end all three judges unanimously gave Cherry the nod. Getting back on track since losing his last outing in a failed attempt for the IBF World Super Featherweight last October, Cherry is now 35-7-1 (19 KO's) as Rhodes dropped to 23-2-1.
Most impressive performance came from Omar Douglas, of  Wilmington Delaware, 128, stopping Alexei
Collado, 128.5, of  Miami, FL. Douglas forced his will on his foe landing an asortment of shots. Meanwhile,  Collado kept him honest by landing hard blows to the head. During the fifth round, Douglas'investment to the mid section began paying dividends as Collado slowed down. Taking charge, a well placed left hook to Collado's liver during the sixth by Douglas nearly ended the action. In such bad pain, Collado walk away. Taking advantage, Douglas scored a perfect left-right-left to the head that staggered Collado at the bell.
Knowing victory was soon on his doorstep, Douglas slapped Collado around in the seventh. A stinging jab right hand to Collado's head was the beginning of the end. A left uppercut followed by a right to Collado's skull ended matters. Crumpled on the canvas and unable to beat the count, it was curtains for Collado at the 2:56 mark of Round 7 in the scheduled ten-rounder.  Collado  tumbled to 19-2 (4 KO's) as Douglas improved to 17-0 (12 KO's). No doubt Douglas can handle even better competition and look for him to start making a move on ranked opponents in the featherweight division. 
July 2 – Santander Arena – Reading, PA. Marshall  Kaufman's best card was on display for the promoter's hometown.   2012 Olympian and former  two-time Iraqi tour Marine veteran Jamel Herring, of Cincinatti , OH, took a step up facing Denis Shafikov, of Miass, Russia.  Coming off a failed attempt at winning the vacant IBF Lightweight strap in December, Shafikov may have seemed ripe for picking by Herring's brass. Nothing was more untrue. Better at all aspects of the game, Shafikov, 134.5, commanded the action of the battle of southpaws. As early as round two, it was evident the Russian buzz saw was the stronger of the two when a a right hook to the noggin'planted Herring backside on the apron. That did not, however, stop Herring from going full tilt punch for punch and holding his own. Unfazed by Herring's blows, Shafikov, 134.5, began charging in and unloading. Too tough for his own good, Herring absorbed more than he should have. After getting pounded in the seventh, no one would have blamed Herring's corner if they did not let him out for the eighth. With a huge heart, Herring continued to absorb punishment. Finally at the 0:36 mark of the tenth and final round, a bloodied Herring absorbed a couple lefts off the head and his corner wisely threw in the towel. For precautionary measures Herring went to the hospital to get checked out. 
The semi wind up saw young Patryk Szymanski, Konin, Poland, easily outclass former IBF super welterweight world title challenger Wilky Campfort, of Fort Lauderdale, FL, earning the unanimous nod by large margins in a ten-round tilt. With a well schooled left hand that was delivered by jabs and hooks Szamanski, 153.5, set up straight rights to the basement and upstairs. Coming off a failed world title challenge, Compfort could not match skills with his Polish foe. Shut out the first three rounds and staggered in the fourth stanza, Compfort ,153.5, came back hard in the fifth and sixth, pumping rights off of Patryk's cranium. Not slowing down and maintaining a high punch rate, Syzmanski outfought Compfort at every turn to the finish line. It seemed as if Szymamski took Round 9 off, because in the final stanza he rocked Compfort several times. Only a low blow by the Polish fighter saved Compfort from being stopped, when Ref Benji Esteves halted the action to allow  recovery. Two judges  saw the fight at 99-91 and the third scored 98-92 for the winner.  Syzamski remains undefeated 16-0 (9 KO's). Compfort  dropped to 21-3 (12 KO's). If  Szymanski continues to progress at this rate he should be able to take on top-rated opponents in a eighteen months to two years. 
Former IBF World Welterweight king Kermit Cintron,152, easily scored a eight-round decision over journeyman Carlos Garcia,154.5, Tijuana, MX. Although slowed down by inactivity and age, Cintron a Reading, PA, native still has enough in his tank to over take a less skilled fighter like Garcia. In great shape Citron breezily went the eight frames. Cintron upped his record to 37-5-2  (28 KO's) as Garcia fell to 10-16-1 (8 KO's).
Keep a eye on bantamweight Christian Carto of Philadelphia, PA, who made his pro debut by knocking out Rahkeam Parker, of Laurel, Mississippi, who dropped to 0-3.
July 3 – 12:10 am –  My pilgrimage begins on a quest to Belfast, New York, where the barn that William Muldoon trained and restored a physically dilapidated John L Sullivan for his match versus Jake Kilrian  still stands as the Bare Knuckle Boxing Hall of Fame. A nearly five-hour drive  and I was to  meet Scott Burt at twelve that day . In seven days, our publication was going to be enshrined  and I was delivering a display that featured  a "Time Tunnel"piece on the John L Sullivan's scrap with Jake Kilrain, that was first published twenty-five years ago. "London Prize Ring Rules"last tilt for the heavyweight strap.
Determined to arrive on time and concerned about over sleeping, I planned on traveling until I physically ran out of steam before I conked out. At 2:35 AM,  I pulled into a Holiday Inn Express in who knows where, where I stayed until 7 AM. I never made it to check in, parked and fell asleep in my vehicle!
Rubbed my eyes, got my bearings and realized I did not have to spring for a hotel and moved onto the desolate highway that separates Pennsylvania mountains from New York wilderness. At this point I believe it quite possible not many men in the history of mankind ever took the excursion from Reading, PA to Belfast, NY!  After a few stops for coffee and petrol, I  pulled  over roadside coordinate checks as my GPS would lose satellite contact. Truly the middle of nowhere, at 10:45 AM, I arrived in Belfast, NY, for a moment it felt as if H.G. Well's "Time Machine"brought me here. A proverbial one horse, no traffic light town.
Nothing's changed since the turn of the 20th century. A left turn off Main Street and there it was the "Vatican"of bare knuckle fighting. A white picket fence surrounded the old white barn. Two life-sized carved marble statues stood in front,  one of the John "The Boston Strong Boy" Sullivan, and the other of his trainer and champion wrestler William Muldoon.  I killed time absorbing in the environment of quiet peace, fresh air and birds singing,  and drove to the waterway where Sullivan took his daily swim.  Came back to the barn just when Mr. Burt pulled up in his pick up truck. Scott was not only there to meet me, but to prepare the training barn for the over one hundred visitors coming the following week. Unlocked and opened, I entered into a time capsule which had a aura about it. Imagine, three weeks earlier I had held a ticket to the Sullivan-Kilrain bare knuckle superfight in an era long extinct. Now, I am walking freely through these hallow beginnings of the evolution of modern fitness training. If you did not know Muldoon invented the medicine ball and a regimented systematic training that employed running, walking weight training, swimming, bag work and sparring at a time when training primarily meant staying off the sauce.  
Strutting through the building, my soles touching the same floor boards as Muldoon and Sullivan had over one hundred twenty five years ago, I had hundreds of questions, which Mr. Burt answered, and unloaded the display.  It was now time to head back home to Jersey, where people are everywhere and grade school classes outnumber Belfast High School 2016 graduating class of 17 seniors!  Leaving this oasis, I thought of Muldoon's description of his hometown,  "This is the healthiest place in the country and one of the most difficult to reach." Those words resonate to this day. One more thing, I will be attending next year's induction ceremony. Trying to get my cohorts to come with me. 
July 9 – New Jersey's state capitol Trenton Sun National Bank Center hosted  the last of King's Promotions three-fight tour. A snoozer of a main event saw Mario Barrios, of San Antonio, TX,  score a twelve-round unanimous decision over Devis Boschiero, of  Veneto, Italy in a IBF Super featherweight eliminator. Boring beyond belief, Boschiero did not throw a punch the first three minutes and less than a hundred throughout the fling. On a bicycle without breaks, Boschiero, 130,  circled the ring the entire thirty-six minutes. A weak effort was put forth by Barrios in trying to chase down his foe. Boos filled the arena.  As the final belled  chimed, a sigh of relief was released  from all attendees. Boschiero fell to 39-5-1 (21 KO's) and future world title challenger Barrios improved to 16-0  (8 KO's).  Not much to report on this evening occurrences, but it was nice to watch  Philly super middleweight prospect Christopher Brooker  throw punches at Atlantic City's very own undefeated prospect Grabriel Pham, 168. With a bit more seasoning and much more strength, Brooker outgunned Pham over eight rounds.  Muscling his way through, Brooker bloodied the somewhat over matched Pham's nose and controlled the outcome – winning on all three judges cards by scores of 78-74 and 79-73 on the other two. Brooker is now 10-1 (5 KO's). Suffering the first stain on his record Pham's mark stands now at 6-1 (2 KO's).
All three King Promotions shows drew between six hundred to a thousand fans.
July 22 – Atlantic City, NJ – The Claridge Hotel hosted yet another night of fights promoted by Atlantic City's new first family of boxing, LaManna's Rising Promotions. Match ups are improving with each event promoted by Rising Star as a entertaining undercard accompanied a dubious main go that saw Anthony Young, 149, of Atlantic City, NJ  win an easy unanimous six-rounder against overused loser Eduardo Flores, 151, of  Ecuador. Young moved to 13-2  (5 KO's) as Flores dropped to 23-21-3 (15 KO's).
It does not matter if Thomas "Corn Flake "LaManna, of Millville, NJ, was not billed as the showcase attraction, the mastermind of Rising Promotions is the boxer that fills the seats. Feeding himself a cream puff in preparation for his showdown with Dusty Hernandez Harrison in mid September, "Corn Flake" swallowed and finished off Engelberto Velenzuela, of Sonora, Mexico. Velenzuela, 151, hardly got off his stool before LaManna, 155, began whooping his rear end. Two minutes and seventeen seconds is all it took for LaManna to end this scheduled sixer. Showing more pop on his blows LaManna is ready to step into the squared circle across the way from high caliber opponents. On paper, Harrison vs LaManna looks to be a humdinger.
Harrison's promoter Roc Nation brought in their two former Chinese Olympians. Roc Nation's matchmaker Eric Bottjer chose tough opponents to help these stablemates improve their skills. These two bouts went a long way in strengthening the preliminaries.  First off, the 2008 Olympian Heavyweight Silver Medalist Zhang Zhilei, of Zhouko, China, fought off a gritty Rodney Hernandez, of Modesto, CA, picking up a unanimous six-round decision. Southpaw Zhilei, 255 ½,  scored easily and busted up Hernandez's facial features.   Blood  gushing from a cut above Hernandez's right eye and a bloody nose and mouth, did not discourage the Californian from attempting to win until the final ding. Zhilel never slowed his onslaught and battled  Hernandez's wild charges. Continuously moving forward  six-foot five-inch Zhilei's  strength and firepower was overwhelming Hernandez, 249. Never surrendering, Hernandez was a bloody mess winging haymakers to no avail. One-sided, yet entertaining, two judges had it scored 60-53, and one 59-55. Zhilei remained unbeaten at 11-0 (7 KO's) as Hernandez sunk to 10-5-1 (2 KO's).
Most impressive was Zhilel fellow countryman and Olympian light heavyweight Fanlong Meng, of Chifeng, China, who was paired against Daniel Judah, of Brooklyn, NY. A season gritty veteran with thirty seven fights, Judah was a very tough match for Meng on paper. Owning a heavy snapping straight left Meng, 178,  proved himself to be better than one would expect from a fighter with just seven ring engagements. Early in Round 1, Meng was scoring with straight lefts and right hook to Judah's head. Even as the wily Judah closed the gap between the two, Meng was in full control of the action, drawing first blood from the Brooklynite's nose in the second. Still on unsteady legs from getting rock at the end third, Judah, 177,  was ripe for the picking in the fourth. Issuing a methodical butt whooping, Meng cut off the ring and was landing a well schooled left uppercut-right hook to Judah's chin. Never missing a opportunity to attack the body, Meng had Judah all but done from the complete beating. A Meng right hook to Judah's chin moved toward the affair's conclusion early the fifth. Hopping all over a stunned Judah, Meng finished his cornered rival with a precise left uppercut right hook combination to the jaw. The effects had a senseless Judah out cold sitting on the second strand of the ropes when referee Ricky Gonzalez smartly jumped in the end matters at 2:08 0f the stanza. This was Judah's second fight this year prior to that he had not fought since 2012. Judah fell to 24-11-3 (11 KO's) as the undefeated Meng went to 8-0 (6 KO's).
LaManna will be squaring off against Dusty Hernandez Harrison on September 15th  at the 2300 Arena in Philly for the vacant USBA welterweight title.  
Picked up a book titled "Ten and Out"in a used book store in rural Clarksburg, NJ. Written by Alexander Johnston, it is a history of boxing dating back to Englishman James Figg. Originally released in 1927 and had seven printings until 1947, each one updated to it's current period. During World War 2, the U.S. military bought a few hundred thousand issues to send to military bases throughout the world from 1943 to 1946. With boxing's popularity booming post World War 2, the final printing hit the book stores in 1947. My guess is veterans and the friends they told about this book wanted a copy of their own.  Researching the author, all I could find was that he was born 1879 and that he wrote no other books. A very good and informative read, I recommend to any fan of the Sweet Scienceand its colorful history. My copy only cost me ten smackaroos. 
Until the next time – Keep Punching!!!!!