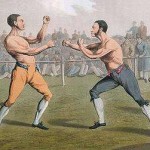 BARE KNUCKLE BOXING HALL OF FAME
Watch the Boxing Twins Tour of the Bare Knuckle Boxing Hall of Fame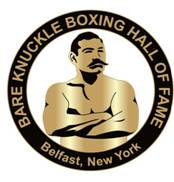 Click on photos to see the Boxing Twins Tour the museum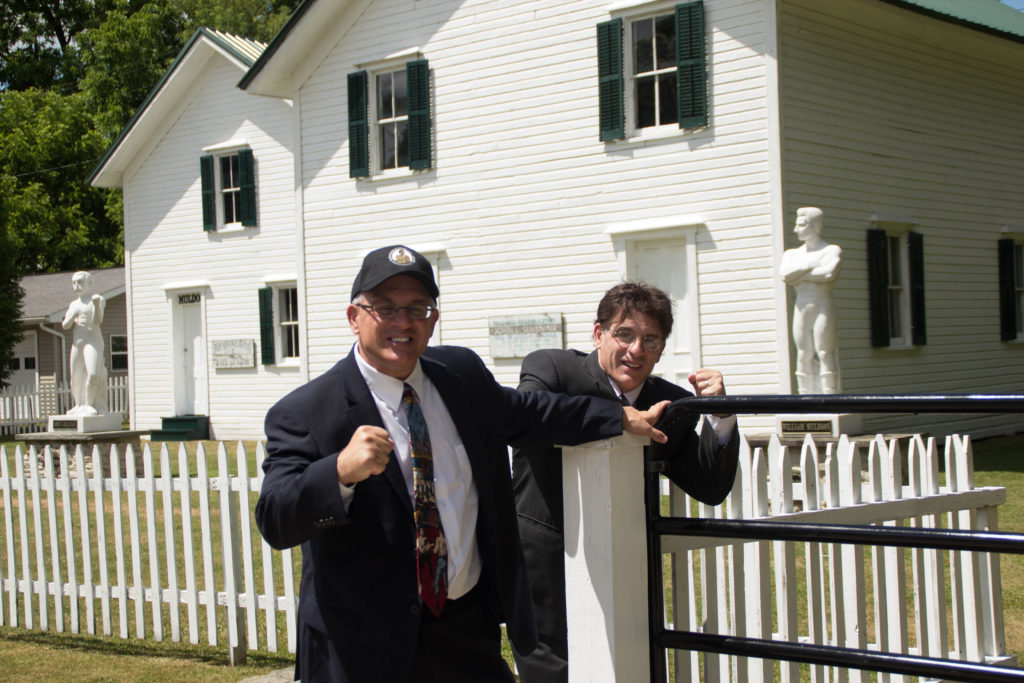 BARE KNUCKLE BOXING HALL OF FAME
INDUCTION CLASS OF 2017 (Ceremony to be July 8; Belfast, New York)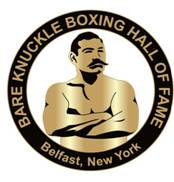 ORIGINAL BARE KNUCKLE INDUCTEES
Must have fought completely bare fisted sometime in their career; no wraps:
Uriah "Hughie" Burton, Boxer (King of the Gypsies late 1950s-early 1970s; known as 'Big Just')
     Undefeated Bare Knuckle Boxing Champion of the United Kingdom and Ireland.
Ted Daley, Boxer; Undefeated Bare Knuckle Boxing Champion; Living Inductee.
Billy Edwards, Boxer; 1868-1872; Lightweight Bare Knuckle Boxing Champion of the World.
Bartley Gorman V, Boxer (King of the Gypsies 1972-1992) English born traveller of Welsh
     and Irish descent; Undefeated Bare Knuckle Boxing Champion of the UK and Ireland.
Daniel Mendoza, Boxer; Heavyweight Champion of England from 1792-1795 (34-3 w/30 KOs).
Shannon Ritch, Boxer (Living Inductee) Bare knuckle record of 25-2 (25 KOs). Known as the
    "Most active fighter on the planet."  #1 Ranked Contender for America's Police Gazette belt.
HONORARY INDUCTEES
Must have brought positive spotlight to upstate New York:
Ed Atherton, Wrestler, 1902 World Champion from Belfast, New York; pupil of Wm. Muldoon.
Barry Broughton, Local Grand Master from Olean, New York; known World-wide.
Chris Guzman, World known Boxing Artist; his work fills our Hall of Fame Room of Honor.
Roy Harding, Boxer; Local legend; fought 1929-1945. Soldier at Pearl Harbor during the attack.
Jimmy Holmes, Boxer; Indiana State Champion who trained in the Muldoon-Sullivan barns.
Tim Witherspoon, Boxer; 2-Time World Heavyweight Champion (WBC 1984, WBA 1986).
MARIE BACKUS PERSON OF THE YEAR:
Gino Arilotta, Rochester Boxing Hall of Fame President.
Scott R. Burt, President
BARE KNUCKLE BOXING HALL OF FAME
5 West Hughes Street; Belfast, New York 14711
(correspondence mailed to 3876 State Route 19; Scio, New York  14880)
www.bareknuckleboxinghalloffame.com
For tickets; 585-610-3326 (cell/text)    srburt@aol.com (email)




Historic National Police Gazette passes 100% authority to BKBHOF's President Scott Burt
BELFAST, NEW YORK –  In a move that is reflective of all the hard work he has put in to making the World's Bare Knuckle Boxing light shine brightly on the little town of Belfast New York's treasured Hall of Fame, the iconic and historic  National Police Gazette passed its torch to local man Scott R. Burt Thursday evening, February 4, in Elmira; a control the Gazette has exclusively had since the late 1800s.  From 1877 to 1889, Gazette Publisher Richard K. Fox not only ran the Gazette, but also invented the Championship Boxing Belt and bestowed it upon the Champions of that era.  In 1882 John L. Sullivan beat Paddy Ryan for the American title, but in 1887 Fox stripped it of him and gave it to Jake Kilrain for not accepting a challenge.  At the same time, because Fox was upset with Sullivan, he also changed the title to World instead of American.  Then, famously, in the last-ever bareknuckle fight of that era, Sullivan won the belt back in 1889 in a 75-round 2 hours 15 minute slugfest outside in 104 degree weather.  After that fight, which Sullivan trained for right here in Belfast, bare knuckle bouts were replaced by gloved ones and the belt was never issued again….although talked about much.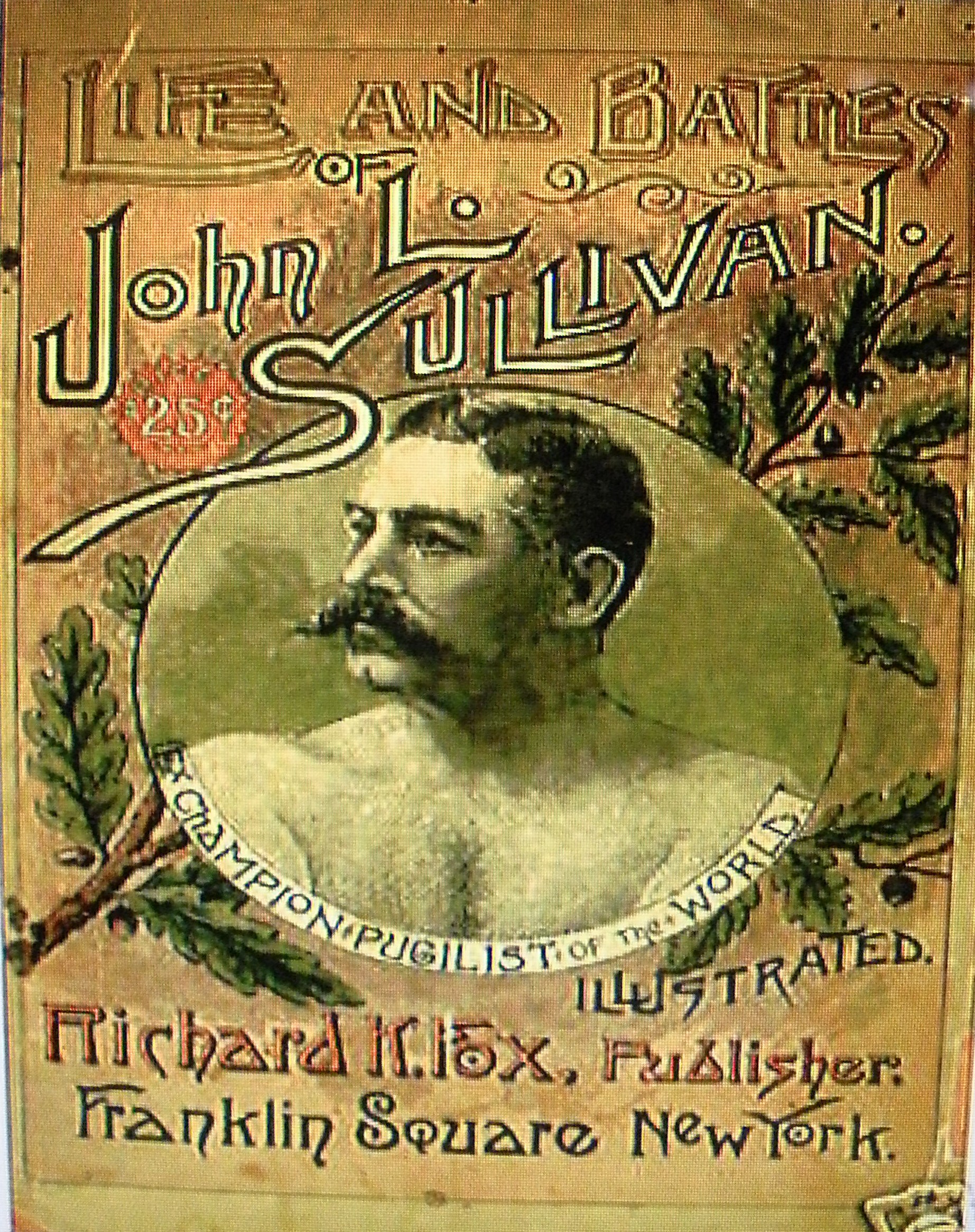 Skip ahead 125 years to 2014.  Scott Burt, founder and president of the World's only Hall of Fame dedicated to the bareknucklers honors Undefeated 71-0 Bobby Gunn by giving him the Bare Knuckle Boxing Hall of Fame belt.  In 2011 Gunn had fought a legal match and won it on an Arizona Indian Reservation; the reason Burt recognized him. 
Last Thursday evening Steve Westlake, the owner of The National Police Gazette, asked to meet with Burt.  Westlake has kept a watchful eye on Burt since he opened the BKBHOF is 2009, and has been so impressed with Burt's work, knowledge, and sincerity in task since that he unilaterally offered Burt complete control, responsibility, and ownership of the Worldwide issuing of Bare Knuckle belts.  He even gave Burt 100% authority to use the National Police Gazette's name and logo on the belts if he wishes.  "Wow, what an honor" stated Burt, "The baton has been officially passed from the famous Richard K. Fox of the late 1800s to me.  It is hard to put into words what this means.  The degree of honor and responsibility that comes with this overcomes me.  This is truly a historic moment.  And for the people of Belfast a very, very proud one indeed.  Personally, it is the best stamp of approval I could ever receive.  I am honored and touched beyond words; congratulatory emails have been flooding in to me from all over the World in the last 24 hours….its unbelievable; I'm both stunned and honored at the same time.  This certainly cements Belfast's position in the Bare Knuckle Boxing World as being BKB's number one authority."
The following is the official blog by Steve Westlake of The National Police Gazette posted Saturday, February 6. 
Closing the Squared Circle: The Return of Sanctioned Bare-Knuckle Boxing
"The end of all our exploring will be to arrive where we started and know the place for the first time."
T.S. Eliot probably was not referring to bare knuckle boxing when he wrote those words. But we do seem to find ourselves in that situation today.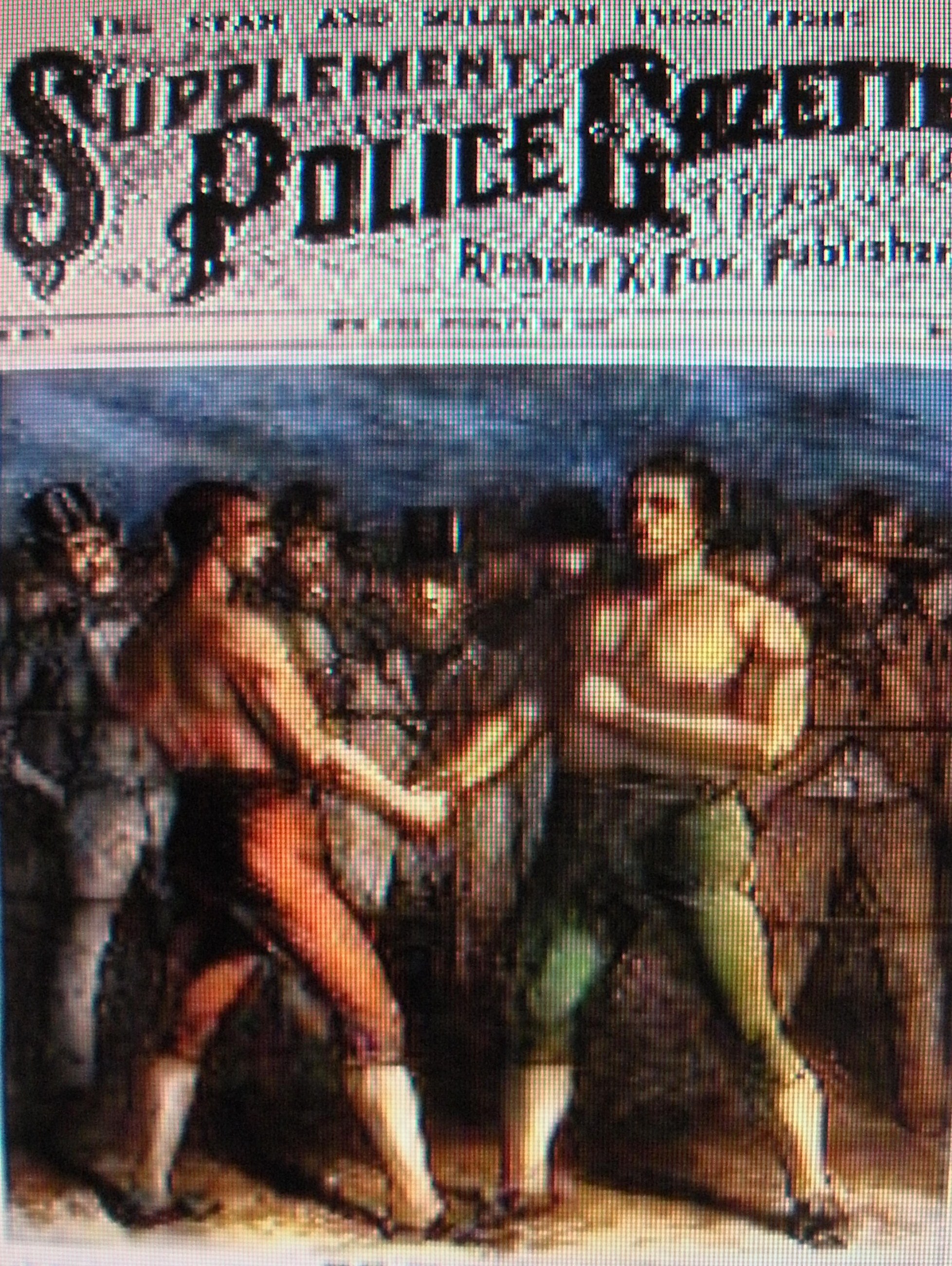 Richard K. Fox took over the National Police Gazette in 1877 and soon began featuring boxing within the Gazette's pages. This was prize fighting, by the London Prize Ring Rules. There were no gloves, no wraps, no protection of any sort from the waist up. And it was totally illegal in every jurisdiction within the United States.
Prize fighting had always been illegal in the U.S. But it was popular nonetheless, until the first high-profile tragedy occurred in 1842. In a match in Hastings, New York, Christopher Lilly essentially beat Thomas McCoy to death. And the combination of a law-enforcement crackdown and the public's shock at the incident put a pall over the sport in this country for a generation.
With the passage of time, however, the public's taste for bare knuckle boxing began to return. And then two things happened. Those things were Richard K. Fox and John L. Sullivan.
Fox's story can be found elsewhere in this website. But in a nutshell, he was the P.T. Barnum of publishing. He refined sensational journalism to a degree never before approached, which is still the template for it to this day. Conflict was king, and shocking, in-your-face depictions of activities society preferred to sweep under the rug was queen. Bare knuckle boxing fit this recipe to a T.
John L. Sullivan, like Muhammad Ali 80 years later, had phenomenal ring skills combined with an uncanny feel for promotion and public relations. Did Fox and Sullivan really hate each other as is commonly thought? After all, Fox was Irish Protestant and Sullivan Irish Catholic. Was it a coincidence that their conflict produced the greatest boxing matches of the late 19th century, bringing Sullivan, the Police Gazette, and boxing in general to heights no one could have imagined? Don't bet on it.
In 1889, Fox backed the latest of his challengers to try to teach Sullivan a lesson. Jake Kilrain lost that fight, and Sullivan solidified his hold on the bare knuckle boxing championship of the world, winning the Police Gazette championship belt. It would be the last bout to determine that championship for over 120 years.
After more than 10 years of Fox and Sullivan's efforts, boxing was on the threshold of mainstream acceptance. But there was one catch: it had to be gloved, Marquess of Queensberry Rules. In 1892, Sullivan fought James Corbett for the first gloved championship to be held completely legally in the light of day. From that point on, professional boxing followed the gloved path and the bare-knuckle variety was left to the back alleys and dark corners.
But after more than 100 years of evidence, who are the gloves really protecting? The punch taker or the punch thrower? There are not enough examples yet to do a scientific comparison, but are brain injuries really less common in the gloved version than the bare knuckle? Or is it reversed? One way to answer the question might be to ask which sport has more brain injuries, rugby or American football? Both similar sports. One with no protection, the other with massive amounts of protection. But again, what is being protected more? The recipient of the blow or the deliverer who is so cushioned he can deliver with maximum force each time without worry of doing damage to himself.
With that—and other factors and influences—in mind, bare knuckle boxing has been experiencing a renaissance. Yet it picks up right where it left off in 1889: as illegal as the day is long. This in spite of the fact that safety precautions are now abundant, so a repeat of a Thomas McCoy incident is remote. Bouts are no longer governed by the London Prize Ring Rules, which allowed stand-up grappling, throwing, and the rule that said if a fighter was able to walk to the center of the ring without assistance the fight would go on. Fighters like McCoy had to rely on his seconds to know he'd had enough and to stop the fight, whereas impartial referees have that job today.
How, then, can a new bare knuckle championship belt be given without condoning illegal activity? The first Americans have the answer! On August 5, 2011, the Yavapai Nation just outside Scottsdale, Arizona, sanctioned a bare-knuckle bout between Bobby Gunn and Richard Stewart under the laws of the Nation. Gunn emerged the victor and claimed the bare knuckle world championship, a claim made more official when Scott R. Burt of the Bare Knuckle Boxing Hall of Fame presented Gunn with a championship belt in 2014.
This belt is the first given to a bare knuckle champion since Richard K. Fox presented his to John L. Sullivan on behalf of the National Police Gazette in 1889. This year, the Police Gazette officially recognizes the authority of Scott Burt's belt, bringing full circle a sport that has remained in the shadows for 125 years, and giving today's fans a chance to "know the place for the first time."
The Police Gazette Heavyweight Champion Belt
Today's Belts Presented by the Bare Knuckle Boxing Hall of Fame; Top one is the WORLD belt, presented in 2014 to World Champion Bobby Gunn.  The bottom one is the AMERICAN belt; it will be presented this July to Undefeated 44-0 Danny Batchelder at the BKBHOF's annual Induction Ceremony in Belfast, New York.
Also scheduled to be in attendance July 9 in Belfast is their First-ever Living International Inductee James Quinn McDonagh(fighter and producer of the movie 'Knuckle') and the legendary Backyard Brawler and also a 2016 Inductee, Kimbo Slice.
For more information visit Bare Knuckle Boxing Hall of Fame at Twitter, Facebook, and the Web.
Ticket info at www.bareknuckleboxinghalloffame
All Photographs by Alex Rinaldi
All Rights Reserved
Kimbo Slice finally reached; just added to BKBHOF Class of 2016!
Belfast, New York – SPECIAL ANNOUNCEMENT –  "I have been working for months to a make contact with him, and today it finally happened" stated Bare Knuckle Boxing Hall of Fame President Scott Burt.  "Rounding out the Bare Knuckle Boxing Hall of Fame Class of 2016 will be inductee Kevin Ferguson, better known to all his fans all around the World as Kimbo Slice.  Kimbo is one of the most famous backyard bare knuckle brawlers of all time; a living internet fighting sensation that pulled the World in to see and fall in love with our sport. 
He has without question been extremely instrumental in promoting the sport to the level it currently is at.  We are proud and honored to have the opportunity on July 9 to induct Mr. Slice into the BKBHOF in Belfast, New York; a small rural Irish town where the Great John L. Sullivan prepared under the guidance of his trainer and hometown hero William Muldoon over 125 years ago.  That fight has recently been called "The Brawl that Started It All" by Sports Illustrated.   Against Jake Kilrain, it went 75 rounds, 2 hours 15 minutes, outside in 104 degree weather.  Sullivan won, and a legend was created.  The wonderful barns that he trained in have been beautifully restored.  Stepping into them is just like stepping into a time machine.  Sullivan's equipment is there to be seen and handled, along with the 'cell' where he was dried out when he had too much to drink, the elaborate 'Room of Repose' where they rested and planned, and even Muldoon's wrestling mat. 
Its a wonderful experience.  Kimbo is one of only 4 living bareknucklers ever inducted into our Hall of Fame, the only one in the World dedicated to the bareknucklers.  In this year's class of living bare knuckle boxing inductees, Kimbo will be joining Undefeated 44-0 American BKB Champion Danny Batchelder and our First-Ever International Inductee James Quinn McDonagh who is an Undefeated 11-0 bare knuckle fighter, author, and the inspiration for the movie 'Knuckle'.  Also on hand July 9 will be 71-0 Undefeated World Champion Bobby Gunn; our 2015 inductee and belt holder.  The town is ecstatic, and I couldn't be happier.  Wow…What a Class!!!"  Scott Burt, BKBHOF President.  Tickets available in February via SRBURT@AOL.COM
BARE KNUCKLE BOXING HALL OF FAME Class of 2016
President Scott Burt announces finalized members!
THE USA BOXING NEWS  

LEADS THE CLASS OF MODERN HONORARY INDUCTEES
JANUARY 9, 2016. Belfast, New York – ORIGINAL PIONEER AND BOXER INDUCTEES: Current American Undefeated 44-0 BKB Heavyweight Champion Dan Batchelder (First to be recognized since 1882), Our First-Ever Living International Inductee (Undefeated fighter, author, and inspiration for the movie "Knuckle") James Quinn McDonagh, 1879 American Lightweight Champion Arthur Chambers, 1879 Australian Champion Larry Foley, and the iconic National Police Gazette! HONORARY INDUCTEES: Champion James J. Corbett who defeated John L. Sullivan for first gloved title in 1892, Boxing News Magazine (since 1909), The Ring Magazine (since 1922), and The USA Boxing News (instrumental in upstate New York boxing)! PERSON OF THE YEAR: Rochester Boxing HOF president Bob Collins! Undefeated 71-0 World BKB Champion Bobby Gunn to be in attendance too! It doesn't get any better than this folks! Induction Day is Saturday, July 9, in Belfast, New York. SRBURT@AOL.COM.
The Bare Knuckle Boxing Hall of Fame (BKBHOF) is housed in the original barns that the Great John L. Sullivan trained in back in 1889 for the last-ever bare knuckle fight of that era.  The fight has famously been called "The Brawl That Started It All" by Sports Illustrated, and that is true.  ESPN, 60 Minutes Sports, Disney Tokyo, and the History Channel have all done or are in the process of doing stories on BKBHOF.  Every year we have inductions into our Hall from two groups; Original Pioneers, and Modern Honorary Inductees.    
So far the BKBHOF has inducted 38 Original Bareknucklers from the 1700s and 1800s.  They are from all over the World; both men and women.  They are the best of the best bareknucklers. The Original Bare Knucklers inducted last year were Professor Mike Donovan from the 1880s; John Gully from the 1700s; and our first-ever living Bareknuckler, World Champion Bareknuckler Bobby Gunn who holds our belt. 
To be a Modern Honorary Inductee into the Bare Knuckle Boxing Hall of Fame a person must have brought a positive spotlight to upstate New York.  A few of the Modern Honorary Inductees we have had the privilege of including on our "Wall of Honor" over the past few years, and all who have come to Belfast to see the barns first-hand, are Baby Joe Mesi and his team of trainers including Sugar DeLeon, World Champion Carmen Basilio, World Champion Billy Backus, 3-time World Champion Carlos Ortiz, Champion Livingstone Bramble, Champion Christy Martin, Olympic Coach Gloria Peek, New York State Commissioner Melvina Lathan, Dick Wipperman, the family of Buffalo trainer Johnny Sudac, and special guest Leon Spinks who liked the experience so much he stayed three extra days!  Last year's Honorary class included four commentators; Al Bernstein, Howard Cosell, Don Dunphy, and Bert Sugar who was one of our biggest supporters.  Buffalo's 1950's fighter Johnny Green, and his son Jack Green who was the long-time President of Ring 44 in Buffalo were the first father-son duo to be inducted, and Champion Charles "The Natural" Murray rounded out last year's Honorary class.    
Without question, The USA Boxing News has for the last 25 years been instrumental in shining a positive spotlight on Upstate New York.  Simply put, boxing in New York State would not be what it is today without the influence of The USA Boxing News.  That is why The USA Boxing News has been unanimously chosen by the BKBHOF committee as one of our 2016 Honorary Inductees!  One would have a tough time mentioning boxing in New York State without talking about The USA Boxing News, that's for sure. 
In 1889 John L. Sullivan trained in our barns for the World's last-ever Bare Knuckle Championship fight.  He defeated Jake Kilrain in a 2 hour 15 minute slugfest that went 75 rounds outside in 104 degree weather.  Sullivan was trained here for that fight by the famous wrestler and health guru of the time, local man William Muldoon, who later became boxing commissioner from 1921-24.  It is Muldoon's name, with Gene Tunney's, that is on the men's Heavyweight Champions boxing trophy.  For 120 years these barns, originally built by Muldoon, were locked up and unavailable to the general public.  In 2009 we unlocked and restored them.  It was Mr. Sugar himself that told us our Hall of Fame is not only the only one in the World dedicated to the bareknucklers, but also the only known Boxing Hall of Fame where the building itself is the main attraction.  We even have Sullivan's original equipment.  Visiting it is like stepping back in time to 1889; our restoration effort has gone to all ends to make sure of it.