over the

decades

from the

Boxing Twins
___________________________
FLASH-BACK – January 2023
John Rinaldi – BOXING TWINS VIEWPOINT – Alex Rinaldi
The Blessed NFL Has Once Again Chosen Money Over Fans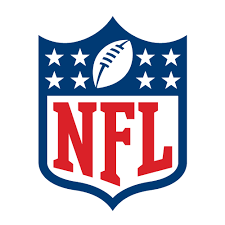 For numerous years the NFL has chartered a course to become the number one sport in America. Starting with point spreads and other gambling references, the NFL has permitted with a winked eye gambling to spread over the sphere of professional football. Not that we are necessarily against gambling – which we're not – still the NFL has become the biggest betting sport in the United States. When housewives, students, retirees, and office workers are designing and establishing pools and fantasy football platforms, the NFL benefits even in an ancillary way.
Besides that, ticket prices have risen quicker than a thermometer thrown into a towering inferno, thereby making it a rich man's sport to see the sport live. If that is not bad enough, the sport continues to compel the lower income fan base to spend their child support, rent money, and car payments for tickets on a relatively fleeting event that in the mix of things becomes nothing but just one more meaningless football game.
If that is not bad enough some NFL teams have also required fans to purchase licenses in order to buy season tickets – meaning that these die-hard fans must first pay exorbitant licensing fees just so they could have the right to pay exorbitant season ticket fees. In effect – the NFL takes two bites out of the wallets of these hapless fans!
If the sport of boxing did one percent (1%) of this type of price gauging, then the boxing haters would be on their pansy soapboxes compelling congressional investigations into the sport. 
Heck, for over a century the AMA has spearheaded witch hunts skimming along the borders of a genocide against boxing, the same AMA who once apparently permitted its lofty brethren to accept golf junkets and trips from pharmaceutical salesmen.  These do-gooders are nothing but bald face hypocrites and charlatans. Instead of better policing their own towering, over-priced professions, or more particularly the NFL and the sport of football in general, where life threatening injuries are boundless and whispers of enhance performance drugs still dance in the breeze, they have made a crusade of abolishing boxing. Thankfully no one listens to them or takes seriously. They are like someone with a nagging spouse who hears their pleas, but still continues to watch the game instead of taking out the garbage.
Now comes the fallout after the sad Damar Hamlin event. Trying to ride off on its white horse the NFL decided to cancel the game and did not require a continuation. Instead, in its place they have manufactured the silliest of all responses – the stupid idea for a neutral site for the upcoming AFC Championship Game came, which apparently was the brainchild of commissioner Roger Goodell, and which 24 out of 32 NFL owners approved.
While the Kansas City Chiefs did not vote for this preposterous outcome – they reportedly made two suggestions – they wanted an outdoor site, and they wanted it to be on natural grass. How did the NFL respond – they ended up forcing down their throats the Mercedes-Benz Stadium in Atlanta – a covered stadium on turf – a far cry from what the Chiefs wanted.
But alas, it seats over 71,000 NFL spending ticket buyers!
Thus, the NFL has proved once again that they are the greediest league on the planet. For one thing, it is so ridiculous to even consider this idea of a neutral field to begin with. These teams and their fans look forward to these special times to see their team up front on the national stage to fight eventually for a league championship. Instead, the NFL, like a bloody, flesh-craving, greedy vulture, has once again taken the baby from the stork.
It was bad enough that we had to witness players kneeling during the National Anthem a few years back – now these true fans have to watch their teams play on a neutral field just so the NFL can further pack their wallets.
Appalling is an understatement.
_____________
FLASH-BACK – June 1995
John Rinaldi – BOXING TWINS VIEWPOINT – Alex Rinaldi
For some strange reason, Mike Tyson appeared to surprise a lot of people when he announced in Cleveland shortly after his release from prison that he was re-aligning himself with Don King's promotional outfit.
Why this dumbfounded anybody in the first place is the real puzzler.
Considering that Don King waged a one-man campaign for the absolute innocence of Tyson and constantly called for his release, it seemed only natural that King was chosen since he was the only promoter to show even a semblance of loyalty.
The other promoters were either calling Tyson an "idiot", labeling him a "rapist", or worse yet, saying he was washed-up as a fighter even before his incarceration.
What was Tyson to do – test the uncharted waters of those he considered his enemy, or go back into the fold of his only ally in the sport?
If he were going to shake the hands of a devil, at least it would be one that he is friendly with.
More so, with Don King, Tyson immediately has an opportunity to win back two-thirds of the heavyweight title that are currently temporarily entrusted to Oliver McCall and Bruce Selden.
Along with his association with King, came Tyson's deal with the Showtime cable Network and the MGM Grand in Las Vegas.
Regarding showtime, that was the only cable Network that gave Tyson the opportunity to be a color commentator on the fight telecast. That was something that meant a great deal to the former champion, who considers himself a foremost expert and historian on the sport.
Concerning the MGM part of the picture, plans are currently underway of having a statue erected depicting Tyson in his glory outside the arena. This is a very brave move for the hotel/casino, considering Tyson's conviction and the fact that the MGM is a family resort. What they did is show not only their faith in the fighter, but also their belief in his unjust treatment by the Indiana justice system.
It is also obvious that the MGM Grand is clearly becoming the major player in the boxing business. By getting Tyson, they clinched their hold on the sport's biggest bouts.
Don King always seems to get the rap that he caused Tyson's downfall. What most people forget is that King was Tyson's promoter, not his guardian, manager, or babysitter. They just remember that Mike was always a troubled youth from the days with Cus D' Amato, Jim Jacobs and Bill Cayton. Just ask Teddy Atlas when he explains how he put a loaded pistol once to Tysons' head to allegedly straighten him out.
For one to say it was King's fault is pure nonsense. King was the sole promoter through most of Larry Holmes and Muhammad Ali's later bouts. Neither one of those two individuals ever got in trouble.
Easily forgotten is when the Duvas and Main Events had a young thug named Tony Ayala, Jr. in there stable. When that predator was sent away to rot in jail, the Duvas were not blamed for his predicament – and rightfully so.
Nor should King in this instance.
All things considered, Tyson could have really blundered by choosing instead, Robin Givens and her gold-digging mother.
_____________
FLASH-BACK – June 1994
John Rinaldi – BOXING TWINS VIEWPOINT – Alex Rinaldi
Ray Mercer found not guilty of offering a bribe – it certainly did not surprise us!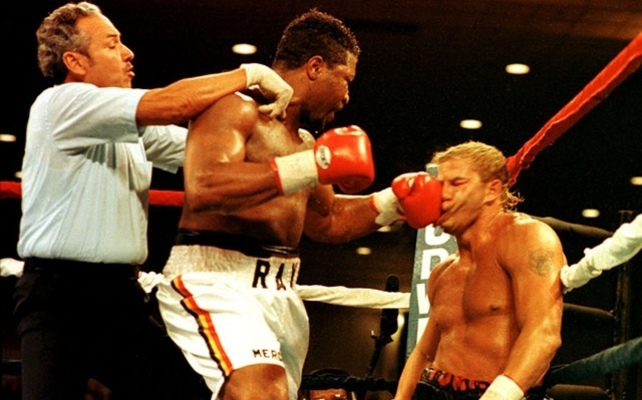 After two weeks of wasting the New York taxpayers' money, a verdict of Not Guilty was rendered by the jury hearing the Ray Mercer case involving his alleged attempts to bribe Jesse Ferguson in their February 6, 1993, bout.
In a trial that should have never taken place, the Manhattan District Attorney's office was exposed as being composed of a group of numbskulls led by chief doughhead, District Attorney Robert Morgenthau.
This is the same Robert Morgenthau who is toasted to every night by the rapists, serial killers, drug dealers, kiddie pornographers and muggers, who rejoice in the fact that such a sponge head is in charge of the prosecution of criminals in their fine city.
Iinstead of going after the mutants who inhabit New York, Morgenthau put all of his offices attention to convicting a prizefighter on only the flimsiest of evidence available. Basically, Morgenthau and his Untouchables had nothing on Mercer. It was just fashionable to go after a high-profile boxer and former Olympic gold medalist, with an otherwise sterling reputation, instead of the sludge that terrorize New York City on a daily basis.
The jury, who only took five hours, most of which time was spent sifting through the judge's instructions in ordering dinner, must have found Morgenthau's case to be a complete farce as they came to the swift conclusion that Mercer was Not Guilty.
Considering that the alleged bribe tabs were never heard by a ring judge, or the referee who was only steps away. In fact the referee, Wayne Kelley, not only did not hear Mercer mumbling any bribe offers, but instead warrant his opponent Jesse Ferguson for talking too much.
Simply put, the whole affair was an abomination of justice. Apparently, we have come to the point where it is better to prosecute high-profile innocence than to combat the real crime in the city.
What is even more laughable is that the so-called damaging evidence consisted of inarticulate and inaudible tapes from HBO's coverage of the boutt.
The only live witness for the prosecution was Jesse Ferguson, who first said there was no bribe offer, then suspiciously recounted his story later when grilled by the authorities. That is a pretty fishy scenario to us, and apparently for the jury, who believed not a single word from the journeyman fighter turned stool pigeon Ferguson.
Because of this no talent, bird brain sap, and innocent man nearly lost his freedom.
To Robert Morgenthau – cheers!
_____________
FLASH-BACK – November 1992
John Rinaldi – BOXING TWINS VIEWPOINT – Alex Rinaldi
What's happening to the American boxing fans?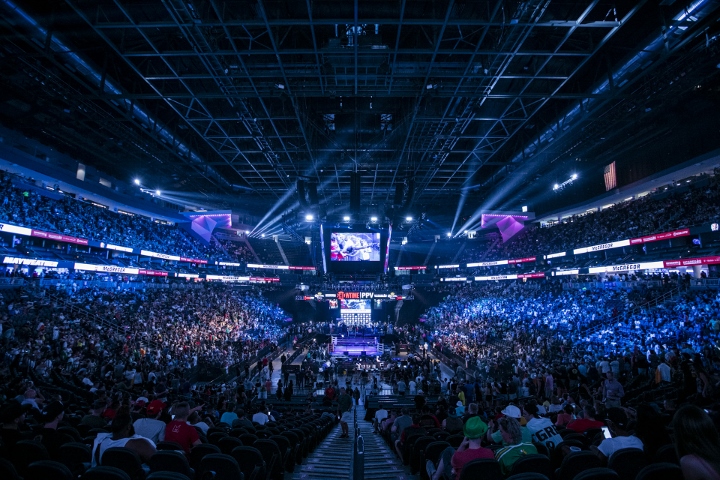 Six thousand people show up to watch the Bredahl brothers capture two world titles in Denmark. Ten thousand fans jammed the Scottish Exhibition Center in Glasgow. In the Reno Sparks Convention Center in Reno, Nevada, only 2,753 paying patrons attended the Toney- McCallum rematch. What does that tell us? It tells us quite simply that something is wrong with attendance at American fight cards.
With the exception of heavyweight fights involving Foreman or Tyson, promoters fail to fill the seats at fight cards.
The old saying was, "Give the fans a winner, and they'll put fannies in the seats".  Somehow it just does not play out anymore. Top fights such as Leonard-Norris, Toney-McCallum I and II, Norris-Taylor, Holmes-Mercer, McGirt-Brown and Holyfield-Holmes all had disappointing crowds.
It appears that the American boxing fan is getting scarcer with each generation.
It is because the younger sports fans are a bunch of daisy plucking, thin-lipped, manicured, dress wearing, girly wimps?
When a worthless New York Rangers regular season hockey game can attract nearly 20,000 idiots, why can't an important world championship bout do the same?
Is it the advent of the country club mentality being heard throughout the print and electronic media or is it just the fact that fighters are not being properly showcased on network television anymore?
The success of the live gate for the Chavez-Camacho super fight was heartening to witness. It was deceiving, however, since a large portion of the 19,100 fans who crammed into the Thomas & Mack Center were Mexicans.
Hispanics have always been true boxing fans along with British. Americans once were great followers of the sport, but lately the numbers have lagged in the United States.
We do not necessarily blame it all on the American fight fan. The media is clearly at a major fault when network television treats the sport of boxing as if it were a stricken leper.
Boxers are not being properly developed and the lack of exposure does nothing to familiarize the fans with the fighters.
Some fighters are able to make it on just charisma alone, such as Roberto Duran, Marvelous Marvin Hagler and Mike Tyson. Most have to rely on increased coverage on the radio, television and the newspapers.
With regard to newspapers, they have become in the United States a worthless outlet for boxing coverage. Years ago, major fights would warrant a week's worth of stories. Nowadays, one is lucky to get a fight result, much less an article. The blame goes probably and more fairly to the pink-collar sports editors who would rather cover and salivate over a sissy tennis match or golf tournament than a real man's sport like boxing.
Those at the root of this problem better wise up or start wearing dresses.
_____________
FLASH-BACK – July 1992
John Rinaldi – BOXING TWINS VIEWPOINT – Alex Rinaldi
At the annual Boxing Hall of Fame induction ceremonies, where boxers graciously mingle with the crowd and sign autographs without charging, a disturbing sight was witnessed by us. While Featherweight legend Willie Pep was happily signing autographs for any and all who asked, a seamy-looking individual approached the fistic great. This person demanded that he sign ten photographs. When Pep asked who to inscribe each photo to, the man answered, "just sign your name, that's all". As soon as Pep signed, the man squirmed away through the gathering, with his eyes green with greed.
Such is the example of your typical sports memorabilia dealer. These modern-day carpetbaggers and bunco artists prey on the athletes without redressing them, then proceed to swindle the consumers.
We are not concerned with this happening to the selfish, millionaire baseball players, who are more than compensated for their precious artifacts. We are talking about the swindlers and confidence me who take advantage of the kindness of current and former boxing personalities, many of whom are not financially set for life.
We do not mean to insult collectors. We, ourselves, admit to collecting autographs of our favorite fighters. But to us, they are cherished keepsake, not an investment for speculation. The thought of selling our collection does not ever enter our minds, nor does it dance through the minds of most fans. It is the seedy way of the dealer to prey on the fan who does not have the access or chance to personally confront a fighter to obtain an autograph.
These hucksters and attic filchers rip-off the poor souls who would like to purchase an autograph or collectible item by charging a high amount, a price not justified by any legitimate exchange rate. These are not businessmen, they are pirates whose sole purpose is to steal and then fence off the goods. That is in essence the way they are dealing by obtaining the autographs under false pretense, then selling without compensating the boxer.
What this will do is eventually take from the real fan the right to obtain an autograph free of charge from an obliging athlete. Unlike the aforementioned baseball players, who use that as an excuse to be the jerks they always were, boxers have always been the most approachable and friendly of all the professional athletes.
The thought that the growing number of dealers that have flocked to boxing may someday compromise the whole aspect of collecting for fun is frightening.
Our stomachs sicken by the mere sight of sinister parasites who make the old snake oil salesmen seem legit.
All dealers are not like the ones we are pointing out. If the items were legitimately obtained and sold at a fair price, we would have no quarrel. Unfortunately for most, dealing is just another shell game.
_____________
FLASH-BACK – August 2001
John Rinaldi – BOXING TWINS VIEWPOINT – Alex Rinaldi
Over this year's scorching hot summer, three young footballers ran their last practice drills on the planet Earth as they exited their workouts on a stretcher headed for the morgue, with a brief stop at an emergency room.
Two of the athletes were college football players, while a third was a lineman with the NFL's Minnesota Vikings.
These players did not lose their lives in the course of battle, instead, they were apparently tortured to death through the rigors of practice schedule seemingly designed by former guards of Auschwitz.
Prior to the footballers' tragic ends, all we were subjected to was Beethavean Scottland's  sad death from ring injuries.
As expected, like rats scurrying from a sinking ship, came those phony do-gooders, disguised as boxing abolitionists.
At least the brave Scottland died during a courageous battle in the ring, not from the rantings and drills of a blood-thirsty coach, who would have made Hitler and Attila the Hun look like singing nuns.
The violent sport of football always seems to get a free pass, considering that there are more children and young adults killed, injured or maimed in that barbaric sport every year, than have died in professional boxing as a whole in the past two centuries.
Considering that the average life span of a professional football player is 55 years-old, not including the quarter century of pain-killing drugs they have to rely upon to get through their waking hours.
Still, boxing is perceived as the sport of savages. In pugilism, the trainers are a more caring lot, who rarely push their charges to the point of complete exhaustion and near death.
Rarely do you see fighters vomit after a workout as you see football players do.
We once went to a football camp held for youngsters during a usual hot July in Vermont. On the first day of camp, all the kids were greeted by a satanic head coach proclaiming, "you are not here to have fun"!
Oh great, imagine having squirreled away for months the money we made from delivering newspapers only to enter a barbaric concentration camp!
It was not uncommon during those five days of Hell to see kids collapse, throw up, or get transported to the infirmary on a regular basis. If the camp was another day longer, we would have tunneled our way out to freedom.
That is what the sick sport of football is all about, but you never read about that!  
_____________
John Rinaldi – BOXING TWINS VIEWPOINT – Alex Rinaldi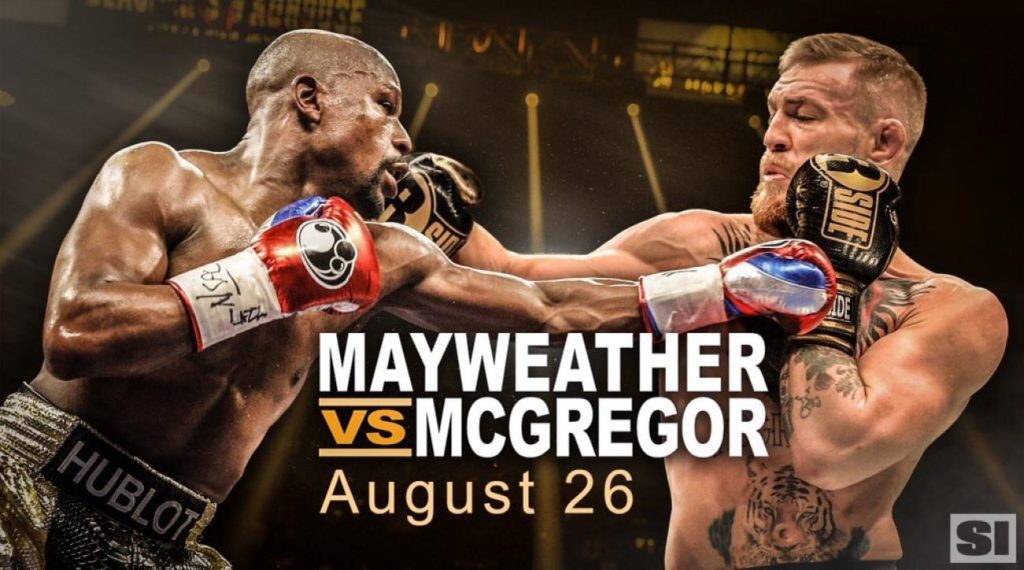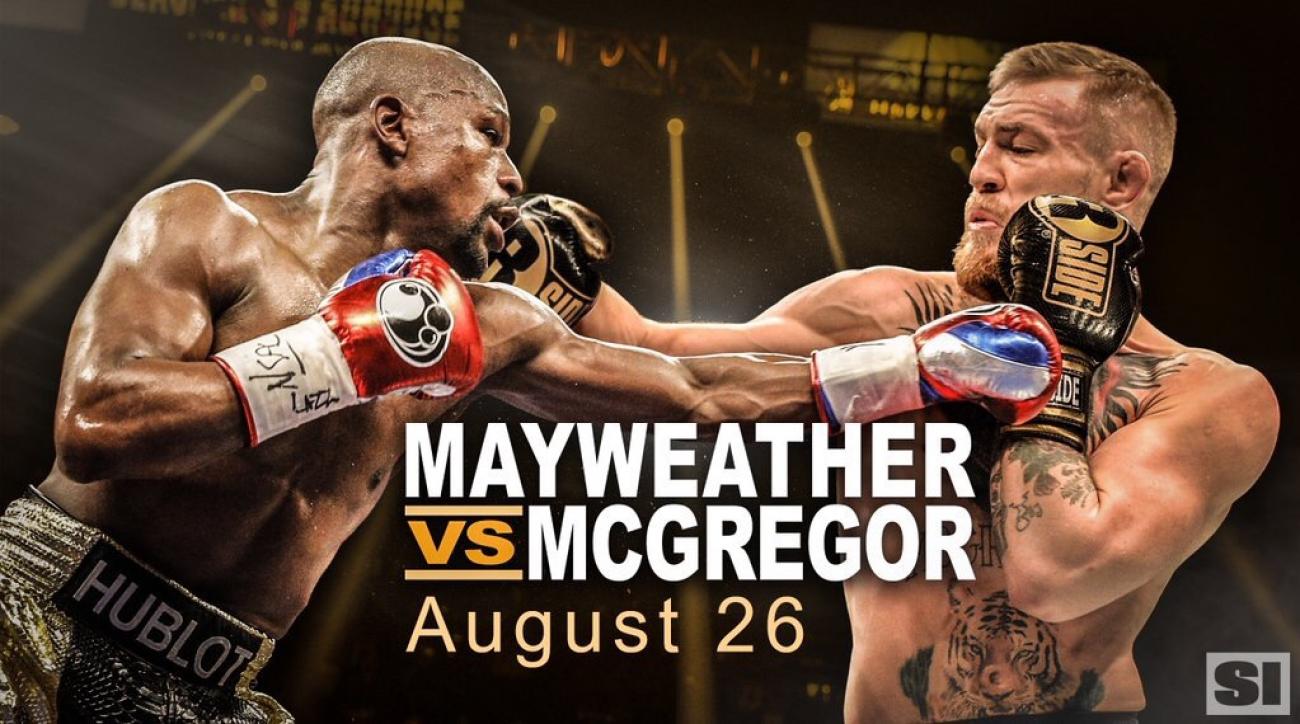 Floyd Mayweather batters Conor McGregor into submission in 10
As the circus tent was being dismantled at the T-Mobil Arena, there were some people actually trying to convince themselves that the hype of the "fight" between Floyd Mayweather and Conor McGregor was justified. The answer was that is certainly was not.  If there was ever a big match up that was surely predicable – this one, was it.
The prices of the so-called battle ranged from $500 for the cheap seats all the way to $10,000 for ringside.  In the seats in between, the  seats prices were $1,500, $2,500, $3,500, $5,000 and $7,500!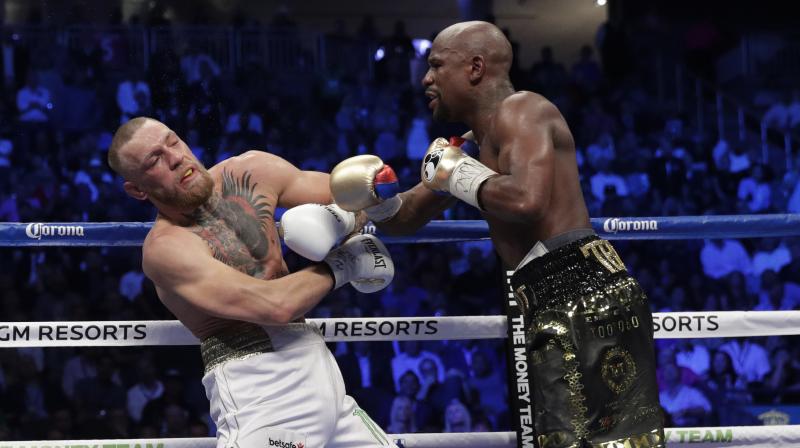 In the 20,000-seat arena, a reported crowd of 14,623 showed up.  Let us not be mislead that those in attendance were average boxing fans dropping a few weeks of their paychecks to see this extravaganza.  No, it appeared to us that many of them were comped out by the casinos, who were more than happy to see the crowd of high rollers and celebrities filter back into the casinos afterwards.  Since a large number of fans bet on the long shot McGregor, there turned out to be very few bettors at the Sports Book counters collecting any winnings.  The smart money bet turned out to be which round the bout would come to an end.  We bet a few bucks that Mayweather would stop the Irishman from Rounds 6 to 10, so we wound up with some decent winnings at 15-1 odds.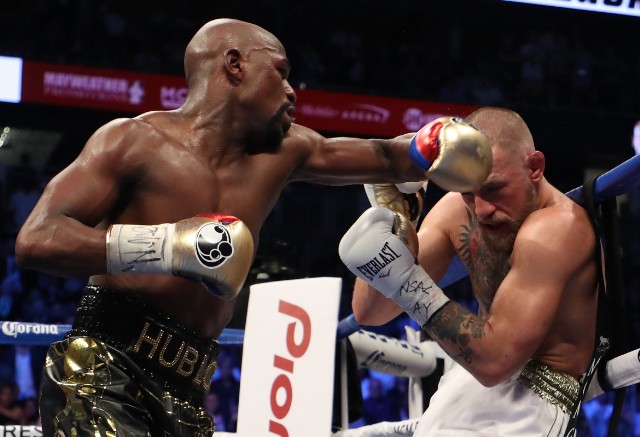 Floyd earlier remarked that he wanted to give the fans a show, and he did just that as he appeared to carry McGregor for the first five rounds, doing as little as he can to shake up his woeful opponent. Floyd even made it easier for McGregor to score by doing away with his famous lateral movement and shoulder rolls and, instead, deciding to move straight ahead against his UFC counterpart.
You can tell in the arena which fans were the actual ticket buyers, for they were the animated ones yelling "ole" to boost McGregor's confidence throughout.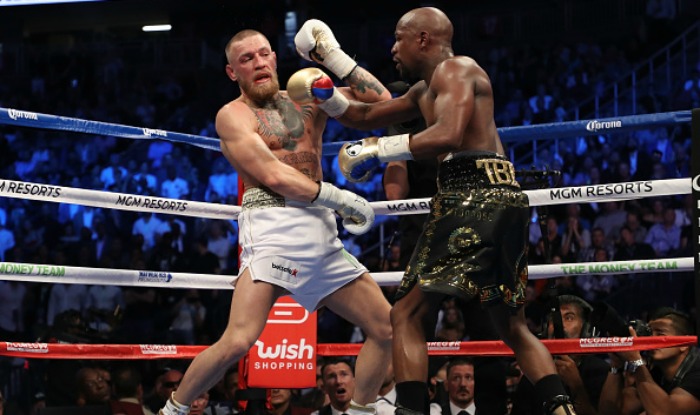 What many people forgot was that the maximum time a UFC bout goes is 25 minutes, and McGregor usually ended his bouts early with his street-fighting tactics.  Against someone as skilled as Mayweather, who can do over 25 minutes standing on his head, Conor's punching to the back of his head was the only time the Irishman seemed in his element.
Mayweather carried his opponent as if he was lugging around a clown suitcase for the first five rounds in order to give those at home, who plunked down an exorbitant $99.99 for the Pay-Per-View telecast, their money's worth.
Unlike in his previous 49 bouts, Floyd began this bout by lethargically coming out and allowing McGregor to unload with his scrawny arm punches that could not have dented an overripe peach. Floyd patiently took the shots, covered up or ducked little, and occasionally retaliated with a punch or two of his own.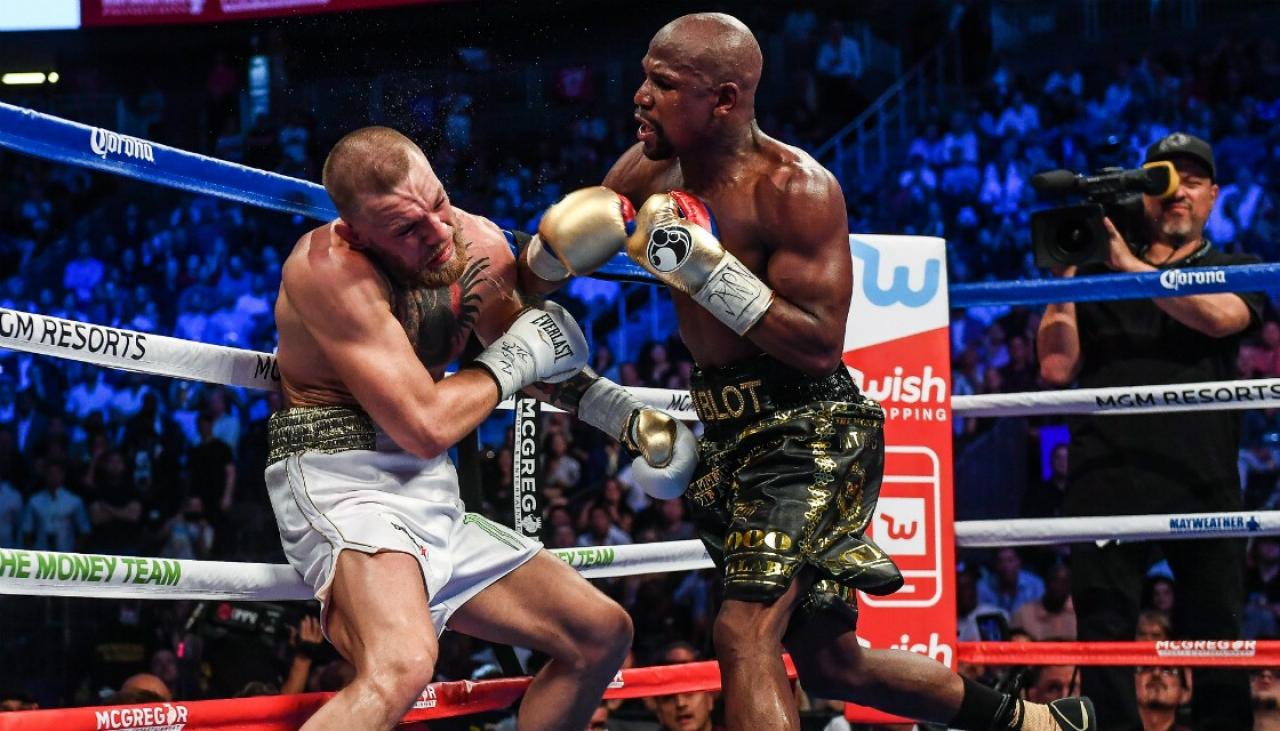 All the while, the hapless McGregor began scoring some points, though they landed with the impact of codling moth or a soft wind.
In fact, with the exception of one uppercut that Conor landed, there was never any time where McGregor's blows appeared to be any more bothersome than that of an annoying mosquito or a chilly draft. By Round 3, McGregor was already breathing heavy and the steam of his punches was as hot as an iceberg. In the fourth and fifth frames, the Irishman's punches had as much snap as a rusty spring.
After five rounds, McGregor went from being the "It" clown to a sad Emmett Kelly type one as he began to get battered with blistering punches, the power of which he never experienced in the octagon ring from the former barroom brawlers now fighting as MMA stars.
The ringmaster Mayweather should have grabbed the microphone at the end of Round 5 and announce to the audience that the drama is now going to start as drum rolls played far off in the distance, like an Indian battle call.  But since this was a circus masquerading as a fight, Floyd probably did not want to appear too obvious that he may have been pulling off the biggest con job of all time.
In the sixth, Floyd started opening up with his fists and letting his opponent know that this was indeed a boxing match against a true and tried professional and not one of those UFC farces fighting the likes of moonlighting firemen and part time cab drivers.
From then on, McGregor's energy dissipated as Mayweather's punch rate accelerated. Soon it was apparent that McGregor's once rising star was falling down to earth quicker than an old satellite.
In the ninth round, Conor's punches were a complete joke. It reminded us at times during a circus performance when a clown goes to the audience to throw a bucket of water at the crowd, only to reveal that it is simply a pail containing confetti.  That was the same with the Irishman's punches. They landed with the impact of a pail full of confetti. When he threw them they lacked any pop or power. It was as if he was waving a ostrich feather at Floyd.
Like the seasoned veteran he is, Mayweather knowing the time was ripe to bring the curtain down, quickly buckled the Irishman's knees on more than a few occasions with jarring blows to his bearded face. McGregor must have thought he was struck by hydrogen bombs compared to the shots that are usually dished out to him in MMA.
Surprisingly, McGregor did bravely stand up to Floyd's firepower, but the Irishman was sadly entering the beginning of his end and and waving goodbye forever the end of his beginning where he must have blindly thought he had a chance of winning the bout.
The tenth saw McGregor retreat awkwardly and weakly to the ropes, where he offered as little resistance as the French in World War II. Seeing this, Mayweather gladly waded in and punched and pounded McGregor's face in until referee Robert Byrd came in to end the show.
"I thought it was close and I thought it was a bit of an early stoppage. I was just a little fatigued," said the deluded McGregor who did not realize that the tent had just come crashing down on him. Hopefully, he will understand someday that he was never ever in Mayweather's league as a fighter or a drawing card.
At the time of the bout's end, Mayweather was ahead by scores of 87-83, 89-82 and 89-81. Even by coasting, Floyd was having little trouble winning.
Afterwards, Mayweather, who was guaranteed $100 million to McGregor's $30 million (although after the PPV  revenue comes in, Floyd will earn over $200 million and Conor would pocket over $100 million), remarked with mock sincerity, "He [McGregor] was a lot better than I thought. But I was the better man. I guaranteed everybody that this would not go the distance. Boxing's reputation was on the line."
The only truth to his comment was that boxing's reputation in this fiasco WAS certainly on the line.  The UFC and the other mixed martial arts organizations and fans have been tricked into thinking of the fallacy that their sport was superior to boxing. So it was important that Mayweather had to make the point that the UFC and their sort are not in the same league as the great sport of boxing. The UFC is strictly the bush and minor leagues compared the big leagues of professional boxing.
This is especially true when one considers the fact that a 40-year-old Mayweather, a fighter well past his prime, was able to easily dismantle the UFC's best fighter in the history of their sport who happens to be presently in the prime of his career.
Though Conor McGregor was a clown and huckster, thankfully he never proved to be a magician. As a result, he could not pull any gloved rabbits out of his hat to pull off the victory.
As for Mayweather, he will add nearly a quarter billion to his already Fort Knox bank account after competing in the easiest fight of his career.
As an aside, McGregor was contemplating returning to the UFC, but maybe he should instead consider joining the cast of "Circus 1903" where he can entertain the audience as the merry-andrew and jester much the same as he did in this predictable spectacle.
For those who thought they were witnessing a real-life "Rocky" wound up being ripped off by "The Sting" instead.
___________________
SUPER-FIGHT OR SUPER-CIRCUS
After the last performance of the Ringling Brothers and Barnum & Bailey Circus was registered into the history books this past spring, it appeared that the final curtain had finally fallen down upon the legendary Circus. In fact, circuses, as a whole, seemed as dead as the television ratings for the sport of golf since the decline of Tiger Woods.
We both thought the same until we found ourselves walking down the Boulevard in Las Vegas today. To our surprise, we found that in "Sin City" the big top is actually still alive and flourishing. For instance, at the Paris Resort Hotel, "Circus 1903" is presently wowing the audience with thrilling acts of Yesteryear, mixed in with puppet elephants and other like attractions.
If that did not not leave you with the feeling of sawdust underneath your feet, in comes an even bigger circus to add to the fun – the Mayweather vs. McGregor "fight" that features Floyd Mayweather taking on the duties as Promoter, Ringmaster and Star. Just as in "Circus 1903" where puppets take the place of real elephants, Conor McGregor is the puppet here masquerading as a real boxer that has a genuine chance of winning the fight. In fact, the elephant puppets look more authentic as real elephants than McGregor does as a real fighter, much less one that has any chance of capturing a victory in the bout.
For within moments of the sound of the opening bell, McGregor, like in "Circus 1903", will appear more like a puppet lion – one with a loud roar, but no bite. As for Floyd, he will take over the duties of a lion tamer, but instead of facing the king of the jungle in front of him, he will be handling a declawed and defanged "beast" in the squared circle, or in this case, the center ring.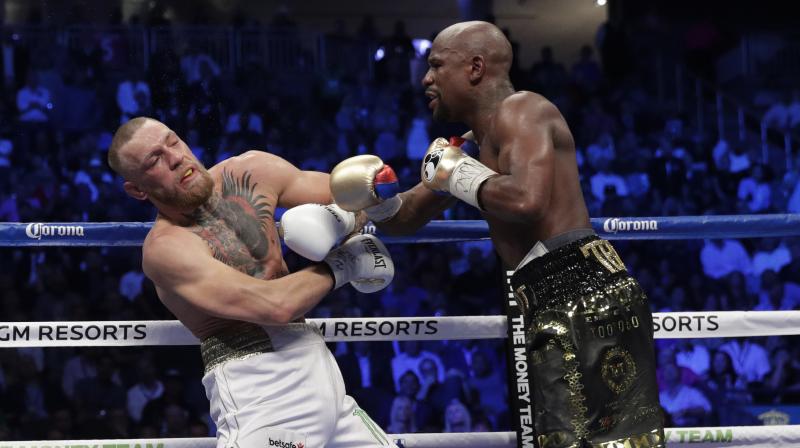 McGregor wearing his fancy tailored suits and talking a lot of trash is nothing but a trumped up sideshow opponent, with the brashness of an Irish Innkeeper and the boxing acumen of a medieval marionette.
He is a paper tiger if there ever was one.
McGregor has simply no chance of winning the bout unless Floyd Mayweather turns a hundred years old when he enters the ring – covered in rust like a an old warship. This is unlikely and quite improbable.
UFC pundits claim that McGregor fists are like the Hammer of Thor, filled with powers beyond most mortals. Maybe against UFC and MMA featherweight opponents, whose sole form of defense consists of blocking blows with their chins and noses, then slamming their knees into their adversary's midsection, McGregor looks to have dynamite in his hands.  Against Mayweather these same fists with appear more like feather nets better made for catching butterflies than hurting a professional fighter and ring legend like Floyd Mayweather.
In reality, the only semblance McGregor has to Thor with his Hammer is that both are comic book characters.
McGregor may be a fine MMA fighter and a credit to his heritage and sport – but he is no boxer or a prizefighter. He would need the powers of the sorcerer Merlin along with every Gypsy curse ever known to man to survive the bout, much less compete on a competitive level.
Not surprisingly, he will be exposed like the Wizard of Oz was when the curtain unveiled him to be nothing more than a Kansas vaudevillian.
Frankly, McGregor does not deserve to be in the same ring as Floyd Mayweather. He has accomplished virtually nothing in his career to warrant this challenge or the payday attached to it. To his credit, he has sold this fight like a true promoter and generated unbelievable interest in what will turn out to be a tragic mismatch. In the end, however, history will show that McGregor was nothing more than a carnival huckster and barker reeling in the crowd to watch chickens dance in a ring, while underneath stood a candle heating up the canvas where they stood.
While chomping down on their bag of peanuts, the audience will soon notice that the circus has turned into a bullfight between a crafty matador and an inept bull with all the gore that goes with it.
Unless Mayweather shows the compassion of a Saint Augustine, the Christian Saint of Mercy, McGregor will not be around standing to hear the bell ring for round three. They will take him out on a stretcher weaved from the same cloth as his fancy suits.
The legendary promoter P.T. Barnum is credited with coining the term, "There is a sucker born every minute!" Come tonight, the two of us will be watching the birth of a lot of suckers as Mayweather pockets over $200-$300 million by fighting a rank amateur. McGregor, on the other hand, is playing the part of Bailey to Floyd's Barnum, as he is set to earn approximately $100 million for the spectacle, which is about a hundred times more than his last paycheck in the overrated UFC.
Tonight, the real P.T. Barnum will chuckling in his grave as Floyd pulls off the biggest Superfight of all time!
"Let the buyer beware!"
___________________
FLASH-BACK – April 1994
John Rinaldi – BOXING TWINS VIEWPOINT – Alex Rinaldi
The Winter Olympics are over – finally!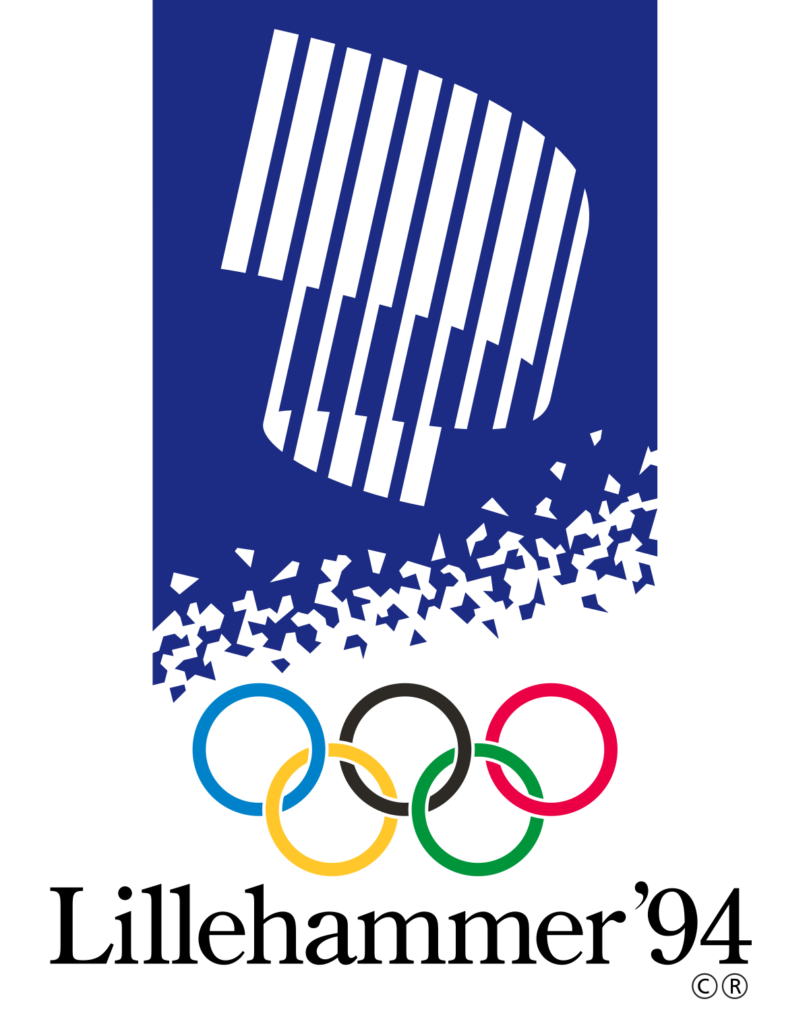 The tabloid ridden winter Olympics are finally over with. Now the legitimate sports scene can take center stage once again.
Besides the figure skating fiasco that we'll address later, we were first barraged with the Dan Jansen Olympic choke dilemma. It appears that for some strange reason every time the Olympics roll around, Dan Jansen finds some way to shatter his Olympic dreams and in the same process give home viewers stomach ulcers just waiting for him to fall.
Jansen did not let us down. He blew his first opportunity in an event he recently set the world record in – on the same ice for that matter!
When he eventually won, it was more a sigh of relief for the audience that this will probably be his last Olympic appearance and he would be spared any future despair.
Next comes the United States Hockey team in its quest for Gold and its settlement for failure.  If the team couldn't find a way to tie, they found a way to lose. Now there is a clamoring throughout the States to allow a "Dream Hockey Team" made of professionals to participate, to so call "even the playing field". Considering that the best players have Canadian blood flowing through their veins, the only "Dream Team" will be bearing the Canadian flag.
Lastly, let's explore the figure skating soap opera. First, let's dispel the myth once and for all that these women are skating for their country and have a teammate attitude. We know better. The only thing they are skating for our themselves and their commercial endorsement futures.
On one end you had a white-trash psycho and her band of illiterate imbeciles, who made the Gang That Couldn't Shoot Straight look like certified marksmen.
On the other hand, there stood the transparent Ice Queen Witch, who tried to portray an All-American, Girl-Next-Door image through horse-clenched teeth. Her victim-like "Why-Me" routine was getting so tiring to hear that you even found yourself rooting for the Ukrainian orphan to beat her.
To make things worse, right after her winning the silver medal, we were fed a contrived commercial of Nancy Kerrigan skating with Mickey Mouse on her way to Disneyworld.
Somehow or another, you wished they both would have fallen through the ice.
If only boxing got as much publicity for the two weeks the plastic Olympic Games got. While some great boxing cards were taking place, in locales like Charlotte, North Carolina, London, England and Los Angeles, California, one would have never known through the media's lack of coverage of those events.
Hopefully, with the Olympics over, as we have stated numerous times before, CBS can now get a grip on a real sport like boxing and entertain us with up close and personals of legitimate athletes – not the few winter privileged.
___________________
FLASH-BACK – August 1998
John Rinaldi – BOXING TWINS VIEWPOINT – Alex Rinaldi
Roberto Duran – the Crucifixion of a Legend!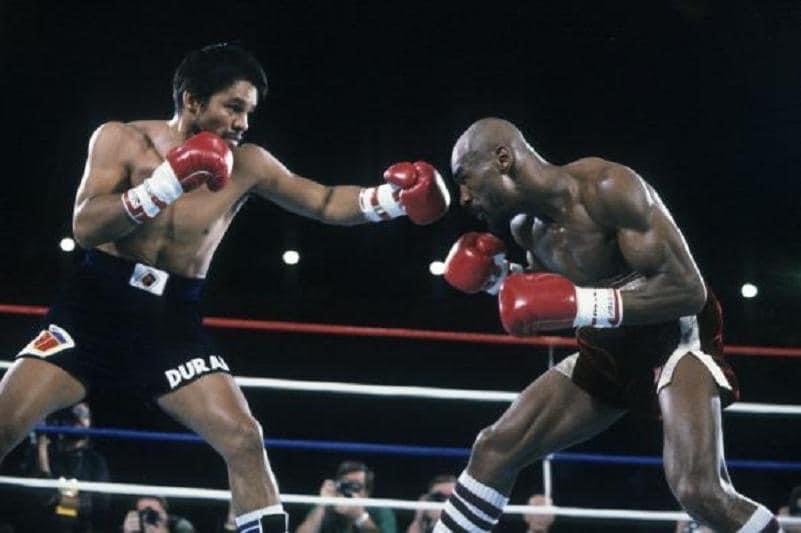 Ever since Roberto Duran was mentioned as a challenger to William Joppy's WBA middleweight championship, the no-talent rodents in the press just could not write enough negative things about the former four- time champion.
There were even some sponge-head scribes actually riding with their feather pens dipped in blood that Duran's life may be at stake in the bout.
We were not aware that Roberto Duran had turned Japanese and was fighting for his life on the streets of Tokyo against Godzilla. We thought his opponent would just be William Joppa. The same fighter who split a pair of wins against a club fighter masquerading as a contender in Julio César Green. And when we last checked, Green was twice on his feet at the sound of the final bell. When we checked further, we found out that the WBA middleweight king had only 19 knockouts to his record.
So how in the hell is he a health risk to Roberto Duran?
These imbeciles obviously forgot that over the past 16 months, Duran engaged in two wars with a 29-year-old ex-champ in Jorge Castro, who is considered a legitimate lockout threat with 73 on his ledger. Furthermore, Roberto won the second fight in a big way, that prompted his entrance into the top ten by two organizations.
Roberto Duran is considered a legitimate top 10 fighter, not one of the many phony and undeserving ones. Were many of these cross-dressing writers fearing for Patrick Carpentier's life when the overmatched Frenchman was a 20-1 underdog against Oscar De La Hoya? Of course not.
Besides the presses fake concern for Duran's health, which we know is an outright lie, they also enjoyed digging up embarrassing personal issues ranging from child support payments to tax troubles.
It's plain and simple that there is a personal thing with these feather brains in the media. We see what goes on with these writers, who in their tiny, worthless lives, are, for the most part, nothing but life's losers and utter failures. When they happen to come face-to-face with Duran in training camp, or whatever, they are like lap dogs waiting for a biscuit. The same phonies then go back to the closets that they call offices and rip the fistic great apart.
You noticed that you did not see this type of rhetoric when Pemel Whitaker was alleged to be a lying drug user. Or how they champion the rights of convicted rapist Tony Ayala, a piece of vermin, whose last sounds that he will hear should be those of the rats chewing on his filthy body in the corner a jail cell. But that animal got sympathetic articles when he was rightfully turned down for parole.
Duran is the only superstar who has extended cultural boundaries without ordering a word of English. Maybe that is where the problem lies with the envious gerbils of the press. They must reason that he can be so popular, even after they try so hard to destroy him.
Against Joppa, Duran was set to pull off another miracle. He was down in weight, the fight was in New York, and he had something to prove. That has been the combination that served him well and sparked his motivation in the past. It would have carried him to victory on June 6.
He would have made laughing stocks of the press like he usually does, and that is probably why they hate him.
___________________
FLASH-BACK – November 2001
John Rinaldi – BOXING TWINS VIEWPOINT – Alex Rinaldi
In the wake of the September 11th tragedy, America needs a real hero not Michael Jordan!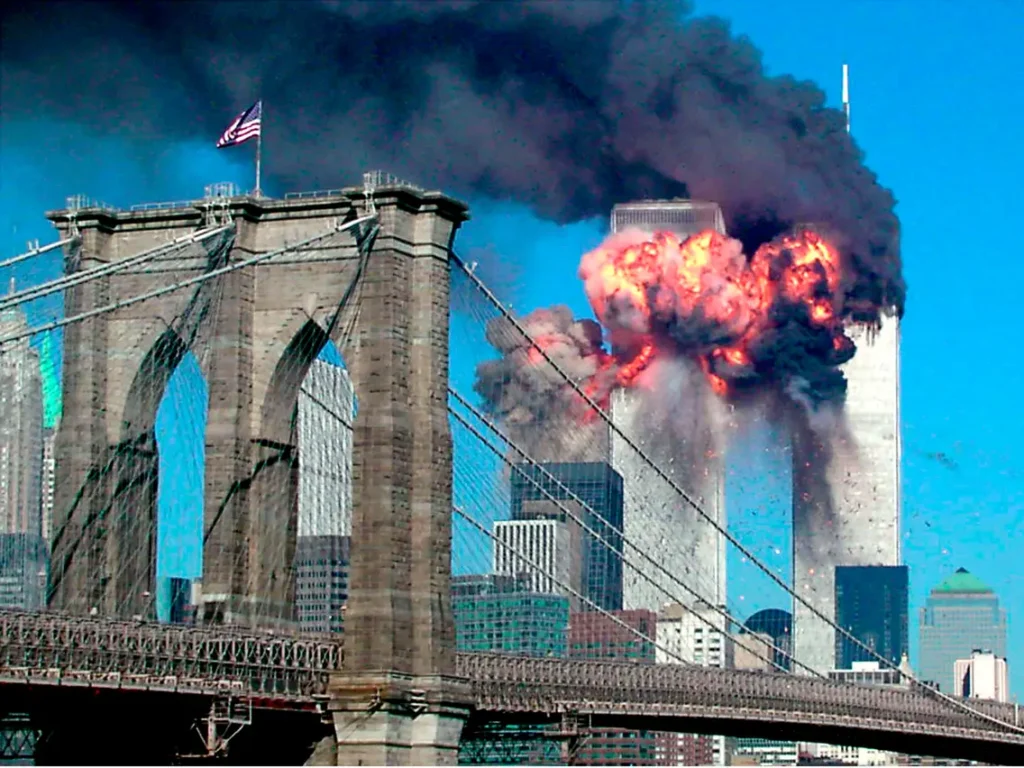 We, like most of the world, grieve with heavy hearts after the despicable, cowardly acts by a band of lunatics that sent nearly 6000 people to their early graves. In fact, we lost a sister-in-law in the World Trade Center disaster and a pair of friends on flight 93 that crashed into Pennsylvania.
Besides the lapse of tough security in this country, sadly a Pandora's box of other weaknesses have also been brought to light.
For years we have been mentioning that the American males declining interest in boxing is due in large part to their lack of toughness.
There were times when many nationalities such as Jewish, Italian, Polish and Irish immigrants and sons of immigrants, loved the sport of boxing and had neighborhood heroes to root for. They, themselves, also routinely participated in the sport.
Simply watch a Little Rascals' episode on television or view the many boxing films aired on Turner American Movie Classics and you will see that boxing is highlighted in many of their classic films.
Forget about that today.
Instead of looking up to boxing heroes, these youngsters, just like their weakling fathers, would rather watch a basketball game, a tennis match, or a golf tournament, and declare that those participants on the screen are, in fact, the real athletes and sports heroes.
As a result, kids are not learning how to fight anymore, or defend themselves for that matter. Their dad's, on the other hand, would rather call the police if their son gets bothered by a nine-year-old neighborhood bully, instead of teaching their kid to beat him up and fight back.
Thankfully, on flight 93, there were at least four tough and brave men who decided to take matters into their own hands. They were real heroes – not paid ones. With certain death looking them straight in the eye, the four brave souls, and possibly all the 21 total males and some females on board, decided to fight back.
It is that type of fighting spirit that should make a comeback in America. And it should start with the sport of boxing.
If people learn to fight properly and diligently, as the sport of boxing instructs, then more citizens could battle back against the gutless, slight of build terrorist brandishing box cutters, like the parasites who hijacked the four passenger planes.
Instead of the American schools suspending children for battling back when they didn't even start the fight, they should be heralded for their bravery and not backing down.
Limp-wristed complacency can no longer be tolerated in this country! 9/11 has taught us at least that.
___________________
FLASH-BACK – September 1992
John Rinaldi – BOXING TWINS VIEWPOINT – Alex Rinaldi
TVKO's financial woes a good idea poorly executed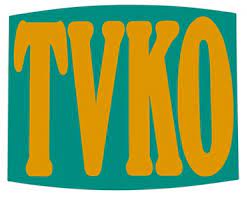 After the anticipated profits of the Holyfield-Holmes fight turned into a dreaded river of red ink, TVKO has been forced to scale down its operations.
After losing a reported $2.9 million on that bout alone, and an estimated $10 million in its first year, the pay-per-view outfit has cut eight members from its staff and curtailed the telecasts from a monthly schedule to that of quarterly events. What's happening at Time Warner Sports?
Was it due to the fact that potential viewers were being asked to overpay $19.95 for such inconsequential events such as Lopez-Gutierrez, Lopez-Mitchell II, Garza-Rosario, Bowe-Seldon and Barkley-Van Horn. These are fights that one would enjoy watching on ESPN and USA, but certainly not to shell out almost twenty buck for!
What kind of mindset would schedule and promote the aforementioned fights and expect to make money from them. To begin with, the fights did not involve top-name fighters (Bowe was still an unproven commodity) with explosive backgrounds.
What they should have done was either obtain higher quality events or price each telecast to commensurate with the attractiveness of the bout. For example, a fight such as Barkeley-Van Horn should have been priced down to $9.95, whereas the Lopez fights should have been given away to a cable station.
Then when TVKO set a fair price for a bout, they overpaid the fighters. The Holyfield-Holmes fight was a shining example. In that bout, Holmes earned $7 million to Holyfield's reported $16-18 million. Why TVKO would pay the champion such a high figure for that bout is just plain mind boggling considering they were only bidding against themselves.  There was no other nutty pay-per-view outlet willing to invest so much in such a questionable venture. Considering Mike Tyson was paid half that amount four years ago against a Larry Holmes who was still marketable, makes the Holyfield payment even more foolish.
This is not major league baseball where there is a bidding war for the services of mediocre, pampered, thumb-sucking athletes. TVKO had the power to offer Holyfield a lower more reasonable amount and get away with it; because none of their competitors would have come even close. We are only talking about good business sense. Either they did not know the market, or they were unaware of all the drawing power of the fighters.
Time Warner Sports has in the past, through HBO, overpaid fighters and seem to have met the bottom line. How else can fighters such as Pernell Whitaker garner $1.5 million a fight, when he has proved to be only a draw in his hometown when tickets were scaled down to $5. To most he is considered a slick, crafty, gutless bore, unwilling to extend himself past the talent of his mediocre opposition. Wise up TVKO. Boxing really needs you.
___________________
FLASH-BACK – August 2009
John Rinaldi – BOXING TWINS VIEWPOINT – Alex Rinaldi
Arturo "Thunder" gatti – Death of a Gutsy Champion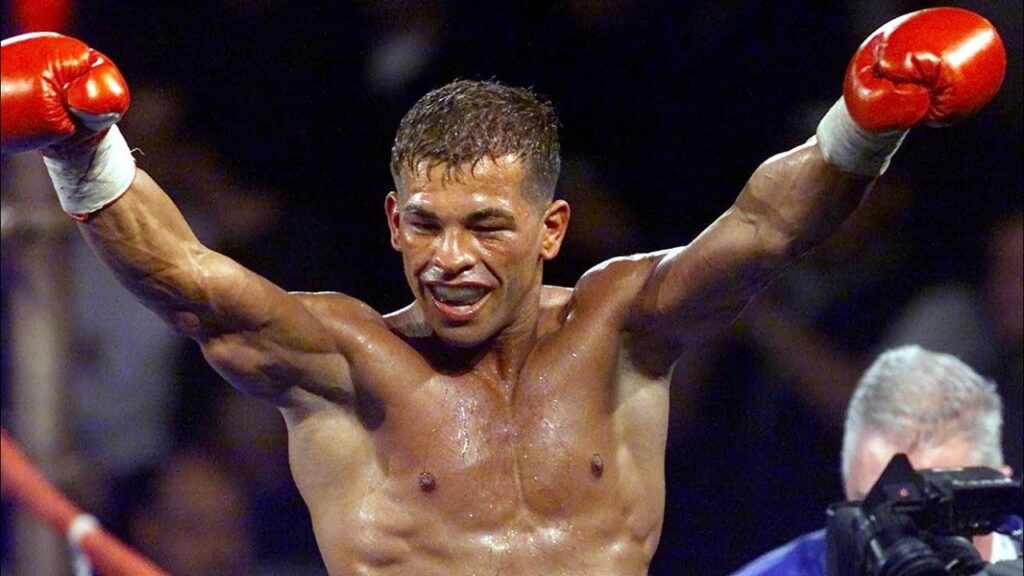 On July 11, the sports world lost one of its most popular athletes when Arturo Gatti was found strangled to death. At the time of this publication, his ex-stripper wife Amanda Rodriquez was the lone suspect in the grisly death of the former two-time boxing champion.
It was a tragic end to a fighter who always gave the crowd their money's worth. On top of that, he was always friendly and outgoing with his fans.
In life there are very few sure things. The exception was when Arturo "Thunder" Gatti climbed into a prize ring.
For however long the bout lasted, the audience was certain that Arturo was going to give it his all and fight his heart out. Even in his losing efforts, he thrilled the crowd. A great example of this was in the two bouts he lost to Ivan Robinson in 1998. Up until the final bell, he was still trying for a knockout in both fights and he nearly pulled it off.
Gatti was a throwback to slugger such as Rocky Graziano, Henry Armstrong, Tony Zale, Jake LaMotta, Carmen Basilio and Gene Fullmer. He only knew one way to fight and that was to wade in with both fists blasting away.
We first saw Arturo Gatti in his fifth flight when he fought Joe Lafontant on May 16, 1992 at the Trump Taj Mahal in Atlantic City.  In that fight he won a six-round decision, and even then, you knew there was something special about him.
Three years and 19 fights later, Gatti would win a 12-round unanimous decision over Tracy Harris Patterson to capture the IBF super featherweight title on December's, 1995 at Madison Square Garden.
He would defend his laurels three times before losing to Angel Manfredy on January 17, 1998.
The two Robinson losses would come next, and many felt that Gatti had reached the end of the line, and that the ring beatings he had taken had finished him off as a championship caliber fighter.
Gatti kept on fighting and won four straight bouts before suffering the worst loss of his career when he moved up to welterweight and was battered in five rounds by Oscar De La Hoya on May 24, 2001. 
Certainly, by then the skeptics wrote Arturo off as a club fighter whose club days were over.
After stopping former champion Terron Millett, Gatti embarked on the first fight in what was to be one of the most famous popular fistic trilogies of all-time.
On May 18, 2002, Arturo Gatti squared off against "Irish" Micky Ward. For ten blistering rounds of non-stop punching , Ward managed to pull off a close, majority decision.
Their return bout took place at the Boardwalk Hall in Atlantic City on November 23, 2002. The fight would be the first of a string of nine straight sell-outs at the Boardwalk Hall with crowds exceeding 11,000. Gatti would win the next two bouts against Ward, all of which were thrilling.
The two combatants later became friends and Ward was even hired soon afterwards to be one of Arturo's cornermen.
On January 24, 2004, Gatti won his second world title by decisioning over Gianluca Branco over 12 rounds for the WBC light welter title. He defended it two more times before being stopped by Floyd Mayweather in 2005.
Through all his ups and downs, Gatti left wonderful memories to boxing fans, and he will be greatly missed, but not forgotten.
___________________