___________________
John Rinaldi – BOXING TWINS VIEWPOINT – Alex Rinaldi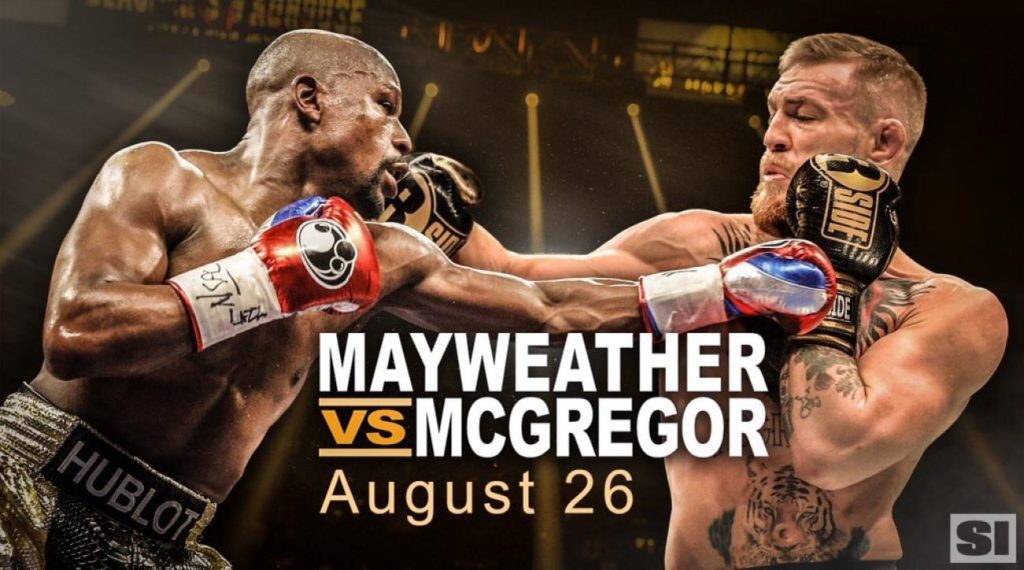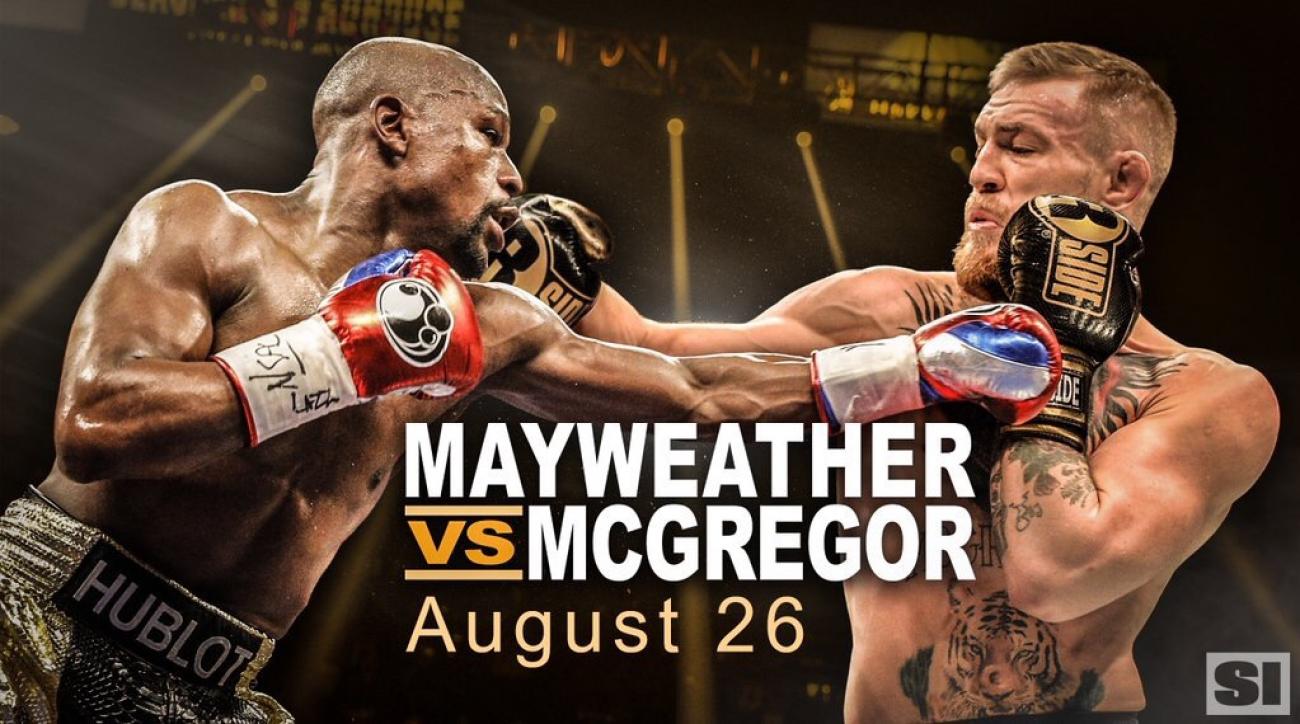 Floyd Mayweather batters Conor McGregor into submission in 10
As the circus tent was being dismantled at the T-Mobil Arena, there were some people actually trying to convince themselves that the hype of the "fight" between Floyd Mayweather and Conor McGregor was justified. The answer was that is certainly was not.  If there was ever a big match up that was surely predicable – this one, was it.
The prices of the so-called battle ranged from $500 for the cheap seats all the way to $10,000 for ringside.  In the seats in between, the  seats prices were $1,500, $2,500, $3,500, $5,000 and $7,500!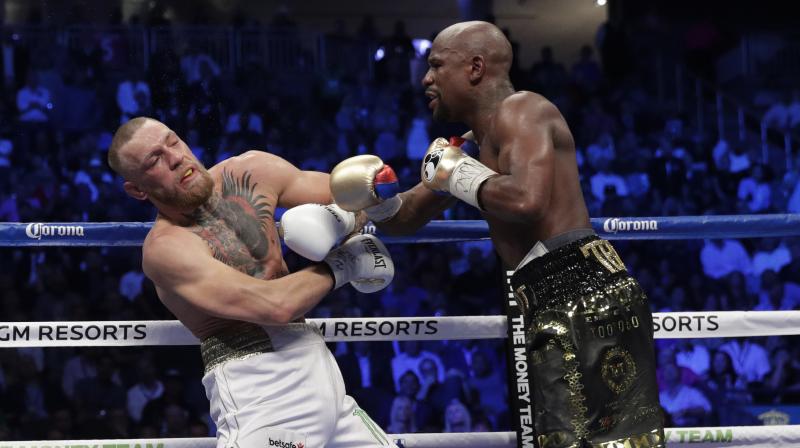 In the 20,000-seat arena, a reported crowd of 14,623 showed up.  Let us not be mislead that those in attendance were average boxing fans dropping a few weeks of their paychecks to see this extravaganza.  No, it appeared to us that many of them were comped out by the casinos, who were more than happy to see the crowd of high rollers and celebrities filter back into the casinos afterwards.  Since a large number of fans bet on the long shot McGregor, there turned out to be very few bettors at the Sports Book counters collecting any winnings.  The smart money bet turned out to be which round the bout would come to an end.  We bet a few bucks that Mayweather would stop the Irishman from Rounds 6 to 10, so we wound up with some decent winnings at 15-1 odds.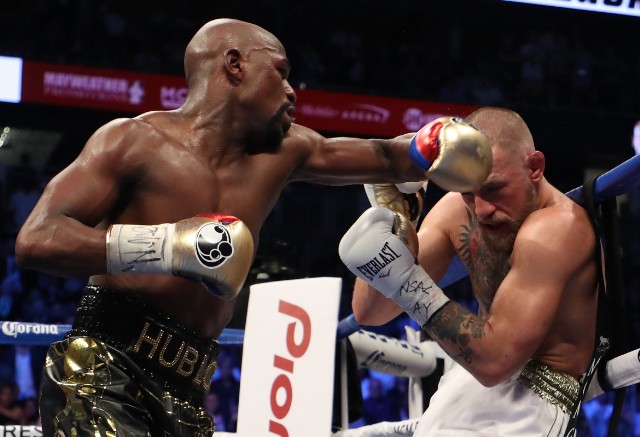 Floyd earlier remarked that he wanted to give the fans a show, and he did just that as he appeared to carry McGregor for the first five rounds, doing as little as he can to shake up his woeful opponent. Floyd even made it easier for McGregor to score by doing away with his famous lateral movement and shoulder rolls and, instead, deciding to move straight ahead against his UFC counterpart.
You can tell in the arena which fans were the actual ticket buyers, for they were the animated ones yelling "ole" to boost McGregor's confidence throughout.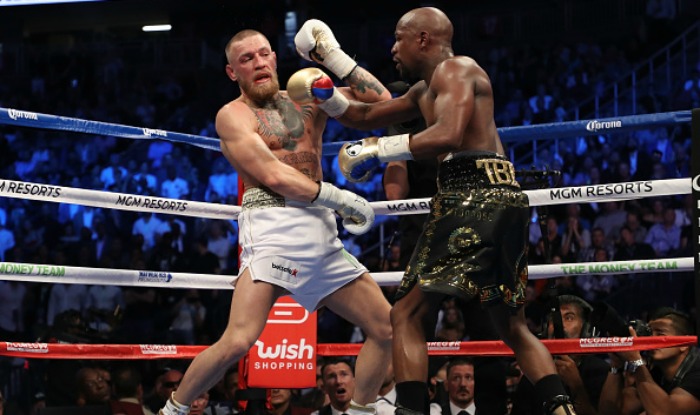 What many people forgot was that the maximum time a UFC bout goes is 25 minutes, and McGregor usually ended his bouts early with his street-fighting tactics.  Against someone as skilled as Mayweather, who can do over 25 minutes standing on his head, Conor's punching to the back of his head was the only time the Irishman seemed in his element.
Mayweather carried his opponent as if he was lugging around a clown suitcase for the first five rounds in order to give those at home, who plunked down an exorbitant $99.99 for the Pay-Per-View telecast, their money's worth.
Unlike in his previous 49 bouts, Floyd began this bout by lethargically coming out and allowing McGregor to unload with his scrawny arm punches that could not have dented an overripe peach. Floyd patiently took the shots, covered up or ducked little, and occasionally retaliated with a punch or two of his own.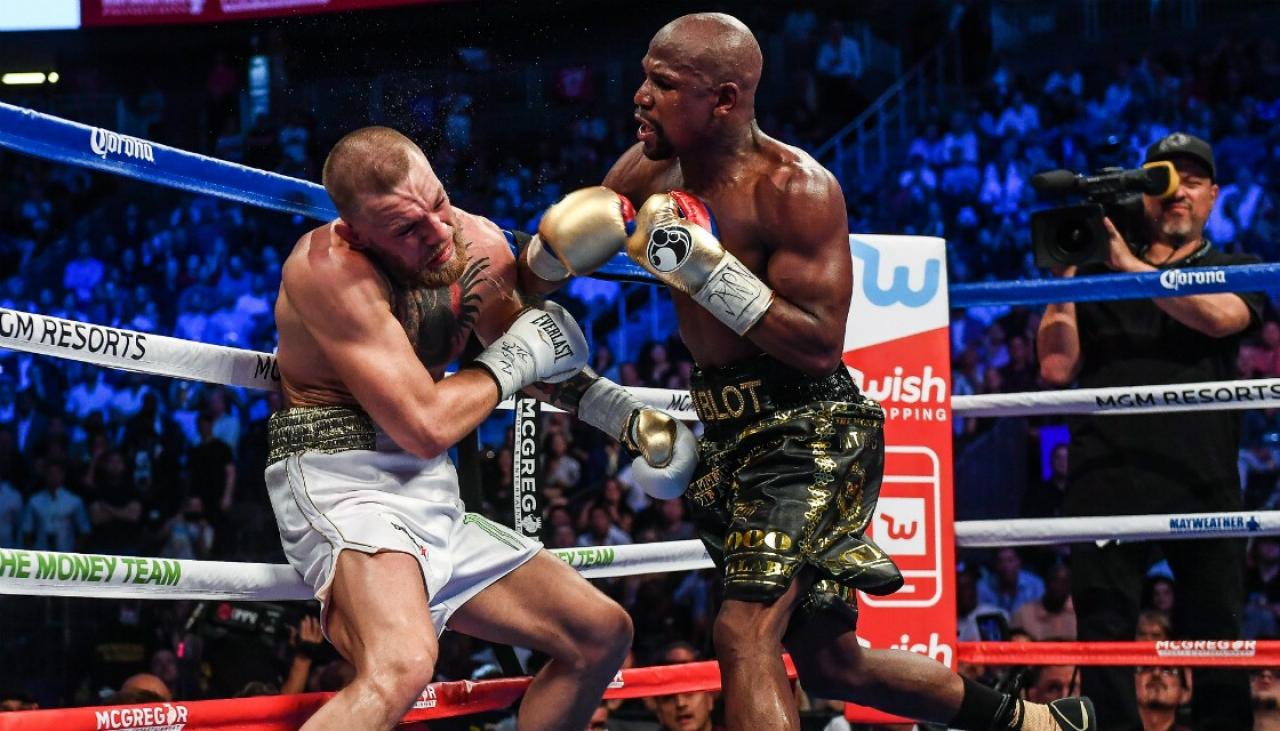 All the while, the hapless McGregor began scoring some points, though they landed with the impact of codling moth or a soft wind.
In fact, with the exception of one uppercut that Conor landed, there was never any time where McGregor's blows appeared to be any more bothersome than that of an annoying mosquito or a chilly draft. By Round 3, McGregor was already breathing heavy and the steam of his punches was as hot as an iceberg. In the fourth and fifth frames, the Irishman's punches had as much snap as a rusty spring.
After five rounds, McGregor went from being the "It" clown to a sad Emmett Kelly type one as he began to get battered with blistering punches, the power of which he never experienced in the octagon ring from the former barroom brawlers now fighting as MMA stars.
The ringmaster Mayweather should have grabbed the microphone at the end of Round 5 and announce to the audience that the drama is now going to start as drum rolls played far off in the distance, like an Indian battle call.  But since this was a circus masquerading as a fight, Floyd probably did not want to appear too obvious that he may have been pulling off the biggest con job of all time.
In the sixth, Floyd started opening up with his fists and letting his opponent know that this was indeed a boxing match against a true and tried professional and not one of those UFC farces fighting the likes of moonlighting firemen and part time cab drivers.
From then on, McGregor's energy dissipated as Mayweather's punch rate accelerated. Soon it was apparent that McGregor's once rising star was falling down to earth quicker than an old satellite.
In the ninth round, Conor's punches were a complete joke. It reminded us at times during a circus performance when a clown goes to the audience to throw a bucket of water at the crowd, only to reveal that it is simply a pail containing confetti.  That was the same with the Irishman's punches. They landed with the impact of a pail full of confetti. When he threw them they lacked any pop or power. It was as if he was waving a ostrich feather at Floyd.
Like the seasoned veteran he is, Mayweather knowing the time was ripe to bring the curtain down, quickly buckled the Irishman's knees on more than a few occasions with jarring blows to his bearded face. McGregor must have thought he was struck by hydrogen bombs compared to the shots that are usually dished out to him in MMA.
Surprisingly, McGregor did bravely stand up to Floyd's firepower, but the Irishman was sadly entering the beginning of his end and and waving goodbye forever the end of his beginning where he must have blindly thought he had a chance of winning the bout.
The tenth saw McGregor retreat awkwardly and weakly to the ropes, where he offered as little resistance as the French in World War II. Seeing this, Mayweather gladly waded in and punched and pounded McGregor's face in until referee Robert Byrd came in to end the show.
"I thought it was close and I thought it was a bit of an early stoppage. I was just a little fatigued," said the deluded McGregor who did not realize that the tent had just come crashing down on him. Hopefully, he will understand someday that he was never ever in Mayweather's league as a fighter or a drawing card.
At the time of the bout's end, Mayweather was ahead by scores of 87-83, 89-82 and 89-81. Even by coasting, Floyd was having little trouble winning.
Afterwards, Mayweather, who was guaranteed $100 million to McGregor's $30 million (although after the PPV  revenue comes in, Floyd will earn over $200 million and Conor would pocket over $100 million), remarked with mock sincerity, "He [McGregor] was a lot better than I thought. But I was the better man. I guaranteed everybody that this would not go the distance. Boxing's reputation was on the line."
The only truth to his comment was that boxing's reputation in this fiasco WAS certainly on the line.  The UFC and the other mixed martial arts organizations and fans have been tricked into thinking of the fallacy that their sport was superior to boxing. So it was important that Mayweather had to make the point that the UFC and their sort are not in the same league as the great sport of boxing. The UFC is strictly the bush and minor leagues compared the big leagues of professional boxing.
This is especially true when one considers the fact that a 40-year-old Mayweather, a fighter well past his prime, was able to easily dismantle the UFC's best fighter in the history of their sport who happens to be presently in the prime of his career.
Though Conor McGregor was a clown and huckster, thankfully he never proved to be a magician. As a result, he could not pull any gloved rabbits out of his hat to pull off the victory.
As for Mayweather, he will add nearly a quarter billion to his already Fort Knox bank account after competing in the easiest fight of his career.
As an aside, McGregor was contemplating returning to the UFC, but maybe he should instead consider joining the cast of "Circus 1903" where he can entertain the audience as the merry-andrew and jester much the same as he did in this predictable spectacle.
For those who thought they were witnessing a real-life "Rocky" wound up being ripped off by "The Sting" instead.
___________________
SUPER-FIGHT OR SUPER-CIRCUS
After the last performance of the Ringling Brothers and Barnum & Bailey Circus was registered into the history books this past spring, it appeared that the final curtain had finally fallen down upon the legendary Circus. In fact, circuses, as a whole, seemed as dead as the television ratings for the sport of golf since the decline of Tiger Woods.
We both thought the same until we found ourselves walking down the Boulevard in Las Vegas today. To our surprise, we found that in "Sin City" the big top is actually still alive and flourishing. For instance, at the Paris Resort Hotel, "Circus 1903" is presently wowing the audience with thrilling acts of Yesteryear, mixed in with puppet elephants and other like attractions.
If that did not not leave you with the feeling of sawdust underneath your feet, in comes an even bigger circus to add to the fun – the Mayweather vs. McGregor "fight" that features Floyd Mayweather taking on the duties as Promoter, Ringmaster and Star. Just as in "Circus 1903" where puppets take the place of real elephants, Conor McGregor is the puppet here masquerading as a real boxer that has a genuine chance of winning the fight. In fact, the elephant puppets look more authentic as real elephants than McGregor does as a real fighter, much less one that has any chance of capturing a victory in the bout.
For within moments of the sound of the opening bell, McGregor, like in "Circus 1903",  will appear more like a puppet lion – one with a loud roar, but no bite. As for Floyd, he will take over the duties of a lion tamer, but instead of facing the king of the jungle in front of him, he will be handling a declawed and defanged "beast" in the squared circle, or in this case, the center ring.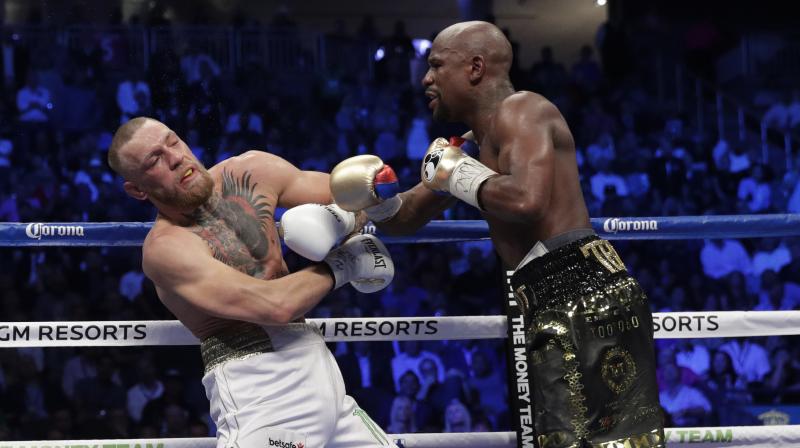 McGregor wearing his fancy tailored suits and talking a lot of trash is nothing but a trumped up sideshow opponent, with the brashness of an Irish Innkeeper and the boxing acumen of a medieval marionette.
He is a paper tiger if there ever was one.
McGregor has simply no chance of winning the bout unless Floyd Mayweather turns a hundred years old when he enters the ring – covered in rust like a an old warship. This is unlikely and quite improbable.
UFC pundits claim that McGregor fists are like the Hammer of Thor, filled with powers beyond most mortals. Maybe against UFC and MMA featherweight opponents, whose sole form of defense consists of blocking blows with their chins and noses, then slamming their knees into their adversary's midsection, McGregor looks to have dynamite in his hands.  Against Mayweather these same fists with appear more like feather nets better made for catching butterflies than hurting a professional fighter and ring legend like Floyd Mayweather.
In reality, the only semblance McGregor has to Thor with his Hammer is that both are comic book characters.
McGregor may be a fine MMA fighter and a credit to his heritage and sport – but he is no boxer or a prizefighter. He would need the powers of the sorcerer Merlin along with every Gypsy curse ever known to man to survive the bout, much less compete on a competitive level.
Not surprisingly, he will be exposed like the Wizard of Oz was when the curtain unveiled him to be nothing more than a Kansas vaudevillian.
Frankly, McGregor does not deserve to be in the same ring as Floyd Mayweather. He has accomplished virtually nothing in his career to warrant this challenge or the payday attached to it. To his credit, he has sold this fight like a true promoter and generated unbelievable interest in what will turn out to be a tragic mismatch. In the end, however, history will show that McGregor was nothing more than a carnival huckster and barker reeling in the crowd to watch chickens dance in a ring, while underneath stood a candle heating up the canvas where they stood.
While chomping down on their bag of peanuts, the audience will soon notice that the circus has turned into a bullfight between a crafty matador and an inept bull with all the gore that goes with it.
Unless Mayweather shows the compassion of a Saint Augustine, the Christian Saint of Mercy, McGregor will not be around standing to hear the bell ring for round three. They will take him out on a stretcher weaved from the same cloth as his fancy suits.
The legendary promoter P.T. Barnum is credited with coining the term, "There is a sucker born every minute!" Come tonight, the two of us will be watching the birth of a lot of suckers as Mayweather pockets over $200-$300 million by fighting a rank amateur. McGregor, on the other hand, is playing the part of Bailey to Floyd's Barnum, as he is set to earn approximately $100 million for the spectacle, which is about a hundred times more than his last paycheck in the overrated UFC.
Tonight, the real P.T. Barnum will chuckling in his grave as Floyd pulls off the biggest Superfight of all time!
"Let the buyer beware!"