STORIES OF LEGENDARY FIGHTERS
ROY JONES GIVES HIS LAST GREAT RING PERFORMANCE IN WHIPPING FELIX "TITO" TRINIDAD AT NEW YORK'S MADISON SQUARE GARDEN
Story by Kirk Lang
JANUARY 19, 2008 – NEW YORK CITY, NY. In a match-up of former superstars, Roy Jones Jr. dropped Felix "Tito" Trinidad twice en route to a unanimous 12-round decision victory at the "World's Most Famous Arena," otherwise known as Madison Square Garden.
It was a good win for the former pound-for-pound king, who improves to 3-0 since going 0-3 against Antonio Tarver and Glen Johnson between 2004 and 2005.
Jones had boasted that "Tito must go in four." However, Trinidad stuck around until the final bell.
"He took a lot of shots. I can't believe he stayed in there with me for 12 rounds," said Jones. Roy revealed he might have lived up to his pre-fight promise had he not suffered an injury in training three weeks before the fight. He tore a tendon in his left biceps during a sparring session and removed his shirt at the post-fight press conference to show the media he was not just offering up an excuse for not getting Trinidad out of there early.
"I couldn't hook really and that's one of my best punches," said Jones, "So I couldn't hook him like I wanted to." The two knockdowns Jones scored – in the seventh and 10th rounds – came courtesy of a right hand, and a one-two combination, respectively.
Jones got off to a slow start – which allowed Trinidad to take the first two rounds on all three scorecards, with one judge giving Trinidad the first three stanzas – but loosened up as the rounds wore on. Trinidad won over the judges in the opening rounds with his focused body attack. However, none of Felix's shots, whether downstairs or upstairs, seemed to faze Jones.
The Jones-Trinidad affair was fought at a catch-weight of 170 pounds. Jones has spent most of the last decade at the light heavyweight limit of 175 pounds, and Trinidad's last world title was won at middleweight. The big questions going into battle were: Would having to make 170 weaken Jones for Trinidad?; Could Trinidad, a powerful puncher in his prime, carry his power 10 pounds up from 160 (and previously 147 and 154) to 170?; And could Jones, who suffered devastating knockouts to Tarver and Johnson, and got rocked in a third fight with Tarver, find himself on the canvas again if Trinidad landed the so-called perfect punch?
Felix was able to hit Jones more than he was able to hit Winky Wright in his losing effort to Wright back in May 2005, but it did not matter. Roy is used to fighting naturally bigger men and was able to take whatever Tito could connect with. The general opinion before the fight was the only way Trinidad, 42-3 (35), was going to win the fight was by knockout.
The KO never came.
Jones, 52-4 (38), even gave him opportunities. Standing in a neutral corner in the third round, Jones hit his stomach to say "C'mon and hit me." Shortly after, he stomped his feet and stayed in the corner. There would be more showboating from Roy, but only in spurts, unlike Jones' third fight with Tarver, where he almost seemed more concerned with showboating than trying to land punches.
Against Trinidad, the quick fists of Jones dominated the action inside the ring, especially in the latter half of the fight. There were stinging lead right hands. There were also lighting quick combinations at times. More importantly, there were flashes of the brilliance that made Jones, now 39, an absolute thrill to watch during his pound-for-pound prime. In fact, Jones' career highlight film will have to be edited to include the seventh-round flooring of Trinidad. Tito suffered a delayed reaction knockdown near Jones' corner after taking a right to the top of the head.
Roy never sought out Trinidad, who had not fought since losing to Wright. It was the other way around. Trinidad and his father, Felix Sr., put out a challenge to Jones. Roy accepted the challenge and took training camp very seriously, given Trinidad's credentials. Felix was among the best fighters of the 1990's. He was welterweight champion for most of the decade and then tore through the junior middleweight division in 2000, administering beatings to David Reid and Fernando Vargas to pick up two world title belts. In 2001, Trinidad disposed of highly respected William Joppy in five rounds to pick up the WBA middleweight crown. Later in the year, Trinidad, who seemed unstoppable, lost by 12th-round TKO to future Hall-of-Famer Bernard Hopkins in a match-up for the undisputed middleweight championship.
Jones thanked Trinidad's father for calling him out.
"I know why he was calling my name," said Jones. "He wanted somebody that would inspire his son to get right." On the flip side, Jones said the prospect of facing Trinidad made him take training very seriously.
"They made me get up and get off my backside and do what I had to do," said Jones. "When somebody's coming for you, they're coming for you ready."
Promoter Don King said, "This man [Jones] has rejuvenated himself, re-dedicated himself, re-doubled his efforts and he is focused and disciplined, you saw the moves of the Roy of old."
King added that Jones was so far superior to his opponents for so long, he became a bit cavalier and abandoned from the norm, "and when he did that, he lost a couple of fights and so they said he was finished."
But when he got Tito Trinidad, said King, "That was a man that could make him go back to the hard work and the hard work pays off when you're dedicated and committed."
Roy talked of wanting to face super middleweight champion Joe Calzaghe, who hails from Wales, in the near future, or Bernard Hopkins, who, although he holds none of the major belts, is generally recognized as the light heavyweight king, by virtue of his dominant victory over Antonio Tarver back in June 2006.
"I'll take whoever. I don't care," said Jones. "If the fans want to see a certain fight I'll go wherever I've got to go to make it happen."
Jones said he was planning to catch a flight with King to Wales to try to make Calzaghe-Jones come to fruition.
EDITOR'S NOTE: Although the high prices at Madison Square Garden did not sell out the arena, an impressive crowd of 12,162 did turn out.
The Jones-Trinidad battle, however, proved to be a bonanza pay-per-view event as it attracted more than 500,000 buys.
Upon hearing the PPV numbers, Don King remarked, "Roy Jones Jr. proved he is still one of the biggest pay-per-view stars in the sport, and I can't say enough about the show Tito and Roy put on for the fans."
A pair of great champions in "Skipalong Rosenbloom"
Story by Juliann Rinaldi
1951 – Years ago, many fighters turned to acting when their ring careers were over, or nearing their end. Two such examples are the immortal heavyweight king Max Baer and the legendary light heavyweight champion "Slapsie" Maxie Rosenbloom.
Filmed in 1950 and released in theaters on April 30, 1951. The following were the tag lines for the film:
The Funniest Picture of the Year…You'll howl when you see it!
A ONE-OUNCE BRAIN IN A TEN GALLON HAT!
With A Gun, A Gal Or A Rope… He's A Dope!
In 1950, William Boyd released his entire film catalog of "Hopalong Cassidy" cowboy films for television airing and became one of the sensations of the new medium. To cash in on the success of Boyd's TV show, Eagle Lion produced a low budget film that spoofed the "Hopalong Cassidy" TV show.
Western movies always has a good guy, a villain and two young love interests. For the dimwitted hero of the film, "Slapsie" Maxie Rosenbloom was cast. Maxie was no stranger to playing imbeciles, feeble-minded hoodlums, or wacky characters on screen, and over the course of his career he registered 76 credits. His most memorable film moments came when he was under contract for Warner Brothers and appeared as a criminal in 1938's "The Amazing Dr. Clitterhouse" with Edward G. Robinson and Humphrey Bogart, and in 1939's "Each Dawn I Die" with James Cagney and George Raft. Rosenbloom also was featured in two movies starring memorable comedy teams. Maxie appeared with Abbott and Costello in "Abbot and Costello Meet the Keystone Cops" and with Martin and Lewis in "Hollywood or Bust" – both in 1956.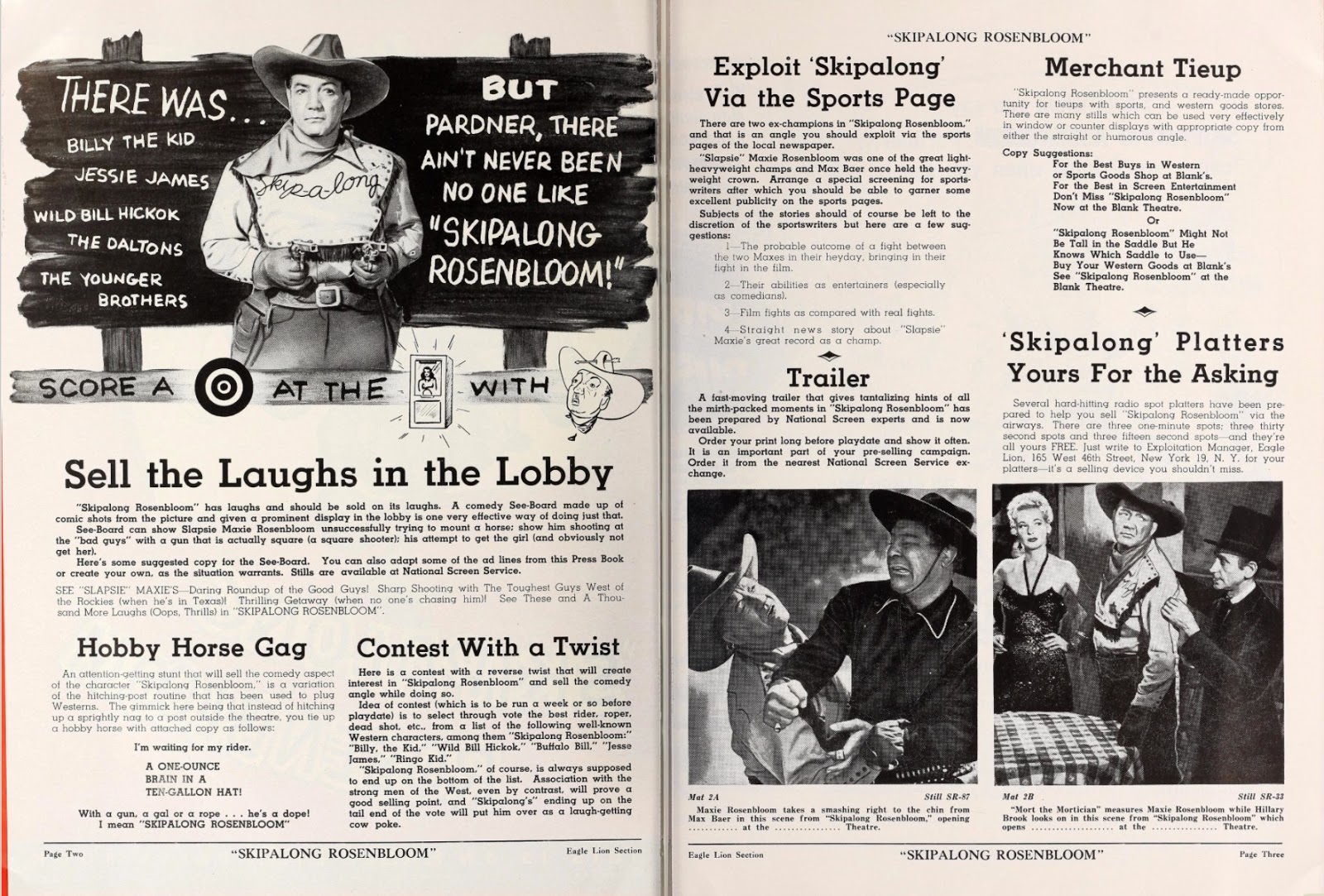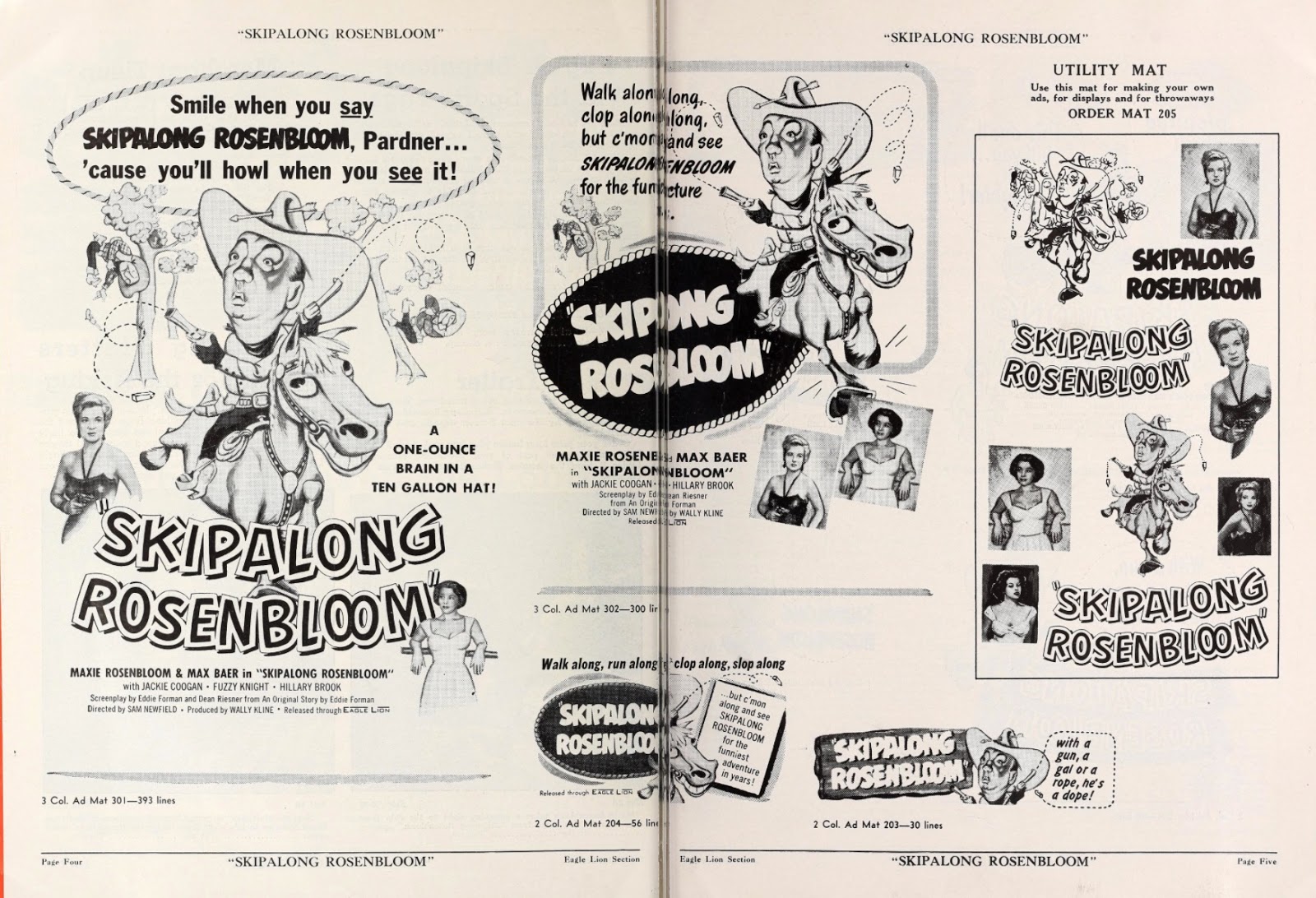 In television, Maxie made appearances on The Red Skelton Show, The Donna Reed Show, The Munsters, The Man from U.N.C.L.E., and I Dream of Jeannie.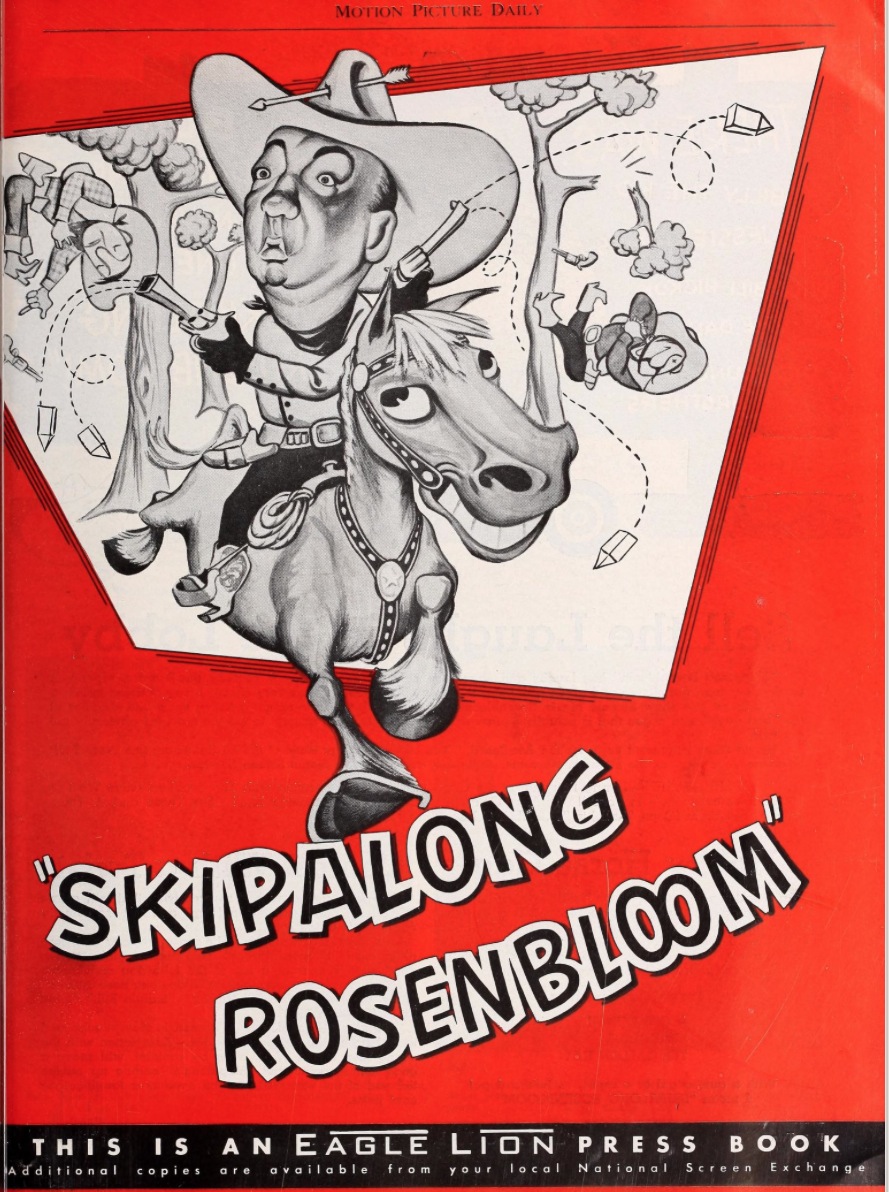 Former heavyweight champion Max Baer appeared in "Skipalong Rosenbloom" as the dastardly, sherif-killin' outlaw Butcher Baer.
Max Baer, whose son Max Jr. later achieved television fame as Jethro on the classic Beverly Hillbillies, made his first movie appearance just before he won the title in "The Prizefighter and the Lady" in 1933, where he played the lead character and the beautiful Myrna Loy was his love interest. In that same film, the legendary Primo Carnera had a big part in the film with the real-life champion playing a reel-life one in the climatic battle in the movie against Baer.
Due to the sparring that was done in the film, Max became so familiar with Carnera's style that it was a huge help for when he eventually fought him the next year. For good luck in the real Carnera bout, Baer wore the same trunks in the fight that he did in the motion picture. Also in that film were boxing legends Jack Dempsey and James J. Jeffries, along with Frank Moran, Joe Rivers, Jess Willard and Jackie Fields.

Baer also joined Abbott and Costello in the film "Africa Screams" in 1949, along with an appearance on their television program in 1953. Max also made television appearances on classic shows such as The Lone Ranger and Make Room For Daddy in the 1950's.
"Skipalong Rosenbloom" was in the theaters a brief time before it was purchased by United Artists and sold to television, where it had a popular run.

Rosenbloom (1904-1976) fought professionally from 1923 to 1939. On June 25, 1930, Maxie won a 15-round split-decision over Jimmy Slattery at Bison Stadium in Buffalo, NY, to win the world's light heavyweight championship. He defended his title seven times before relinquishing his crown for the heavyweight division. In his career he beat the likes of future heavyweight king James J. Braddock, John Henry Lewis and Mickey Walker. Maxie retired with an incredible 207-39-26 (19 KO's) record, with 24 no-decision battles. The light hitting Rosenbloom racked up an amazing 2,523 rounds!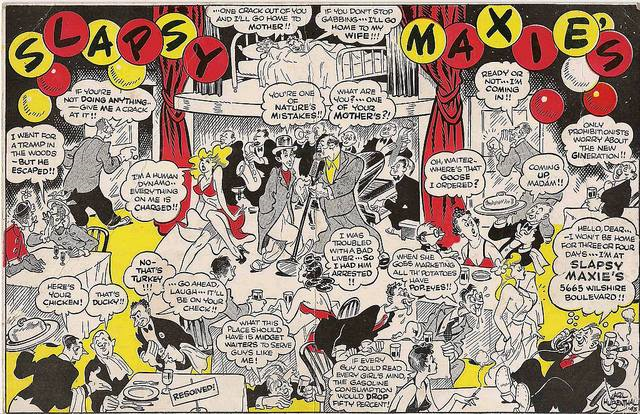 Baer (1909-1959) fought from 1929 to 1941. He brutally stopped the great Max Schmeling before 53,000 fans at Yankee Stadium in the tenth round. In his next bout on June 14, 1934, Max knocked Primo Carnera down ten times before the bout was stopped at 2:16 of the 11th round at the Madison Square Garden Bowl.
Max would take a year off before defending his laurels against James J. Braddock on June 13, 1935 at the same venue where he won the title. Unfortunately, this time he would come up short on the losing end of a 15-round decision in front of 35,000 fans.