Bare-Knuckle Corner
Tom Sayers
By Kirk Lang
Long before Americans would dominate boxing in the 20th Century, England had bragging rights to many of pugilism's best practitioners. And one of the best was Tom Sayers, a bricklayer who seemed to have bricks in his fists, because he often took on and defeated bigger opponents. Sayers rarely ever weighed more than 150 pounds for a match, and in modern times, that does not even make him a middleweight. He was a junior middleweight and if he ever tipped the scales at 147 pounds or less, that made him a welterweight taking on the big boys.
Sayers was a true national hero and thousands lined the streets for his funeral procession. As many as 10,000 showed up for the burial, destroying tree branches, tombstones and grave railings to say they saw "The Napoleon of the Prize Ring" being put in his final resting place.
Similar to Sugar Ray Leonard, Sayers did not need a ton of fights to secure his legacy. Leonard had only 38 fights before two ill-fated comebacks, yet he proved himself one of the greatest to ever lace up the gloves. Sayers had only 16 bouts. He lost only one of them, and that defeat, it could be said, was the result of facing top competition a bit early, and while sick. Sayers met recognized middleweight champion Nat Langham in October 1853. It was only his fourth pro fight. Sayers did not go down without a fight, however. Sixty-one rounds in, with his eyes swollen shut, he still was not giving in. Fortunately, his handlers did him a favor – health-wise – and threw in the towel. One career victory later, prizefighters in and around his weight class deemed him too dangerous to face in the ring. Forced to take on bigger men, Sayers faced Harry Paulson in January 1856, one of England's top heavyweights. It was an impressive victory for Sayers, according to various sources, but the fight itself lasted an eternity – 109 rounds to be exact, according to records kept at the time.
After a tough draw and convincing rematch win against Aaron Jones, Sayers took on England's heavyweight champion, "The Tipton Slasher" Bill Perry. As good a fighter as Sayers was, he went into the fight as the underdog, written off by the so-called experts. It took him only 10 rounds to defeat the champion.
Further victories eventually led to the showdown that would cement Sayers' place in boxing history, his participation in pugilism's first international boxing match, or rather, its first world championship fight. Sayers, the English champion, was scheduled to face John Carmel Heenan, the American champion, on April 17, 1860. This match-up was given great press coverage on both sides of the Atlantic and on fight night, Queen Victoria allegedly sat in her palace awaiting the result.
The 6'2", 195-pound Heenan was willing to travel to England, figuring the odds were in his favor anyway, as Sayers was nearly a decade older, 40 pounds lighter and five inches shorter. The fight took place near the tiny village of Farnborough and commenced around 7:30 a.m. If Sayers already had the disadvantages, he broke a bone in his right arm blocking a punch. Essentially one-handed, he then focused on attacking Heenan's eyes, according to The Telegraph, and ultimately swelled his right eye shut. In the 37th round, according to one account of the match-up, The Irish American strangled Sayers by pushing his head down over the top rope. The ropes were cut and the crowd invaded the ring, but that did not end matters.
The ring was re-pitched a short distance away and the bare knuckled pugilists continued swapping blows. The bout – which reportedly lasted 2 hours and 27 minutes – came to an end when the police showed up at the edge of the field – in the middle of the 42nd round – and everyone fled. Some accounts however, claim that the authorities showed up as early as the 37th round and let the fight go on. Whatever the true story is, the contest was ultimately declared a draw. Heenan disputed the outcome and demanded a rematch, but that begs the question – if he was truly winning, why did he feel the need to strangle Sayers?
A rematch never came to fruition. Sayers was so beloved, his fans, concerned for his health, raised a substantial amount of money for him to quit the fight game. Following boxing, he endured divorce, as well suffered from tuberculosis and diabetes. There was an attempt to get into the circus business. Sadly, he died on November, 8, 1865, a mere five years after the Heenan fight, at 39 years-old. That same year, the Marquess of Queensbery rules were drafted, which gave way to modern prize-fighting, as it dictated that rounds be three minutes long, fighters have 10 seconds to get to their feet after a knockdown, and mandated the wearing of gloves.
More than 100 years after his death, Sayers' legacy is secure. One author, Alan E. Wright, paid him the ultimate tribute in 1994, with the publication of a book titled, "Tom Sayers: The Last Great Bare-Knuckle Champion."
Paddy Ryan
Former heavyweight champion
Story by Kirk Lang
Every champion has a period of time in which they reign at the top of their sport or at least remain relevant. Muhammad Ali was on the world stage for a decade-and-a-half after defeating Sonny Liston for the heavyweight championship. Conversely, Buster Douglas, a one-fight wonder who pulled off the ultimate upset against "Iron" Mike Tyson, suffered a crushing first title defense that sent him into retirement.
Patrick "Paddy" Ryan, a champion in the bare-knuckle days, won't go down in history as an all-time great, but he at least had a good two years as heavyweight title holder. In the 1880s, there was not the proliferation of titles as there is today. However, one's championship definition could be altered depending on the newspaper one picked up. Ryan was cited as the heavyweight champion of America by some, while other publications deemed him the heavyweight champion of the world with his May 30, 1880 win over Joe Goss.
Ryan made his own mark in the boxing world, although he is better known as a factoid in the career of the legendary John L. Sullivan. Ryan lost a one-sided nine-round affair to "The Boston Strong Boy" and the Ryan-Sullivan contest marked the last time the bare-knuckle championship – prior to the gloved era – changed hands.
Ryan, born in Thurles, Tipperary, Ireland, emigrated to the United States with his family when he was only two years-old. Settling in the Troy, New York area, one job he had later in life was that of a blacksmith's helper. This position helped Ryan to develop an impressive physique. Paddy subsequently became the proprietor of a saloon and he often had to use physical force to remove unruly patrons. His removal tactics apparently caught the eye of Jim Killoran, athletic director of the Rensselaer Polytechnic Institute. Killoran saw a potential boxer in the young man and subsequently became Ryan's trainer. Paddy turned pro in 1877, three years from when he and Killoran joined forces. And three years later – May 30, 1880 – he became the recognized heavyweight champion after an 87-round battle with Joe Goss that lasted at least 90 minutes, and possibly as long as an hour and twenty-seven minutes.
Both men endured serious punishment. In the 80th round, according to the West Virginia Division of Culture and History, "Goss staggered helplessly from his corner" and was met with a blow "which stretched him out apparently lifeless." Somehow, Goss rose from the canvas and fought for six more rounds. At the start of the 87th round, however, the battered Goss, sitting on his chair, was unable to come out to the center of the ring and the referee declared Ryan the winner. Ryan was 28 years of age, whereas Goss was 44.
Ryan typically wore green stockings and black trunks decorated with green shamrocks when he fought, as well as a red, white and blue belt. Noted for his bull strength, he could out-muscle opponents. Many bettors thought he could out-muscle Sullivan when agreed to face one another on Feb. 7, 1882. The fighters arrived in New Orleans, Louisiana one day prior to the fight, but the bout was moved to Mississippi City, MS, when local officials got wind of the match.
A 24-foot ring was subsequently erected in an oak grove in front of the Barnes Hotel. Ryan would find out Sullivan was far stronger than he perhaps realized. The New York Daily Tribune, one of the newspapers covering the fight, reported that Ryan exhibited weariness after the opening round, in which Sullivan reportedly drew first blood and also sent the champion to the canvas with a right hand. Ryan would wrestle Sullivan to the ground in the second frame, but he was unable to win the war of fists. The challenger dominated the contest before ultimately stopping Ryan in the 9th round. A large crowd of 5,000 fans turned out to see the coronation of the new heavyweight king Sullivan.
While it was not a lengthy battle – approximately 11 minutes – Ryan's face was badly disfigured. Meanwhile, Sullivan did not have a mark on his.
"When Sullivan hit me, I thought a telegraph pole had been shoved against me endways," Ryan said.
Although he was defeated rather easily by Sullivan, the champion granted Ryan two title opportunities afterwards, but this time in gloved contests. Their rematch took place on January 19, 1885 at New York's original Madison Square Garden. After one round of boxing, the police intervened and the bout was considered a one-round no-contest.
The two gladiators met again the following year on November 13, 1886 at San Francisco's Mechanic Pavilion. Unfortunately for Ryan, he proved no match for the powerful Sullivan and was brutally KO'd in three rounds.
Ryan and Sullivan would engage in a number of exhibition matches beginning almost a decade later. They had at least seven between 1891 and 1895, and one more in February 1897.
Paddy was inducted into the Bare Knuckle Hall of Fame in 2009.
Ryan died in Green Island, NY on December 14, 1900 from Bright's Disease at the age of 49.
Jake Kilrain
Former American Heavyweight Bare Knuckle Champion
Story by Kirk Lang
Boxers have often been linked together in history through a series of bouts waged against one another. Such in the case with the six bouts between Sugar Ray Robinson and Jake LaMotta and the three-fight series Muhammad Ali and Joe Frazier engaged in. While most would agree LaMotta and Frazier did not possess the natural ability of their more famous foes, they carved their own place in boxing lore with their tenacity and toughness.
 The same holds true with Jake Kilrain. However, he did not need repeated encounters to cement his legend. Rather, he secured his place in history with a single fight against a more famous opponent – the great John L. Sullivan. The Sullivan-Kilrain bout was the last bare knuckle heavyweight championship fight fought under London Prize Ring Rules, in which a round ended when a person was knocked down, pushed down or wrestled down. Sullivan was the last heavyweight champion of the bare-knuckle era, and with the advent of the Marquis of Queensbury Rules, he became boxing's first gloved heavyweight champion. He was also the biggest athletic icon of his time. Yes, not just of boxing, but of sports in America in general. His exploits were covered by the major newspapers long before Babe Ruth came on the scene, and long before Americans would follow pro football, basketball and hockey religiously.
 In facing such a star, Kilrain, the son of Irish immigrants, became a celebrity himself. A similar example would be Gerry Cooney. While he never actually became a world champion, there was so much hype and coverage around his challenge of heavyweight champion Larry Holmes, that even in valiant defeat, he remains more popular today, and more recognizable at boxing events, than many men who actually won world titles. Long before his fisticuffs were getting coverage, Kilrain was honing his skills while working in the rolling mills of Somerville, MA. A self-described "gawky country boy" from Long Island, New York, he took on many of his co-workers and at 20 – now 5'10" and weighing around 190 pounds – was proclaimed boxing champion of the mill. Four years later, again proving his athletic prowess, this time in the sport of rowing, he won the National Amateur Junior Sculling Championship in Newark, NJ. However, his achievement was stripped from him when it was revealed he had boxed for pay.
Kilrain, according to reports, turned pro at the age of 19. CyberBoxingZone.com lists an undated pro fight against Pete McCoy and its next recorded pro fight for Kilrain, born Feb. 9, 1859 in Greenpoint, NY, was an 1880 bout against "Dangerous Jack" Hughes, "W-3" in Boston, MA.
Kilrain was allegedly 10-0-3 when he faced Mike Cleary at Madison Square Garden on June 26, 1884, at which time Richard K. Fox, publisher of the National Police Gazette, took notice of him. This was five years before Kilrain would face Sullivan, and three years before Fox awarded Kilrain a belt proclaiming him heavyweight champion. Kilrain had a number of bouts in which police intervened, including a  December 1, 1884 clash with Jack Burke in Boston. Police interrupted the opening round, as the action was so intense.  Four more rounds, however, were permitted and the bout was recorded as a five-round draw. Some of Jake's scheduled bouts never took place because police got wind of the fights before the first bell.
Known for his great stamina, Kilrain was recognized as champion by Fox and his newspaper following a 106-round draw with British champion Jem Smith that took place in France. This was part of a plan by Fox to lure Sullivan into a fight with Kilrain. Fox had an issue with Sullivan ever since they were in the same New York City saloon in April 1881. Sullivan refused an invitation from Fox's sport editor to walk across the bar and sit down with Fox. Sullivan, celebrity that he was, and surrounded by his friends and plenty of drinks, told Fox's associate that if his boss wanted to see him, then Fox should come to his table. Fox, a proud man himself, never did walk over to Sullivan's table, and took issue with Sullivan's perceived slight.
Kilrain and Sullivan could not avoid each other forever as the whole world clamored for the contest. The press helped make it happen and while Sullivan was already fighting with gloves by this time, this match-up would be bare knuckle, the last of its heavyweight kind.
In bare knuckle boxing, rounds ended only when someone was knocked down, thrown down or wrestled to the ground, and fights ended when either combatant could not continue. The bare knuckle contests could also end by crowd riot, police intervention, or if both boxers agreed on a draw. Nobody had to worry that Sullivan and Kilrain would both be on their feet in the end agreeing to a tie. This was definitely one that was going to end with somebody getting stopped.
The highly anticipated fight was banned across the south. Merely attending could lead to an arrest. As such, the fight found a home on a field in Richburg, MS. Charley Rich owned 10,000 acres and in the days before the fight, a makeshift ring was set up and pinewood bleachers were erected. Somebody should have planned better. The battle took place in a hot state, on a hot month (July) and outside with no tarp or anything to shield the sun's rays. Kilrain and Sullivan proved their toughness in not only enduring one another, but also the less than ideal fight conditions. Roughly three-thousand spectators made their way to the bout, boarding trains in New Orleans, with tickets that did not list a site location. Not only was it the last bare knuckle heavyweight championship of its time, it also has a place in history for being the first world title fight ever photographed. Images of the bout and its surroundings show a crowd of all men, nearly all of them bedecked with gentlemanly hats on. They look dressed more for a child's high school graduation than a bare knuckle bloodbath. Some of the paying spectators at ringside are leaning into the ring a little with arms over the ropes, something that would never be allowed today. Even though the fight began sometime between 10 a.m. – 11 a.m. – the actual start time differs depending on the source – it was still too hot. The temperature was as high as 104 degrees, even perhaps 106 degrees. Both men would be sunburned by the time it was over.
Kilrain got off to a good start, grabbing Sullivan around the neck and throwing him down 15 seconds into the first round. Later, in either the fifth or sixth round, Kilrain struck Sullivan's ear and drew blood. Referee John Fitzpatrick called out "First blood – Kilrain," and as a result, money exchanged hands in the stands between the betting public. The action subsequently turned in Sullivan's favor, as John L. made a point to box and wrestle less. As he boxed and moved, Sullivan also landed heavy blows, so much so that at the end of the 7th round, Kilrain had to be helped back to his corner.
Both fighters wore shoes with cleats and at some point during the fight, blood was seen seeping out of Sullivan's shoes. As the bout progressed, Kilrain had his fair share of battle injuries. In the 35th round, he had a broken nose, split lips and an eye that was swollen shut. Reports from various sources note that both men consumed alcohol during the bout. Sullivan reportedly vomited in the 44th round, which prompted Kilrain to ask the "Boston Strong Boy" if he wanted to continue. This lit a fire in Sullivan, and he dominated the later rounds. As the fight went on, Jake was near exhaustion, but there was no quit in him. However, his handlers, believing he was literally going to die, threw in the proverbial towel – in this case it was a sponge – at the end of the 75th round. The fight had lasted two hours and 16 minutes!
In the following year, Kilrain would venture to Belfast, New York and train with champion wrestler William Muldoon at Mudoon's Barn (the site of the current Bare Knuckle Hall of Fame) to face the upcoming heavyweight prospect James J. Corbett.  Amazingly, Muldoon's barn training quarters was the same place that John L. Sullivan had trained in his famous fight against Kilrain.  William Muldoon had a willing pupil in Kilrain, who trained diligently for the Corbett match.
Unfortunately, for Kilrain, the Sullivan fight had taken a lot out of him as he entered the ring an old 31 years of age, against the undefeated and clever future heavyweight king Corbett, who was only 23, at the Southern Athletic Club in New Orleans,  LA, on February 18, 1890.
Kilrain put up a good fight, but was no match for the fleet-footed and swift punching Corbett and lost a 6-round decision.
Sullivan would not fight again for another three years until he was dethroned by James J. Corbett when he was KO'd in the 21st round at the Olympic Club in New Orleans, LA, on September 17, 1892.
Jake had a dozen or more bouts, the most significant of them a 44th round knockout of Boston's heavyweight contender George Godfrey at the California Athletic Center in San Francisco, CA, on March 13, 1891.
Kilrain's last fight was a 5th-round TKO loss at the hands of Steve O'Donnell at the Germania Maennerchor Hall in Baltimore, Maryland on October 20, 1899. Jake was 40 and O'Donnell was 33.
Jake retired from the ring following In his post-boxing life, he married, had children and was a proprietor of a saloon in Baltimore, MD. When his saloon burned down, he moved back to Somerville, MA and got a job with the Parks Department. When he lost that job due to government cutbacks during the Great Depression, he found work as a night watchman at a shipyard in Quincy, MA.
He and Sullivan became good friends in their later years. They engaged in four friendly exhibition bouts in April 1909 in Phoenix, AZ and toured throughout the country in a Vaudeville sparring act.
Although Kilrain was stopped in his bout with Sullivan, John L. was the first to go down for the count for Eternity when he died in 1918, Kilrain served as one of his pallbearers. Kilrain died at a private hospital in Quincy, MA, on Dec. 22, 1937 at the age of 78.
The great old pugilist Kilrain was inducted into the Bare Knuckle Boxing Hall of Fame in 2009 and the International Boxing Hall of Fame in 2012. 
James "Deaf" Burke
Story by John and Alex Rinaldi
       Born in poverty on December 8, 1809 in St. Giles, London, James Burke suffered from severe hearing loss in infancy. Orphaned as young boy, Burke spent his childhood in the workhouses.
     With no schooling, Burke earned money as a waterman,  a river worker who transferred passengers across and along the Thames River. While still a teenager, James learned to box by an old fighter, who also worked along the river.
      Burke was a strapping young lad standing a gigantic 6 feet 2 inches tall and weighing around 200 pounds. He towered over most of the men of the day.
       In 1828, Burke had his first fight against veteran Ned Murphy. In a grueling, give-and-take affair, the two bare knuckle gladiators battled for 50 rounds before the contest was declared a draw because of the darkness that enveloped the roped square.
      Burke, who was nicknamed "Deaf" and also referred to "The Deaf-un," was a fearless fighter who could fight for hours without breaking down. Before he fought for the title, Burke engaged in a three-hour win over Bill Fitzmaurice and defeated Bill Cousens in a match that lasted two hours and fifty minutes.
       The fearless Burke wanted to challenge the legendary champion Jem Ward, however, the champ refused to take on the dangerous challenger and instead chose to retire from the prize ring.
       With Ward in retirement, Burke was matched with Harry Macone in 1833.  In another marathon affair, "Deaf" knocked out Macone in the 59th round to capture the British heavyweight championship.
       In his next bout on May 30, 1833, Burke defended his title against the bigger Simon Byrne, who was the Irish Champion. It was a brutal contest all the way as Burke was dropped after Byrne took a bite from his left ear.  The bout lasted for three hours and six minutes until Byrne was unable to rise from the floor after taking an awful thrashing in the 99th round.  Tragically, Simon died three later from a severe concussion that probably caused swelling on the brain. Burke was arrested for murder, but on July 11, 1883, the champion was acquitted and freed from prison.
       Burke spent the next few years mainly giving exhibitions since very few men were willing to take him on in a prize fight. James then became the first English champion to visit the United States and defend his laurels.
       On May 6, 1837 in New Orleans, LA, Burke was matched against the new Irish Champion Sam O'Rourke. Burke severely pulverized O'Rourke over the first two rounds before a pro-O'Rourke audience. Round one ended when Burke threw his opponent to the ground with a cross-buttock hold.  Round two saw one of O'Rourke's seconds help throw Burke to the floor. In round three as Burke was pounding the Irishman to a bloody pulp, O'Rourke's fans caused a riot and brought a halt to the bout.  The blood-thirsty mob then went after Burke, who barely escaped on horseback into the nearby woods.
       Burke ventured back to England and defended his title for the first time under the new London Prize Rules against William "Bendigo" Thompson on February 12, 1839. The challenger put up a tough battle and proved to be younger, faster and stronger than the champion. A raucous crowd of 15,000 turned out at No Mans Heath in Leicestershire. In the tenth round, Burke dropped Thompson to the ground. While he was trying to make his way to his feet, "Bendigo" was headbutted by Burke, who was subsequently disqualified on a foul.
       With the victory, Thompson won the title and the purse of £220.  When he got home to a ceremony at the Queens Theatre in Liverpool, the new champon was presented with his Championship Belt. In his excitment, "Bendigo" somersaulted into the crowd and wound up breaking his kneecap, which took him away from the ring for over two years, causing him to retire in between.
       Since Thompson was out of action, Burke claimed back the championship and defended his title against Jem Ward's younger brother Nick.  "Deaf" was giving Ward a terrible beating when Ward's gang forced the referee to disqualify the champion for an alleged foul.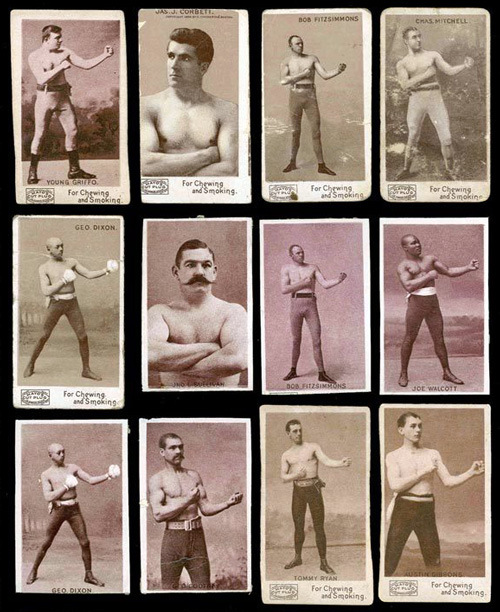 Burke never received another title shot and in his final bout, he KO'd Bob Castles in the 37th round on June 13, 1843.
       "Deaf" retired with a record of 15-2 and spent the remaining few years of his life giving boxing lessons.
     Less than two years later and penniless, Burke succumbed to tuberculosis on January 8, 1845 in his home in France Street in Waterloo, London.
       The great champion is buried at St. John's Church Yard in Waterloo.
       Burke was elected  into the International Boxing Hall of Fame in 1992.