Bare-Knuckle Corner
SAM "THE STALYBRIDGE" HURST
English Heavyweight Champion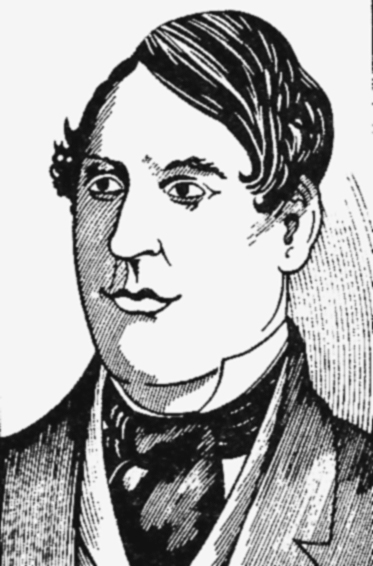 Story by Mark Weisenmiller and John Rinaldi
We here in The USA Boxing News Bare Knuckle Corner Profiles Department have written, on numerous occasions, that many of said profilees were, in essence, more wrestlers than boxers, but we never have had quite an individual as we have here, who can be considered primarily a wrestler. Ladies and gentlemen, we present, and please meet, Sam Hurst, or "The Stalybridge Infant" as he was nick-named in his day.
Stalybridge is in Lancashire, England and that is where Hurst died on May 22, 1882. However, let us reverse polarity, as photographers say, and begin at the beginning. Born on March 13, 1832, Hurst moved to Stalybridge in 1857. There he went to work in the area's iron foundry. Stalybridge was, and still is, steeped with all sorts of professions that use much manual labor. When Hurst was not employed at the foundry, he worked as a bouncer. This was easy work for him as, as per the times, he was a big man, both height-wise and weight-wise. He stood 6 foot, 2 ½ inches tall and weighed anywhere from 210 to 238 pounds.
This was also the time in his life where he began to wrestle for extra money. He discovered that he was good at it, for wrestling back then emphasized strength rather than quickness.
Yes, although he had success as a bare-knuckle boxer – from 1860 to 1862 – he was, in fact, the English Bare-Knuckle boxing champion, he had even more success as a rough and tumble wrestler. This was a man who, due to a fiery temper and his large physique, made him a man that his compatriots did not trifle with. Also, Hurst had an ego as large as his anatomy and he noticed that the rougher he got with an opponent during a wrestling match, the more the crowd cheered him onwards to even more violence.
When he was 28, Sam found himself in a boxing match against Tom Paddock in a donnybrook held in Berkshire (he had all his boxing matches in England). This was for the vacant Heavyweight Championship of England.
Hurst's fight against Paddock on November 5, 1860, was a one-sided affair as Sam came out swinging mighty rights and left hooks that repeatedly crashed against the skull of his rival. Hurst stormed forward with a hurricane of solid fists, while Paddock was too overwhelmed to mount any assault of his own.
Each of the first four rounds ended when Hurst pounded Paddock to the ground with his thunderous blows.
In the fifth round, it appeared that it had ended when Paddock slipped to the turf. Under London Prize Rules, if a combatant hits the ground either by being wrestled down, knocked down by a punch, or slipping down, the round is ended. Well, as Hurst journeyed back to his stool, Paddock jumped up and scampered after his man. Sam's corner frantically began yelling, imploring him to turn around. Hurst then turned and as Paddock came forward to hit him, Sam beat him to the punch and fired a thudding right fist under Paddock's heart!
Paddock's eyes bulged as he crashed to the ground and was unable to rise as he writhed around the soil screaming in pain. The fight ended with Hurst becoming the new Bare-Knuckle Champion of England.
Afterwards, Paddock was carried to the departing train by his handlers as two of his ribs were shattered!
For the win, Hurst received £400.
Less than two weeks later – actually (to use a British favorite word), on November 19, 1860 – Hurst fell and broke his leg.
The following year on Waterloo Day, June 18, 1861, at Medway Island in Kent, Hurst made the first defense of his laurels against Jem Mace. The challenger at five-foot nine inches was over five inches smaller than Hurst and was outweighed by nearly 50 pounds. Very few gave Jem a chance to end the bout on his feet – let alone win.
As the two men threw their hat in the ring to begin the contest, the appearance of the two pugilists could not have been more different. Mace was wiry, tightly bound, and muscular, while the champion, though bigger, appeared fleshy, especially around his midsection.
The champ's broken leg from seven months earlier clearly hampered his movements in the prizefight. With a noticeably limping leg, Hurst slowly lumbered forward. Seeing this, Mace used his sharp boxing skills and footwork to great success as he darted in and out and struck the champion with jolting fists to his face.
Throughout the first seven rounds, Mace picked apart the champion and ripped his features with slashing swings. Sam's condition proved to be his downfall as he punched himself out with all the wasteful missing blows he launched in an attempt to pulverize his smaller rival. Mace carefully slipped, ducked, and blocked most of the fists that came his way, and in the process left Hurst utterly exhausted.
At the beginning of Round 8, the claret poured down Hurst's face as he slowly shuffled towards the still-fresh challenger. As the huffing and puffing champion made a wild lunge at his adversary, Mace countered with a blistering array of shots, capped off with a right to the jaw that sent Hurst down flat on his back!
Barely stirring on the turf, Hurst was unconscious as the fight ended in the eighth round after 50 minutes of fighting.
As the now ex-champion was still on the ground being attended to by his handlers, the classy Mace passed his hat around to the crowd, where he collected £35 for the fallen prizefighter.
Hurst was a bruiser, while Mace was the better and more refined pugilist. The British boxing public (who, then as now, prefer boxers with colorful personalities) preferred things that way.
After the bout, Hurst decided to retire, although he did later fight in various exhibition matches, for which he was well paid.
Readers of many profiles here in the Bare-Knuckle Boxer Corner Department are mentally now guessing that they know the rest of the Sam Hurst story. That is: he becomes bored; turns to alcohol; meets a woman who emotionally and fiscally ruins him; become destitute, and then dies in disgrace. With this profile, that was not quite the case.
Sam married the daughter of a successful publican only a month after his loss to Mace. Sam then became the landlord of a Manchester public house one year later. Hurst, to everyone's surprise but his own, turned out to be a talented businessman, so much so that three years later, he became the manager of a beerhouse in Hyde. As though all of this was not enough, in 1866, he became the owner of a tavern in Manchester.
Yet when he died, at the age of 50, he was a bankrupt. In Hurst's case, the reason why this is so because he failed to keep up with business trends and because he was a person who tried to do everything himself. All of this made him so poor that, in the year before he died, 1881, Hurst became an itinerate cobbler.
From English Bare-Knuckle boxing champion to ending up as a menial laborer must have been traumatic for the egotistical Hurst. "Life," as President John F. Kennedy frequently said, "is hard."
JEM "THE BLACK DIAMOND" WARD
English Heavyweight Champion (1825-1831)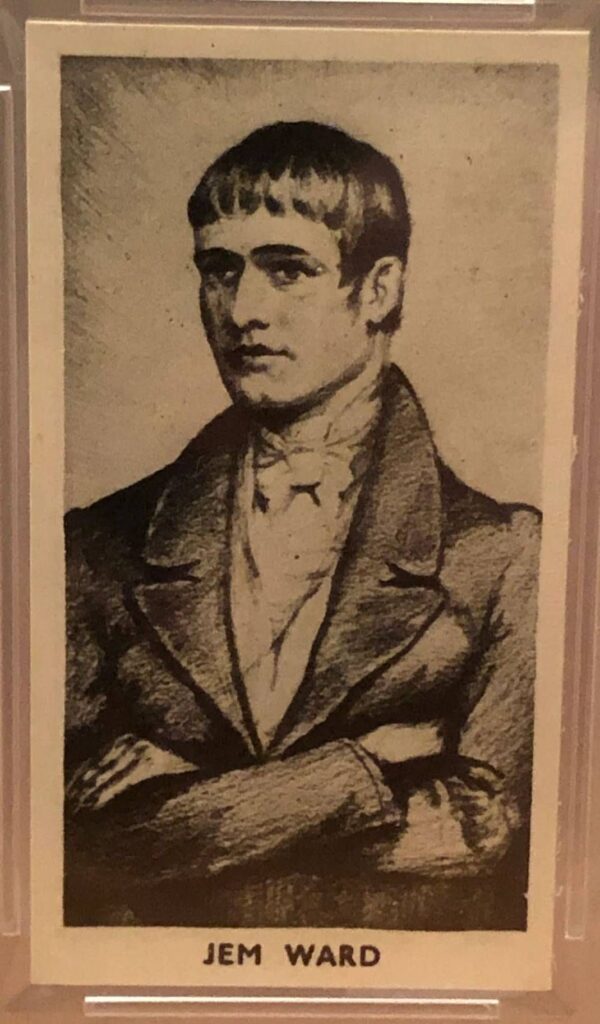 Story by Mark Weisenmiller and John Rinaldi
Jem Ward, born on Boxing Day (December 26), in 1800, is yet another profilee who started fighting in his early years. In Ward's case, that age was 15. For six years, from 1825 to 1831, he was an English heavyweight champion, but boxing historians know him best for being the first known pugilist who, deliberately and purposefully, threw (i.e., lost) a bout for money. Another negative point about Ward: James Burke – a younger, stronger, and arguably overall more talented boxer than Ward -should have fought him, but Jem declined all such challenges.
Very little information exists about Ward's childhood. What is known is his birth date and the fact that he was born In Bow, which is an area of East London and within the London Borough of Tower Hamlets.  As a young teenager, Ward, the oldest of seven children, was a star pupil at the sparring club in Bomley in Kent. Boxing, like baseball, is a sport in which reliable statistics have existed for centuries and based on that fact, "The Black Diamond" (as he was known) was 5' 11" and weighed 76 kilograms (or 12 stone to use an old nomenclature of weight; this is 167 and one-half pounds).
When he was only 15, he won a match against George Robinson (a British boxer of whom little is known). This occurred on May 6, and six weeks later, he won a two-hour long match against Bill Wall in Limehouse Fields, England. He did not lose a contest for the next seven years, but do not be deceived into thinking that he was one of those boxers who had numerous fights during a year. Ward had one match in 1817, none in 1818, two in 1819, two in 1820, none in 1821, and three in 1822. All his matches at that time were in England.
Ward's loss, which occurred on October 22 against Bill Abbott in Mousley Hurst and lasted 22 rounds, seemed to snap Ward out of his pugilistic lethargy for he had a career high four bouts the following year. Ward won the first three of these matches, but lost the last (against Josh Hudson in a 36-minute long, 15 round bout).
Ward was one of those people who were lucky enough to find early in their lives something they excelled and then were fortunate enough to make a living at it. For most people in 19th century England, this was usually not the case. True, Ward began fighting early in life and sharpened his pugilistic skills as he aged, but just as some people have a natural gift for playing the piano, or calculus, or pottery, so Ward also seemed to have instinctive and natural gifts to excel at boxing.
What he definitely did not have was integrity; Ward was about as honest as a federal political lobbyist. Some of this may have been genetics. His brother, Nick, who was also a fighter, was well known for being a pugilist who would try to get away with dirty tactics during the course of a fight. Even by the wide parameters of 19th century British boxing, Nick was a shady character. Thus, questionable ethics was par for the course in the Ward family. Yet let us now give Jem Ward his well-deserved due; he was certainly dishonest himself.
History has clouded which of Ward's bouts were purposefully thrown by the London-born boxer. Most boxing academics and historians, however, definitely agree that there were questionable goings-on in his 1822 fight against Bill Abbott.   It was reported that those close to the bout heard Ward to remark to his foe, "Now, Bill, look sharp, hit me, and I'll go down." Supposedly right after that comment, Ward hit the floor.
All of this was way, way too much, again to use a clause previously used above, even by the wide parameters of 19th century British boxing. The English boxing oversight organization known as the Pugilistic Society investigated the matter. In doing so, the investigators discovered that Jem took 100 English pounds to purposefully lose the fight. The Pugilistic Society banned Ward for life from participating in any bout that was governed by it.
Traveling through the country, and incognito, Jem looked for any fight he could find; usually these came via county fairs. Ward also took bouts in other segments of society as well. He did this until July 19, 1825 at Warwick, when he defeated Tom Cannon in a ten-minute, 10-round bout to win the English Boxing Championship. Cannon, known as "The Great Gun of Windsor," was no slouch. Tom became champion in 1824 when he defeated Josh Hudson in a 17-round long match. In his match against Ward, the two men fought in stifling heat in a brutal contest. In the tenth round, Cannon, 35, was appearing quite fatigued.  Sensing his rival's weakening condition, Ward, 24, who was exhausted himself, picked the champion up and slammed him into the boards. The challenger then fell on top of fallen title holder. Cannon's handlers desperately tried to revive their unconscious charge and they violently shook him and even shot brandy up his nose! All the tactics failed and the referee, Squire Osbaldeston declared Ward the new champion of England. Although he emerged victorious, Ward was too weak to walk.  It was reported that a local doctor bled Ward in his treatment, which nearly killed him!
Three days later at a benefit for Harry Holt at the Fives Court in Leicester Fields, Ward was awarded a championship belt for his win over Cannon. It was the first time that a boxing champion received a title belt. Cannon was on hand for the festivities.
"I have got it, and I mean to keep it," Ward proclaimed to the crowd at the benefit. He later wrote a letter to Life in London stating, "In the interim, the various aspirants to the championship may contend with each other, and I shall be happy, at the expiration of the time specified, to accommodate the winner of the main."
Somewhat surprisingly, Ward lost an 11-round bout to Peter Crawley on January 2, 1827, near Royston Heath in Cambridgeshire. Crawley, who was a butcher, went by the nickname of "Young Rump Steak" and his mighty fists certainly made his victims look like a side of beef afterwards.
Crawley entered the ring weighing 180 pounds to Ward's 175. There were rumors that the 11-5 underdog was suffering from a hernia. Because of this, the challenger had to rely on his blows, instead of wrestling tactics and throws. Crawley, however, at 26, looked in tip-top condition.
It was a bloody and savage contest as both combatants battered one another with jolting blows and brutal throws. In the seventh round, Ward tossed the challenger to the floor with a cross-buttock move. The challenger barely stirred as his trainers worked on him. Surprisingly, Crawley manage to come to scratch and the battle continued.
By the eleventh round, Ward was completely sapped of any energy as he slowly plodded forward against his adversary. Suddenly, Crawley smashed a vicious left to the mouth of the champion that sent him crashing to the boards on his face. Ward's seconds frantically lifted their man and feverishly worked on the unconscious champion. The bout lasted 26 minutes. It would take longer than that for Jem to regain his senses. After the bout, Crawley attempted to shake the hands of Ward, but he was still out cold. The ex-champ's handlers carried him out of the ring and down the street to the Red Lion Inn, where he finally regained consciousness at 6 pm, which was 4 ½ hours after being knocked out! Luckily for Ward, he was only complaining of a headache afterwards and nothing much else.
Two days later, on January 4, 1827, Crawley announced his retirement. To Jem's consternation, Crawley adamantly refused to give Ward a rematch. When Ward realized what had happened, Jem then reclaimed the championship.
Crowley, who wanted to achieve fame and prominence with the sport, had become a superstar with his great win over Ward and used his popularity to open a successful pub on Duke Street in West Smithfield called the Queens's head and French Horn. Peter also was a well-know sportsman and in-demand referee.
Ward had one bout in 1828 and then came the scheduled 1829 bout against Simon Byrne.
The battle as set to occur in 1829 but, as Ward reneged on a previous promise to fight Byrne, Jem had to relinquish the championship. What actually happened was the following: Jem had promised to retire and present the championship belt to the winner of the James Burke-Simon Byrne bout. That did not take place.
Two years later, on July 12, 1931, at Walcote, Ireland, which is near Stratford upon Avon, Ward and Byrne finally met in the ring. During the 1 hour and 17 minutes, 33-round bout, Ward defeated his younger foe before an immense crowd of 20,000. While the champion entered the ring in his colors "blue and bird's eye" looking to be in tremendous condition with ripping muscles, Byrne climbed into the ring in Irish green and yellow and appeared soft and tubby. Ward clobbered the challenger with pile-driving right hands to the head and ripping right uppercuts to the chin. Byrne did not do too much except repeatedly getting knocked down. By the end of 33 rounds, Simon's features were all covered with lumps and blood poured from his nose and mouth. The challenger's trainers had seen enough and called off the fight. Ward collected the £200 a side and promptly retired after the win.
Yet Jem's life certainly was not over. He retired to Liverpool (some 130 years plus from when the indigenous seminal band, The Beatles, emerged from there) and ran the York Hotel. In his spare time, he was taught painting by his artist pal William Daniels. Eventually, Ward became so proficient and talented a painter that he had public exhibitions of his work.
To everybody's surprise – most of all, his – Ward discovered that he had both musical and singing talents. When he was not painting, he was either singing; playing the flute or violin (he was naturally gifted at playing both) and performing as a singer during musical concerts. This creative second act of Ward's life also led him to teach and train younger boxers.
Jem Ward died in in London on April 3, 1884.
Daniel Mendoza
"The Best jewish Boxer in History"
Story by Mark Weisenmiller 
Although there have been many famous Jewish pugilists in the long, long history of domestic and international boxing –  names such as Max Baer, Barney Ross (who was the son of a rabbi), and Benny Leonard quickly come to mind – unquestionably the best Jewish boxer (in terms of having the most and long last effects on the sport) was Daniel "The Star of Israel" Mendoza.
This is so for many reasons: he was the first bare knuckle boxer to thoroughly study his opponents and quickly attack their weaknesses during the course of a match; he was the first to have a memorable quartet of matches against one opponent (Richard "The Gentlemen" Humphries, or also known as Humphreys), and he was the first to become a truly famous celebrity outside of the boxing world. That he did so, even though he was only champion for one year (from 1794 to 1795), is quite remarkable.
Born in Aldgate, which is located in the East End of London, on July 5, 1764, Mendoza was an English Spanish Jew who grew up to a height of only 5' 7" and he never weighed more than 170 pounds during the course of his storied boxing career. From the very start of his bare knuckle boxing exploits, it was apparent that he was one of the smartest of pugilists both inside and outside of the ring.
In addition to developing a scientific style of boxing, which relied upon very quick reflexes and lightning-fast footwork, he was also the first boxer to have taken an active role in the promotion of his bouts and he even negotiated his own contracts. On this last point he must have done well for, after he retired, he opened a school to teach aspiring boxers everything that he knew. Mendoza was also the first English boxer to have fought overseas; he had bouts in Ireland, Scotland, and other nations.
Always a very literate man, he wrote his own autobiography. He did it himself; he employed no ghost writer. The book was entitled, simply "Memoirs" and for years after its publication, young boxers devoured it, trying to learn as much about the sweet science as possible. Anything that a boxing fan ever wanted to know about the days and way of English bare knuckle boxing is addressed by Mendoza in the book. Mendoza was the first bare knuckle boxer whose overall style of fighting could be described as graceful.
After his retirement, Mendoza kept himself in such pristine physical condition that, eleven years later, he came out of retirement to fight Harry Lee. Mendoza won the match which lasted 53 rounds on March 21, 1806 at Grinstead Green.
Mendoza's last fight took place when he was, incredibly, 57 years-old. In a bout held on Banstead Downs, Surrey, he lost in 12 rounds to Tom Owen. That loss finally convinced Mendoza to retire from boxing for good. Sixteen years later, in early September of 1836, he died in London at the ripe old age of 72.
Yet, we are getting ahead of our chronological narrative. In his very first know match, against an opponent whose full time job was to shovel coal, Mendoza beat this man – whose history records as, simply, Harry The Coalheaver – in 40 minutes and 118 rounds in 1784. Mendoza dazzled the bout's fans with his "Fancy Dan" footwork; his employment of quick, short, straight powerful jabs, and his use of defensive tactics. The last mentioned item was then considered unusual for it was the custom of the day for bare knuckle boxers to continuously be aggressive during the course of a bout.
After this first win, Mendoza must have finally had a chance to not worry about the future of his life's work. Previous to this, he had tried to make a living in ways varying from being a glass cutter to even attempting stage acting. In a 1787 bout against Bill Warr, Mendoza defeated him in 23 rounds. Now it was time for his four matches against Humphries (records book also have his last name as Humphreys).
They were so tough for Mendoza that in the three consecutive years (1788-1790) that they fought, Mendoza made sure not to schedule matches against any other opponents. In other words, his only boxing opponent in that three-year stretch was Humphries. Humphries won the first match, the second match was forfeited, but then Mendoza won the last last two.
The first Mendoza-Humpries battle took place on September 9, 1787 and was over in 29 minutes when Mendoza was beaten to a pulp.
To get the ball rolling for the second bout with Humphries, Mendoza was quoted as saying in the papers, "Mr. Humphreys is afraid.  He dares not meet me as a boxer, though he has the advantages of strength and age.  Though a teacher of the art, he meanly shrinks from a public trial of that skill."
Humprhries quickly issued a response to the press by stating, "Mendoza should make the same claim in the ring, where I vow to meet him."
The ever wily Mendoza had what was then a unique idea for the second bout: he decided that the match would be held in a ring in a barn and, for the first known time in boxing history, fans who came to watch the match had to pay admission as they walked through a gate. Thus, Daniel Mendoza invented the pay-gate form of admission for not just boxing but all known sporting events.  The second Mendoza-Humphries battle was also the first event to be promoted through the press.  Both pugilists sent letters back and forth to the newspapers detailing their training and opinion of the upcoming contest. The excitement was at a fever pitch and by the time of the bout, stories were published in the London Times and six other popular British newspapers. 
Humphries was a 2-1 favorite to win the fight, which took place on January 9, 1788 in Odiham, Hampshire before 10,000 paid spectators.  Among the large crowd were the Duke of York and the Prince of Wales, who reportedly wagered £40,000 on the contest. The fight was  halted when Humphries' second, Tom Johnson, stepped into the ring and blocked a blow thrown by Mendoza. But according to Mendoza's account afterwards, he had slipped on the wet boards of the prize ring, whereby he had sprained his ankle.  The sprain prevented Mendoza from finishing the fight and he was required to forfeit.
The third match between the two prizefighters occurred on May 6, 1789 in Stilton, Huntingdonshire. Mendoza took up training quarters at the Essex home of Sir Thomas A. Price.  In a new arena built especially for the fight, 3,000 fans were on hand to witness Mendoza methodically pummel  Humphries with his effective footwork and jolting blows.  By the 65th round, Humphreys and badly beaten up and dropped to the ground without being hit, which caused him to lose on a foul when he would not rise.  The reason for the smaller crowd from the second battle was due to Huntingdonshire's long distance from London.  It was too much of a journey for fans to trek to. 
With the win, the London Times declared Daniel Mendoza as the middleweight champion of England.
The fourth match with Humphries was on September 29, 1790 in Doncaster where the 5-4 favorite Mendoza finished his rival off in 72 rounds. 
In 1792 and 1794 came Mendoza's next matches. The  two were against Bill Warr and Mendoza won both of them.
In 1795, Mendoza's luck ran out when he fought John Jackson. In the match, which was held in Hornchurch, England, Jackson, who was taller and heavier than Mendoza, won in a rather brutal manner. With one hand, he held and pulled Mendoza's long, black colored hair and with the other hand, Jackson pummeled Mendoza. The bout lasted nine rounds. Mendoza, as mentioned above, then announced and had his first retirement.
Yet the ever colorful life of Daniel Mendoza continued. At one point in his retirement, he toured in a circus where he gave boxing exhibitions. He also went on public sparring tours (where he was well paid for his efforts).
When he was not doing the above, Mendoza often hob-knobbed with English royalty. There was a practical reason for Mendoza to do so:  he was often in debtors' prison and, frequently when he met British royalty, he made it a point to plead with them not to have him thrown in debtors' prison yet again.
Due to his unstable fiscal situation, and also due to the fact that despite a career in boxing, he managed to keep his good looks (he had dark, piercing eyes and classical facial features), Mendoza could turn on his considerable personable charm and ask friends for loans or money. As he was known for being a ladies' man, Mendoza especially was talented at doing this with his many, many female conquests.
So, one could report, not only did he side step as a boxer, he also, in a way, side stepped through life. Yet Daniel Mendoza should not be remembered for such shady actions. Rather, this was the man who made bare knuckle boxing less of a freak show and more of a type of athletic science. In short, Daniel Mendoza was a boxing revolutionary.  
   Harry Broome
"The Birmingham Bomber"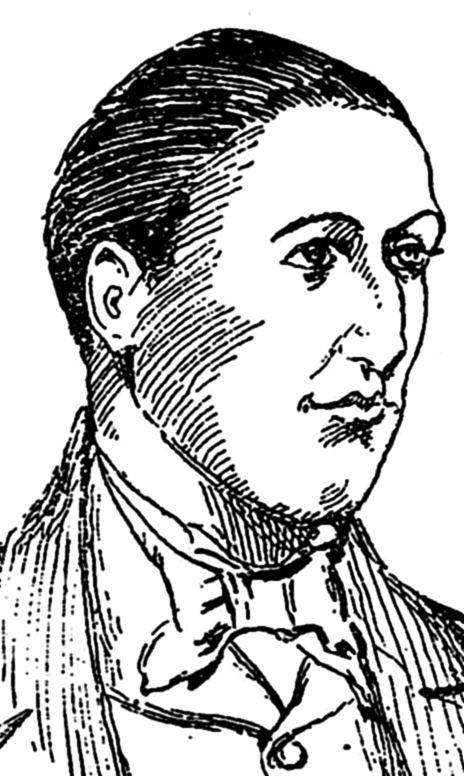 Story by MARK WEISENMILLER
Birmingham, England has produced all sorts of notable people, but for our purposes here, we are focusing on a pugilist that went by the name of "The Birmingham Bomber" in the 19th Century. That is, Harry Broome, who for a five-ear span, from 1851 to 1856, was the Heavyweight Bare Knuckle Boxing Champion of England.
Henry Alfred Broome was born in 1826 in Birmingham and, due to genetics and/or fate, his vocation of being a boxer was per-destined, for he was the younger brother of Johnny Broome, who was never defeated in his respective pugilistic career. Johnny saw early in Harry's life that he, too, had the skills and muscular physique to become a boxer and so Johnny trained Harry to do so.
In his fistic prime, Henry Alfred Broome stood at 5 ft. 10 in. and weighed between 136 and 178 pounds.
Immediately, it was clear to Johnny, and all other contemporaries of his in the British boxing world that Harry had plenty of talent. When he was just 17, he had his first two bouts. Both of these were held in London and were against Byng Stocks and Hal Mitchell, respectively. Both of these contests had the participants wearing gloves, which was unusual for that time in boxing history. 
He had only one outing the following year, 1843, and it was held in Northfleet, Kent, England. There, he defeated Fred Mitchell in a bout that lasted 81 minutes. Once Broome won this contest, he became the Welterweight Division Champion of England. Young Master Broome, as the British would say, was only 18 years old and weighed 136 pounds for the bout. For his pugilistic efforts, he was awarded only £50 for the fight.
Broome defended his Welterweight Division Championship title in two fights against Joe Rowe in consecutive years (1844 and 1845). Broome won both bouts. The first fight was 81 rounds and lasted 90 minutes.
Broome now weighed approximately 145 pounds and his next fight – held on February 3, 1846 against Ben Terry in Shrivenham, England – proved to be his first controversial bout. The crowd that gathered to watch the fight was a loud, rambunctious (and now in hindsight, we can report) and a downright rude one – even judged by the wide latitude of British boxing match audiences back then. Broome probably fouled Terry, but the cowardly referee never called him on it, and this sent the ravenous crowd into such a riot that many of them flooded into the boxing ring. The referee, seeing what was about to happen, promptly ran from the ring and was never heard of in the British boxing world again. For his non-called foul, but more for the overall mayhem that he created with his Wildman stunt, Broome only received £5 for the fight. After one hour of bare knuckle boxing, the bout was declared a draw.
Broome's questionable boxing shenanigans led him to, essentially, be blacklisted from British boxing for five years. Finally, in 1851, he had a bout against The Heavyweight Champion of England, William "The Tipton Slasher" Perry in Mildenhall, England. Broome now had a taste of his own medicine, so to write, for he was consistently fouled by Perry, so much so that after 33 minutes of fighting, not to mention his right eye consistently getting in the way of Perry's right jabs, Broome won the bout when Perry punched him in his face when Broome was kneeling in front of Perry. Referee for the bout was former champion Peter Crowley. The fight ended in the 33rd round with Broome winning the title and earning £400.
Two years later, in 1853, in a bout in Brandon, England, against Henry Orme, Broome successfully defended his laurels. This two hour, 18 minutes long fight, which the champion won in 31 rounds, was held in the Shoreditch railroad station at the Eastern Counties Railway Complex. Both boxers were 27 years old at the time of the bout and both received £250 for their day's work.
Harry Broome still was the champion of England, and he still was popular, but in all of the previous years, his face and body were knocked about, it quickly transformed him into an "old" man. His reflexes began to slow and once that happens to a boxer, his boxing career is doomed. A fight to be held in August of 1853 against Perry was scheduled, but not held. Ditto two years later, when Broome was twice booked to battle Tom Paddock, although each time he refused to do so. Broome simply refused to engage in both bouts.
Finally on May 19, 1856 in Manningtree, England, Broome fought Paddock. For an incredible 51 rounds – that is, 63 minutes – the two boxers engaged in an epic battle royale. The champion took an incredibly high number of punches, especially to the left side of his face. Broome's face was swollen from being pummeled by Paddock's fists all fight long. In Round 51, Paddock threw a right jab to Broome's chest and it cleanly connected. That was, and is, a so-called heart punch – a blow thrown by a boxer whose intended target is his opponent's heart. Broome went down and did not get back up.
While he was down and hearing a count being taken above him, Broome realized that he could not continue any more as a prizefighter. He immediately retired after the bout and became a pub owner. Careless with his money, due to developing a gambling problem, he soon became destitute.
Worse, due to being battered about during his boxing career, Broome's health rapidly declined. Then his family's finances were shattered due to spending their life savings on Broome's medical expenses – there was no such thing as the National Health Service in England back then. Harry Broome died during the evening of November 2, 1865 in the London suburb of Soho from lung disease and edema at the age of 39.  He was buried in the same tomb as his brother Johnny Broome.
"BIG BEN" CAUNT
   Immortalized by the Most Famous Bell and Clock in the World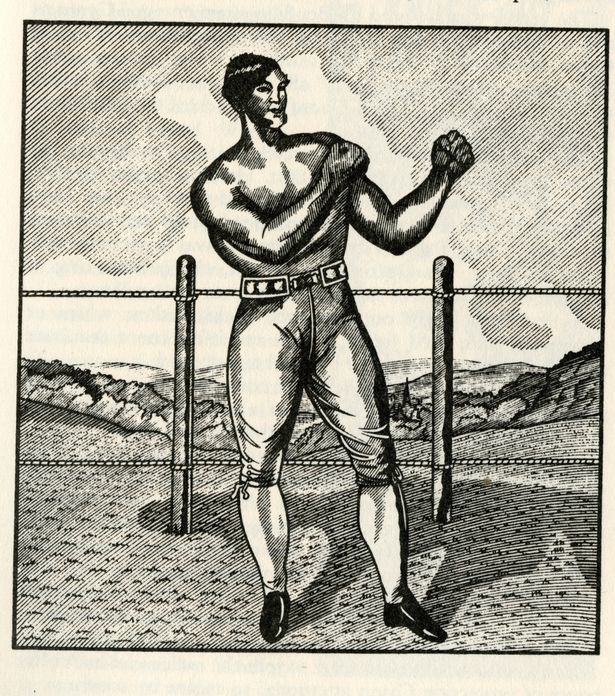 Story by Mark Weisenmiller
Every day whether they know it or not, Londoners, either consciously or subconsciously, are indirectly aware of our profiled Bare Knuckle Champion. Big Ben is the bell and famous clock tower of the House of Parliament of England, and constantly and without fail, it has been ticking away the seconds, minutes, and hours since the 1859.
For whom were the bell and clock tower nick-named after? Answer: the late famed and successful bare knuckle pugilist Ben Caunt.
He stood 6'2" and during his prime days as a boxer weighed between 196 and 210 pounds. Not only was he what we today would describe as being a big-boned man, he was also marbled with muscle. There was very little body fat on this man.
When Big Ben – the bell, not the boxer – was first made public, no one had seen any bell quite so massive (it weighs 13 tons).
As is the unique personality trait of the English to constantly compare and measure people, places, and things (Americans have a habit of doing this as well), Londoners back in the 1800's thought hard about trying to compare the bell to something big. The first thing that most of them thought of was the extremely popular bare knuckle pugilist Ben Caunt. Hence, the explanation of the nick-name of the most famous bell in the world (with the possible exception of the Liberty Bell located in Philadelphia, Pennsylvania).
Like the bell which was nick-named after him, Caunt remained long popular as well. After he lost the English Boxing Championship to Nick Ward (the younger brother of Jem Ward, who has been profiled elsewhere in this section), "Big Ben" found his way across the Atlantic Ocean to the United States, and became rich by participating in numerous boxing exhibitions held all throughout the country. Sadly, Caunt died, at only the age of 45, on September 10, 1861 from pneumonia.
Despite his early death, Big Ben had a short, but memorable life – and his legend lives on every time the bell tolls in London.
From the beginning of his bare knuckle boxing career in the early 19th century, it was his ambition to become the English Bare Knuckle Boxing Champion. Unlike most people, who for various reasons do not accomplish their goals when they start a project, Benjamin Caunt DID accomplish his goal.
Caunt, who was born on March 22, 1815 in Hucknall Torkard, Nottinghamshire, England, was the British Bare Knuckle Boxing Champion for a seven-year period (from 1838 to 1845), except for a short time span in 1841 when, as noted, he lost the title to Nick Ward.
While he was an iconic fighter, one is hard pressed to find something positive to write about Ben Caunt's actual boxing abilities, because by today's standards, he was a hopeless and slow galoot. Yet, he had great gumption; endurance, strength, and for such a big man (as per his time period), he was surprisingly durable in the many long bouts that he had (one of them lasted 101 rounds; this was fought in October 26, 1840 against Bill Brassey at Six Mile Bottom; Caunt won the bout).
Caunt began boxing when he was still in his teens (more specifically, 18; boxers beginning their bare knuckle boxing careers in their teens in England was common back then). His first notable fight occurred in July 23, 1835, in Nottingham, against William "Bendigo" Thompson. The end result gives us an indication of what kind of man Ben Caunt was. He lost the fight after the 22nd round when he fouled Thompson when the latter was sitting in his corner.
After two wins against inconsequential foes, "Big Ben" again fought Thompson; this match happened on April 3, 1838. This time, Caunt won when Thompson was disqualified when he fell without being hit by Ben. That occurred in Round 75 of the bout.
Fast forward to the year 1841 and to the aforementioned bout against Nick Ward. Caunt lost when he was disqualified for allegedly striking Ward with an illegal punch. When this occurred, the referee did not immediately disqualify Caunt, but a raucous audience forced the referee to do so. This bout took place on February 2 at Crookham Common.
On May 11 of same year at Long Marston, in the rematch, Caunt regained his championship when he beat Ward after the two went 35 rounds (the match lasted 47 minutes). Ever the egotist and adventurer, in September of 1841, Caunt traveled to the U.S. in an effort to fight Tom Hyer. When Hyer failed to reply, Caunt returned back to England the following year.
Time passed, and still William Thompson (whose boxing nickname was, inexplicably, "The Bold Bendigo") still wanted to battle Caunt, so on September 9, 1845 at Stony Stratford, in a championship match, the two men again clashed. This contest would prove to be the most controversial of all of their matches.
In a battle that lasted 2 hours and 10 minutes (or 93 rounds), it ended when Caunt fell, but allegedly never was punched by Thompson. As per the British Prize Rules of the time, that meant that Caunt automatically lost the match; and Thompson became the new English Bare Knuckle Boxing Champion
For the rest of his life, "Big Ben" vociferously denied the end result of his last bout with Thompson. Caunt retired; found work as a farm field hand, and saving his money, bought and became the landlord of "The Coach and Horses" Inn located on St. Martin's Lane in London. Tragically, two of his children died when they were killed in a fire that completely destroyed the establishment.
 "Big Ben" Caunt never recovered from this calamity.
On September 21, 1857, at the age of 42, Caunt came out of retirement to face Nat Langham at the Home Circuit.  The two gladiators battled for 60 brutal rounds, before the contest was declared a draw, because both participants were too exhausted to complete the bout.
Ben later caught pneumonia in the fall of 1861 and died in a house located on St. Martin's Lane not far from where "The Coach and Horses" Inn once stood. He is buried in a grave located near in the St. Mary Magdalene churchyard in rural Hucknall, not far from his two children that died in the aforementioned fire.
William Perry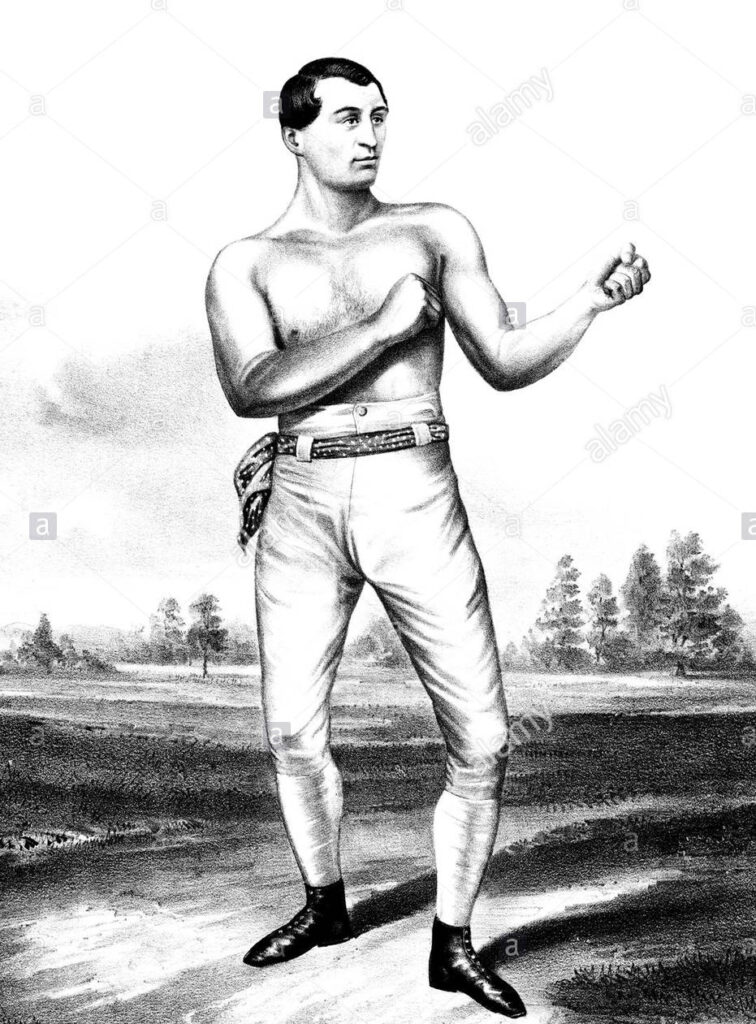 The British Pugilist Who Perpetually Beat Up Foes
Story by Mark Weisenmiller
William Perry, the British bare knuckle boxer who was born and died in the 19th century in Staffordshire, England, shared some traits with William Perry, the 20th century National Football League (NFL) player star lineman: both were considered physically big men in their respective eras; both eventually became champions in their respective sports, and both had difficulty adjusting to their lives after they retired from active, professional, and violent competition.
William Perry, our profilee, was born on March 21, 1819 in the Staffordshire suburb of Tipton. Of course, this meant that the nick-name that he was tagged with at the start of his boxing career was "The Tipton Slasher." That moniker made him sound like a crazed, cut-throat murderer and, by strange coincidence, he died in the same decade that the notorious knife-slashing murderer "Jack The Ripper" terrorized the people of Whitechapel in London.
Perry was born into a mining family as the third of five children. The fact that he was born into a mining family is no surprise for Staffordshire (it is now known as West Midlands) is an area well known for having numerous raw and natural materials in its earth. Such a life was (and still is, for those who live in the area and work in mining) difficult, and this way of living and overall lifestyle has been chronicled in innumerable novels by English writers.
Few cold, hard, ascertainable facts about his childhood are known by boxing historians, but it is believed that at the age of 16, William worked in London as a navvy (that is, a laborer employed in building or excavating canals, roads, etc.). Such intense manual labor regularly produced muscular men and, as sometimes happens with people who work in said profession, it also produces individuals who are known for being vulgar. Thus, it's not surprising that Perry was a bit of a neighborhood hooligan, who was well-known for being able to beat up anyone stupid enough to challenge him to a fight.
So, at age 16 and in Chelsea, Perry had his first professional fight. The date was November 3, 1835 and his opponent was Barney Dougherty. Perry defeated him in seven rounds. Then he defeated, in the same number of rounds, a brawler named Ben Spilsbury in a bout held in Oldbury. This fight was followed by a brutal one-hour long (31 rounds) bout, at Wolverhampton, against Jem Scunner.
Perry won that bout also; all of his fights were held in England. Next came two titanic matches against a virtual sequoia tree of a man. His name was Charles Freeman and he weighed 276 pounds and stood a towering 6 ft., 10 ½ inches tall. Freeman was an American who was managed by Ben Caunt.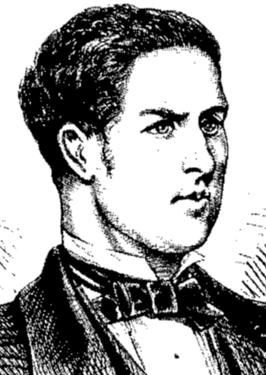 So Caunt and Freeman made heir way to Sawbridgeworth and there, on a cold and frosty December 10, 1842, Perry and Freeman went at it. For more than two hours, "The Tipton Slasher" and the American Freeman pounded away on each other. The match ended in a draw when the cover of night forced the boxers to quit.
Both men desperately wanted to win the contest, so it was decided that ten days hence, at Cliff Marshes along the Thames River, the match would continue. This time, in a bout that lasted 39 minutes, or 37 rounds, Perry – quite oddly – fell, even though Freeman never laid a fist on him, and never got back up.
Perry was what we would call today a loudmouth: rude, gregarious, loud, a vulgarian. He also used to love to proclaim that he was the British boxing champion even when he was not and even though no sanctifying boxing club or organization then existed which could grant him such an honor. Even after he lost the bout to Freeman he still boasted that, in his (Perry's) mind, Freeman was not really the champion because – again, in Perry's viewpoint – Freeman never really hit him with a punch. Perhaps wishing to remain champion, and secretly fearing the tough bare knuckle boxer from Tipton, Freeman never granted Perry another bout even though Perry very much wanted one.
Next for "The Tipton Slasher" came a trio of matches against Tass Parker. All three of these bouts lasted significant amounts of time. The first was a draw lasting 94 minutes, or 67 rounds. The middle match resulted in a win by Perry over an exhausted Parker in a fight that lasted an incredible 133 (!) rounds. Perry won their last bout as well, which lasted 27 minutes, or 23 rounds.
Perry then defeated Tom Paddock in a 42 minutes long (22 rounds) match in Woking on December 17, 1850. William enjoyed showing his considerable boxing talents in the annual Christmas month of December. Since Paddock had been the champion, and he had defeated him, the loud mouthed Perry was even more locally boisterous and annoyingly told anyone and everyone in his general vicinity that he was England's boxing champion. Perry then lost the title in a September, 29, 1851 match against Harry Broome in Mildenhall.
Even though William Perry's professional boxing career was made up of only 11 known bouts, and although he was a popular champion and kept himself in excellent physical shape, these numerous very, very long matches began to take their toll on him. By the time of his last match – held on June 16, 1857 at the Isle Of Grain in Kent – against the immortal Tom Sayers – Perry was a shell of his former sporting self. His reflexes had slowed considerably; he had a noticeable gut, and his face, due to being hit innumerable times in his boxing career, resembled a slab of raw roast beef. The match was held on a barge boat moored in the Thames River.
Perry was so out of shape for the last match of his career that he outweighed Sayers by 50 pounds. In the tenth round (the fight had already lasted and incredible one hour and 42 minutes), Sayers hit Perry with a strong, straight, right jab to Perry's upper lip. Immediately the lip split open and blood spewed forth. Despite Perry gallantly wanting to continue, his manager and trainer knew a serious injury when they saw one and they immediately called an end to the bout.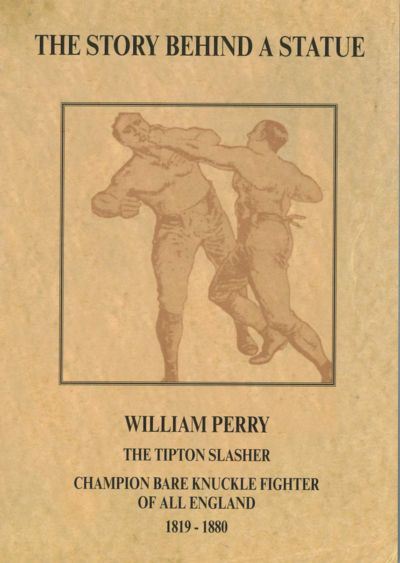 The Sayers-Perry fight was so popular that the famed poet Robert Browning (1812-1889) featured the battle in his poem "A Likeness" as it reads:
Some people hang portraits up
In a room where they dine or sup:
    And the wife clinks tea-things under,
And her cousin, he stirs his cup,
    Asks "Who was the lady, I wonder?"
"'Tis a daub John bought at a sale,"
    Quoth the wife,—looks black as thunder:
"What a shade beneath her nose!
"Snuff-taking, I suppose,—"
Adds the cousin, while John's corns ail.
Or else, there's no wife in the case,
But the portrait's queen of the place,
Alone mid the other spoils
Of youth,—masks, gloves and foils,
And pipe-sticks, rose, cherry-tree, jasmine,
    And the long whip, the tandem-lasher,
And the cast from a fist ("not, alas! mine,
    "But my master's, the Tipton Slasher"),
And the cards where pistol-balls mark ace,
And a satin shoe used for cigar-case,
And the chamois-horns ("shot in the Chablais")
    And prints—Rarey drumming on Cruiser,
    And Sayers, our champion, the bruiser,
And the little edition of Rabelais:
Where a friend, with both hands in his pockets,
    May saunter up close to examine it,
    And remark a good deal of Jane Lamb in it,
"But the eyes are half out of their sockets;
"That hair's not so bad, where the gloss is,
"But they've made the girl's nose a proboscis:
"Jane Lamb, that we danced with at Vichy!
"What, is not she Jane? Then, who is she?"
All that I own is a print,
An etching, a mezzotint;
'Tis a study, a fancy, a fiction,
Yet a fact (take my conviction)
Because it has more than a hint
    Of a certain face, I never
Saw elsewhere touch or trace of
In women I've seen the face of:
    Just an etching, and, so far, clever.
I keep my prints, an imbroglio,
Fifty in one portfolio.
When somebody tries my claret,
We turn round chairs to the fire,
Chirp over days in a garret,
    Chuckle o'er increase of salary,
Taste the good fruits of our leisure,
Talk about pencil and lyre,
    And the National Portrait Gallery:
Then I exhibit my treasure.
After we've turned over twenty,
    And the debt of wonder my crony owes
    Is paid to my Marc Antonios,
He stops me—"Festina lentè!
"What's that sweet thing there, the etching?"
How my waistcoat-strings want stretching,
    How my cheeks grow red as tomatos,
How my heart leaps! But hearts, after leaps, ache.
"By the by, you must take, for a keepsake,
    "That other, you praised, of Volpato's."
The fool! would he try a flight further and say—
He never saw, never before to-day,
What was able to take his breath away,
A face to lose youth for, to occupy age
With the dream of, meet death with,—why, I'll not engage
But that, half in a rapture and half in a rage,
I should toss him the thing's self—"'T is only a duplicate,
"A thing of no value! Take it, I supplicate!"
Before the battle, Perry, not surprisingly, had bet all of his money on himself and when he lost, he became destitute. Thus, as quickly as William Perry entered the world of bare knuckle boxing, he just as quickly left it. He was not the type of man who saved much of his earnings from his boxing career and so he went back to doing various types of manual labor for the remainder of his days.
Twenty-three years later, on December 24, 1880 at his home in Old Tollgat House, Bilston, Perry passed away of pulmonary congestion, attributed to some extent to his alcoholism, at the age of 61.
Perry, who for much of his professional boxing career unmercifully beat people up, in a sense got beat up himself by life.
Editor's note: William Perry was placed to rest at the cemetery of St. John's Church in Kates Hill, Dudley. In the 1920s, Perry's grave was in terrible shape and the acting vicar of the church, Rev. D.H.S. Mould held a  charity drive to raise money to repair the champion's grave. In 1925, a new memorial stone was dedicated to Perry.
On May 3, 1993, a statue of Perry was erected at the Coronation Gardens in Tipton by artist Bill Haynes. Although the bare knuckle fighter had been dead for nearly 113 years, his legacy was still so popular in the area, that the local residents and town hall all contributed funds to have the bronze statue built.  Perry's remains were later re-interred at the foot of the statue.
The Fountain Inn, where Perry would greet friends and fans alike and hold court, was listed as a Grade II historic site in 1984.
JOHN GULLY
England Boxing Champion
An English Renaissance Man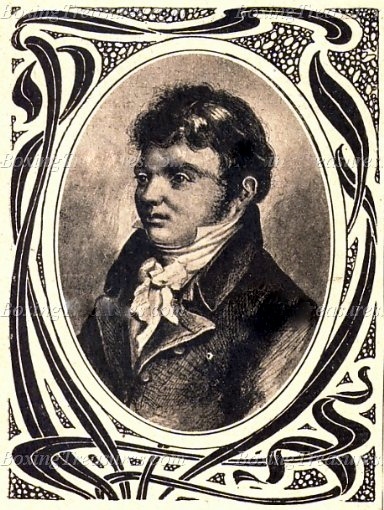 Story by Mark Weisenmiller
In today's times, when a Western reader sees the word "Renaissance," he or she most likely immediately thinks of the Italian Renaissance. Yet renaissance, which is a French word meaning rebirth, can be applied to all sorts of people of all sort of nationalities. One such person is this month's Bare Knuckle Boxer profile – John Gully of England.
Thorton Wilder, in his classic play "Our Town," wrote "Wherever you come near the human race, there's layers of layers of nonsense," but the good Mr. Wilder obviously had never heard of John Gully, for the Englishman was as sober and straightforward as a minister. His life story is so fantastic, so improbable, that it sounds like the plot of a novel written by his fellow Englishman Charles Dickens.
Gully had the bad luck, or depending on the reader's beliefs, providence, to have been born (in August 21, 1873 in Wick, Gloucestershire) into a family that was quite poor. His father was a butcher and this is not a vocation that is known for producing many millionaires. The hero of our tale worked alongside his father and when his dad died, young John took over the business. In 1805, the butcher proprietorship collapsed, and as a result Gully was sent to jail for failure to pay debt. Thus Gully was in gaol in the city of Fleet. Both figuratively and literally, Poor John. As English debtor law at the time ordered that a person imprisoned for such could be in gaol for life unless the debt was paid, so it appeared that John Gully would spend the rest of his life behind prison bars. He was only 22 years old when imprisoned.
Lo, reader, Our Hero was spared of such a fate when he was visited by Henry Pearce, a friend who was a champion pugilist of considerable and many skills. When Pearce learned about the above-mentioned law, he talked Gully into participating in an exhibition bout on the Fleet debtor prison grounds. To Pearce's surprise, he learned that Gully was talented as a pugilist and he learned it the hard way (previous to this, in 1803, Gully had one fight where he defeated Jack Rand). In a rough and tough fight, Gully so impressed Pearce that he arranged to have Gully's debt paid and this set John free. A match between Gully and Pearce was arranged to be held on July 20, 1805 in London, but it was canceled. Summer came and went, Fall arrived, and thus, finally, so did a professional match between John Gully and Henry Pearce, which took place on October eighth of that year in Hailsham.
What a match it was! For 77 minutes – that is, 64 rounds – the two men participated in a memorable battle royale (to use a French term for a bout that took place before the Duke of Clearance, who later became King William IV). Gully was at first clearly intimidated, for Pearce knocked him down at least once in every one of the match's first seven rounds. John rejiggered his boxing style and began to dominate his rival. By Round 20, it was reported, "One of Pearce's eyes was almost swollen shut. The two fighters battled on, both bruised and bleeding." Gully continued to pound Pearce and it is a testament to the latter that he was able to continue. Finally, in Round 64, Pearce hit Gully with a clean, straight jab to John's throat. Our Hero immediately had trouble breathing and had to submit and that was, without question, the only reason that Henry Pearce won the match.
Because of this titanic match, Gully became the recognized boxing champion of England when Pearce had to retire due to ill health. "He proved his ability, when he defeated a Lancastrian rogue named Bob Gregson in front of a crowd that included dukes, marquishes, and lords, at Six Mile Bottom near Newmarket in 1807," according to Harry Mullan's 1996 book "The Ultimate Encyclopedia of Boxing: The Definitive Illustrated Guide To World Boxing." This match, which lasted 36 rounds, was won by Gully; he was now the champion.
Gregson wanted a rematch and so, in May of 1808, when Gully was 35 years old, they fought again in Woburn, England. This time, Gully took 24 rounds to defeat Gregson and then announced his retirement from boxing. Why?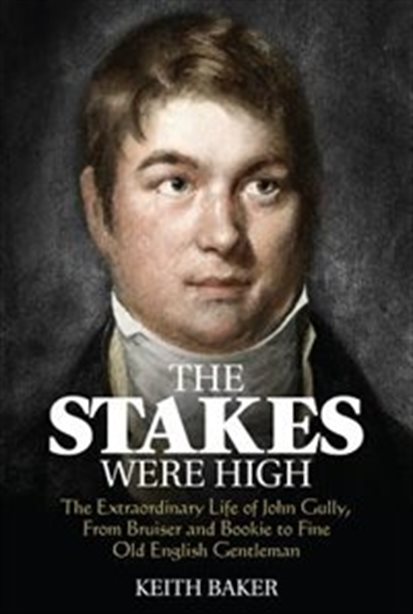 Because, reader, Gully's heart and soul was never really and truly into The Sweet Science. For this man, boxing was merely a way to get out of the economic doldrums. His first vocation after boxing was becoming the owner/operator of a pub ("The Plough Inn") and this vocation brought him into contact with the lower depths of English society.
Quickly realizing that he would not get rich running an inn, and also realizing that socializing with said lower depths would probably eventually lead him back to jail, he got involved with the so-called "sport of kings" – horse racing. He began to, as is quoted in his profile in the "Britannica Online Encyclopedia," place "betting commissions for important patrons, among them the prince regent (later King George IV). In 1827, he lost 40,000 pounds in backing Marmeluke (which he had bought for 4,000 guineas) in the St. Leger (race)."
First, Gully was a book-maker and later he became an owner of horses. Gully, who was a tenacious man before, during, and after his boxing career, continued moving forward in his goal of obtaining a horse that would bring him lucrative purses. After some years, this began to happen. One of his horses, Ugly Buck, won two thousand guineas in 1844. Two more of his horses, Purkhus The First and Mendicant, won, respectively, the Derby and the Oaks races in 1846. Eight years later, two more of his horses, yet won two more notable English races.
Finally, he accumulated a total wealth of 40,000 pounds and now, he believed, was the time to quit the horse business. So he did. Gully took part of his horse industry winnings, built himself a house in Yorkshire, and became a candidate for Parliament in 1832. The extremely popular Gully won his election and for five years, from 1832 to 1837, he was a MP (Member of Parliament) for Pontefract, Yorkshire. Gully could have been re-elected – for he was that rare politician who tried to do his best for his constituency for as long as he could – but he decided to retire from public office.
Gully was twice married and had 12 children by each wife. This made for a grand total of 24 children, so it appeared that John was just as prolific in his personal life as he was in his professional endeavers. He was now rich, so to note, in both.
The former champion used some of his wealth to buy the Wingate coal mines and estate in County Durham and he became a popular and well-liked member of the landed English gentry, so much so that, again, he was the equivalent of a character worthy of a Dickens or (to use another famous English writer as an example) a D.H. Lawrence novel. He was the polar opposite of the stereotypical mean, myopic, cheap English gentry-man. He was kind, considerate, and at least for the time period being discussed, paid his workers moderately decent salaries.
John Gully, the English Renaissance Man, died in Durham, England on March 9, 1863 at the age of 79. For those readers interested in genealogy, Wikipedia records that "his daughter Mary married Thomas Pedley. Their son was engineer and cricketer William Pedley." This latter Pedley, in turn, brought his engineering skills and talents to the United States (specifically, to California) where eventually he developed the irrigation system that was used in Riverside, California. Thus, in an unusual way, John Gully's vibrancy continued, even after his death, through his offspring. Thus, reader, our story now ends.
Mike McCoole
The Troubled Champion
Story by Mark Weisenmiller
With this Bare Knuckle Boxer profile, The USA Boxing News now presents one of our occasional biographical sketches of a pugilist who found himself in repeated conflicts with the law. So we may as well get the lowest point of this Ireland-born (specifically, County Donegal) boxer's life discussed now.
To wit: In October of 1873, McCoole (whose last name is sometimes spelled McCool by boxing historians) – only one month after he lost the Heavyweight Championship of America, in seven rounds (it lasted 20 minutes), to Tom Allen in a match held in Illinois in front of 2,000 fans – had a quarrel with a lightweight boxer named Patsy Manley. The quarrel took place in front of a saloon in St. Louis, Missouri. As is often the case, things became uncivil, at which point McCoole shot Manley with a gun that he (McCoole) had previously concealed. Manley was shot in the left breast, died due to ventilation by way of a lead bullet, and McCoole (who had recently retired from boxing) was arrested by local police.
Convicted in court of murdering Manley, McCoole was then imprisoned. However, in mid-February of 1875, Mike was acquitted on a reason that now seems to defy legal logic: prosecutors could not find a witness who directly saw the crime. Why the prosecution did not make note of this two years earlier when McCoole was convicted of the crime seems peculiar.
Even though he as now a free man, McCoole still did not have an easy life, economically-wise, for not long after he got arrested, his saloon was closed. Whether this was due to his arrest, his loss to the popular boxer Allen, or due to some other matters, people simply stopped fraternizing McCoole's establishment. Not long after this, McCoole – who was, to use a phrase from his home land of Ireland, "a man who liked his glass," – started and operated another saloon in St. Louis which was much more successful than his previous one. He died in October of 1886 in New Orleans, Louisiana where, seven years earlier, he had migrated to work, in a variety of jobs, affiliated with that city's waterfront and shipping industries.
This last point is a key one in the life and times of Mike McCoole. During his boxing career, his nickname was "The Deck Hand Champion of America" and that was due to the fact that he was a lifeong waterfront and/or vessel manual laborer. Whether this was due to fate (after all, he was born on the island nation of Ireland), or circumstances beyond his control is a moot point; the fact remains that he was a man of the seas and waterways of America.  
One must always remember that in his day, commerce and travel were done primarily by way of navigation on the United States' many lakes and rivers. This simple fact is also why the majority of the top American cities, even today, are, to use a phrase, waterway cities.
This last point was true even in McCoole's day. (He was born on March 13, 1837 and came with his family to New York when young Mike was but 13 years old). Proof of this can be seen by simply looking at the list of some of the cities where he fought his bouts: Chicago, Illinois; Louisville, Kentucky; New Orleans, Louisiana; New York, New York; St. Louis, Missouri. All of these are waterway cities.
Due to his constant troubles with the law enforcement agencies,  Mike, still in his teens, left his family back in New York and travelled westward. He ping-ponged between Louisville and Cincinnati, Ohio. Wherever the manual labor jobs for steamboats (which is the first kind of vessel that McCoole worked on) were, that is where McCoole went.
Hauling freight and moving heavy boxes for hours a day made Mike McCoole into a tall (6'2") and strong (200-pound) man. He was, however, quite clumsy in his physical movements and certainly was not the most graceful of men. Mike had his first fight in April of 1858 in Louisville, against Bill Nary, and finished off his foe in the eighth round.
By no means at this stage of his pugilistic career could he be considered a finesse and fundamentally sound boxer. When he fought smaller-in-size opponents, he simply threw them to the floor and such rules were then permitted in bare knuckle boxing in the United States under the Broughton Rules and later the London Prize Rules. Regarding style and substance back then, American bare knuckle boxing was quite primitive and mostly illegal if a prosecutor desired to bring formal and legal charges against the event's financial backers.
For McCoole, bare knuckle boxing was simply a second job, a way to earn some much needed extra dollars (waterfront manual labor jobs, in these pre-union days, did not bring a man much income). Evidence of this can be seen by examining his boxing career biography, for he only had one fight in 1859 – a battle on Twelve Mile Island off the Ohio River in Louisville, KY on June 29, 1859  where he bludgeoned William Blake in 37 minutes and 29 round – none in 1860, one in 1861 where he pummeled Tom Jennings in 33 minutes on May 2, 1861 in New Orleans, LA for a $500 purse, and one in 1862, although it is not known how many unofficial clandestine battles McCoole may have participated in during the period.
McCoole's name was becoming more and more well known by bare knuckle boxing fans in the U.S. because he won most of these matches and so, on May 6, 1863 for a purse of $2,000, in a contest in the rural town of Charlestown, Maryland, 30 ft. from the from the shore of the North East River. McCoole fought Joe Coburn for the Heavyweight Championship of America. In a bout that lasted 70 minutes, Coburn stopped McCoole in the 67th round before a crowd of 2,000 fans.
This irked the Irishman McCoole to no end. In October of 1864, he publicly challenged Coburn for a rematch. At this point in Mike McCoole's pugilistic career, he began to take bare knuckle boxing seriously.
Almost two years later, on September 19, 1866, McCoole beat Bill Davis in a contest at Chouteau Island in Madison County, IL, over 35 rounds. With the win, the brash Irishman began to publicly call himself the Heavyweight Champion of America. Since Coburn had retired from boxing in 1865, and considering that the title was now vacant, McCoole's claim was justified. For most of McCoole's fights, he earned $500.
McCoole defended his championship by pummeling English-born Aaron Jones in a match in rural grove in Busenbark's Station, Ohio on August 31, 1867 before an impressive crowd of 3,500.  The bare knuckle boxing fans of the day in general and Mike McCoole in particular, wanted the Irishman to again fight Coburn. This was all set to occur on May 27, 1868 in Cold Springs Station, Indiana. Yet once again in the life of Mike McCoole, problems with the police occurred. The cops in Indiana found out about this fight to be and Coburn was arrested. McCoole was also arrested and both men spent the Fourth of July, 1868 imprisoned in Indiana. This was not McCoole's first arrest. Earlier in his life, he was arrested in Cincinnati when police there got a tip that he was to fight there. They warned McCoole no to engage in the bout. He ignored thee warnings and was promptly arrested.
How, the reader may ask him or herself, did Mike McCoole find his way to St. Louis? Well, he met and married a Irish colleen named Mollie Norton. Not surprisingly, Mollie – who, by all accounts, was just as fiery an Irish person as Mike – did not put up with his rough-house ways and the marriage was a short-lived union.
The year was now 1869. The American Civil War had ended and the country's populace east of the Mississippi River was trying to cope with Reconstruction while the country's populace west of the Mississippi River seemed to be exploding and expanding westward. McCoole and Allen were scheduled to fight in St. Louis and, one day before the bout and, sure enough, local police found out about the bout and arrested both Allen and McCoole. This happened before their 1873 bout, but during their 1869 fight, Allen pummeled Mike without mercy until McCoole won the bout when Allen fouled him.
That wrapped up the life and times of the bare knuckle boxing career of Mike McCoole. As quickly as he came into the world of bare knuckle boxing, he seemed to have left it doubly fast. By the time he died in New Orleans (at only the age of 49) on October 17, 1886 at Charity Hospital, he was long forgotten by the majority of the American bare knuckle boxing fans. Mike McCoole learned the hard way something fundamental about American sporting fans. That is, if you do not win a championship in the sport you are engaged in, and also, more importantly, if you do not stay champion for many years – you are quickly forgotten. 
McPoole was buried at St. Patrick's Cemetery near Canal Street in New Orleans, LA.
Tom Paddock
The Battling Brawler
By MARK WEISENMILLER
By now, readers of these profiles of bare knuckle boxers written by this author know that the majority of bare knuckle boxers in history were rough and tough brawlers. However, occasionally, we find one such brawler who was such a misanthrope (let's be honest here; rather, a Cro-Magnon) that it almost amuses us that he had any type of success at all during his days as a boxer. Thus, we now present the case, before the court of boxing fans public opinion, of one Tom Paddock. This man, in his long pugilistic career, had so many matches in which he did just about anything and everything in them except to actually box, that it is a wonder that he was not arrested by British law enforcement authorities on charges of—well, you name it. Actually, Paddock, as we will discover below, once was arrested.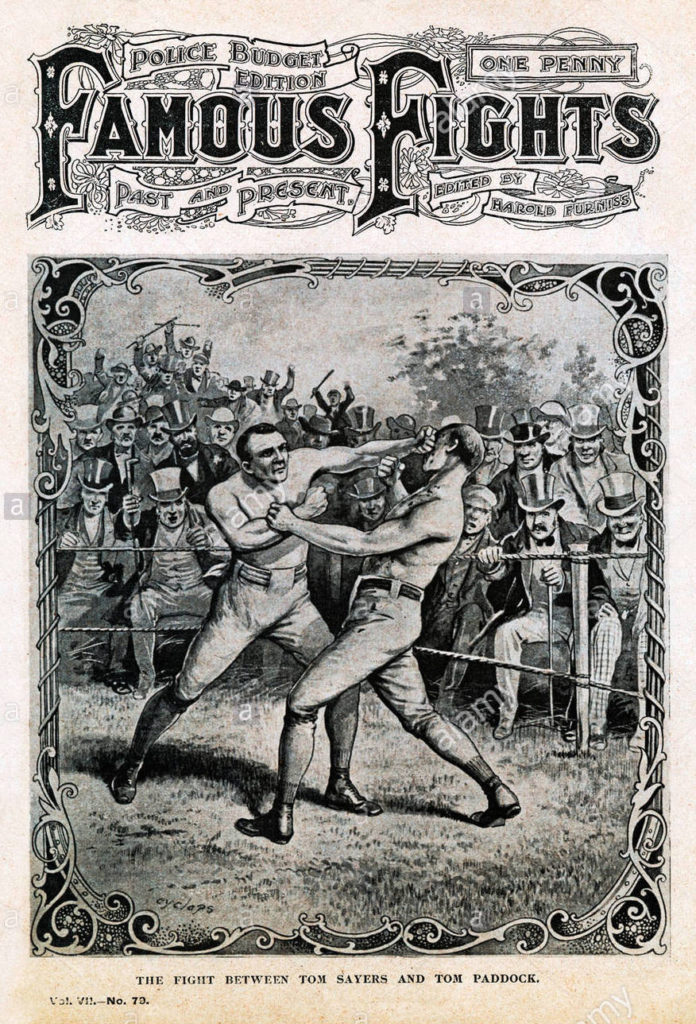 In Paddock's defense, his boxing bouts (and a valid argument could be made that they even qualify, by today's standards, as boxing matches) attracted tremendous crowds in their day. Rare was the day when, in a match which pitted two talented pugilists against each other, that such a donnybrook did not attract an audience of at least 20,000 people. Yet, in some ways, this man is a mystery.
Those who read these profiles of bare knuckle boxers in The U.S.A. Boxing News know that in the history of this part of the sport (and this applies not only to bare knuckle boxers in the United Kingdom, but to bare knuckle boxers in other countries as well) that every once in a while there arises, seemingly out of the morning mist, a talented boxer whose background is unknown. He has great success, but nobody seems to know his past. What is his name? Is he using a pseudonym while working as a pugilist? Is he married, and if so, does he and his wife have children? Where was he employed before he became a boxer? What is his past? Does he come from good English stock and breeding (this was a common question asked by boxing fans in the United Kingdom in those days of the white upper class caste system)? Those are but a few of such questions that were then discussed back then by British fans of pugilism.
Tom Paddock was such a person. We do know that he was born in Redditch, Herefordshire in 1824 but do not know his birth day and month. Then, until he had his first major bout at the age of 20—nothing. We do not now what his father did for a living (Herefordshire was primarily an agricultural area and thus the possibility exists that he was a farmer or worked as a farm hand for a local plantation owner). We do not know if Tom had any brothers or sisters (which means that we do not know if he has any descendants). Nothing.
In the afore-mentioned first bout of Paddock's, he defeated Elijah Parsons in 23 rounds. Two years later, Paddock battled Nobby Clarke for 42 rounds. Less than 18 months later, in a 55 round bout, Paddock again beat Clarke.
By this time Paddock—who was but 5 foot 8 inches and weighed 166 pounds—had earned a reputation among the thousands of British pugilistic fans as a determined fierce competitor whose bouts had a tendency of lasting many, many rounds. Paddock was undefeated until, on June 5, 1850, he lost to a character named Bold Bendigo (which sounds like the name of a Marvel Comics super hero; actually this was a pseudonym for William Thompson, who hailed from an area made famous by the Robin Hood stories: Nottingham). What must have really annoyed Tom about this match is that he was winning the bout until, in Round 49, when he was called for a foul and disqualified. Some boxing historians, specializing in English bare knuckle boxing history, have discovered evidence that, previous to this foul, there existed the very real possibility that Paddock was going to win the championship from the incumbent Bendigo.
When he lost a bout to William Perry, that was held six months after his fisticuffs fiasco with Bendigo, there were charges that Paddock threw the match (i.e., purposefully lost). This happened after 27 rounds.
Every boxer, no matter what weight class they are in, needs an opponent whose pugilistic skills either equal or are slightly better than his own. Such a duel, such a class of characters, traditionally bring out the best and worst of each boxer. In our time, the classic example of all of this was Muhammad Ali against Joe Frazier.
Well, Paddock, at this stage of his career, now met such a foe. He was a man named Harry Poulson. Paddock lost the first of the two boxers three matches, in71 rounds on September 23, 1851, won Bout Number Two in 86 rounds in December of 1852, and won the last match in a bout that lasted—and by today's standards of boxing, this seems incredible—102 rounds.
Paddock and Poulson took an immediate dislike to each other from their very first meeting with an intensity that can only be compared to when a cat first sees a dog. Frankly, they hated each other intensely, so much so that between bouts two and three, both men served time in goal when they were found guilty, on charges of disturbing the peace, when they got into a fight outside the squared circle and in public.
Paddock was now used to participating in bouts that lasted numerous rounds. For him, a match that lasted 20 rounds was equivalent to one lasting ten rounds for a lesser man and boxer (and by this time, Paddock was nationally recognized for his pugilistic skills). Thus, his next two major matches, both against Aaron Jones, and which lasted, respectively, 121 and 61 rounds, were mere work-outs for Paddock. It was clear that Tom Paddock was simply too talented to never win a championship.
On May 19, 1856, he got his chance against Henry Broome. In a bout that lasted 63 minutes (that is, 51 rounds), Paddock won. Tom Paddock, 32, was, at long last a champion.
With a new champion came a newly created championship belt and then the worst thing possible that could have happened to Paddock, regarding his championship, occurred: his success went to his head. He spent less and less time practicing his pugilistic skills and more and more time becoming a sloth. So, in a match on June 16, 1858, it was not surprisingly that he lost when he defended his new championship belt against Tom Sayers.
Paddock lost the match, in 21 rounds, and slightly over five years later (on June 30, 1863), he died.
Jem Belcher : the Natural
By Mark Weisenmiller
There are some people in life who have a single talent at doing something that the rest of us can not do. Famed American fiction writer Bernard Malamud, in a novel that he published in 1952 about the great fictional hitter Roy Hobbs, created a term for such a personality with the title of said book: "The Natural." Whether it be mastering French cooking (Jacques Pepin), or being an artist (Pablo Picasso), or virtually single-handedly creating a social movement (Rachel Carson, who is generally credited with starting the environmental movement with her classic 1962 non-fiction book "silent Spring"), such people and their unique talents inevitably become popular.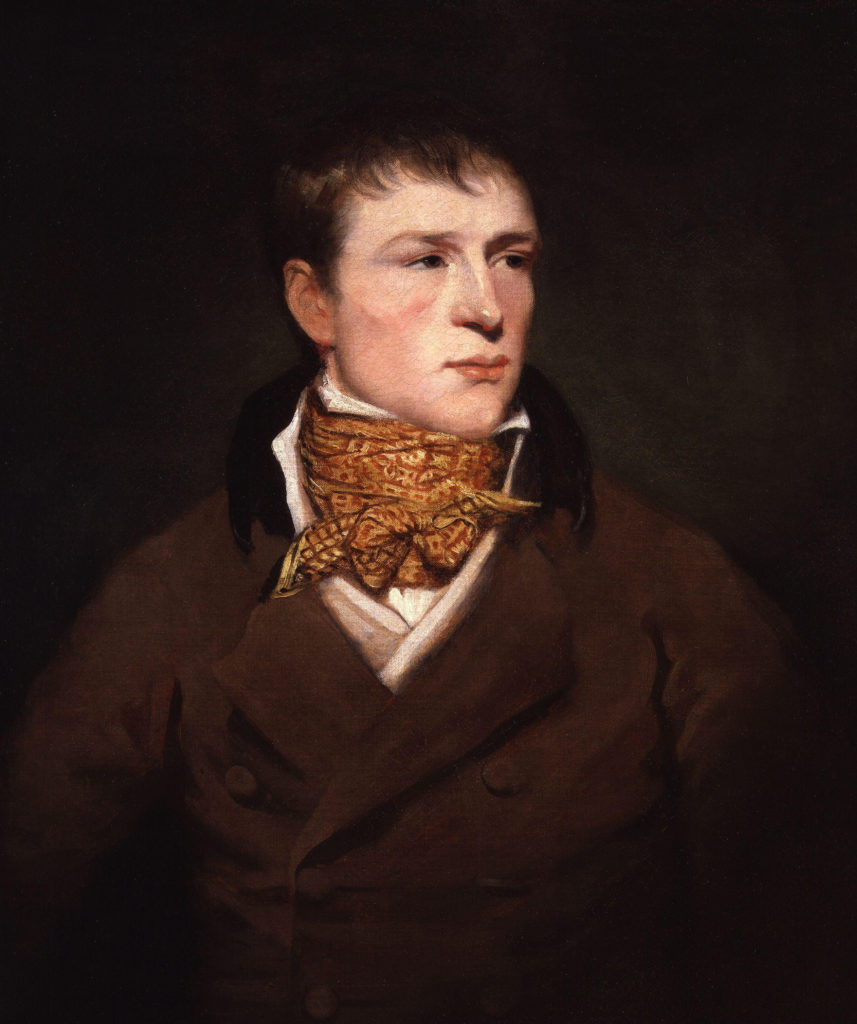 Such a person, in his day, was Jem Belcher. What makes this remarkable is that he was barely 19 when he defeated a pugilist (Jack Bartholomew, who claimed to be champion; back then, in early 19th century England, often the roughest and most bawdy of men of questionable boxing talents, boisterously proclaimed themselves to be champions) and died at the young age of 30 (in July of 1811). Yet, in his time, he was so appreciated by boxing fans that he was called the "Napoleon of the Ring." Like the famed French dictator Napoleon Bonaparte, Belcher was short, temperamental, multi-talented, and had a personality filled with numerous peccadilloes which led him to make insipid choices in his life. Unfortunately, due to what we would now consider the primitiveness of work historian then in general, and boxing historians in particular, today we have no idea how many fights Belcher participated in which means, of course, that we have absolutely no idea how many he won and how many he lost.
Jem Belcher was born in Bristol, England on April 15 (some boxing reference books and sources state April 25), 1781 and, if the old adage that a person is consciously or subconsciously influenced by where he or she is born and raised holds true, then Belcher would be a good example. Bristol was (and still is) one of the major international ports of Europe; it has extensive docking facilities at three separate locations. Thus, due to natural geography, Bristol is a transportation hub, trading center, and financial center.
Flour milling, printing, and the manufacturing of footwear (i.e., boots and shoes), paper, and tobacco products are done here. Centuries-old cathedrals also still exist. By the time that Belcher was born and grew up in Bristol, total business trade in the area's ports had somewhat declined due to the fact that British colonial trade—which was powered by slavery—was nil due to the work on behalf of slaves by local Quakers.
All of this is mentioned because much of it, either directly or indirectly, affected the life of Jem Belcher (not, of course, all of it; there were no traces of the existence back then of the French-British supersonic liner known as the Concorde which was built in Bristol in the last third section of the 20th century). The rough-and-tumble everyday way of life in a large dock town; the temptation to ruin by mindlessly drinking and wasting away life in pubs; the large segment of society that were humorless and pious Christians (some would describe them as zealots) and who tried to convert the heathen (and make no mistake, there were plenty of heathen in those days)—all of this helped to form and shape young Jem Belcher.
Bristol then was known as a city which produced many talented pugilists; in addition to Belcher's brother Tom, other champions in the early days of British boxing came from the port town (so did, incidentally, long-time film star Cary Grant, who started life there under his real name of Archibald Leach). Belcher—who at 5' 11" and 166 pounds would now today probably be considered a middleweight—was the grandson of former English heavyweight champion Jack Slack. The boyish-looking Belcher (boyish-looking that is, until alcoholism ravaged both his face and his body) had agility, speed, and (for his weight class) surprisingly strong punching power. He was also intelligent in the fact that after he won his first notable bout—in Bristol and against Jack Britton; the March 16, 1798 donnybrook lasted all of 33 minutes—he made it a point of only fighting when absolutely need be. Most pugilists of the time fought as often, and for as long as possible in matches, both to win, but more importantly (in their estimation) to earn as many British currency pounds as possible.
Almost one month after this match—to be more precise, on April 15, 1799 in a bout held in the picturesquely named Wormwood Springs, England—he defeated Paddington Jones (another lyrical name ! ) in a bout that also lasted 33 minutes. Belcher—who as time passed grew more and more confident of his boxing abilities—decided to take on Bartholomew. The match, held in Uxbridge and which is now known as the Greater London borough of Hillingdon, lasted 51 rounds. This must have been exhausting for both pugilists as well as those who attended and decided to stay the entire bout. In the end Bartholomew won but, more importantly to Belcher, he discovered that he could (figuratively speaking) stand toe to toe with the champion. Belcher very much wanted a rematch and on May 15, 1800 in Finchley, he again battled Bartholomew.
This time, Jem was ready. Thoroughly dominating the champion, he easily won the match (which lasted 17 rounds) and the only reason that it lasted that long was due to the fact that Bartholomew was defending his championship. Jem became champion, to reiterate, at the tender age of 19. To paraphrase a famous line used in both the 1932 and 1983 film versions of the movie titled "Scarface," the world was his. However, the boxing gods had a different fate in store for the "Napoleon of the Ring"—as we shall soon see.
Belcher's next three most notable fights (two in 1801 and one in 1802) were all against Shropshire, England-born Joe Berks (described in the 1987 book "An Illustrated History of Boxing" as being a man "with a violent temper") and all of them were held in England (Jem, to the best of boxing historians knowledge, never fought professionally other than England and it is still unclear, to this day, if in his short life of 30 years, if he ever traveled out of Britain even once). Belcher used Berks violent temper against him—one of the most basic and elemental factors of the numerous styles of boxing is that a pugilist should never become so violent that he does not know what he is doing—and knocked him out in all three matches (in 14 and 16 rounds in their two 1801 bouts and in 11 rounds in their 1801 bout). So much, for the rambunctious Mr. Berks. In an April, 1803 match, Belcher defeated Jack Firley in 11 rounds.
Then came a tragic accident and here began the downfall of Jem Belcher of Bristol, England. He was playing a game of rackets (as racquetball was then known), in July of 1803, when a racquetball struck him in an eye and, unfortunately, he immediately lost the sight in it. For the rest of his life, he was blind in said eye. This, of course, greatly affected his boxing career and for the next two years, until 1805, he participated only in exhibition matches. Naturally, he did not defend his championship. He spent much of this time in a second
Yet the desire to test himself, to match his boxing talents against those of other pugilists, still burned bright in Belcher and so, in a December 6, 1805 match against Henry Pearce, Jem decided to test the quality and quantity of his boxing skills. This was a mistake due to A) the loss of eyesight in his damaged eye, B) the fact that he began a hobby of cheerfully volunteering to taste-test the quality of the ale, at all times of the day and night, in his pub, and finally C) in general, his less-than-energetic overall lifestyle. Pearce won the bout in 18 rounds and Belcher went into a mental and physical depression from which he never did recover.
Despite all of this, he still wanted to box competitively and next, in April of 1807, in an area curiously called Mousley Hurst, he fought the ever dangerous Tom Cribb (written about in a profile that has appeared in a previous article in this department of The U.S.A. Boxing News). Cribb defeated our hero in a bout that lasted 41 rounds.
Now Jem Belcher was but a shadow of his former self: the eye injury, the alcoholism, the general feeling of despondency all plagued him. Still, rather than being pitied by the English public; they preferred to remember him in is younger days when while incredibly skilled as a pugilist and as (then said many English ladies) incredibly handsome. In those days, he was a virtual Greek/English god, if the reader will, of boxing. Cribb, who had much respect for Belcher (both in and out of the boxing stages), decided to grant his request for a rematch. Rather foolishly, Belcher bet all of his money on himself to win the bout.
That was a mistake. Cribb defeated Belcher in 31 rounds and Jem promptly went berserk. Angered, and after the bout, he was arrested by Epsom Downs (where the match occurred) law enforcement authorities on a charge that he created a public disturbance. Found guilty of the charge, he was then imprisoned for one month. Despite the relatively short prison sentence, according to "The Boxing Register Official Record Book," "he became seriously ill."
Out of the many disappointments and disturbances that occurred in this man's life, this illness was probably the worst, for afterwards his health (which already wasn't good) became much worse. Gamely he went on until, on July 30, 1811, he could do so no longer. On that day Jem Belcher died but, strangely, his funeral provided a unique sort of happy coda to his short life. The funeral was attended by thousands of people and most of them cared to remember Belcher (who was buried wearing an Ascot tie; in his younger days he was very much a dandy as a dresser and it was he who introduced the Ascot tie to British society). To these people, he was Young Jem Belcher: handsome, personable, and talented as a pugilist beyond belief.
Tom Cribb
The Tenacious British Boxing Champion
Story By MARK WEISENMILLER
   First, a disclaimer: this article is NOT about the famous pub in London, England's West End that is known as Tom Cribb. Readers who expected such a story of this pub, which is located directly opposite the Harold Pinter Theater and is a popular place to gather for London and English theater-goers will have to look elsewhere. Rather, our profile for this month is of the 19th century Gloucestershire, England born pugilist of the same name.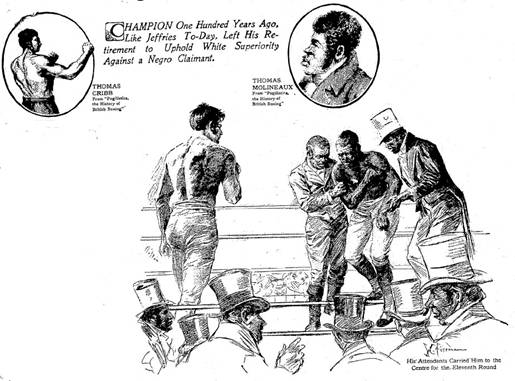 Tom Cribb (July 8, 1871 to May 11, 1848) was one of those rough-and-tumble Englishmen who could have served as the model for such a similar fictional character in the novels of the 19th century British writer Thomas Hardy. One could easily imagine Cribb as a character in Hardy's "Far From The Madding Crowd" or "Tess of the d'Ubervilles" (although Cribb was born only eight years after Hardy died). Cribb seems to have been for the sole purpose of testing how much one mental and physical stress and toughness one man could stand.
   Take, for example, the following passage from his 1991 induction into the International Boxing Hall of Fame: "Cribb worked for a time on the wharves of London, where he survived a couple of near-fatal accidents. Once he was crushed between two coal barges. Another time a five hundred pound load of oranges fell on his chest." This quote is noted here not because it was abnormal for Cribb, but because (at least for much of his younger years) it was normal. For much of his life, he seemed to have found himself in situations, whether consciously or subconsciously, where his mental and physical toughness were being contested. He was born in 1781 in what was then Gloucestershire, but today would be considered Bristol.
   Such a person usually gravitates to the strange yet fascinating world of boxing and such was the case with Tom Cribb. As has been noted in this space, of past British bare knuckle boxers, those pugilists who participated in such bouts often did so because lack of education and/or upward social mobility left them no alternative (come to think of it, this is probably still true, in the case of most boxers today, no matter what their country of origin or where they now live). At the age of 13, he began working for pay as a stevedore. It has been reported that Cribb moved to London at the age of 13 and after working as a bell-hanger, he sort work as a coal porter in Wapping.
   The 5'10" Cribb, whose weight fluctuated between 196 and 199 pounds when he was a boxer, had his first major bout against George Maddox in northern London on January 7, 1805. After 76 completed rounds, he won the contest. In the immediate years previously, he served in the British Navy. One month later, he had another bout and, as he had impressive bare knuckle boxing skills, he captured the attention of boxing promoter Captain Robert Barclay, who took him on as one of his charges. Even before Barclay became, for all intensive purposes his boss, Cribb was unique in that he was one of the first known bare knuckle boxers who is known to have gone into training before his fights. Other bare knuckle boxers of this time period were busy with their primary manual labor jobs and simply did not bother to train—but Cribb very much did so.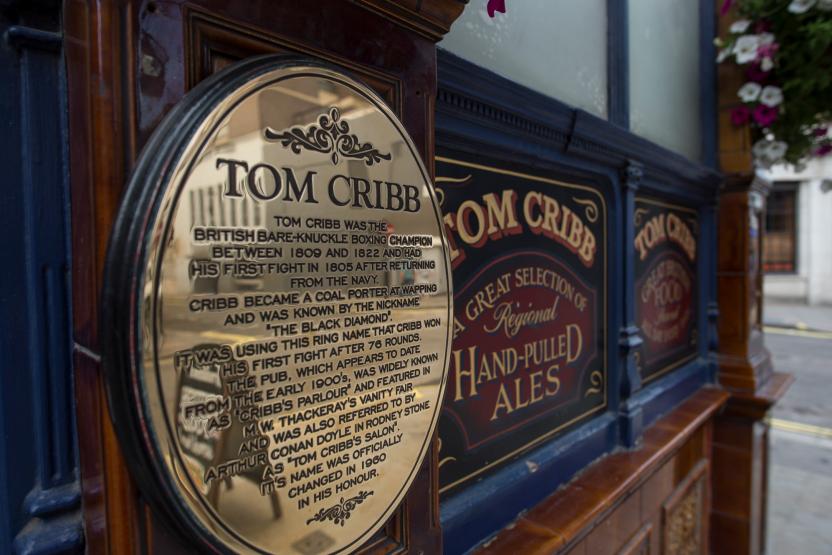 In regards to answering the question "How many bouts did Tom Cribb have during his career and how many did he win?," well, there seems to be some dispute about that matter. Various web sites and other sources—some credible, some not—differ in total for his recorded bouts, wins, losses, and draws respective categories. What does seem to be clear, however, is that all of these sources list and discuss his more notable fights. In 1805, his first year in boxing, he won four of his scheduled five bouts. Cribb's most famous opponent during these five matches was Bill Richmond; he was a black man who had been born a slave before becoming a boxer. Cribb won his bout against "The Black Terror," as Richmond was nicknamed, but unknown is the number of rounds that the fight lasted.
   During these fights, Cribb began to employ a tactic known as "milling on the retreat." Briefly, this was when a boxer attacks an opponent, then backs up to both rest while simultaneously planning on how he will next attack his foe. This should seem, even to a novice follower of The Sweet Science, an obviously effective boxing strategy, however, previous to Cribb, the usual strategy employed by bare knuckle boxers during fights (such as it was) was to simply come out and throw all sorts of punches (haymakers, jabs, hooks, etc.) and hope that one or more knocked out an opponent. Tom Cribb, by making "milling on the retreat" his standard boxing strategy, virtually single-handedly stopped this incredibly unrefined previous style of boxing.
   His next significant bout occurred in early April of 1807 against the man nicknamed "The Napoleon of the Ring," former British boxing champion (and also fellow native of Bristol) Jem Belcher. The story about this fight is as follows: Belcher was knocked out in the 18th round of this bout (which lasted almost one hour) and Cribb had broken his right hand. In the confusion during all of this, Cribb's cornerman distracted the official by engaging him in a deep and thoughtful discussion about the many bets on the fight (even back then, the English loved to bet on boxing bouts; they still do). This, in turn, allowed Cribb to somewhat recover and in Round 41, Cribb won the fight. This bout was not, however, a championship fight.
   In 1808 Cribb only had two fights, winning both of them, and one year later he had a rematch against Belcher that was held in Epsom Downs, England. In this 90-minute long, 31-round bout, Cribb emerged victorious and so claimed to be the English Champion of pugilism.
   Cribb's next two fights, one in 1810 and one in 1811, are probably the most well known of his career. In both he battled Tom Molineaux (this black boxer was, like Richmond, born a slave and in fact, after he retired as a boxer, trained Molineaux). This was the Muhammad Ali-Joe Frazier equivalent of the British boxing world in the 19th century.
   Both of these fights were titanic struggles that left both boxers, at the conclusion of each bout, mentally and physically exhausted. Cribb won both of these bouts but—just as Ali's three fights against Frazier so exhausted Ali that Ali was never the same boxer afterwards—they so drained Cribb that "The Black Diamond" (as Cribb was called by the British boxing fans) never again fought as ferociously or as well in his career. The last fight lasted only 11 rounds, but was still quite taxing on Cribb's many boxing talents. In fact, Tom never again boxed professionally after this fight; for the remainder of his career, until he retired from boxing in 1822, all of his subsequent fights were exhibition matches.
   However, as boxing became more and more popular in the United Kingdom, the vast population of sporting fans came to know the name of Tom Cribb. So great was his fame and mass appeal, that in 1814 Cribb participated in a sparring exhibition match for the benefit of the Emperor of Russia. Cribb respected opponents who he considered tough and honorable and, on that point, in mid-April of 1817, he took part in a exhibition benefit match for Richmond. In 1820 he had a paltry, one-round win against somebody named Jack Carter in London. Two months later, also in London the former Bare Knuckle Champ Cribb served as a page in the coronation of King George IV.
   By this time Cribb was getting older; he realized this and also that he was slowly and grudgingly moving towards the end of his life. So on May 18, 1822, Tom Cribb formally announced his retirement from boxing; he was given a lion-skin belt as a "going away" retirement gift.
   In his retirement, Cribb retired to the southeastern London district of Woolwich. After he died in 1848, at the age of 66, he was buried in a Woolwich churchyard and his tomb (which still can be visited by onlookers) has a facsimile of a lion resting it's front right paw atop a urn. For unclear reasons, Tom Cribb became such a hero for the British lower working classes that his legacy endures yet. Besides the aforementioned pub, many books and plays about him have been written; the most recent of these was a play and took place in a London theater in 2014. Last decade, a popular line of footwear among the English was named after him.
   Truly, the legacy of Tom Cribb—his never-day die fighting spirit and his determination to always better himself—appears will last in England and the rest of the United Kingdom for time immemorial.
Scott Burt Brings Belfast to Bare Knuckle Boxing World in Big Way
BILOXI, MISSISSIPPI – Bare Knuckle Boxing Hall of Fame President Scott R. Burt put his Belfast, New York, landmark squarely in the World's limelight last weekend as he was center stage of the Mississippi Coastal Coliseum's Main Event to present Australia's Rowdy Bec Rawlings with the coveted Police Gazette's Diamond Belt.  Burt was named the sole caretaker of America's Oldest Most-Sought After belt in 2016.  "This is the first time the belt has been ringside in 129 years" stated Burt "It was last won the squared circle by the Great John L. Sullivan in 1889 in Richburg, Mississippi, in the most famous bareknuckle fight of its era; a fight Sports Illustrated recently called "The Outlaw Brawl That Started It All."  Sullivan, who trained in William Muldoon's barns here in Belfast for this fight, now owned by Burt, won that 1889 fight in 2 hours 16 minutes outside in 104 degrees weather.  The fight lasted 75 rounds and saw then Champion Jake Kilrain not able to come out for round 76.  Both fighters were arrested afterwards because bareknuckling was illegal then.
The State of Wyoming was the first state ever to legalize bareknuckle fighting, and that happened just a couple months ago.  Mississippi was the second, with others soon to follow.  "Because of the historical connection to Mississippi" stated Burt, "I wanted to wait 'til it was legalized in Mississippi to offer the belt.  It was last awarded here in 1889 by then Police Gazette Publisher Richard K. Fox.  His presentation was illegal, mine legal."  At the pre-fight press conference, where media from around the World gathered to hear Burt explain the sport's history, he dubbed Saturday's fight as "The Legal Fight That Legitimizes It All" and the media ran with that, many not only repeating his words but also vowing to venture to Belfast in the near future to visit Sullivan's training barns firsthand.  These barns now house the World's only Hall of Fame dedicated to the bare knuckle pioneers. "What a fight Bec Rawlings and Britain Hart put on for the spectators; it can't get much closer that a split decision; a fight that both the Police Gazette and I didn't mind at all waiting 129 years for" said Burt.
October 20th sees Burt returning to Biloxi to present the American Heavyweight belt to the winner of the Sam Shewmaker and AJ Adams fight in the finals of a tournament that started in Wyoming, and the World Diamond title to either defending 72-0 Reigning Champion Bobby Gunn or his yet-to-be-named challenger.  Burt bestowed the honor to Gunn in 2016 based on his 2011 successful Indian reservation fight, but on October 20 the belt will be ringside, and Burt once again will be center stage to present, and to remind the World of the massive treasure his small, proud town of Belfast holds.  "I love being an ambassador for Allegany County and especially for Belfast, New York" stated Burt in closing.  Note: Next scheduled tour of the famous barns in Belfast is Saturday September 8 at 10am, is $10 per person, and will be personally given by Scott.
Tom Hyer: Like Father, Like Son
   By MARK WEISENMILLER
There are all sorts of examples, in U.S. sports history, of sons and daughters of famous athletes trying to follow in their parents footsteps and try to claim athletic glory for his or herself. Rarely does this happen. This phenomenon is especially prevalent in Major League Baseball, but such scenarios happen in other sports as well. Yet, on a few occasions, there occurs a happy exception to this matter. On other occasions, the younger athlete—through hard work, perseverance, and varying degrees of athletic skill—sometimes does, indeed, surpass the athletic successes of his father or her mother. Such is the case with the bare knuckle battler Tom Hyer.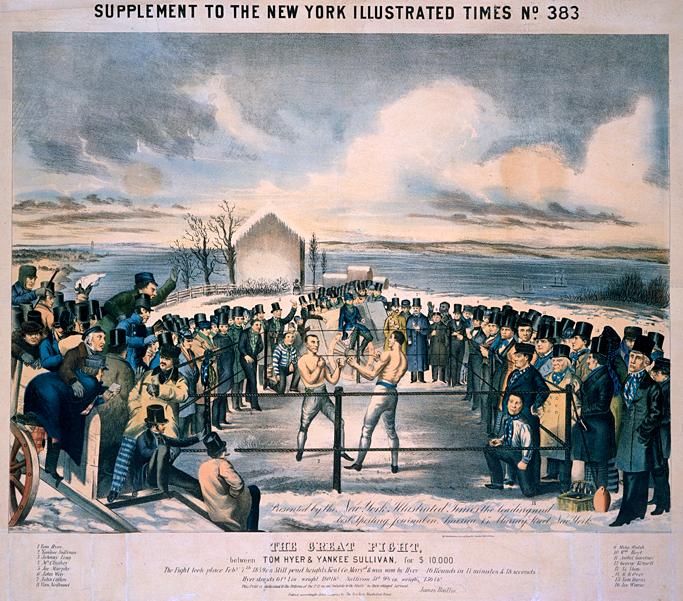 Hyer was a man with a short and strong Dutch name who also happened to be a terrific boxer. What makes this all the more remarkable is the shear fact that Hyer engaged in very few fights in his career. Notwithstanding, historians of American pugilism firmly believe that he was the first American heavyweight champion boxer.
His success as a pugilist began approximately 15 years before the start of the American Civil War in 1861. In fact, Hyer died the year before the civil War ended in 1865.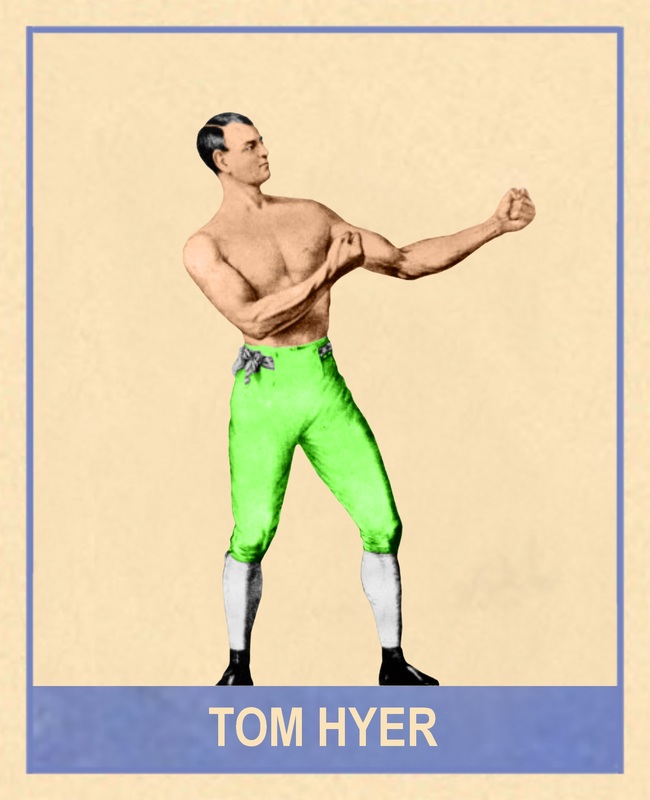 His father, Jacob Hyer, was, in his younger days, quite the boxer himself. "The Ring" magazine has tagged Jacob as "The Father of the American Ring." From the Fifth Edition of the book "An Illustrated History of Boxing," which was published in 1997, comes the following:
"By a sort of traditional consent, the fight between Jacob Hyer and Tom Beasley in New York in 1816 is established as the first ring battle in America in which the rules that governed boxing in England were accepted by the principals. We accept Jacob Hyer of New York as the first American to fight professionally in public, and his son Tom as the first American heavyweight king."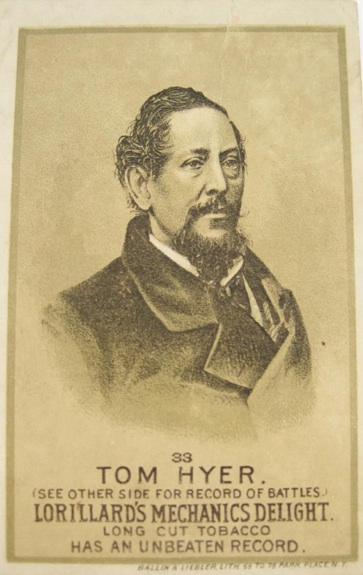 As for Tom, he was born on the first day of the year 1819. His fighting weight was 185 to 190 pounds and the fact that he stood over six feet tall (almost 6'3") frequently gave him an advantage in reach over his opponents. These were the days when the usual stance of boxers in Britain and the United States was one in which both of their fists were clenched and both arms stretched out before them; one of the arms was usually positioned slightly closer to the chest, for protective purposes. This was the boxing stance that Tom Hyer used.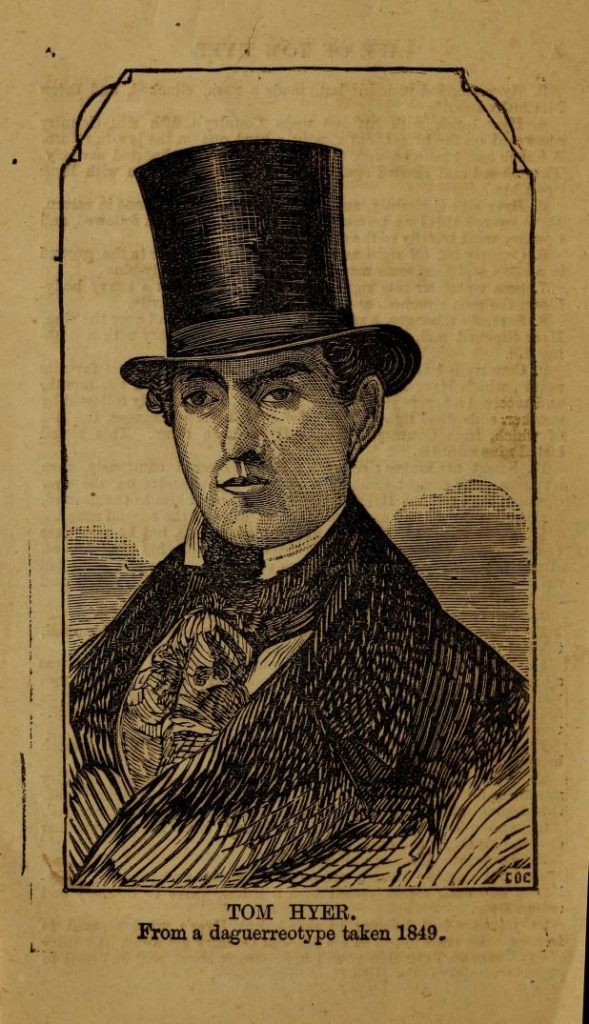 Hyer, who was an inductee of the International Boxing Hall of Fame, had his first major bout on September 9, 1841 against Country McCloskey (real name: George McChester) in Caldwell's Landing, New York. In a bout that lasted just short of three hours (two hours and 55 minutes to be precise), Hyer beat McCloskey (or, if you prefer, McChester) in an incredible 101 round length match.
Remember, this was a time period in American pugilism history, when  laws were so stupid that boxing was actually illegal in many states. The matches tended to take place either on rural farm fields, or on barges anchored in bodies of water, or in bars at night (when, so went the belief from the rather shady boxing promoters of the day, less patrolling and strolling policemen were on duty). If found guilty on charges affiliated with being caught boxing by police, those arrested boxers and/or promoters could conceivably be imprisoned. As a result, from an early point in American boxing history, the sport had a tendency to attract less-than-noble individuals.
This was especially true in the case of Tom Hyer. He was good friends with Bill Poole, better known by historians who specialize in U.S. history as "Butcher Bill," who was " a street-tough and leader of the 'Bowery Boys' and chief enforcer for the 'Native Americans,' who fought Irish gangs backed by Tammany Hall in the streets in order to seize control of ballot stations on election days."
In 1855, this man who lived his life among the unquestionably dangerous gangs of New York City was murdered and it is believed that the "hit" was ordered by Irish mob boss John Morrisey. Though Hyer challenged Morrisey several times to fights but the Irishman always declined.
If the above information about Poole sounds vaguely familiar, that is because film director and producer Martin Scorcese featured him prominently in his 2002 film "Gangs of New York." In that movie, he is called "Butcher Bill" Cutting and was portrayed by Best Actor Oscar-winning thespian Daniel day Lewis (Lewis also earned an Oscar nomination for this role, but did not win).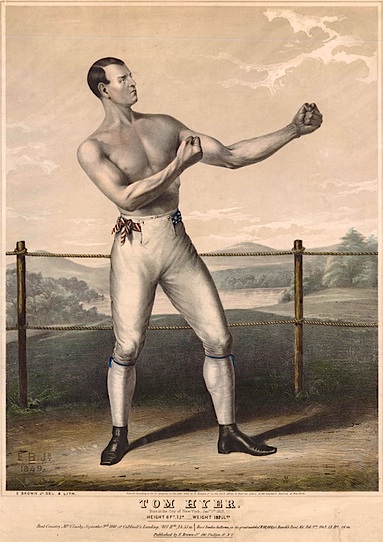 After Hyer's September of 1841 win, he did not fight again professionally until 1849 and among boxing historians, it is not exactly agreed upon just what exactly he did during this time period. We do know for a fact that on May 31, 1848, he got into a bar-room brawl with a ruffian named Yankee Sullivan (which is lyrical enough to sound like a fictional name made up by a Hollywood screenwriter) in a pub in Manhattan. Many Dutch immigrants who sailed to New York, and elsewhere in America, brought their love of beer along with them when they flocked to the United States, and Tom Hyer was no exception.
In fact, his excessive drinking of beer in particular, and alcohol in general, is probably what killed him. He was only 43 when he died of cardiac dropsy on June 26, 1864. Part of his "New York Times" June 27, 1864 obituary reads: "He (Hyer) sat on his front stoop (at No. 155 E. 35th Street) about fifteen minutes, when he complained of illness and asked for ice water, which was furnished. Soon after he was taken to bed and continued to breath worse, breathing shorter and shorter and with greater difficulty until 5.30 o'clock yesterday morning when he expired." An autopsy examination later "found the heart very large and fatty…the liver was also very much diseased, and the whole structure of it entirely degenerated…"
Hyer and Sullivan quickly came to discover that not only did they hate each other while both were drunk, but disliked each other when both were sober. Eventually, a fight was arranged to take place at Rock Point, Maryland on January 10, 1849. Unfortunately, Maryland law enforcement found out about the intended secretive bout and, scrambling to find another day and place for the match, the two met on February seventh, of the same year, at Stillpond Creek (which is situated relatively close to Baltimore).
In front of a large, freezing crowd of men bundled up in layers of clothing to protect themselves from the cold, raw Maryland winter, Hyer gave Sullivan a terrific pasting. Seventeen minutes and 18 seconds after it started, Hyer defeated Sullivan. The match lasted a total of 16 rounds.
Revitalized with energy, vigor, and with a renewed sense of purpose after this bout, Hyer then challenged William Perry, who was heavyweight champion of England to a match. Sadly, the bout never materialized.
Somehow this rejection by Perry seemed to sap the energy out of Tom Hyer. After he retired from boxing in 1851, his drinking increased precipitously. To seek a grander adventure, Hyer then decided to become a "Miner Forty Niner"—that is one of those men who traveled to California to try to become a successful gold prospector after a rich vein of gold was found in northern California during this time period. Failing to find any gold, a dejected Hyer returned to New York. Although Morrisey tried to arrange a boxing bout between him and George Thompson (who was a former sparring partner, and still a friend of Hyer's) and a boxer backed by Morrisey, the bout never transpired.
Tom Hyer then became—there is no other appropriate term—a full-time drunkard. Despite being married and having children, he still spent many hours in bars, loudly and drunkenly challenging anybody who disagreed with his many viewpoints on the current issues of the world to fight. In 1855, he got into two fights, with two different men, in bars in New York City. Now a pathetic shell of the man he once was, Hyer tried for a comeback in boxing, against Tom Hunter in a bout held on July 13, 1857 in the nation's capital of Washington D.C. Tom Hyer lost and, less than seven years later, he was dead.
Bill Richmond: One of A Kind
   By MARK WEISENMILLER
For a man who had only 19 professional boxing bouts, Bill Richmond (born August 1763; died late December 1829) seems to – if we are to believe numerous sources and my research and verification of these sources tells me we should – have led a remarkably rich and interesting life. Probably this was due to the fact that at the age of 14 he left his life as a slave in the United States (he was born on Staten Island, New York) and was taken to live in England by English nobleman and soldier Hugh Percy. Although he still faced occasional racism in Great Britain,  it is absolutely impossible to believe that Richmond would have had such a event-filled life had  he remained in America and been a life-long slave.
All of us have met in our lives a person who, for many unexplained reasons, has left an unforgettable impression on us. He or she could be a husband or wife, a teacher or religious leader, a boss or an environmentalist, a businessman or woman, or a librarian. Bill Richmond seems to have been such a person and not just in the sporting world. So respected was he that, years after he retired from boxing (at the age of 55 !), he was among the few renowned athletes to serve as an usher at the coronation of George IV (who, incidentally, was a well known patron of the arts and athletics and gave much money in support of both) in July of 1821 in London, England's Westminster Abbey.
After arriving in England, Hugh Percy paid for Richmond's education. Afterwards, Percy apprenticed Richmond to a cabinetmaker in York. In the early 1790's, Richmond married a white English woman. Her name was Mary Dunwick and their marriage was recorded in Wakefield on June 29, 1791. Richmond and his wife later had several children.
So, what we have here is a man who, even before having his first professional boxing match at age 36, already had an event-filled life. He had a profession, a wife and family, and was in excellent physical shape due to spending much of his life doing manual labor. Although he stood but 5' 9", he also had perfect co-ordination and virtually no body fat on him.
Author Luke G. Williams, who wrote the 2015 biography of the boxer entitled "Richmond Unchained," wrote in an August 26, 2015 article in "The London Independent" newspaper "…by the 1820's, Richmond had become hugely respected, not only as a boxer but as a trainer and tutor of both professional and amateur pugilists. For example, he gave lessons to the brilliant essayist William Hazlitt, who admiringly referred to him as 'my old master,' while Lord Byron (the famous British poet—M.W.) was also said to have been one of Richmond's eager pupil."
Williams also notes of Richmond (whose career record was 17 wins and only two losses) that "…he was in his forties and with a young family to support when he became a professional boxer. In the early 19th century, boxing, along with horse racing, was the dominant sport in England, with the pages of newspapers often containing exhaustive reports of the latest contests."
Williams, who is probably the world's leading authority on Richmond, was the first writer to break the news that, contrary to the popular and status quo belief that Richmond and British boxing champion Tom Cribb could not stand each other. In truth, it appears that  Cribb had much respect for, as Richmond was sometimes called, "The Black Terror." Evidence of this was the fact that Williams discovered a glowing tribute to Richmond that Cribb wrote after Bill died in 1829. Despite the fact that Cribb's speech often used the word "nigger," it also much praised Richmond. "He was my friend," Cribb would simply and eloquently say of Richmond.
Another writer that was enamored by Richmond was the noted English writer Pierce Egan (who was a boxing writer much admired by The New Yorker's A.J. Liebling who, himself, would eventually become a legendary boxing reporter and writer). In Volume I of Egan's book Boxiana, Egan described Richmond as being "…intelligent, communicative, and well-behaved; and however actively engaged in promulgating the principles of milling, he is not so completely absorbed with fighting as to be incapable of discoursing on the subject."
One of the possible reasons that he was such a notable and strikingly openly individual was the fact that he was brought up in a parsonage. In his adult years, Richmond could be described as being religious but not strikingly so. People who have had such an upbringing either stay true to such ethics, mores, and principals (as Richmond did) or they go in the polar opposite direction—that is they become incorrigible and, in general, impetuous.
Richmond's career in boxing began in a curious manner: while attending a match that featured old, doddering boxer George Maddox, he then proclaimed to one and all that given the chance he (Richmond) could easily defeat Maddox if only given a chance to do so. Whereupon Richmond then indeed tried to do so and Maddox beat him up so bad and unmercifully that Richmond barely lasted three rounds. All of this happened in 1804.
In retrospect, losing the match to Maddox was the best thing that could have happened to Richmond, for "The Black Terror" was a fierce perfectionist and thus he determined to keep going and learning this boxing racket. The next year, 1805, Richmond, had a bout and his opponent was a Jewish man with the curious name of "Fighting Youssep." Richmond won the fight, which eventually  led to a scheduled bout against tough Jack Holmes. In a match that was epic in scope—it lasted 26 rounds—Richmond won the bout. Bill's battle royale against Holmes, in turn, led to a match against Tom Cribb that occurred in October of 1805. This fight, which lasted 90 minutes, ended with Cribb winning the match.
Then, somewhat mysteriously, there is a four-year gap in Richmond's boxing career; his next known match took place on April 9, 1809 against Isaac Wood in Combe Wood, England; Richmond won the match in 23 rounds. Exactly four months later—on August ninth—he beat his old nemesis, George Maddox, in a match that lasted 52 rounds. Yet "The Black Terror" was aging and, despite being in excellent physical shape, Richmond was finding it more difficult to "bounce back" after one of his typical very long lasting (i.e., many rounds) fights.
Not long after he retired from boxing, he owned and operated a popular pub in London and, when not busy with this endeavor, he stayed involved in pugilism by creating and operating a boxing academy. Richmond still, even in (what was the considered) his elderly years, weighed close to his usual 152 to 168 lbs. fighting days range. He also continually tried to learn new things and something not often mentioned by bare knuckle boxing fans is that, regarding his pugilistic career, he was self-taught.
One of the ironic things about Richmond was the facts behind his death. Surprisingly, this seemingly perpetually constantly moving man died rather mundanely at his home; someone of his panache usually expires in a more notable manner and in a more glamorous place (such as, for example, Venice, Italy). One hundred seventy years after his death, in 1999, Bill Richmond was inducted in to the International Boxing Hall of Fame in upstate New York. Thus, in a somewhat grim and ironic way, the New York-born, but mostly England-native, Richmond finally, in a way, returned to the United States of America.
Jack Broughton: "The Father of English Boxing"
By MARK WEISENMILLER
Very few people in the long, rich history of boxing can be said to have had massive influence on the sport in numerous ways. The famous British bare knuckle boxer of the 1700's, Jack Broughton, was one such person. He was an intelligent and massively talented pugilist. After he retired, he even wrote a set of rules for the sport, which became known as "Broughton's Rules," that regulated the sport for many decades ahead. For these reasons, he is known as "The Father of English Boxing."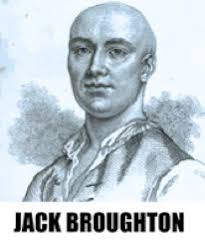 This man, who lived in economic and social hard times, was himself a mentally and physically hard man. He stood 5 ft., 11 and ½ inches tall, weighed 200 lbs., and had very little fat on his physique. This Englishman's career was greatly enhanced by an interest taken in him by the Duke of Cumberland. The Duke became Jack's patron. For it was relatively common at that time for wealthy aristocratic  Englishmen to subsidize lower-class Englishmen who had various degrees of pugilistic skills. These boxers were, due to their patrons shelling out hundreds of pounds to pay for their training, in a sense entertainment slaves for the British aristocracy and super-rich. Broughton came to the attention of the Duke when the latter was visiting a school of the manly arts and Broughton beat him in a cudgel match.
Boxing in England at the time resembled very little of today's sweet science. If anything, with its primitive aspects, it resembled more that alleged entertainment tool, for fools and television executives, known as the UFC.
Boxing matches, such as they were, were held on farmers' fields, public parks, or on the estate of one of the boxer's patrons. As this was bare knuckle boxing there were, of course, no gloves for the participants although Broughton invented what he called "mufflers." However, these precursors to today's boxing gloves were only used in exhibition matches or when the pugilists were in training for a bout. Today's reader will find it funny that the main purpose for Broughton inventing the mufflers were not to protect the boxers hands but to protect the faces of the many British fops—who were usually the sons of Establishment figure—so that they would maintain their prettiness.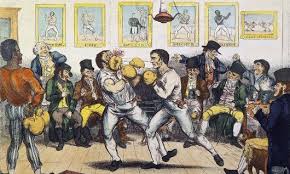 During a fight, the pugilists would be shirtless, wear skin-tight breeches with long white stockings, and have black leather boxing boots on their feet. Matches were usually, but not always, held outdoors. Sometimes these bouts would have referees and sometimes they would not. Many English boxers came via a School of Arms that was owned and operated by James Figg (who, from 1719 to 1730, was the first known British boxing champion). At the School of Arms, numerous young men came to attend and learn what was then called "the manly arts of self-defense." These arts inlcuded boxing, cudgeling (a cudgel is a thick, short stick that is used as a weapon) and swordplay. The emphasis on cudgeling and swordplay came directly from Figg; he had done both in his youth and believed that they helped build boxers stamina and also their sense of equilibrium. Indeed, some boxing historians who specialized in this time period believe that Figg was a much more talented swordsman than a boxer.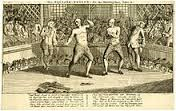 One has to always keep in mind the place and time period that our profiled boxers in the Bare Knuckle Boxers Corner department were born into and this is certainly the case with Jack Broughton. He was born in 1704 during the First British Empire and died on January 8, 1789 during the Second British Empire. Thus, all of his life he lived in the country which, more or less, ruled much of the world and the man's natural cockiness may stem from this fact. Britannia, to borrow a lyric from an old song, ruled the waves and also much of the Earth's land.
To maintain these empires, the British ruling aristocracy needed cheap labor and lots of it. To accomplish this in commonwealths and dominions, over-ruling British simply made conquered peoples into their slaves. Then it occurred to the English aristocrats that they could use cheap labor for their various forms of entertainment as well. One such example was the Duke of Cumberland (who was the third son of King George II) and his treatment of Broughton. Technically, he was Broughton's patron but, viewed by today's standards, Broughton can be termed as the Duke's serf. Boxing matches were one of the few places where the English aristocracy and the wretched lower classes were able to interact and talk with each other.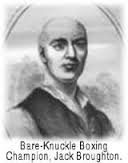 Boxers during that time period were mostly big, husky maulers, but Broughton is distinctive from the others by the simple fact that he gave much thought to having a defensive strategy and then quickly and powerfully counter-attacking. He was among the first known boxers, in British boxing history, to block an opponent's punches rather than standing, like a dolt, in the middle of the ring and openly receive an opponent's punches. Broughton, who was quite intelligent, also learned which parts of the human body were most susceptible to pain and then concentrated on hitting his opponent's body in said parts.
He was especially adept at luring an opponent close to him by pretending that he was hurt and then, when the opponent was close, he would unleash a fusillade of punches at the opponent's belly. In Broughton's own primitive way, he made boxing into a sort of art. In his profile in the 1989 reference book "The Art of Boxing," it's noted that Broughton specialized in something calling "'milling on the retreat,' i.e., moving backwards and drawing an opponent into punches, so their effectiveness is doubled." He also was good at counter-punching and quickly retreating from danger.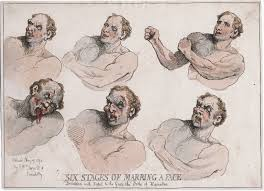 During the time period when Broughton was boxing, no such thing as fair play existed. That is, during a boxing match, no set of well thought out rules for the sport existed. He, therefore, created "Broughton's Rules," to bring some sort of structure and control to British boxing matches. Once he became the Duke's patron, Broughton was employed with the Yeoman of the Guard at the Tower of London until his death in 1789.
The bald Broughton is credited, by the late and famed British boxing historian Pierce Egan, with one of the most famous quotes ever attributed to a boxer. In 1750, in what would be his last fight, against Jack Slack (who was a butcher by trade and thus had massive biceps and forearms), both of Jack's eyes were swollen shut due to taking a pounding from Slack. When the Duke (who was nearby and had bet thousands of pounds against Broughton winning the bout) told him to submit, Broughton shouted "I'm blind, but I'm not beat!" Actually Broughton, in this August 1750 bout, was beat; he lost the fight in 14 minutes to Slack and thus also the English heavyweight championship.
Due to a lack of verifiable information and records, we have few, hard, unquestionable, ascertainable facts about Broughton's boxing career. We do not know how many fights he had, how many he won, and how many he lost. We do not even know if he had any boxing matches outside of England (although, due to the Duke virtually owning Broughton, we can assume not).
What we do know is that his first major boxing match was in the 1730's when he took on George Taylor of Norfolk at the annual Southwark Fair and beat Taylor decisively.
Broughton had been boxing for about five or six years previously, but his win against Taylor was the bout that began to get Jack nation-wide attention. Taylor, who was another of James Figg's students, succeeded Figg as champion.
Broughton's reputation for honesty and decency quickly became nationally known and hence, boxing began to be viewed as a legitimate sport by the English.
Five years after this bout with Taylor, Broughton had a 45-minute long match against George Stevenson. Even by the wide latitude given to the then embryonic sport of boxing, this was a brutal bout. Stevenson, who was a Yorkshire coachman, was sponsored by the Prince of Wales. Though Stevenson was a valiant opponent,  Broughton was way too much for him. Near the end of the bout, the exhausted Stevenson, with both of his hands held low and thus not giving him adequate protection, was a recipient of a punch to the heart by Jack. Stevenson took the full force of the blow and promptly lost consciousness. The bout, of course, then ended. Stevenson was hurt more seriously than anyone in the audience realized; he came out of his coma-like state, but died a few weeks later in Broughton's arms.
All of this was simply too much for Jack Broughton and he began to think that a set of regulatory rules for English boxing should be created. So "Broughton's Rules," as they came to be known, were formally made official in England on August 16, 1743. Interestingly, the seven rules that he created did not completely clean up the sport; such things as wrestling and other semi-barbaric items were still allowed as per "Broughton's Rules." Here, in their entirety, are the seven rules, as per author Harry Mullan's 1996 book "The Ultimate Encyclopedia of Boxing." Please note that all errors in grammar, mis-spellings, and punctuation are Broughton's; these are the rules as he wrote them.
   One: That a square of yard be chalked in the middle of the Stage, and in each fresh set-to after a fall, or being from the rails, each second is to bring his man to the other side of the square and place him opposite to the other, and until they are fairly set-to at the Lines, it shall not be lawful for one to strike at the other.
   Two:  That, in order to prevent any Disputes, the time a man lies after a fall if the Second does not bring his Man to the side of the square within the space of half a minute, he shall be deemed a beaten Man.
   Three: That in every Main Battle no person whatever shall be upon the Stage, except the Principals and the Seconds, the same rule to be observed in Bye-battles, except that in the latter Mr. Broughton is allowed to be upon the Stage to keep decorum and assist Gentlemen in getting to their places, provided always he does not interfere in the Battle, and whoever pretends to infringe these Rules to be turned immediately out of the house. Everyone is to quit the Stage as soon as the Champions are stripped, before the set-to.
   Four: That no Champion be deemed beaten, unless he fails coming up to the line in the limited time or that his own Second declares him beaten. No Second is to be allowed to ask his Man's adversary any questions or advise him to give out.
   Five: That in Bye-battles the winning man have two-thirds of the Money given, which shall be publicly divided upon the Stage, notwithstanding private agreements to the contrary.
   Six:  That to prevent Disputes, in every Main Battle the Principals shall, upon coming to the Stage, choose from among the Gentlemen present two Umpires, who shall absolutely decide all Disputes that may arise about the Battle; and if the two Umpires can not agree, the said Umpires to choose a third, who is to determine it.
   Seven:  That no person is to hit his Adversary when he is down or seize him by the ham, the breeches, or any part below the waist; a man on his knees to be reckoned down.
Broughton was so respected throughout the English sporting world that, incredibly, most of the ragamuffins who then passed for boxers began to learn, and then follow "Broughton's Rules." These rules would be the regulator of British boxing for almost a century until they were replaced by the London Prize Ring Rules of 1838.
As for Gentlemen Jack Broughton, after he retired, he ran an academy of boxing. When that failed, he converted the academy into a furniture warehouse that also sold antiques. With the profits from these two forms of business, he then successfully invested in the stock market and became even wealthier. He was 84 (old by the standards of 1700's era England) when he died. Buried in Lambeth, England, he was also venerated in the country when a memorial paving stone, in his honor, was laid in his honor at Westminster Abbey—which still can be seen today by any visitor or tourist to the Abbey.
John Carmel Heenan
By Kirk Lang
Leon Spinks will forever be remembered for annexing the world heavyweight championship from the great Muhammad Ali with only seven pro fights under his belt.  
Nineteenth century pugilist John Carmel Heenan, it could be said, did one better. Despite having no more than three official bare-knuckle fights that's right, three, The Benecia Boy has posthumously been inducted into the International Boxing Hall of Fame, The Ring Boxing Hall of Fame and the Bare Knuckle Boxing Hall of Fame.  
He didn't walk away a winner in any of those bouts, but his efforts clearly left a mark. His most famous of the three was a two-and-a-half hour challenge of English heavyweight champion Tom Sayers which ended in a draw – that was so brutal, it forced the transition from bare-knuckle to gloved boxing in England and led to rules that still define modern day boxing, such as three-minute rounds and ten second rest periods.  
Born in Troy, NY on May 2, 1835, Heenan apprenticed as a machinist after minimal schooling. At 17 he left home and settled in Benicia, California, where he found work at the Pacific Mail Steamship Company in the foundry. Working 12-hour days swinging a 32-pound sledge hammer, he was building up his body for a fighting career on the horizon.
By 1857, Heenan had developed a reputation as a barroom brawler, but it was suggested by some that he take his fists elsewhere, and so he returned to his home state with an English boxing trainer by the name of Jim Cusick.
Though bare knuckle boxing was illegal, Henan's first taste of in-the-ring combat was a legal exhibition against future American heavyweight champion Joe Coburn in December 1857.
Records reveal that Heenan had two more exhibitions both in Boston against Johnny Cocky Woods in March 1858 before his first illegal honest-to-goodness bare-knuckle fight, against no less than reigning American heavyweight champion John Morrissey.                
Heenan's training for the October 20, 1858 bout was disrupted by injury – an unhealed ulcer on his leg, that led to an infection that weakened him – and thus he was not in top shape. No matter. Heenan still did well, nevertheless.
Accounts of the fight note that Heenan dominated the early rounds, though Sayers impressed at times with well-placed body punches.
In the 9th round, Heenan got a bit carried away. He swung wildly, missed Sayers but connected with a ring post and broke his right-hand. If fighting one-handed wasn't bad enough, Heenan had to contend with more than one person. Morrissey's rabid supporters involved themselves in the match, allegedly stepping on Heenan's damaged hand every time he went down.
He was also punched in the kidneys anytime he got near the ropes. The referee apparently took a blind eye this and and could possibly have even been paid off. While Heenan started off the bout in strong fashion, one report said the tide began to turn in Morrissey's favor around the fifth frame. 
At the start of the 11th round, Heenan came out staggering, barely able to stand. It wasn't long before Morrissey landed a shot to Henan's jugular that sent him crashing and down for good, according to the report by The New York Herald, which noted that Heenan did not gain consciousness for half an hour.                
Morrissey refused to give Heenan a rematch, and this was deemed a sign Morrissey knew he could not defeat Heenan in a fair fight. In refusing a return bout, Morrissey effectively retired. Heenan, on the other hand, was awarded the championship by default.
Finding it difficult to get fellow Americans in the ring, Heenan and his trainer decided the next move would be to face English heavyweight champion Tom Sayers, in his home country. The match-up was given great coverage on both sides of the Atlantic, as it marked boxing's first world championship fight.  Heenan had issued a challenge to Sayers sometime in 1859, the same year he married vaudeville actress Adah Isaacs Mencken.
The fight came off on April 17, 1860, near the tiny village of Farnborough and commenced around 7:30 a.m.
Though Heenan was in the champion's backyard essentially, he still figured he held the advantages and victory would be his.
At 25, he was nearly a decade younger than Sayers and at 6'2 and weighing around 190 to 195 pounds, he had a nearly 40-pound weight advantage. Sayers only stood 5'8 but was known for having the heart of a lion, and he demonstrated such against Heenan.
If Sayers was already the underdog at least as far as age, height and weight – he didn't help his case when he broke a bone in his right arm blocking a punch. Essentially one-handed, he then focused on attacking Heenan's eyes, according to The Telegraph, and ultimately swelled his right eye shut.
In the 37th round, according to one account of the match-up, The Irish American strangled Sayers by pushing his head down over the top rope. The ropes were cut and the crowd invaded the ring, but that did not end matters.
 
The ring was re-pitched a short distance away and the bare-knuckled pugilists continued swapping blows.
The bout which reportedly lasted 2 hours and 27 minutes came to an end when the police showed up at the edge of the field in the middle of the 42nd round and everyone fled.
Some accounts however, claim that the authorities showed up as early as the 37th round and let the fight go on. Whatever the true story is, the contest was ultimately declared a draw. Heenan, however, complained that the police had colluded with Sayers' supporters in breaking up the fight when it became clear the Englishman was beaten.
The Sayers camp claimed Sayers was the fighter headed toward victory. This would go on for weeks. Also, Heenan demanded a rematch but Sayers' injured arm largely nixed a return bout. Ultimately, both men were awarded duplicate championship belts and they went on a tour of the country.
Heenan eventually returned to the United States three months after the big fight and was given a hero's welcome.
But even heroes hit lows. His wife divorced him a year later in 1861, after two years together. Heenan bounced back, marrying Sarah Stevens in 1862.
As far as his boxing career, his American heavyweight title was claimed by Joe Coburn in 1862, the first man he had an exhibition against back in 1857, when Heenan failed to defend it against Coburn following a challenge by the Ireland-born pugilist.                
Heenan went three years and eight months without fighting anyone, until he made a return trip to England to challenge Tom King, the country's current heavyweight champion, on December 10, 1863.
Once again, Heenan may have been betrayed by a biased referee. He knocked King out of time in the 18th round, yet the fight continued.
King would get the better of Heenan in the later rounds and when time was called to start the 25th round, one of Heenan's handlers tossed up a sponge to call it quits, according to The Charleston Mercury, a Confederate Civil War newspaper which gave the fight front page ink. The same report said Heenan should have never been allowed to fight past the 21st round.  
Following the loss to King, Heenan never fought again. While a rematch was scheduled for sometime in 1864, it never materialized. 
Between 1869 and 1870, Heenan and Jem Mace, a clever fighter known as The Father of Modern Boxing, toured the country putting on exhibitions. The two had a final exhibition, in New York City, on February 11, 1871.
After his fighting career, Heenan became a bookmaker in retirement.
In October 1873, he was found dying from tuberculosis on a train headed to San Francisco. He passed away in Green River Station, Wyoming. His body was transported back to New York for a burial at St. Agnes Cemetery in Albany, NY. He was 38. Interestingly, his greatest rival Sayers also didn't live past his 30s. Sayers death at 39 was due in large part to untreated diabetes. 
Tom Sayers
By Kirk Lang
Long before Americans would dominate boxing in the 20th Century, England had bragging rights to many of pugilism's best practitioners. And one of the best was Tom Sayers, a bricklayer who seemed to have bricks in his fists, because he often took on and defeated bigger opponents. Sayers rarely ever weighed more than 150 pounds for a match, and in modern times, that does not even make him a middleweight. He was a junior middleweight and if he ever tipped the scales at 147 pounds or less, that made him a welterweight taking on the big boys.
Sayers was a true national hero and thousands lined the streets for his funeral procession. As many as 10,000 showed up for the burial, destroying tree branches, tombstones and grave railings to say they saw "The Napoleon of the Prize Ring" being put in his final resting place.
Similar to Sugar Ray Leonard, Sayers did not need a ton of fights to secure his legacy. Leonard had only 38 fights before two ill-fated comebacks, yet he proved himself one of the greatest to ever lace up the gloves. Sayers had only 16 bouts. He lost only one of them, and that defeat, it could be said, was the result of facing top competition a bit early, and while sick. Sayers met recognized middleweight champion Nat Langham in October 1853. It was only his fourth pro fight. Sayers did not go down without a fight, however. Sixty-one rounds in, with his eyes swollen shut, he still was not giving in. Fortunately, his handlers did him a favor – health-wise – and threw in the towel. One career victory later, prizefighters in and around his weight class deemed him too dangerous to face in the ring. Forced to take on bigger men, Sayers faced Harry Paulson in January 1856, one of England's top heavyweights. It was an impressive victory for Sayers, according to various sources, but the fight itself lasted an eternity – 109 rounds to be exact, according to records kept at the time.
After a tough draw and convincing rematch win against Aaron Jones, Sayers took on England's heavyweight champion, "The Tipton Slasher" Bill Perry. As good a fighter as Sayers was, he went into the fight as the underdog, written off by the so-called experts. It took him only 10 rounds to defeat the champion.
Further victories eventually led to the showdown that would cement Sayers' place in boxing history, his participation in pugilism's first international boxing match, or rather, its first world championship fight. Sayers, the English champion, was scheduled to face John Carmel Heenan, the American champion, on April 17, 1860. This match-up was given great press coverage on both sides of the Atlantic and on fight night, Queen Victoria allegedly sat in her palace awaiting the result.
The 6'2", 195-pound Heenan was willing to travel to England, figuring the odds were in his favor anyway, as Sayers was nearly a decade older, 40 pounds lighter and five inches shorter. The fight took place near the tiny village of Farnborough and commenced around 7:30 a.m. If Sayers already had the disadvantages, he broke a bone in his right arm blocking a punch. Essentially one-handed, he then focused on attacking Heenan's eyes, according to The Telegraph, and ultimately swelled his right eye shut. In the 37th round, according to one account of the match-up, The Irish American strangled Sayers by pushing his head down over the top rope. The ropes were cut and the crowd invaded the ring, but that did not end matters.
The ring was re-pitched a short distance away and the bare knuckled pugilists continued swapping blows. The bout – which reportedly lasted 2 hours and 27 minutes – came to an end when the police showed up at the edge of the field – in the middle of the 42nd round – and everyone fled. Some accounts however, claim that the authorities showed up as early as the 37th round and let the fight go on. Whatever the true story is, the contest was ultimately declared a draw. Heenan disputed the outcome and demanded a rematch, but that begs the question – if he was truly winning, why did he feel the need to strangle Sayers?
A rematch never came to fruition. Sayers was so beloved, his fans, concerned for his health, raised a substantial amount of money for him to quit the fight game. Following boxing, he endured divorce, as well suffered from tuberculosis and diabetes. There was an attempt to get into the circus business. Sadly, he died on November, 8, 1865, a mere five years after the Heenan fight, at 39 years-old. That same year, the Marquess of Queensbery rules were drafted, which gave way to modern prize-fighting, as it dictated that rounds be three minutes long, fighters have 10 seconds to get to their feet after a knockdown, and mandated the wearing of gloves.
More than 100 years after his death, Sayers' legacy is secure. One author, Alan E. Wright, paid him the ultimate tribute in 1994, with the publication of a book titled, "Tom Sayers: The Last Great Bare-Knuckle Champion."
Paddy Ryan
Former heavyweight champion
Story by Kirk Lang
Every champion has a period of time in which they reign at the top of their sport or at least remain relevant. Muhammad Ali was on the world stage for a decade-and-a-half after defeating Sonny Liston for the heavyweight championship. Conversely, Buster Douglas, a one-fight wonder who pulled off the ultimate upset against "Iron" Mike Tyson, suffered a crushing first title defense that sent him into retirement.
Patrick "Paddy" Ryan, a champion in the bare-knuckle days, won't go down in history as an all-time great, but he at least had a good two years as heavyweight title holder. In the 1880s, there was not the proliferation of titles as there is today. However, one's championship definition could be altered depending on the newspaper one picked up. Ryan was cited as the heavyweight champion of America by some, while other publications deemed him the heavyweight champion of the world with his May 30, 1880 win over Joe Goss.
Ryan made his own mark in the boxing world, although he is better known as a factoid in the career of the legendary John L. Sullivan. Ryan lost a one-sided nine-round affair to "The Boston Strong Boy" and the Ryan-Sullivan contest marked the last time the bare-knuckle championship – prior to the gloved era – changed hands.
Ryan, born in Thurles, Tipperary, Ireland, emigrated to the United States with his family when he was only two years-old. Settling in the Troy, New York area, one job he had later in life was that of a blacksmith's helper. This position helped Ryan to develop an impressive physique. Paddy subsequently became the proprietor of a saloon and he often had to use physical force to remove unruly patrons. His removal tactics apparently caught the eye of Jim Killoran, athletic director of the Rensselaer Polytechnic Institute. Killoran saw a potential boxer in the young man and subsequently became Ryan's trainer. Paddy turned pro in 1877, three years from when he and Killoran joined forces. And three years later – May 30, 1880 – he became the recognized heavyweight champion after an 87-round battle with Joe Goss that lasted at least 90 minutes, and possibly as long as an hour and twenty-seven minutes.
Both men endured serious punishment. In the 80th round, according to the West Virginia Division of Culture and History, "Goss staggered helplessly from his corner" and was met with a blow "which stretched him out apparently lifeless." Somehow, Goss rose from the canvas and fought for six more rounds. At the start of the 87th round, however, the battered Goss, sitting on his chair, was unable to come out to the center of the ring and the referee declared Ryan the winner. Ryan was 28 years of age, whereas Goss was 44.
Ryan typically wore green stockings and black trunks decorated with green shamrocks when he fought, as well as a red, white and blue belt. Noted for his bull strength, he could out-muscle opponents. Many bettors thought he could out-muscle Sullivan when agreed to face one another on Feb. 7, 1882. The fighters arrived in New Orleans, Louisiana one day prior to the fight, but the bout was moved to Mississippi City, MS, when local officials got wind of the match.
A 24-foot ring was subsequently erected in an oak grove in front of the Barnes Hotel. Ryan would find out Sullivan was far stronger than he perhaps realized. The New York Daily Tribune, one of the newspapers covering the fight, reported that Ryan exhibited weariness after the opening round, in which Sullivan reportedly drew first blood and also sent the champion to the canvas with a right hand. Ryan would wrestle Sullivan to the ground in the second frame, but he was unable to win the war of fists. The challenger dominated the contest before ultimately stopping Ryan in the 9th round. A large crowd of 5,000 fans turned out to see the coronation of the new heavyweight king Sullivan.
While it was not a lengthy battle – approximately 11 minutes – Ryan's face was badly disfigured. Meanwhile, Sullivan did not have a mark on his.
"When Sullivan hit me, I thought a telegraph pole had been shoved against me endways," Ryan said.
Although he was defeated rather easily by Sullivan, the champion granted Ryan two title opportunities afterwards, but this time in gloved contests. Their rematch took place on January 19, 1885 at New York's original Madison Square Garden. After one round of boxing, the police intervened and the bout was considered a one-round no-contest.
The two gladiators met again the following year on November 13, 1886 at San Francisco's Mechanic Pavilion. Unfortunately for Ryan, he proved no match for the powerful Sullivan and was brutally KO'd in three rounds.
Ryan and Sullivan would engage in a number of exhibition matches beginning almost a decade later. They had at least seven between 1891 and 1895, and one more in February 1897.
Paddy was inducted into the Bare Knuckle Hall of Fame in 2009.
Ryan died in Green Island, NY on December 14, 1900 from Bright's Disease at the age of 49.
Jake Kilrain
Former American Heavyweight Bare Knuckle Champion
Story by Kirk Lang
Boxers have often been linked together in history through a series of bouts waged against one another. Such in the case with the six bouts between Sugar Ray Robinson and Jake LaMotta and the three-fight series Muhammad Ali and Joe Frazier engaged in. While most would agree LaMotta and Frazier did not possess the natural ability of their more famous foes, they carved their own place in boxing lore with their tenacity and toughness.
 The same holds true with Jake Kilrain. However, he did not need repeated encounters to cement his legend. Rather, he secured his place in history with a single fight against a more famous opponent – the great John L. Sullivan. The Sullivan-Kilrain bout was the last bare knuckle heavyweight championship fight fought under London Prize Ring Rules, in which a round ended when a person was knocked down, pushed down or wrestled down. Sullivan was the last heavyweight champion of the bare-knuckle era, and with the advent of the Marquis of Queensbury Rules, he became boxing's first gloved heavyweight champion. He was also the biggest athletic icon of his time. Yes, not just of boxing, but of sports in America in general. His exploits were covered by the major newspapers long before Babe Ruth came on the scene, and long before Americans would follow pro football, basketball and hockey religiously.
 In facing such a star, Kilrain, the son of Irish immigrants, became a celebrity himself. A similar example would be Gerry Cooney. While he never actually became a world champion, there was so much hype and coverage around his challenge of heavyweight champion Larry Holmes, that even in valiant defeat, he remains more popular today, and more recognizable at boxing events, than many men who actually won world titles. Long before his fisticuffs were getting coverage, Kilrain was honing his skills while working in the rolling mills of Somerville, MA. A self-described "gawky country boy" from Long Island, New York, he took on many of his co-workers and at 20 – now 5'10" and weighing around 190 pounds – was proclaimed boxing champion of the mill. Four years later, again proving his athletic prowess, this time in the sport of rowing, he won the National Amateur Junior Sculling Championship in Newark, NJ. However, his achievement was stripped from him when it was revealed he had boxed for pay.
Kilrain, according to reports, turned pro at the age of 19. CyberBoxingZone.com lists an undated pro fight against Pete McCoy and its next recorded pro fight for Kilrain, born Feb. 9, 1859 in Greenpoint, NY, was an 1880 bout against "Dangerous Jack" Hughes, "W-3" in Boston, MA.
Kilrain was allegedly 10-0-3 when he faced Mike Cleary at Madison Square Garden on June 26, 1884, at which time Richard K. Fox, publisher of the National Police Gazette, took notice of him. This was five years before Kilrain would face Sullivan, and three years before Fox awarded Kilrain a belt proclaiming him heavyweight champion. Kilrain had a number of bouts in which police intervened, including a  December 1, 1884 clash with Jack Burke in Boston. Police interrupted the opening round, as the action was so intense.  Four more rounds, however, were permitted and the bout was recorded as a five-round draw. Some of Jake's scheduled bouts never took place because police got wind of the fights before the first bell.
Known for his great stamina, Kilrain was recognized as champion by Fox and his newspaper following a 106-round draw with British champion Jem Smith that took place in France. This was part of a plan by Fox to lure Sullivan into a fight with Kilrain. Fox had an issue with Sullivan ever since they were in the same New York City saloon in April 1881. Sullivan refused an invitation from Fox's sport editor to walk across the bar and sit down with Fox. Sullivan, celebrity that he was, and surrounded by his friends and plenty of drinks, told Fox's associate that if his boss wanted to see him, then Fox should come to his table. Fox, a proud man himself, never did walk over to Sullivan's table, and took issue with Sullivan's perceived slight.
Kilrain and Sullivan could not avoid each other forever as the whole world clamored for the contest. The press helped make it happen and while Sullivan was already fighting with gloves by this time, this match-up would be bare knuckle, the last of its heavyweight kind.
In bare knuckle boxing, rounds ended only when someone was knocked down, thrown down or wrestled to the ground, and fights ended when either combatant could not continue. The bare knuckle contests could also end by crowd riot, police intervention, or if both boxers agreed on a draw. Nobody had to worry that Sullivan and Kilrain would both be on their feet in the end agreeing to a tie. This was definitely one that was going to end with somebody getting stopped.
The highly anticipated fight was banned across the south. Merely attending could lead to an arrest. As such, the fight found a home on a field in Richburg, MS. Charley Rich owned 10,000 acres and in the days before the fight, a makeshift ring was set up and pinewood bleachers were erected. Somebody should have planned better. The battle took place in a hot state, on a hot month (July) and outside with no tarp or anything to shield the sun's rays. Kilrain and Sullivan proved their toughness in not only enduring one another, but also the less than ideal fight conditions. Roughly three-thousand spectators made their way to the bout, boarding trains in New Orleans, with tickets that did not list a site location. Not only was it the last bare knuckle heavyweight championship of its time, it also has a place in history for being the first world title fight ever photographed. Images of the bout and its surroundings show a crowd of all men, nearly all of them bedecked with gentlemanly hats on. They look dressed more for a child's high school graduation than a bare knuckle bloodbath. Some of the paying spectators at ringside are leaning into the ring a little with arms over the ropes, something that would never be allowed today. Even though the fight began sometime between 10 a.m. – 11 a.m. – the actual start time differs depending on the source – it was still too hot. The temperature was as high as 104 degrees, even perhaps 106 degrees. Both men would be sunburned by the time it was over.
Kilrain got off to a good start, grabbing Sullivan around the neck and throwing him down 15 seconds into the first round. Later, in either the fifth or sixth round, Kilrain struck Sullivan's ear and drew blood. Referee John Fitzpatrick called out "First blood – Kilrain," and as a result, money exchanged hands in the stands between the betting public. The action subsequently turned in Sullivan's favor, as John L. made a point to box and wrestle less. As he boxed and moved, Sullivan also landed heavy blows, so much so that at the end of the 7th round, Kilrain had to be helped back to his corner.
Both fighters wore shoes with cleats and at some point during the fight, blood was seen seeping out of Sullivan's shoes. As the bout progressed, Kilrain had his fair share of battle injuries. In the 35th round, he had a broken nose, split lips and an eye that was swollen shut. Reports from various sources note that both men consumed alcohol during the bout. Sullivan reportedly vomited in the 44th round, which prompted Kilrain to ask the "Boston Strong Boy" if he wanted to continue. This lit a fire in Sullivan, and he dominated the later rounds. As the fight went on, Jake was near exhaustion, but there was no quit in him. However, his handlers, believing he was literally going to die, threw in the proverbial towel – in this case it was a sponge – at the end of the 75th round. The fight had lasted two hours and 16 minutes!
In the following year, Kilrain would venture to Belfast, New York and train with champion wrestler William Muldoon at Mudoon's Barn (the site of the current Bare Knuckle Hall of Fame) to face the upcoming heavyweight prospect James J. Corbett.  Amazingly, Muldoon's barn training quarters was the same place that John L. Sullivan had trained in his famous fight against Kilrain.  William Muldoon had a willing pupil in Kilrain, who trained diligently for the Corbett match.
Unfortunately, for Kilrain, the Sullivan fight had taken a lot out of him as he entered the ring an old 31 years of age, against the undefeated and clever future heavyweight king Corbett, who was only 23, at the Southern Athletic Club in New Orleans,  LA, on February 18, 1890.
Kilrain put up a good fight, but was no match for the fleet-footed and swift punching Corbett and lost a 6-round decision.
Sullivan would not fight again for another three years until he was dethroned by James J. Corbett when he was KO'd in the 21st round at the Olympic Club in New Orleans, LA, on September 17, 1892.
Jake had a dozen or more bouts, the most significant of them a 44th round knockout of Boston's heavyweight contender George Godfrey at the California Athletic Center in San Francisco, CA, on March 13, 1891.
Kilrain's last fight was a 5th-round TKO loss at the hands of Steve O'Donnell at the Germania Maennerchor Hall in Baltimore, Maryland on October 20, 1899. Jake was 40 and O'Donnell was 33.
Jake retired from the ring following In his post-boxing life, he married, had children and was a proprietor of a saloon in Baltimore, MD. When his saloon burned down, he moved back to Somerville, MA and got a job with the Parks Department. When he lost that job due to government cutbacks during the Great Depression, he found work as a night watchman at a shipyard in Quincy, MA.
He and Sullivan became good friends in their later years. They engaged in four friendly exhibition bouts in April 1909 in Phoenix, AZ and toured throughout the country in a Vaudeville sparring act.
Although Kilrain was stopped in his bout with Sullivan, John L. was the first to go down for the count for Eternity when he died in 1918, Kilrain served as one of his pallbearers. Kilrain died at a private hospital in Quincy, MA, on Dec. 22, 1937 at the age of 78.
The great old pugilist Kilrain was inducted into the Bare Knuckle Boxing Hall of Fame in 2009 and the International Boxing Hall of Fame in 2012. 
James "Deaf" Burke
Story by John and Alex Rinaldi
       Born in poverty on December 8, 1809 in St. Giles, London, James Burke suffered from severe hearing loss in infancy. Orphaned as young boy, Burke spent his childhood in the workhouses.
     With no schooling, Burke earned money as a waterman,  a river worker who transferred passengers across and along the Thames River. While still a teenager, James learned to box by an old fighter, who also worked along the river.
      Burke was a strapping young lad standing a gigantic 6 feet 2 inches tall and weighing around 200 pounds. He towered over most of the men of the day.
       In 1828, Burke had his first fight against veteran Ned Murphy. In a grueling, give-and-take affair, the two bare knuckle gladiators battled for 50 rounds before the contest was declared a draw because of the darkness that enveloped the roped square.
      Burke, who was nicknamed "Deaf" and also referred to "The Deaf-un," was a fearless fighter who could fight for hours without breaking down. Before he fought for the title, Burke engaged in a three-hour win over Bill Fitzmaurice and defeated Bill Cousens in a match that lasted two hours and fifty minutes.
       The fearless Burke wanted to challenge the legendary champion Jem Ward, however, the champ refused to take on the dangerous challenger and instead chose to retire from the prize ring.
       With Ward in retirement, Burke was matched with Harry Macone in 1833.  In another marathon affair, "Deaf" knocked out Macone in the 59th round to capture the British heavyweight championship.
       In his next bout on May 30, 1833, Burke defended his title against the bigger Simon Byrne, who was the Irish Champion. It was a brutal contest all the way as Burke was dropped after Byrne took a bite from his left ear.  The bout lasted for three hours and six minutes until Byrne was unable to rise from the floor after taking an awful thrashing in the 99th round.  Tragically, Simon died three later from a severe concussion that probably caused swelling on the brain. Burke was arrested for murder, but on July 11, 1883, the champion was acquitted and freed from prison.
       Burke spent the next few years mainly giving exhibitions since very few men were willing to take him on in a prize fight. James then became the first English champion to visit the United States and defend his laurels.
       On May 6, 1837 in New Orleans, LA, Burke was matched against the new Irish Champion Sam O'Rourke. Burke severely pulverized O'Rourke over the first two rounds before a pro-O'Rourke audience. Round one ended when Burke threw his opponent to the ground with a cross-buttock hold.  Round two saw one of O'Rourke's seconds help throw Burke to the floor. In round three as Burke was pounding the Irishman to a bloody pulp, O'Rourke's fans caused a riot and brought a halt to the bout.  The blood-thirsty mob then went after Burke, who barely escaped on horseback into the nearby woods.
       Burke ventured back to England and defended his title for the first time under the new London Prize Rules against William "Bendigo" Thompson on February 12, 1839. The challenger put up a tough battle and proved to be younger, faster and stronger than the champion. A raucous crowd of 15,000 turned out at No Mans Heath in Leicestershire. In the tenth round, Burke dropped Thompson to the ground. While he was trying to make his way to his feet, "Bendigo" was headbutted by Burke, who was subsequently disqualified on a foul.
       With the victory, Thompson won the title and the purse of £220.  When he got home to a ceremony at the Queens Theatre in Liverpool, the new champon was presented with his Championship Belt. In his excitment, "Bendigo" somersaulted into the crowd and wound up breaking his kneecap, which took him away from the ring for over two years, causing him to retire in between.
       Since Thompson was out of action, Burke claimed back the championship and defended his title against Jem Ward's younger brother Nick.  "Deaf" was giving Ward a terrible beating when Ward's gang forced the referee to disqualify the champion for an alleged foul.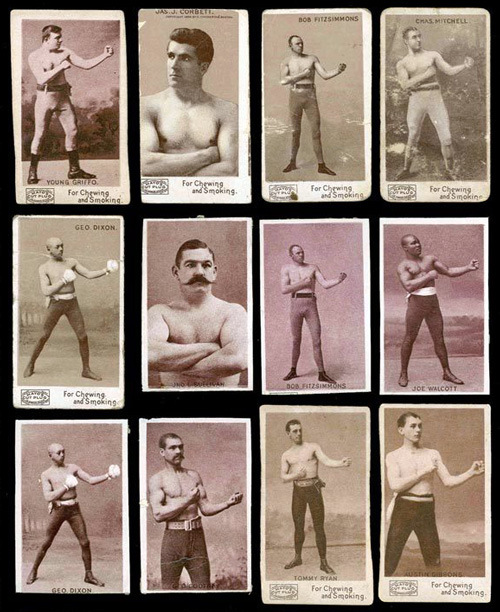 Burke never received another title shot and in his final bout, he KO'd Bob Castles in the 37th round on June 13, 1843.
       "Deaf" retired with a record of 15-2 and spent the remaining few years of his life giving boxing lessons.
     Less than two years later and penniless, Burke succumbed to tuberculosis on January 8, 1845 in his home in France Street in Waterloo, London.
       The great champion is buried at St. John's Church Yard in Waterloo.
       Burke was elected  into the International Boxing Hall of Fame in 1992.