OVERSEAS BOXING MATCHES
Rocky Fielding bludgeons Tyron Zeuge in 5 to capture WBA World Super Middleweight Championship
By Per-Ake Persson
July 14, – Offenburg, Germany.German Tyron Zeuge has always been a somewhat enigmatic fighter. The talent is there, the solid German schooling is there, but since turning pro, Zeuge has changed trainers a few times, showed up in less than top shape for a number of fights, and has had problems making weight, as well. On top of that, there is an ongoing contractual dispute with Team Sauerland and it all came to light during the fifth defense of his WBA World Super Middleweight Title against Englishman Rocky Fielding, who on paper was a suitable opponent.
Zeuge, 167 1/4 and 22-1-1 (12 KO's), took the fight to the taller, bigger challenger and barely missed with his sharp left hook. Fielding, 167 3/4 and 27-1 (15 KO's), looked a bit stiff and amateurish in his style, but kept his boxing together well.
Zeuge, 26, of Berlin, Germany, won the first and second rounds by close margins and made Fielding retreat. The tide, however, turned with Rocky taking over the fight. In the fourth, Fielding, of Warrington, Cheshire, United Kingdom, became more dominant and midway the champion was hurt by a combination, topped by a left hook to the body. Tyron, surprisingly, tried to take the fight to the Brit, perhaps to smother him, but he took a beating in the last part of the round breathing heavily when the bell rang.
Part of the problem was also the blistering heat in the Baden Arena, but it was just as hot for Fielding and he looked to get stronger and stronger as the rounds progressed. In the fifth, it was one-way traffic with Zeuge fading fast and then hurt by a left hook to the head. As Tyron retreated, he soon was stunned by a left uppercut to the chin and then came a vicious left hook to the body that sent German crumbling to the canvas.
Tyron was a spent force and trainer, and still active former world champ, Juergen Braehmer knew it and threw in the towel and it was over at 2:46 of the fifth round.
Fielding, 30, celebrated wildly and was in the ring challenged by Braehmer, who probably is good enough to beat Fielding. German website boxen1.com reported that Braehmer threw a water bottle at Friedrich Ness, CEO for Sauerland, and put the blame on the defeat on poor planning and preparation, but the way Zeuge faded it must be asked how the very basic training had gone. Germany is now without a champion in the big four for the first time since 2004, although there is some good talent around, so that problem can be fixed. A bigger problem, however, is the lack of major networks televising the fights and putting the big money back on the table.
In the chief support, light heavy Leon Bunn, 10-0, outscored always tough journeyman Serhiy Demchenko, 19-14-1, over ten. Demchenko, a quality have gloves will travelfighter, was thoroughly outboxed and lost on scores of 99-91 on all three scorecards.
British super middleweight Zach Parker, 16-0, won every round against Serbian Geard Ajetovic, 31-18-1, in their eight-rounder and appears to be ready to step up in class.
Middleweight Denis Radovan, 10-0, won a wide unanimous decision over eight against Estonian Pavel Semjonov.
The show also marked the comeback for Hall of Fame promoter Wilfried Sauerland, who is back at the wheel of the company he started in 1980. Eldest son Kalle is fully occupied with Comosa and WBSS Tournament, while Nisse Sauerland resides in London and handles the Sauerland business in the UK and Scandinavia. Mr Sauerland said afterwards that Zeuge's upset loss changed a lot of the planning made. As for Zeuge, he needs to get his act together and not enter the ring unless in top shape.
For Rocky Fielding, well, it is up and away and some good fights await probably on British soil.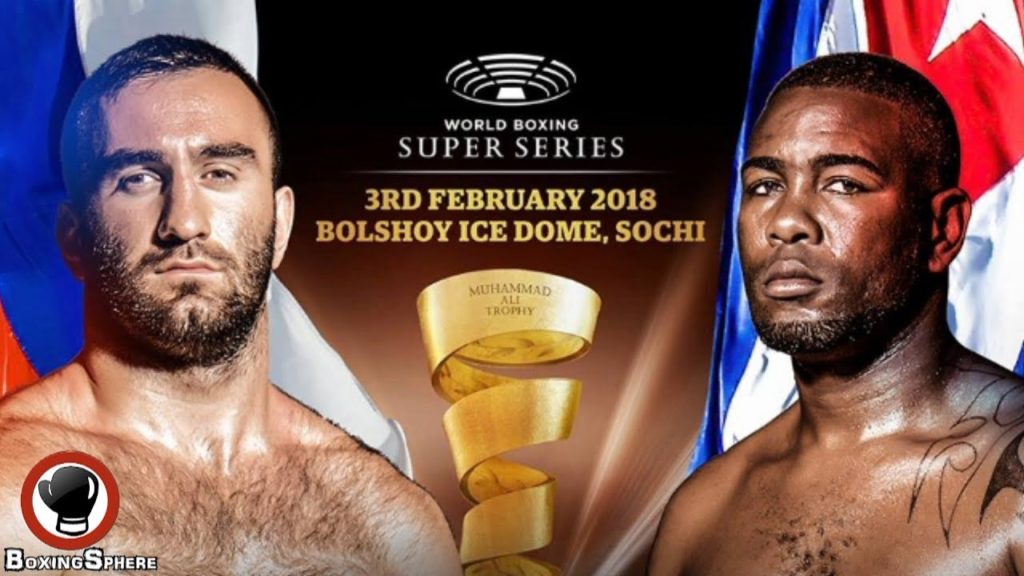 IBF cruiserweight king Murat Gassiev bludgeons Yunier Dorticos to capture vacant WBA super crusier belt and other foreign fistic thrills
By Per-Ake Persson
February 3 – Shochi, Russia.The second semifnal in the WBSS tournament at cruiserweight proved to be just as good as the first one. Murat "Iron" Gassiev, 26-0 (19 KO's), retained the IBF cruiserweight title as well, with a last round stoppage of Yunier Dorticos, 22-1 (21 KO's). As the WBA named Denis Lebedev champion in recess the WBA super title was also at stake.
Dorticos, 31, of Havana, Cuba, but now risiding in Miami, FL, took the fight to the shorter Gassiev, 24, who apparently was very relaxed and chose to fight off the ropes. Dorticos appeared to grab an early lead, but was seldom effective with his punches as Gassiev covered up very well. The Cuban appeared to lose some steam as the fight progressed while Gassiev, of Vladikovkas, Russia, but now living in Big Bear, CA, paced himself carefully – too carefully it seemed, and trainer Abel Sanchez urged him to attack more.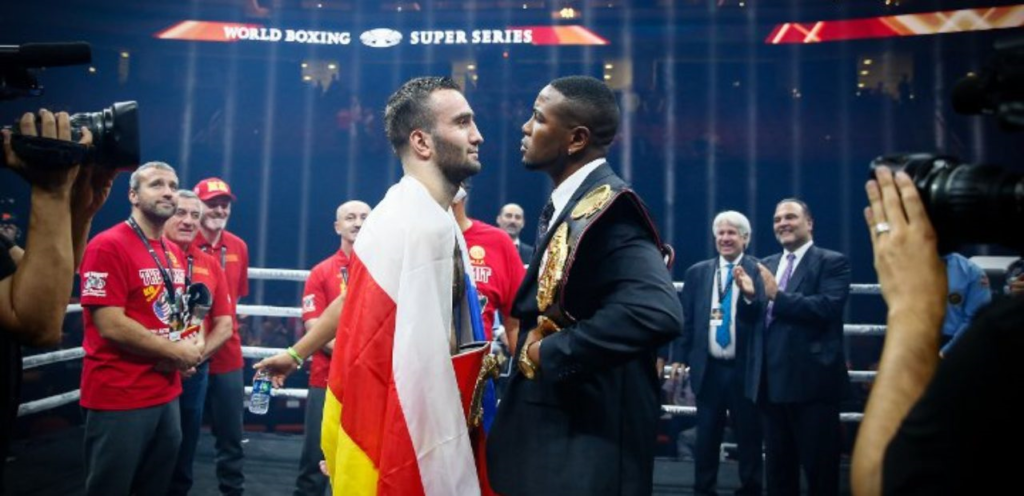 Gassiev´s harder punches began to tell late in the fight, although it was not until the eleventh that Dorticos fell apart after having his head bashed in by a walloping left hook. Yunier held on and made it to the bell, but was floored in the twelfth and final round after a left hook. He made it up to his feet and tried to fight back, however, it was obvious that he had no legs under him and was soon floored again. A third knockdown followed and it was finally stopped at 2:52.
Gassiev will now fight WBO/WBC cruiserweight king Oleksandr Usyk on May 11 in Jeddah in Saudi Arabia. Both men are exellent fighters, but not very well known to the general public, especially not in the United States.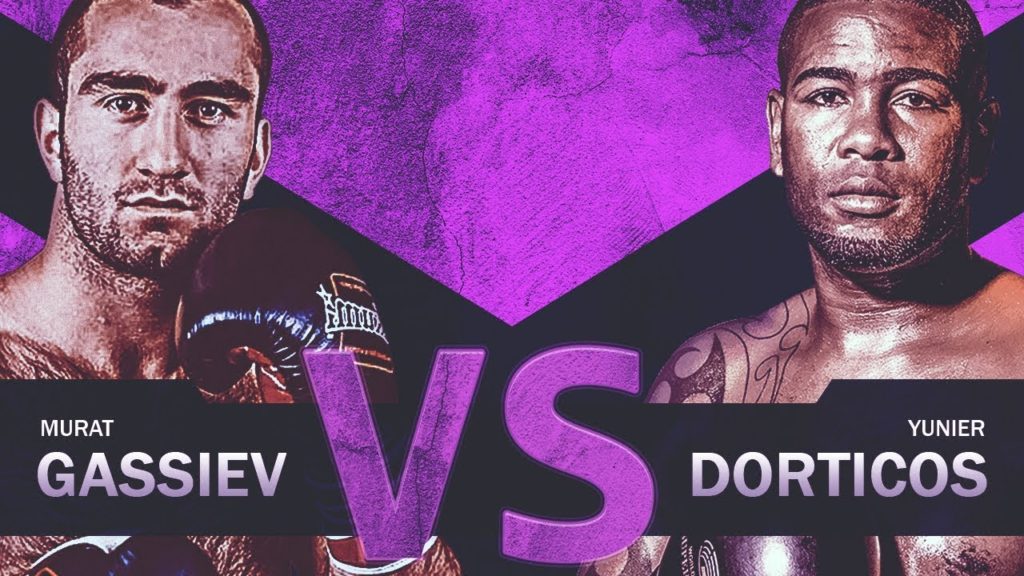 Former WBA super middle champ Fedor Chudinov, 17-2, stopped Finland's Timo Laine, who was unable to come out for the eighth, having lost the previous seven. Laine, 21-10, got the call on Sunday and come Tuesday the deal was done and Laine was on for his biggest payday and fight yet – but he was surely not in Chudinov's league and knew it. Still, Timo performed well and gave his all, but was out of his depth. The WBA Int'l title was at stake.
Japanese Hurricane Futa 25-7-1, knocked out Russian Vage Sarukhanyan, an exellent boxer with a fragile chin, in the seventh with a left hook. Futa floored Sarukhanyan in the third, but was in trouble in the seventh when he landed the finishing punch and won the WBC International title.
Two-time Olympian Mikhail Aloyan, 4-0, won a split decision over Nicaraguan Alexander Espinoza, 15-1-2, after ten. Aloyan´s lack of professional experience nearly cost him and he was stunned in the sixth with a bad swelling around his left eye, but came through and won a split decision after ten. It was scored 96-94 and 96-95 for Aloyan, who retained the WBA Int'l belt, and 96-94 for Espinoza.
Lightweight Roman Andreev, 22-0, won the vacant WBO International title with a hard fought ninth-round stoppage of Welshman Craig Evans. Evans made a good start, though he faded down the stretch and was under heavy pressure when stopped.
February 3 – Arendal, Norway.Sauerland Promotion staged its first show ever in Norway and had cruiserweight Kai Robin Havnaa, 12-0, headlining in his hometown. First Havnaa was lined up to fight Marino Goles, then Gezim Tahiri was the opponent, but when he pulled out Daniel Venci, 9-6, came in with a few days notice. Venci was stopped in two in what was a poor matchup. Havnaa, 9-0, is a strong, hard punching fighter, but technically limited. He is the son of former WBO champ Magne Havanaa and resembles his father both in style and look.
In the chief support light heavy Tim-Robin Lihaug, 17-4, got his career back on track with an eight-round unanimous decision over Vasyl Kondor, 18-19-1, from Ukraine. Lihaug had lost three of his last four and needed a win badly. As for the rest of the card, well, the less said the better.
February 3, Halle / Saale, Germany.SES staged its first show of the year at the Erdgas Arena with heavyweight Tom Schwarz, 20-0, on top defending the WBO I/C title against fellow German Samir Nebo. Schwarz won on a fourth-round TKO, adding the German title to his collection.
In the chief support former world title challenger Robin Krasniqi, 45-6, returned and outscored tough Polish journeyman Bartlomiej Grafka over eight exciting rounds.
February 2 – Florence, Italy.Italian cruiser Fabio Turchi, 14-0, had no problems stopping Argentinian Dario German Balmaceda, 15-17-2, 2:59 into the first in the headliner of this Boxe Loreni promotion. Balcameda was rescued by his corner late in the first in a disappointing performance. Turchi's WBC International Silver title was at stake and this matchup proved again that the WBC has problems in its policy to prevent mismatches.
Turchi is promoted by Evander Holyfield´s Real Deal Promotions in the United States. In the co-feature Vigan Mustafa, 19-3, won the national light heavy title with a second-round stoppage of Nicola Pietro Ciriani, 16-1-1.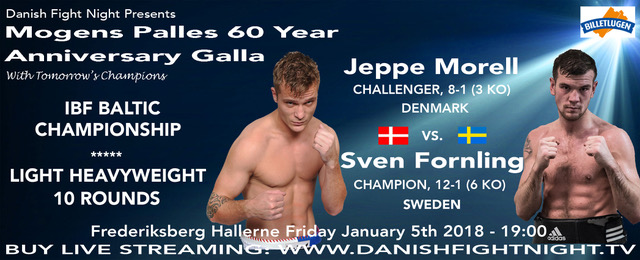 Lolenga Mock and Sven Fornling notch wins on thrilling Copenhagen fight show
January 5 – Copenhagen, Denmark.  This show – postponed from November 25 – marked Hall of Fame promoter Mogens Palle's 60th anniversary since his promotion (in collaboration with his father and former EBU champ Jorgen Johansen) in November 1957 at the KB Hall in Copenhagen. The promotion took place at the Frederiksberghall, not far from the classic KB Hall where many of the biggest Palle shows took place in the 1960s, 1970s, 1980s, 1990s and into the new century. Unfortunately, the KB was destroyed in a fire in 2011, so here we were on this chilly Friday evening with Palle now in collaboration with retired heavyweight Brian Nielsen promoting the 12th edition of their Danish Fight Night. The former EBU, EU and WBO/INT super middleweight champion Lolenga Mock, 45, has topped eleven of them and is 11-0 since coming back late 2015.
On this occasion Lolenga took on former interim WBA middleweight king Dmitri "Night Wolf" Chudinov, 167 ½ and 20-2-2 (13 KO's), in a non-title ten-rounder. Mock, as always, was super fit at 165 ½, and Chudinov was off to a slow start in what became a tactical fight. Chudinov was the busier in the early rounds and grabbed an early lead.
From the third round onwards, however, Mock, the taller, bigger man, kept his distance and used his reach better. The rounds were even and difficult to score, but Mock, of Kinsasha, Democratic Republic Of The Congo, but now residing in Aarhus, Denmark, edged ahead with his jab as the main weapon. Neither man was able to catch the other with power punches, although Chudinov had received a swelling by the right eye. After eight frames, this reporter had the two boxers even, but "The Dane" upped the pace and won the ninth.
In the final rounds Chudinov, of Serpukhov, Russia, lost his mouthpiece twice and that made it four times altogether and referee Jan Christensen promptly deducted a point. Mock then landed with a solid one-two and won the round.
The scorecards read a too wide 99-90 and 96-93 twice. Going into the fight, Chudinov was ranked #8 by the WBA and #15 by the WBC, so this was an important win for Mock (42-14-1, 13 KO's) and one that might land him a world title opportunity, or a shot at the EBU title.
The co-feature saw IBF Baltic light heavyweight champ Sven Fornling, 175, 13-1 (7 KO's), from nearby Malmo, Sweden, retain his laurels on a controversial TKO win over Danish challenger Jeppe Morell, 175, 8-2 (3 KO's). It was also billed as a Battle For The Nordic Crown. Morell, a southpaw, started fast and put pressure on the Swede, but Fornling came back well and closed the session strongly and appeared to shake the challenger with his right.
The second was more of the same with Fornling retreating and looking to counter, while Morell, of Aarhus, Denmark, put on the pressure and both had their moments. The fight was decided at the end of the second where heads clashed and Morell was badly cut by the right eye. Belgian referee Jean Pierre van Imschoot appeared to make no ruling and the doctor was not called in to make an inspection.
Morell came out for the third and was clearly in distress and midway through the round he pointed out to the referee that he was having problems with his eyesight, but was ordered to fight on and so he did and did well with an all-out attack. When Morell returned to his corner he made it clear he was unable to go on and his retirement was accepted – still with no doctor involved! Thus it ended with a TKO win in the fourth (not out) for Fornling. Had Morell's corner or the referee, called for the ringside physician it would probably had been stopped and declared a technical draw or No Contest. An official protest may come. Fornling was ahead 29-28 on two cards and down 30-27 on the third.
Derrick Rossing, 199, 8-0, won the vacant WBC Youth title with a ten-round unanimous decision over Georgian Soso Abuladze, 194, 13-9-1. It was scored 99-91, 98-92 and 100-90 after ten rounds with Rossing, the bigger man, boxing on the outside and his stocky, hard punching opponent, trying to cut the ring off. Every round followed the same pattern and it was not overly exciting to put it in a diplomatic tone.
In The Battle of Denmark, IBF Youth champ Jonas "Tiger" Madsen, 172 1/2, 12-0, vs Andreas Lynggaard, 173 3/4, 5-1, was the fight of the night and one of the best brawls seen in a long time. Both are relatively inexperienced and made some grave mistakes, but gamely battled it out from the first bell to the last with several hard exchanges and the crowd was on their feet at the end.
Madsen was fast out of the gate and had Lynggaard, back after a long layoff due to injuries, under pressure. Early in the third, Madsen became too eager and walked into a heavy right and was visibly stunned, although he managed to smartly hold on. From that point on, the fight went back and forth and the two kept an enormous pace battling it out punch for punch. Lynggaard had the power, but threw his punches one by one, while Madsen had the busier work rate.
Lynggaard was hurt in the ninth from a left hook and looked tired and worn down at the end of the round, but gallantly was back in it in the tenth for a strong finish where it looked as if he had Madsen hurt in final ten seconds. As it was, it was a split decision with Madsen ahead 96-94 and 97-93 on two cards and 96-94 for Lynggaard on one. A rematch must be in the cards, but maybe later when both have more experience. I had them even at 95-95.
 In the fourth title fight and the fifth ten rounder on the bill, Enock Poulsen, 140, 7-0, won the vacant IBF Youth title with a ten-round unanimous decision over Mexican Guadelupe Acosta, 138 1/2, 13-3. It was scored 100-89 and 99-91 twice. Acosta, a brave warrior, had a point deducted in the eighth after losing his mouthpiece one time too many. Poulsen, a solid prospect, dominated the fight with his superior skills, but Acosta never stopped trying and had his moments when the Dane slowed down a bit in the later rounds.
Heavyweight Pierre Madsen, 248 3/4, and 12-0, worked over overweight Georgian southpaw Davit Gogishvili, 245 3/4, 20-9, to the body for a TKO win 42 seconds into the fourth of a scheduled six-rounder. Gogishvili, a decent fighter who was just not in shape, was down in the second, twice in the third and twice in the fourth before it was stopped.
In the first bout of the evening, 18-year old prospect Oliver Meng, 140, 2-0, got a good learning fight from Giorgi Biladze, 144, 5-4, over four. Biladze, from the Georgian Republic, had a wild style and kept switching his stance and caught the Dane with some good shots, but was outboxed in between. Binadze was down in the second, though it appeared to be more of a slip than a knockdown. It was scored 40-35 on all cards.
Boxing Explodes in Orebro, Sweden
Story by Per-Ake Persson
Nov 25 – Orebro, Sweden. Fight Life IV went ahead in front of a packed estimated 900 spectators – at Tegelhuset in Orebro, Sweden. Heavyweight Pezhman Seifkhani, 7-0, headlined and was back from  a serious arm injury. Pezhman is ready for six- and -eight rounders, but the difficult Swedish law that regulates martial arts and professional boxing makes it diffult to stage fights over that distance as it requires an application made 60 days before a fight – with opponent named. Should this particular opponent pull out it all has to be done again. So for this time and again Seifkhani was restricted to a four rounder. In the other corner was Italian Paolo Iannucci, 3-1, who proved to be a durable spoiler and took everything his opponent could dish out, smothered him and lasted the distance with no problems although he lost every round.
Croatian lightheavy Marco Colic, 5-0, came to Sweden to spar, but was signed up by Fight Life Promotion and made his Swedish debut against Ukrainan southpaw Yevheniy Chumachenko. Colic, a noted amateur star, was taller, had the reach, but looked a bit tense and nervous in the early going and was badly cut after a clash of heads, however, he then found the range in a fast paced contest and floored Chumachenko with a right in the third. Chumachenko was unsteadyfor the reminder of the round, although he lost the fourth as well.
It was scored 40-35 on all cards.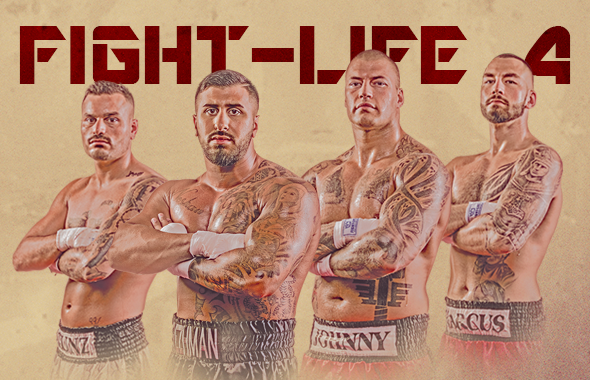 Italian cruiser and switchhitter Gabriele Guainella, 4-0 outscored willing but limited Swede Marcus Alberts, 5-2, onmajority decision. Guainella had a tricky style and threw a dangerous right hook from a southpaw stance and Alberts was hurt in the fourth and close to being stopped.
The bout was scored 39-38, 39-37 and 38-38.
Dutchman Djoby Diagne, 3-3, lost a close call to UK-based Afghan Isralluah Yaqobazi, 3-0, in a heated fight where "The Afghan Lion" was badly cut in the third, but kept coming. Diagne appeared to land with the cleaner, harder punches, although the win went to Yaqobazi on scores of 39-37, 39-38 and 38. Diagne looked like he deserved at least a draw.
Big heavyweight Johnny Iwersen, 3-0, is musclebound and stiff, but had too much strength and power for the gam, though eventually outclassed Bulgarian Georgi Prodanov, 1-1.    
Prodanov was floored in the first, second and twice in the third before he was ruled ten and out after the fourth knockdown.
Super welterweight Johannes Vinasco, 5-0, had no problem with Bulgarian Anatoli Lyubenov, 1-3, who looked rather soft and tired quickly. Vinasco broke through in the second and floored his opponent twice before it was stopped.
Promoter Kamran Kabinejad and his team have done a good in building their boxers and the next steps awaits and that is six- and eight-rounders for some of their guys – a difficult move due to the legislation and also because of the financial limitations a promoter without a TV deal is faced with.
WBO crusierweight king Oleksandr Usyk sinks Marco "Kapt'n Huck to retain title for third time
Story by Per-Ake Persson
September 9 – Berlin, Germany – The much publicized World Boxing Super Series, WBSS, got underway at the Max Schmeling Halle on a Sauerland Event promoted show with WBO cruiserweight champion Oleksandr Usyk, 199 1/2, 13-0 (11 KO's), defending his title against former WBO cruiser king Marco Huck, 198 3/4, 40-5-1 (27 KO's).
The WBSS will end in May and will feature a $50 million prize fund.
Oleksandr was an outstanding amateur and still fights like an amateur, moving a lot and quite upright, but he can also fight for real and did a number on Huck by outboxing him in every round and handing out a brutal, one-sided beating. Huck is basically a primitive brawler who has relied on long bursts of punches from all angles with a lot of rough-house tactics along the way. However, now self promoted and out of Sauerland's protective umbrella, Marco seemed unable to get in his game and referee Robert Byrd kept warning him about low blows, and when Huck sent Usyk to the floor after a slip in the eighth he had a point deducted.
Usyk, 30, moved well using his reach, southpaw stance and timing and placed one shot after another as Huck tried to stalk him. The champion was just too slick for his adversary and had too many moves for Huck to handle.
The contest became increasingly one-sided as Oleksandr picked his shots well landing almost at will to the head and body. What was surprising was that Usyk also was superior in physical strength and Huck simply got nowhere as he kept trying to land body blows that kept straying low, although Marco did land with a good right to head, but that was about it.
Huck was in trouble at the end of the third as Usyk opened up for the first time. If there is one thing missing from Oleksandr's arsenal it is true punching power and it showed again here as Huck remained on his feet staggered, but not hurt.
The beating got increasingly one-sided and 2:18 into the tenth the referee had seen enough and stopped it and it was a well timed stoppage. Huck lost every round and was without chance of winning at the time. This might be it for both Kapt'n Huck and his Huck Box Promotion crew to abandon ship.
Usyk thus advanced to the WBSS semifinal and will take on the winner of Mairis Briedis-Mike Perez that goes ahead on September 30 in Riga, Latvia. With only 13 fights under his belt Oleksandr is likely to improve along the way.
WBSS is owned by Comosa AG, and this company has Sauerland Promotion AG among its shareholders. Comosa has sold the promotional rights to Sauerland Event. As for TV, well, in Scandinavia, MTG, also a shareholder in Comosa, they have not surprisingly bought the rights for the this tournament. However, there is still no U.S. TV on-board and it remains to be seen how this concept will work out financially.
On the undercard to Usyk-Huck cruiserweight, Noel Gevor, 22-1, won a unanimous decision over American Isiah Thomas, 15-2, after ten drab rounds. It was scored 100-89 on all cards. Thomas slipped in the third and somehow it was ruled a knockdown.
Middleweight Patrick Wojcicki, 10-0, had a tough time against tricky Frenchman Fouad El Messoudi, 14-10, but won a unanimous decision after eight.
Fernstrom Pro Box Promotion thrills fans in Stockholm, Sweden with its "Rising Stars III" fight card
 Story by Per-Ake Persson
September 9 – Stockholm, Sweden, Fernstrom Pro Box Promotion opened the Scandinavian boxing season with an excellent small hall event billed as Rising Stars III held at the EnArena late afternoon in front of a packed house (around 550 spectators). There were eight fights on the bill all scheduled for four rounds.
Light heavyweight Robin Safar, now 3-0, headlined and did not disappoint against Djordje Markovic, 2-4-1. The Serbian had a wild, dangerous right and caught Safar hard in the third, but the Swede took it well and outworked his tiring opponent for a clear win on scores of 40-36 on all cards.
Super lightweight and reigning Swedish amateur champion Laziz Sharifov made his pro debut and impressed in outscoring Markovic's compatriot Petar Peric, 5-5. Sharifov is a natural switch-hitter and went effortlessly from orthodox to southpaw and back, mixing his attack well. Petar possesses a good left hook, although Sharifov blocked it and hurt his opponent with body shots and showed decent power in both hands. All in all a very good debut.
 Super welter Johannes Vinasco was in trouble in the third against Ukrainan Ruslan Mokrotskyi, a misleading 1-4, but upped the pace and won the fight on scores of 39-37 on all cards. It was a fast-paced, good fight. Vinasco improved to 4-0.
 The middleweight fight between Ahmed Rossi, 3-0, and Goran Sucevic, 2-1-1, was over after only 1:04 of the first. Sucevic was caught by a big right and was hurt and turned his back to the action and the referee waved it off instead of giving a standing eight-count.
 Hard punching Simon Engstrom, 2-0, knocked out Estonian Pjotr Russkikh, 0-1-1, 1:25 into the fourth and final round. Russkihh was brave, but was overwhelmed by Engstrom´s power and strength and was down in both the second and third rounds.
Cruiserweight Marcus Alberts, 5-1, gave his all against Predrag Jevtic, 1-2, but appeared to lack the necessary timing. Jevtic was in there to survive and did so with ease. It was scored 40-36 twice and 39-37.
Super welter and big ticket seller Yaffet Amaniel, 3-0, brought the house down with a controversial win over Pole Filip Rzadek, 2-7. Amaniel kept a fast pace, but was largely ineffective while Rzadek picked his shots better and looked like the winner – but came up short as two judges had it a strange 40-36 for the Swede, while the third had it a more realistic 38-38.
One punch was all it took for super middleweight Rocco Wadell, 3-0, to knock out Konrad Jaworski, 1-2, who went down and out 23 seconds into the first in the show opener. Wadell landed a weak looking left to the body that sent Jaworski to the canvas.  That was it and no, while Konrad did act out big time in trying unsuccessfully to beat the count. Konrad was either hurt, or he could be possibly nominated for an Oscar.
 Next Rising Stars show is scheduled for December 16 with a countryside edition set for October 28 in Katrineholm.
To check out Upcoming European and Overseas Matches click on the logo below

Jonkoping, Sweden hosts first professional boxing show in 50 years
Story by Per-Ake Persson
June 10, Jonkoping, Sweden. The first professional boxing event in 50 years in this town in the Swedish bible belt went ahead with local man, super middleweight Sandor Lauritsen, 3-0, headlining in a four- rounder at a packed Harry's Nightclub against Serbian Mladen Obradovic, 0-2-1. Lauritsen won every round on all cards but could not hurt his durable opponent and had to settle for a win on points.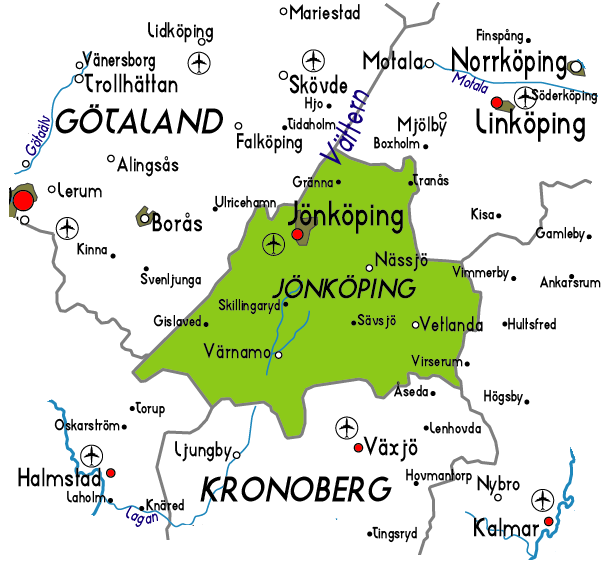 In the co-feature, scheduled for six, super welter Daniel Hartvig's unbeaten record, now 10-1-1, came to an end against tall, slick Frenchman Bernard Follea, a misleading 7-5-1. Hartvig, known for his toughness, is pretty much a straight forward one-paced, one-dimensional brawler and he was outpunched from the start. Follea moved and boxed well, and handed out a one-sided beating. Hartvig was hurt in the third, floored in the fourth, battered in the fifth, as he bravely kept coming.
 In the sixth Hartvig finally went down again and as he rose at eight referee Mikael Hook correctly counted ten and out.
Talented welterweight Mohammed Saleh, 7-0, took apart Georgian Nika Nalikashvili, 3-3-1, and knocked him out in the third. Nalikashvili tried to make a war of it, but Saleh was sharp in his counters and the Georgian was down twice in the second and again in the third.
Light heavyweight Robin Safar, 2-0, stopped Serbian Vukasin Obradovic, 2-5, in third round. Safar hurt his opponent with drilling body shots and Obradovic was down twice in the second. As he took a knee in the third Vukasin's cornerman waved with the towel and it was stopped.
In 1967 Bosse Pettersson, then closing in on the European title, beat Fabio Bettini, a very good fighter, in a ten rounder at a much bigger venue. The comeback show was at a much smaller level, but good enough and more shows are planned.
Fists and fury in hamburg fight show
Story by Per-Ake Persson
May 19 – Hamburg, Germany – EC Boxing and real estate tycoon and professional boxer Mario Daser joined forces for a show named "Big Deal" at the Barclaycard Arena for a night of dinner (there were 60 tables set up at the inner floor), entertainment and professional boxing. Daser, 13-0 and fighting at cruiserweight, took on comebacking Ola Afolabi, 22-6-4, in the headliner.
Well, as for his comeback, Afolabi retired after again losing to Marco Huck last year and was clearly not in it for this return back to the ring. He came in overweight, but was given three hours to lose the weight and finally made 200 lbs while Dase came in at 197.95.
As the fight began, Daser dominated, although he was very careful and took some time before opening up. But once he did it was just a matter of time and Afolabi's corner threw in the towel at 2:00 of the third with many in the crowd booing.  It certainly was a disappointing performance by the once world class fighter. Daser won the IBO International and WBO European titles. He is a former juvenile delinquent who turned straight and made it big time in the booming Hamburg real estate business, while boxing professionally on the side.
Light heavyweight Igor Mikhalkin, 20-1, won the vacant IBO title with a unanimous decision over once touted South African Thomas Oosthuizen, 26-1-2. Mikhalkin, a slick southpaw, came back earlier this year after a being paroled from a doping sentence and is a craftsman personified. He seldom wastes a move and is rarely exciting, but he always gets about his work and gets it done.
Oosthuizen has a long and troubled career behind him and this fight may have been the end at top level for this once top class prospect. At the end the judges had it 118-109 on all cards for the new champion, the first world champion EC has had. Mikhalkin previously held the EBU title.
Heavyweight Christian Hammer, 22-4, hammered out a ten-round unanimous decision over French veteran Zinedine Benmakhalouf. It was scored 96-93 twice and 96-94. Hammer retained the WBO Euro title and did just enough to win, although he was far from the all out fighting machine that stopped David Price, or the brave, tactical performer who outscored noted puncher Erkan Teper. A world title fight is in sight for Hammer within the next year.
Super welterweight Sebastian Formella, 15-0, won the vacant IBO Intercontinental title on scores of 98-92 and 97-92 twice over Russian Denis Krieger, 13-5-2. Formella hails from Hamburg, works in the port and sells lots of tickets. He has quick hands and is well schooled, but may lack the strength necessary to take him to the top.
Turkish super lightweight Fatih Keles, 9-0 and a former amateur star, won the vacant WBO European title with a close, hard fought victory over Dutchman Rafik Harutjunjan, 10-2. Harutjunjan was down in the eighth. It was scored 95-94, 96-95 and 97-92 – a scoring that indicates that without the knockdown there would have been a draw.
Swedish-based Serbian Aleksandar Todorovic, 11-14-1, signed earlier in the week a contract for a fight against Edmund Gerber, but at the weigh-in talented cruiser Huseyn Cinkara, 7-0, showed up and became the opponent. To everyone's surprise, Todorovic was stopped in the fourth after [1]suffering a broken nose. 
In a huge mismatch, heavyweight prospect Ali Eren Demirezen, 5-0, stopped Serbian Milos Doveden, 2:30, in the first. Doveden is everything one would expect a four-round Euro level trialhorse to be, while Demirezen is a former Olympian in need of better opponents in order to improve.
 Undefeated Swedish heavyweight Pezhman Seifkhani tops exciting Orebro fight card
Story by Per-Ake Persson
February 25 – Orebro, Sweden – Heavyweight Pezhman Seifkhani, 26, 5-0 (3 KO's), headlined the third edition of Fight Life at Tegelbruket in Orebro (Sweden). His opponent was Croatian Ante Verunica, 26, 3-3-1 (1 KO), and Seifkhani won a unanimous decision after six exciting rounds of boxing.
The local hero suffered what appeared to be a torn biceps muscle in his left arm in the second round and was on the verge to retire, but kept fighting and actually did better with one hand than he had done with two. As Verunica tried to put pressure on the Swede he walked into heavy right hand counters and was even floored in the third.
Pezhman could not follow up, though, and Verunica was unable to get untracked until the fifth, where he finally opened up with both fists to his foe's head and body. Seifkhani, however, held up well under the pressure and won on scores of 58-55, 59-54 and a too wide 60-53.
In the co-feature, cruiserweight Marcus Alberts, 4-1, lost a split decision to Latvian journeyman Reinis Porozovs, 11-12-1, after a messy six-rounder with lots of clinching, wrestling on the inside and more misses than hits. It was a poor fight where Alberts never found the range. Porozovs tired badly, but knew a bit more about the art of boxing and stunned his adversary a few times with big swings. Alberts suffered a bad cut over the left eye as well.
After six it was scored 58-56 and 58-57 for Porozovs and 58-56 for Alberts.
Talented welterweight Mohammed Saleh, 5-0, outscored Irishman Michael Kelly, 8-10-1, after four and controlled the action throughout, but Kelly knew how to survive and did so with ease. It was scored 40-36 on all cards. Saleh has the moves, but lacks the punch.
Super middleweight Sander Lauritsen turned pro and got the crowd going as he stopped brave, but outclassed Georgian Dimitri Kutibashvili after 1:42 of the first after non-stop action where Dimitri kept coming with the better schooled Swede picking him off. Kutibashvili suffered a badly cut and swollen right eye and after an inspection the ringside physician called it off.
Copenhagen fight card thrills fans
 Story by Per-Ake Persson
 February 11 – Copenhagen, Denmark. Danish Fight Night VIII went ahead at the Frederiksberg Hall in the center of Copenhagen with a seven-fight card off TV (although it could be seen on internet for a small fee) show. Super middleweight Derrick "Superman" Findley, of Gary, Indiana from the U.S., returned to Denmark and showed what experience means in professional boxing as he won a close, but deserved unanimous decision after ten good rounds of boxing over the previously undefeated Daniel Heinze, 170 3/4 and 6-1 (2 KO's).
Findley, 169 ¼, came out fast and grabbed the initiative from the first bell and floored Heinze with a left hook late in the first. It was more of a flash knockdown than anything else, however, it was still a 10-8 round for the American.
Findley (26-21-1, 17 KO's) was on top in the second round as well, although Heinze, of Soroe, Denmark, began to work his way into the fight in the third and fought on even terms for a few rounds, but one could still feel that the Dane was struggling to get to his adversary, who would be a difficult opponent for anyone.
In the last round both men went all out, but by now Heinze's better conditioning told and he won the frame, but it was too little too late. It was scored 96-93, 96-93 and 95-94 for Findley, who knows every trick in the book.
In another youth vs. veteran matchup, the result was reversed as the youth, Jeppe Morell, 176 1/2, 7-0 (3 KO's), outscored the veteran, Bernard Donfack, 174 1/2, 23-15-3 (11 KO's), over eight.
Morell, 27, a southpaw, had an advantage in height, weight and maybe even speed against the German-based self-proclaimed "Tiger from Cameroon". Donfack, 36, was floored in the fourth after a series of left hands and was made to miss with his normally dangerous counters. Morell, of Aarhus, Denmark, boxed well for a win on scores of 79-72, 78-73 and 80-71.
Jonas "Tiger" Madsen, 172 3/4, 8-0, knocked out Croatian Ivan Jukic, 175 3/4, 29-10, with a right to the body 2:08 into the third. Madsen picked his shots well as Jukic, a southpaw, effectively covered up and blocked many of his foe's blows, but the Dane's body shots eventually got to him. Madsen was 5-3 in the amateurs before turning to soccer, but it was now back to boxing and he looks good.
Sherman Williams trained heavyweight Pierre Madsen, 247 1/4, 6-0, stopped late sub Jasmin Hasic, 279, 5-3, from Bosnia. Hasic was floored twice in the second and as he got up from the second knockdown the towel came in at 1:40. It was scheduled for six. Jasmin came to Denmark during the day of the fight and was quite overweight.
Media star Sarah Mahfoud made her debut and stopped a very inept opponent in Petra Podraska, 0-4, in a gross mismatch.
Cruiserweight Derrick Rossing, 3-0, threw everything he had at Slovakian Milan Checvale, 1-1, for a clear win after four, however, he just could not hurt his opponent. Checvale had a point deducted in the second and third for losing his mouthpiece repeatedly. It was scored 40-33 twice and 40-35.
In the first fight of the evening, welterweight Enock Poulsen, 3-0, stopped Spaniard Francisco Suarez, 2-4-1, who remained on his stool and did not come out for the fourth and final round. Suarez was down in the second, cut in third and was in more and more trouble, so it was a sensible retirement by his corner.
 Super middle contender Patrick Nielsen returns to the ring to outpoint Beibi Berrocal over ten rounds.
Story by Per-Ake Persson
January 21 – Struer, Denmark. Sauerland Promotion opened 2017 and the Nordic Fight Night program with a show at the Arena in Struer. The event was sold out as local heroine Dina Thorslund (8-0, 5 KO's) headlined and outclassed Xenia Jorneac (7-2, 2 KO's) to win the vacant WBC female Youth title at super bantamweight. The 1,500 spectators cheered Thorslund's every move as she won every round in this ten-rounder that again underlined how short female boxing is on talent. Both women are 23 years-old.

In the headliner for TV viewers, super middleweight contender Patrick Nielsen, 29-1, returned after over a year out and won a unanimous decision after ten against Colombian Beibi Berrocal, 17-4. Nielsen, who is ranked #4 by the WBA, made a good start and floored Berrocal in the second, but tired after that and the fight developed into a boring maul.
Just eleven days before the fight it was announced that Nielsen had parted ways with trainer Joey Gamache and would now be trained by his former amateur coach. Nielsen had reportedly also lost a lot of weight in a short span of time, although he still came in over the super middle limit. Word is a move up to 175 is near and a showdown against stablemate Erik Skoglund could be a good Scandinavian fight.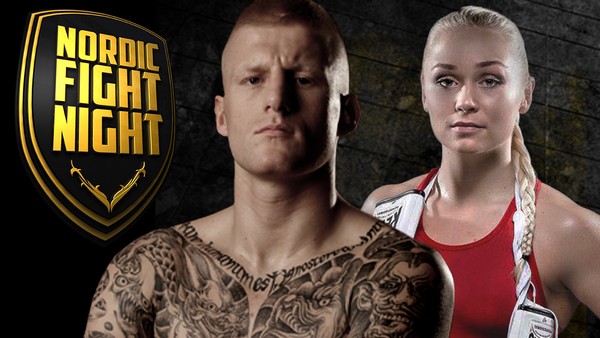 Talented German super middleweight Stefan Haertel moved to 13-0 and scored his first win inside the distance when Pole Tomasz Gargula, 18-5-1, was stopped on his feet in the last of a scheduled eight-rounder. Gargula was not hurt, but had taken a steady beating by the neat boxing and light punching Haertel.
Middleweight Abdul Khattab, 15-2, has long been hailed as one of the best Danish prospects and has had Mikkkel Kessler as mentor. However, come fight time it has been obvious that Khattab just could not put it together. On this show he took on Arman Torosyan, a dangerous puncher, but a limited boxer, and things went badly wrong with Torosyan winning on a sixth-round knockout.
Khattab was down in the first but came back and outboxed Torosyan at times, but could not handle the power and strength of his opponent. He was hurt in the fourth, but fought well to edge the fifth. In the sixth round, however, Torosyan´s left hook took out Abdul, who now might be at the end of his career. Torosyan fell to 18-3-1.
Super welterweight prospect Mikkel Nielsen, 2-0, won every round against German Leri Tedeev, 4-2 and super middle Leon Bunn, one of Sauerland's new German signings, scored his second win with a first-round stoppage of Przemyslaw Bininenda from Poland.
Robert "The Nordic Nightmare" Helenius bombs out Omar Gonzalo Basile in opening frame in Helsinki, Finland knockout fight show
 Story by Per-Ake Persson
December 17 -Helsinki, Finland. Dominus Boxing Group headed by Harry Savolainen with Pekka Maeki as matchmaker and boxing brain, invested heavily in what easily was the most expensive show in the Nordic countries during 2016 and entertained a good crowd at the Hartwall Arena.
 The biggest name on the bill, both financially and physically, was the hometown favorite Robert "The Nordic Nightmare" Helenius, now 24-1 (15 KO's). Unfortunately, Helenius had nothing in front of him in Argentinian Omar Gonzalo Basile, a hard to believe 68-12 (31 KO's) and riding a 5-bout winning streak.
Basile, 42, of Buenos Aires, Argentina, was tattooed from top to toe, and was a sitting duck as Helenius, 32, opened up with both fists pumping. Omar was hurt right away and although he never really down, he was out of it from the beginning to the end and it was stopped 48 seconds into the first of this non-title 12-rounder.
It was a joke of a fight that earned Helenius well over $100,000. Next up for Robert is a fight in March perhaps with Sauerland as promoter after the two closed their contractual dispute with an agreement for two fights – but only if the "Nordic Nightmare" is happy with all the details. Swedish heavyweight Adrian Granat was at ringside to challenge Helenius. Granat holds the IBF International title and will defend it March 18 in Malmoe, Sweden, possibly against Romanian Bogdan Dinu. 
In the nominal main event EBU lightweight champion Edi Tatli, 29-1 (10 KO's), retained the title with a ninth-round stoppage of Italian challenger Manuel Lancia, 14-2-1 (3 KO's). Lancia, 29, of Marcellina, Italy, soaked up a bad beating from the classy, neat boxing Tatli. The referee ended matters 1:57 into the ninth with Lancia badly swollen around the eye and hopelessly behind on points. Tatli, 29, of Helsinki, Finland, is world class in every department, except punching power, and it showed again here as he just could not finish off his outclassed opponent.
 The third headliner ended with an outstanding come from behind victory for defending EU super middleweight champ Mariano Hilario, of Puerto Plata, DM, but now residing in Las Palmas Spain, 16-5 (7 KO's), who took out the previously unbeaten hometown fighter Niklas Rasanen, 13-1 (8 KO's), with a right hook 1:14 into the eleventh. The fight was began with a quiet start, but took off by the fifth with the southpaw challenger getting on top. In the ninth Hilario, 29, went down after a right to the head. Rasanen, 30, had the fight won and was well ahead on points going into the eleventh when Hilario, normally not a puncher, landed with the finisher. The gallant Rasanen got up, but was on shaky legs and it was called off.
Rasanen's girlfriend, WBC female super featherweight queen Eva Wahlstrom  (19-0-1, 3 KO's) retained her title with ten-round unanimous decision over Argentinian challenger Anihi Esther Sanchez (14-1, 6 KO's). Sanchez, 25, was ahead after five, but Wahlstrom, 36, came back strong to win the fight.
The undercard were all scheduled for four and Cuban-Finnish light  heavyweight Dayron Lester, 7-0, stopped Serbian Ivan Jakovljevic, 1-2-1, 1:22 into the first of a mismatch. Lester has tons of experience from the amateurs and is ready to move up.
Unbeaten light heavy contender Erik Skoglund pummels Timy Shala in 11
Story by Per-Ake Persson
December 9 – Nykoping, Sweden. Hometown Swedish light heavyweight Erik Skoglund, 26-0 (12 KO's), stopped Austrian Timy Shala, 21-2-1 (8 KO's), in the eleventh round to win the vacant WBA International title in a fight that topped Sauerland Promotion's show at the Roslunda Hall.
The fight looked headed for full distance when Skoglund suddenly opened up and floored Shala with a combination that ended with a sharp right. Shala struggled to his feet, but was hurt and a cut between the eyes worsened. Skoglund, a careful, tactical performer, sensed his opponent was finished and went for broke and second knockdown followed. The Austrian tried to hold on, however, he was a spent force and his knees dipped down again and it was stopped at 2:51 of the eleventh round. Skoglund, bleeding from three cuts after numerous head clashes, ahead after ten rounds on scores of 99-91, 97-93 and 98-93.
This show was first planned for September 28, but as Sauerland was too late with applying for longer distance with the Martial Arts Delegation, their application was turned down. The Martial Arts Law allows for 12 minute fights and for longer fights you need special permission and the law (!) demands the application to be sent in 60 days before fight date. This requirement "killed"off heavyweight Otto Wallin and his fight over ten rounds where first Newfel Ouatah, then Eugene Hill and then Nagy Aguilera were opponents.
As for Skoglund, he has been ranked #3 with the IBF for a long time now, #5 by the WBO and #9 by the WBC, but promoter Nisse Sauerland has always avoided eliminators and will do so again and Erik will not fight Artur Beterbiev. Instead, it appears that the Swede will go for the EBU title held by former WBO super middleweight king Robert Stieglitz. Skoglund is finally mandatory challenger after more or less (or being sidestepped depending on who you listen to) avoiding that also for some time. Another possibility is fighting the winner of the rematch between WBA regular champ Nathan Cleverly and ex-champ Juergen Braehmer.
In the first Swedish light heavyweight title fight since 1932, Sven Fornling, 28, of Malmo, Sweden, 11-1 (6 KO's), outscored Naim Terbunja, 32, 10-2 (1 KO), over eight – winning on scores of 79-73 on all cards.  
Terbunja, of Pristina, Kosova, but now residing in Linkoping, Swden, is promoted by STAR Boxing in the United States and announced his retirement after the fight and said his legs went dead after the first round. In the final frames, Naim looked indeed finished as he struggled to last the distance apparently exhausted – but why he was that would be interesting to know. Fornling, with reigning IBF International heavyweight champ, Adrian Granat in his corner, worked hard and dominated the fight.
Fornling's next fight will be on March 18 at the Baliska Hallen in Malmo, Sweden against Yevgeni Makhteienko.
Naim Terbunja was one of the best Swedish amateurs in history and won a scholarship in the United States he won the National Golden Gloves and was signed with Al Haymon. However, a lengthy layoff followed as Terbunja could not get a visa and he also suffered some bad injuries and once he turned pro it was obvious something was missing.
Super middleweight Hampus Henriksson, 3-0, dropped Pole Przemyslaw Binienda, 2-9, in the first with a southpaw right hook, but had to settle with a four-round decision on scores of 40-36 twice and 39-36. Henriksson is trained and managed by Jimmy Montoya.
Two female fights rounded the card.
Boxing promotion in Aarhus, Denmark enthralls fans in attendance
By Per-Ake Persson
December 3 – Aarhus, Denmark: Super Brian Nielsen and Mogens Palle Promotion staged the all in all seventh edition of Danish Fight Night at the Ceres Arena. Headlining all shows has been super middleweight veteran Lolenga Mock, by now 44-years old and 38-14-1 (13 KO's). Mock is currently staging a remarkable comeback – fighting seven fights over 10×3 inside a year is not very common in today's boxing. Mock may not have beaten any world class contenders, but all opponents were solid, stand up foes and Argentinian Ruben Eduardo Acosta was no exception.
Acosta, of Mar del Plato, Buenos Aires, Argentina, was off to a good start while Mock took some time to warm up and Ruben scored with some big hooks from both hands. In the third round, however, Lolenga took over and he did it on strength, excellent conditioning and a strong will to win that overcame the signs of age that are there. Mock swept the remaining eight rounds and stunned Acosta in the eighth with a left hook. At the end it was scored 98-92, 100-90 and 99-91.
With the loss, Acosta, 38, dropped to 32-15-5 (12 KO's).
Heavyweight Sherman "Tank"Williams, 39-15-1 (21 KO's), of Vero Beach, FL, had no problems with Mateus Roberto Osoria, 9-3 (9 KO's), of Carapicuiba, Sao Paulos, Brazil, and hurt him with his heavy right hand and then almost ended matters with a short right hand. Osorio, 32, got up, but Williams scored with a series of hooks to the body and it was stopped as the Brazilian went down again. It was scheduled for eight. There have been some loose talk of Williams, 44, facing Evander Holyfield in a rematch, but it appears doubtful the now 54-year old former champ would like to come back.
Pierre Madsen, 5-0 and trained by Williams, knocked out the fourth Brazilian on the card, Adilson Da Silva Santos, in the sixth and final round. Santos looked much too heavy, although he kept holding and hitting – making a street fight of it. Santos looked woefully out of shape and finally collapsed on the floor after what looked like a push and was counted out
In an all Danish matchup at super lightweight Enock Poulsen, 2-0, ended Osama Hadifi's career with a clear win after four. The judges all had it 40-36. Hadifi, now 11-3, looked far from top shape, but fought bravely until the end and announced his retirement afterwards.
Super middleweight Daniel Heinze, 6-0, outscored experienced Brazilian southpaw Jose Hilton Dos Santos, 36-18-1, over eight. Heinze fought well and with more fights under his belt he would probably have stopped Dos Santos, but as it was he did not follow up on his advantages and the fight went the distance. It was scored 79-73 twice and 80-72.
Light heavyweight Jeppe Morell, 6-0 and trained by Lolenga Mock and Ivan De Lima, won on points over Rogerio Damasco, 19-6-1 and from Brazil, in a one sided six-rounder that ended 60-54 on all cards.
The marathon 12-fight show began at 7 PM and ended at almost 2 AM. The fans certainly got a bang for their buck!
FIGHT THRILLS AT SWEDISH BOXING CARD
Story by Per-Ake Persson
November 19 – Brandbergen, Sweden.
Promoter Stefan Fernstrom staged a show at Haninge Boxing Club´s gym located in the shopping center in Brandbergen on the outskirts of Stockholm and was awarded with a full house.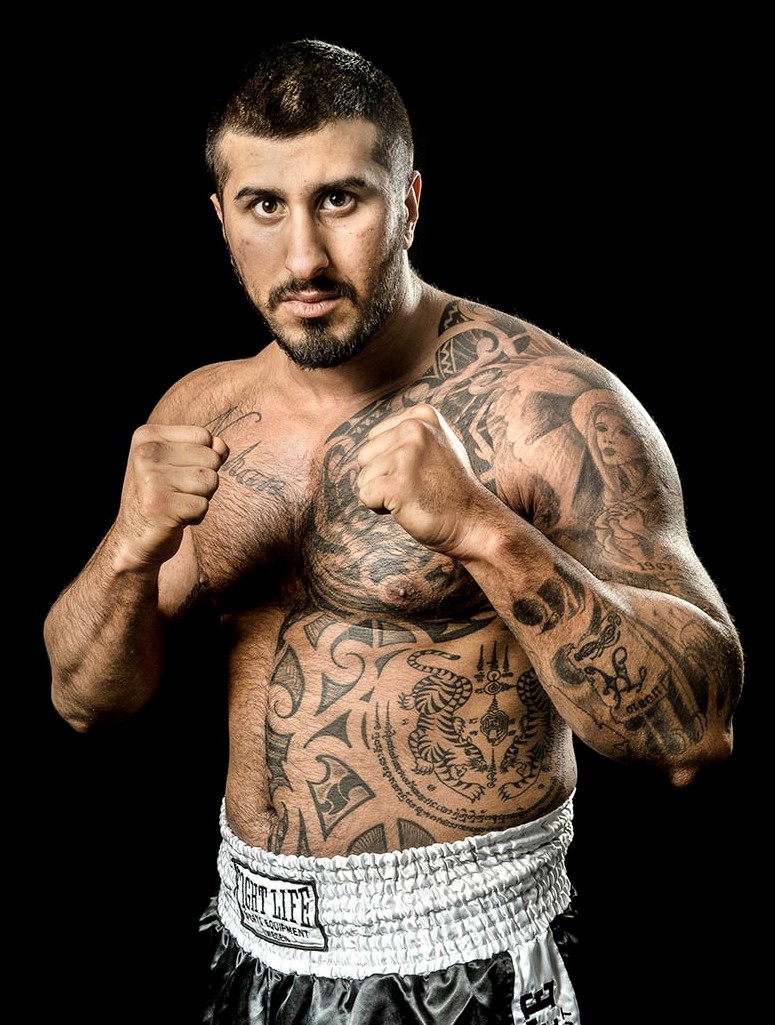 Heavyweight Pezhman Seifkhani headlined and moved to 5-0 with four early endings with a first-round stoppage of Georgian southpaw David Gogishvili (16-4). Pezhman was out fast and landed with a right, but Gogishvili fired back with a fine left.
"Left hook downstairs," screamed trainer Kamran Kabinejad and Seifkhani followed orders and landed a hard hook to the liver region of Gogishvili, who went down on one knee, got up but was cleary finished.  A second knockdown soon followed and it was stopped at 1:15 of the very first round.
The bout was scheduled for six. Next up for Pezhman Seifkahni is a show on February 5 in his hometown of Orebro, Sweden.
Welterweight Mohammed Saleh (4-0) stopped Bosnian Jasmin Dananovoic (3-4) 1:37 into the second after scoring three knockdowns. Saleh had been out for a year due to difficulties in getting fights.
Cruiserweight  Marcus Alberts (4-0) outscored Shalva Melekishvili (11-8-1) after four messy rounds all won by Alberts, who won with his high work rate. The three judges all had it 40-36 for Alberts.
Icelandic Gunnar Kolbeinn Kristinsson (8-0) stopped Georgian Archil Gigolashvili (2-1) 1.26 into the second. Kolbeinn came in on short notice, but was in great shape after training with Robert Helenius in Finland.
Middleweight Johannes Vinasco (2-0) got an easy TKO win when Zeljko Vuksic (2-3) retired early in the first after what appeared to be an accidental clash of heads. Either way, Vuksic turned his back to the action and it was halted.
Debutant Yaffet Amaniel brought the house down as he stopped Nedzad Dzinovic, also making his debut, in the third after an action packed fight between two green fighters. Amaniel´s better schooling and conditioning won it for him as he wore down Dzinovic until it was stopped at 1:16.
Promoter Fernstrom plans to return in February for the second edition of Rising Stars. 
Lolenga Mock battles Patrick Mendy in a super middleweight battle in Denmark
By Per-Ake Persson
June 4 – Copenhagen, Denmark. 44-year super middleweight Lolenga Mock, 35-14-1 (13 KO's), won a "hard fought as always when Mock is in the ring" ten-round majority decision over the unheralded, though, tough, tricky and capable Czech licensed, Gambia born, UK based Patrick Mendy, 17-11-1 (1 KO), in the headliner of this edition of Danish Fight Nightput on by Super Brian and Mogens Palle Promotion at Fredriksberghallerne.
Mendy had the speed and moves to make it difficult for the aging Dane, who celebrated 25 years as a pro. Mock, however, is strong, tough and well conditioned and while he was outboxed in some rounds, his work rate was too much for Mendy, who spent long periods posing and dancing.
It looked as if Mock was knocked down in the fourth, but the referee ruled it a push. Mock's strength and aggression told even more in the later rounds and while Mendy shook his head and grinned every time he was hit, he was put on the back foot and fell behind on points.
It was scored 97-93, 98-92 and an out of line 95-95.
Super middleweight Daniel Heinze, 3-0, outscored Spaniard Gonzalo Romero, 4-4, over eight, two-minute rounds and looked good doing so. Romero was kept on the ropes where he covered up well. In the last he finally opened up but it was too little too late. It was scored 79-73 twice and 80-72.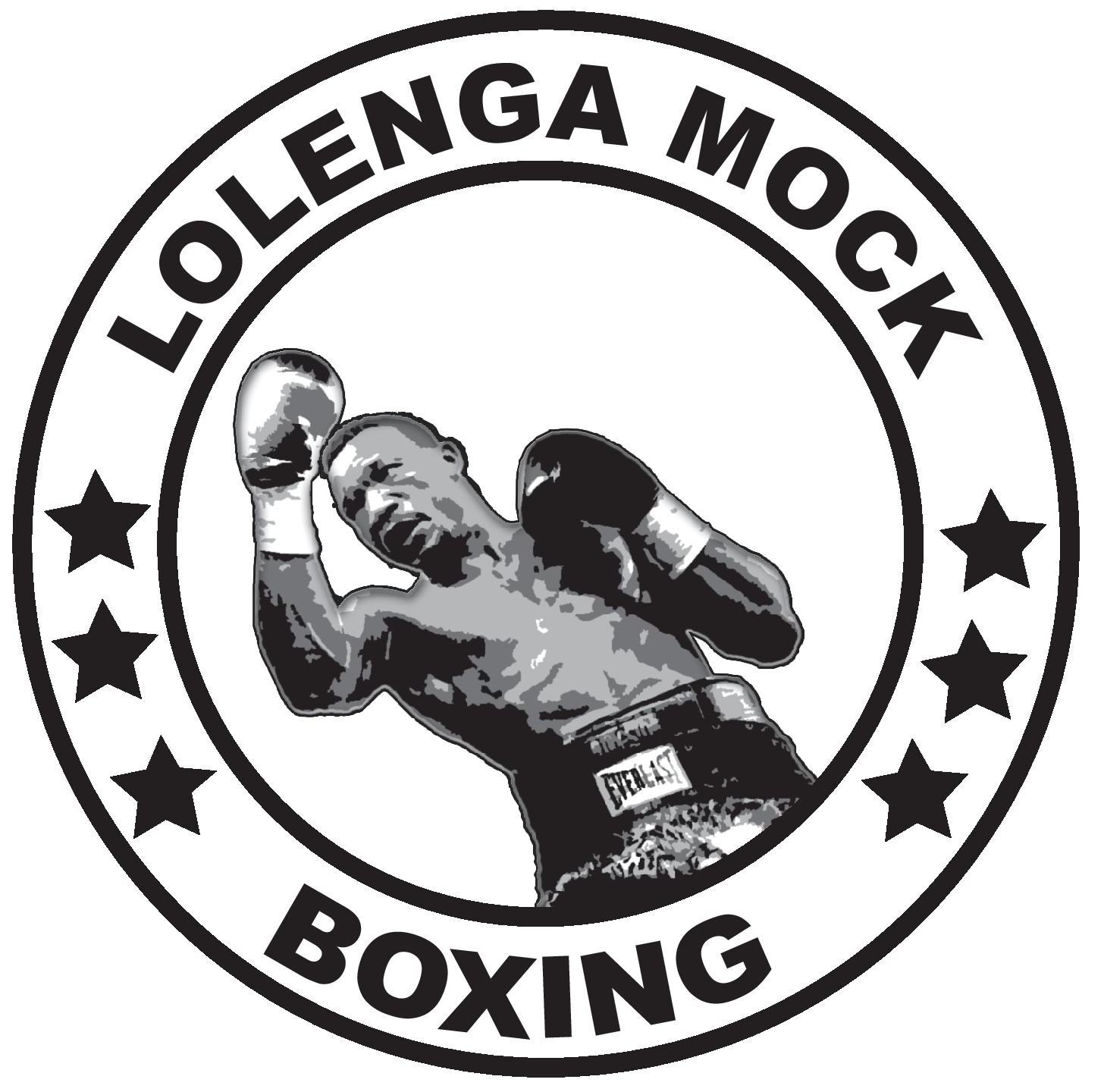 Lightweight Clark Telemanou, 5-2-1, and trained by ex champ Javier Castillejo, upset Dane Osama Hadifi, 11-2, and won a majority decision after six. Telemanou, short and stocky, came out smokin´ and shook Hadifi in the first. Osama came back in the second and scored well with counters, though, the Congo-born Spaniard closed the fight strongly and won on scores of 59-55 and 58-56 with the third card at 57-57.
Light heavyweight prospect Jeppe Morrell, 3-0, knocked out Georgian Mindia Nozadze, 18-9, at 1:27 of the second. Morrell found the range for his southpaw left in the first and floored Nozadze twice.
  Super middleweight Andreas Lynggaard, 3-0, had a tough fight against Spanish southpaw Roberto Casado, 2-1-1, and was down in the fourth and badly cut in the fifth, but won a split-decision after eight on scores of 78-73 and 77-74 with 77-74 for Casado on the third. Lynggaard had problems with his timing and his opponent's southpaw style and it made for a close, difficult to score fight that could have gone either way.
Light heavyweight Jonas Madsen, 3-0, floored Miguel Micaelo, 2-3-2, in the third and tried to follow until he walked into a counter right and went down himself. Madsen was not to be denied, though, and floored Micaelo in the fifth in a fastpaced six-rounder. It was scored 59-54 on all cards.
  Cruiserweight Tobias Soerig, 3-0, got an easy win when Georgian opponent Grigol Abuladze, a claimed 24-14, retired with a claimed injured arm 15 seconds in the second.
Swedish licensed heavyweight Gunnar "The Icelandic Polar Bear" Kolbeinn Kristinsson, 6-0, knocked out Dane Kim Thomsen, 4-1, 1:52 into the second. Kolbeinn was slower, but much bigger and stronger than his opponent and he floored Thomsen late in the first.
In the second Gunnar followed by sending Thomsen back to the canvas and it was called off without a count after the second knockdown. Kolbeinn is Iceland´s only active professional fighter and only the second in history to turn pro.
  Super bantamweight debutant Ali Mohamed made his debut and looked good as he stopped Malkhaz Tatrishvili, 13-10, 1:05 into the third. Tatrishvili, from the Republic of Georgia, was hurt and in trouble and made a wise move and retired himself.
In a battle o

f former heavyweight challengers, Kubrat Pulev pulls off a split decision win over the sturdy Dereck Chisora to capture the vacant EBU heavy title
Story by Per-Ake Persson




M

ay 7 – Hamburg, Germany.
 Bulgarian heavyweight Kubrat "The Cobra" Pulev won the vacant EBU title with a split decision over Dereck "Del Boy" Chisora after twelve in the headliner of this Sauerland Promotion show at the Barclay Arena. Pulev, now trained by Ulli Wegner, came out in his upright stance, leaning a bit on the back foot and fired sharp jabs. Chisora (25-6, 17 KO's) looked a bit stiff, but connected with a solid overhand right in the second.


 From the third on it was Pulev's left jab and better movement that dictated the fight. Chisora worked the body of his opponent with solid left jabs of his own and Kubrat did not pick them off. Pulev (23-1, 12 KO's) followed up on his jab with a heavy right and also caught Dereck with a right uppercut as he came in ducking. In the fifth, Pulev, of Sofia, Bulgaria, connected heavily and Chisora held on, but looked shaken and ready to go as he fought off the ropes at the end of the frame.
Chisora bravely came back in the sixth and closed the gap and connected with a heavy right late in the seventh and at the bell Pulev was dropped for the first time during the fight.




The fight was filled with wrestling on the inside as Pulev did not want to battle on the inside, and held on as they got close, while Chisora did his best to break free and punch away with both fists. Referee Manuel Oliver Palomo was slow in breaking them apart and Chisora would later state he had two opponents in the ring, but that was only partly true.




 Chisora's jab to the body was a scoring punch and the left side of Pulev´s body was red and swollen, although his conditiong was exellent and  he moved well in the last round apparently sure he had done enough.




 It was scored an out of line 118-110 and a more realistic 116-112 for Pulev and 115-113 for Chisora. It was an interesting fight, but it is difficult to see any of these two able to beat the best. This was also an IBF eliminator.




Pulev's only loss was when he was KO'd in five rounds by then heavyweight champion Wladimir Klitschko on November 15, 2014. Since that defeat, Kubrat has won three straight bouts.




Chisora, of Finchley, London, United Kingdom, also had a shot at a Klitschko brother for a world title when he dropped a 12-round unanimous decision to then WBC heavyweight title holder Vitali Klitschko on February 18, 2012.




The undercard featured the following:




In a disgraceful joke of a fight Ismail Oezen, 166 ½ and 17-2, "stopped" Georgian Ramazi Gogichashvili, 172 1/2, 22-11, to win the GBU I/C super middleweight championship.




How Gogichashvili could compete for this title despite at that weight? Well, he surely could not.




Gogichashvili flopped over every time Oezen worked the body and it was over at 2:28 of the third. Oezen is a very wealthy businessman and had sold hundreds of tickets.




 Cruiserweight Noel Gevor, 198 1/2, 21-0, outboxed Argentinian Cristian Javier Medina, 196 1/4, 12-2-3, to retain the WBO International title. It was scored 98-92 on all cards. Gevor worked well of the jab, but never opened up and it made for a dull fight.




 Former WBA interim super middle champ Vincent Feigenbutz, 165 1/4, 22-2, stopped Crispulo Javier Andino, 167, 19-10-1, at 2:28 of the third of a scheduled eight-rounder. Feigenbutz, now trained by Karsten Rover, had his first fight since losing to Davide De Carolis and was careful, however, other than that looked pretty much the same. Andino was brave, but weak chinned and in over his head. He was pushed down late in the first and floored three times in the third before the mismatch was stopped.




 




Swedish super lightweight Anthony Yigit, 142 1/2, 17-0-1, won a close majority decision over Irishman Phillip Sutcliffe, 142 1/4, 9-1, after eight interesting rounds. It was scored 77-75 twice and 76-76. Yigit, a southpaw, is now residing in London and is trained by CJ Hussein. Sutcliffe kept stalking his opponent and nailed him the fourth and Anthony was in trouble, but fought back well. It went back and forth with both having their moments and it was as close as the scoring indicated.




 Cruiserweight Arthur Mann, 199 1/4, 6-0, got a good learning fight from still tough former WBA champ Valery Brudov, 197, 43-9, over eight. Brudov was off to a slow start, so slow that he looked in danger of getting stopped, but once he warmed up, he proved to be a capable opponent, although not as good as he once was. It was scored 78-74 on all cards.




 Super middleweight Stefan Haertel, 167 1/2, is now 10-0 with zero inside the distance wins, but he is a very good boxer and showed it again as he outboxed Ukrainan Ruslan Schelev, 167 1/2, 12-6, over eight. Haertel may not be a puncher, but his stiff, straight punches still gave Schelev a bad nosebleed. It was scored 80-72 on all cards.
Super Brian and Mogens Palle Promotion staged the third edition of their Danish Fight Night at the Frederiksberghall featuring a new and relatively unknown stable of fighters with veteran Lolenga "The Dane" Mock topping the bill.
Story by Per-Ake Persson
 April 29 – Copenhagen, Denmark:
 Lolenga, the former EBU, EU and WBO Intercontinental super middleweight champion, took on Peruvian David Zegarra, 30-1 and ranked # 5 by the WBA at super welterweight, but this fight was made at catchweight at 168 1/2 lbs and Zegarra came in above that. In the ring David proved to be capable boxer with slick moves, a good jab and a sharp left hook.
 Mock, 43 and 34-14-1, who was never known for his speed and has slowed down with age, was outboxed in the first three rounds.   His strength and conditioning began to tell and Zegarra, much smaller, was worn down and the rounds progressed. Lolgenga worked very hard in every session, however, he was  never able to pin down his opponent and work on him. The judges had it 100-90, 98-92 and 99-91 which was generous towards the Dane, who is looking for a showdown with domestic rival Patrick Nielsen, who is promoted by Sauerland Promotion.
 The fights on the bill were all scheduled for six rounds with two-minute duration. Light heavy Jonas Madsen, 3-0 and with only eight amateur fights behind him, outscored Georgian Giorgi Kandelaki, 17-17-2. Madsen is green, but shows promise and likes to mix it up, which made for an entertaining fight. Madsen won on scores of 59-55 twice and 58-56.
 Heavyweight Pierre Madsen, 2-0, outscored Portuguese kickboxer Bruno Susano, 1-1. Susano only got a standing eight-count in the sixth of a brawl where Madsen, the bigger, stronger, man kept coming, even though he repeatedly walked into Susano's left hook and was wobbled a few times.  Pierre, however, continued his attack even when unsteady and was a clear winner at the end on scores of 59-54 twice and 60-52.
 Super middleweight Daniel Heinze, 2-0 and regarded as the best prospect in the new stable, was almost floored in the first against Georgia Ilia Chikovani, 9-6, but was saved by the bell. In the second and onwards Heinze´s better boxing prevailed and Chikovani retired after the fourth apparently with busted eardrums. Heinze was ahead 39-37 on all cards after four.
 Middleweight Mohammed Adel, 2-0, looked good as he outscored veteran Mikheil Khutitsishvili, 41-26-6. Adel outboxed his opponent in every round made him miss and made him pay. It was scored 60-54 on all cards.
 Cruiserweight Tobias Soerig, 2-0, floored Portuguese debutant Alvaro Silva, 0-1, in the fourth in another well matched fight with two inexperienced boxers. Soerig was just too strong and aggressive for Silva and won on scores of 60-53 on all cards.
 MMA fighter Mads Burnell turned pro with a fight at super lightweight and won on points over Goncalo Pimenta, 2-4. Burnell mixed some nice moves with bad ones and tired at the end, but won on scores of 59-55 on all cards.
Cruiser Jeppe Morell, 2-0, closed the show with a win over Georgian Shalva Melekishvili, but failed to impress. Morell, a southpaw, never found the range and it became a messy fight. This one was also scored 59-55 on all cards.
T

h

ailand Fight Action
By Dr. Siraphop Ratanasuban
January 15 – Bangkok, Thailand. "Dangerous River" Chonlatarn Or Piriyapinyo challenged for vacant WBO Oriental Jr. Ligtweight at Merit Making Bank, Jao por siu, Bangcare district, Bangkok in M-150 OneSongchai by having Mr. Tanongsak Manotammaraksa, President of Sampeng 2 floating market, Mr. Sakchai Sakdechamanee President of Merit making bank to be chairman, female promoter Pariyakorn Ratanasuban who is best WBO female promoter for 5 years in a row.
The main event saw Chonlatarn Or Piriyapinyo, challenge for vacant WBO Oriental Jr.Lightweight against Sadiki Momba from Tanzania. The fight showed that Chonlatarn was much stronger and had the biggers and faster punches, as exchanged his fists in glorious fashion to entertain the sell-out crowd at hand.  Althought the Tanzanian boy Momba, had a lion heart and fought back bravely, he could not handle the power of Chonlatarn. 
   By round three, the writing was on the wall, as Chonlatarn accelerated his output with a  multiple of punches, eventually, and suddenly, stopping Tananian in round 3 to successfully capture WBO Oriental Jr. Lightweight title.
  On the same M-150 OneSongchai promotion the following matches were fought:  Kwanpichit Sibsamrien Express "Elephant fist" KO2 Ibuki Tanaka, Raknirun Dabrunsarakam won Buakaw Sor Sakulwong;  Fonluang Sor Singyu won Matis Branner; and in a female bout,  Yodying Super Champ won 6 over Chorfa Kietmanop, and 6 rounds female boxing Nongnoon Mor Krungthepthonburi won over Nongkratae Ukunjae.
Fight Action From Germany
Story by Per-Ake Persson
Offenbach and Berlin, Germany.
  Professional boxing in Germany was off to a quick start in 2016 with two shows staged on the same night on January 9, but in two different cities staged by two different promoters with both having their main events televised live on SAT 1.

   In Offenbach at the Baden-Arena, 20 year-old super middleweight Vincent Feigenbutz, the WBA interim champ and 21-2 (19 KO's), fought Italian challenger Givovanni De Carolis, 24-6 (12 KO's), in a rematch. Feigenbutz, 20, a split-decision the first time in what easily was one of the worst decisions of 2015. What was even worse was that De Carolis, 31, a competent boxer, but not top class, unveiled one of Sauerland Event's biggest hopes for the future as a crude brawler.

  The rematch was made and Feigenbutz was out to prove something, but ran into the same problems as the first time around as De Carolis worked off the jab and forced the German to back off where he had problems defending himself. Feigenbutz shook De Carolis early in the fourth with a right upercut, however, the challenger showed good skills and a big heart and survived and continued to outbox the champion, who in case of victory would have been Germanys youngest "real" titleholder as the WBA days before the fight had upgraded the fight to regular championship status.

  De Carolis plugged away and then in the eleventh and hurt Feigenbutz with a smashing right hand. The German wobbled backwards and turned his back to the action with his opponent following up on his advantage and nailed Vincent on the back of his head. The punch did not seem very hard, but Feigenbutz was now against the ropes unable to protect himself and referee Gustavo Padilla stopped it 32 seconds into the round.

  Wilfried Sauerland was the first to enter ring protesting the stoppage and the blow behind the head followed by his sons Kalle and Nisse all screaming robbery wanting to have De Carolis DQ'D, but the offical result was a TKO and Sauerland never protested the decision. A De Carolis vs Feigenbutz III might be in the cards as Sauerland has options on the new champion, but the best for the German would be to go back to school and try to learn some boxing.

   In the chief support cruiser Noel Gevor, 20-0, outscored Russian Valery Brudov, 42-7, over ten winning on scores of 98-92 and 99-91 twice. At one time, Brudov was a WBA champ and a world class fighter, but those days are far gone.

  Heavyweight Dereck Chisora, 25-5, fought for the third time in a month and stopped Hungarian trialhorse Andras Csomor, 14-9-1 in the second of a scheduled eight-rounder. Chisora could be facing Anthony Joshua with the vacant EBU title at stake later this year.

   Meanwhile in Berlin WBO European heavyweight champ Michael Wallisch, 30, 16-0 (10 KO's), headlined SES and Pollux Promotion's show at the Maritim Hotel and outscored survival minded Croatian Ivica Bacurin, 23-9-1 (13 KO's), over twelve. Bacurin, 33, was a late sub for Marcin Rekowski and did well in lasting the distance, but had a point deducted in the eleventh for exessive holding and was floored in the last round. It was scored 119-106, 118-107 and 120-105.

   Robin Krasniqi, 45-4 and a former world title challenger at 175, dropped down to 168 and took on a tough opponent in Cagri Ermis, 18-10-2, and won a close decision after eight. It was scored 77-75, 77-76 and 78-76. Krasniqi was stopped by WBA ruler Juergen Braehmer last year.

   Middleweight Jan Meiser, 10-0-1, drew with Hungarian Szabolcs Szabo, 10-2-2, after ten in a fight for the WBO Youth title. It was scored 95-95 twice and 97-93 for Meiser.