2019 Florida Boxing Hall of Fame
inducts an esteemed group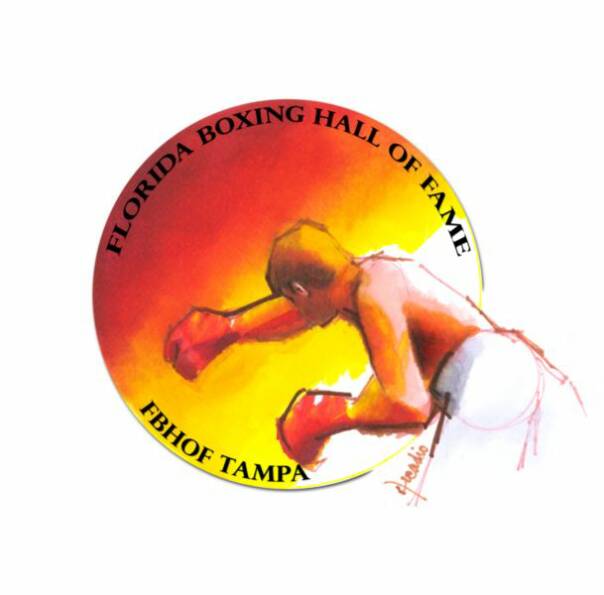 Story by Mark Weisenmiller 
TAMPA, FLORIDA. Twenty people, from six different specialties of boxing, were inducted today into the Florida Boxing Hall of Fame Induction weekend. Additionally, two men were given Boxing Achievement Awards.
The Florida Boxing Hall of Fame Class of 2019 are the following:
Fighters
Eromosele Albert, Juan Arroyo, Nate Campbell, Lou Esa, Richard Hall, Lamar Murphy, Jimmy Navarro, and James Scott.
Trainer/Manager
Mike Birmingham and Pete Brodsky.
Promoter
Nathan Lopez Senior.
Media
Damon Gonzalez and Sean O'Grady.
Participant
Pete Balcunas, Henry Grooms, and Chico Rivas.
Official/Commission
Telis Assimenios, Dr. Rodolfo Eichberg, Frank Gentile,  and Dr. Mel Jurado.
The two men who were given Boxing Achievement Awards were Seminole Tribe of Florida politician Mitchell Cypress (when in the U.S. Army, he fought in matches in Germany and the United States. Decades later, as Chairman of the Seminole Tribe of Florida, he was seminal in attracting boxing promoters to stage matches at the Seminole Hard Rock Hotel and Casino in Hollywood, Florida) and Emile Lombardi Jr. (who began his affiliation with boxing while working as a judge before becoming a referee; he has refereed more than 50 fights).
On the evening of Friday, June 21st, the annual day of the summer solstice in the Northern Hemisphere, 17 amateur fights were held at The Westshore Grand Hotel (whose facilities also hosted all of the other activities affiliated with this weekend's induction ceremonies). 2018 FBHOF inductee Christy Martin came down from her home in North Carolina to attend the bouts.
All day on Saturday, vendors had tables selling boxing memorabilia; local authors signed their books (whose subjects were an array of boxing-affiliated topics); and autographs were asked for and given. From 10 to 11 am, a referee and judge seminar was conducted by Brian Garry (who was inducted into the FBHOF 10 years ago). Assisted by his wife Phyllis Garry (a long-time boxing match bell ringer and the recipient two years ago of the FLBHOF Boxing Achievement Award), his talk was divided into three sections titled, respectively, "Who Is Da Ref?," "Purpose and Function of the Referee," and "Ring Mechanics." When husband Garry began and ended a section, wife Phyllis would clang a hammer on a bell. Ever the diligent worker, when the seminar started to last longer than the one hour scheduled for it (due to audience members having many comments and questions for Brian), Phyllis loudly and repeatedly hit the bell, a not-so-subtle hint to Brian to wrap up the talk.
Referee Garry, who officiated boxing matches at the 1996 Atlanta Summer Olympic Games, had a series of bon mots during his seminar. Among them: "Remember, it is always better to stop a fight one punch before it's too late (i.e., before a boxer gets injured)"; "The critical job of the referee is safety, safety, safety," "Roberto Duran and Archie Moore were the two greatest defensive boxers I ever saw," and "A boxer will try everything in the book (i.e., to score points against, and to hurt, his or her opponent)."
Garry also explained to audience members that judges can not get out of their chairs during a boxing bout; that punches on an opponent's arms aren't scoring ("because arms are used for defense"); that when judging a fight at home, the first thing that a television viewers should do is mute the volume, and that Garry is in favor of increasing the number of judges for a bout from three to five "because it would eliminate draws." After this came a two-hour long podcast, done from The Westshore Grand, of a show called "The Shadow League," which was hosted by Rhett Butler and no, this was not the same Rhett Butler of "Gone With The Wind" fame.
People commingled, ate lunch, told each other boxing stories (most of which seemed to be fact and not fiction) and then, from 1.30 to 2.30, Dwaine Simpson (Class of 2014) hosted a seminar entitled "Boxing At It's Finest." He has 65 years of experience in boxing; he began fighting as a young man in Florida. Simpson likes to joke and say "I had 142 professional bouts and all of them ended in knockouts except for the two that I won," but in actuality, this man was a talented pugilist. His record, after he completed his 14 year (1956 to 1970) career, is 113 wins, 22 defeats, and seven draws. After retirement, he has stayed active in boxing as a consultant, teacher, and trainer.
Simpson began by talking about the fundamentals of boxing and he also noted that Alexis Arguello (who he knew when Alexis was a youngster) would push himself to train hard even when he was 14 years-old. The 87 year-old Simpson then talked about something that many of today's boxing cornermen do which makes him mad: "I see the cornermen turn away from the ring and start to gaze around and look for people that they know, as though these people came to see them rather than the boxers box."
Continuing, Simpson said, "I'm tired of seeing cornermen teach boxers either the wrong way to do things or, worse, the wrong things. If I seem to be down on boxing, it's because there doesn't seem to be any good teachers anymore. The first thing a trainer should teach a boxer is how to bob and weave."
On this theme of current coaches and cornermen being inferior to those who worked in these professions in the past, next came, from 2.30 to 3.30, the seminar "The Fine Art of Coaching," hosted by Steve Canton (FBHOF Vice President and Class of 2009). He is a long-time manager and trainer of the Florida boxing scene and was introduced by Bob Alexander (FBHOF Media and Public Relations Director and Class of 2010). "There are good fighters today," began Canton, "but not great fighters and that's because there aren't that many great trainers left. The old boxing gyms are gone; now we have physical fitness centers." For the past 30 years, Canton has run a gym in Fort Myers.
During his talk, Canton noted that only eight of the 22 FBHOF Class of 2009 inductees are still living and "four of them are in his room." He also noted that "There are 85% more broken jaws today as compared to 30 years ago and that's because boxers are always making sounds with their mouths. Why?"
The Saturday night dinner banquet and ceremonies began, surprisingly, on time (traditionally these things usually are not because of the large crowds which move slowly about in and out of the outlay convention and dining rooms). After a dinner of chicken, rice, and vegetables—and a dessert of a slice of thick chocolate cake, came the welcoming speech by FBHOF President Butch Flansburg. "This weekend we celebrate out second decade of existence. This is the weekend we are here to celebrate the greats and congratulations to all of the inductees," Flansburg said.
The keynote speaker was Julio Martinez (Class of 2015) who began by asking for a moment of silence for those in the boxing world who died in the previous year. He talked fondly of being tutored as a young man by Kid Gavilan and Chris Dundee. Martinez's speech was done in a stream-of-conscious manner.
Afterwards, the Don Hazelton Scholarship Award was given by his widow to 20 year-old Chris Samuels. The young boxer is studying finance at the University of Florida and he was grateful for the $1,000 award. Besides boxing and studying at the University, Samuels is also coping and dealing with the following: his father is disabled; his sister is ill and needs a kidney and his mother works long hours at a store to pay for everything. Young Samuels' life, so far, reads as though it is a 21st Century version of a plot of a Charles Dickens novel. "Boxing has brought stability to my life. I don't feel that I'm riding the wave of life; I feel like I am in control of my life," he told an enraptured audience.
Music was provided by singer Sasha Vargas (who has two Master's degrees, sings in six language although not simultaneously, and currently performs with the Orlando Philharmonic). Shortly after she began singing, in Cuban Spanish, the classic Cuban song "Guantanamera," many of the Hispanics in the dining room began to boisterously joining her in singing the song.
For those who had others interest than music, they could make bids on items at a silent auction. Some of the items were a poster for a concert by Sam Cooke and The Platters; a painting by the late boxing physician Dr. Ferdie Pacheco; a 2003 program from a fight between Evander Holyfield and James Toney; a baseball signed by the New York Yankees Starlin Castro; a red boxing glove signed by John Mugabi, and a Tampa Bay Buccaneers football.
Sunday dawned hot and humid and that was the weather report for the entire weekend; women's face make-up ran and smeared and men quickly developed sweat stains on their shirts. Inside The Westshore Grand, however, the air-conditioning kept things cool. From 8.30 to 9.30, people could have a hot breakfast (scrambled eggs, bacon, potatoes) with the inductees. At precisely 11 am, the formal induction ceremony commenced and the national anthem was sung by Tristan Miller.
The room was full of people; hotel workers had to bring in extra chair to seat everybody. "This is an honor that will never be forgotten and you will never be forgotten," Alexander told the inductees. The inductees wore red polo shirts and sat in front of the stage and when their name was called, they would walk up steps to accept their inductee plaque, pose for photographs, and then give their acceptance speech. First to be inducted were the three posthumous inductees: James Scott (Who when he was incarcerated in a New Jersey prison, once sparred with Rubin "Hurricane" Carter; Canton accepted the plaque on behalf of Scott); Pete Balcunas (a coach and trainer who coached U.S. and international programs and who died in March of 2016; his widow accepted on his behalf), and Birmingham (Butch Flansburg accepted on his behalf). Phyllis Garry clanged her boxing bell three times to honor the three posthumous inductees. The ceremony was put on the Internet by Gold Star Productions and the FBHOF has a YouTube channel; the activities of the weekend were posted on said YouTube channel.
Then came the induction of the living inductees. Promoter Nathan Lopez was the first of this group to be inducted and when he took to the stage, he received a warm applause "Wow, this is awesome !," he gushed. "I am so proud to be part of a family that fights then makes up (he was speaking metaphorically)." The line got much laughs and then he said "You go into a ring, you fight your opponent, and then at the end, you say to him 'You're the champ, even though I just beat your ass."
Trainer Pete Brodsky said "This is one of the best days of my life." Due to his being born on Long Island, and his long time working in New York City, he speaks with a thick Noo Yawk accent. He thanks his wife Sharon and then said "Don't ever train a fighter you don't like." He ended by telling the audience that his daughter and husband were currently making a film about boxing called "Sometimes you're The Dog, Sometimes You're The Tree."
Long-time promoter Henry Grooms was next and this is a man whose life accomplishments ranged from being a friend to Muhammad Ali to Elvis Presley. Grooms received the loudest and longest standing ovation of all of the inductees. As he took to the stage this 86 year old man heard the strains of the song "Lean On Me" – a rather appropriate tune. He knew and was good friends with legendary trainers Emanuel Steward and Eddie Futch. He first thanked God, then his mother and father. Grooms told the audience that "I have no living relatives and have not had any for the past 25 years. I grew up in a house without water and electricity."
How far this man has gone, and how much of the multiple facets of life, this man has seen ! He closed by saying "I'm not going to take any more of your precious time" and then took his seat on stage. Many in the audience must have felt that the inverse was true—that we were taking up much of Grooms valuable time. After he sat down, Bob Alexander said "I love you Henry but you are wrong about one thing – you have a family. We are your family," at which point Grooms began to cry.
Rivas was next and he took to the stage to the tune of Queen's "We Are The Champions." He frequently broke down emotionally during his speech. Before the induction ceremony, inductees are asked which song they would like to be played while they are walking up to the stage; if they can not chose one, the audio production crew chooses a song. When Dr. Eichberg slowly made his way to the stage, a tango was played. He served as a ringside physician for decades until his retirement in 2016. He spoke with pride to the fact that "in all of the bouts I worked, none of the participants was ever seriously injured."
Gentile was next and he was the first inductee to give much thanks to Butch Flansburg and to give warm congratulations to his fellow inductees. All three of Gentile's sons—Frank, Jose, and Paul—are boxing referees. "Thank you for this unforgettable moment of my life," this inductee said. Jurado, Gonzalez, and O'Grady, respectively, were the next three inductees.
Master of ceremonies Bob Alexander then proclaimed "Now we move on to our fighters."

Jimmy Navarro was the first such inductee and Alexander reminded the crowd that he was only 26 when he decided to retire. Murphy followed. After him came Puerto Rico-born Arroyo. His record upon retirement reads 37 wins, five losses, and four draws. In his personal life, he had, and has overcome, a drug addiction.
Jamaica-born Richard Hall followed. Alexander told the audience of his horrific childhood. He was abandoned by his parents at the age of 18 months and was found wandering the streets of Kingston by a local policeman. His grandmother then took charge of him but Richard was horribly abused by her husband (i.e., Richard's uncle). Fleeing Jamaica, he found work as a baker and eventually decided that he would try to become a boxer; Hall eventually became the lightweight champion of the world. He received a long, loud applause from his large entourage in the audience. As he took his seat on stage, audience members heard fellow Jamaican Bob Marley's rendition of the song "One Love."
Big Lou Esa (the man is well over six foot tall) came next. As a young man he went to a Miami gym to see his boxing hero, Muhammad Ali, train. While waiting for Ali, he saw a heavy bag , threw one punch (a left hook) that broke the chain that held the heavy bag aloft, and that was enough for Angle Dundee who saw all of this happen. He began to work with Esa. The Wayne, New Jersey-born Esa gave the shortest speech of all of the inductees.
Nigeria's Eromosele Albert followed and this is a man who was a member of the 1996 and 200 Nigerian Olympic boxing squads. His final record is 24-6-1 and when he fought, Albert's bouts were often broadcast on ESPN. He fought in 12 different countries, is now a coach, and the first words of his speech were Oh, boy!"
Nate "The Galaxy Warrior" Campbell, the former WBO/IBF/WBA Lightweight Champion, was the final inductee. "My dad made me promise to never back down from anyone and I carried that into the ring…I realized that being a good man is what made me a great boxer," Campbell proclaimed.
Although Sean O'Grady was inducted in the MEDIA category, he was once a talented lightweight. "The Bubblegum Kid" had an impressive career that culminated with him defeating Hilmer Kenty on a unanimous 15-round decision (146-139, 146-138 and 147-137) for the WBA World's Lightweight Championship on April 12, 1981 at Bally's Park Place Casino in Atlantic City.  The O'Grady-Kenty fight was nationally televised and is one of the greatest lightweight title bouts of all-time. O'Grady retired with a terrific 81-5 (70 KO's) record. From October 1, 1982 to August 25, 1998, the  USA Network held the popular Tuesday Night Fights and O'Grady was one of the announcers. O'Grady provided wonderful insights to the television audience with his color commentary of fights that featured the likes of Roberto Duran, Roy Jones Jr., George Foreman, Vinny Pazienza and Larry Holmes, among many others.
After a coffee-and-cake party, people went their separate ways. Many of them will not see each other until next June 21st when the 2020 FBHOF ceremonies will commence. Yet again it will be time for another summer solstice and, simultaneously, another FBHOF ceremony. The two are concurrent.
Butch and Kathy Flansburg, along with the rest of the staff of The Florida Boxing Hall of Fame are credits to the sport of fisticuffs and put on a great weekend for boxing fans each year.
For videos of the glorious 2019 Florida Boxing Hall of Fame Induction Weekend, go to their YouTube channel at: https://www.youtube.com/user/FBHOF1#p/u.
The 2019 Florida Boxing Hall of Fame Weekend was from June 21 to June 23.