ROBERTO DURAN
Manos de Piedra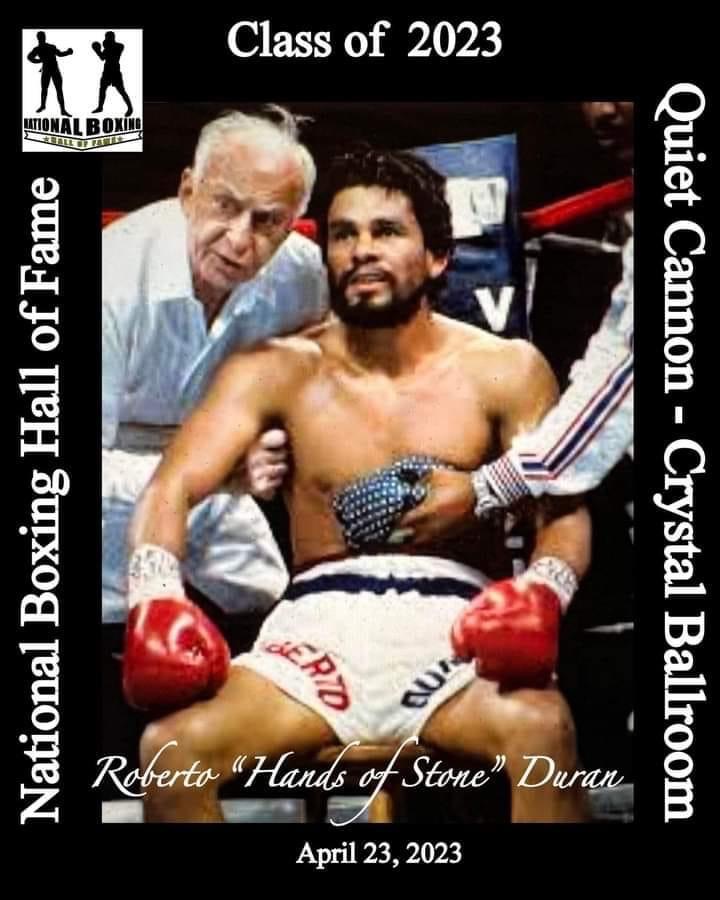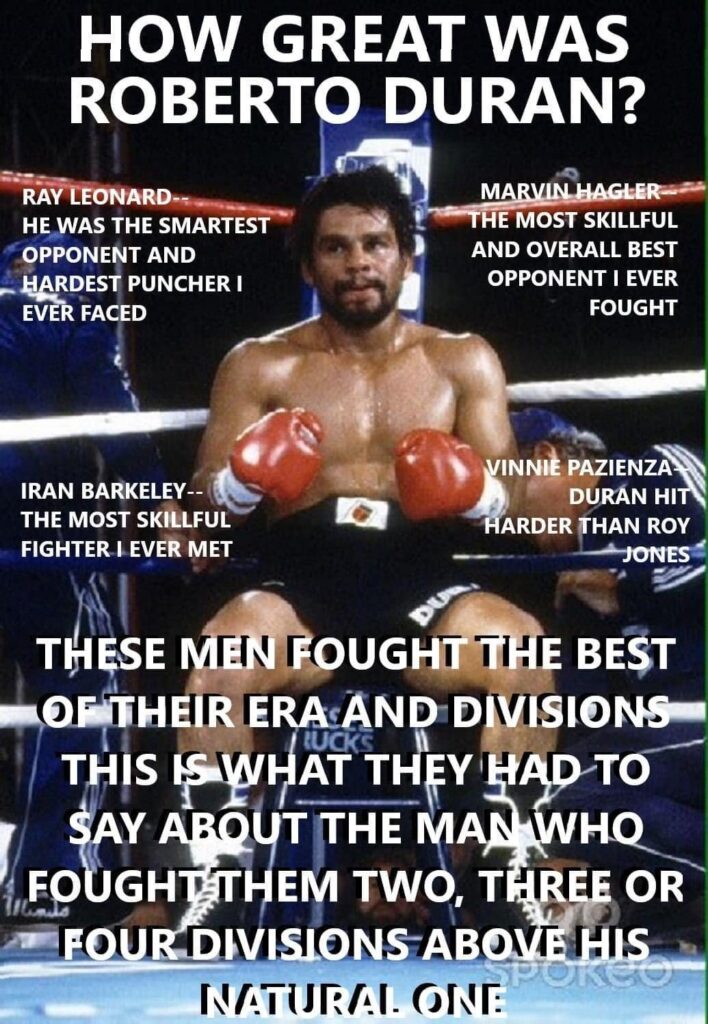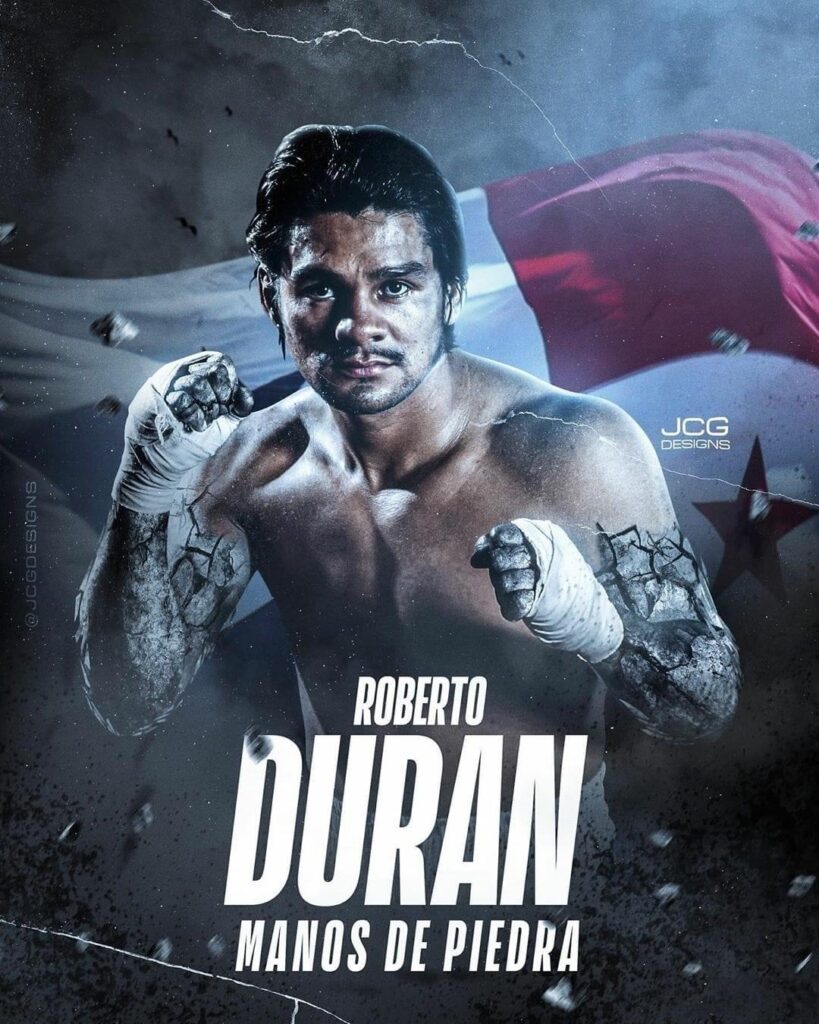 ____________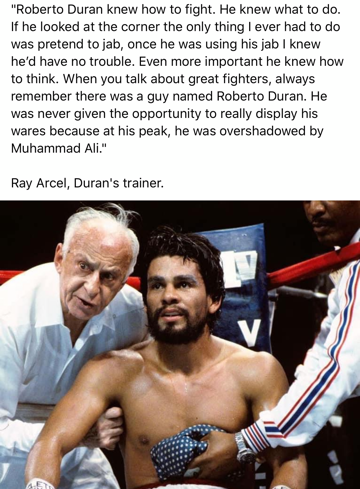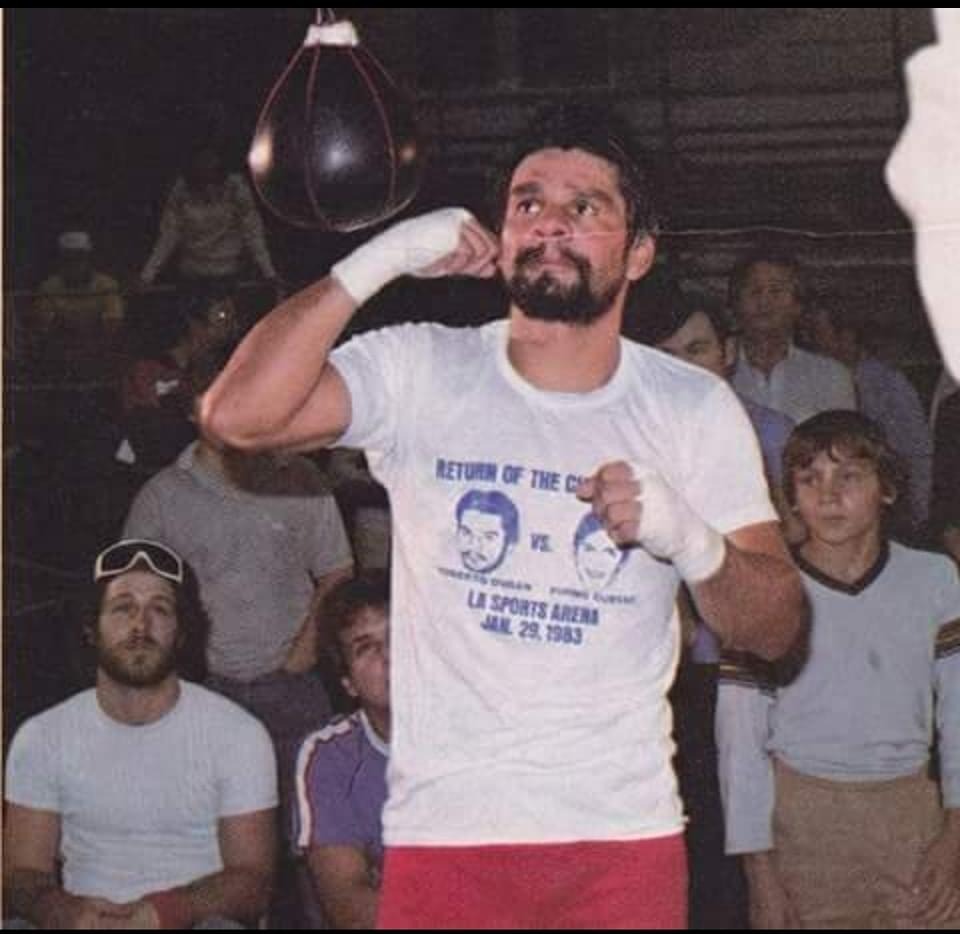 ________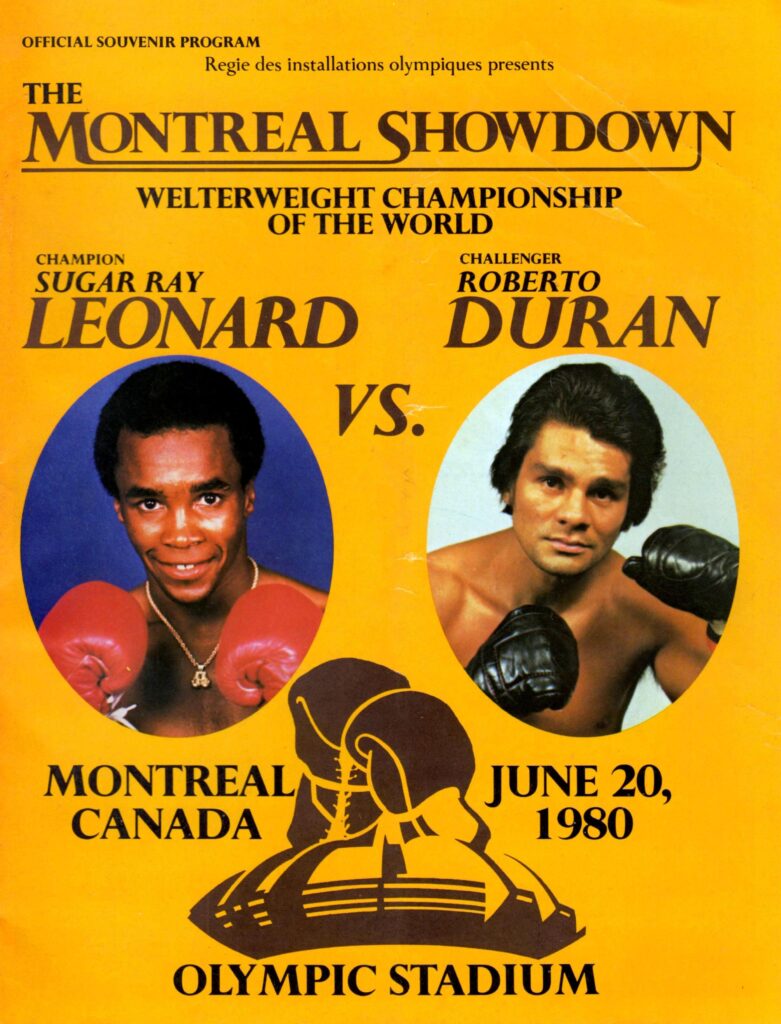 Roberto Duran vs. Sugar Ray Leonard I
The Brawl in Montreal
June 20, 1980
-Thoughts 40 Years Later-
By John Rinaldi, Salvatore Alaimo, and Alex Rinaldi
On June 20, 1980, three cousins, future USA Boxing News Editors and Publishers John and Alex Rinaldi and their cousin Salvatore Alaimo, who became Head Writer for The USA Boxing News, were on hand for the Immortal Roberto Duran vs. Sugar Ray Leonard Brawl in Montreal, along with Joseph Rinaldi, the founder of The USA Boxing News.
Leonard, 145, entered the bout a 9-5 favorite and was guaranteed $7.5 million and 80% of the closed-circuit revenue.
Duran, 146, was guaranteed $1.5 million and zero per cent of the closed-circuit revenue (the promoters were received the remaining 20% of the closed circuit revenue).
The UPI polled 30 sportswriters prior to the fight, with 13 predicting Leonard (5 by decision win, 8 by KO win), while 17 picked Duran to win (16 by knockout win, 1 by decision win).
The fight was held at the Olympic Stadium before a crowd of 46,317 fans.
The fight took place on June 20, 1980 and the re-broadcast on ABC's Wide World of Sports was telecast on July 29, 1980.
Throughout the thrilling 15-round bout, Leonard averaged 50 punches per round, with 18 connecting, while Duran averaged 60 punches per round, with 21 connecting.
Of course, the four of them all picked to Duran to win.
In turned out to be a watershed moment for the four of them as they would afterwards take the excitement of that fight and start the publishing of The USA Boxing News two years later in 1982.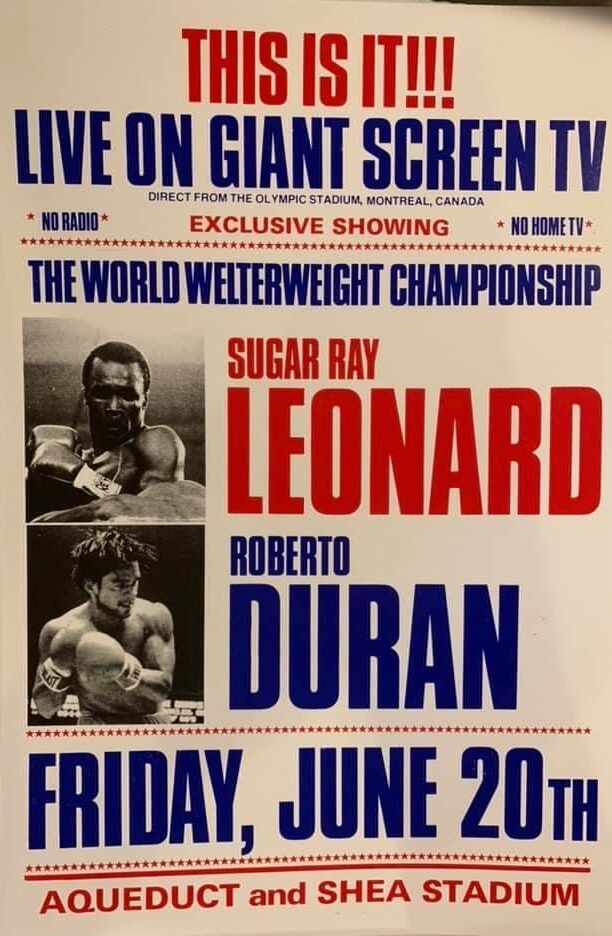 Below are some thoughts of the surviving three – John Rinaldi, Salvatore Alaimo, and Alex Rinaldi, forty years after that landmark fight, from e-mail correspondences.
It is a great indication and collection of what fight fans do throughout the world discussing fights of the past.
John Rinaldi
Well, tonight represents the 40th Anniversary of the Best Night Ever of my lifetime, with Roberto Duran's win over Sugar Ray Leonard. In all my years of watching fights, no bout I have ever seen beats it. The only one that would have come close was if Joe Frazier came out for the 15th round against Muhammad Ali in the "Thriller in Manila" to KO Ali. Since that did not happen, then Duran's win is the highlight of my life.
People can say all they want about hypes for boxing events and anticipation. All I can remember in my life are three bouts that had the world's interest, and actually exceeded everyone's expectations – and those were Frazier-Ali I, Ali-Frazier III and Duran-Leonard I.
On that night on June 20, 2020, all I remember is my beloved father, you two guys and Sal's friends going crazy as Duran showed up in the best condition of his life to face off with Sugar Ray Leonard. Later the way Leonard took apart Hearns and Hagler, it makes Duran's great win even more impressive. NO ONE in the history of the welterweight division (also go from lightweight to middleweight) would have beaten Duran that night.
Credit must be given to Leonard for lasting out the full 15 rounds, when I believe if it were Tommy Hearns that night, Hearns would have been KO'd.
Of course another thing that made that night special was the presence of my beloved Dad right there with us cheering at every punch Duran smashed into Leonard. Afterwards, when we were all hugging each other, I have never been so happy. I think you guys and my father felt the same way.
It is sad that our parents are gone and Duran has grown old and no longer fights. I believe that no fighter has ever taken his place with the mixture of charisma, ferocity and punching power that he had.
So as this day goes on, I think of you guys, Duran and my father. For one brief evening, everything in the world stopped and we were mesmerized for 60 minutes. It is rare when after all the planning and anticipation, that an outcome could turn out so perfect. Life is not like that, but that night certainly was.
It took only one fearsome boxer and all of us together to make the ultimate lifetime memory.
 Salvatore Alaimo
Reading the boxing magazines and seeing the interviews leading up to the fight built up so my anticipation and excitement in me about that fight, at age 15. It was definitely one of the greatest nights of my life, too. Yes, he was in awesome shape and was relentless. I don't think anyone would have beaten him that night either. The judges' scorecards did not come close to reflecting the fight.
Yes, we felt the same way as your Dad. It was great to have him with us and I enjoyed seeing how elated he was.  I was on a high for several days afterwards. The Garden was sold out, and I remember the railing next to me shaking when the crowd cheered. Epic, titanic and thrilling.
There hasn't been anyone like Duran since and there will never be. His accomplishments were remarkable. My Dad used to have a saying about people he admired very much, like your Dad that he shared with me. "Son, they don't make them like that anymore." They don't. 
We have heard many times that Sugar Ray's ego got in the way and he decided to brawl with Duran instead of boxing, as if the assumption was if be boxed he would have won. Rarely, if ever is it mentioned that Leonard had no choice that night in Montreal. He wasn't dictating the fight, Duran was by relentlessly stalking him and cutting off the ring. That's the more accurate narrative, so I think the American sportswriters got it wrong. Think about Ali, the all-time master at being a boxer. Certain fighters, like Frazier and a few others pressured him enough that Ali's ability to dictate the fight, especially pacing, was taken away.
I want to express again my appreciation for you pushing us to go to that fight. To see our hero and idol perform at the height of his powers was awesome. 
Thanks for reminding us of how great that June night at the Garden for what was then the most anticipated sporting event of that time. It broke the all-time closed circuit record for any fight.
We will reflect again on June 16, 2023 for the 40th anniversary of another special evening.
 Alex Rinaldi
The fight was certainly the greatest night of my life too.
It was one of those nights where all the stars align to form something wonderful.
It also involved arguably two of the greatest boxers who ever laced on a pair of gloves. To make a great fight it takes two special fighters to engage in an all-out combat war.
That's what made this one monumental. They both gave and both took powerful punches for 15 thrilling rounds.
Duran was at best of bests, virtually unbeatable that night. No one in any era would have been able to beat him. He had the speed, punching power, and great defense to demolish all comers, which he did to Leonard.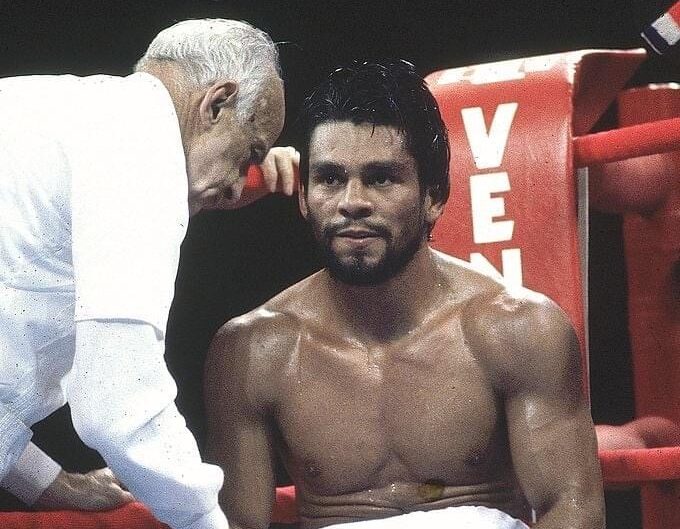 What made it mostly memorable was that our father was there. Before the fight some big guys behind us were touting how Sugar Ray was going to kill Duran.
Then when Duran staggered Leonard in round 2 my dad turned to them and shouted, "There's your Sugar Ray!!"
It is the comment that has become folklore in our family, and has forever immortalized my father in the hearts and minds of our family and to the readers of The USA Boxing News.
Life is filled with so many ups and downs and many losses, but on one night 40 years ago Roberto Duran carried the torch to victory in the greatest fight and night of his legendary career. With that notable and astonishing victory, he took all of us with him to bask and share in the glory, a glory so brilliant and everlasting that had it never happened our lives would have never been the same.
How could we not be grateful forever to Roberto Duran when he gave us so much joy that his wins have become benchmark events of our lives.
Salvatore Alaimo
I remember those guys sitting behind us.
On the significance of Duran's place in our life and of that fight and that night, Amen Cousin John.
John Rinaldi
Thanks for your great stories. Of Course, I put on YouTube and watched the full Wide World of Sports replay of it with Howard Cosell with the pre- and post-fight interviews. Duran is funny in them.  Cosell did the best commentary of that fight. Besides that great left hook in Round Two, Duran staggered Leonard a few times with right hands in subsequent rounds.
Later when he fought Moore and Barkley, the three of us where there in person at ringside to make up the #2 and #3 greatest nights of our lives.
Epilogue
Joseph Rinaldi passed away in September 1983.
Roberto Duran would supply us with the next two great events of our lives – Roberto Duran vs. Davey Moore in 1983 and Roberto Duran vs. Iran "The Blade" Barkley in 1989.
Prior to the fight beginning the legendary broadcaster Howard Cosell, after mentioning Sugar Ray Leonard's great achievements coming into the fight,  wryly remarked, "… Duran, Leonard hasn't faced the likes of him."  
Well, it is fair to say that no one who ever graced the pized the ring at any time in the history of the sport, ever faced the likes of a fighter like that June 20, 1980 Roberto Duran.
A Holiday Memory
By John and Alex Rinaldi
Going into Christmas, we cannot thank our readers enough for their continued support of our website and our boxing publication for over 37 years.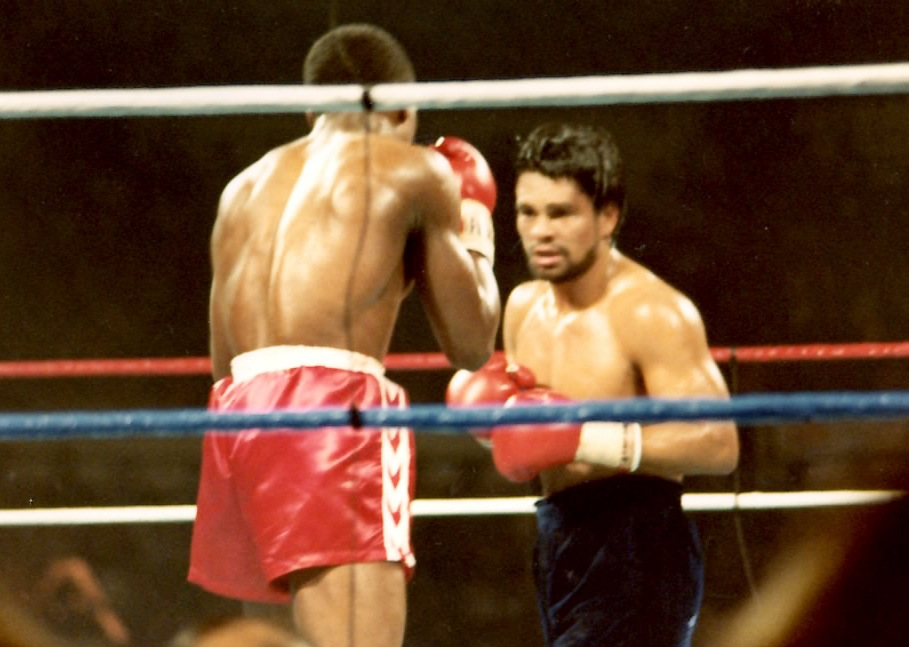 Robert Duran (R) vs. Davey Moore (L) (Photo by Alex Rinaldi)
In an almost magical and mythical way, the sport of boxing and its fans have, since the days of the bare knucklers, established a special, lasting bond that somehow connects the viewer to the participants in the ring. It is also the type of sport that can lift one's spirits, especially when life's misfortunes and personal tragedies can tend to swirl around like a deadly tempest raining down on everything and everyone until all that's left is despair and sadness.
No one is ever spared from this, and even the warmest of holidays often play a part in the the overall melancholy of the time.  We  are  certainly  not  immune  to  this  feeling  and  loss.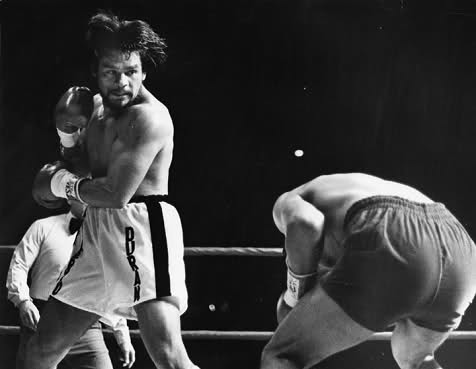 Roberto Duran (L) slugging Pipino Cuevas (R) in 1983
Christmas was such a time 37 years ago, and it remains to this day a bittersweet holiday for us.
Growing up we had wonderful Christmas days and we still do to this day. There was, however, a Christmas where our world simply fell apart.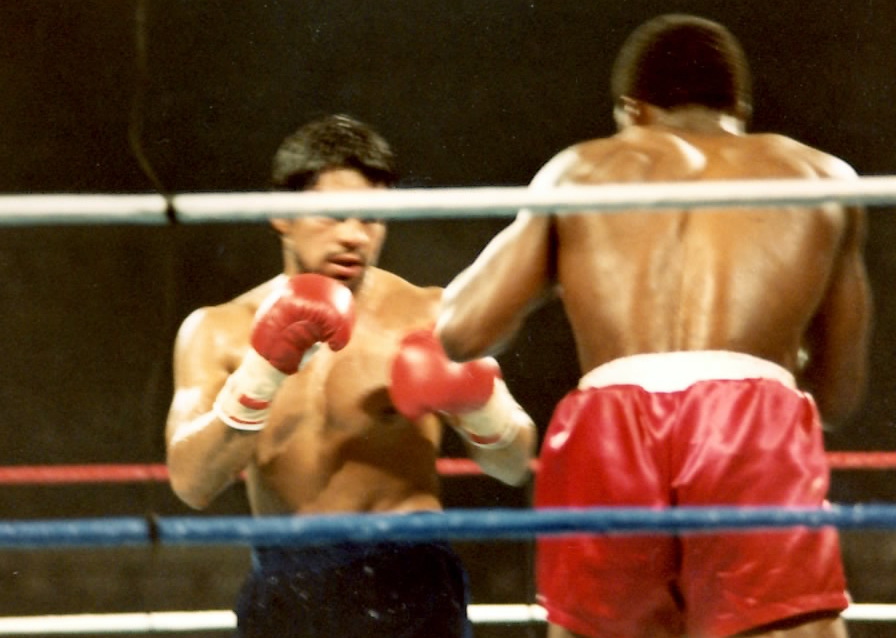 Robert Duran (L) looking for an opening against Davey Moore (R) (Photo by Alex Rinaldi)
On Christmas Eve in 1982, in our house in Stuart, Florida, our Father, and the founder of this publication, Joseph Rinaldi, was diagnosed with terminal liver and colon cancer and was given only three months to live. For a few months before the diagnosis, he was suffering from intestinal pains and was losing weight. He actually thought at the worse that he had an ulcer. Sadly, he found out that at the age of 46, his days, like a prisoner on death row, were mortally numbered.
For a man who had achieved such phenomenal success in his life, it was hard to fathom that this great man's final days were to be spent battling for his life.
There is a famous quote by the legendary Confederate General Robert E. Lee where he says, "I would rather die a thousand deaths than surrender." Our Father had what can only be termed as "true grit" as he fought bravely on, challenging the cancer along with the naysayers and charlatans so prevalent in the medical community. Though death greeted him at his doorstop every day for nine long months, he still kept punching back until he eventually succumbed to the deadly cancer on September 23, 1983.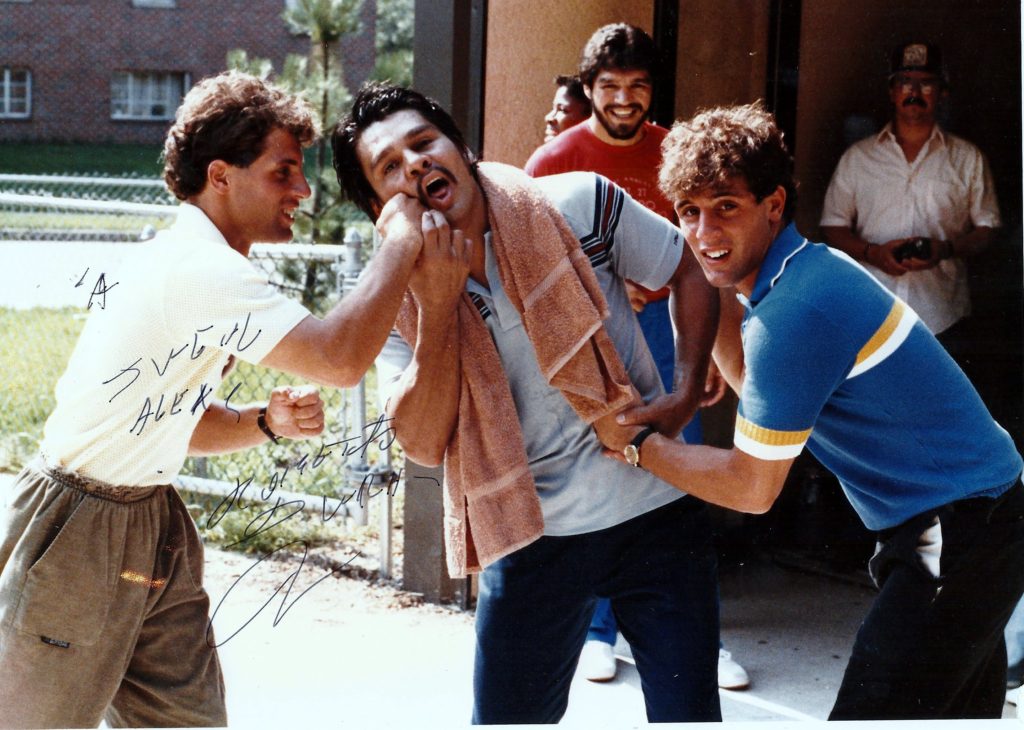 John and Alex Rinaldi with Roberto Duran in 1982
When you watch a person that you admire suffer so badly, who is not just a father, but a mentor and a hero, it is hard to bear and for those like us going through it, the world tends to lose all its color and replaces it with the funereal pallor of black.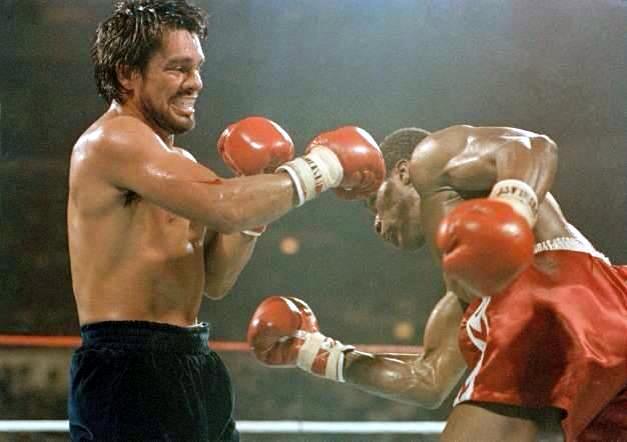 But sometimes were there is nothing but black and bleakness, miracles and heroes seem to emerge through the darkness, and for a brief time a short reprieve is granted to the forlorn.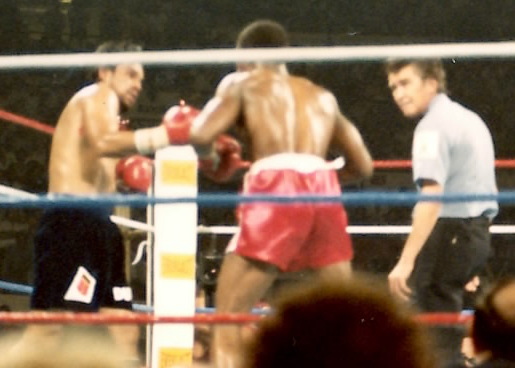 Robert Duran (L) pounding Davey Moore (R) (Photo by Alex Rinaldi)
This is what happened to us. A savior arrived in the form of Roberto Duran and boxing gave us the only streaks of light, as the sun slowly shone through the cracks caused by the mighty fists of the man with the Hands of Stone.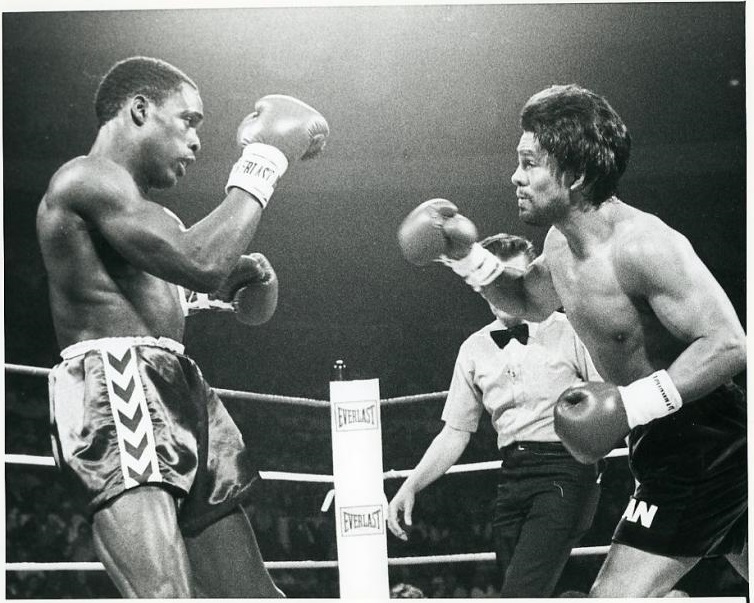 Roberto Duran (r) attacking Davey Moore (L) in June of 1983
Roberto Duran was always our family's favorite fighter. From the time he became a world champion, we marveled at his skill, charisma and punching power. Because of this, he was, and remained our true boyhood hero.
Though he reached the highest heights and peaks of boxing, by 1983, the once great pugilist was considered washed up. In 1982, he went 1-2 when he lost  a title bid against WBC super welterweight king Wilfred Benitez on a close decision on January 20, 1982, and then was robbed in a split-decision loss to Kirland Laing on September 4, 1982. After two decision losses, Top Rank picked up Duran and set him back on his winning ways. It began on the Aaron Pryor-Alexis Arguello undercard on November 12, 1982. Duran was the after-fight walk-out bout where he earned $25,000 in beating Jimmy Batten on a ten-round decision.
It was during his training for Laing at Larry Holmes' training quarters in Easton, Pennsylvania, where the Rinaldi Brothers and our dad would go to visit. Before long we became very friendly with the fistic legend, and he never failed us nor ever disappointed us.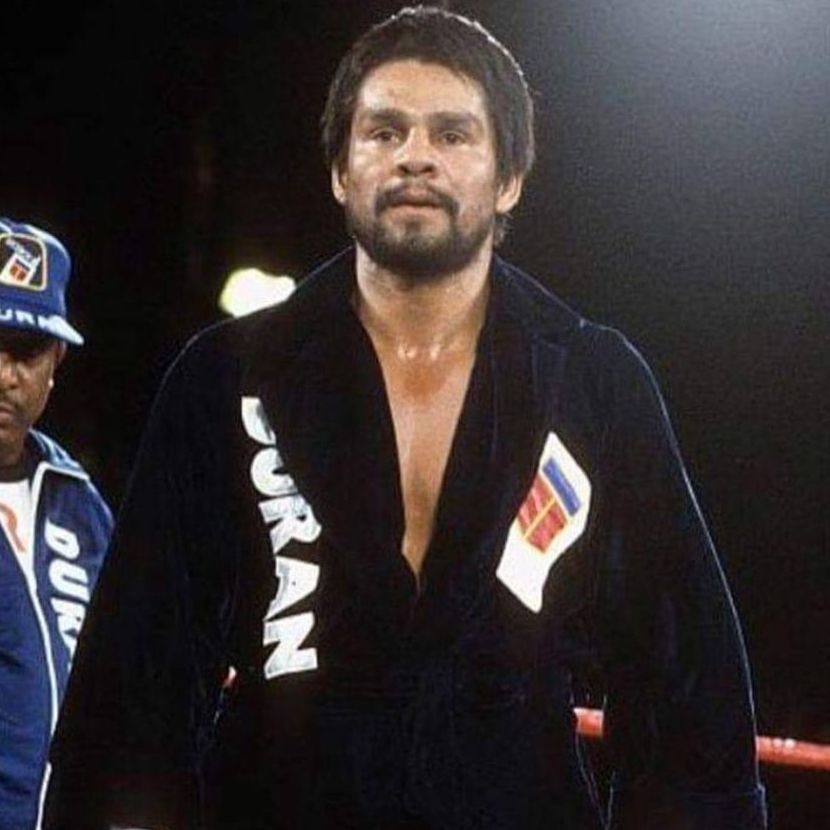 After the Laing fight, and nearing the end of 1982, it appeared that there was little hope in the future of the career of Roberto Duran. Nevertheless, while others urged Duran to retire, we and The USA Boxing News felt that he was far from washed up. As luck would have it, so did promoter Bob Arum.
EPSON MFP image
Arum's Top Rank, Inc. smartly took on Duran and matched him against the power punching former WBA welterweight king Pipino Cuevas on January 29, 1983 at the Sports Arena in Los Angeles, CA. While the Super Bowl was playing nearby the same week, the hottest ticket in town was for the Duran-Cuevas fight. So much so that a capacity crowd of 16,824 turned out for the fight and produced a live gate of $408,000. Both fighters were each guaranteed $50,000, plus a share of the closed circuit revenue.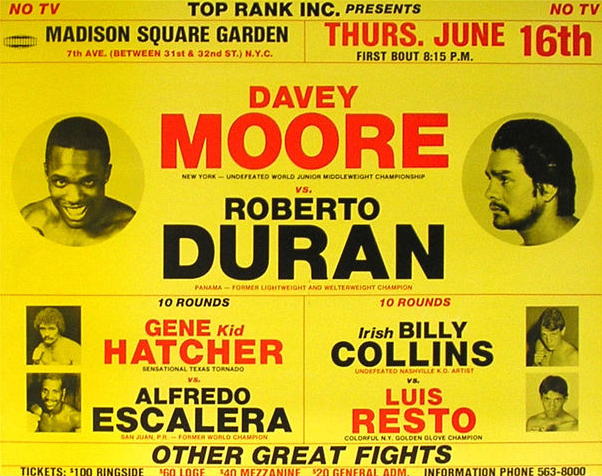 In one of the most thrilling slugfests in boxing history, Duran, 152, brutally stopped Cuevas, 149, at 2:26 of fourth round of the scheduled 12-rounder. Duran was back and his heroics were just about to begin.
With the illness of our Father, we were unable to go to the fight live, but instead viewed the fight on closed-circuit at the Felt Forum in New York's Madison Square Garden. Duran's performance was so exhilarating that on this night our Father was able to forget about his pain and his dreaded outlook and immersed himself in the exciting ring action.
While our Father courageously battled on, Duran was set to give our Dad one more respite from his impending doom.
With the win over Cuevas, Arum decided that Duran would make a good opponent for the undefeated WBA junior middleweight king Davey Moore. The match was then set for June 16, 1983 at Madison Square Garden.
Going into the battle, this publication was the only one who gave Duran a chance to win. With a sell-out crowd of 20,191 on hand, producing an incredible live gate of $964,305 (this was at a time when the ringside seats were only $100) Duran entered the ring a 5-2 underdog.
On this night, our Father was too ill to attend and was slipping away at a rapid pace. We went in his place and were at ringside to see Duran, 152 ½, give the performance of a lifetime as he tore into Moore, 154, and ferociously pummeled him from pillar to post.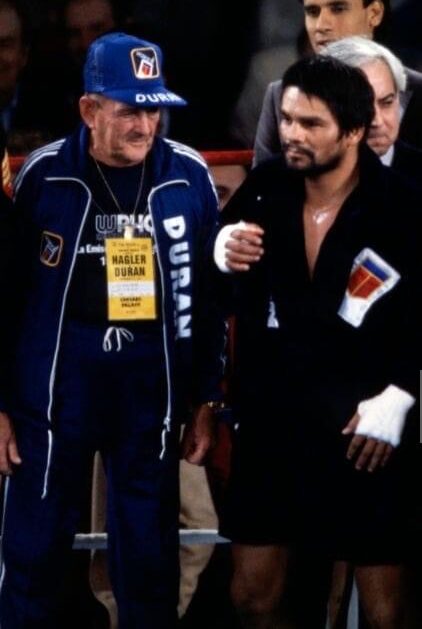 As the crowd cheered, Duran scored an incredible knockdown in the seventh round and in the next round, finished off Moore at 2:02 of Round 8.
The fight was rebroadcast on CBS on June 19, 1983 and although he was racked with pain that no medicine could subside, our Father was laying down on our living room couch and once again, his thoughts were detoured from death to watching Roberto Duran pull off the upset win. That was the last time that the pain would ever temporarily leave our Father again.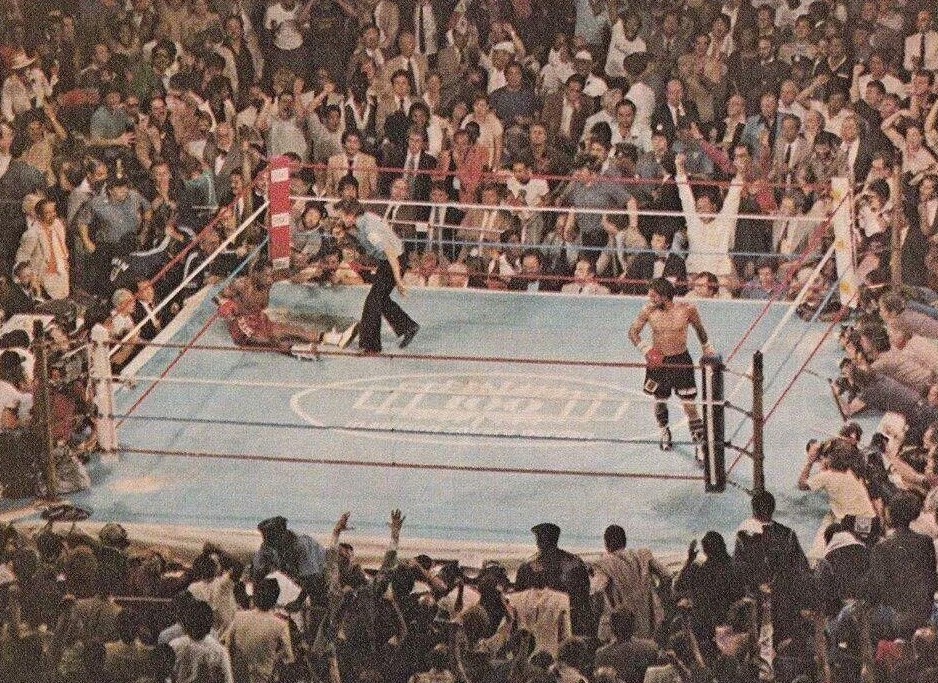 Things would go downhill from there. Our Father was such gallant battler, that we never thought he would die. It was as if Rocky Marciano could ever lose a fight. We thought our Dad would make a comeback. He did outlast all of his physicians' predictions and held out for nine months, while the prognostications said he would be dead in 90 days.
He did it all virtually by himself. The fraudulent medical community, more interested in taking patients' monies  for treatments just a step above the potions of snake Oil Salesmen, were both useless and greedy.  They showed the care of a rattlesnake and offered the hope of a hangman. My father had a better chance of climbing Mount Everest, than receiving any curing treatment from American physicians.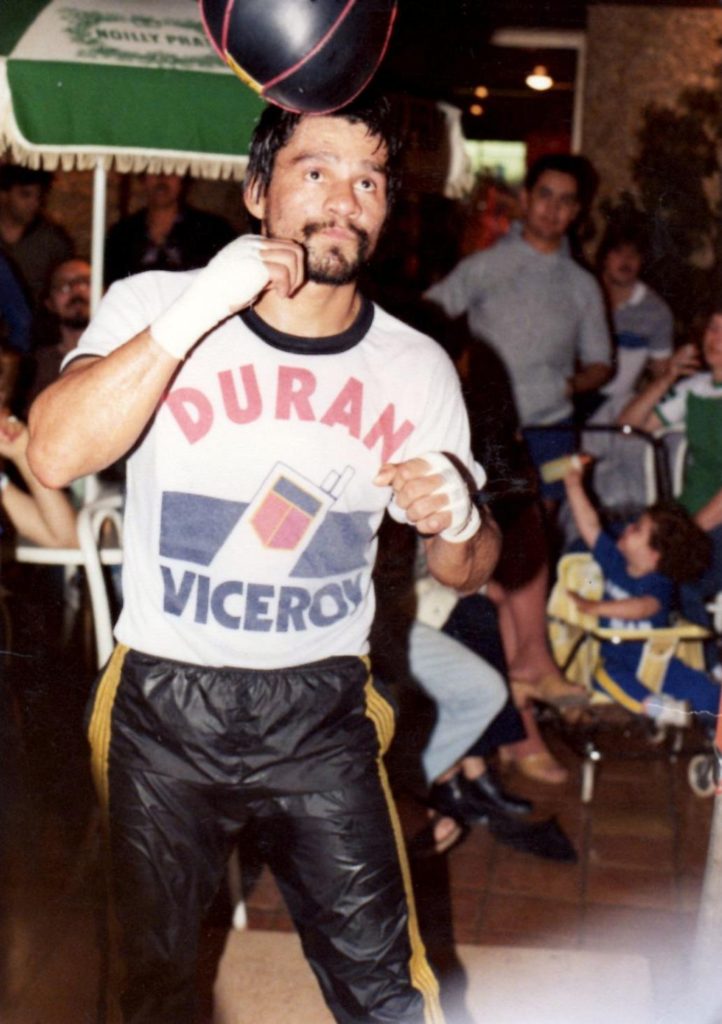 Roberto Duran training for his fight with Davey Moore in 1983 (Photo by Alex Rinaldi)
The comeback never came and three months after Duran defeated Moore, the ten-count was tolled for our father. Thankfully, because of the many who read this worldwide publication and website, his memory still lives on.
Because this publication soldiers on and thrives to this day, our Father and Roberto Duran are both almost like the Jimmy Stewart character in It's a Wonderful Life, where Stewart realizes what an impact he had on so many people just by living his life and doing good deeds to others.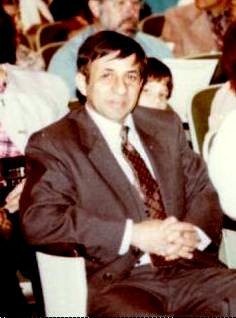 Joseph Rinaldi in December 1982
This may be an odd Christmas story because it ends in the death of an extraordinary man. But it shows that boxing and a great fighter like Roberto Duran can take away the pain of a dying man and give him a few happy moments in such bleak times, as well as offer a brief intermission from despair to his loved ones and, provide in its place, thrills and happiness during a family's darkest hours.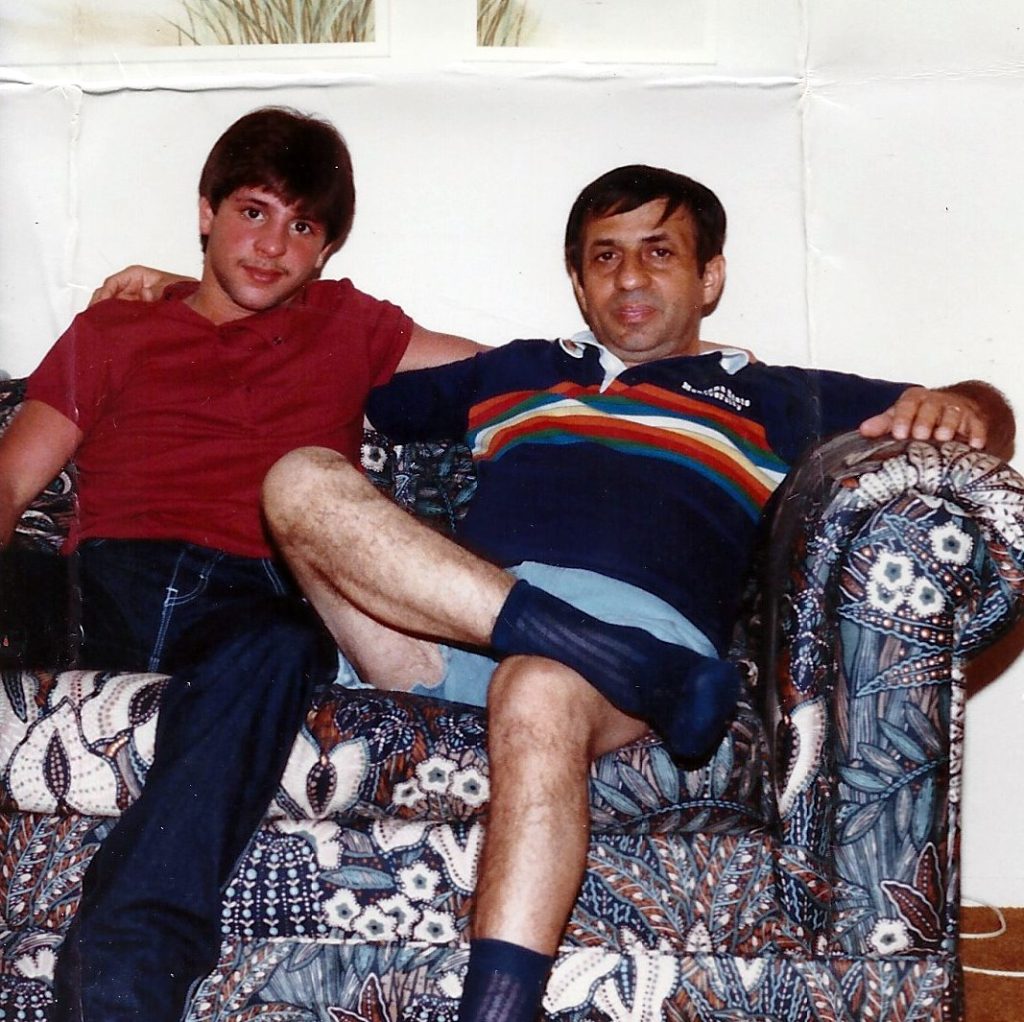 Gerard and Joseph Rinaldi in 1982
"When we recall Christmas past, we usually find that the simplest things – not the great occasions – give off the greatest glow of happiness." ― Bob Hope.
We think of our father every Christmas Eve. Although he is gone, he is never forgotten by us and is always in our thoughts, and it is every time we think of Roberto Duran, we think about the smiles he gave to a man whose life, like a broken clock,  was running out of time.
That is what makes boxing the special sport it is.
Merry Christmas and Happy Holidays from the both of us to all of our readers.
Keep Punching!
____________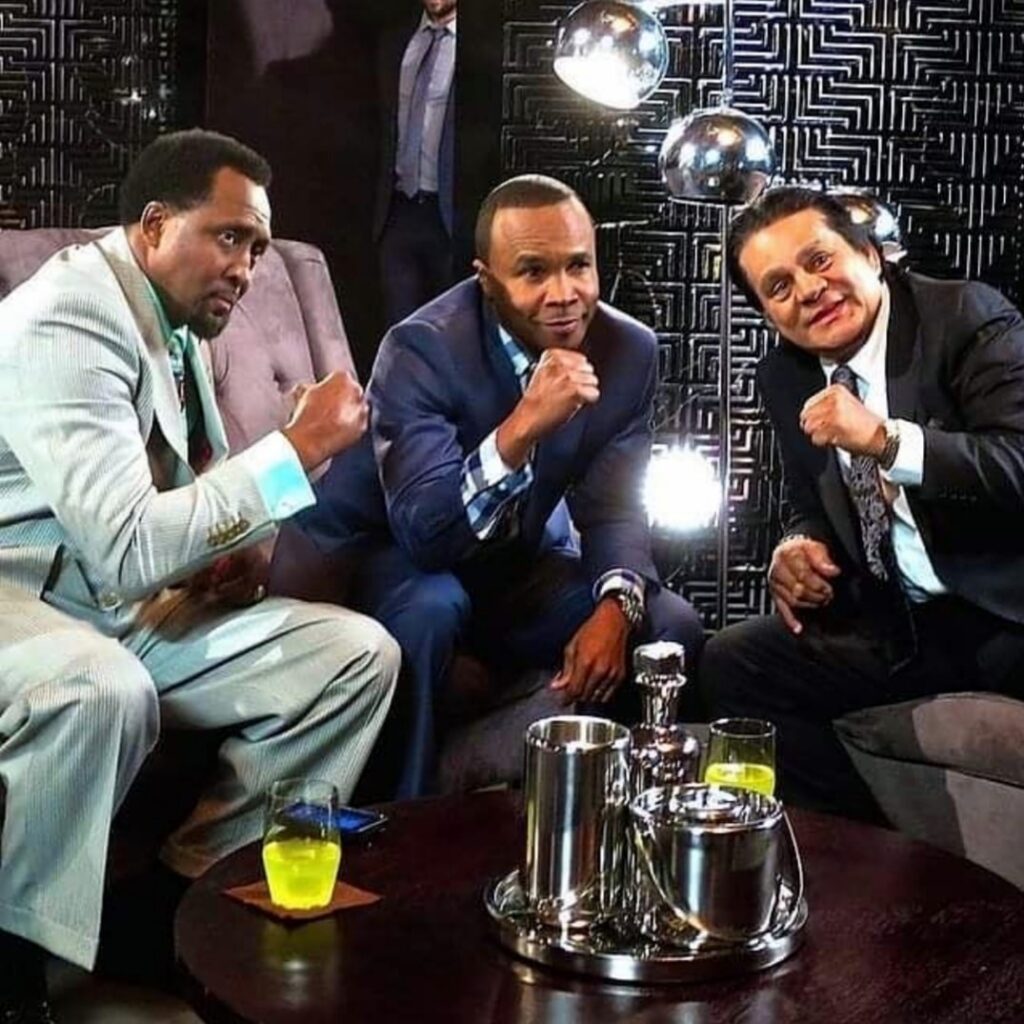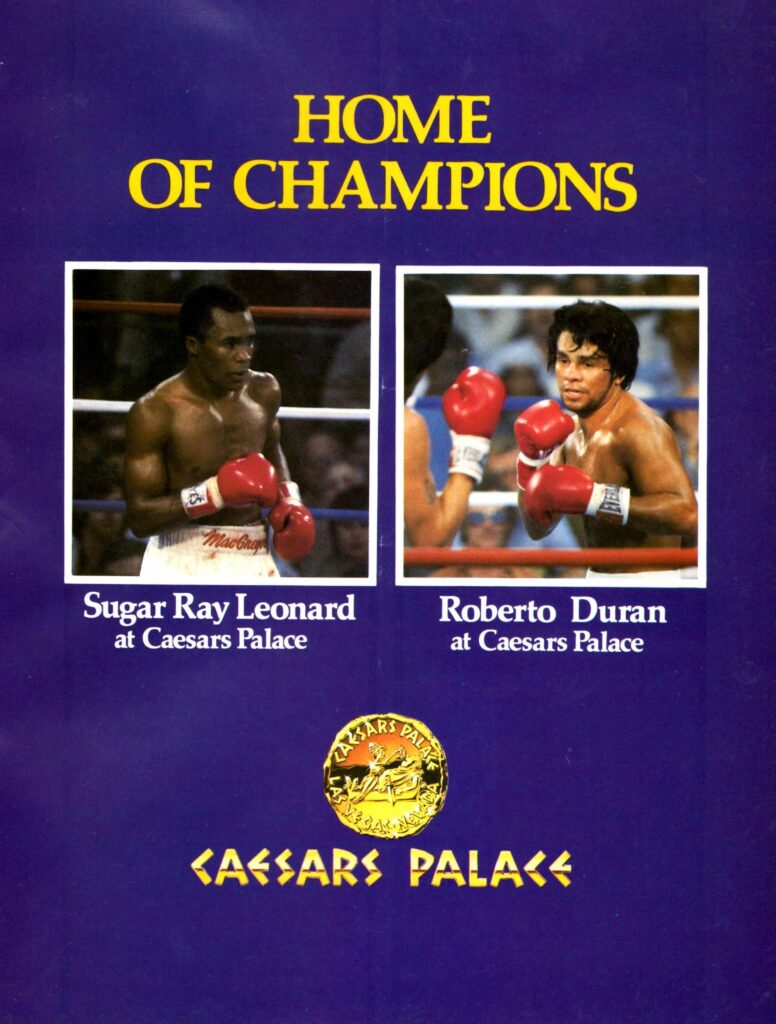 ____________