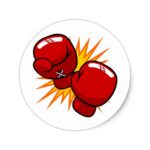 Bernie Campbell's  Fight Notes
The Breadbasket of Boxing
The second largest land-based country in Europe is the Ukraine. It is landscaped by great plains contrasted within shadow of the Carpathian Mountain Range. A population of 45 million people with 25% of its work force are employed in agriculture. Its main cities are Kiev (the capital), Yalta and Odessa. Since the Ukraine is a land richly filled with natural resources, it boasts a manufacturing industry of steel mills, oil wells, and mining. It also has been the jewel of Europe in terms of supplying the continent with farm products and raw materials.
Jaded by Russian rule and occupation for 300 hundred years, the inhabitants have endured great hardships and oppression that exist to the present day. In the past,  there were horrors of intentional mass starvation due to a political conflict with Joseph Stalin (the Russian leader) in 1932, resulting in over 3.3 million deaths and atrocities that included the liquidation of 5.5 million citizens in death camps. If that was not dreadful enough, it was followed only a few years later  by mass executions ordered by Adolph Hitler and the Nazi occupation in that country.
As a consequence, the grandparents of the present day residents in that area were subjected to numerous years of suffering and persecution. Not surprisingly, the inhabitants of that land are a tough breed with weather marked by cool summers and harsh winters. The per capita income of the average Ukranian is $11,000 a year.
Sports are enjoyed in the Ukraine with soccer, volleyball and basketball as the favorites. But the primary sport that the country is noted for is boxing. With the dismantling of the Soviet Union and the Ukraine gaining its independence in 1991, it ushered in the opportunity for the sport of boxing to evolve and thrive, with the product being some of the best boxers in the world emerging from that province of the globe.
The present day government stimulates boxing programs throughout with subsidies and grants for amateur activity.
The advent of the Klitschko brothers reign as heavyweight champions for a full 16 years, which started with Wladimir's Super Heavyweight Olympic Gold medal in 1996, opened the door for Eastern European dominance in amateur as well as the professional ranks.
Professional Pugilists such as Heavyweight contender Alexander Dimitrenko 40-3-1 (28) and WBA super lightweight champion and former Bronze Medal Olympian Andrey Kotelnik 32-4 (13) were also of Ukranian pedigree. Former Olympian and Heavyweight contender, Vycheslav Glazcov 21-1-1 (13) also recently fought for the WBA title in 2016.
"The success of the Eastern European fighters is their willingness to fight for the shear enjoyment of it," says trainer Andre Rozier. "They are not spoiled like their American counterparts, they are well disciplined in their habits and very grateful that they are compensated for what they do." They certainly have a style of calmness in the ring dealing and executing with the element of pressure. Besides that, they often utilize a heavy jab and a long range lead hook. They also usually fight upright and are very technical with their footwork. Most fighters from that area are well established amateurs, and it is not unheard for them to have 300 or more fights. By the time they turn professional they are in their late twenties and are very well seasoned already.
The Ukrainian Olympic Boxing team of 2012 boasted 2 gold medal winners, including the present  pound-for-pound 130 pound professional champion, and two time gold medal winner, 29 year old Vasyl Lomachenko  (10-1, 9 KO's) along with cruiserweight phenom and current champion, Oleksander Usyk (13-0, 11 KO's). In addition to the two gold medal winners, lightweight Denys Berinchyk (8-0, 5 KO's) was a silver medalist, and two fighters won the bronze medal: welterweight Taras Shelestyuc (16-0, 10 KO's) and 30 year old Oleksander Gvoszdyk (14-0, 12 KO's) who currently has his eye on an upcoming title shot as a light heavyweight.
The 2020 boxing team is also projected to dominate more than the 2012 team according to some experts. Other promising prospects include 29 year-old Lengen Kytrov 16-1-1 (13),  32 year-old Sergey Deraynchenko 11-0 (9), 21 year-old Lyubomyr Pinchuk  4-0 (3) and 23 Oleg Davhum 4-0 (2), the latter two both fighting out of Pittsburgh respectively.
The Crimean conflict in 2014 where Russia invaded the Eastern Province of the Ukraine followed a matchup in Moscow of Heavyweight titlist Wladimir Klitschko 64-5 (53) vs Russian Alexander Povetkin 33-1 (23) for the heavyweight titles. The fight was reminiscent in the same importance as the Joe Louis vs Max Schmeling fight in 1938, although no one knew of the importance of this matchup in the US. The result was a Klitschko's unanimous decision win coupled with Povetkin hitting the canvas a few times.
Who is to say this fight may have eased international tensions and caused fewer casualties as a result of a peaceful annexation of Russia to this area. Although the sport of boxing in America is not what it was or should be, the the sport is obviously thriving in the Ukraine, Eastern Europe, Russia, the United Kingdom and Japan. As the sport continues to gain extensive recognition throughout the globe, coupled with its achievements internationally, the sport will climb leaps and bounds above all its other sports competitors.
If anyone has seen any of Artur Beterbiev's fights, they can see he is a very special fighter. After obtaining The IBF Light Heavyweight Title and knocking out former German Olympian Enrico Koelling in the 12th round they can attest to it.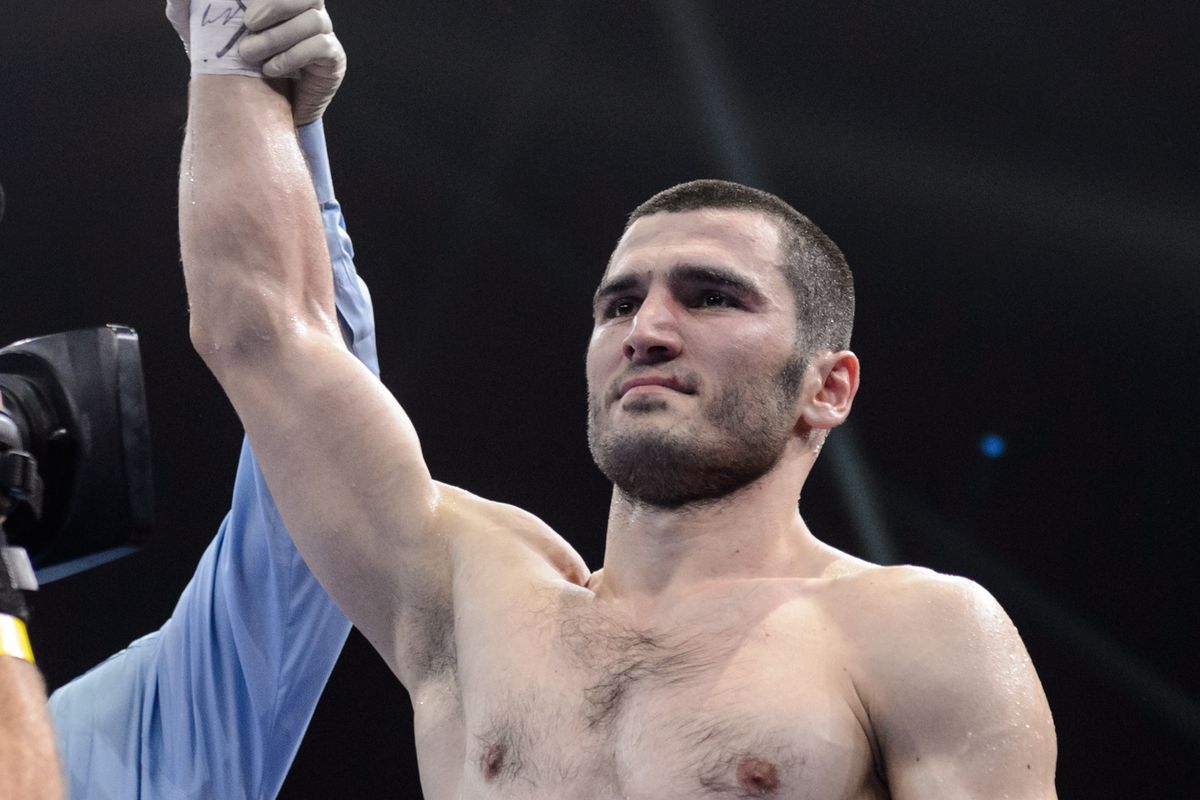 Artur Beterbiev – IBF Light heavyweight Champion
His style is reminicent of a young Mike Tyson from twenty years ago in that he goes right for the jugular vein with tremendous punching  power.  The result of which is typically an early knockout, though this past fight was not indicative of that style. "Iron Mike comparisons to me is a flattering remark, however I consider myself an ordinary boxer to him who at twenty years old became the youngest boxer to become the Heavyweight Champion! We went over several strategies before the fight, I am very happy how it implemented for two reasons, one was the fight resulted in another KO and I reached the 12th round. What else can be better?"
Koelling refused to engage for most of the fight. Instead,  he backed up, held his hands high, and continually showed a great deal of respect for Beterbiev's power. Compubox Stats had 322 landed Punches for Beterbiev out of 1111 thrown for (29%) as opposed to Koelling's 64 connects on 252 attempts (25%).
"There was too much at stake, I did not underestimate my opponent, I took the fight very seriously, moreover it was a title fight. There is an old Russian proverb that states, even a stick may shoot once a year." Koelling was in survival mode for most of the fight while Artur kept firing with his formidable jab. Many of Koelling's punches, especially his jab often missed. In the 11th round, Beterbiev rocked Koelling with a strong right hand, which had the challenger circling and backing up to avoid serious contact.
In the 12th round Koelling took a knee after accumulating a barrage of punches. Finally referee Lou Moret called off the contest at 2:37 of the round after he was dropped a second time with a powerful right. 
Born and raised in the city of Kharavurt, Republic of Dagestan, Russia, Beterbiev started out boxing at the age of 11. He was influenced by the success of his older brothers who also boxed. His Mother was a nurse and his father was a bus driver. Sadly, although his father died when he was still a young man in a car accident,  when he was alive he was a big supporter to Artur and his boxing journey.
Beterbiev, 32, presently resides in Quebec with his wife and four children. Having spent a good part of his career as an amatuer, he has been stalled in his craft with contractual defaults which promised him at least 4 fights a year and payments on time. The culprit has been GYM promotions, a subsidiary of Haymen Sports LLC. His contract is currently in litigation and it has caused him a great deal of anguish regarding how often he fights and how often he gets a payday. There was also a shoulder injury a few years back that stalled his progression also.
"The problem has been securing fights" Beterbiev said. "Boxers want huge compensation to fight me and that has limited my opportunities, so my progression has been slow throughout the ranks" 
As an amature he has had a decorated career with 200 bouts to his total, He had been an Olympic representative for the Russian team in 2008 and 2012. He has also faced and beaten former Professional Light Heavyweight champion Sergey Kovalev in the 2007 Russian Amateur Championships in 2007. He lost to current Cruiserweight Champion Oleksander Usyk representing the Ukraine and he felt the scoring didn't accurately reflect the fight after knocking Usyk down in the 2012 Olympics.
"The toughest opponent in the ring  is myself, the more you sweat in the ring the less you bleed in war". Artur whose normal walking weight is 190 lbs said, "I am not perfect so I work on my boxing skills, during my training sessions I do my best to improve punching power, finesse, stamina and mental toughness. I invite coaches from the U.S. to my training camp and learn tricks necessary to win. I stick to a strict diet during training and not experiment with new foods. I eat strictly on time, consume all necessary food ingredients contained in meat and other products, and I avoid junk food."
"I remember having tough training camps against former champions Tavoris Cloud and Gabriel Campillo, however I did not have any problems and finished my bouts quickly.
A religious man in his own right, he admires Vladimir Putin as a world leader. During his presidential reign my country regained its status as a world power. Moreover, the life of the ordinary Russian has improved with his leadership since the mid '90s. His favorite actors are Jason Statham and Vin Diesel.
On asking how he graded himself on the fight with Koelling? I would give myself a B-. however I wasn't totally discouraged with my performance. There are many elements that may have affected the fight, I am sure my one year absence had an impact. It is possible that there was ring rust, but I did not have that feeling. I had three training camps in 2017, I was in good shape, I had plenty of sparring sessions. "
Where does Artur plan on going from here? "I will go home to The Chechan Republic for a couple of weeks. Then I will evaluate the situation with the trial I have with GYM. I would like to spend more time with my family and children."
As far as matchups and who he prefers fighting? "I do not care about my opponents, my goal is to fight the best boxers Stevenson, Kovalev or any other. I think Boxing wants this."
The Straw that Stirs the Drink
They fight to packed houses in places such as Provincial Stadium in Thailand, Arena TV Azteca in Mexico, and The Emperers Palace in South Africa, to name a few. The fighting parameters fight in range from 97 to 105 ponds. They are from countries whose home bases are located in Nicaragua, Mexico, China Thailand and Japan.
Such is the "unheralded" world of the Strawweights or the "Minimumweights" as they are also known; usually remote from the knowledge of the most die hard American Boxing fan. It is a special that was division formed in the 1968 Olympics in Mexico City called the Light Flyweights (48 kg or 105.8lbs or below), not to be confused with the 105-108 pound counterparts in the professional ranks. The first Champion in the competition was Francisco Rodriguez from Venezuela and the last 2016 gold medal winner was Hasanboy Dusmatov from Uzbekistan. In the Olympic competition, American Nico Hernandez won a bronze medal that year also. One of the most famous Olympic competetors in the division has been Zou Shiming of China who gathered 2 Gold medals and a Bronze in three (3) respective years and who is a popular hero in his home country.
The professional division was formed in its inauguration in June of 1987 with IBF sanction when Kyung-Yun-Lee of South Korea knocked out Masohuru Karakami of Japan in June of 1987. In October of 1987 the WBC adopted the division followed by the WBA in January of 1988, and the WBO in August of 1989.
The history of the division has been marked mostly by Latin American and Asian fighters. In May of 1993, Paul Wier 4-0 upset Fernando Martinez of Mexico 35-6 -2 for the WBO title and Zolari Petelo of South Africa bested Anucha Phothong (Ratanpol Sor Vorapin) 34-2-1 of Thailand in a bout in an IBF championship match in December of 1997; both distinctly and respectively fight division milestones.
The King of the Minimumweights was a fighter from Cuermanaco, Mexico named Ricardo Lopez Nava. (El finito) He held all four titles from the sanctioning bodies at one time or another from 1990-2001. He still holds the record for 21 straight title defenses with an outstanding 51-0-1 record eclipsing both Rocky Marciano and Floyd Mayweathers' 49-0 ceremoniously. Lopez turned professional without ever losing an amateur bout. He is considered the greatest amateur boxer ever to step inside the ring. He was subsequently inducted into the International Boxing Hall of fame in 2007. He currently works as a boxing broadcaster for the Mexican Televisa Network. Other well known champions of the division were Anuch Photong which he was earlier mentioned 59-8-1 who held the IBF strap for most of the 1990s and Ivan Calderon Marrero, a southpaw from Guyambo, Puerto Rico who was a favorite fighter in New York and at Madison Square Garden. Another big strawweight champion was Roman Gonzales from Managua Nicaragua who held the WBA strap from 2008-2010. Gonzales or (Chocolatiato) who just fought in march against Thai boxer Wiscksil Wangek in Brooklyn's Barcaly Center for the Super Flyweight title where he lost his first decision after 47 fights. The fight was covered by HBO.
The current number one ranked Strawweight is Wanheng Menayothin (Chyapha Moonsri) from Maha Sarakhan, Thailand. He is a 5'2, 31 year old orthodox fighter who is not afraid to mix it up and is a great counter puncher. He has 7 title defenses to this point and is a great competitor. He currently holds the WBC version of the title. Thammonoon Niyomtrong, age 26. also known as (Knockout CP Freshmart) has an unblemished mark also at 16-0 (7). He is also an orthodox fighter with a Muay Thai backround and stands 5'1. Freshmart has 3 title defenses to date. He is presently stands as the WBA trinket holder.
Jose Argumendo from Tepic,Nayarit, Mexico 20-3-1 (12) a veteran who has knockout power with 3 title defenses, holds the IBF strap. Finally, Tatsuya Fukuhura, Kumamato, Japan 18-4-6 (7) with his 2 title triumpths holds the WBO sanction.
1. Chayaphon Moonsri, (Wanheng Menayothin) (WBC) 47-0 (17), Maha Sarakhan, Thailand
2. Thammonoon Niyomtrong (Knockout CP Freshmart) (WBA), 16-0 (7) Surin Thailand
3 Byron Rohas, 20-3-3 (9) Matagalpa Nicaragua
4. Jose Argumendo IBF 20-3-1 (12) Tepic, Nayarir, Mexico
5. Carlos Buitrago, 30-2-1 (17) Managua, Nicaragua
6. Simhive Khonco 18-5-(7) Tsolo, Eastern Cape, South Africa
*7. Ryuya Yamanaka 14-2 (4) Kobe, Hyogo, Japan
8. Hiroto Kyoguchi 7-0 (6) Osaka, Japan
*9. Tatsuya Fukuhara (WBO) 19-4 (6), Kumamoto Japan
10. Leroy Estrada 16-2 (6) La Chorrea, Panama 
* Yamanaka and Fukuhura will meet for a title fight August 27th, at Shirovama Sky Dome in Kumamoto Japan.
Since the lack of virtually no American Strawweights, the prevalence of television appearance of these fighters are rare. Luckily, YouTube has many of the major bouts on video after the fact. 
To follow this division takes patience and research, mostly from international boxing websites and boxing publications. Still, the Strawweights are a very entertaining division with true athleticism, they have their fair share of knockouts with tons of action. This weight class should be followed by the true boxing devotee, careful attention can open up a new world in Pugilistic enjoyment.
Once there were Giants
By Jerry Izenberg
           www.Skyhorse Publications.com
By Bernard Campbell
Renowned sports writer Jerry Izenberg, who has numerous credentials including Sports columnist for the Newark Star Ledger for over a half of a century and is author of books on football, baseball, Latin sports heroes and a comprehensive biography about NFL Football Commissioner Pete Rozelle has written a poignant story about Heavyweight Boxing. He is arguably the foremost authority of covering Professional Boxing in the country.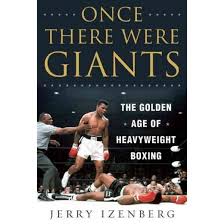 At 86 years of age he has written an enjoyable and an insiders view of the picture window period of heavyweight boxing from 1961 and the advent of Sonny Liston's reign to Mike Tyson's demise in his last signature fight in 1992. 
Izenberg tells the story of The Golden Age of Heavyweights with his unique style of parody and irony that makes this book a fast paced and engaging read that keeps the reader glued to its pages.
Izenberg sketches a background on professional boxing ingrained in America's psyche until recent times with an analysis of Sociological impact in race relations with the advent of Jack Johnson, its popularity during The Roaring Twenties, the importance of the Max Schmeling – Joe Louis rematch for the karma of the American public during the second World War, and "The Frankie Carbo era" where boxing was mob controlled with gambling. The last "mob controlled" fighter he, says was Sonny Liston, he writes about the rematch with Muhammad Ali, that experts say, he was knocked out by a grazed punch.
So goes the story of that period of the kings of the ring, the personalities, in which many of the fighters in that era actually had a personal relationship with Izenberg.
Chronicles of Muhammad Ali, Joe Frazier, Larry Holmes, and many others are included in the book, as well as stories touching upon some racial issues such the climate surrounding the Holmes-Cooney fight, which precipitated racial division throughout the USA, and the interesting tale of The Mike Tyson phenomena with his devastating style in which had everybody began staying home on a Saturday night to watch him slaughter yet another opponent.
The personal side of Muhammad Ali was also examined from him winning the Olympic Gold Medal in 1960 throughout his last fight with Trevor Berbick in 1980. George Foreman's exciting comeback at 45 to win the title again after 10 years against Michael Moorer is also set forth in detail. Even included in his prose is the rise of Evander Holyfield to the throne and the ear biting incident in the rematch with Tyson.
There are quotes from his years of covering boxing from legends such as Cus D'Amato, Sonny Liston, Ray Arcel, Yank Durham, Joe Frazier, Bob Arum, Arthur Mercante Sr., Gerry Cooney, Michael Spinks, and Teddy Atlas to name a few.
"The book is a testament to Heavyweight Boxing during those Golden Years" says Izenberg."This was a period in which fighters did not avoid anyone, that the caliber of competition was that anyone was capable of beating anyone else at any given time or place and the fighters gave their all to maintain their reputations on ability and pride of being the man to hold onto the Heavyweight belt.
Jerry's top pick heavyweights of all time included Joe Louis, Rocky Marciano, Jack Johnson and Muhammad Ali in that order. The greatest fight he ever saw was the thriller in Manila, Joe Frazier and Muhammad Ali. The greatest right hand he ever saw was Earnie Shavers. With Jerry's presence on the scene he gives you a blow-by-blow account of what went on inside and outside of the ring and he takes you to a place where you are feeling the excitement and electricity from that historical period.
He also reveals some tidbits of how Chuck Wepner had business cards with pictures of him knocking down Muhammad Ali in their match to help boost his liquor sales as a distributor with his vendors after retirement. He also mentions about Larry Holmes getting treated with electric eels to help a damaged right arm injury before his title fight with Ken Norton.
All in all, Jerry Izenberg brings a powerful punch to boxing fans in this tribute to this special era of pugilism. I highly recommend this book for the fans of the fanatical as well as the casual natures. It will not disappoint.  
A chat with former WBA super welterweight champion Yuri Foreman
Recently Yuri Foreman had one of his most poignant fights of his career when he was knocked out in the 4th round of his match with top ten P4P and current WBA and IBO 154-lb. champion Erslandy Lara. The fight took place at The Hialeah Park Racing and Casino on January 13th of this past year. To the most part of a Cuban-American partisan crowd, they witnessed a tactical first two rounds of the bout and then Lara opened up and took over.
Lara fired away with bombs in Round 3 and had Foreman on the canvas with a flash knockdown. This set the stage for the fourth-round knockout – a right uppercut at 1:47 of the session in which sent the ex- WBA  Super Welterweight king staggering, in which Foreman could not recover.
"Lara is a great boxer and sometimes it's the punches that you don't see, or expect, that cause the most damage," said Foreman in this interview two weeks later at Gleason's Gym in Brooklyn, NY. "I don't know what my plans are now, I don't know if I'm going to continue to fight. I'm going to have to talk to my wife and handlers to see where we are going."
Yuri has a professional record of 34-3 (10 KO's). He is the former WBA and NABF Super Welterweight Champion. He had the first fight in Yankee Stadium in 34 years in a title defense against Miguel Cotto, and he is the first Orthodox Jew to hold a major title since Barney Ross. He also happens to be a Rabbi.
Born in Gomel, Belarus on August 5, 1980 in the former Soviet Union, Yuri Foreman (real name) came from a loving family. "I was the only boy, so I was spoiled." says the ex-champ. "My Father was a merchant, buying and selling items, he also worked in a factory.  In a Communist environment, it was not as bad as people think – I had the best education, sports programs were encouraged and free, and I encountered little sense of anti-semitism.  I would go out and play in the morning all day to play and my Mother wouldn't see me until dinner time because she knew I was safe."
Yuri started out swimming as a sport, but after being bullied in school, his parents encouraged him to go into boxing at age 7. When he was 9, the family moved to Israel, where he expounded on his boxing skills and won three amateur championships there.  "I used to watch Mike Tyson on Soviet State TV and I said to myself as a child that someday I would become a World Champion."
Yuri later in his teens realized that there was nowhere to go with his boxing in Israel, so he moved to the United States and settled in Brooklyn, New York in 1999. His first job was working in the Garment Industry in a clothing store in Manhattan making deliveries and sweeping floors. In addition to his job, he boxed and won the New York City Golden Gloves in his respective weight class in 2001. Foreman's amateur career record was 85-5, which attracted the attention of promoter Bob Arum, where he signed a professional contract with Arum's Top Rank, Inc..  With his new promoter, Yuri had his first bout at the Pink central Hotel against Israel Felix, which resulted in a TKO for Yuri. During this time he met his wife, Hungarian Leyla Leidecker, who was also a boxer and a model.
Yuri rose up the ranks and took an undefeated record with wins over the likes of highly touted Saul Roman (W-10) and Andrey Tsurkan (W-10), whom he won the NABF Jr. Middleweight title from on a split decision.
Foreman at this time decided he wanted to explore his spirituality and Jewish roots so he decided to enter Rabbinical School. He entered Yeshiva at IYYUN in the town of Gowanus and it took him six years of study to become a Rabbi. "I am not a pulpit Rabbi, I do not have a congregation, but I would like to use my training as a Boxer and Rabbi to unify people."
 During this time his wife converted to Judaism.
After an undefeated record and a top-ten ranking, Foreman got a major title fight with then WBA Champion Daniel Santos in November of 2009.
Yuri's dream came true with a unanimous 12-round decision over the tough Puerto Rican, in which he also got an 11th round knockdown. "I can remember him coming in 20 pounds over from hydration at 175 lbs. to my 161. He hits hard.  Santos has been the hardest puncher I have faced up to date."
[caption id="attachment_8435" align="aligncenter" width="2560"]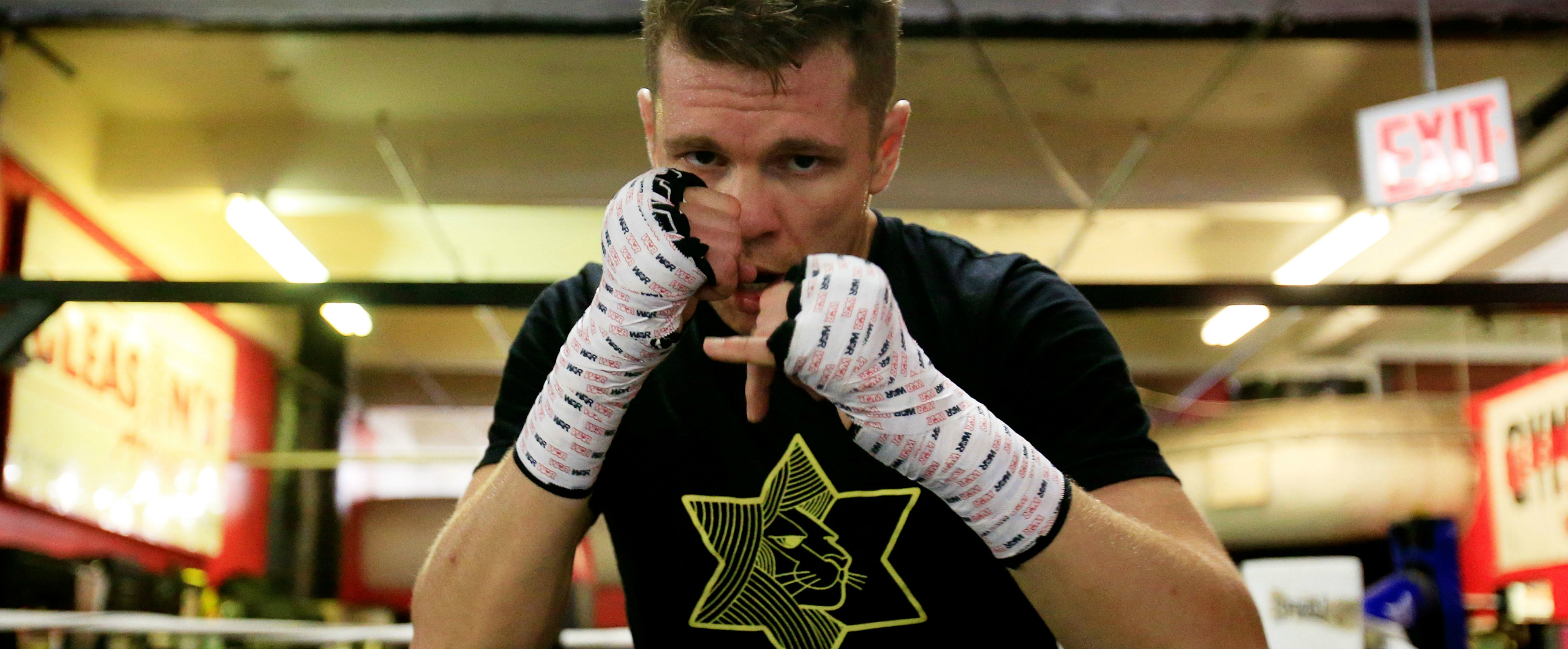 Yuri Foreman working out.
The blowing of the Shofar at Yuri's fights introducing him to the ring walk is Foreman's trademark. "It was an ancient Jewish instrument made from a ram's horn that inspired the Israelites into battle.  It is also Biblical since Joshua used it directed by God to crumble the walls of Jericho."
On Foreman's title defense at Yankee Stadium on June 5, 2010, he fought a widely promoted and publicized affair with the tough Miguel Cotto. Cotto was coming off of a loss with Manny Pacquiao and wanted to regain a title real bad. The fight was a competitive one in which Yuri bested a couple of stanzas, but in the seventh round, Cotto landed some bombs. "I felt my knee give way, I didn't feel much pain because of the adrenalin going through my body."
In the middle of the seventh round Yuri's knee gave out that he had braced. "The knee was weak from an injury that I incurred from when I was 15," explained Foreman.  
During the fight he slipped several more times.  Referee Arthur Mercante Jr. saw the danger of Foreman's injury, but continued to encourage them to fight.
"My wife was frantic, seeing that I may get severely hurt in the ring. When you fight Miguel Cotto, you must have two legs and two arms to defend."
During the seventh round, after falling, Mercante told Yuri, "Suck it up kid."
Yuri told The USA Boxing News, "I took exception to that, because I wasn't a kid, I was a champion. I had fought international competition, so I thought he was out of line."  
The eighth round saw Yuri a sitting duck for Cotto's bombs and finally his trainer Joe Grier threw in the towel. "A fighter no matter what shape he is  in does not want to quit," remarked Foreman.
The round, however, continued after a two-minute wait and Mercante clearing the ring. It was a valiant piece of bravery in what Foreman displayed that night. He exchanged combinations with Cotto to finish the round on one leg. Mercante appeared to be too involved to put on a dramatic show at Foreman's expense. The ninth round saw Foreman defending himself in almost a dangerous way.  When Cotto hit him with a left hook to the body in the early seconds of the round, the fight was over.
"It was an amazing experience fighting in Yankee Stadium, the atmosphere was electrifying, all you could see were rows and rows of people cheering for both fighters, and no, I'm not a baseball fan," said Yuri.
Yuri keeps his WBA and NABF belts on a shelf at home on a shelf.  "I don't try to make a shrine to put them in, they are what they are," he stated.
Before his recent loss to Erislandy Lara, Foreman was on a six-bout winning streak, beating Jason Davis (TKO-2), Lenwood Dozier (W-8), Jovany Javier Gomez (KO-1), Jamaal Davis (W-8), Gundrick King (W-6), and Brandon Baue (W-6).
 Foreman said, "The fans have been a big support to me, 'thank you' is not enough to say, I want the fans to know to accomplish anything in life you have to believe in yourself, challenge yourself and be better than the day before."
Whether it is a retirement or a ring comeback, Yuri Foreman has had an interesting career that he could be very proud of.
A chat with welterweight contender Sadam Ali
By Bernard Campbell
Across the Verrazano Bridge into Brooklyn we drove, myself and my friend Mike, who I met up with a couple of years ago, and happens to be the Uncle of former WBA/INT welterweight Champion and Olympic representative Sadam "World Kid" Ali. Awhile ago he promised me this interview in Sadam's gym in the Bedford-Stuyvesant section of Brooklyn.
I did not expect what I experienced next. After an hour's drive in Christmas traffic on a cold Tuesday night, we found ourselves on a remote corner of Atlantic Avenue, where a Yemenese Deli stood. In the back of the Deli on the street we walked into a basement guarded by a heavy wooden door. The gym was a humble facility with a ring, treadmill, and sprinkled with numerous heavy bags.
In the ring WBA middleweight king Danny Jacobs was working on some maneuvers with a sparring partner. I was directed and introduced to Sadam Ali, who was digging hard into a heavy bag at the time. I could not help to admire his hand speed and power for such a moderately sized man. With a genuine smile he shook my hand and said he was happy to talk. During his workout he showed a powerful stride on his treadmill, I knew why he had such great footwork in the ring.
After the workout he sat down with me and he said that he started out in karate at the age of 5. His father felt that that there were too many girls in the family that he played with and wanted to roughen him up! "I loved the gym, I was 8 and I loved shadowboxing, my idol was Prince Naseem Hamad," said Sadam.
After his first competition at the age of ten, he lost his debut, but despite that, an older man took him under his wing and nurtured the child's love of boxing. "I had two things in my youth – school and boxing," remarked Ali. Sadam had 255 amateur bouts, winning 235 and losing 20, leading him to the Olympic trials, one fight with a win over current WBO/WBC super lightweight champion Terence Crawford. Some other opponents include Gary Russell Jr. and Rasheed Warren. In the 2008 Beijing Olympic Games, Ali lost to Romanian Georgeian Popescu in the first round of competition by a score of 20-5.
Sadam turned professional after the Olympics and stopped Ricky Thompson in the first round on January 17, 2009 at the Beau Rivage Resort and Casino in Biloxi, MS. Ali then defeated his next 17 opponents, scoring 10 knockouts before he signed to meet Michael Clark on April 19, 2014 at the DC Armory in Washington, DC for the interim WBO NABO welterweight title. Sadam bombed out Clark in the opening frame.
Ali's next fight was for the vacant WBO Inter-Continental championship against the rough Jeremy Bryan at the Barclays Center in Brooklyn, NY on August 9, 2014. Fighting before his hometown fans, the bout was a close nip and tuck affair. After ten rounds, Ali emerged the winner via a split-decision victory.
"World Kid" ended 2014 on a winning note by defending his WBO/INT laurels by stopping Luis Carlos Abregu in nine rounds at the Boardwalk Hall in Atlantic City on November 8.
The coach of his pro career has been Andre Rozier which has led Sadam to a professional record of 23-1 (13 KO's).
Sadam considers his win over Abregu to be his greatest accomplishment in the ring to date.
On April 25, 2015 at New York's Madison Square Garden, Ali outpointed Francisco Santana over ten rounds to capture the WBA International welterweight title. For a fighter that kept pretty busy, he was out of the ring for 11 months before being matched with Jessie Vargas for the vacant WBO world welterweight championship on March 5, 2016 at the DC Armory. Although it was an exciting battle, Ali was TKO'd in 9 rounds.
"My ankle gave way in the fight and when I went down it prevented me from getting up and fighting the rest of the way. I was ahead on the cards at the time I was knocked down twice in the eighth round and by the ninth round I had nothing left in my legs," explained Sadam. "There was a concern before the fight because I hurt my ankle in training. One of my ambitions is to avenge the loss with Jessie Vargas, any undefeated fighter in his right mind would want to avenge the loss from the only guy that beat me professionally!"
Ali said he would fight anyone in the talented pool in the welterweight division, it is up to his management. A good match-up in this writer's opinion at this time would be former champion Devon Alexander. The future is still on for this talented 28 year-old.
"I'd like to get another crack at the world title," said Ali.
Mike and I had a cup of coffee later on in Sadam's father's deli. I pondered and could not help how the neighborhood has changed.
Subsequently, after the Vargas fight, Sadam met Saul Corral at the AT&T Stadium in Arlington, TX, on September 17, 2016 to dominate the fight with a 10-round unanimous decision and a 4th round knockdown.