Gerard Rinaldi
 Story of a Hall of Famer
Gerard Rinaldi was a native of Gardiner, NY, Stuart, Florida, and Jefferson Township, NJ. He later attended Jefferson Township High School where he excelled in all sports.
By the time he was a senior, he was a terrific athlete and champion wrestler in the 101 lb. class. Gerard Rinaldi eventually became one of the top wrestlers in the state, placing in the Districts as well as winning, among other top awards, the coveted Tri-County Christmas Tournament Trophy.
Gerard was also voted First Team All Conference. He is still considered the greatest 101 pound wrestler in Jefferson Township history, where his records still stand.
After graduating Jefferson High School, Gerard attended Florida Southern College, and then later transferred to Rutgers University, where he graduated with honors in journalism and history in 1986. While at Rutgers, he was a reporter for the Rutgers Targum, as well as  member of the Alpha Chi Rho fraternity where he became one of the most popular fraternity brothers of his generation.
Upon his college graduation, Gerard eventually found his true calling and became a boxing writer. Beginning with the Record, then the Daily Advance, the Trends, to eventually The National and the The USA Boxing News, Gerard Rinaldi became one of the most prolific and important writers of his era.
An award-winning writer for The USA Boxing News, Gerard traveled around the world covering championship boxing events and interviewing legendary boxing champions such as Mike Tyson, Roberto Duran, Billy Conn, Bob Montgomery, Alexis Arguello, Aaron Pryor, Terry Norris, George Foreman, Oscar De La Hoya, Wladimir Klitschko, Felix Trinidad, Vinny Pazienza, Macho Camacho, Joe Frazier, Larry Holmes, Bernard Hopkins, Evander Holyfield, Sugar Ray Leonard, and Manny Pacquiao.  He was also a member of the Boxing Hall of Fame and the Boxing Writers Association.
Gerard grew interested in the sport of boxing after his father and brothers, along with a Ford LTD station wagon full of friends attended the Muhammad Ali – Joe Frazier III bout – the famous Thrilla in Manila, at a drive-in movie theater in Morris Plains, New Jersey. It was one of the most exciting events of his young life and one that he would never forget. Every time a fighter landed a big punch, which there was many, a horn would honk and the place would erupt in a glorious boxing celebration.
The next turning point of his life was after the Larry Holmes – Gerry Cooney bout when Gerard met the "Easton Assassin" Larry Holmes for the first time at his gym in Easton, Pennsylvania, only three weeks after the fighter's immortal win against Cooney. Holmes was shadow boxing in his gym when Gerard and his brothers arrived.
The great champion Holmes was not only friendly to the Rinaldi boys, but he described in detail the thrilling moments of his bout with Cooney and what led to the incredible knockout of the challenger.
Throwing punches to the air, Holmes was gregarious, friendly, outgoing and managed to touch the psyche of the future boxing writer. They soon developed a friendship with Holmes, who later introduced them to their boyhood hero Roberto Duran who happened to be training at Holmes' gym in 1982. These meetings with Holmes and Duran would, in effect, change the course of Gerard's life.
Once he became a writer, he covered such great fights at New York's famed Madison Square Garden such as Azumah Nelson-Salvador Sanchez, Roberto Duran- Davey Moore, Buddy McGirt – Pernell Whitaker, Lennox Lewis – Michael Grant, Felix Trinidad – Pernell Whitaker, Evander Holyfield – Lennox Lewis, Bernard Hopkins – Felix Trinidad, Miguel Cotto – Zab Judah, Felix Trinidad – Ricardo Mayorga, Miguel Cotto- Sugar Shane Mosley, Wladimir Klitschko – Calvin Brock, Miguel Cotto – Zab Judah, Felix Trinidad – Roy Jones Jr., and Wladimir Klitschko – Sultan Ibragimov, to name just a small few.
The Roberto Duran – Davey Moore bout was especially memorable for Gerard since it took place ten days after Gerard turned 21 years old.  Roberto Duran was his favorite fighter and Madison Square Garden was packed to the rafters, with most on hand rooting for the Panamanian slugger Duran. The Garden was supposed to have also opened its 5000-seat theater next door, then known as the Felt Forum, to air the fight via close-circuit. Unfortunately, since ticket sales appeared to be going slow, promoter Bob Arum in one of the most ill-advised and stupid moves in the history of fight promotions, decided not to rent out the theater and refused to air the fight.
Well, as Duran fans often do, crowds jammed 34th street in Manhattan, and over fifteen people had to be turned away since the Main Garden was sold-out and the Felt forum was closed! Still, it was one of Duran's greatest performances and the whole event left a lasting impression on the young Gerard Rinaldi.
The KIitschko-Ibragimov fight was Gerard at his best, for he was the only reporter who wrote that when Klitschko was booed at the press conference he actually cursed the group at hand.  Known for his no-holds bar interviewing, along with his innate ability to get the answers from those he queried, he was also the only writer willing to ask Klitschko the tough questions that other reporters were hesitant to ask.
It was also Gerard who formed the first relationship between Vinny Pazienza (now known as Vinny Paz) and THE USA BOXING NEWS.
Gerard attended the fight at the Civic Center in Rhode Island on October 1, 1991, and witnessed Pazienza winning the WBA junior middleweight title over Gilbert Dele. Gerard was so impressed with Vinny's performance that he soon developed a professional friendship, which exists with The USA Boxing News to this day.
Gerard was also a member of the American Legion, where he was a highly respected World War II historian and enthusiast, as well as had an extensive collection of original G.I. Joe action figures and accessories.
On account of his history background, and his countless hours in support of the Veterans of Foreign Wars, Gerard became a Honorary Lifetime Member of the D-Day Museum in New Orleans, as well as was presented with a brick at the Vietnam Veterans Memorial in New Jersey.
He had an encyclopedia-type knowledge of all types of history. He knew everything about American and World History, especially all the wars that were fought from the Revolutionary war onward.
Because of his extraordinary knowledge and background, Gerard Rinaldi was also a sought after guest lecturer at Veteran's organizations and Military bases across the world. It was common to see him provide lectures during Memorial Day celebrations and the annual commemorative date of the bombing of Pearl Harbor on December 7th.
He also had an extensive knowledge of sports, especially boxing, and even knew more than noted experts about the various genres of popular music.
Possessing a brain and memory that retained virtually everything he ever read, heard, or saw, Gerard was able to converse with some of the greatest minds of the 20th Century.
There was just something so warm and personable about Gerard who had that natural ability and charm to put fighters at ease and make them comfortable in his presence. It may be possibly due to his working at an Amusement Park called Bertrand's Island back in the early 1980's.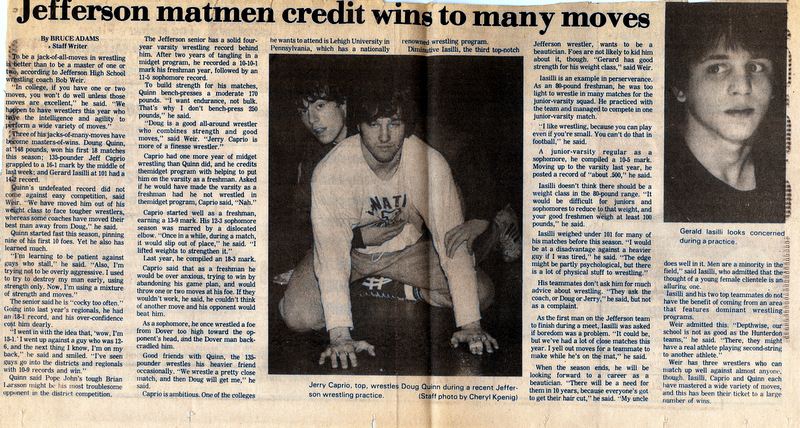 Oftentimes people look at their young adult life and try to point out that one summer where the stars aligned and created something magical. For Gerard it was probably the summer of 1981 at a place called Bertrand's Island.
Gerard was so well liked that he worked at virtually every level and job at the Park, including food stands, game stands, rides, concession stands, and even the parking lot.
But the most interesting job Gerard worked at there occurred in the waning days of the summer when Gerard could be found wearing a gypsy bandana and hawking fortunes for the gypsies.  It was the greatest summer of his life as well as the lives of his brothers and their Cousin Al, who all worked with him there. It was the closest they would ever be and ever be again. 
The thing was everyone liked having Gerard around. Someone always found a place for him – even the gypsies.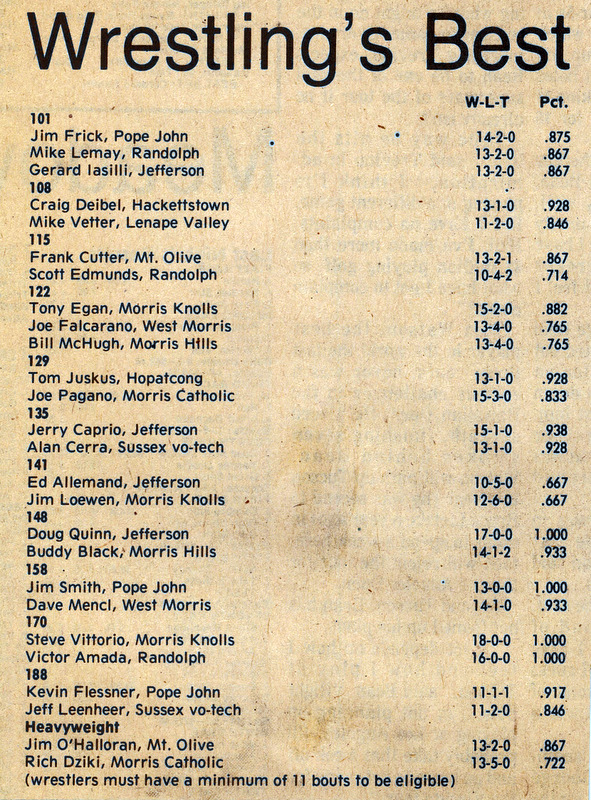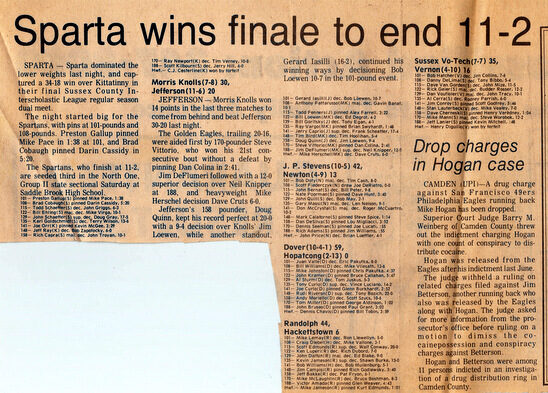 On account of his vast boxing background and his award-winning boxing style, Gerard Rinaldi was inducted posthumously into the Florida Boxing Hall of Fame in 2012 along with former legendary champions Roberto Duran and Aaron Pryor.
Because I could not stop for Death 
Because I could not stop for Death – 
He kindly stopped for me – 
The Carriage held but just Ourselves – 
And Immortality.
We slowly drove – He knew no haste
And I had put away
My labor and my leisure too,
For His Civility – 
We passed the School, where Children strove
At Recess – in the Ring – 
We passed the Fields of Gazing Grain – 
We passed the Setting Sun – 
Or rather – He passed us – 
The Dews drew quivering and chill – 
For only Gossamer, my Gown – 
My Tippet – only Tulle – 
We paused before a House that seemed
A Swelling of the Ground – 
The Roof was scarcely visible – 
The Cornice – in the Ground – 
Since then – 'tis Centuries – and yet
Feels shorter than the Day
I first surmised the Horses' Heads
Were toward Eternity –