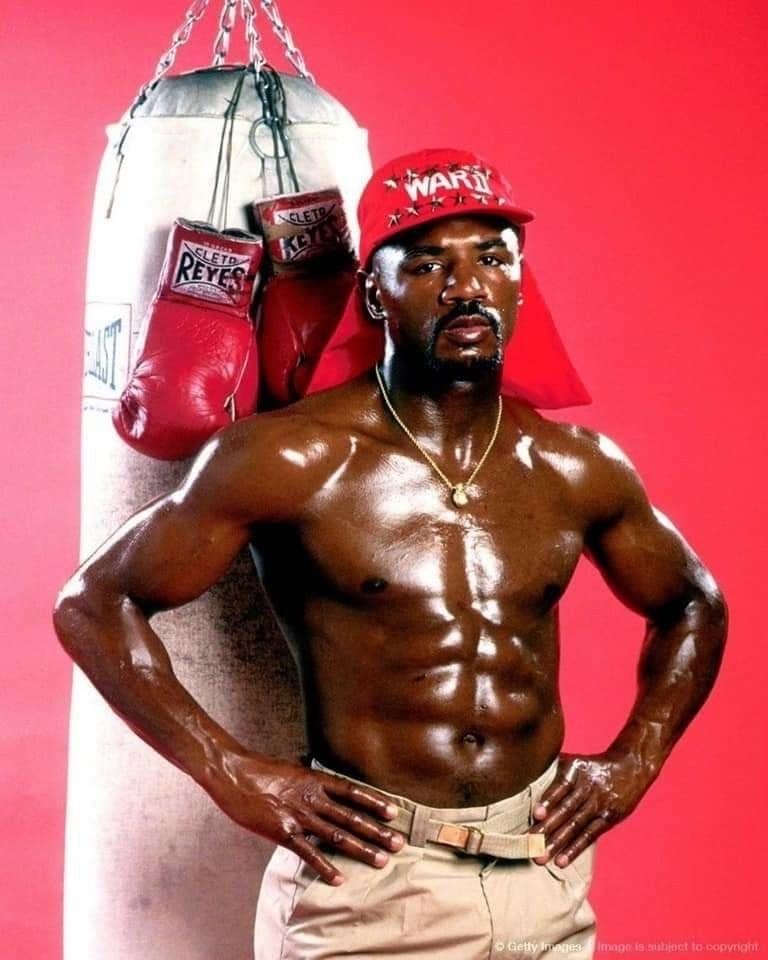 Marvelous Marvin Hagler -His Life and Times
Former Undisputed Middleweight Champion, Icon,  and Ring Legend Marvelous Marvin Hagler passes away at age 66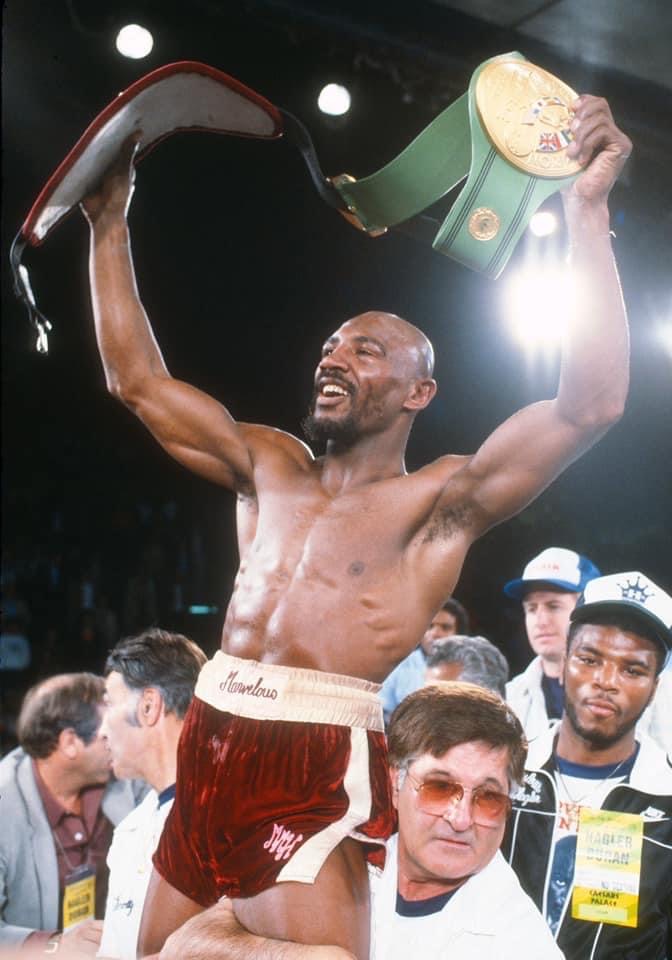 By Alex and John Rinaldi
It is a sad day in the world of sports – the great Marvelous Marvin Hagler passed away. He was 66 years old.
Hagler's wife, Kay, confirmed the news saying, "I am sorry to make a very sad announcement. Today unfortunately my beloved husband Marvelous Marvin passed away unexpectedly at his home here in New Hampshire."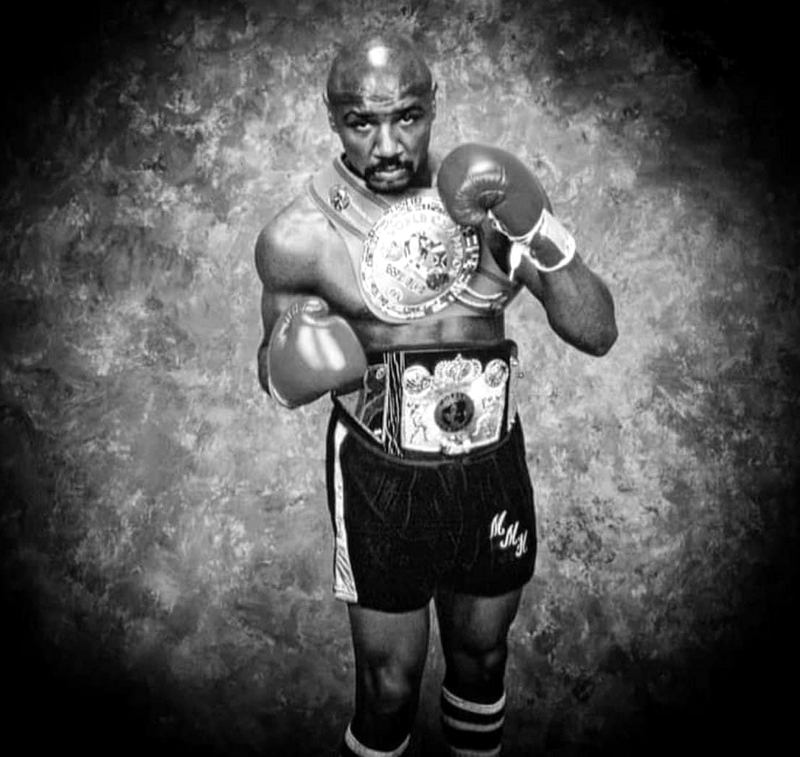 In a life that saw him rise from the depths of despair, poverty, and violence, Hagler emerged as one of the most iconic and feared middleweight champions of all time, and eventually became a living legend and one of The Four Kings alongside Roberto Duran, Thomas "Hitman" Hearns, and Sugar Ray Leonard.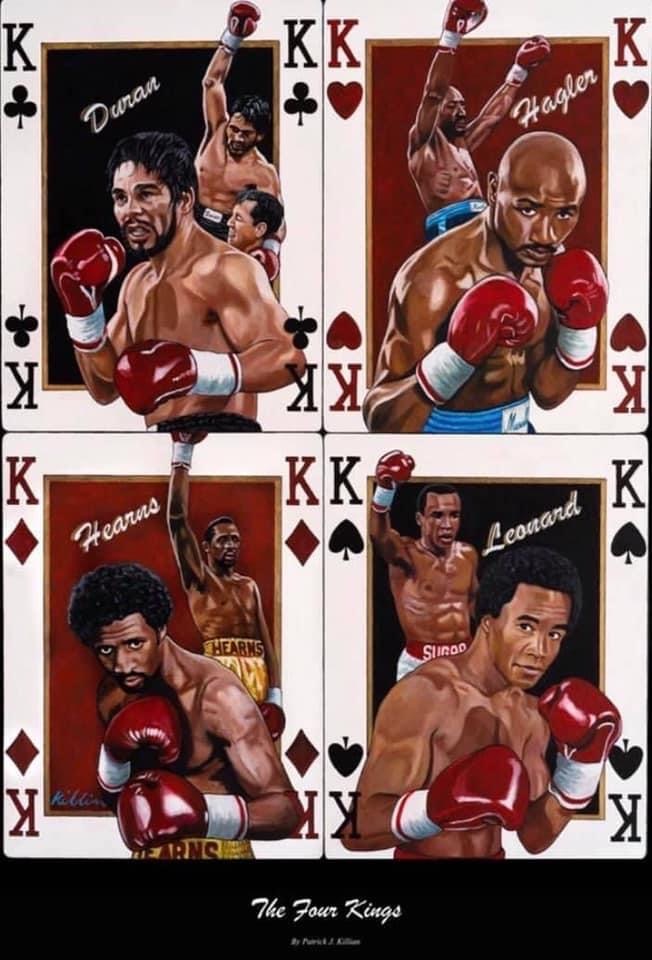 Of the Legends, Hagler would later say, "The likes of Sugar Ray Leonard, Roberto Duran, and Tommy Hearns were true champions. There were some incredible fights between us, and I was happy to give them all an opportunity to fight me."
The four of them, also collectively known as the Four Legends, were astonishingly coined that moniker while they were all still active fighters and dangerous adversaries of each other.
As with the Mercury Seven Astronauts who started America's Space Program, the Four Legends also carried in their soul and being the same "right stuff" that would transcend them to greatness; and within time, the Legends, like the Astronauts,  would all eventually stake their own claim to the stars.
Unlike many charmed athletes in less dangerous sports, Hagler and his fellow Legends earned their bones the hard way – they all came, they all went, and they all conquered. They also captured the hearts and minds of a generation of sports enthusiasts who reveled in their sheer strength, tenacity, conditioning, punching power, boxing acumen, and, most of all,  the ability to violently knock out anyone who stood in their way.
They also brought the big purse money down to the lower weights in a manner that was never seen before. It was as if four supermen of Krypton landed on Earth and became boxers.
While the fictional Cark Kent found Metropolis, a young Marvin Hagler, after the violent and deadly Newark, New Jersey riots of 1967, made his way to Brockton, Massachusetts.
After acclimating to New England, in 1969 Hagler took up boxing after walking into a gym owned by brothers Pat and Goody Petronelli, who soon became his lifelong trainers and managers.
So great was his natural talent that in 1973, only four years since putting on a pair of boxing gloves, Hagler would win the National AAU 165-pound title.
It would be the beginning of a ride that would take him to heights where few men had gone before or after; and by the end of his career, he would engage in some of the most memorable fights ever seen in the colorful history of boxing. 
But before all that happened, he first had to get noticed by the boxing powers that be.
For a long while, Hagler had difficulty finding high-profile opponents willing to face him. He even had a chance meeting with former Heavyweight Champion and ring great Smokin' Joe Frazier who told Hagler frankly, 'You have three strikes against you, you're black, you're a southpaw, and you're good."
Fortunately, besides his advice,  Frazier also offered Hagler on two weeks' notice, an opportunity to fight Willie "The Worm" Monroe, who was being trained by Frazier. Though Hagler lost the decision, the fight was very close and Monroe agreed to give Marvin a second match. In the rematch, Hagler knocked out Monroe in 12 rounds. He then later TKO'd The Worm in two rounds in their third and final bout.
Hagler's fortunes picked up even more when the famed promoter Bob Arum signed him up after Marvin's ten round decision win over top contender 'Bad' Bennie Briscoe in 1978.
This would turn out to be the major break in his career.
One year and six fights later, Hagler was finally offered a shot at the Middleweight Champion Vito Antuofermo on November 30, 1979. After fifteen grueling rounds, the fight was ultimately declared a draw and Vito retained his title.
Hagler, disappointed, but nonplussed, won his next three fights –  two by knockout. This securely placed him once again as the number one ranked middleweight contender.
Since he was the top contender, he automatically earned a crack at then current Middleweight Champion Alan Minter who recently defeated Antuofermo for the title.
In front of a sold-out crowd of Minter fans at the Wembley Arena in London, Marvin decimated Minter in three rounds to become the undisputed Middleweight Champion of the World. So upset was the crowd that they pelted Hagler with bottles and debris forcing him and his handlers out of the ring in fear of their lives. Though he was not awarded his title belt on the spot in the ring, with the win and the new title, Hagler would immediately change the entire landscape of the Middleweight division. Under his tenure, the middleweights would go from a relatively unpopular division to a huge marquee name division.
Hagler, like many great fighters before him, trained very hard for his fights. He also  had a an usual training regimen.  He would set up his training on Cape Cod and stay in motels that had closed for the winter. For his "road work" he would often wear actual army boots, calling running shoes "sissy shoes." As Hagler said, "You're supposed to seclude yourself. All the great champions did the same. Rocky Marciano, Muhammad Ali up on his mountain at Deer Lake. They put themselves in jail. I put myself in jail….Every fighter has got be dedicated, learn how to sacrifice, know what the devotion is all about, make sure you're paying attention and studying your art."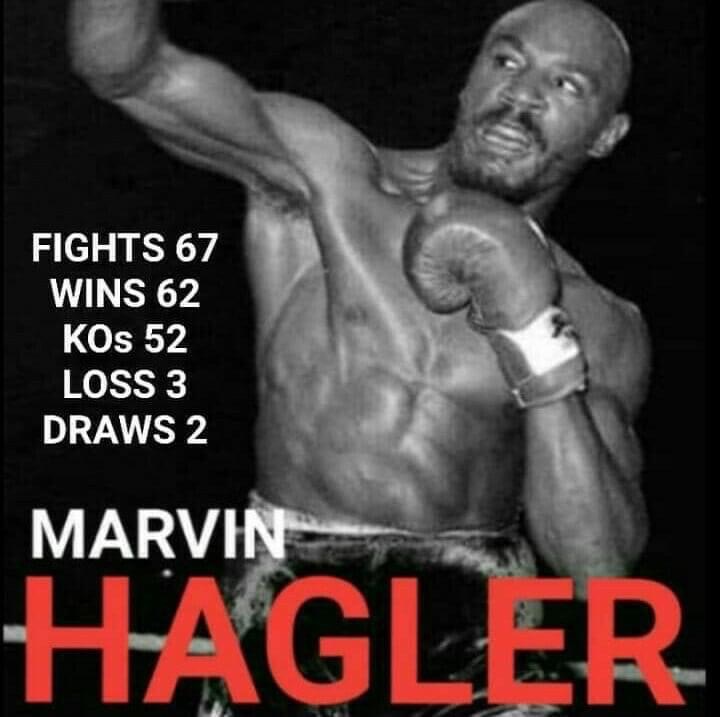 With the undisputed Middleweight title in hand, Hagler defended his crown successfully seven times, all wins coming by way of stoppage. Suffice to say, at that juncture of his career, Marvelous Marvin appeared totally invincible.
Then he made a decision that would eventually place him at the table to the join the Gods of the sport – he decided to defend his title against the iconic three-division World Champion Roberto "Manos de Piedra" Duran, who was the then reigning WBA Junior Middleweight Champion on November 10, 1983 at Caesars Palace in Las Vegas.
In a bout that turned out to be an exciting, close,  back and forth fight, Roberto Durán was not only the first challenger to last the distance with Hagler in a world-championship bout, but against all odds, he was also winning the fight going into the 14th round.  Duran was ahead by one point on two scorecards and even on the third. Fortunately for Hagler, with his left eye swollen and cut, and with Duran sporting a broken right hand, Marvelous Marvin was able to come on strong in the last two rounds to win the fight on a razor close fifteen round decision.
Because of the closeness of the outcome, the Duran fight like a Genie wish, opened the door for the other two Legends, Thomas Hearns and Sugar Ray Leonard to walk through. As fate would have it, the three fights with these three legends would ultimately change the course of Hagler's championship reign, as well as his place in boxing history.
After winning two more title defenses by KO, Hagler took on the dangerous Thomas "Hitman" Hearns on April 15, 1985 in Las Vegas, in a bout  billed simply as "The Fight" (then later "The War") and it lived up to both of its titles.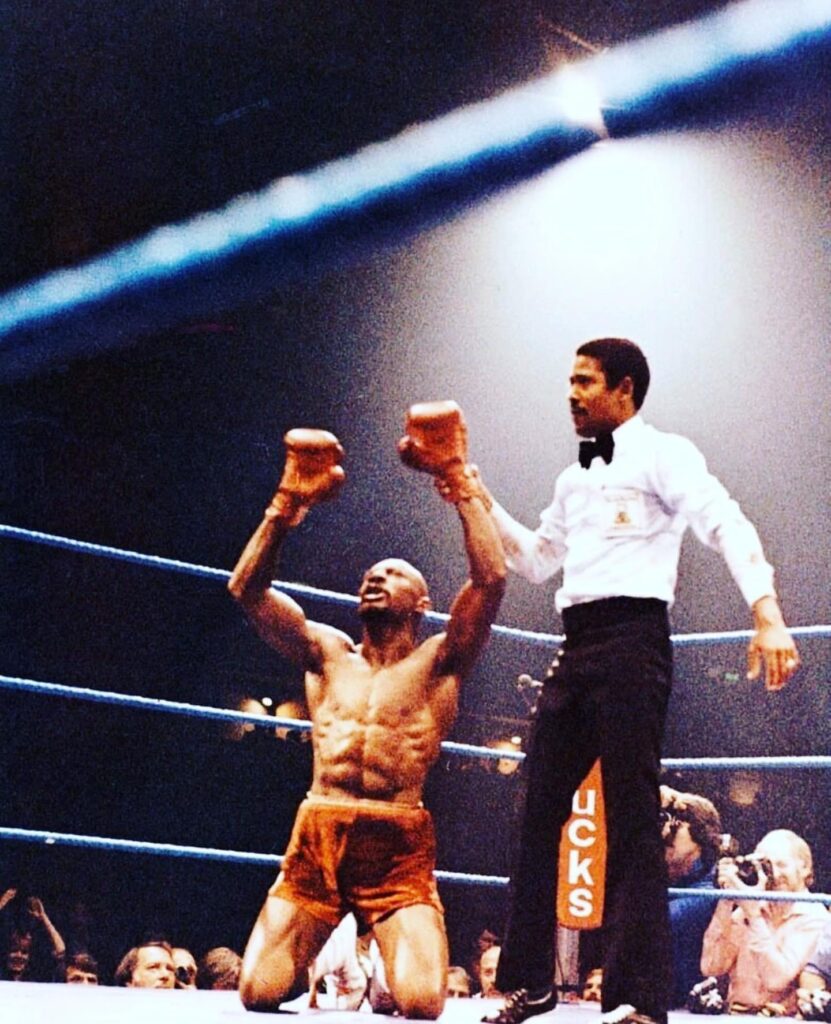 At if a fuse ignited, at the sound of the bell for one, fireworks flew as Thomas Hearns went after Hagler throwing a volley of hard and dangerous punches in an all-out offensive to knock Marvin out. Though Hagler fired back punch for punch, within minutes into the bout, Hearns stunned the champion and opened a cut on Hagler's head that soon drenched his face in a bloody crimson mask. This give and take, furious fast-paced punching continued in round two as blood began to flow like a river down Hagler's face. Fearing the referee might stop the fight, in round three Hagler tagged Hearns with a terrific four punch combination culminating with a left to the jaw that dropped Hearns to the canvas, causing the referee to stop the fight when Hearns rose and appeared unable to continue.
"Tommy's a good fighter," Hagler said afterward, "but he's cocky. I had something for him."
Though the fight lasted only lasted eight minutes, it is widely  regarded as a boxing classic and one of the greatest fight of all-time. It would also turn out to be Hagler's crowning achievement in the ring.
As fight commentator Al Michaels said, "It didn't go very far, but it was a beauty!"
And a beauty it was.
Hagler agreed. "A champion shows who he is by what he does when he's tested, remarked Marvelous Marvin. " When a person gets up and says 'I can still do it', he's a champion. If they cut my bald head open, they will find one big boxing glove. That's all I am. I live it."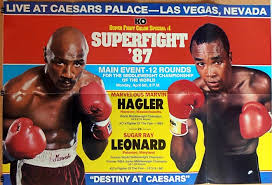 Two fights later, Hagler took on the third Legend –  Sugar Ray Leonard on April 6, 1987 in Las Vegas.
Billed as the Super Fight, Hagler battled Leonard in an exciting head to head contest for twelve punch-laden rounds with Leonard winning slightly by way of a split decision – a ruling that Hagler would forever disagree with.
Leonard won much of the early going, especially the first four rounds when Hagler fought righty instead of his natural southpaw stance. After he switched back to southpaw, Hagler then came on in the later rounds. The problem for Hagler was that he agreed to a large ring and only twelve rounds, when fifteen rounds were still being fought. Both pre-fight decisions would subsequently cost him greatly.
Two official ringside judges scored it for Leonard –  JoJo Guerra  scored 118-110 and Judge Dave Moretti scored it 115-113: Meanwhile, the third judge Lou Filippo, scored it 115-113 for Hagler.
"I feel in my heart I'm still the champ," Hagler had said after losing his title to Leonard. "I really hate the fact that they took it from me, and gave it to, of all people, Sugar Ray Leonard. He is a phony. He's been protected all his life. Besides, if he hadn't become a boxer, he could have done other things. Me? I had nowhere else to go."
Although the decision was disputed, Leonard never gave Hagler an immediate rematch and Hagler retired a year later. He never fought again.
Overall, Hagler made twelve undefeated title defenses and holds the highest KO% of all undisputed middleweight champions at 78%. Additionally, his reign of six years and seven months as undisputed middleweight champion is the second longest of the last century, behind only Tony Zale, who reigned during WWII.
Hearing of the news of Hagler's passing, promoter Bob Arum of Top Rank said, "Marvelous Marvin Hagler was among the greatest athletes that Top Rank ever promoted. He was a man of honor and a man of his word, and he performed in the ring with unparalleled determination. He was a true athlete and a true man. I will miss him greatly."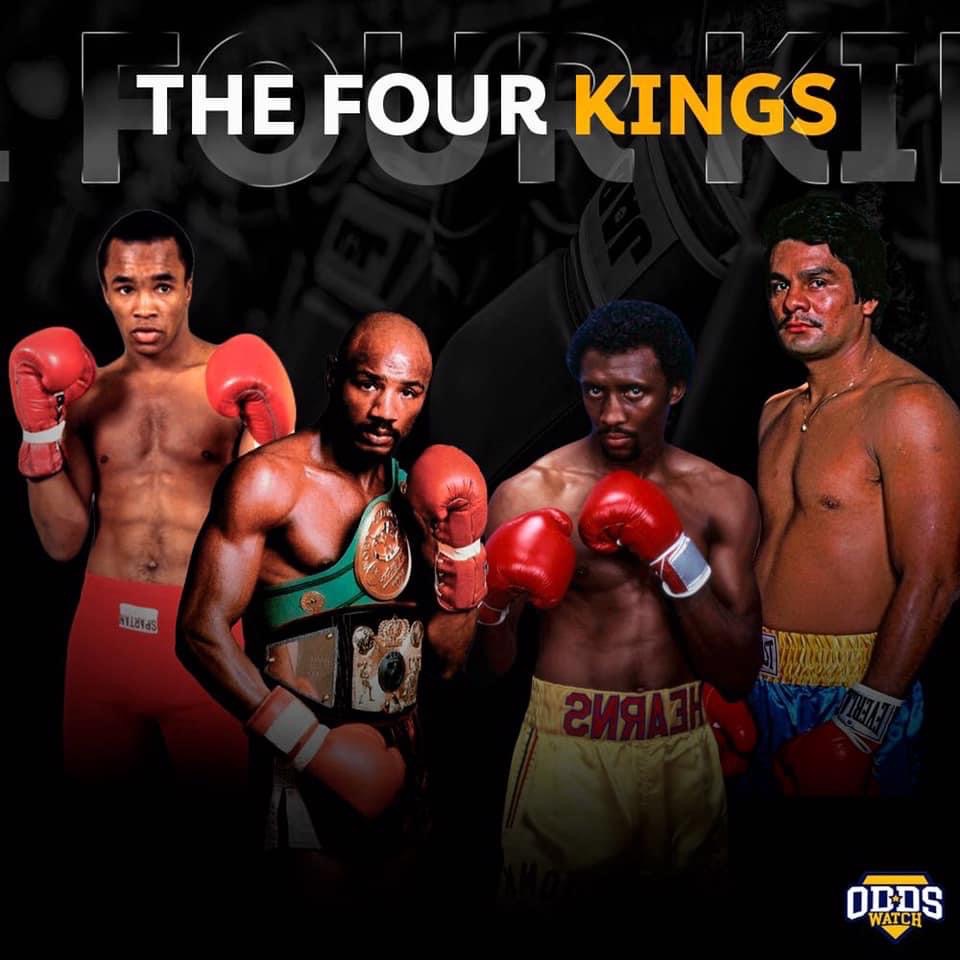 After the loss to Leonard, Hagler eventually moved to Italy, where he became a well-known action star in films. His roles include a US Marine in the films Indio and Indio 2. In 1996, he also starred alongside Giselle Blondet in Virtual Weapon.
Among his accolades, Hagler was a first rung Boxing Hall of Famer as well as was voted the Fighter of the Decade of the 1980's.
As for his fights, Marvelous Marvin Hagler later declared to The USA Boxing News that Roberto Duran was his toughest opponent. He also revealed that his battle with Thomas Hearns was the match that he was able to finally prove his greatness in.
(On a PERSONAL NOTE, Hagler was always friendly with us and was also a big fan of The USA Boxing News. He even granted us one of the few detailed interviews of his career.)
Hagler died leaving behind his second wife Kaye and five children and an estate reportedly valued in the millions.
Marvelous Marvin Hagler was one of those fighters that everyone took notice of. He never ventured a step backward and trained like a machine gearing up for battle. He was relentless, punishing, exciting, and sought to destroy his opponent in every single fight.
He was one of the greatest fighters who ever laced on a pair of gloves and he will live forever in boxing lore, as well as in the thoughts of his millions of fans.
He will be missed greatly. He was an honor to his sport, his family, and to his country.
He was also true to his code, he was a battler who never gave up, and in the end he and his career lived up to the name he will forever be known for – MARVELOUS.
_______________
Quotes after his death
You are definitely gone too soon, but you will forever live on as one of the greats! Thoughts and prayers to the entire Hagler family
Marvin Hagler came to my fight in Boston. I appreciated what he said to me after my fight. Rest In Peace, my friend. Condolences to the Hagler family. Thank you Marvelous Marvin Hagler for all you gave to boxing
I am crushed at the news that MARVELOUS MARVIN HAGLER has passed away! He was-in his prime-POUND4POUND-the best, going 11yrs in 38 fights w/o defeat! He dominated the MW division 4 a decade! 62 wins/52KOs-3 losses
I shed more than a few tears in 1987 when my favorite boxer of all time lost his middleweight title to the great Sugar Ray Leonard. I shed a few more today.Rest easy Champ!
Shocked and deeply saddened to hear of the passing of the incredible Marvellous Marvin Hagler. I'm honoured to have spent some amazing times with him. My heartfelt sympathies to his wife Kay and his family. Rest in Peace Champ