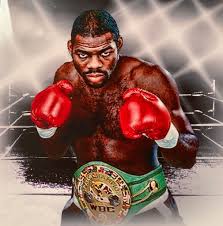 IRAN "THE BLADE" BARKLEY
LEGENDARY TRIPLE CHAMPION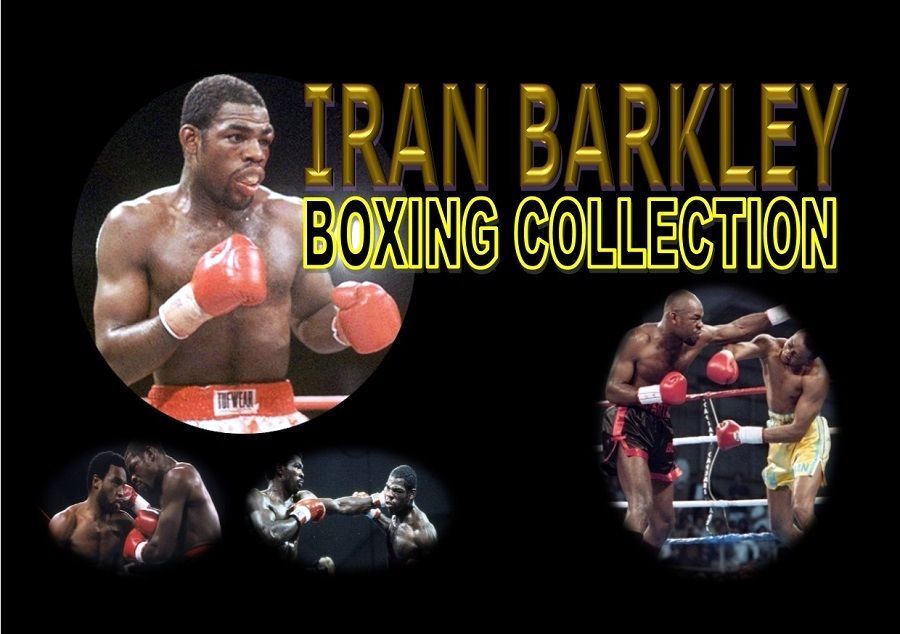 Story by JOSEPH RINALDI AND ALEXANDER RINALDI
From the mid 1980's into the 1990's, one of the most feared fighters to ever climb through the ropes into the ring was Iran "The Blade" Barkley. Fighting from middleweight all the way up to the big boys in the heavyweight division, Barkley not only gave his opponents a memorable beating, but many also left the ring either hurting badly or bleeding profusely after squaring off against the Bronx, New York native.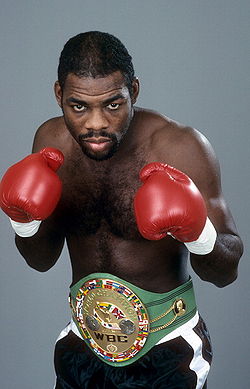 Iran was born on May 6, 1960, the youngest of a home with eight children in the infamous Patterson Houses public development in the dangerous Mott Haven neighborhood of the Bronx. It was one of the largest New York City Housing Authority complexes in the city with 1,790 apartments situated throughout 15 buildings. It was a tough place to grow up in and most wound up dead, imprisoned and in gangs.  Young Iran, at first,  was not much different being a full-fledged member of the Black Spades street gang.  Besides Barkley, the Black Spades also had future heavyweight challenger Mitch "Blood" Green within its ranks.
Just when it appeared that Barkley was on a collision course to jail or the morgue, his sister Yvonne, who fought professionally in the late 1970's, suggested that the tough Iran take up boxing.
At 6 ft. 1 in. tall, Barkley was a well-muscled and imposing figure and was a natural pugilist. By the early 1980's, Iran was one of the best amateur middleweights in the world.  In 1981 he captured a Silver Medal at the New York Golden Gloves, losing in the finals to future middleweight challenger Dennis Milton. That same year he won the Gold Medal at the Empire State Games.
In 1982, Barkley made a name for himself on the world stage when he won a Bronze Medal at the Copenhagen Box Cup in Copenhagen, Denmark, and then captured the Bronze Medal at the World Championships in Munich, West Germany.
Following the World Championship, Iran decided to turn professional and KO'd Larry Jordan in two rounds at the Sands Hotel in Atlantic City, New Jersey on December 9, 1982. 
Barkley won 22 of his first 25 fights, including a spectacular 8th-round KO over middleweight contender Wilford Scypion on November 1, 1985 at Madison Square Garden's Felt Forum in New York City.
Now a top ranked contender, on October 23, 1987, Iran was eventually matched with Sumbu Kalambay for the vacant WBA World Middleweight Title at the Palazzo Dello Sport, in Livorno, Toscana, Italy. The slick Kalambay managed to box his way out of trouble and wound up winning the title on a close 15-round unanimous decision.
Disappointed, but unfazed by the close loss, Barkley did not give up his quest for a World Championship and followed the Kalambay loss with impressive wins over middleweight challengers Sanderline Williams (W-10) and Michael Olajide (TKO-5).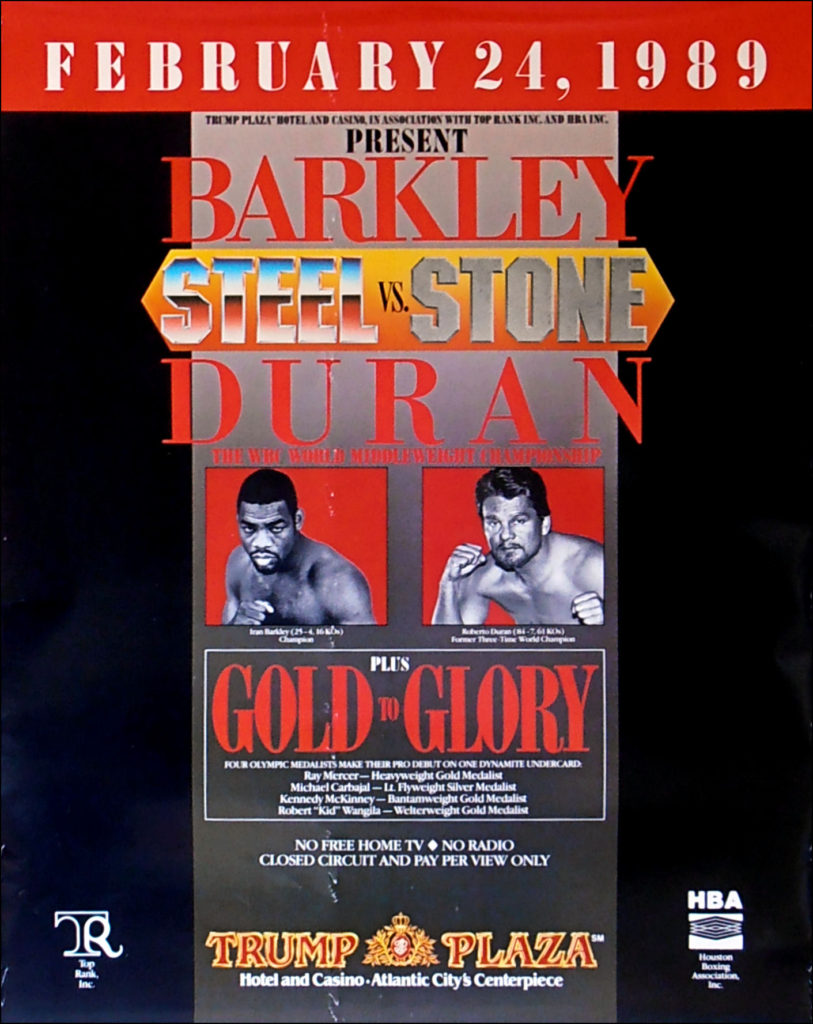 Then on June 6, 1988 before 8,541 fans at the Las Vegas Hilton, destiny beckoned Iran,  as he bravely challenged the feared Thomas "Hit Man" Hearns for the fistic great's WBC World Middleweight Championship.
The fight was broadcast over closed circuit and pay-per-view television.  The legendary Hearns earned $1.5 million, while Barkley pocketed $250,000.
Few pundits gave Barkley a chance to win. In fact, the only betting going on was on which round the power punching Hearns would KO the challenger who entered the ring a 4-1 underdog.
For the first two rounds, Hearns looked very much the like the slated betting favorite he was, as he battered Barkley with crunching left hooks to the ribs and head, along with pile-driver left jabs and terrific right hands to the jaw and head. Although he was taking a severe beating, the challenger Barkley bravely punched back as the fight soon turned into a savage, bloody slugfest.
By the third round, both of Barkley's eyes were bleeding and he had a cut on his lower lip.  The confident Hearns continued with his attack of drilling left hooks to the body.  While punch after punch landed hard on Iran's head and midsection, he steadfastly refused to back down or away.  Suddenly, while Hearns was set to fire another left hook, Barkley lashed out with a smashing right hand that sent the champion crashing flat on his back upon the ring floor! As Hearns was glaring at the ring lights with bleary, beaten eyes, referee Richard Steele began counting. Just as the count was about to reach ten, Hearns miraculously got to his feet.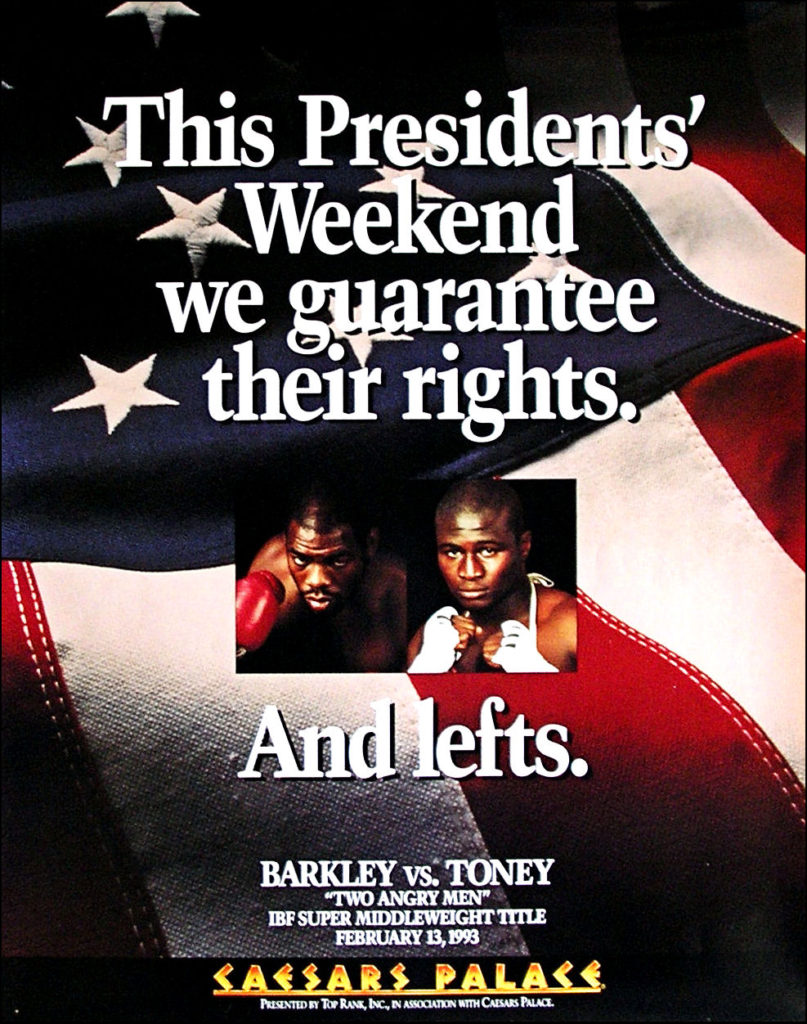 The champion's reprieve was short-lived, as Barkley quickly went after the wobbly Hearns like an assassin and blasted him with a left hook and right hand that sent "The Motor City Cobra" through the ropes. That was all Steele had to see as the fight was stopped at 2:39 of Round 3. As he had done throughout his life, Iran Barkley upset the odds to become the new WBC Middleweight Champion of the World!
Barkley said after the great win, "Hearns cut me on my eyes and busted my lip.  I knew I had to go street and go get him, and then Boom!"
With the spectacular win, the bout was awarded "Upset of the Year" by boxing writers.
After facing one legend, in his first defense of his WBC middleweight crown, Iran decided to take on the greatest legend of all-time –  Roberto "Hands of Stone" Duran.
The fight took place on February 24, 1989 on the Boardwalk in Atlantic City, New Jersey.
Duran at the time was on the comeback trail, and at the age of 37, and only 5 ft. 7 in., he was posted as a 2 1/2-1 underdog to beat the 28 year-old champion Barkley.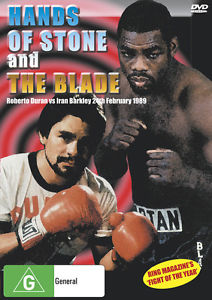 The fight was again broadcast on closed circuit and PPV, and took place before a sold-out crowd of 7,500 at the West Hall of the Atlantic City Convention Center on the night of an awesome blizzard that enveloped the East Coast and made travelling on the highways virtually impossible – that is for everyone else but the fans who trekked like pilgrims to the City by the Shore.
Barkley's purse was $500,000, compared to Duran's $325,000. By the fight's end it would prove that both men were highly underpaid.
"I want to finish off these legends and retire them," said a boastful Barkley before the fight.  Barkley was also seeking revenge against Duran for destroying his best friend Davey Moore six and a half years earlier in Madison Square Garden when Duran captured Moore's WBA junior middleweight title. To make matters worse, Moore died in an freak car accident a year earlier, further prompting Barkely in his vengeful efforts.
Although he was bigger, younger and stronger, and went into the fight with an avenger attitude, he never met a fighter like Duran. Coming in at a razor-sharp 156 ¼ pounds, the Panamanian looked ready for battle against the champion, who tipped the scales at 159.
Right from the opening bell, the much bigger Barkley tore into the great challenger with thudding punches aimed at an early knockout evening. Duran, using his vast experience,  slipped, feinted and ducked and then answered back with jolting left hooks to the body and right hands to the head.
"The first round was very important because I had to come back at him [Barkley] when he hit me," Duran said afterwards.
For the next seven rounds, the battle raged on with fists flying and neither gladiator giving ground. To those in attendance, a classic fight was emerging right before their very eyes.
In the eighth round, Barkley nailed Duran with jarring left hook that nearly spun the challenger around like a top.  Things were certinly not looking good at that time for the old, crafty legend.
But aging ring greats sometimes find that lightning in a bottle, and Duran was one such legend. The only different was his bottle contained both lightning and thunder, which Duran began unleashing with a fury.
As was his legendary style, Duran began to land his potent right hand with accuracy and soon took the wind out of the champion with ripping left hooks and right hands that punished Iran's body.
By the ninth round the effects of Duran's right hands had the champion's left eye nearly swollen shut. Still Barkley hammered back in an relentless attempt to retain his title.
The game changer came on in Round 11 when Barkley advanced towards Duran to once again unload with his powerful punches. Seizing an opening in Iran's guard, which began to drop a bit low, the Panamanian stormed forward with both fists blazing – nailing Barkley with lefts and rights that eventually sent him hard and fast to the canvas, where he was saved by the bell. Upon rising, the hurt champion Iran had trouble finding his corner.
"Barkley was paying for everything he threw," Duran remarked after the fight about Round 11.  "He had to take a punch to throw one, so I put more power into my punches."
Like the brave warrior that he was, the gutsy champion came out for the twelfth and final round and was repeatedly wobbled by the shots Duran crashed upon his head. Remarkably, Iran managed to survive the round and last the distance.
The fight was one of the greatest battles of all time and Duran won by a close split decision as one judge had Barkley winning 116-113, while the other two judges had Duran winning by 116-112 and 118-112.
Although he thought he won, the classy Barkley made no excuses. "It was Duran's heart," said Iran. "It just wouldn't go."
"I know I won that one. You know I won it! It was just political, that's all it [the decision against me] was. Ray Leonard had already said he wouldn't fight me. He knew he couldn't beat me, and they gave Duran the win [over me] and they had their third fight for all that money. I should've had that big payday! I know that's the fight I had to win. If I had won, the really big money would have come for me. But anyway, Duran is a great fighter. We are like brothers in that regard. I have lots of respect for Duran."
Duran stated, "I am like a bottle of wine. The older I get, the better."
Barkley had the bad luck to face a fading legend who had one last great fight in him and Iran was the fighter with the misfortune of having to face  him on such a night.
The Duran-Barkley fight was voted "Fight of the Year" and is still considered one of the greatest fights in pugilistic history.
Six months later on August 14, Barkley challenged the talented and unbeaten IBF middleweight king Michael Nunn at the Lawlor Events Center in Reno, Nevada.
At this stage of his career, Nunn was a terrific champion and very tough to outbox.  Iran gave the IBF king a tough going and it was a close, nip-and-tuck affair.  After twelve rounds, Nunn was awarded a majority decision by tallies of 116-113, 115-113 and 114-114. Although he lost, Barkley still remained a force to be reckoned with in the middleweight division.
Because of his gallant effort against Nunn, Barkley was given a shot at the WBO middleweight champion Nigel Benn on August 14, 1990 at Bally's Las Vegas in Paradise, Nevada.
The Brit Benn is considered to be one of the dirtiest fighters in the history of the sport and a disgrace to pugilism with his regular fouling tactics, which for some unfathomable reason, he was able to get away with, no matter what damage it did to his opponents.
Right at the bell, Barkley came out swinging for the fences as he mercilessly pummeled the WBO middleweight title holder. Benn was immediately staggered by Iran's right hands and left hooks and was repeatedly wobbled against the ropes. Just when it looked as if it would be a great win for Barkley, Benn wound up a wide roundhouse right hand that crashed upon the challenger's head and briefly dropped him to the canvas.  Right then, however, Benn went to the fallen Barkley and nailed him with a killer right hand right on the button – while Iran was still on the canvas!  Though referee Carlos Padilla should have promptly disqualified the thug Benn, instead, like a blind pedestrian, he did nothing, while Barkley tried to get his marbles back in his head. Like the tough guy that is, Iran slowly tried rise, but thanks to Benn hitting him when down,  it was as if his head was stuck in a goldfish bowl.
Although the two middleweights continued to trade heavy leather,  it was all too clear that the foul punch had drastically affected Barkley, who was then briefly floored again.  In between that knockdown and the first knockdown, there was also a slip that Padilla had mistakingly counted as a knockdown. As a result, just like a perfect storm,  when Iran hit the canvas and quickly rose, apparently unhurt, the referee was compelled to enforce the ludicrous 3-knockdown rule and awarded the villain Benn the win at 2:57 of the opening round.
"The Benn fight was bad. I had just lost my father, he had passed from cancer. I have bad memories of that whole weekend. But Benn didn't beat me, he fouled me; hit me while I was down. You know, if I hadn't have moved [away] when I was down and he tried to hit me again, maybe I would have ended up like Gerald McClellan – God bless the G-Man! I always wanted a rematch with Duran and I always wanted one with Nigel Benn, to prove that I was right and that he couldn't beat me fair and square. I'm still angry about that fight today."
It was a terrible outcome and Padilla should have been ashamed of his incompetent actions because Barkley should have been the new WBO middleweight king with a first-round disqualification win, instead of being a TKO loser.
A was a tragically bad loss for Barkley. It was also the kind of loss that often shatters the psyche and confidence of many good fighters.
The difference between very good and great fighters is how they handle adversity, the ones who achieve greatness continue their march to world championships, while those of less tenacity, tend to call it a day.
After three straight losses and a career full of brutal ring encounters, Iran Barkley, like the courageous champion that he was, refused to hang up the gloves, for he had more mountains to conquer.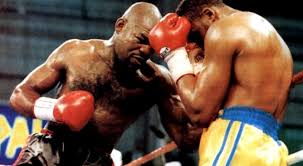 In 1991 Barkley hiked back on the comeback trail as he captured a 10-round unanimous decision over Juan Hernandez on August 16, 1991 at the Hacienda Resort Hotel and Casino in Paradise, Nevada.
Less than two months later on October 1, Iran won an 8th-round technical decision over Jesus Castaneda at the Four Seasons Arena, in Great Falls, Montana.
Because of his recent wins, in January 1, 1992, Barkley next faced IBF Super Middleweight Title Holder Darrin "Schoolboy" Van Horn at the Paramount Theatre in New York City.  In the previous year on May 18, 1991, Van Horn regained his IBF 168-lb. championship by knocking out Lindell Holmes on May 18, 1991. Van Horn then retained his laurels by scoring a devastating 3rd-round KO over "Big" John Jarvis on August 17, 1991.
At only 23 years of age, Van Horn was favored to retain his title against the "over the hill" Barkley, who was 31.
With his home state fans cheering him on, Barkley came out with his fists blazing and pounded Van Horn, 167, severely in the opening frame, even wobbling the "Schoolboy" with a crunching left hook in the first-round punchfest.
In Round 2, Barkley, 168, came out with his fists on fire landing a whipping left hook that sent Van Horn off his feet and flat on his back upon the ring floor.  Up at six, Iran opened up with a barrage of right and lefts that culminated with a right hand that dropped the IBF super middleweight king for the second time. Rising again at six, the brave Van Horn was clearly in trouble when he was soon greeted by a tornado of leather fists that drove him across the ring. If that was not enough, Iran suddenly lashed out with an overhand right hand that floored the champion for the third time!
Although the gutsy Van Horn got to his feet at three, referee Arthur Mercante Jr. had seen enough and halted the fight at 1:33 of the second round.  Iran "The Blade" Barkley was now the IBF super middleweight champion of the world!
"We worked hard and I paid the price," said Barkley.  I didn't think I would have let him [Van Horn] beat me if I was drunk. I respected him as a champ, but I had too much for him."
"I was fast and I was quick in that fight. My whole attitude was, just get rid of him! I knew I'd beat him, but I guess I didn't think I'd beat him so quick! But it was my night that night."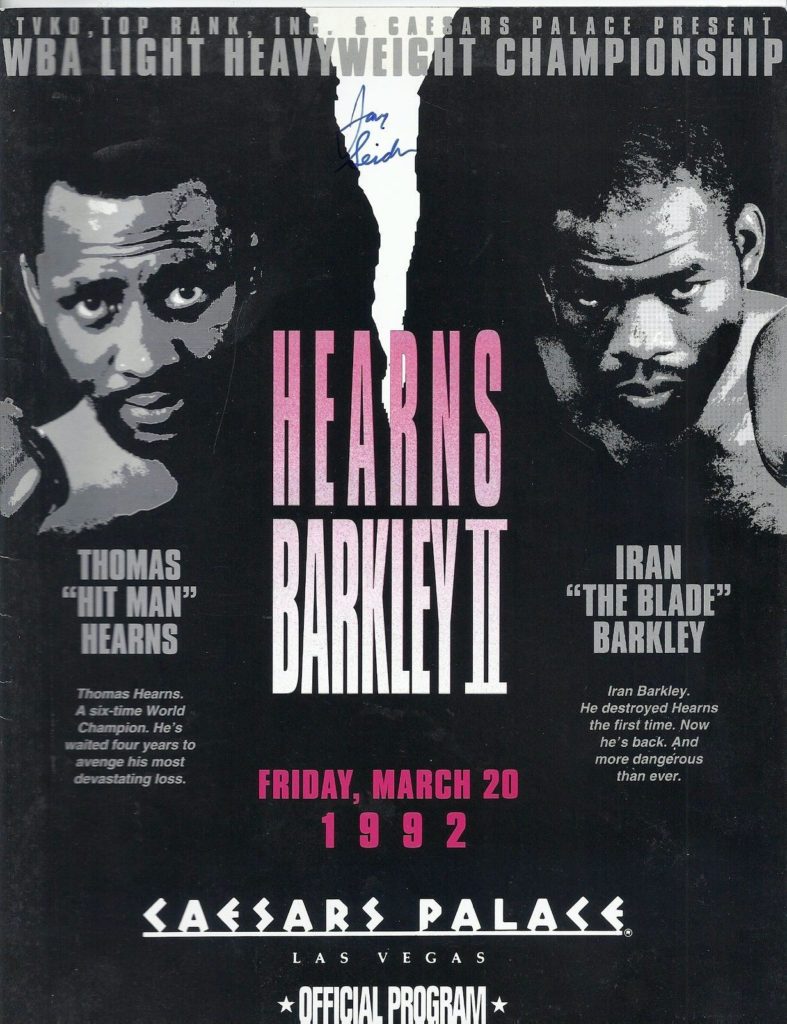 After the great win, Barkley called out in the second time in his career,  for Thomas Hearns, who had recently captured the WBA light heavyweight title with a 12-round unanimous decision over Virgil "Quicksilver" Hill on June 3, 1991.
On March 20, 1992 at the Caesars Palace Pavillion before a sell-out crowd of 4,250, the IBF super middleweight king Iran Barkley climbed into the ring to face the WBA light heavyweight champion and boxing legend Thomas Hearns in their anticipated rematch.
Although Barkley had finished off Hearns in three rounds four years earlier, the odds makers still installed Hearns as a 2-1 favorite.   The WBA light heavyweight title holder was even set to earn the larger $2.1 million purse, compared to Iran's $500,000 payday.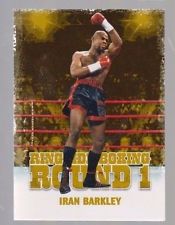 At the bell, Barkley showed the power punching boxing legend no respect as he waded in with a tidal wave of blows that sent Hearns, 173 ½, to the ropes, where he was further greeted by a storm of fists.
Barkley, 174, continued on as the aggressor in the succeeding rounds.  In the fourth round as Hearns fired a mighty right hand, Barkley slipped the punch and countered with a terrific left hook that sent the champion to the canvas. Hearns immediately got to his feet and even opened up a cut over the challenger's right eye with his spearing left jab.
The bout was an exciting give and take affair as the two big bangers freely exchanged leather fists.
The effects of the grueling battle showed on the two fighters.  Barkley's eyes were both swollen and he was bleeding from his mouth and a cut over his right eye.  Hearns, meanwhile, had blood spouting from his severely battered nose and his cheek was swollen.
Going into the final four rounds, Barkley had also broken his left hand, which he had injured earlier in training.  Nevertheless, "The Blade" kept on trading shots with Hearns.
The two battled back and forth until the final bell rang at the end of round 12.  It was a close fight all the way and it showed on the judges' scores as one judge scored the bout for Hearns at 114-113, but was overruled by the other two officials who had Barkley winning by 115-113 and 114-113. 
The fourth round knockdown turned out to be the telling moment of the fight. If not for the knockdown, Hearns would have retained his title by a majority draw.
Besides Barkley's broken left hand, Hearns had to undergo surgery for bone chips in his right hand, which he had to wear a cast on for seven months.
"The second time around with Hearns – it was all me," explained Barkley. " I beat him fair and square."
"I knew I'd get to Hearns. I was way stronger than him. He was a great boxer and a great puncher, but he couldn't take a punch. He was the hardest hitter I ever faced though. I fought the man twice and each time he tried his damn best to kill me! He hit harder as a middleweight, but I came back and smashed him. We went to war in 1988, and again four years later. They said the first win was a fluke, a lucky punch. But I beat him a second time and they couldn't say anything then."
Although it was a tough, close fight, neither fighter would be the same again.
After his left hand healed, Barkley wrapped up 1992 with a devastating 4th-round KO over Robert Folley on December 5, 1992 a the Etess Arena in Atlantic City.
The year 1992 proved to be a great one for Barkley as he won two world titles and was awarded Comeback of the Year.
Going into 1992, Barkley decided to keep his IBF super middleweight title in leau of the WBA light heavyweight laurels he won by defeating Thomas Hearns in their torrid rematch.
Since he was remaining at super middleweight, fans began clamoring for Barkley to defend his IBF 168-pound title against Roberto Duran, who was on yet another comeback journey. Iran, instead, made a bad decision to take on the young, undefeated, ring terror, James "Lights Out" Toney, who was the undefeated and reigning IBF middleweight champion.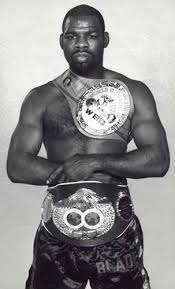 On February 13, 1993, James Toney, 24, squared off against the IBF super middleweight king Iran Barkley, 32. Toney, 167, was in his boxing prime and it showed as he clearly outclassed Barkley, 168, right from the start.  The challenger not only packed a wallop in both fists, he was also a clever and elusive foe that made him a difficult target for the swings of the aging Barkley.
After nine rounds, Barkley was taking a pounding and his left eye was nearly swollen shut.  Iran was also behind on all three scorecards as the three judges had Toney leading by identical tallies 89-82, 89-82 and 89-82.
With all hope gone and partial sight in only one eye, Barkley's corner mercifully ended the fight at the end of Round 9.
Just like he did twice before, Iran again ventured on the path for title reclamation and won three of his next four fights before he was matched with the 4-year younger and unbeaten IBF light heavyweight champion Henry Maske on October 8, 1994 at the Gerrry Weber Stadium, in Halle, Nordrhein-Westfalen, Germany. Maske was razor-sharp and making his fifth defense of the belt he won by beating Charles Williams on March 20, 1993.
As usual, Barkley was aggressive, but could not handle the clever southpaw champion. Maske, 174 ½, kept Iran at the edge of his sharp right jabs and repeatedly scored with combinations on Barkley, 172.
Although the challenger gave a gallant effort, too many wars had finally caught up with him and after nine rounds, Maske was pitching a shutout by scores of 90-81, 90-81 and 90-81.
Once again Barkley's battered face was enough for his corner to halt the bout at the conclusion of Round 9 as the brave Barkley sat on his stool.
Iran should have seen writing on the wall penned from his own blood to decide to hang up the gloves.  Unfortunately, he decided to continue.
In the film "Rocky Balboa" there is a quote where the character Little Marie tells Rocky, "Fighters fight." Well, for gladiators like Barkley, that tends to be their motto and way of life.
After the Maske fight, Barkley would fight until 1999,  going 10-9-1 in his last 20 bouts. 
Though he was past his prime, Iran had one great win left in him when he faced former WBA heavyweight champion Gerrie Coetzee on June 8, 1997 at the Hollywood Palladium in Hollywood, CA. The fight was for the lightly regarded vacant WBB Heavyweight Title.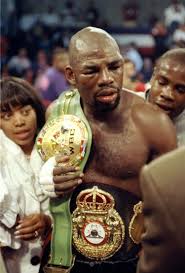 At the bell, the fearless Barkley, 229 ½ and his bigger foe Coetzee, 253, tore into one another unloading bombs.  Then, in the second round, Coetzee landed a right to the top of Iran's head that sent him to the canvas. Up at three, Iran, like the warrior he is,  battled back.
Iran came on strong through Rounds 4 through 7 with his steady attack of right hands and wicked left hooks, which bloodied Coetzee's nose and formed a welt under the the former heavyweight king's right eye.
To his credit, Coetzee came on strong in Rounds 8 and 9 and it appeared to be an even fight going into the tenth round.
When it looked as if the fight was going to end up going to the judges' scorecards,  Barkley, shockingly,  fired a walloping left hook that smashed on the temple of Coetzee and sent him wobbling into the ropes!  Iran gave him no chance to recover as he smashed away with a mighty two-fisted attack that sent Gerrie bouncing from pillar to post like a pinball.  After another barrage landed and had Coetzee nearly out on his feet, referee Robert Byrd stopped the fight at 2:09 of Round 10, of the scheduled 12-rounder.
Regarding his 2nd-round knockdown, Iran said, "I was dazed, but I got off the deck and kept my composure."  As for the stunning stoppage of his larger opponent, Barkley remarked, "Once I had Coetzee hurt, I started throwing punches, so he could not recover."
Less than two months later, Iran retired after losing to Keith McKnight on July 31, 1997 with a record of 43-19-1 (27 KO's).  His record overshadows his greatness since 9 of those losses was when he was clearly over the hill.
But what a career Barkley had with wins over great fighters who held various world titles such has Thomas Hearns, Gerrie Coetzee and Darrin Van Horn.
Nowadays, Iran Barkley trains fighters in New York City and lives in an apartment in the Bronx.
Iran is also making various personal appearances, where he greets fans, poses for pictures with his championship belts and signs autographs.  He has always been great with meeting boxing fans and is one of the friendliest former champions out there.  The affable pugilistic great is also a popular guest for personal appearances.
If one is ever interested in obtaining the great triple champion for a personal appearance, contact Milton Lubin of Icons of Boxing at (718) 896-0078 (office) and (718) 662-3252, or go to his website at www.iconsofboxing.com.  Tell him you heard about it on the website of The U.S.A. Boxing News.
Meeting a fighter of the caliber of Iran Barkley and chat with him about his storied fight career, is an experience a fan would not forget and one long worth remembering.
Barkley was the type of gutsy warrior that would have been competitive in any era of the sport.