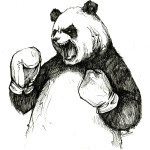 Joseph Catena's Ring Rage Column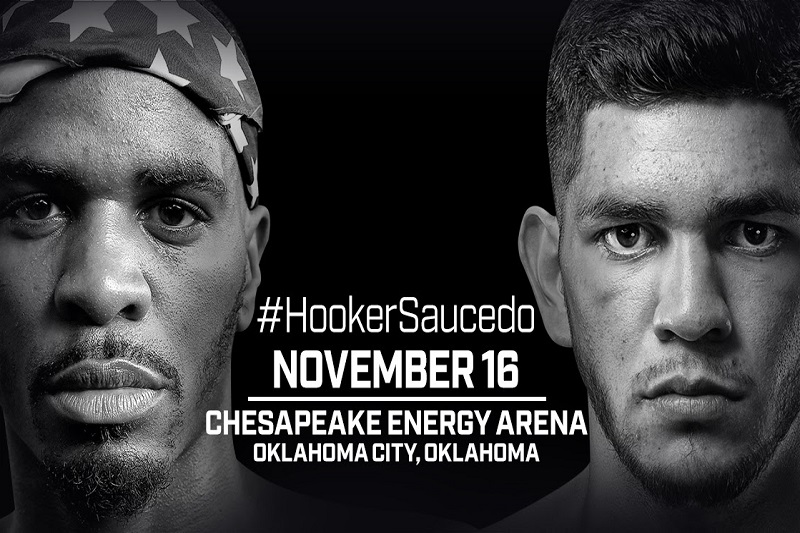 Hooker blasts is way to victory in enemy territory
Scores thrilling 7th-round stoppage over Saucedo in challenger's backyard
By Joseph Catena
 Oklahoma City, Okla. – It is difficult for any professional sports franchise to win on the road, especially in a championship game. That is compounded when the road team finds itself in an early predicament. The difference in a pro boxing match is that there are no teammates to pick you up, and there is no rotating in a fresh body to take a breather.
WBO jr. welterweight champion Maurice Hooker was the proverbial road team who appeared to be on his way to an early exit at the Chesapeake Energy Arena as local favorite Alex Saucedo built up an impressive early lead. But, like a true road warrior who sticks to the plan and doesn't get sidetracked by premature turbulence, Hooker prevailed in the end and did it with a touch of panache. In the first defense of his title, the young champion stopped Saucedo at 1:36 of the seventh round, scoring his most impressive victory to date.
Saucedo is no stranger to excitement. Several months earlier, he stopped Leonardo Zappavinga in seven bloody rounds in what many are calling the leading candidate for fight of the year. The challenger took that same aggression and zeal into his championship opportunity and opened the fight as the aggressor. While the champion jabbed, the challenger pursued. Saucedo, 139.4, landed the harder blows including several compact left hooks to Hooker's torso. Saucedo also jolted the champ with a right to the head and easily captured the first round.
One round later, Hooker nearly met his fate.
Early in round two as both men actively fired, Saucedo (28 and 1, 18 KOs) blasted a right hand off Hooker's chin and the champion was floored. Referee Mark Nelson hardly counted before Hooker rose to his feet, but Saucedo went in for the kill. He calmly stalked his foe and followed through with a left uppercut and an overhand right. The champion's legs were steady, and he held his hands high, but Saucedo was still able to penetrate his guard with heavy shots to the jaw and body. Through it all, Hooker remained composed.
"I'm a true champion; I stayed calm, stayed relaxed," Hooker explained.
Although he was in an early deficit and being beaten, Hooker showed his gamesmanship as he fired combinations in the waning seconds of the round and proved to his opponent that wasn't ready to make concessions any time soon. Although Saucedo landed occasional thunder in the following round, Hooker showed great composure and repeatedly pierced the challenger with his effective left jab.
Hooker danced and moved in round four and belted his adversary with a hard right to the chin in round four. The champion's movement and constant jabs frustrated Saucedo and kept him from landing with his vaunted power punches. Hooker punctuated the session with a solid body blow and suddenly, the fight went from a runaway for the challenger to a very close battle. Saucedo resumed his relentless aggression in round five and cut the distance between them. He often backed the champion into the ropes and punched freely to the body and arms. During one long sequence, Booker stayed against the ropes, perhaps conserving his energy and rolled his shoulders while keeping a high guard. Saucedo turned selective and didn't risk falling into a trap and punching himself out. Still, the challenger landed more and easily controlled the round. In the final ten seconds, Hooker, 140, caught him with a blazing flurry, but it wasn't nearly enough to win the round.
"Me and my team had a good game plan and we stuck to it," Booker said.
The momentum switched in the sixth round. Hooker, of Dallas, Texas, opened with a series of long right crosses and he kept hurling his jab at Saucedo. Hooker's jab was so effective in fact, that he played off it and caught Saucedo with body punches and occasional flurries to the head. The starch was definitely removed from the challenger, who threw few punches. It seemed as though the more fatigued Saucedo grew, the more energy was infused into Hooker. Even the crowd was tamed and the cheers and screams from earlier were reduced to grumbles.
In the first thirty seconds of the round, Hooker (26-0-3, 17 KOs) unloaded jabs and right hands to the head that buckled Saucedo. Suddenly, the early-fight knockdown was a distant memory and the champion was on his way to a full comeback. Saucedo backed up, his legs growing weary. Right hand after right hand bounced off Saucedo's chin. At one point, his shaking legs gave way and he stumbled back into the ropes. It was scored a technical knockdown since the ropes prevented Saucedo from landing on the ringside scorers, and Nelson gave an obligatory eight count. It was clear that Saucedo had nothing left. His best opportunity faded five rounds before, and now, he was the hunted. Nelson concluded his count, Hooker pounced. He landed one final seven-punch combination that was punctuated with a right hand on the point of the chin and sent Saucedo back into the ropes before being rescued by Nelson.
"He was hungry, he came to fight," said Hooker, who was quite gracious in victory. "I think he tired hisself out, and I went towards him. When he got past the fourth round, he was winded. I knew the first couple of rounds would be tough."
Saucedo, also gracious despite losing his first fight, admitted he had trouble seeing. Hooker's blazing fists left him battered with welts and cuts.
"The cuts started getting in my way," he said. "I couldn't see out of my left eye. I started getting hit more. In boxing, that's what happens. I have to learn from it."
Then, Saucedo summed it up best.
"He's a champion for a reason; he's a great champion," he said.
Not to mention a road warrior.
(Photos courtesy of Top Rank, Inc.)
"When Boxing was Big 4"
 Imagine waking up on a warm morning in June and opening up the sports pages only to find nothing at all about the NFL offseason draft, the Stanley Cup or the NBA Finals. Now go one step further. Imagine there was no NBA, and there were only several rag tag pro leagues, all of which were fledgling with zero star power. Imagine an NHL with only seven teams battling in a 48-game season with a championship that ended before Tax Day. And imagine if the NFL had all to do just to stay afloat because of financial issues and low ratings that had nothing to do with subversive Anthem kneelers.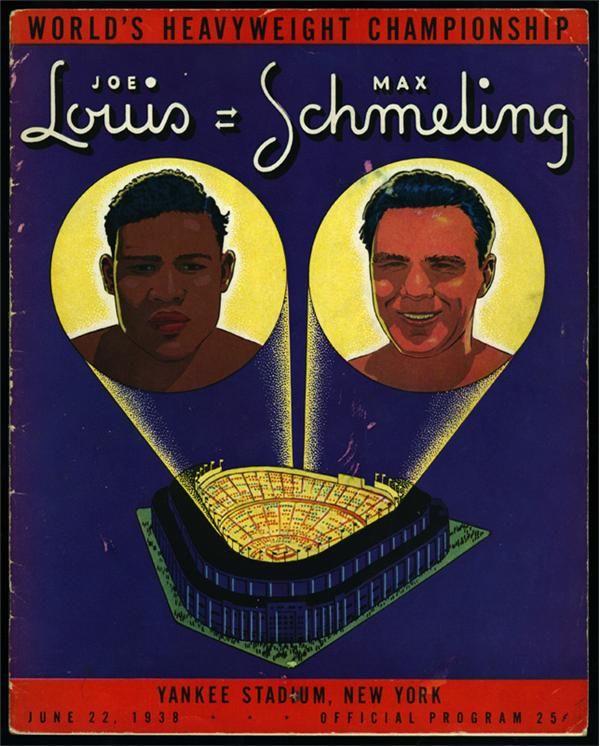 Thank God for baseball box scores and horse racing to fill the pages.
This was life in 1938. Regular seasons in sports were far shorter. Off seasons were much longer and things like professional draft analysis, fantasy sports and sabermetrics weren't even in the sports lexicon. Baseball was the National Pastime, and every kid in the New York Metropolitan area dreamed of being the next "Joltin' Joe DiMaggio, that strapping young 20-something on the New York Yankees, who seemed to everything the way it was supposed to be. But as popular as baseball was, it was also largely driven by local markets, which to some degree, even rings true today. Baseball certainly didn't have the international flavor it does today, as so many stars come from South America and more are emerging from the Orient. Heck, baseball didn't even let blacks play in the Majors.
Thank God for the Negro Leagues.
In 1938, there was one sport that had long ago integrated athletes of ethnicity and color into its fabric. In 1938, there was a sport that was talked about and attended in droves year round in big cities and small towns. In 1938, there was a sport that had international parameters and stretched out into different areas of the globe. Oh, and in 1938, there was a sport – one sport – that had the entire world standing still, and as corny as that cliché is, it is so true.
In 1938, thank God for boxing.
The United States faced great tension in world affairs 80 years ago. As the country battled its way out of the Great Depression (while we're on the subject of corny clichés, what was so great about it?), the evil presence of Adolf Hitler and his supreme Aryan race loomed over Europe and the U.S., posing a horrific threat to freedom and liberty. Nazi Germany was a bastion of evil, wishing to rid the world of Jews and give a good racial cleansing to anyone or anything with a blotch of difference. On the sports front, Jesse Owens showed up Hitler's master race in the 1936 Olympics, winning four gold medals and thrashing his competition in track and field. The fact that it happened in Berlin was an even more direct blow to Hitler and his quest for worldwide dominance. But Hitler did have former heavyweight champion Max Schmeling. Although he was far from a Nazi – Schmeling was a true gentleman – Schmeling was unfortunately cast into the role of Hitler's henchman. In June 1936, Schmeling gave the fuhrer what he wanted. Before a packed house at Yankee Stadium, Schmeling pummeled unbeaten heavyweight contender Joe Louis and scored a significant twelfth-round knockout.
Two years later, tension and unrest deepened. Two years later, Joe Louis had also taken a gigantic leap in the boxing world. He overcame his lone career loss to Schmeling and went on to win the world heavyweight championship. And nearly two years to the day after Louis' knockout defeat, he would face Schmeling in a rematch, once again in Yankee Stadium where more than 70,000 fans came to see what would become the most significant fight in boxing history. Even as we approach the 80th anniversary of this match, that very claim can still be made. Louis-Schmeling II was a superfight before that term became commonplace. More so than any other athlete in history, Joe Louis represented America. The fact that he was a black man born in Alabama facing a white European did not dissuade Americans from adopting Louis as their superhero, a warrior who would battle a representative from Planet Evil. Louis' scintillating first-round knockout symbolized American resiliency and American exceptionalism. It gave sports fans in general, much less boxing fans, something to cherish.
Louis' crushing victory was also a symbol of boxing's magnitude and magnetism. Not only was a boxing match the talk of the town, it was the chatter of the globe, quite literally. On the night of June 22, 1938, Joseph Louis Barrow, American boxer, reigned supreme. He was the prelude to New York baseball Giant Bobby Thomson's "Shot Heard Round the World" in 1954. On the morning of June 23, 1938, every sports page and every front page in every newspaper in the world featured what happened the night before in the sport of boxing. In America, baseball and box scores took a back seat.
Sports in our country have since evolved. For one thing, there is a National Basketball Association. Hockey has expanded into four times as many teams as there were since Louis-Schmeling. Both of their seasons linger into June. The National Football League grosses billions of dollars and the Super Bowl – another non-existent event in the 1930s – is the most watched event in the world. Baseball keeps chugging along, and like the NFL, it grosses billions and both leagues still get significant mention in their respective offseasons. All four leagues even have their own television networks dedicated solely to them. Hence, these sports are known collectively as "The Big Four."
My, how times have changed. In 1938, that term may have been relegated to baseball, boxing, horse racing and maybe football. But in those long stretches of the offseason, when baseball players were hunting and fishing and football players were doing the same, sports fans could always turn to boxing. Whether it was a local show at a club or a championship caliber match at a big arena, there was always something to see. Boxing spanned all twelve calendar months. Like a reliable friend, it was always there for the casual sports fan. It never left. Its season was constant. Fighters always fought. World champions, all eight of them, always defended their titles. Contenders were always battling, hoping to someday get their shot. It didn't matter that there was no LeBron James or Tom Brady or Sidney Crosby. Basketball, football and hockey didn't have the same panache as boxing, and those sports didn't have a national feeding frenzy. Boxing was indeed a prominent member of "The Big Four."
In fact, one could make a case that in 1938, it was more like the "The Only One." Or at least, the only one that mattered.
"All violence is not created equally"
By Joseph Catena
Professional football is beginning to see a few cracks in its incredibly powerful NFL shield. Sure its image was sullied when the Ray Rice wife beating video went viral. And there's no denying that Colin Kaepernick's disgusting display of disrespect – and subsequent verbal thrashing by President Trump – has contributed to the ratings drop. But there's an underbelly that threatens to shake pro football right down to its once unshakable core. Violence and long-term damage from concussions are slowly revealing ugly truths about what many consider to be America's pastime. This can be attributed to three words: chronic traumatic encephalopathy (CTE).
The fact is that football's future at its grassroots level is greatly threatened. Numerous reports nationwide show that youth participation has dropped significantly. According to the National Federation of State High School Assns., high school football participation has dropped by more than 25,000 nationally. Baseball, soccer, basketball, golf and tennis seem like more viable and far less painless options.
So where does this leave boxing, the ultimate contact sport?
The honest answer is, "Who knows?" But for those of us who have followed and supported boxing throughout our lifetimes, it certainly is a question to ponder and worry about at least a little bit. It's also worth looking into a bit deeper. And there are some very distinct differences between the gridiron and the ring that may actually point to a brighter future for boxing.
Since football is so popular and so watched, it is also under much greater scrutiny. CTEs just won't go away. The condition led to the suicides of legendary linebacker Junior Seau and Dave Duerson, a cog in the all-time great defense of the 1985 Chicago Bears sent alarms throughout the sports world. Four-time Super Bowl champion Mike Webster of the Pittsburgh Steelers and the great Ken "The Snake" Stabler were also found to have CTE upon their deaths, although the condition was not the primary cause of either man's last breath. But when legends die and there is a common link, everyone must take note.
Football contains a different type of violence than boxing. As a whole, the participants are much bigger. They wear helmets, which are sometimes used as weapons when tackling or trying to break tackles. They often run at full speed when making contact. It has often been said by medical experts that many players actually experience the effects of a car crash or whiplash after absorbing cumulative blows in one game. Multiply that by sixteen regular season games and perhaps an additional one, two, three or even four in the post season, and you've got yourself a world of hurt in just one season.
Let's also not ignore the obvious: obesity, steroids and human growth hormones are running rampant in the NFL. Consider the following: according to The Associated Press, there was only one player in the entire league who hit 300 pounds in 1970 and only three in 1980. By 2010, that number hit 532. Getting blocked or tackled or even fallen on by such a behemoth can cause irreparable damage. Let's forget the 300 pounders for just a second. How about safeties that weight 240 or 250 with speed like a gazelle and muscles like a Greek god running full speed to separate man from football as well as his faculties? Yet, do you ever hear deaf, dumb and blind NFL Commissioner Roger Goodell remark about any of this? We won't even get into the criminal element that taints the shield.
So why would any parent in his or her right mind actually encourage their son to tangle with such savagery?
Boxing is different. True, you'd be hard pressed to find many moms or dads who would encourage their boys to take a fist to the head, but look at the grassroots in the boxing world. The vast majority of boxers use the sport to save their lives. They box to stay off the streets and gain discipline and purpose in life. There are numerous fighters who turned themselves around thanks to pugilism. Mike Tyson may have been lying dead in a gutter somewhere in Bed-Stuy before his sixteenth birthday had it not been for the love and doting of Cus D'Amato and the opportunity to fight in a ring as opposed to an alley.
Ask Manny Pacquiao what his life would have been like in the impoverished Philippines had he not had the chance to put on the gloves. Pacquiao channeled his energy into a sport that has paid him back a million fold. Not only has he found success, "Pac Man" has also served as an inspiration for numerous youngsters in his homeland who may feel there is no hope.
One of the most compelling stories about boxing saving a life is that of WBA welterweight champion Lamont Peterson. By age ten, he was for all intent and purpose, homeless and living on the streets of Washington, D.C. with his brother. With no parental guidance, the young boy was discovered and basically rescued by boxing coach Barry Hunter, who served as a mentor and trainer. Thankfully, Peterson never wavered from a straight-laced lifestyle to join a gang or go back to the streets.
Much more so than football, boxing will always serve as a haven for poor urban boys and young men who want to make something of their lives rather than succumb to the evils of society. The reality is there will always be crime and poverty and there will always be a boxing gym waiting for some poor kid to use it to better himself. And it's not just a United States thing either. Many young men from all over the world face these challenges and use boxing to elevate their lives and steer clear of societal evils. Chances are, an aspiring young football player can turn to basketball or baseball or maybe even soccer. Boxers are a special breed.
Unlike football, boxing also has arguably the strictest drug policy in all of sports. Unfortunately, Peterson's inspirational story does have a stain. After he defeated Amir Khan to win the WBA and IBF light welterweight titles, it was discovered Peterson used an illegal steroid. He was promptly stripped of the WBA title, which was reinstated to Khan, so at least there was justice served. You don't hear nearly as much about PEDs in boxing as you do in any other sport because of the stringent rules and testing by the athletic commissions and governing bodies throughout the world.  Could you imagine what a football team would look like if steroid abusers were truly suspended or removed from the team? You'd be down to a kicker, a punter and maybe a few random bench players. The team photo would be rather sparse to say the least!
Yes, boxing is a risky sport for anyone to indulge in, and it certainly can cause long-term harm via CTEs among other conditions for participants. But the sport and those who practice it have always found a way to survive. There will always be a need for boxing and there will always be a steady number of fighters to choose from. These combatants are generally from the poorest of poor neighborhoods and literally fight to live. Boxers are genuine and true to their cause. They understand the risks that come along with fighting, but those risks far outweigh facing bullets if they decided to join a gang.
And they certainly don't face the risk of being blindsided by a roided up, testosterone laden freak launching their way with a helmet weapon. Football's demise may speed up greatly if something drastic isn't done.
Who would've thought the ring would actually be a safer haven?
"On Your Knees"
By Joseph Catena
Sports have always been an outlet to get fans away from reality and make them forget about life for a while. Having a bad day at work? Nothing that a Yankee victory, especially over those Red Sox, can't quell. Fighting with the wife? A good day of watching football in your man cave – and watching your fantasy team ride to victory – will surely make you feel at least 42 percent happier and more in control of your domestic life. And what can possibly be better to forget about that large, looming credit card bill than a night out with the fellas to watch a championship superfight?
Watching sports can be frustrating too, especially when your team or athlete flops on the big stage. But even in those dreary doldrums of defeat, your sporting event of choice still took you away from your own reality or troubles. Throughout history, sports and athletes have given their communities or even their country a feeling of unity and pride.
During the 1968 baseball season, the Detroit Tigers were the only rallying cry in that devastated, racially divided city hampered by riots, that actually brought fans together, and people of all colors blended as one to cheer this very special team all the way to a World Series victory. They were also the last team ever to win a pennant before the playoff era began one year later.
The United States faced grave danger on the world stage in 1980. The Cold War with the Soviet Union raged on and a looming debacle over Iran's refusal to release U.S. hostages put this great nation in grave danger. But the Winter Olympics jettisoned Americans' sadness and fear – at least for a little while – as the hockey team led by Mike Eruzione and Jim Craig shocked the sports universe by scoring the greatest upset in history as it upended the Soviets and eventually went on to win the gold medal over Finland. American pride never shined so brightly.
In 1938, Nazi Germany was growing in power and Adolf Hitler was becoming the most feared and dangerous individual on Earth. When Max Schmeling – a wonderful human being who was the antithesis of Nazism – was unfairly cast as the face of Nazi Germany sports and faced heavyweight champion Joe Louis, the fight literally dominated the world stage and was largely seen as America versus Hitler. Louis' bone crunching first-round knockout symbolically exhibited American strength. Moreover, Louis bridged the racial gap between blacks and whites. On that night in Yankee Stadium, there was no color barrier. There was no segregation. Joe Louis was red, white and blue and everyone from coast to coast cheered him with gusto.
When malcontent track stars John Carlos and Tommie Smith raised their fists clad with black gloves during the 1968 Olympics as a show of support of Black power over support of country, George Foreman proudly waved his flag after his gold medal winning pummeling of Soviet Ionas Chepulis. Foreman was criticized by many on the radical left and was accused of undermining the fight for civil rights. Big George never wavered from his American pride. During an interview with "The American Legion," Foreman stated:
"You know my only regret about waving the flag, is that I didn't have two. I was doing an interview with Bryant Gumble on Real Sports, and he asked me about it, and I remember thinking the only regret is that I didn't have two flags to wave. I mean because this country hasn't only been great for me, but I have grandkids now, and I want to show them how great it is."
Foreman went on to legendary feats and accomplishments in heavyweight boxing. Smith and Carlos never fully capitalized on their anti-Americanism. How times have changed.
Sports have lost their purpose in American society. Ever since Colin Kaepernick decided to trash the National Anthem in 2015 by taking a knee, his malfeasance spread throughout the NFL and to some degree, the National Basketball Association. Kaepernick and his misguided minions – those who, unlike Kaepernick, still have jobs – have launched an all-out war on President Trump ever since the commander-in-chief told a crowd in Alabama that he would love to see those "sons of bitches" get thrown off the field. The NFL took umbrage and numerous players and teams locked arms in solidarity, knelt in protest or remained in the locker room during the anthem. NBA superstars Steph Curry and LeBron James also showed backlash. James called Mr. Trump a "bum" on his Twitter account and Curry indicated he wouldn't accept an invitation to the White House in lieu of his Warriors winning their second NBA title in three years. Trump promptly uninvited him.
Football and basketball have become cesspools filled with disrespectful, spoiled vermin. Many abuse women, and numerous others have gone through whatever college they attended as fraudulent students who never went to class. But give the fans credit. The NFL has taken a hit in viewership and even Papa John's is pulling millions of dollars worth of ads stating low pizza sales are a result of lower NFL viewership. The NBA will be sure to follow if they decide to go anti-American and disrespect the flag. Fans who pay hard-earned money will certainly not waste their dollars to see "inmates running the prison," as Houston Texans owner Bob McNair blurted.
Up to this point, boxing has not been sullied by anthem kneelers. Thankfully, pugilists have maintained their dignity and respect while the "Star Spangled Banner" is played before a match. Men like the aforementioned Louis and Foreman have represented the U.S. well. Louis even joined the military and interrupted some of his prime years, as he fought only once between 1943 and 1945. Furthermore, Foreman and especially Louis grew up and lived through segregation and outward discrimination toward blacks, yet they displayed respect, decency and utter patriotism. They were role models.
Perhaps boxers are the most emblematic athletes when it comes to living the American Dream. The vast majority come from very humble backgrounds and literally have to fight and claw their way into prosperity. These are not star-studded college athletes given a free pass to not study and get a free education. Boxers can go from rags to riches with enough spirit and dedication to their craft. Many have overcome extreme odds and have served as an inspiration to numerous Americans.
Seven years after proudly waving the U.S. flag at the 1968 Olympiad, Foreman fought and beat five men in one night in Toronto. Perhaps even at his advanced age, Big George could muster up enough energy to confront Kaepernick, James and Curry. Then they might have a real excuse to take a knee. Or lie flat on their backs while seeing stars.
"Oh, Henry!"
 Certain athletic accomplishments draw great attention, especially long-standing accomplishments that occasionally get challenged, but never surpassed. Joe DiMaggio's 56-game hitting streak and Ted Williams' .406 average – both of which occurred in 1941 – have majestically stood out in baseball lore and haven't been seriously challenged very often. Before the National Football League turned into a video game that forbids defense, Dan Marino's 5,084 yards and 48 touchdowns in 1984 were jaw-dropping superhuman feats. Rafael Nadal's nine French Open titles in 10 years will likely never be duplicated, and let's not forget Bobby Jones' endeavor of winning all four major tournaments in golf, circa 1930. Granted, this was the pre-Masters Grand Slam, but still worthy of mention.
But, if one asks what the greatest, most unique accomplishment in all of sports history is, none of the aforementioned achievements tops that of Henry Armstrong. "Hammerin' Hank" did something that is simply inconceivable, and it can be guaranteed that it will never happen again. Armstrong is the only man in history to hold three world titles simultaneously. Not only is that a mind boggling trick, it is also the way he did it that is even more impressive.
Armstrong's hat trick began in 1937 when he knocked out featherweight champion Petey Sarron in the sixth round. That year could have counted as a career for some fighters. Armstrong fought 27 times in 1937 and scored 26 knockouts. In the following year, he was spurned in his attempt to secure a shot at the lightweight title, so instead, he jumped up two weight classes and targeted welterweight champion Barney Ross. Armstrong easily outscored Ross and won a lopsided 15-round unanimous decision. In his very next fight just three months later, Armstrong completed his incredible endeavor and scored a 15-round split decision to upend lightweight king Lou Ambers. Armstrong suffered a deep cut on his lip and swallowed it throughout the war in what may have been the toughest fight of his career.
After relinquishing his featherweight title, Armstrong defended the other two championships a combined twelve times. This span of his career was remarkable, perhaps more remarkable than anyone's career in any sport. Before losing his lightweight title to Ambers in a rematch in June 1939 and beginning with his banner year in 1937, Armstrong cruised to 46 victories with 39 knockouts. One would be hard pressed to find a greater period of success, both in quantity and quality, in such a condensed period of time.
Although he was nowhere near the 147-pound welterweight limit when he manhandled Ross, Armstrong held three titles that spanned 21 pounds in three weight divisions. And of course, there were only three undisputed champions, one per weight class. In today's world, that weight span encompassed five weight divisions with 20 champions to choose from if you only count the WBA, WBC, IBF and WBO (the first three are hard enough to accept, and all these years later, I still can't consider the WBO legitimate). If you want to sprinkle in the IBC and IBO, which are on the fringe of the fringe, there is a menagerie of 30 "world titles."
To make matters even more interesting, Armstrong challenged world middleweight champion Ceferino Garcia in 1940. Just a bit more than 15 months prior to this, Armstrong defended his welterweight title and survived a tough 15-round unanimous decision victory over Garcia. When the roles were reversed and "Hammerin' Hank" was the challenger, he overwhelmed Garcia in a rare 10-round title fight, but only scored a draw from referee George Blake, the lone scoring official. Although 160 pounds is the middleweight limit, Armstrong only weighed 142 pounds, five pounds under the welterweight maximum. Had Blake made the correct call that evening, Armstrong would have been a legitimate, undisputed champion in four separate weight divisions spanning 34 pounds. Remember, when "Hammerin' Hank" fought, there were only eight weight divisions – not seventeen – so he basically achieved the highest of heights in 50 percent of them!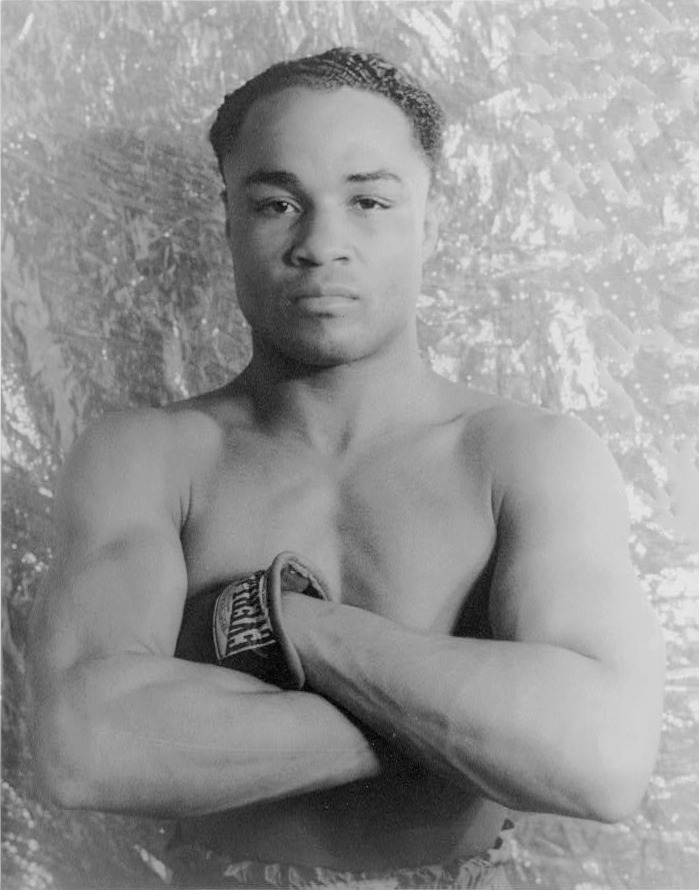 In today's world, imagine WBA featherweight champion Leo Santa Cruz jumped to welterweight, beat fellow WBA champ Keith Thurman, then dropped down to lightweight to thump WBC king Mikey Garcia and eventually vault to middleweight and hold Gennady Golovkin to a draw.
Can you say never in a million years?
When putting Armstrong's incredible achievement in modern terms, it seems even more incredible and monumental. Yet, he never seems to get the recognition he deserves. It is believed by the vast majority of boxing aficionados that Sugar Ray Robinson is the greatest pound-for-pound fighter of all time (sorry Floyd Mayweather, but no one with any morsel of credibility doesn't even put you on the short list). Other popular names mentioned on the short list are Joe Louis, Willie Pep, Roberto Duran, Muhammad Ali and Jack Dempsey for starters. But Armstrong deserves to be right behind the original Sugar Ray. Coincidentally, an up-and-coming Robinson scored a lopsided ten-round decision over Armstrong in the latter part of the triple-crown champion's career. There's no shame in being second to Robinson on the all-time list.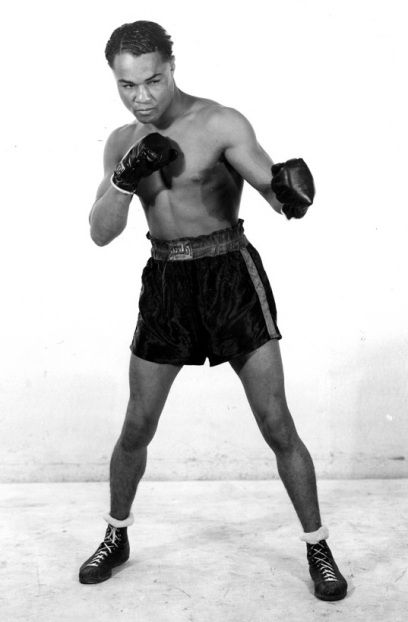 If Armstrong fought today, he would undeniably dominate any of the divisions between 126 and 147 pounds, and he just might make serious waves in the super welterweight and middleweight divisions. His swarming style, boundless energy and incredible grit would eat up today's talent. Unfortunately, we live in the age of the seven-second attention span. Our instant gratification culture and glorification of social media have prevented many from remembering past last week, let alone the last decade. Ask the average boxing fan who Henry Armstrong was, and you might get a few who can tell you. Ask the average sports fan who Henry Armstrong was and they just might tell you he was known as "Satchmo" and sang the all-time classic "What a Wonderful World."
Someday, there just might be a fellow who cracks .400 or hits safely in 57 consecutive games. There could also be a prodigy who wins 10 consecutive French Opens or Wimbledons, especially someone who specializes on clay or grass courts respectively. But there will never be anyone who holds titles in three non-super/junior weight classes simultaneously. For one thing, it hasn't been allowed by boxing's sanctioning organizations since Armstrong did it. But even if it were allowed, there simply aren't any Henry Armstrongs around to do it, and there never will be. His second greatest pound-for-pound fighter status is forever cemented.
And it ranks second only to his greatest achievement in the history of sports.
"Don't let the data fool you"
We live in a very data driven world. It is a way we gauge success or failure, and it applies across the board to all walks of life. Want to know how good your kid's teacher is? Check the standardized test scores. How successful of a realtor are you? Check the gross dollars in the number of house sales. Are you a top notch quarterback? What's your QB rating? The data never lies, does it! Or does it?
It does.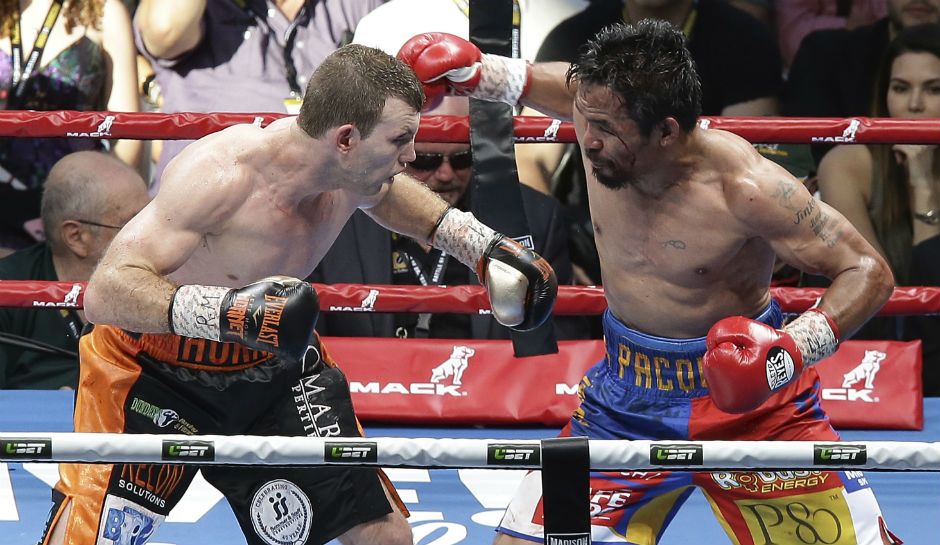 It's just too easy to take a spreadsheet and make a multitude of analyses to justify your position. X-factors beware, for you do not factor in to the lexicon of a data geek. Those of us who use logic and human nature with our data are the ones who really know what they're talking about. Numbers will tell you a story, but not the full story. For example, a realtor in 2007 may have way better numbers than he does in 2017 (SEE: The Great Recession). Your kid's new teacher had a bad batch of standardized test scores last year? Maybe she had a bad batch of students, or maybe the test was not aligned with their curriculum. For my money, Ken "The Snake" Stabler was a top 5 quarterback. The Snake was a deadly competitor who could lead his team to victory even in the most dire circumstances with little time left on the clock. Yet his 75.3 all-time rating has him tied for 104th on the all-time list with Steve Bono and Scott Mitchell. But anyone who knows pro football knows that teams were allowed to play extremely aggressive defense in Stabler's heyday, and they were allowed to use tactics that are banned from the game today. And any football fan with a shred of common sense knows the QB rating is just a flat out idiotic, convoluted stat. Where in the world is a 158.3 considered perfect? Only in the NFL.
My conclusion is that data and statistics truly matter in one area only: fantasy sports. Fantasy baseball and fantasy football don't account for the numerous outside factors that the real-life games do. They strictly go by select statistical categories, and if your guys are proficient in those categories, so be it. Fantasy hobbyists like myself often use the phrase, "This guy is a much better fantasy performer than he is in real life," or vice versa.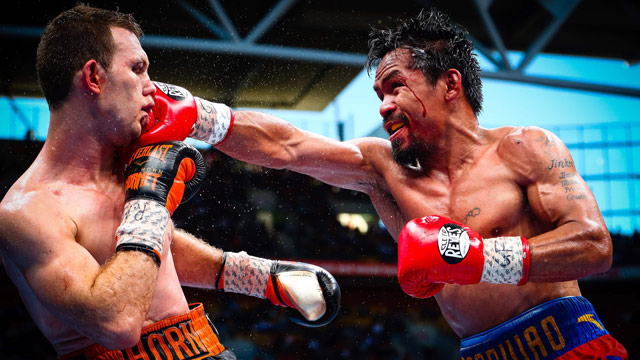 This is why data geeks and number freaks should not be allowed to analyze boxers, especially when it comes to the number of world titles in different weight classes someone has held. My inner boxing sense was reminded of this when I heard some random commentator refer to Manny Pacquiao as an eight-time world champion. On the surface, this is a true statement. It is also pretty incredible. Winning a world championship in eight different weight classes covers a large span in weight itself. In "Pac Man's" case, it began at flyweight when he knocked out Thailand's Chatchai Sasakul in eight rounds, and it plateaued at super welterweight when he decisioned Antonio Margarito – 42 pounds in between. In between those titles, Pacquiao has captured the super bantamweight, featherweight, super featherweight, lightweight, super lightweight and welterweight titles. That's some trophy case! What's more is that Pacquiao made the jump from flyweight all the way to super bantamweight and did not try to compete for the super flyweight and bantamweight titles. That would have upped his total to ten world championships had he won – a very likely scenario.
But as they say in the aforementioned NFL, "Upon further review…"
The fact is, too many boxing commentators and analysts are becoming sucked into the giant data vacuum that leaves its prey in a very shallow pool. They fail to include the necessary depth to make their claim totally true. The fact is, Pacquaio's were ALL splintered, factions of a title based on governing organizations. Most of his laurels were WBC titles. He also grabbed a slice of a championship via the IBF, WBO and IBO. In those eight divisions, Pacquaio basically had a crack at four champions per class and five if you count the lightly regarded IBO. Incidentally, the Filipino legend never held any share of a WBA title.
 Alphabet title inflation is nothing new, but it has gotten out of control. Even when it was only the WBC and WBA running the show, winning a world title was skewed, albeit much more difficult. For example, up through the 1970s there were twelve weight divisions, beginning with fly and ending with heavy. Gradually, more classes were born (i.e. – cruiserweight in 1980) as were more organizations (the IBF in 1983 and the WBO in 1988). The sport has swollen to seventeen weight classes and either 68 or 85 "world titles" depending if you include the IBO or not. Since boxing is an international sport, having one world body controlling the sport is extremely difficult, even though something should be done. Other individual sports like golf and tennis seem to have it down pat, though.
Basically, big boxing matches have come to a point where the world title aspect is merely a backdrop, if that. The magnitude of the fighters is what carries the promotion. Consider in 1981 when Sugar Ray Leonard and Thomas Hearns clashed as the WBC and WBA champions, respectively, the fact that they were unifying a title was just big a deal as were the two legends battling it out. During that era, you knew Marvin Hagler was the world middleweight champion just as much as you knew how Marvelous he was. Before the Klitschko invasion, the world heavyweight champion still had cache, especially if the champion was Mike Tyson, Evander Holyfield or Riddick Bowe. Quick question: who holds the heavyweight title now? Took you a while to get it, didn't it? What's that? Still don't know?
Just to show how little world titles matter or who has held how many, look at what's about to take place on August 26 – Floyd Mayweather vs. Connor McGregor will duke it out for the Most Obnoxious Athlete on Earth championship. You just don't see it advertised in the promo.
Live and Let Die??
Talented WBO super feather king Vasyl Lomachnko takes boxing world by storm with 9th-round beating of Jason Sosa
Story By Joseph Catena
April 8 – Oxon Hill, Maryland. It almost sounds bizarre to deem a fighter with only a handful of professional matches – one loss among them – as the number one man in the sport. Then again, it might be equally bizarre to question if there is anyone better than super featherweight phenom Vasyl Lomachenko, the previously referenced pugilist, who has a mere nine pro fights.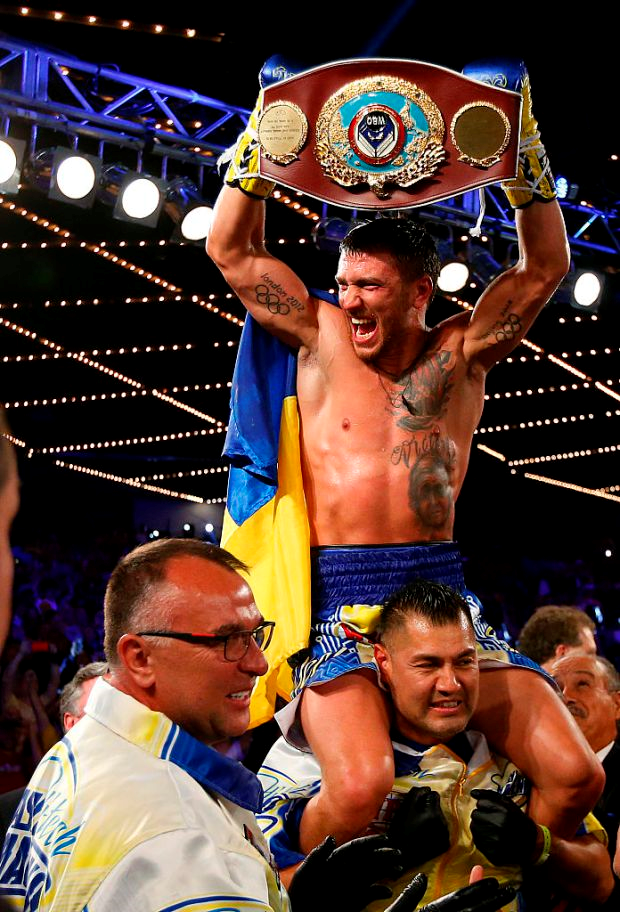 Lomachenko, who holds the WBO super featherweight championship, is the rarest of boxers. Although he has only fought nine times, he is ions ahead of anyone else in the game with the same experience. The Ukrainian native is so good, he is ahead of anyone with thirty-nine pro fights. Or forty-nine. Or fifty-nine. You get the picture. His extensive amateur career, arguably the greatest in history, spanned nearly 400 fights, with only one loss. That career allowed him to hone his immeasurable skills and refine his style to make the transition into the pros a seamless one.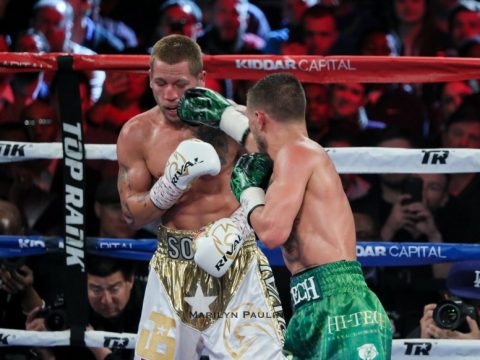 Lomachenko continued to rampage through his opposition, his latest victim being Jason Sosa at the newly minted MGM Grand Harbor. The champion systematically destroyed Sosa for nine rounds before a sellout crowd of 2,828 mostly vociferous Ukrainian fans.
"I came into the ring to do my job. I wanted to please all the fans who came tonight. I think I did really well," the 29-year-old Lomachenko said.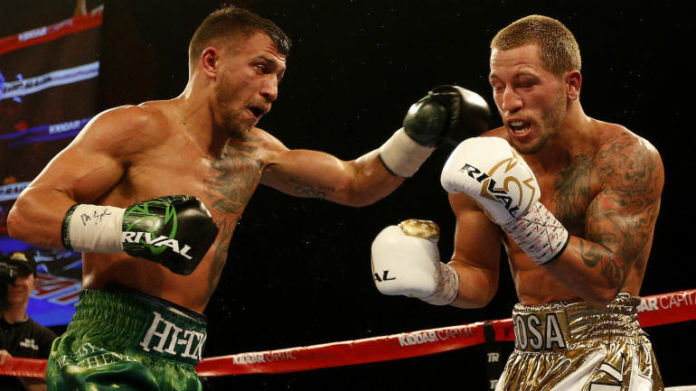 Sosa, of Camden, NJ, did not begin boxing until he was 21. To his credit, he picked up his new craft rather quickly. As his competition improved, Sosa met his challenges. He scored a controversial draw against then-undefeated Nicholas Walters, a decision that many thought Sosa should have been awarded.
In his next bout, Jason captured the WBA super featherweight title with a come-from-behind 11th-round TKO over Javier Fortuna on June 24, 2016.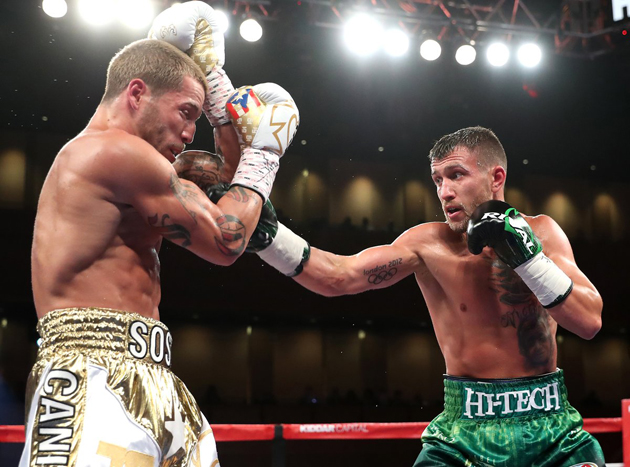 Sosa scored a unanimous decision in his first title defense against Stephen Smith. Sosa would find out the hard way, however, that Vasyl Lomachenko was superior to every top fighter he ever faced.
During the first two rounds of their fight, Lomachenko, a southpaw, used various angles to set up an array of left uppercuts and crosses to shred through Sosa's guard. The champion's hand speed and precision were superior, and he frustrated his foe throughout the match.
In the beginning of round five, the champion cracked Sosa's chin with a short, straight left and followed it with a compact right hook. Amazingly, the challenger absorbed the beating without flinching. Later in the session, Lomachenko, 129 ½, blasted his ribcage with a right hook, which caused Sosa's legs to quiver.
Sosa showed heart later in the round as he landed some power punches of his own, but it was obvious that even his best could do nothing to rattle the champion.
During the sixth round, Lomachenko masterfully worked the body and head and then used his flawless footwork to put himself on an angle where Sosa, 130, could not counter him.
The champion stunned Sosa in round eight. A right hand to the midriff followed by a short left to the chin caused Sosa's legs to wobble and he backed into the ropes. Lomachenko (8-1, 6 KO's) calmly picked his shots and blasted Sosa from every conceivable angle. In the waning seconds of round eight, Lomachenko tagged him with a combination to the ribcage.
After being admonished by his corner and warned that they would stop the fight to protect him from suffering major damage, Sosa came out with a fiery approach in round nine. Vasyl was unmoved and continued to peck away with a panoply of punches. The champ landed several bombs to the midsection in the latter stages of the round and seemed to sap the strength from Sosa's legs.
At the end of the round with Sosa standing in his corner, his trainer/manager Raul "Chino" Rivas urged referee Kenneth Chevalier to stop the fight.
As bright as Lomachenko's future is, he may have a hard time luring the biggest names at super featherweight to fight him.
"I'm gonna come back home and get some rest. Then we will negotiate with all the champions at 130," he said. "If we can't get anybody, we can move to 135 and we can do it there."
The only blemish on Vasyl's record was a close twelve-round split decision loss to crafty veteran Orlando Salido. It was Lomachenko's second pro fight, and he was schooled in the art of rule bending and fouling. Salido's name is also bandied about when discussing Lomachenko's immediate future. "Back in the day, it was like a third grader fighting a twelfth grader," Vasyl remarked about Salido. "Right now, I've graduated from the university and I'd like to invite him to the university, to my school."
"Enough Already!"
By Joseph Catena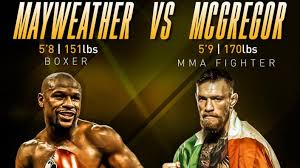 I will be the first to admit that I am not a big fan of mixed martial arts and its signature Ultimate Fighting Championship (UFC) brand. I have nothing against it, and I'm not one of those who calls for its banishment, in spite of its violent nature. To me, ultimate fighting is just another contact sport, albeit one that has built a huge following. It began as a fringe pastime in 1993 and has mushroomed into a $3.5 billion industry according to UFC president Dana White. White has done an outstanding job of promoting his sport and is someone who can definitely be dubbed a marketing genius. He has developed numerous UFC personalities through its constant appearances on the various FOX Sports networks since 2011 and a plethora of pay per views.
Even females have hit superstardom, namely Ronda Rousey. It can be argued that at her peak, Rousey even outranked the male fighters as far as name recognition and popularity. Although she now appears headed for a new chapter in life, Rousey definitely made her mark – and millions of dollars to go with it thanks to her tenure in UFC.
What really pains me is having to concede UFC's overtaking of boxing as far as combat sports are concerned. While White was out branding UFC and hyping its stars, boxing's brass sat back and let it happen as their sport languished into the back seat. Sure, pugilism had its pay-per-views and its own small slate of household names, but the grassroots were left to dry and burn. Yes, boxing has had a tiny rebirth with sporadic shows on network television, but it has such a long way to go.
Ironically, UFC just might be the antidote to fuel boxing's rebirth.
Lately, UFC's reigning lightweight champion, Conor McGregor – a power-hitting, trash talking Irish dynamo – has been yapping his way into a possible fight against none other than Floyd Mayweather. Mayweather was last seen more than eighteen months ago in his final boxing match, an uninspiring twelve-round shutout over Andre Berto. "Pretty Boy" Floyd, no stranger to trash talking and hype, left behind a 49 and 0 record and a slew of potential blockbuster fights against the likes of Keith Thurman, Gennady Golovkin and Canelo Alvarez. He swore he was done with fighting and he was choosing other avenues to continue his successful ventures outside the ring.
Then, along came Conor. McGregor taunted him by calling Las Vegas his town and that Mayweather had retired upon his arrival. Even though he claimed to be happily retired, Floyd simply could not contain himself from verbal retaliation, and he took the bait. The escalation was rapid and there are actually talks of this gabby garb talk leading to an actual battle as soon as June in Las Vegas and it certainly will not be in an octagon. McGregor is willing to duke it out in a standard ring. Moreover, the initial talk is this fight could very well rake in $1 billion. Admittedly, no other two men on Earth could rake in that kind of loot.
I never cared much for Floyd Mayweather. In fact, I do not ever recall rooting for him. Call me a curmudgeon, but I cannot accept all this modern-day trash talk and egocentric bravado by so many of today's athletes. And Floyd talked as much trash as anyone. Right now, however, Conor may talk more trash than anyone I ever saw. Therein lies my dilemma. I have to choose between two egomaniacal smack talkers, one whom I never cheered for and one whose sport I do not tune in to. Yet, I must see this event if it comes to fruition. I certainly do not want to be that guy who can't participate in the follow-up conversation the next day because I was the lone holdout who didn't want to waste his money to be aggravated by two guys I could care less for and have no skin in the game to boot.
So, what's a middle-aged traditionalist to do?
My first instinct is to scream, "Enough already! Conor, go back to your cage! Floyd, get your butt in the ring with GGG!" When it comes to the big fight, I always have someone to root for, even if I'm not a fan of either guy. Now I know what so many voters felt last November. (Believe me, I definitely had skin in the game in that battle!)
If we dig a little deeper however, Mayweather versus McGregor has several rich connotations to it, as well as a reason why fight fans of all stripes have reason to scream and holler and latch on to someone.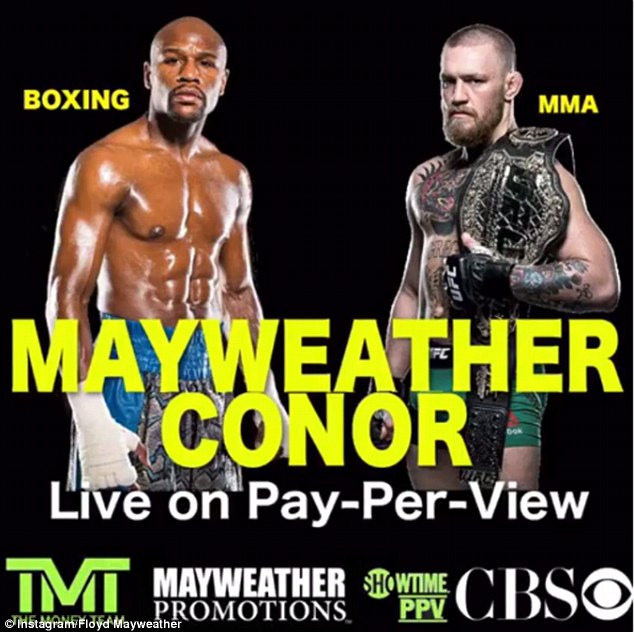 For one night only, I will surrender my angst and tote the line for Mayweather. I see this as a chance for boxing to regain what it once owned – supremacy in the fight game. Being that this potential fight will take place in a ring signifies something special to me. Fans prefer that type of stage for one-on-one combat, so score one for boxing. Taking it one step further, if Mayweather wins, he wins for an entire sport and its fan base. He might be an obnoxious trash talker, but he is our obnoxious trash talker. A win for Floyd would indicate boxers are indeed the superior warriors. In a weird way, it would also give credence to Mayweather for taking a very unusual risk, something that this column has criticized him for not ever doing in his career.
If and when Mayweather wins, could he really stay away from the sport that made him what he is and gave him so much fulfillment in life? Would the ecstasy of conquering McGregor be enough to satisfy him to stay away from GGG, Keith Thurman or a rematch with a prime Canelo Alvarez? Surely, fans would clamor for more and yes, there would be another fortune to be made.
So here's to hoping that Mayweather and McGregor battle it out as soon as possible. Most importantly, here's to hoping that the right man wins and boxing becomes the average fan's combat preference of choice. And if Floyd does win, someone better see to it that boxing does not let such an incredible opportunity slip by.
Haven't we had enough already?
"Boxing Mania?"
             Every sport, regardless of which sport, has a pinnacle event. Football has the Super Bowl. Baseball has the World Series. The Stanley Cup represents hockey and basketball has the NBA Finals. Individual sports like tennis and golf each have four major events each calendar year. Professional wrestling – dubbed as "sports entertainment" – has Wrestlemania among other events that fans look forward to. All of these events are televised by the big four networks TV, or are a staple of pay-per-view. Even the UFC, the new kid on the block, has organized events followed by a number. UFC 208 is next on the calendar.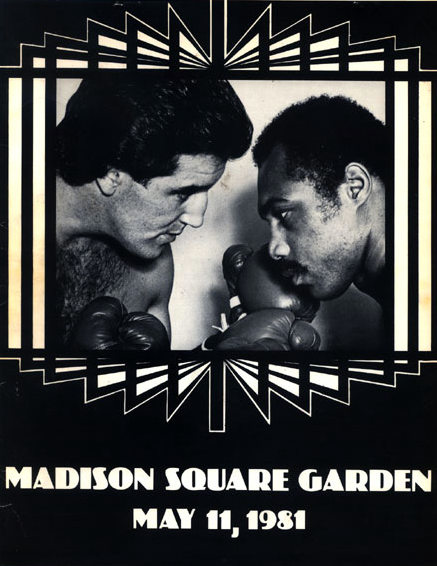 Boxing anyone?
          Unfortunately, boxing is the ultimate individual sport and has no central form of governance. It is loosely controlled by world sanctioning bodies and promoters who affiliate themselves with major cable networks like HBO or Showtime. To make matters more complicated, boxing is truly a worldwide sport, giving it a vast outreach around the globe, even in the most obscure places. That being said, there are numerous boxers who may slip through the cracks or there may be truly great fights that go unnoticed in certain regions because of a lack of promotion or local interest.
          Isn't it about time boxing fans have their own climactic annual event to look forward to?
          When boxing was a staple on Friday nights and in later years on weekend network television, there was always a panoply of fights. In those days, it was only a matter of time before the next must-see event would take place. Those days are long gone, and this column has attributed several reasons why: little to no exposure on free TV; a lack of promoting young talent; superfight busts (SEE: Mayweather-Pacquaio); the invisibility of a distinct, exciting heavyweight champion to carry the sport through rough times. The list is massive. But, there did seem to be a glimmer of hope for resurgence when boxing returned to prime time television a couple of years ago.
          Maybe it's about time that someone in the sport, perhaps a promoter, come up with the idea of an annual extravaganza. Call it BoxingMania. Call it Brawlomania. Call it Fight Fest. Call it whatever you like. Wouldn't it be wonderful as a boxing fan to mark your calendar, maybe in December when boxing usually slinks into the background of the sports world?
         Something like this almost happened back in February 1981 at boxing's ultimate venue, Madison Square Garden. The promotional company was none other than Muhammad Ali Professional Sports Inc. (MAPS) who entrusted the main promotion to shyster Harold Smith and was bankrolled by Wells Fargo. It was supposed to be the card of all cards, packed with high caliber championship fights and a unification matchup. Back then, there were only two sanctioning bodies, the WBC and WBA, as opposed to today's number of thirty-nine or forty, so world titles had a little more meaning. The program was to include a light heavyweight unification bout between Matthew Saad Muhammad and Eddie Mustafa Muhammad; WBA welterweight championship battle between Thomas Hearns and challenger Wilfred Benitez; WBA lightweight champ Hilmer Kenty defending against legendary Alexis Arguello; WBC super bantamweight king Wilfredo Gomez putting his championship on the line against Mike Ayala and a 10-round heavyweight fight featuring Gerry Cooney versus Kenny Norton.
As luck would have it, the FBI investigated Smith, Wells Fargo and the promotion of the fight. It turned out that "This Is It" was more like "This Is a Scam" where more than $21 million was embezzled and the phenomenal card went up in smoke. Only the Cooney-Norton bout came to pass and it lasted all of 54 seconds, with Cooney blasting the past-his-prime Norton and putting himself in line for a title shot at Larry Holmes.
          While many terrific promotions and fight cards followed in the three decades since the MAPS scandal, none ever came close to matching the quality and quantity of that proposed 1981 slate. But for boxing to be viable again, it needs to do something steady and give fans a reason to tune in. We are in the age of extreme social media, technology and mass television promotion (not to mention zillions of TV dollars available). With these avenues in place, there seems to be no reason why a yearly pugilistic extravaganza couldn't take place. Fans would eat it up and boxing would receive a jolt strong enough to power an entire grid.
          Although I detest pay-per-view (after all, who actually likes paying to watch TV), an annual "Fight Fest" – let's go with that promotional moniker for now – would generate record sales. It would do today's top boxers justice by properly showcasing the many talents in the sport today, who do not get the recognition they deserve. Fight Fest (I'm liking the sound of that more and more) could help to scale down the overabundance of champions by pitting them together in unification matches, and featuring battles between top contenders. Would it really be that hard for let's say Top Rank and Golden Boy Promotions or DiBella Entertainment to collaborate and make some yearly magic happen?
          Boxing has a history of shooting itself in the foot. For all its historic greatness and shining moments, it has also been marred with controversy and corruption. But it has always survived, even when it seemed to be on a respirator. Right now, it's off life support, but still has an oxygen tank close by. It needs to do something substantial to ensure its significance. A yearly Fight Fest is the answer to that. There is boxing talent all over the world, and such a card could catapult hidden talent. For at least one night a year, boxing could be celebrated and own every single headline. If Vince McMahon and Dana White could do it, why can't Bob Arum, Lou DiBella and Oscar de la Hoya match them?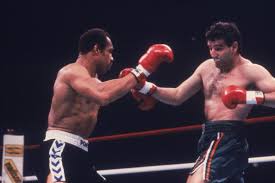 But like everything else in boxing, when things seem too logical, they often do not occur. Here's to hoping that logic wins out for once.
YEAR IN REVIEW
           I usually hate reading "year in review" columns. I know what happened. I lived through it. There are exceptions, though. 2016 was not an ordinary year. The Chicago Cubs ending a 108-year drought to win the World Series and Donald Trump trouncing the Republican establishment to win the primary and following up with an electoral college drubbing of Hillary Rodham Clinton to win the presidency (in spite of all the experts and pundits making predictions to the contrary) are two stories that will go down in American folklore. They are certainly worth reflecting on.
            In boxing, however, there was no seminal moment that defined the year. There was no superfight that fans would be talking about decades from now. So instead of retreading an old tire, I would like to look ahead to 2017 and give a realistic wish list that will keep boxing moving back in the right direction.
            Wish #1 – America first! – Okay, this was not intended to promote President-elect Donald Trump's trade and foreign policies. This is a cry for the heavyweight division and the recognized champion to step it up. WBC champion Deontay Wilder could be the star for Americans to hitch on to. After he decisioned Bermane Stiverne to win his slice of the most coveted championship on Planet Earth, Wilder has since tallied four successful defenses, all knockouts. The only problem is, how many casual fight fans or sports fans in general, know who he is? Wilder is a 31-year-old 6-foot, 7-inch mammoth with a wingspan of nearly seven feet. He is supremely conditioned and has tremendous power as his 37 and 0, 36 knockouts record shows. He even has a touching personal story. Wilder's athletic ambitions were to play football. However, his grades forced him to go to a lesser college and one of his four children, daughter Naieya, was born with spina bifida. This led him to a different path and he became a prizefighter, and he parlayed his athletic prowess in the ring.
            The American dream!
            A story like this should be exalted. Wilder's name should be front and center in the boxing world and the sports world in general. He should have a following of fans from coast to coast. But the fact is, he really doesn't. His name is rarely mentioned and the many sports fans I know have no idea who he is. Perhaps this can be attributed to a lack of promotion, or because boxing is still getting out of the doldrums. It could also be because the networks, HBO in particular, have not touted him way they have promoted others in the past.
            My personal belief is that the heavyweights do not have known commodities who can challenge him. There simply is no foil out there who can capture the public's imagination and entice Wilder to go at it. Only one person comes to mind, that being Tyson Fury. But Fury did not exactly light the world on fire when he ended the long, stale title reign of Wladimir Klitschko. He was also inactive in 2016 and had to vacate his newly won title belts due to anti-doping, psychological and medical issues.
Wilder has all the tools to make his mark as a great heavyweight champion. He must stay active and clean up whatever dead wood lies in front of him, even if that means recycling Klitschko. Hopefully, his talent will get noticed on a larger scale and his fan base will expand.
            Wish #2 – If it's free, it's for me! – I get it. There technically is no such thing as pure "free TV" anymore. You need some type of converter to get even the most basic channels. So let's just hope for more fights on network television. The more we see boxing on CBS, NBC, ABC and FOX, the better. It is still the best way for boxers to get exposure and make a name for themselves. I'll take it any way I can get it, whether it's an old school weekend afternoon production or a Friday or Saturday night primetime spectacular.
            There is something holistic about network television fights. It puts boxing on the same playing field as baseball, football, basketball and hockey. It gives fighters a forum to show who they are and get their personal stories out. It allows today's contenders and tomorrow's champions to build a following. Early word is that NBC has three prime-time telecasts scheduled for the second half of 2017. The aforementioned Wilder has a prime time date in February on FOX as he defends his title against Andrzej Wawrzyk. Here's to hoping that this list expands exponentially.
            Wish #3 – Kick it up, Keith! One of the most exciting fighters in the world today is WBA welterweight champion Keith "One Time" Thurman. Thurman is an action fighter with a strong punch and very good stamina. He is definitely must-see TV and has been part of the mini-resurgence of boxing on network television. There's only one problem with "One Time": he only had one fight last year. Thurman's inactivity is prohibiting him from exploding into a superstar.
            This can all change on March 4. Thurman (27 and 0 with 22 KO's) will face fellow unbeaten welterweight, WBC champion Danny Garcia (33 and 0 with 19 KO's). Thurman and Garcia should put on a great show. Aside from both being unbeaten, they are both in their physical primes and the winner will prove to be the clear cut number one welterweight in the world. Regardless of the outcome, Thurman must do what he does best and fight more, especially with a victory.
            Wish #4 – Come on back, Floyd. I am not a fan of Floyd Mayweather. I find it hard to root for a narcissist with a history of beating women. I have also written that his legacy is in a bit of a conundrum due to the fact that he never took any great risks when it came to selecting his opponents. All were calculated and he was never really pushed as a result of his choices. I will not, however, question his business skills. In that area, he may be the greatest ever.
            So why am I pining for him to return?
            I will answer that rhetorical question with another rhetorical question. Did 2016 feature a mega superfight? Kovalev-Ward, maybe, but not really. Boxing needs a superfight, plain and simple. The last fight that made your gut brew with anticipation – even though it turned out to be a dud – was Mayweather vs. Pacquiao. Mayweather isn't necessarily the most exciting fighter in the world. In fact, he can be methodically boring. What he does bring is the fact that he is unbeaten (Could he really be that good?) and he has an aura. His personality can make fans love or hate him, and that's a quality that very few men can bring out in the general fan base.
But Mayweather needs to come back under the right circumstances. And it's not to see him fight a non-entity, or even a rematch with Pacquiao. Mayweather must come back to solidify his legacy. He must come back and fight someone whom the public believes has a 50-50 chance (or greater) of beating him. That is something that every all-time great has encountered, and for Floyd to be considered an all-time elite, he must get his hands dirty.
Two opponents immediately come to mind for Floyd to cement his legacy: Gennady Golovkin or Canelo Alvarez. Mayweather holds the distinction of being the only man to beat the rapidly ascending Alvarez, but that was when Canelo was 23 and had not yet grown into his dominant role. A rematch between the two would be scintillating. In the three-plus years since their fight, Alvarez has grown into a tremendous force and arguably the best pound-for-pound fighter in the world.
As for GGG, many consider him to be right there with Canelo at the top of that pound-for-pound list. He is a destroyer with a relentless style. He does not just break an opponent down, he blasts them to bits. A matchup against Mayweather would be fascinating. Floyd would be pushed like never before and he would have to utilize his extraordinary movement and boxing ability at their maximum. If he could keep Golovkin away and pick him apart for twelve rounds, his legend would grow and even quizzical detractors like myself would have to say he is that damn good!
Wish #5 – "The War" revisited. Three decades ago, Thomas Hearns and Marvin Hagler battled in a superfight that was promoted as "The War." And what a war it was. Their three rounds were beyond what mere mortals could do. They elevated each other to the highest of heights. Hearns' legacy and status were not damaged in defeat, they were enhanced. Hagler's gutsy win put him at the top of the all-time middleweight list, a place where legions of fans still hold him to this day.
2017 could actually produce a modern-day middleweight war if wish #4 doesn't come to fruition. Maybe we don't need Floyd to return after all. Maybe we have what we need right before our eyes. How about a Golovkin-Alvarez match? Anyone? GGG versus Canelo would be a guaranteed slugfest with the potential to be the fight of this young century. It could sell out the most cavernous football stadium. Both men have name recognition. Both men are high atop the boxing world today. They can brawl and punch as hard as anyone on the planet. Looking back on it, this should probably be number one on my wish list. Maybe it should be number one on everyone's wish list.
Here's to hoping that all of your pugilistic wishes come true as we look ahead to a potentially terrific year in boxing.
A ONE IN A MILLION FIGHT THAT MILLIONS NEVER SAW
By Joseph Catena
When you watch sports long enough, bizarre moments will occur and embed themselves into your brain. Boxing has had its share of surreal head shakers. There was James Miller, the infamous "Fan Man" who parachuted his way down to ringside at Caesar's Palace during the heavyweight championship rematch between Riddick Bowe and Evander Holyfield. The fight literally had to be paused in the middle of round seven to clear up the mess and confusion.
Speaking of heavyweight championship rematches, who could forget Oliver McCall's second battle with Lennox Lewis in 1997? During rounds four and five, McCall literally started walking around the ring and crying, refusing to defend himself. Referee Mills Lane was forced to stop the fight. Later that year in, you guessed it, another heavyweight championship rematch (what is it with these things?), Mike Tyson decided to have an in-ring feast and literally bit off pieces of Evander Holyfield's ears, which gave him a well-earned disqualification loss.
Roberto Duran's still inexplicable to this day utterance of "no mas" in his rematch with Sugar Ray Leonard ranks high on the list of boxing's weird and wacky. Why Duran brushed Leonard off and turned his back is an action that Duran has never given a straight answer about. Maybe he himself doesn't really know why.
All of the aforementioned bouts were high profile, with three of them taking place in the highest profile weight class. But here's one that topped all of them. It was anything but high profile. In fact, it was downright obscure, and nobody whom I personally know saw this fight live, but it was one for the ages.
Before I reveal the weird and wacky, let me preface it by saying I have always had an affinity for less than legendary fighters. It's too easy to root for frontrunners like Floyd Mayweather or Canelo Alvarez. Sure they're great to watch and I've rooted for my share. Marvin Hagler and Thomas Hearns were two of my all-time faves. However, it was the lower profile warriors like Harold Brazier, Rocky Lockridge, Buddy McGirt and Frank "The Animal" Fletcher who appealed to my pugilistic senses. But no one struck me quite like Lenny LaPaglia.
Who?
LaPaglia was an up-and-coming middleweight – a hard-nosed Italian-American street brawler from Melrose Park, Illinois. Nicknamed "The Rage," LaPaglia was a colorful puncher who compiled a 19 and 0 record with 19 knockouts against a slew of club fighters. His first real test occurred on Sunday, March 20, 1983 against fellow unbeaten Chicago middleweight John Collins in the Windy City's University of Illinois Chicago Pavilion, televised by NBC. It was a throwback fight with an ethnic Italian vs. Irish twist frequented by a standing room only crowd three days after St. Paddy's Day. LaPaglia entered the ring to the soundtrack of "Rocky" as his posse stretched out an enormous Italian flag. Collins' entrance featured bagpipers with the crowd wildly cheering. To top it all off, a pipe smoking little person dressed in leprechaun garb led the entourage and did a cartwheel after he entered the ring. Great stuff.
Collins, who was more polished, outclassed LaPaglia over ten rounds, knocking him down twice and winning a unanimous decision. Although he lost, LaPaglia gained notice and respect in boxing circles.
Then, the weirdness began, and it stayed with him throughout his career.
LaPaglia's rebound fight was against a journeyman with a losing record named Danny Blake. The stage was set for LaPaglia to march forward up the middleweight rankings. After pounding Blake for two rounds, "The Rage" inexplicably quit in the third round. He claimed he had the flu, but no one could verify it. It was "no mas" Chicago style. Just over three months later, a rematch occurred and Blake – a .500 fighter at this point – caught the Italian streetfighter in round one and knocked him out.
LaPaglia was a hard guy not to root for. Sure he was obscure, but there was something magnetic about him. After the Blake debacles, he seemed to get back on track, winning twelve of his next fourteen fights. He was competing in the super middleweight and light heavyweight divisions and was slowly positioning himself back into contention.
And just when you thought he turned the corner, LaPaglia flew off the road head first into a patch of sticker bushes. To this day, nothing has ever come close to what I saw on the evening of July 14, 1988 at the old Felt Forum in the basement of Madison Square Garden. It was blissful obscurity at its finest. A sparse crowd attended MSG's stepchild. "The Rage" faced an opponent named Art Jimmerson, a seemingly harmless light heavyweight with only eleven fights on his ledger. A win would have put LaPaglia another step closer to a name opponent.
But a funny thing happened on the way to that step.
LaPaglia took control of the fight from the beginning, and it looked as though everything was going according to plan. He teed off on Jimmerson and showed off the heavy artillery that made him a cult hero to his Chicago fans. Then, with under a minute to go in the third round, Jimmerson hit him with a combination and for a few seconds, LaPaglia responded by dropping his gloves and taking a couple of shots to the chin before firing back. Commentator Sam Rosen confirmed my eyes had not played a trick on me by stating, "What a dumb thing to do!" With under ten seconds to go, he dropped his guard again for another couple of seconds. I knew he idolized Jake LaMotta, but this was a little ridiculous.
Round four made round three look like a Floyd Mayweather boxing exhibition. He began by pounding the stuffing out of Jimmerson, who was able to take quite a beating. There were a couple of moments where it looked as though Jimmerson would go down. But he was quite the shock absorber, and he traded bombs with LaPaglia. With less than half a round to go, LaPaglia did it again. In the middle of an exchange, down went his gloves, and he used his jaw to block punches before firing back. Later in the session, with about fifty seconds to go, LaPaglia's arms dropped to his side and he took seven unblocked punches square on the chin. Remarkably, he did not appear to be shaken, and again he fired back.
LaPaglia outdid himself in round five. He showed no ill effects from the unblocked punches he was plastered with during the previous round. In fact, he looked fresh and his punches were crisp. Is there any wonder why I rooted for this fringe contender, who was also on the lunatic fringe with his recklessness? Jimmerson sported a welt under his right eye and was looking shaky. I figured "The Rage" would polish off his pesky foe, and I could tell the millions of people who did not watch about the craziest fight I'd ever seen – maybe the craziest fight anyone had ever seen.
I had spoken too soon. It turned from bizarre to off the charts insane.
With less than two minutes to go, Jimmerson slowly backed his adversary into a corner. Down went the arms and Jimmerson landed another seven-punch combination to the chin. Remarkably, LaPaglia remained upright. Then came four unblocked punches to the torso, which finally sent LaPaglia sagging to the canvas. It looked as though the night of the absurd had finally come to an end. Until LaPaglia rose at the count of nine and stormed back with a blistering assault on Jimmerson.
Is it possible this was part of Lenny's game plan to break Jimmerson's will, I wondered.
With less than thirty seconds to go, LaPaglia, who had not figured out what a clinch was, backed up and true to form, dropped his arms. Again. Jimmerson pelted his torso with four uninterrupted punches and scored his second and presumably final knockdown of the round. LaPaglia was up at six, and Jimmerson's facial expression was one of disbelief, as though he were battling an extraterrestrial freak, who was impervious to pain. LaPaglia finished the final seconds with a left hook to the body and a right uppercut to the chin. To this day, it was the most unbelievable round I have ever seen.
LaPaglia came out for round six ready to brawl. He opened with another blistering flurry and looked as though he somehow regained the momentum. Then, during another exchange, "The Rage's" chin was again an open invite for target practice. With his familiar arms-by-the-side defense, LaPaglia absorbed eleven clean blows to his chin and another pair to the torso. As the pace slowed and the two men fought in close proximity, LaPaglia was backed into the ropes. Three blows to a wide open torso knocked him through the ropes. Midway through referee Fred Ucci's count, the fight was waived at the 1:12 mark, and Ucci helped LaPaglia to his feet.
Even a Hollywood movie couldn't be this over the top.
LaPaglia went on to fight eight more times, winning five. His career ended with a passive first-round TKO loss to Thomas "The Hitman" Hearns in a WBU cruiserweight title on March 31, 1995.
He retired with a respectable record of 36-9 (33 KO's).
I was saddened to read about LaPaglia's death on July 6, 2013 at the age of 53 from a heart attack. It certainly was not on the front page of the sports section or on the cover of a major boxing magazine. I actually stumbled upon it by accident when I was doing some research on the internet. I immediately regretted never having had the chance to interview him. For years, I had so many questions about his fights with Blake and his bizarre antics in the Jimmerson loss. I also could not help but think about what a win over Jimmerson would have done for his career, especially if he found a way to knock him out after one of those arm-dropping episodes.
Lenny LaPaglia will be a footnote in boxing history, but not for me. I was a huge fan. He gave me plenty to cheer about and plenty of memories. Too bad one of those memories was arguably the most bizarre fight in boxing history.
The one that millions and millions of fans never got a chance to see.
"The Politics of the Fight Game"
By Joseph Catena
Superfights that transcend popular culture come along very rarely and usually take place in the heavyweight division. The greatest example of this occurred in 1971 when Muhammad Ali and "Smokin' " Joe Frazier met in what was billed as The Fight of the Century. It represented far more than a boxing match. It was a battle that brought about the divisions in society, everything from race to views on the Vietnam War. In many ways it was mainstream America versus the new American counterculture or traditionalism versus radicalism. Ali and Frazier brought out that kind of passion in American fight fans and Frazier's 15-round unanimous decision victory emblazoned him into boxing folklore.
Only once before and once after that memorable March evening have we seen such passion. The before occurred in June 1938 when Joe "The Brown Bomber" Louis, representing the United States of America, demolished Germany's Max "The Black Uhlan of the Rhine" Schmeling in one round. That night, the entire world stood still. Although Schmeling was the antithesis of Hitler's Nazi Germany, his rematch with Louis represented two world powers colliding.
Another superfight that transcended past the borders of the sport occurred in 1982 when race again entered the boxing lexicon and Larry "The Easton Assassin" Holmes put up his heavyweight championship against the newest Great White Hope, "Gentleman" Gerry Cooney.
Like Ali-Frazier I, both giants were undefeated and their fight captured the imagination of the entire sports world and even the world of lukewarm sports fans. Holmes proved to be superior and Cooney never again found himself in such a major spotlight.
This year, a new heavyweight mega fight is brewing and Americans are coming out of the woodwork to voice their support and show their interest. It is unlike any battle of the titans we have ever seen or may ever see again. This ultimate showdown is a constant journey that will ultimately end on November 8. The vacant title is being sought after by "Hammerin' " Hillary Clinton and "Dangerous" Don Trump. Clinton is the crafty legend who has long been a part of the political fight game. She has never held the heavyweight crown, but she is incredibly battle tested.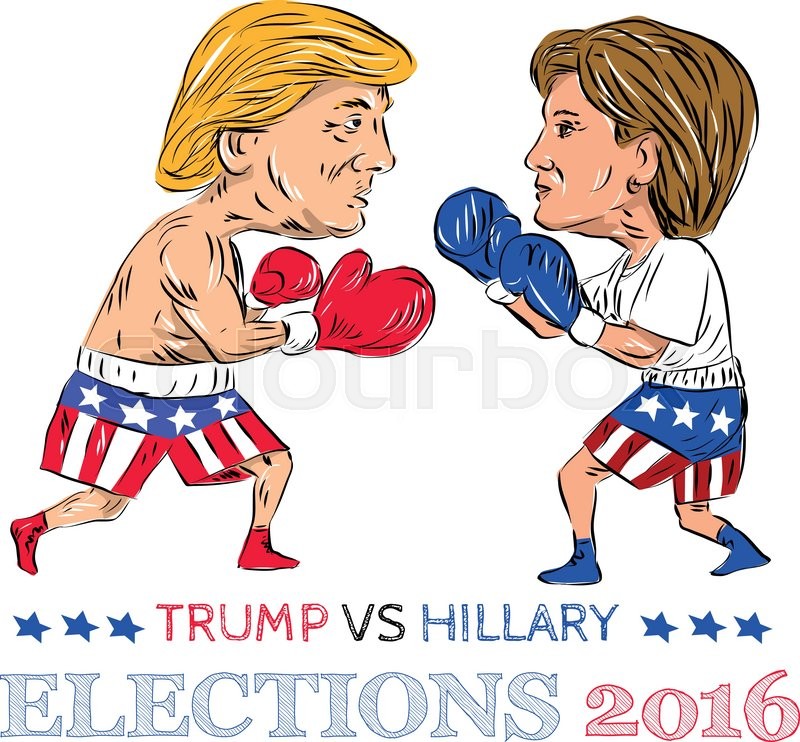 Since losing to "Battling" Barry Obama in a memorable 2008 clash in her last quest for the heavyweight title, Hillary has scratched her way back to the top. The young Obama outfoxed and outboxed her over fifteen rounds (yes, the political scene still goes the traditional route of fifteen rounds) and scored a unanimous decision going away.
Clinton's criticism over the years since the Obama defeat is that she has faced soft opposition. However, in a title eliminator earlier this year Clinton struggled to narrowly defeat Bernie Sanders, a past-his-prime journeyman. Conventional wisdom in the political fight world was that Hammerin' Hillary would knock out Sanders in three rounds. But a surprise flash knockdown by Sanders in New Hampshire set the tone for the fight. Clinton relied on numerous questionable tactics, possibly crooked judges, and landed numerous blows below the belt but was never penalized by referee Debbie Wasserman Schultz, who was later stripped of her license. The USA Boxing News dubbed Clinton "the dirtiest pugilist since Fritzie Zivic." Sanders gave her all she could handle, but Hillary's thumbs, rabbit punches, laces and kidney punches overcame Bernie's grit and she won a questionable majority decision. Two judges scored the fight by one point for her and the other a draw. Had she been deducted at least two points, as many ringsiders felt she should have, Sanders would be in line for the title.
"The system is rigged!" Sanders proclaimed.
Hillary is no stranger to dirty wars. Sanders was among a laundry list of opponents she has battled through the years. After suffering a humiliating defeat early in her career against Gen Flowers, Clinton has upended Monica Lewinsky, Paula Jones, Ricky Lazio, Kathy Shelton, Kathleen Willey, along with Juanita Broderick and numerous Pennsylvania and West Virginia coal miners. These are just a few rivals on her ledger, which has spanned several decades. Her greatest victory, again mired in controversy, was against the FBI's Jim Comey. Comey had her on the ropes, but she fought her way out of it and survived his attack. (Editor's note: Later is was determined that the FBI director may have taken a dive). She is a grinder in the ring, a warrior who rarely loses her cool. Clinton is a cerebral master who can get inside an opponent's head before she even throws a punch.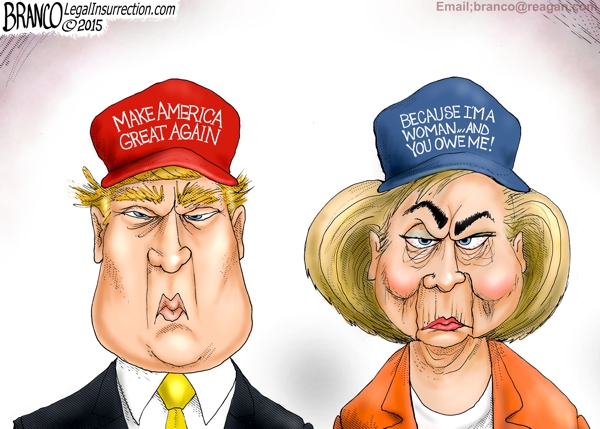 In her many years as a battle-tested political heavyweight, Clinton has never faced anyone like "Dangerous" Don Trump. After an extremely successful career in business, Trump decided to bring his roughshod New York street-brawling style to the political ring. Right from the beginning, many pundits questioned his toughness and how he would cope in his new endeavor. Trump responded with a scorched-Earth style and tore down his opposition with reckless abandon.
What makes him so exciting is his power punching and his willingness to take punches square on the jaw. Not since the late Arturo Gatti has the pugilistic world seen such an exciting and entertaining fighter. And not since Muhammad Ali has there been such a trash talker. Some of his infamous monikers include "Lyin' Ted," "Little Marco" and "Crooked Hillary." Trump proved he could back up the talk. He blazed through sixteen opponents with sheer brutality. One by one, he blasted seasoned heavyweights by unleashing a bare knuckled onslaught. No dancing, no fancy movement. He pulverized nonentities such as Lindsay Graham, Bobby Jindal and Randy Paul. But what really caught the eye of the public was his second-round knockout over "Gentleman" Jeb Bush, a seasoned and schooled political warrior. Trump dubbed him as "low energy" and attacked him like a pit bull. Bush offered little resistance and The Dangerous One pummeled him, snapping his head back the way Aaron Pryor did to Alexis Arguello in their first fight before putting him down for the count.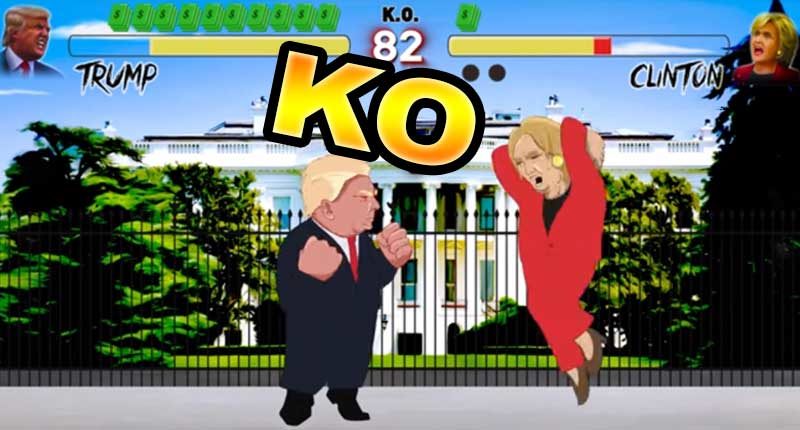 Trump's opposition continued to fall. He barely laid a hand on an out of shape Chris Christie before the New Jerseyan crumbled at his feet. Trump's volatility was too much for "The Fight Doctor" Ben Carson to handle. "Little Marco" Rubio was knocked stiff in his home state of Florida and Johnny "Son of a Mailman" Kasich was bludgeoned and suffered a tenth-round TKO. His biggest win to this point was a blood bath versus Texas' Teddy Cruz. Cruz, a classic boxer-puncher opened cuts on Trump's thin skin and blasted him with combinations. But, Trump's iron jaw never dented. Trump responded by knocking Cruz down three times and landing a plethora of body blows, several of which strayed below the belt. Cruz needed twenty-eight stitches to seal up his wounds. Cruz hung on for twelve rounds and lost a lopsided decision, but showed great heart and even gave Trump several anxious moments in the process.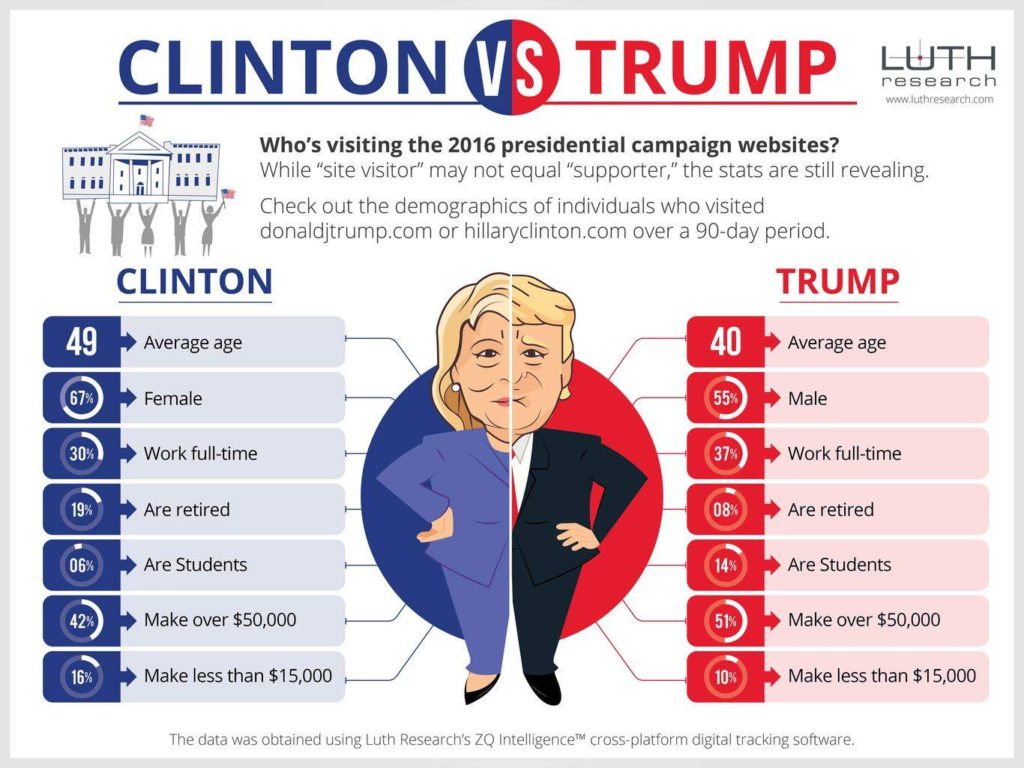 Inside the Trump camp, concerns arose that his defense was too loose and he lacked polish. He also went through head trainers such as Corey Lewandowski and Paul Manafort before being cajoled by veteran Kellyanne Conway, who has refined his style and made him more of a well-rounded combatant. Since Conway's takeover, Trump has boxed more in his sparring sessions and has utilized better footwork.
Clinton, a veteran of some 66 ring wars (61 and 2 with 3 draws and 39 KO's), has drawn criticism from Trump for taking a periodic hiatus from her training regimen.
"She doesn't have the strength or the stamina to be president!" Trump exclaimed.
But Clinton has been undaunted by the New York brawler and reports are she is in stellar condition. "Donald is unhinged and doesn't have the temperament to be president," she countered. Clinton is a 6-to-5 favorite to win the heavyweight presidential championship, but the odds have fluctuated throughout the course of the pre-fight buildup.
One thing is for certain: on the night of November 8, tens of millions of viewers will be tuned in to see the final battle for the ultimate political heavyweight championship. It won't be for the faint of heart either because the winner of this blood fight may actually go on to a reign of terror.
"Where to Turn?"
By Joseph Catena

Remember when NBA Hall of Famer Charles Barkley once famously – or not so famously – claimed he wasn't a role model? "Just because I can dunk a basketball doesn't mean I should raise your kids." That was back in 1993, and thank God Chuck isn't raising my or anyone else's kids.
Chuck was anything but a role model. During and after his career, Barkley has faced his share of self-induced non-role model like controversies. They include spitting on a fan, fighting during practice with teammate Manute Bol, getting fined for yelling at coach Jim Lynam after a game, compulsive gambling, a DUI and numerous outlandish statements as a studio commentator.
          But, at least he was honest. And somewhat prophetic.
          Fast forward to today. Finding a role model someone who exemplifies sportsmanship in any sport. College football and college basketball are running jokes. Student athletes my foot! Many look and act like gangbangers, some with rap sheets to match. The pros are even worse. Ridiculous celebrations and self-aggrandizement are overly prevalent. The trash talking is endless. Remember the Odell Beckham-Josh Norman fiasco last year? All that smack talking led to classless violence. Then of course, we have Colin Kaepernick and several other NFL degenerates who find it against their morals to salute the flag during the National Anthem. Even though this country has afforded them the opportunity to make millions and live a lifestyle that 99.99 percent of the population can only dream of, these miscreants find the police and our country's hierarchy racist. Ironically, Kaepernick, Arian Foster, Brandon Marshall and company have police protection and constant security no matter where they go during the football season.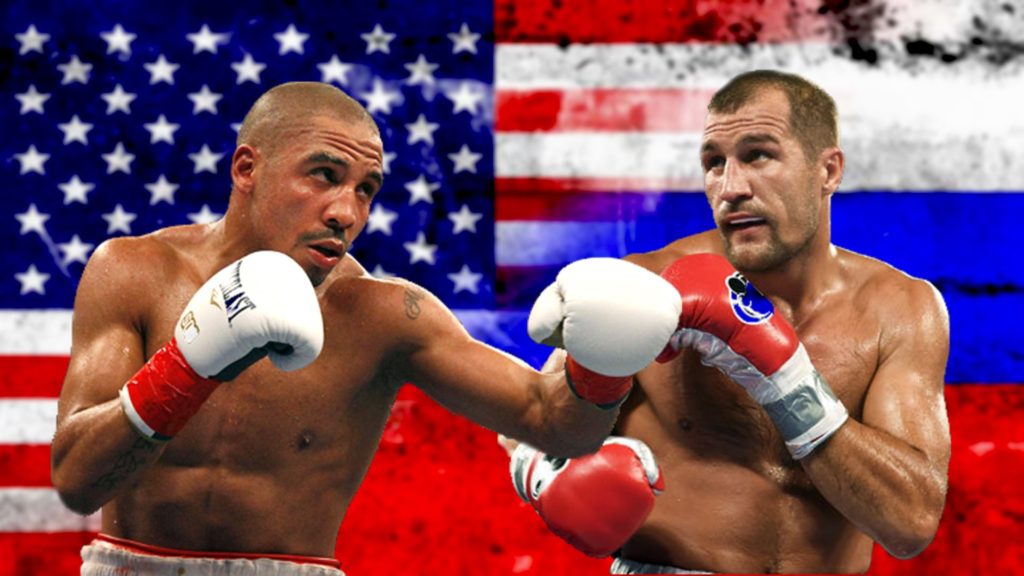 Even baseball is fraying the edges with the staredowns and obnoxious bat flipping after home runs. For every Mike Trout, there are ten David Ortizes and Bryce Harpers. Let's not even get into MMA, but while we're on the subject, is there anyone in that genre with more than twenty percent of their flesh without tattoos? And it seems as though every single pre-fight promotion looks as though it will erupt into an actual brawl. Whatever happened to two opponents just battling it out and letting their actions determine who the better man is?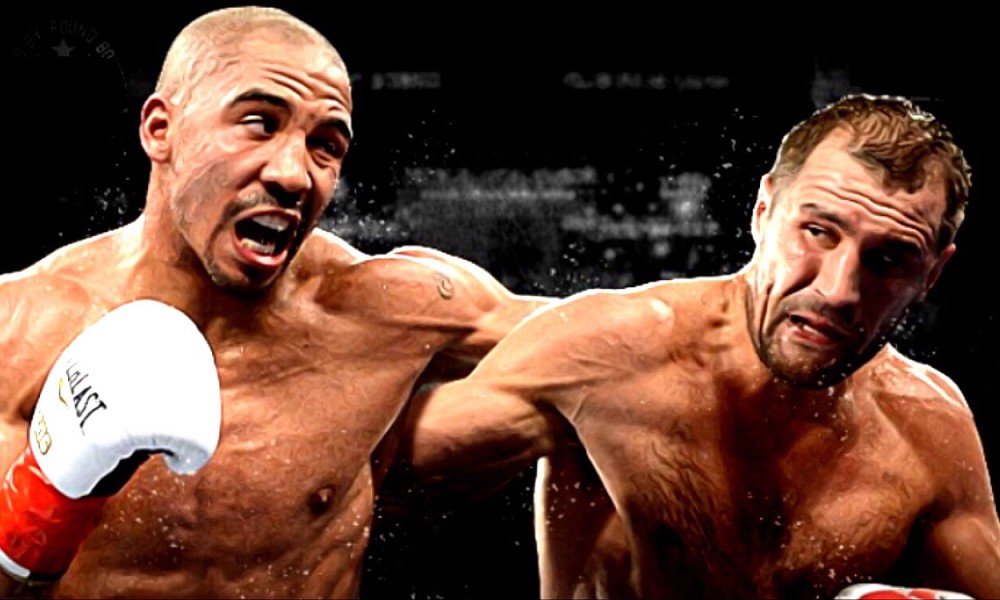 Just when I was at my wit's end, I realized boxing may be the place to turn. At least in November. That's when Sergey Kovalev puts his light heavyweight titles on the line against former super middleweight champion Andre Ward. Following Ward's easy tuneup victory over Alexander Brand, he and Kovalev were in the same ring together as Ward concluded his post-fight interview.
          What occurred next was fascinating.
          They didn't turn and stare at each other, nose to nose. There was no need for hangers on and wannabes to step in between and separate them. Neither man's jaw was flapping with insults and obscenities being hurled. Ward and Kovalev actually shook hands and said nice things about each other!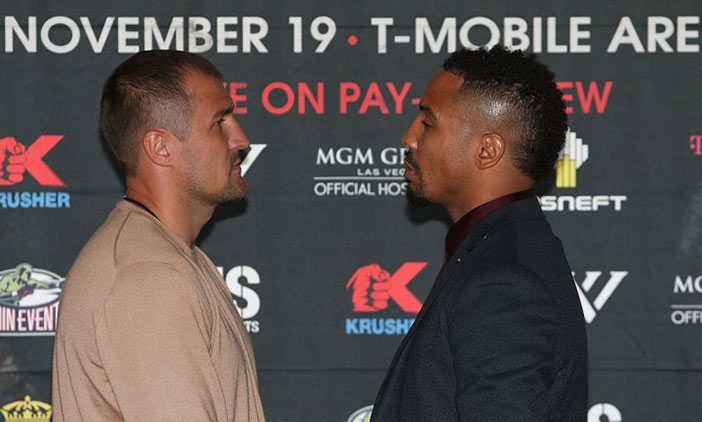 When they finally do meet at the T-Mobile Arena in Las Vegas the week before Thanksgiving, it will be perhaps the most highly anticipated fight this year and one of the most anticipated light heavyweight championship battles in recent memory. Neither man has ever been beaten as a pro. Both are very polished, experienced craftsmen. Ward is a clever boxer who can wear down an opponent and frustrate him as well because of his airtight defense. While he isn't noted as a knockout puncher, he does possess decent power. Conversely, Kovalev is a masher. His debilitating power is coupled with solid technical boxing skills and a thudding left jab. Ward will assume the role of boxer and Kovalev that of puncher. It has all the makings of a classic matchup (if only it could have a classic title limit of fifteen rounds).
          The major difference here is that the hype leading up to the fight won't contain over-the-top bragging a la Floyd Mayweather. The hype will be accomplishment oriented. It will be about the fighters themselves and how they take care of business inside the ropes. The hype will feature Kovalev's left jab jarring someone's skull. The hype will be Ward landing a flurry and masterfully dodging any return fire. Instead of either man laying out cheap, contrived sound bytes, fans will witness two humble gentlemen – two of the best pound for pound combatants in the game today representing a sport that has been slowly making an upturn back into prominence.
          The bigger question that begs to be asked is why must there be trash talking at all? Why do athletes from the panorama of the sports world have to denigrate themselves to braggadocios, showboats and even gangbangers? Being colorful and having flair are one thing. Being a distasteful jerk is another. Unfortunately, the latter is the dominant force we, the fans are subjected to time and again. As a sports fan, I am simply worn out. Not that I am a huge fan of the NBA – I see it as the sewer of the sports lexicon – but I was a bit saddened when San Antonio Spurs legend Tim Duncan retired. Like Ward and Kovalev, Duncan did his job and won consistently. No trash talking. No unnecessary over-the-top antics. Just great basketball.
          Parents must be the primary role models in their childrens' lives. But one cannot deny that we live in a culture that is dominated by sports, and athletes are constantly in the spotlight. Essentially, they are public figures, and public figures, like it or not, do share some type of responsibility to carry themselves like professionals.
So Mr. Barkley, do whatever it is that you do best in that TNT studio. Do what you want to lead a happy life. More than twenty years later, your words from that commercial you made still appear in my mind's eye. And no, I won't rely on Andre Ward or Sergey Kovalev to raise my kids and I won't ask them to be role models. But it sure is nice to know that when I watch them compete on November 19, I will be watching a top notch fight between two highly skilled gentlemen.
It sure does beat a spit show.
"Rounds and Rounds We Go"
By Joseph Catena
"It's like the fifteenth round of a heavyweight title fight as these two giants are slugging it out!" How many times have we heard such a metaphor when two great sports teams, be it football, basketball or hockey, among others, are battling it out in crunch time of an exciting playoff or championship game? You get the idea: two giants testing one another's mettle at a pinnacle moment while rousing those in attendance.
The mere allusion to that expression hearkens my memory back to the fifteenth round of the heavyweight championship match between Ken Norton and challenger Larry Holmes. Bet you thought I was going to say Ali-Frazier I, didn't you? The entertaining battle between Holmes and Norton culminated in what may have been the colossus of all fifteenth rounds in heavyweight championship history. Both men slugged away, showing little regard for defense, and each man snapped the other's head back on several occasions during those climactic three minutes. Clearly, they had spent every ounce of energy in their bodies and could barely hold their arms up. I thought Norton edged him by a hair, but Holmes was awarded the title and went on to a lengthy title reign and a historic legacy.
Those emblematic three minutes are a distant memory. So are fifteen round championship fights. In fact, there hasn't been one in nearly three decades. The IBF was the last of the major sanctioning bodies to rid the sport of them. That was in 1988. The WBA did so the year before, and the WBC was the first to emasculate the sport of its signature test of fortitude in 1983.
Now it's time to get them back. They never should have been eliminated in the first place.
Before we move ahead, let us reflect on what promulgated the World Boxing Council to commit this sacrelig. On Saturday, Nov. 13, 1982, CBS Sports Spectacular featured a weekend afternoon free network TV slugfest (God, how I miss those!) between WBA lightweight champion Ray "Boom Boom" Mancini and little known South Korean challenger Duk Koo Kim. This was expected to be a showcase performance for Mancini, a wildly popular young fighter with mass appeal. Ironically, Mancini made his mark and showed his heart in a memorable fourteen-round TKO loss to legendary WBC lightweight king Alexis Arguello just thirteen months earlier, also televised by CBS on a Saturday afternoon in autumn (did I tell you how much I miss those?).
What the television audience along with the live crowd of 6,500 at Caesar's Palace saw in the Mancini-Kim fight was a wildly unexpected slugfest with Kim giving as good as he was getting. The champion injured his left hand early in the fight, which turned into a savage battle. Mancini held the edge throughout, but Kim refused to back down. By the beginning of the fourteenth, both men sported swelling and bruises with Kim a bit worse for wear. Seconds after the bell sounded to begin the round, Mancini blasted Kim with a right hand to the chin, and the South Korean fell backwards, landing head first on the canvas. Miraculously, he beat referee Richard Greene's count, but Greene immediately waived him off and wisely stopped the match. It was clear that Kim was wobbly and unstable. Sadly, he would leave the ring on a stretcher.
A series of tragic events would follow. Kim lapsed into a coma due to a hemorrhage and died four days later. Two months after that, his mother committed suicide by drinking pesticide, seemingly unable to accept her son's unexpected death. During the summer of '83, Greene shot himself in the head, another suicide following the Mancini-Kim war, though it was never confirmed why he took his life.
Boxing is a brutal, barbaric sport. No question about it. To that end legendary trainer Ray Arcel once said that man wasn't really meant to be hit because he isn't made of stone. Unfortunately, if the hits are hard enough, debilitating injury and/or death may occur. But make no mistake about it, death could occur in the fourteenth round as it did with Kim, or it can occur in round twelve as it did to Benny "The Kid" Paret against Emile Griffith. It can even happen as soon as round five in the case of Frankie Campbell, when he was knocked out by Max Baer, who was never the same after that fateful night.
There is no quantitative data or medical research that proves fighting past round twelve puts a fighter in grave danger. It's almost the same as the superfluous pitch count in baseball. It seems as though 100 pitches in the big leagues is a parallel with twelve rounds in boxing. One hundred one or more pitches is becoming more and more rare, and thirteen or more rounds in boxing is so rare, it doesn't exist.
Regardless of sport, in this case boxing, it's all nonsense. It's about how one paces himself. It's also about endurance and fortitude, which are different in everyone. Athletes, much less boxers, cannot be painted with such a broad brush. Let's not forget that life isn't fair. Sometimes God shortchanges a fighter when it comes to chin and stamina. Others can eat punches and go all night. Conventional wisdom, and perhaps cynics like myself, believed the real reason for the change to twelve rounds had much more to do with marketing than it did with safety. It was more convenient to fit a twelve-round championship fight inside a one-hour television slot as opposed to those problematic fifteen rounders, which require an awkward 90 minutes. And if safety was such a concern, why did it take the WBA and IBF years before they did it? If this was a proven safeguard for life and health, doesn't logic say all organizations would have acted at relatively the same time?
What is so ironic is that the WBC – first to jump ship – featured two historically great fifteen round battles just before the new twelve round limit went into effect. Three weeks after the Mancini-Kim battle, WBC bantamweight champion Lupe Pintor moved up to super bantamweight but was thwarted by the legendary WBC king Wilfredo Gomez. It was a classic battle of Mexico versus Puerto Rico. As the nip and tuck mêlée entered the fourteenth round, Pintor – who was ahead on one scorecard – appeared to have momentum on his side and looked fresher than the weary Gomez. But Gomez, who is undoubtedly the greatest 122 pounder in history, mustered up his incredible power and scored two knockdowns to ensure a TKO victory.
A mere eight days after the epic Pintor-Gomez classic was the greatest fight I have ever seen until this very day. It was the fourth fight between super featherweights and arch rivals Bobby Chacon and Rafael "Bazooka" Limon. What better way to spend a cold December afternoon watching boxing for free on ABC's Wide World of Sports (I won't say it). It was boxing theater at its finest. Months before the fight, Chacon's wife, Valiorie, committed suicide, and he used this tragedy to inspire him against his bitter rival. Limon, one of the dirtiest fighters of his day, who also possessed a granite chin, was making the first defense of his title.
Limon scored two knockdowns, one in round three, the other in round ten, and he also cut and battered Chacon's face. Chacon, however, took over the final third of the fight and excelled in the championship rounds – remember those? The ones that occurred after round twelve? Round fifteen was jam packed with action and Chacon did the unthinkable. He penetrated the granite on Limon's chin and knocked him down with ten seconds to go in the fight to secure a razor-thin unanimous decision win.
Just for good measure, the WBA featured one of its greatest fights ever and it occurred one night before Mancini-Kim. Alexis Arguello tried to make history and become the first man to win titles in four weight divisions when he challenged jr. welterweight champion Aaron Pryor. Arguello fell short of his goal when Pryor scored a memorable fourteenth-round TKO. It was one for the ages. It can be argued that from the time of Arguello-Pryor through Chacon-Limon IV, was the greatest one-month span in boxing history, especially when one considers the sheer excitement, magnitude and historical impact of the aforementioned fights, all of which exceeded twelve rounds. Not to be forgotten is the co-feature on the Gomez-Pintor card. In another WBC production, Thomas "The Hit Man" Hearns used all fifteen rounds to outbox super welterweight king Wilfred Benitz, one of the greatest technical fighters and defensive specialists the sport has ever seen. It was one of Hearns' most masterful performances in his incredible career.
Boxing seems to be on a slow, yet steady uptick over the last year or so. Network TV (a.k.a. – "free TV") has gotten back in the fold, in prime time no less. Deontay Wilder has brought a slice of the heavyweight title back to the USA after a lengthy absence, and there are some very talented, exciting fighters making their presence known, fighters such as Keith Thurman, Roman "Chocolatito" Gonzalez, Saul "Canelo" Alvarez and Gennady Golovkin, just to name a few. So why not keep the momentum going and reinstitute something that was prevalent for about a century? Fifteen rounds will give a new generation of boxing fans a real feel for how great contemporary fighters really are. Fifteen rounds has cache and can generate a huge buzz and elevate boxing at an even faster pace.
If the corrupt and overabundant alphabet sanctioning bodies won't budge, perhaps an innovative promoter can organize a special fight between two men who don't need a championship to accent the promotion. For example, what if Canelo and GGG agreed to meet at a catch weight of 157 pounds with neither of their titles at stake? Just two of the best at their craft wanting to settle matters over fifteen rounds. Would there really need to be a title at stake to make you watch? When Mayweather and Pacquaio duked it out in their disappointing match last year, do you actually remember or care about which titles were at stake?
Hopefully, boxing's upper echelon can mull this novel concept over. In the meantime, I need to lobby Major League Baseball commissioner Rob Manfred. With all these pitchers undergoing Tommy John surgeries, limiting them to 100 pitches may not be enough. Seven-inning games is what I'm talking about.
"A Complex Legacy"
By Joseph Catena
           Revered. Reviled. Respected. Refuted. Entertaining. Demeaning. Gregarious. Divisive. Witty. Trash talker. Galvenizer. Polarizer. So is the complex legacy left behind by the late Muhammad Ali.
          I will not pretend to be a mega fan of Ali now that he is deceased. Quite the opposite. In my eyes, Ali represented much of what I deplore in an athlete. You can probably guess which adjectives in the above paragraph that I side with. Yet, as steadfast as I am in my beliefs, I can still understand why so many people feel the opposite.
          Muhammad Ali was that unique.
While reflecting on his life and career, it is hard to pigeonhole him, but it is safe to say that there was no one like him in any way. Nor will there ever be. Born Cassius Clay, he captured a gold medal in the 1960 Olympics. What American doesn't like an Olympic gold medalist, especially a heavyweight? (He later admitted to throwing his medal into the Ohio River after he and a friend were denied service in a "whites only" establishment. Anger totally understood and justified. Dumping the medal in the river? A sacrilege.) After turning pro and leapfrogging into the number-one contender position, "The Louisville Lip" became known for his fast quips as well as his fast hands. Everyone loves a lightning fast heavyweight. No one likes a braggart, especially in early-1960s in conservative America.
          His status soared when he dispatched Sonny Liston in seven rounds to win the heavyweight title at the age of 22. The one-round knockout in the rematch, however, was scorned and scrutinized as a fix by numerous fans and those in boxing circles. Boxing was under the gun and Ali was at the center of it all. It was at that time, just before the second Liston fiasco, that Ali abandoned his Cassius Clay moniker and announced he was a member of the radical Nation of Islam. Even to this day, there is an evil connotation attached to the Nation of Islam. Back in the 1960s, perhaps more so. After all, Elijah Muhammad, the leader of Islam, drummed into members' head that all white men were devils, something Ali himself freely proclaimed in a 1968 interview with David Frost. It can be argued that the only reason there wasn't even more outrage over Ali's win is because Liston was also perceived as a malcontent, a curmudgeonly ex-convict and societal misfit who was totally unendearing. As for the rematch and the phantom punch that ended it, it is perhaps the most controversial fight in boxing history.
Muhammad Ali, gifted heavyweight champion in the 1960s, was always connected to Muhammad Ali, social radical of the decade. The two could not be separated. To watch pure ring artistry and domination of the heavyweight division brought along hearing his trademark trash talk as well as his political and religious beliefs. The pinnacle of Ali's political statements came when he refused to go to battle in Vietnam.
          War always stirs emotions and often leads to rousing political debates. Vietnam brought out venom. Ali's stance inflamed many, and the pro-war crowd called him a coward among other things. When referring to the Vietcong, Ali said, "And shoot them for what? They never called me 'N—er.'" It is true that Ali sacrificed three years of his prime and gave up millions of dollars to stand up for his beliefs. To this day, people are divided, though there may be more sympathy for Ali's cause due to the disastrous results of Vietnam.
As a humanitarian, Ali had raised millions of dollars for people and children around the world, including the poor, the indigent and the politically oppressed. He has also spearheaded relief missions to bring food, clothing and supplies to third world nations. For that, Ali must be commended to the highest level. His love of children and his passion for assisting the less fortunate are legendary, and for those efforts, he can certainly boast about being the greatest of all time.
          Perhaps his greatest – and most controversial – mission of all time occurred in 1990. Going rogue, Ali, in the role of envoy, took it upon himself to go on a mission to Iraq to negotiate the release of fifteen hostages held captive by Saddam Hussein. The mission turned out to be a success as the champ and the weary captives eventually headed back to the States to be reunited with their loved ones. Ironically, Ali received criticism from the U.S. government. President George H.W. Bush and his White House operatives called it "loose cannon diplomacy." Even those who called it egocentric self-aggrandizement cannot deny the tremendous results of Ali's success. Without Ali, those fifteen victims may well have perished and suffered cruel fate under the twisted reign of Saddam.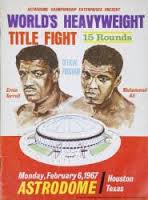 Hard to say a bad word about Ali in lieu of his above mentioned accomplishments. After all, how many human beings can proclaim to be a de facto diplomat and a world renown idealist?
Not so fast.
During a 2002 interview with David Frost, that same fellow to whom Ali exclaimed all Caucasian males shared the soul of Beelzebub, the self-proclaimed "Greatest" was asked about whether it was just to fight a war against Al-Qaeda or the Taliban to fight terror in the wake of the 9-11 travesty. The obvious answer is yes, all capital letters. But here was the humanitarian's response:
"It's right stopping terror, but naming the organizations…tough question. I dodge those questions. I have people who love me. I have opened up businesses across the country selling products and I don't want to say nothing and be wrong not knowing what I'm doing, not qualified to say the wrong thing and hurt my business and things I'm doing. Hurt my image."
Huh?!
Ali had no problem infusing race or inflammatory comments about opponents in the boxing business way back when. He had no problem criticizing the U.S. government and staying neutral about the Vietcong. He had no trouble throwing his gold medal into the Ohio River. But he had troubling saying the Taliban and Al Qaeda are wicked organizations who threaten world civilization? All this because he did not want to affect business and product sales? So, the 3,000 plus people who perished on 9-11 and the tens of thousands of loved ones who grieve their losses to this day should accept the fact that Ali's businesses might suffer if he says, "Bad Taliban! Bad Al Qaeda"? Thank the Lord I did not lose anyone on that day, but as an American, I still grieve, and as an American, I take great offense to Ali's comments.
Speaking of not wanting to offend anyone, did Ali realize how cruel he was to Joe Frazier? Ali called Frazier two of the worst things one could call a black man: "Uncle Tom" and "Gorilla." Those words stung more than any of the punches Ali landed in their famous trilogy. Until the day he died, "Smokin' Joe" retained the hurt and never could forgive Ali for the years of taunts and insults, which were downright cruel. It can be said that Ali was the forerunner and pioneer of the "art" of trash talking, which has become so obnoxiously present in the world of sports. That's a legacy we could all do without.
Surely, Muhammad Ali's good, both inside and outside the ring, will be remembered long after the funeral services and glowing eulogies have concluded. Ali's legacy is distinguished and history will likely sanctify him. But, if we truly scrape beneath the venire and examine the heart and soul of that legacy, the truth will show that it was the greatest, most checkered and most complicated of all time.
"Sugar Coating Floyd"




By Joseph Catena
In 1984, the late Bert Randolph Sugar, one of boxing's foremost historians wrote a terrific book called 100 Greatest Boxers of All Time. It was an enjoyable read and certainly one that could easily spark a friendly argument among friends. Sugar's top two – Sugar Ray Robinson and Henry Armstrong, respectively – were indisputable and surely will remain there until the end of time. Willie Pep and Joe Louis came after them, and believe it or not, the self-proclaimed "Greatest," Muhammad Ali, ranked on the lower end of the top ten. A second edition was published in 2006, and as you can imagine, the list changed accordingly.
Remember, when the original was written, it predated Hagler-Hearns, Leonard-Hagler and Duran-Barkley among other terrific battles in the 1980s. Mike Tyson had not yet fought, Larry Holmes had not yet lost and Julio Cesar Chavez had not yet become J.C. Superstar. The second edition added some stars to the list such as Chavez, Pernell Whitaker, Evander Holyfield and Bernard Hopkins.
And in that second edition, Floyd Mayweather Jr. did not crack Sugar's C-note, despite having been unbeaten in some 35 fights at that point in his career.
Sugar had a keen eye and had the ability to blend the past and the present as no one else could. He wasn't the type to downplay someone just because they didn't fight before 1950 and weren't "old school." So, a few things came to mind when I was trying to compile a mental list on the 2016 version of boxing's 100 greatest pound for pound fighters in history. Better yet, if Sugar was still with us, what tweaks would he make? All of course had to do with keeping Floyd in mind, especially since he announced his retirement (I'm still not buying it) following his 49th consecutive win without a defeat.
First, would Mayweather's fourteen fights since Sugar's second edition was published have been special enough to catapult Floyd into that elite list? If Floyd did make the list, would it be due to attrition and accomplishment? Would Sugar have recognized wins over a young Canelo Alvarez, an older, injured Manny Pacquiao and Miguel Cotto as being so revolutionary that Floyd would vault ahead of warriors like Holmes, Hagler, Arguello and Zale? And straying a bit from the pound for pound list, what weight class would he be noted in? After all, he did compete in weight classes ranging from 130 to 154 pounds. Could he have topped Alexis Arguello at super featherweight? Would he compete with Benny Leonard at lightweight? Aaron Pryor at super lightweight? Could he possibly match speed and beat Sugar Ray Leonard at welterweight? Is there any possible way he could outhit the "Hitman" Thomas Hearns at super welterweight?
I concluded that Sugar probably would have found a place for Mayweather on his list somewhere in the low to mid nineties. He did after all, beat forty nine out of forty nine opponents, and Floyd certainly showed skill and speed. But, regarding those hypothetical matchups above, I think Mayweather loses to every one of those warriors, perhaps convincingly. Furthermore, I will make a case that Mayweather shouldn't be ranked ahead of Pacquiao.
If you scrutinize the men on Sugar's original or updated list, every single one of them without exception, has lost. They also had memorable battles with other great fighters. Most of all, they took chances. Part of the criteria for being an elite all-time great is taking a chance. At some point in your career, you have to challenge yourself to do something for the ages, and sometimes you win even if you lose. Case in point: Thomas Hearns' jump to middleweight and loss to Marvelous Marvin Hagler did absolutely nothing to detract from his greatness or stance in history because he showed so much will and guts in that three-round slugfest for the ages. Roberto Duran skipped over the jr. welterweight division and jumped twelve pounds to welterweight to challenge Sugar Ray Leonard for his championship. Not only did he challenge him, he beat him. And the loss did nothing to hurt Leonard. It only made him better.
There was never a moment in Mayweather's career where he did something so special that you can replay the sequence in your mind. His fights were all calculated and chosen to benefit him and give him an edge over everyone he fought. It's great business acumen, but business acumen doesn't always translate into all-time greatness. Pacquiao has taken chances and put himself out on the line. He has fought quality opponents throughout his career and has done his best to please the fans and look spectacular in his victories. "Pac Man" vs. Mayweather in 2009 – especially a Pac Man with two good arms and no injuries – may well have been a far different story.
It's also not uncommon for fighters to be ranked all-time above their conquerors. Archie Moore is widely regarded as the greatest light heavyweight of all time in spite of the fact that Ezzard Charles beat him three times. Willie Pep is generally ranked as the number one featherweight in history, a one and three record against Sandy Saddler notwithstanding. Evander Holyfield may have gone one and two against Riddick Bowe, but you'd be hard pressed to find "The Real Deal" beneath Bowe in any proverbial history book.
Mayweather was fortunate for not having fought in the same era as Leonard and Hearns. It is also doubtful he could have handled Felix Trinidad's thunder. Even a prime Oscar de la Hoya at lightweight could have thwarted him. Heck, an over-the-hill jr. middleweight version of "The Golden Boy" gave Mayweather several fits in a closer than expected split decision loss. While it is impossible and foolish to blame Mayweather for his fortuitous timing, one can blame him for the few men he could have challenged (i.e.- Pacquiao six years earlier), but chose not to. Even now, should he decide to return, would it be out of the question to give a prime Canelo Alvarez another shot?
It's time to stop sugar coating Mayweather's legacy and start Sugar coating where he stands in history.
Cruising in Futility
            Sometimes what looks good on paper or what seems logical just doesn't pan out. It happens in all facets of life. In theory, socialism looks like it could lead to utopia. Everyone gets a piece of the pie, no one starves and all men are created equal. Who wouldn't want everyone to be free from burden? Then reality kicks in and it winds up that a select few keep buying the ingredients and baking the pie, while others are just there for the dessert and don't even have the courtesy to put their dirty dishes and silverware in the sink, never mind wash them. And don't even think about giving them paper and plastic!
            Nearly four decades ago, the cruiserweight division was created. The theory behind it was to create a place for those not big enough to compete at heavyweight, but too big to slim down to the 175-pound light heavyweight limit. The original maximum weight for the division was 190 pounds and has since been elevated to 200. In 1979, the first cruiserweight championship fight took place. Marvin Camel and Mate Parlov battled to a forgettable 15-round draw for the World Boxing Council title.
            As many theories go, the idea of a thriving 190 to 200-pound division harvesting numerous great fighters never actually came to fruition. In fact, the cruiserweights have been a titanic flop. Only once – once! – in the history of this much maligned division has there been an all-time great. Evander Holyfield dominated the cruisers for the short time he was there. And he only stayed there just shy of four years before jumping up to face the big boys.
            "The Real Deal" won the WBA portion of the title in a memorable 15-round war against former light heavyweight champion, Dwight Muhammad Qawi on a Saturday afternoon at The Omni in Holyfield's hometown of Atlanta. It was only Holyfield's twelfth professional fight. Prior to his title opportunity, the longest he had gone was eight rounds. However, his remarkable condition and resolve (not to mention his immeasurable heart) allowed him to prevail via exciting split decision. The match had a violent ebb and flow and both men gave as well as they took. For Holyfield to extend himself for fifteen rounds at such a developmental stage in his career was nothing short of remarkable, especially against such a dangerous foe like Qawi.
            The Qawi fight was Holyfield's greatest test at 190 pounds and it was one of the most epic battles of his career. Following his watershed victory, Holyfield simply buzzed through his opposition. He defended his championship five times, including a rematch with Qawi. Their second go-round looked nothing like the original classic. Holyfield pummeled his foe in four rounds and faced virtually no resistance. His fifth and final defense was a symbolic punctuation to his cruiserweight stay. Holyfield ravaged one of the first cruiserweight champions, Carlos DeLeon, over eight rounds on April 9, 1988 to neatly wrap up his stay at 190.
            Since Holyfield's domination, there simply hasn't been anyone of legendary status. If I mentioned the names Krzysztof Glowacki, Dennis Lebedev, Grigory Drozd, and Victor Emilio Ramirez, would you really know that they currently hold the WBO, WBA, WBC and IBF cruiserweight titles, respectively, or would you have guessed that they were part of a National Hockey League team? If I didn't cover boxing, I myself may have guessed the latter.
            So, the question that begs to be asked is, do we really need the cruiserweight division?
            I know, I know. Today's heavyweights are waaaaaay bigger than Joe Louis, Jack Dempsey, Rocky Marciano and Floyd Patterson. And you could bet your bottom dollar that big, burly Tyson Fury would have crushed the Rock and Wladimir Klitschko would have made mincemeat out of Joe Louis. In fact, Dempsey might not have even beaten those four hockey players just mentioned. Come to think of it, Joe Frazier weighed in the low 200s, so he likely would have been pummeled by Deontay Wilder. Right?
            Okay, back to reality, Millennials.
            As someone who knows and appreciates boxing history – a part of me hearkens for the original eight weight classes (none of this super and junior nonsense) – I struggle with what to do about the cruiserweight division. It is pretty inconceivable that a 190 pounder can do anything with these wooly mammoths of today. Yet, it is also inconceivable that only one man in almost forty years has done anything of legendary consequence in a given weight class. And truth be told, even when Holyfield ruled the roost, did he ever garner enough interest to headline a cruiserweight main event super fight? Oh wait, there wasn't another super fighter to be his foil. So here we go back to the dog chasing his tail.
            Perhaps the best way to classify the cruiserweight division is to parallel it with the penny. The penny has been rendered a nuisance and there has been chatter over the years to even get rid of it. As of 2015, it cost 1.67 cents to actually make the one-cent coin. In 2011, it actually cost an all-time high of 2.41 cents to make it. But the bottom line is, what can you do? If something costs $2.73 and you give a 10-dollar bill, do you round the change to the nearest nickel? If so, who takes the loss? If you owned a small business, and it was understood that the business owner take the loss for the benefit of the customer, couldn't this add up to a substantial amount of money over a long enough period of time?
            The ultimate verdict is that the cruiserweight division, like the penny, is a necessary evil. And who knows? Maybe with a little luck, when some of those aforementioned cruisers mix it up, may be we'll get lucky and a hockey match will indeed break out.
"Better Times Ahead"
Don't wish too hard for something, because you just might get it. Boxing fans had been craving a showdown between Manny Pacquiao and Floyd Mayweather since 2009. The wonderful thing about boxing is that eventually, the fight you desire to see so badly will happen. In the case of "Pac Man" versus "Pretty Boy," it would have been better served had it stayed on the shelf.
The buildup to the fight was electrifying. It posed itself as a dream come true. Pacquiao-Mayweather was no longer a fantasy-filled pipedream. It subsequently turned out to be one of the biggest superfight flops in boxing history. The reality was Pacquiao, 36, and Mayweather, 38, were a bit past their respective primes, but that wasn't even the worst part.
Plenty of legends fought past their peaks and put up battles. Pacquiao came into the fight with one good arm, thanks to an inflamed right shoulder that he never mentioned until it was too late to get a shot, and Mayweather came into the fight as Mayweather, determined to bore the crowd and not engage in any meaningful exchanges. The two welterweights put up the most disappointing fight of the year, and maybe the young century as well. When hundreds of millions of dollars are spent and the hype is at a scarlet fever high, combatants have a duty to battle. When one man is unable and another unwilling, it casts a horrific shadow over the sport. Mayweather followed his disappointing decision win with what he claimed was his forty-ninth and final fight, another drab one-sided decision over Andre Berto.
Speaking of disappointments, one of the most nondescript championship reigns ended as heavyweight champion Wladimir Klitschko lost a decision to Tyson Fury. Since stopping Chris Byrd in April 2006, Klitschko amassed nineteen successful title defenses/unification fights. Never once in those nine years did the Ukranian giant leave a signature impression against a stud challenge. He mechanically toppled a slew of unimaginative big men like Samuel Peter, Tony Thompson, Eddie Chamber, David Haye and Kubrat Pulev, among others. Fury's awkward style and constant activity were more than enough to make Klitschko's twentieth title defense his last.
The holder of the WBC sliver of the heavyweight title just might be the man to restore some prominence to the heavyweight division. Alabama's Deontay Wilder has racked up thirty five consecutive wins with all but one ending in a knockout. If Wilder tangles with Fury and beats him, it will also mean the championship – all of it – comes back to America.
Speaking of power and excitement, middleweight king Gennady "GGG" Golovkin scorched through three title defenses and has positioned himself as the man to beat at 160 pounds. Middleweight could be the most interesting division in boxing since the two best pound-for-pound fighters reside their. Golovkin may have the perfect foil in newly minted WBC champion Saul "Canelo" Alvarez. Alvarez annihilated James Kirkland in three rounds in perhaps the most brutal stoppage of the year and capped off 2015 with a convincing decision over rugged Miguel Cotto. Could 2016 be the year for an Alvarez-GGG middleweight showdown?
In spite of the Pacquiao-Mayweather debacle, the welterweight division was actually a hotbed of talent in 2015. IBF champion Kell Brock remained unbeaten with two title defenses during the year, while Timothy Bradley catapulted back into prominence with an impressive ninth-round TKO over Brandon Rios to win the WBO title. WBA welterweight champion Keith "One Time" Thurman also made his mark with two title defenses. Interestingly, Mayweather still holds the WBC title. These four champions elevate the welterweight division to the height of heights in boxing.
Sergey Kovalev continues to dominate the light heavyweight division. The Russian bomber scored two knockout victories. Kovalev, who holds the WBA, WBO and IBF portions of the titles, may have a worthy rival in Adonis Stevenson, the power punching WBC champion. Stevenson also chalked up two successful defenses in 2015.
Perhaps the best boxing story of the year didn't come from a fighter, per say. It came from a network. After years of lying dormant, NBC not only started televising fights on "free TV," it also aired in prime time. CBS also joined in on a smaller degree and televised some fights as well.
Boxing in 2015 had its share of disappointments, but it did set up what could be a terrific 2016. The wish list includes a light heavyweight unification fight between Stevenson and Kovalev, a welterweight tournament featuring the four champions, a heavyweight unification fight between Wilder and Fury and more free fights on CBS and NBC.
I wish…I wish…I won't wish too hard. Can't forget what happened last time I did that.
Wishing I Could Wait for Warner Again
The first fight I ever remember seeing was Muhammad Ali versus Jimmy Young. I was 6 years-old and visiting my aunt and uncle. The details are a bit sketchy. I know the fight was on free TV (ABC). I know Howard Cosell did the commentary. My older cousin, Frankie rooted hard for Young and I pulled for Ali. Ironically, I grew to despise Ali for numerous reasons as I got older, but I digress. The last thing I remember was that Young boxed Ali out of his shoes and got robbed.
So began my love affair with boxing.
Not long after, seeing Rocky cemented this relationship. The late '70s were a great time to be a boxing fan. Numerous fights were on free television. I clearly remember Larry Holmes and Ken Norton slugging it out for the vacant WBC heavyweight title over 15 rounds (remember when that was the standard?). I recall Olympic hero Sugar Ray Leonard, whom I loved in his early career, stopping Wilfred Benitez in the 15th round to win the WBC welterweight championship, again on free prime time TV. And who could forget the other Friday night ABC prime time production when Marvelous Marvin Hagler was robbed of the middleweight title against Vito Antuofermo? For the record, that was the first draw I've ever witnessed.
Being a boxing enthusiast in the '80s was a magical time for me. The four legends – Marvelous Marvin Hagler (my all-time favorite), Sugar Ray Leonard, Thomas "The Hit Man" Hearns (almost tied with Hagler in my fandom) and Roberto "Manos de Piedra" Duran – made the decade special, especially when some combination of the foursome would fight each other. There were also always a slew of free fights – and terrific ones with legendary fighters – on weekend TV on the three major networks, ABC, NBC and CBS. HBO boxing really started to blossom and Showtime was still an anomaly by boxing standards.
Superfights and huge cards were on closed circuit TV. My first closed circuit viewing was in 1983 when my Dad took me to the then-Brendan Byrne Arena for a night of heavyweight title fights with Holmes versus Tim Witherspoon, and the Michael Dokes-Mike Weaver rematch. Weaver and Dokes fought first, and the sun was still out in Vegas, where they battled. For some reason, the picture was terrible, and both men looked squashed. The darker the night became, the better the picture. Still cannot figure that out.
When you could not get to a closed circuit location, or you were not able afford to shell out the bucks for a ticket, you lived for – ready for this? – you lived for the round-by-round updates on the nightly news sportscast, and you just could not wait to see the still photos. Sounds crazy, but it's so true.
For me, this was most evident during the time of arguably the greatest title fight in middleweight history
between Hagler and Hearns (April 15, 1985). Numerous experts were rather evenly divided as to whom they thought would win. Hagler had not been beaten in nearly a decade and Hearns only had the historic loss to Sugar Ray, in which he was leading after 13 rounds (125-122, 125-121 and 124-122) before being stopped in the fourteenth round.  Both men were fighting machines, the two best pound-for-pound fighters in their sport fighting at their respective peaks. The anticipation for this magnanimous war percolated in my gut for weeks on end. By the day of the fight, I had a full blown case of fight fever. It occurred on Monday, of all days. Superfights were often held on odd weekdays for whatever reason. I was a sophomore in high school, and every one of my teachers sounded like the instructors who taught Charlie Brown and the Peanuts gang. I couldn't wait to get home and…stay up to hear CBS sports anchor Warner Wolf's updates.
Huh?
Sure enough, my wait till approximately 11:20 PM that night was worth it. Warner came on and all I could remember him saying was how the first round was over and it was maybe the greatest round he'd ever seen. He also reported Marvelous Marvin had a cut on his forehead. Then, the still photos! My cup had nearly runneth over. My eyes were glued to that set awaiting any news to be reported. As much as I loved Hearns, Hagler was the equivalent to a sports franchise for me. He ranked evenly with my Yankees and Dallas Cowboys. The thought of him possibly losing was eating me alive. Not long after, Warner told his viewing audience that the fight was over, Hearns was knocked on his back and couldn't continue. More still photos! I was as revved up as much as anyone watching the Super Bowl, and all I saw were pictures on a TV screen!
I could hardly wait until that Saturday when HBO would show the fight. More anticipation. As Saturday approached, I was rushing my weekend away just to see the 8 minutes and 1 second of boxing history. Boy, was it worth it! I did not have a VCR in those days either, but I watched so intently that I could've burned a hole in my TV screen. And the memories endured. I could practically replay the fight in my head.
Now we live in a world of instant gratification. You live in Jersey and root for the Minnesota Vikings? No problem. Get the NFL Sunday Ticket on DirecTV. Live in St. Louis and root for the Mets? Easy. Get the MLB Extra Innings package. Want to see a superfight? Just click your remote and be prepared to pay the bill. All from the comfort of your own home
I still watch boxing and cover fights. But, with the risk of sounding curmudgeonly, it just isn't the same. Before the Mayweather-Pacquaio debacle, I felt a slight blip in my internal boxing system to want to see the fight live. If I did, I did. If not, oh well. In fact, I got an invite the day of by my friend Aaron to come watch the bout at his place. I gladly accepted. The rest is forgettable history. If Hagler-Hearns or any of those great fights in the 80s for that matter, took place in 2015, the social media outlets would probably short circuit due to so much activity and blogging.
What I am about to say will probably cause Millennial readers to believe I am taking some bad drugs, but here goes: I long for the days of anticipating Warner Wolf's sports report on the 11:00 news of a superfight to the point of self-implosion.
Instant gratification has caused me to lose that lovin' feelin' from days of yore. Real gratification involves a challenge and maybe a little hardship to go along with it. How I wish I could go back to those evenings waiting for Warner and those iconic still photos. Either that or send me to a venue with a closed circuit telecast where I had to strain to see my guy mixing it up. To hell with high def!
And it can only be on a Monday night, of course.