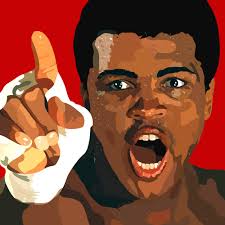 MUHAMMAD ALI 
Life, Films, Fights, and Times of The Greatest
A reflection back on one of "The Greatest" fighters to ever lace on a pair of gloves
Story by John and Alex Rinaldi
In the world of sports there are athletes; there are stars; there are superstars; there are legends; there are icons; then there are the Gods – those far too few who stand at the true Pantheon of sports. Muhammad Ali was one such God.
For a fighter who was never counted out from the mighty blows of Joe Frazier, Sonny Liston, George Foreman and Earnie Shavers, along with Parkinson's disease, Muhammad Ali could not dance away from the Grim Reaper as he succumbed to respiratory problems at a Scottsdale, Arizona hospital at the age of 74.
Ali was born Cassius Marcellus Clay on January 17, 1942 in Louisville, Kentucky. In 1954, a 12 year-old Cassius began boxing and fought his first amateur fight.  Within six years, Clay compiled an outstanding 100-5 amateur record, winning 6 Kentucky Golden Gloves Titles, 2 National Golden Gloves Championships, an Amateur Union Athletic championship, and wrapped up his remarkable amateur career with a gold medal at the 1960 Summer Olympic Games in Rome.
On October 29, 1960, Clay outpointed Tunney Hunsaker in six rounds in his pro debut at the Freedom Hall in Louisville.
Clay appeared in the 1962 film, Requiem for a Heavyweight, where he KO'd the character Mountain Rivera, who was played by Anthony Quinn.
After winning his first 15 fights, scoring 11 knockouts, Cassius was matched with the former legendary light heavyweight king and 2-time heavyweight challenger Archie Moore on November 15, 1962, at the Sports Arena in Los Angeles, California.  By the time of the fight, Clay was becoming noticed not just by his blazing fists, but by his prognostications on how his fights will end. 
Before the Moore fight, Ali made this poetic prediction:
     Archie's been living off the fat of the land.
    I'm here to give him his pension plan.
   When you come to the fight, don't block the door.
   'Cause you'll go home after four.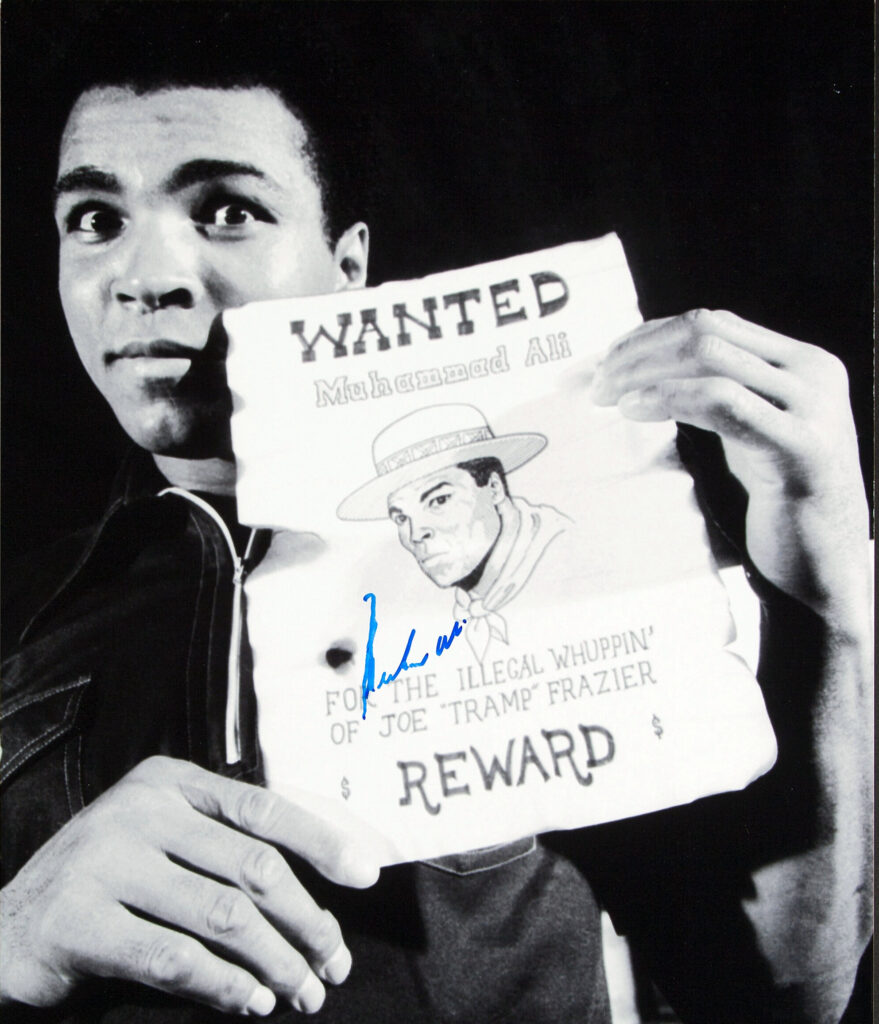 Premonstrating that "Moore will fall in four," Clay had no fear against Moore, who at the time was 185-22-10, and lived up to his prophecy by battering Archie Moore in four rounds.
The Moore victory put Clay on the boxing map and in his next four fights Cassius defeated leading contenders Charlie Powell (KO-3), Doug Jones (W-10) and Henry Cooper (TKO-5) before being matched against the fearsome champion Sonny Liston.
Going into the Liston fight, many thought Clay could not handle the power of the champion. After all, against Henry Cooper, who was a blown-up light heavyweight, Clay was floored at the end of the fourth round with a crisp left hook.  Cassius was saved by the bell, but still groggy when he got up and walked back to his corner. Thinking quickly, Clay's famed trainer, Angelo Dundee ripped open his fighter's glove with a razor blade.  The action gave Clay a nearly 10-minute reprieve as a new glove was obtained.   When the fifth round finally started, Clay was refreshed and ripped open Cooper's face with his lighting quick blows that caused a TKO stoppage.
Against Liston, many thought Clay would be not be so lucky and entered the fight on February 25, 1964 at the Convention Center in Miami Beach, Florida a 7-1 underdog.
  Cassius, the boxing soothsayer, composed another ballad of his forecast against the feared Liston:
  Clay comes out to meet Liston and Liston starts to retreat,
  if Liston goes back an inch farther he'll end up in a ringside seat.
  Clay swings with his left,
  Clay swings with his right,
  Look at young Cassius carry the fight.
  Liston keeps backing,
  but there's not enough room,
  It's a mater of time till Clay lowers the boom.
  Now Clay lands with a right,
  what a beautiful swing,
  And the punch raises the Bear clean out of the ring.
  Liston is still rising and the ref wears a frown,
  For he can't start counting till Sonny goes down.
  Now Liston is disappearing from view,
  The crowd is going frantic,
  But radar stations have picked him up,
  somewhere over the Atlantic.
  Who would have thought when they came to the fight?
  That they'd witness the launching of a human satellite.
  Yes, the crowd did not dream,
  when they put up the money,
  That they would see a total eclipse of the Sonny.
In a competitive fight that had many ebbs and flows, Clay fearlessly boxed the dangerous Liston and repeatedly opened up with a two-fisted attack. After six close rounds, Liston was unable to answer the bell for the seventh round and Cassius was the new heavyweight champion.
Immediately following his upset win, Cassius Clay was no more as he declared himself "Muhammad Ali" from there on in, once he converted to Muslim and began following the Black Muslims with the Nation of Islam faith.
Ali was a fighting champion and in the following year on May 25, 1965 at St. Dominic's Halls in Lewiston, Maine, he stopped Liston in the opening frame to win his first title defense.  Although there is the historic photograph of Ali standing over the fallen Liston, many people believe that Muhammad had scored a knockout.  Actually, Liston did rise.  The former heavyweight champion Jersey Joe Walcott was the bout's referee and he had to pull Ali away from Liston before he could begin the count.  Although Sonny actually rose before the fatal "ten" was called, however, Ring Magazine's editor at the time, Nat Fleischer, improperly and inappropriately said that the timekeeper had tolled the ten-count. The timekeeper, Francis McDonough, contrary to the rules concerning a fighter going to a neutral and opposite corner, had wrongfully started his count as soon as Liston hit the canvas, instead of waiting until Ali had gone to the neutral corner. Nevertheless, it was up to the referee's count and Walcott correctly allowed the fight to continue.  Jersey Joe then got confused by the arguments by Fleischer and McDonough, so he pre-maturely stopped the bout.
From that controversial first defense, Ali went on to defeat former heavyweight king Floyd Patterson (TKO-12), George Chuvalo (W-15), Henry Cooper (TKO-6), Brian London (KO-3), Karl Mildenberger (TKO-12), Cleveland Williams (TKO-3), Ernie Terrell (W-15) and Zora Folley (KO-7) all from 1965-1967!
Following his win over Zora Folley on March 22, 1967, Ali was stripped of his laurels by refusing to be drafted into the military during the Vietnam War.
"Why should they ask me to put on a uniform and go 10,000 miles from home and drop bombs on brown people in Vietnam," Ali remarked at the time.
In reality, the Army had no intention of sending Ali into combat and his service would have been mostly entertaining troops by giving exhibitions like Joe Louis had done in World War II. 
Ali spent the next three years fighting in the courts and he was fortunate that the Vietnam War was proving very unpopular throughout the country, which helped get him cleared of any draft evasion charges and enabled him to get his boxing license back.
The only fighting that Ali did was in the famous Computer Fight with former undefeated Heavyweight Champion Rocky Marciano in 1969, which aired in 1970 to a huge financial and critical success.
On October 26, 1970 at the City Auditorium in Atlanta George, Muhammad Ali returned to the ring and blasted out top contender Jerry Quarry in three rounds.  Less than two months later, Ali stopped Oscar Bonavena in the 15th round at Madison Square Garden on December 7, 1970.
By now the drum beats had begun for him to face the then reigning heavyweight champion, Smokin' Joe Frazier. 
In the classic "Battle of Champions" battle on March 8, 1971 at New York's Madison Square Garden, Ali faced a fighter with a style that he had never seen before.  Instead of the slow, plodding, stand-up boxer that he had met and easily defeated in his reign as champion, Ali was squared off against a relentless, bobbing and weaving, slugging opponent with a left hook that could knock down buildings.
The fight lived up to its massive publicity as it was exciting all the way.  Ali took a savage beating and was dropped in the 15th and final round, but he rose and bravely battled on.  After fifteen rounds, Frazier won a lopsided victory by round scores of 11-4, 9-6 and 8-6-1.
Although fight fans, and Muhammad himself, wanted to see a rematch, Frazier was not ready to grant him one.  That left Ali to fight all over the world over the next two years where he beat Jimmy Ellis (TKO-12, which was the only fight that Angelo Dundee did not work his corner. Since Ali and Ellis were stablemates, Dundee felt that Ellis needed him more in the bout than Ali did), Buster Mathis (W-12), Juergen Blin (KO-7), Mac Foster (W-15), George Chuvalo (W-12), Jerry Quarry (TKO-7), Alvin Blue Lewis (TKO-11), Floyd Patterson (TKO-7), Bob Foster (KO-8) and Joe Bugner (W-12).
Muhammad's winning streak, and his jaw, were both broken on March 31, 1973 at the Sports Arena in San Diego, California, when Ken Norton won a 12-round split-decision.  The two met again six months later on September 10, 1973 at the Forum in Inglewood, California.  It was another close battle and in that bout Ali was very fortunate to leave with a 12-round split-decision victory.
On October 20, 1973 at the Bung Karno Stadium, in Jakarta, Indonesia, Ali outpointed Rudi Lubbers over 12 rounds. The win was his warm-up to his long-awaited rematch with Frazier.
Unfortunately, for Ali, Frazier had been dethroned by George Foreman earlier in the year and his return match with Frazier was only for the lightly regarded NABF heavyweight title.
The two legendary gladiators touched gloves for the second time on January 28, 1974, again before a sold-out crowd at Madison Square Garden. This time Ali incorporated a holding and hitting style as referee Tony Perez allowed Ali to keep clinching and pushing down Frazier's head.  It still was an exciting scrap and Ali got his revenge by squeaking out a close, 12-round decision by round scores of 7-5, 6-5-1 and 7-4-1.  Many at ringside thought Frazier was coming on strong during the last half of the fight and Ali was very lucky that it was only a 12-round contest, instead of 15.
The win over Frazier earned Muhammad the shot at reclaiming his lost laurels as he was matched against the powerful champion "Big" George Foreman.  Ali went into the bout at the Stade du 20 Mai Stadium in Kinshasa, Zaire on October 30, 1974 a huge underdog, due to the fact that Foreman had clobbered two men who Ali had lost to in the past, Frazier and Norton, in a mere two rounds apiece. If those two former rivals could not beat Foreman, then how could Ali, who was 32, while the champ was only 25, surely expect to win?
Before the bout, Angelo Dundee reportedly (Editors Note: Dundee denied this to both of us in an Interview) went into the ring and loosened the ropes, so in the battle when Ali employed his "rope-a-dope" strategy of backing into the ropes and keeping his gloves high, he was pulled so far back that he body was hanging over the ring apron.  Because of this, Foreman had to stretch far to try to land on Ali.  The clever tactic of the challenger caused the champion to punch himself out, which was Muhammad's plan all along.
The dangerous strategy worked and by the sixth round, Foreman was just pushing his blows with barely any power behind them. Suddenly, in the eighth round after the weary George had cornered Ali and sloppily wailed away with blows that by the time were just arm punches, Muhammad shot back with a fusillade of leather that was capped off with a blistering right to the jaw that sent Foreman to the canvas!
Although referee Zack Clayton's count seemed lightning fast, Foreman just barely missed the "ten" when he rose. Still, the fight was over and Muhammad Ali was the Heavyweight Champion of the World once again!
The second reign of Ali is where he went from being a boxing legend to becoming a sports icon as he ran off defenses against the likes of Chuck Wepner (TKO-15), Ron Lyle (TKO11) and Joe Bugner (W-15).
In the last great performance of his career, Ali faced his old nemesis Joe Frazier in the final fight of their historic fistic trilogy.  On October 1, 1975 at the Araneta Coliseum in Manila, Philippines, Ali was able to survive an tremendous beating in the middle rounds to score a 14th-round stoppage win when Frazier's cornerman Eddie Futch would not allow Joe to come out for the 15th and final round.  At that point Ali was ahead.  The fight was boxing at its greatest as two wonderful pugilists fought their hearts out.
After the memorable win, Ali was never the same fighter, but that did not stop him from defending his title against all comers, that is except George Foreman, who Muhammad appeared to want no part of anymore.
With defenses over Jean-Pierre Coopman (KO-5), Jimmy Young (W-15) and Richard Dunn (TKO-5), the whole world was able to view the fights for free on network television. Because of the wide viewership, Ali's popularity soared into the stratosphere.
On September 28, 1976 at New York's Yankee Stadium, Ali defeated #2-ranked Ken Norton (Foreman was the #1-ranked contender), on a very controversial 15-round decision in their rubber match. That fight was viewed on closed-circuit television.  When CBS replayed the fight shortly afterwards, most viewers (including The USA Boxing News) thought Norton deserved the nod.
While Foreman was still out there as leading contender, Ali went back to network TV and fought Alfredo Evangelista (W-15) then was very lucky to get a win over the hard-hitting Earnie Shavers (W-15).
Because of his immense popularity, in 1977, Ali starred in his own Saturday morning cartoon TV series on NBC called The Adventures of Muhammad Ali, where he provided his own voice.  The series ran for 13 episodes.
Then while eveything appeared to be going well for the People's Champion, in February 15, 1978, Ali was shockingly upset by former Olympic Gold Medalist Leon Spinks at the Hilton Hotel in Las Vegas by a 15-round split-decision loss.  Since it was only Spinks' 8th professional fight, the defeat showed how far Ali's skills had eroded.
For the rematch, Ali went into intense training in Deer Lake in Pennsylvania, with future heavyweight champion Larry Holmes as his primary sparring partner. Muhammad got himself into tremendous shape and tipped the scales at 221, to Spinks' 201. 
The rematch took place at the Superdome in New Orleans on September 15, 1978.  ABC paid $5.3 million for the rights and and estimated audience of 90 million watched the fight.  The contest drew a TV rating of 46.7, which meant that a whopping 46.7% of the television audience throughout the country were watching the battle. The live attendance of 63,350 was also the largest indoor attendance ever for a boxing match.
Unlike in their first meeting, Ali sharply boxed from the onset and rarely gave the inexperienced Spinks a chance to corner him into the ropes.  After 15 rounds, Ali had won a unanimous decision by round scores of 10-4-1 (twice) and 11-4.
Outside of taking on Superman in the comic books, Ali did not face anyone else after winning back his championship for the third time.
In 1979, Ali proudly announced his retirement from boxing.
Unfortunately, as in the case of most fighters, Ali made two more returns to the ring and was stopped by his old sparring partner and then reigning WBC heavyweight king Larry Holmes in 10 rounds on October 2, 1980, and then dropped a 10-round decision to future champion Trevor Berbick on December 11, 1981.
The Berbick loss was Ali's swan song as he finally retired with an impressive 56-5 (37 KO's) record.
Sadly, after his career, Ali was diagnosed with Parkinson's disease and he sadly battled the illness the remainder of his life.  Because of his courage, he earned millions for research to fight the dreaded illness.
No longer in a boxing ring, Muhammad Ali, still very much in the public eye, spent his last 35 years a world figure, traveling to just about every continent.
As a result of his sports feats and world peace efforts, in 2005, President George W. Bush awarded Ali the Presidential Medal of Freedom, which is the United States' highest civilian honor.
Ali was so popular and revered that he often overshadowed world leaders, presidents and even religious figures when he appeared with them.
Muhammad Ali was elected into the International Boxing Hall of Fame and awarded a star on the Hollywood Walk of Fame.
There is no doubt that Muhammad Ali was one of the greatest fighters who ever lived.  He was also clearly the most popular athlete over the past 50 years.
Whether one loved him or hated him, the world of sports will never see his like appear ever again.
More Fights and Videos of Muhammad Ali