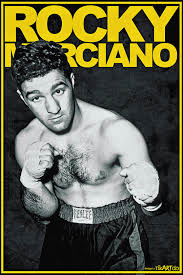 THE UNDEFEATED TERROR OF THE HEAVYWEIGHT DIVISION
HIS LIFE AND TIMES IN PHOTOS AND VIDEOS
Rocky Marciano
The Birth of a Great Champion
– Story by John and Alex Rinaldi –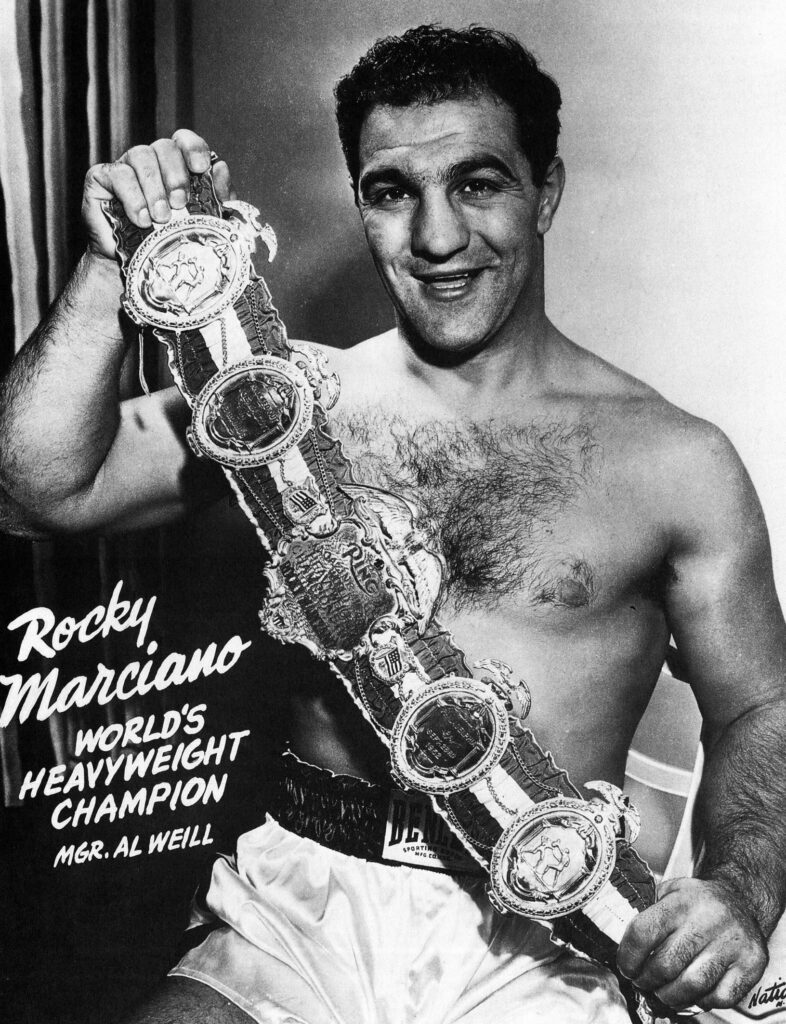 After Jersey Joe Walcott won the heavyweight title from Ezzard Charles, he was anxious to defend his title again and signed on to face the feared, undefeated number-one contender and ring terror Rocky Marciano three months later on September 23, 1952, at the same Municipal Stadium.  Marciano had knocked out nearly everyone he had faced in the ring, plus exhibited a tireless and relentless stamina and a knockout blow in either fist.  Walcott figured that he was more experienced and could outbox Marciano similar to the way he did against Joe Louis in 1947. Jersey Joe was even cocky when talking about his upcoming opponent Marciano.  "Write this down," he growled to reporters. "He [Marciano] can't fight.  If I don't lick him, take my name out of the record books."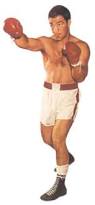 For a fighter who never bragged, Walcott's comments were quite odd and out of character for him.  Rocky Marciano had bludgeoned every top heavyweight out there going into the Walcott fight, including devastating knockout wins over Joe Louis and Rex Layne, two boxers who had beaten Jersey Joe in the past.
On September 23, 1952, a raucous crowd of 40,379 fans turned out at Philadelphia's Municipal Stadium, producing gate receipts of $504,545 for Walcott's defense against Rocky Marciano.  The fight was also shown on closed circuit TV in 50 theaters in 31 cities throughout the United States.  The closed-circuit television receipts totaled $125,000.  Joe's second title defense earned him $188,070, while the challenger Marciano took home $94,035.  The previous year, Joe DiMaggio was the highest earning baseball player collecting a $100,000 salary from the New York Yankees.  Walcott nearly doubled that figure in just one fight!
To everyone's astonishment, Walcott came out slugging against his dangerous opponent and lashed out with a left hook that landed squarely on Marciano's jaw that sent "The Brockton Blockbuster" to the canvas! The challenger got up quickly and appeared unhurt, even though this was nearly the same punch that had Ezzard Charles down for the ten-count when Walcott KO'd him in the seventh round in their July 18, 1951 bout at Forbes Field in Pittsburgh, Pennsylvania. 
After the referee wiped the resin off the Rocky's gloves, the two then exchanged heavy leather fists for the remainder of the opening round.
After the aggressive first round, Walcott began to box and punch, instead of just firing away with bombs.  Unbeknownst to the champion Walcott, Marciano possessed the superhuman, relentless style of forcing his opponents to fight at a whirlwind pace that they were normally not accustomed to. Luckily for Jersey Joe, he was also in top-notch shape, so much so that he was able to put on one of the most exciting displays of scientific fisticuffs ever seen within the roped square.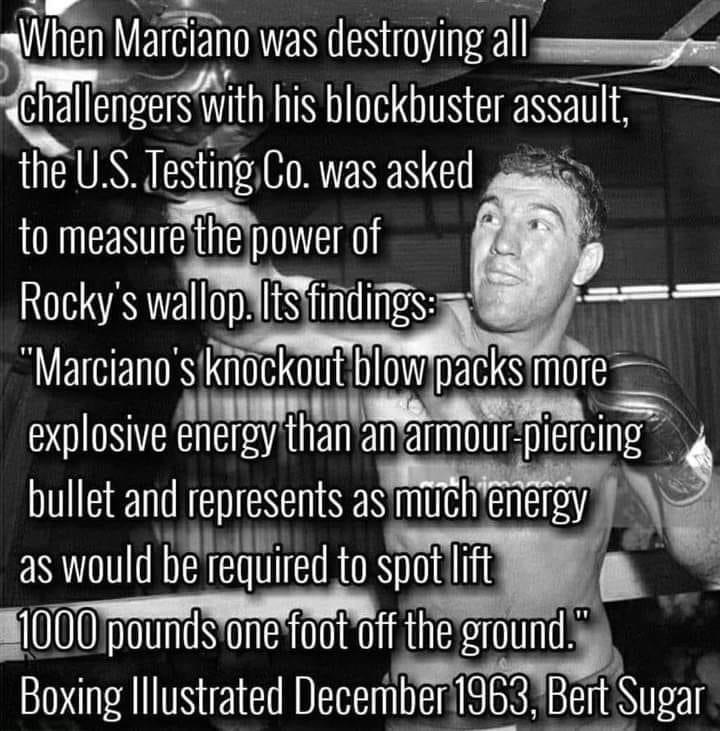 By the middle frames it appeared that Rocky was about to turn the tide due to his savage body blows, but then the challenger began to rub at his eyes and swing wildly. 
What had happened was that Walcott's gloves or shoulder had a liniment on them that somehow blinded Marciano.  Because of this new development, the champion took advantage of his foe's unfortunate predicament and began to up points with swift, jolting combinations.  Since Rocky was able to take the shots, he just kept coming forward.  Although the challenger kept on advancing, he was still being outpunched by Jersey Joe and was noticeably losing the fight.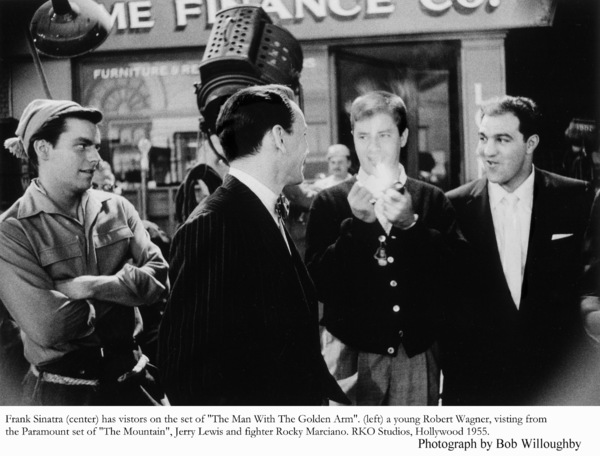 By Round 12, the Rocky's vision had managed to clear up and he was as dangerous as ever as he pounded away at the champion with both powerful fists slamming into Walcott's skull and ribs.
Nonetheless, going into Round 13, Walcott had built up a commanding lead and was ahead in rounds by scores of 8-4, 7-5 and 7-4-1.  Because of this, even if he lost every succeeding round, all that Walcott had to do was simply stay on his feet and he would still keep his heavyweight title by way of a draw.  Unfortunately for Jersey Joe, Marciano was not the type of fighter who wanted his opponents to hear the clang of the final bell.
When the 13th round started, the challenger Marciano, fighting out of his effective crouch and bobbing and weaving, advanced towards his rival and hammered away with blistering blows that soon backed the champion up against the ropes.  Just when Walcott was about to throw his right hand, Rocky fired his right fist first that exploded on Jersey Joe's jaw with the force of a meteor that nearly caved his face in! As if shot by a cannon, the champion began to slowly collapse, whereby Rocky hit him with one more final telling blow – a thudding left hook to the skull before he went down for good.  With his left arm hanging on the ring ropes like a broken coat hanger, Walcott looked like a battered rag doll. He then crumbled twisted to the canvas where he was counted out by referee Charlie Daggert at 0:43 of Round 13.
Walcot lay so listless and lifeless on the canvas that the referee could have counted to a thousand.
It was such a great battle that it was voted the Fight of the Year for 1952 and the 13th Round was awarded Round of the Year.
Though Jersey Joe was now the ex-champion, he did have in his contract a return bout clause that not only got him an immediate shot to reclaim his lost laurels, but he would also earn more than the new champion, something that Marciano was certainly not too happy about.
On May 15, 1953, 16,034 fans turned out at Chicago Stadium to see if Walcott could win back his title.  The live gate was $253,462.37 and the home television and radio revenue amounted to an additional $300,000.  The promoters were the International Boxing Club, who were a pitiful outfit that made the fight available free to fans in their homes via TV and radio.  Because fans did not have to leave their homes to view the contest, the live gate was financially crippled, which accounted for the poor turnout of 16,034.  The obvious question was why would fans hop in their cars or take the train to Chicago, when they could see the fight on TV, or listen to the fight on the radio, both for free?
After all the monies were tallied, Walcott received his career high purse of $250,000, while the champion's share was $166,038.60.
Not surprising, before the second Walcot fight, Marciano was the 16-5 betting favorite and an Associated Press poll saw 34 of 36 sportswriters picking Rocky to win.
After their epic first fight and devastating conclusion, it was apparent to all watching that Walcott came out in the rematch boxing cautiously, and even appeared somewhat gun shy.  Apparently, Jersey Joe still must have had the lingering pains and whispering memory of the power of Rocky's punches bouncing in his brain prior to the sound of the bell for the opening round. Marciano, on the other hand, was bobbing and weaving and aggressively throwing battering ram shots.  The first round started off all for Marciano as Walcott safely jabbed and danced away.  Suddenly, after the challenger threw a jab, Marciano quickly countered with a left hook and a right uppercut that lifted Jersey Joe off six inches off the canvas and deposited him on the seat of his pants where he was counted out for the full ten count at 2:25 of the opening round.
After referee Frank Sikora tolled the fatal ten-count, Walcott did actually get up, but it was simply too little too late.  Jersey Joe, like every other former champion before him, failed to regain his championship.
The Marciano-Walcott rematch was also the first championship fight to be filmed on the new 3D technique and would soon afterwards be shown in movie theaters in 3D, with viewers watching the bout with cardboard red and blue tinted 3D glasses on.  Unfortunately for the theater audiences, they were treated to more training footage than actual fight action, thanks to the dynamite charge in Rocky Marciano's right fist.