Boxing Hall of Fame Editors John and Alex Rinaldi present the fans of pugilism with an array of stories, columns, photos, and writings from their award winning staff for the serious Boxing Fan!
________________
Fighters Training and Fight Photo Gallery
________________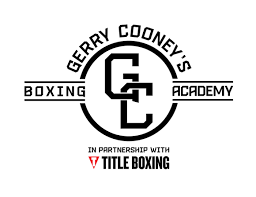 Boxing Legend Gerry Cooney Launches First "Gerry Cooney's Boxing Academy".  Ribbon Cutting & Media Event, February 7th 6:30 pm.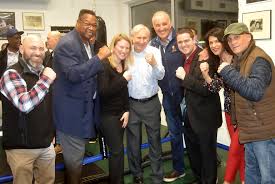 _________________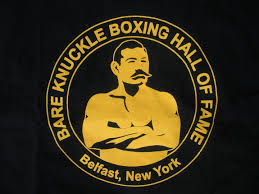 Burt Announces Knuckle Town USA's 2019 Hall of Fame Class!
_________________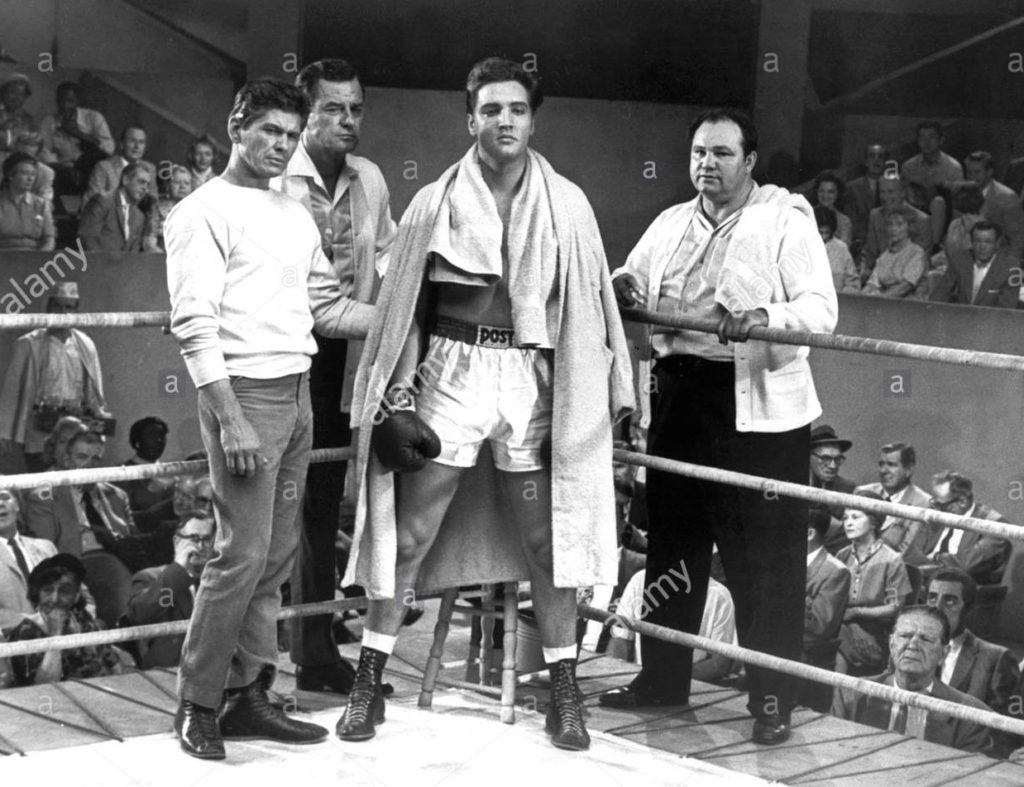 "I enjoy rugged sports. I'm not knocking people who like golf and tennis and other things. But I like rugged sports such as boxing, football, karate and things like that."  –  Elvis Presley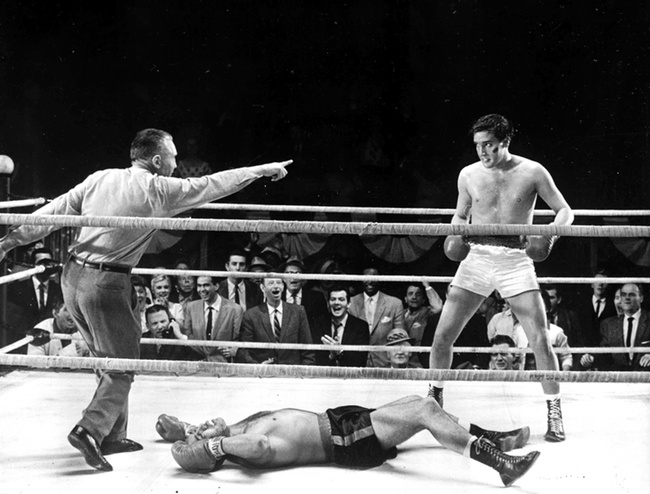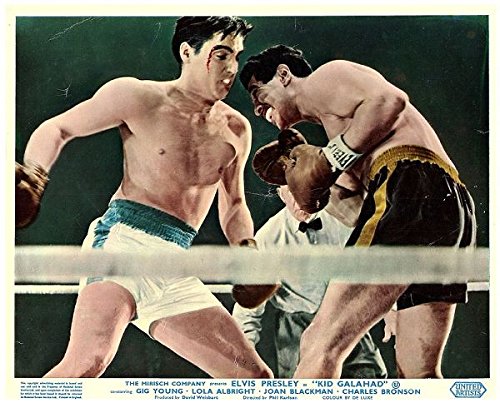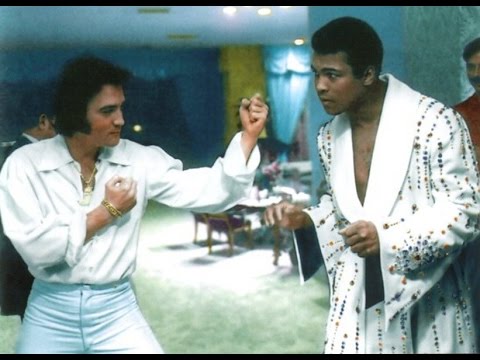 ______________________________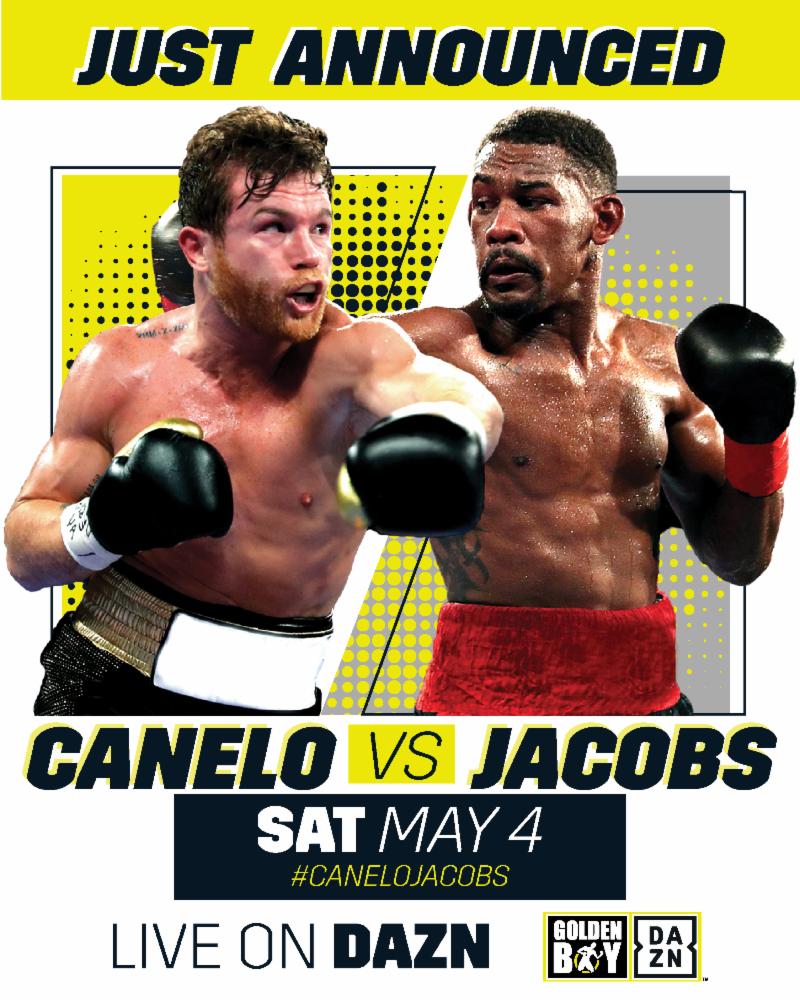 ________________________________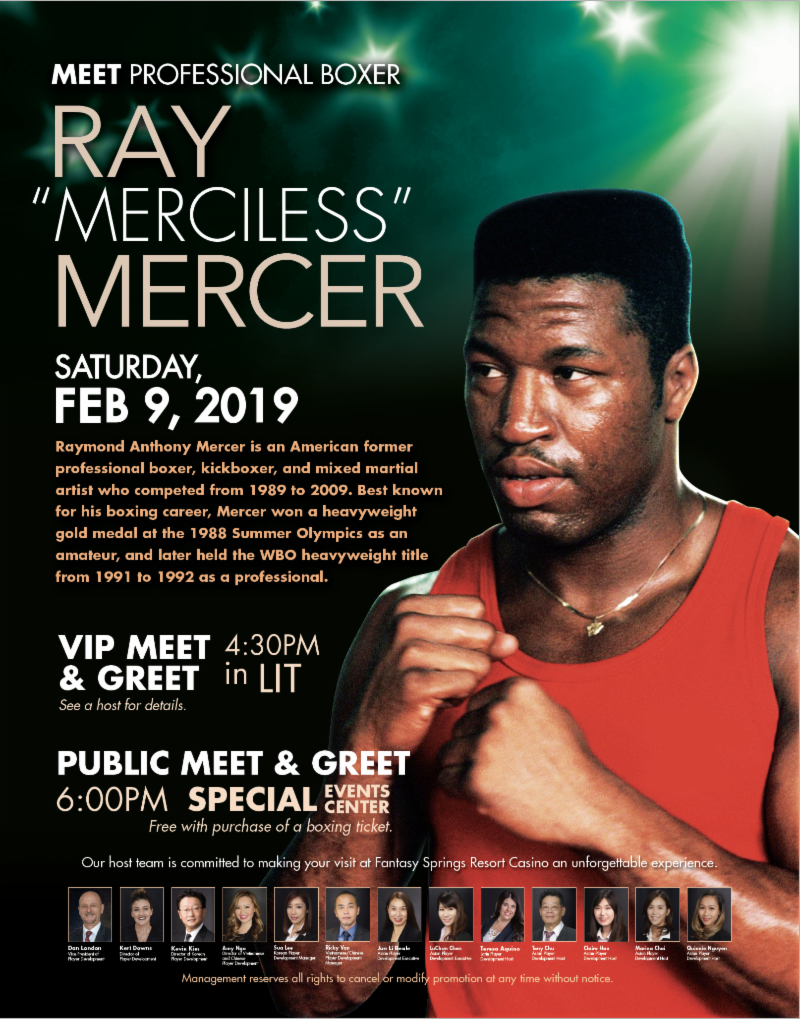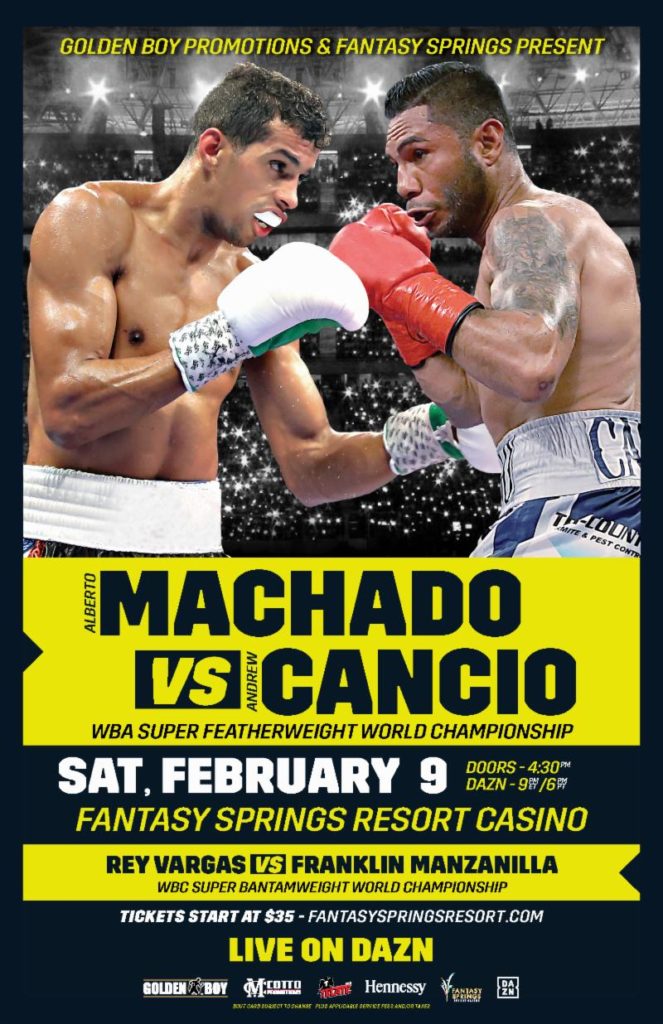 ___________________
__________________________
RON JOHN'S
________________________
Crawford and Khan Face Off 
in New York City
Crawford to defend WBO welterweight world title, April 20 on ESPN PPV broadcast
_________________________

___________________________
JAIME MUNGUIA RETAINS WBO JUNIOR MIDDLEWEIGHT WORLD TITLE WITH UNANIMOUS DECISION VICTORY AGAINST TAKESHI INOUE
XU CAN UPSETS JESUS ROJAS TO CAPTURE 
WBA FEATHERWEIGHT WORLD CROWN
[c
Mexican warrior Jaime Munguia (32-0, 26 KOs) smashes the challenger with a hard left hook as he successfully defended his WBO Junior Middleweight World Title by defeating Japanese contender Takeshi Inoue
HOUSTON (Jan. 26, 2019): Mexican warrior Jaime Munguia (32-0, 26 KOs) successfully defended his WBO Junior Middleweight World Title by defeating Japanese contender Takeshi Inoue (13-1-1, 7 KOs) via 12-round unanimous decision at the Toyota Center in Houston, Texas. After a tough battle, Munguia won with scores of 120-108, 120-108 and 119-109. The action was streamed live on DAZN – which is just $9.99 per month after a one-month free trial. 
"It was a great fight. He was a great warrior," said Jaime Munguia. "It was a great battle for me. I was surprised by his ability to take punches. He took a lot of punches to the head and to the body. He took punches that would have dropped anyone else. I feel I got a lot of experience from this fight. I will keep working on using my distance. There were times where he was able to cut the distance, and I want to work on that."
"With 31 wins and no losses, Munguia was not just a power puncher but a great boxer," said Takeshi Inoue. "We both had the skill to kill the other's boxing style. He was the better fighter tonight. I hope to get better and come back to the United States to fight again."
In the co-main event, Xu Can (16-2, 2 KOs) of Kumming, China became the new WBA Featherweight Champion by defeating Jesus Rojas (26-3-2, 19 KOs) of Caguas, Puerto Rico via unanimous decision in an action-packed battle. Can won with scores of 118-110, 117-111, and 116-112.
"This is my second time coming to the USA to fight," said Xu Can. "Before I came here, I knew it was going to be a very hard fight. So I got ready for this fight. I did a lot of work for this. So, thank you to everyone. I respect my opponent, Rojas, my friend; he's very tough. But I knew I can win. I can! I can! I knew I can defeat this fighter. I knew I can defend his punch, even though his punch is very strong, but I had confidence in my defense. I just punched, defend, punched, defend, punched, defend."
"I don't feel the decision was correct," said Jesus Rojas. "I don't know what to say. I'm surprised. I spoke to Golden Boy Promotions, and I want the rematch. I think we worked well. I used my jab and I want the fight. Of course, I want the rematch. 
Vergil Ortiz (12-0, 12 KOs) of Dallas, Texas stopped Jesus Valdez (23-5-1, 12 KOs) of Huatabampo, Mexico via TKO in the fifth round due to a severe cut on Valdez's left eye in a super lightweight fight originally scheduled for ten rounds.
"Fighting a southpaw for the first time as a pro is the same for me, but the range is different," said Vergil Ortiz. "I just had to make and execute a game plan. I thought it would go longer, but I'm grateful for the good will he had in the ring. I'm so happy to have fought in Texas!"
Alex Rincon (6-0, 5 KOs) of Dallas, Texas defeated Jeremy Ramos (10-6, 4 KOs) of Bayamon, Puerto Rico via unanimous decision in a six-round super welterweight battle. Rincon won with scores of 60-54, 59-55, and 58-56.
"I felt real good in there," said Alex Rincon. "I brought the fans from back home, and we have a lot of family here. Now everyone knows who the Rincon brothers are. Ramos was very awkward. When you catch him with hard shots, he comes back harder. We stuck to the game plan, and that's why we won."
Alberto Melian (4-0, 3 KOs) of Buenos Aires, Argentina became the new NABA Super Bantamweight Champion by defeating Edgar Ortega (10-2-2, 5 KOs) of Mexicali, Mexico via TKO in the final round of a 10-round battle. The fight was stopped at 1:33 of the aforementioned round.
"I was working the distance," said Alberto Melian. "I knew he [Ortega] was strong. When I found my distance, then I imposed myself more. That's how I got the knockout at the end. This is about patient work, so if the knockout comes, then it comes. We had great preparation at Churchill Boxing in Santa Monica."
George Rincon (6-0, 3 KOs) of Dallas, Texas defeated Emmanuel Valadez (5-7, 4 KOs) of Agua Prieta, Mexico via TKO in the first round of a super lightweight bout originally scheduled for six rounds. Rincon won with time a of 1:36 of the aforementioned round.
"I feel good," said George Rincon. "I went in there trying not to rush. There's never an opponent who is not dangerous because we are all out here fighting to provide for those we love and entertain those we don't. He [Valadez] didn't make it out of the first round, so I'm happy with that."
Munguia vs. Inoue was a 12-round fight for the WBO Junior Middleweight World Title presented by Golden Boy Promotions in association with Zanfer Promotions and Teiken Promotions. Rojas vs. Can was a 12-round fight for the WBA Featherweight World Title presented by Golden Boy Promotions in association with Universal Promotions. The event was sponsored by Tecate, "THE OFFICIAL BEER OF BOXING," and Hennessy "Never Stop. Never Settle." The event took place Saturday, Jan. 26, 2019 at the Toyota Center in Houston, Texas and was streamed live on DAZN. 
Rivas KOs Jennings in 12th Round
Shakur Stevenson Knocks out Rosales in 4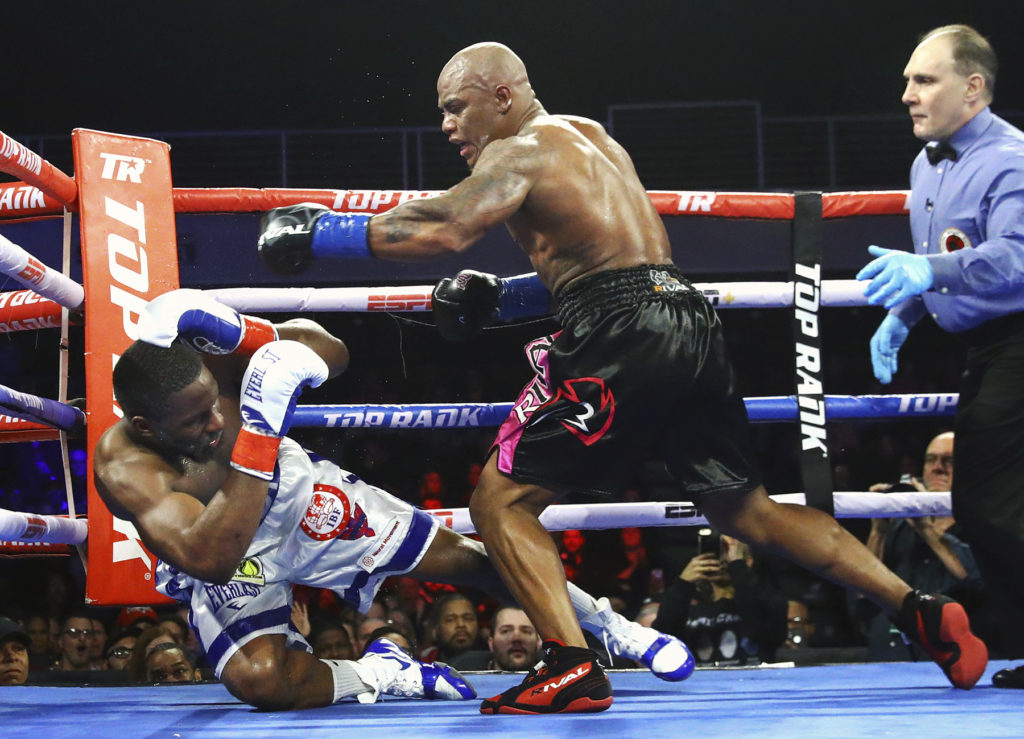 __________________________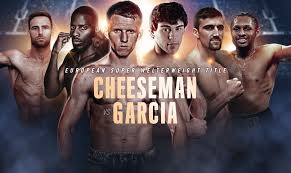 ________________________________
Check out the Superman Boxing Connection Page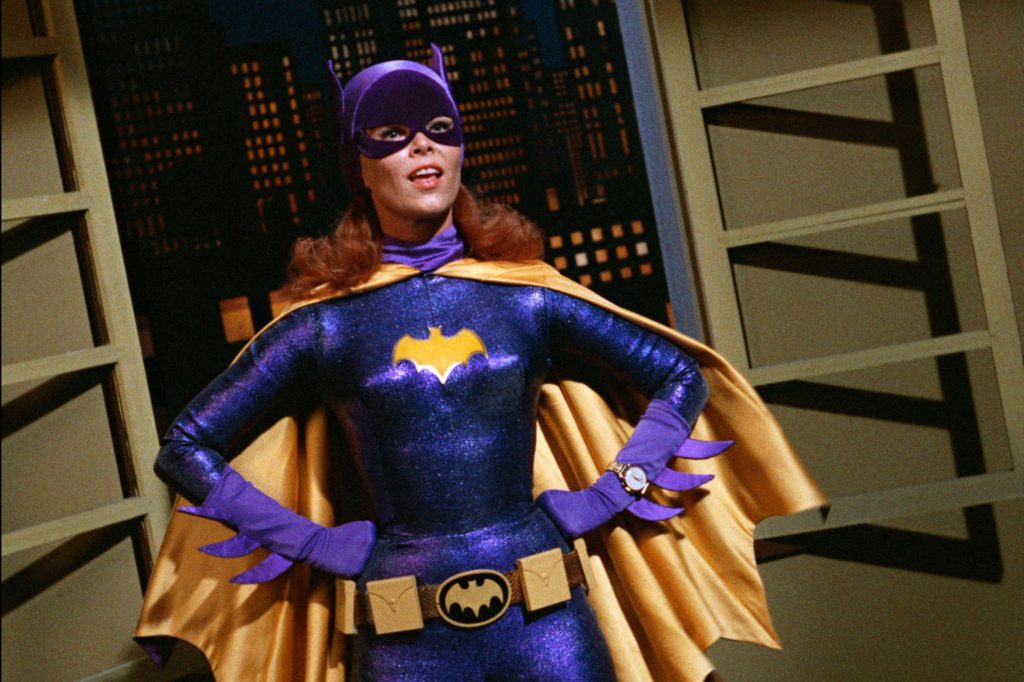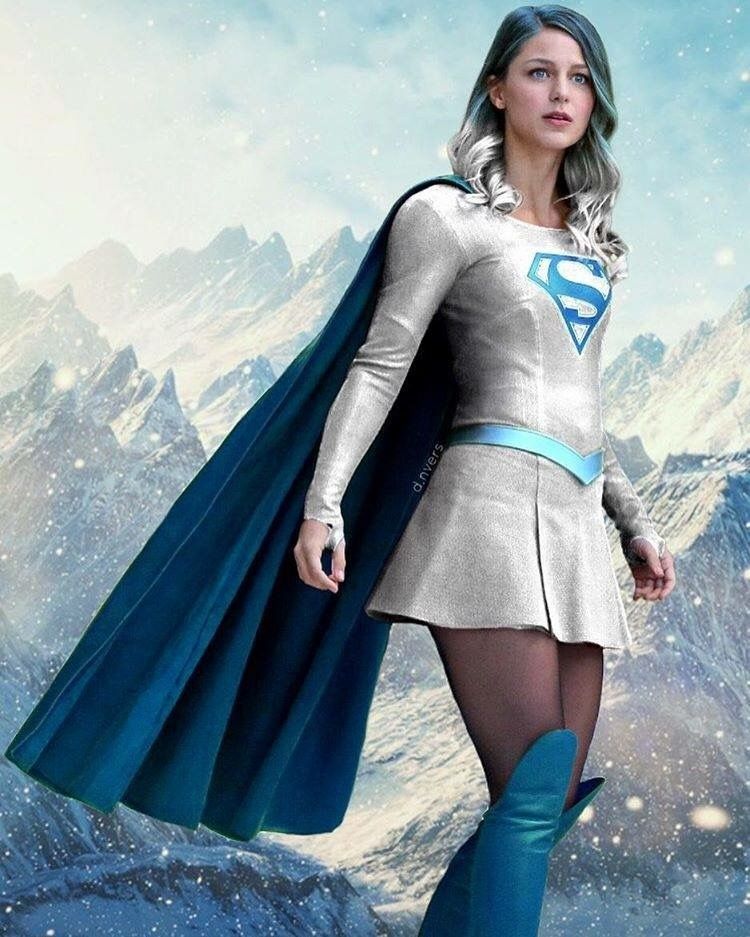 ___________________________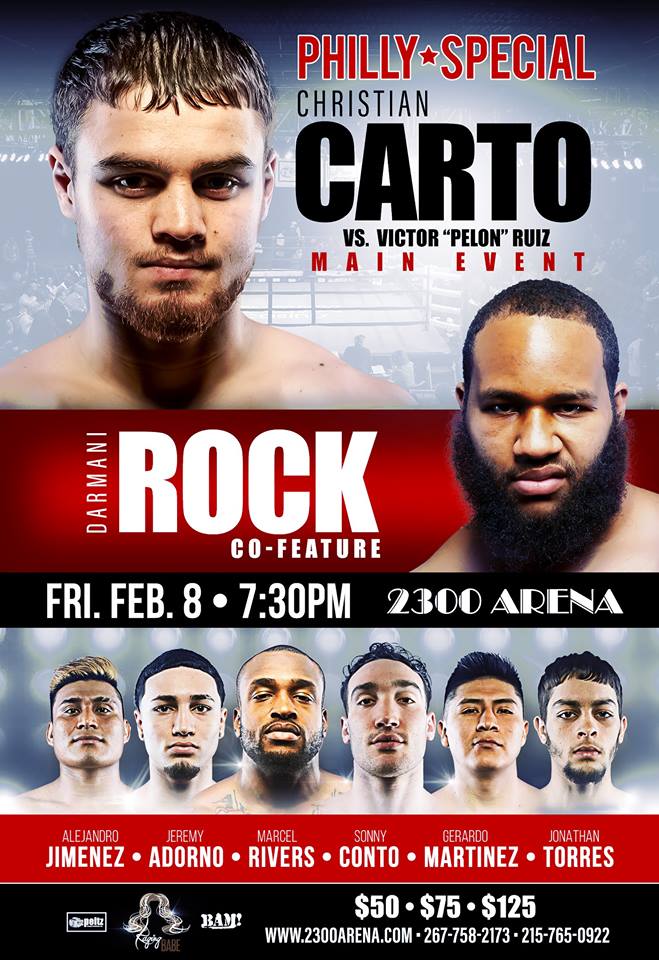 ________________________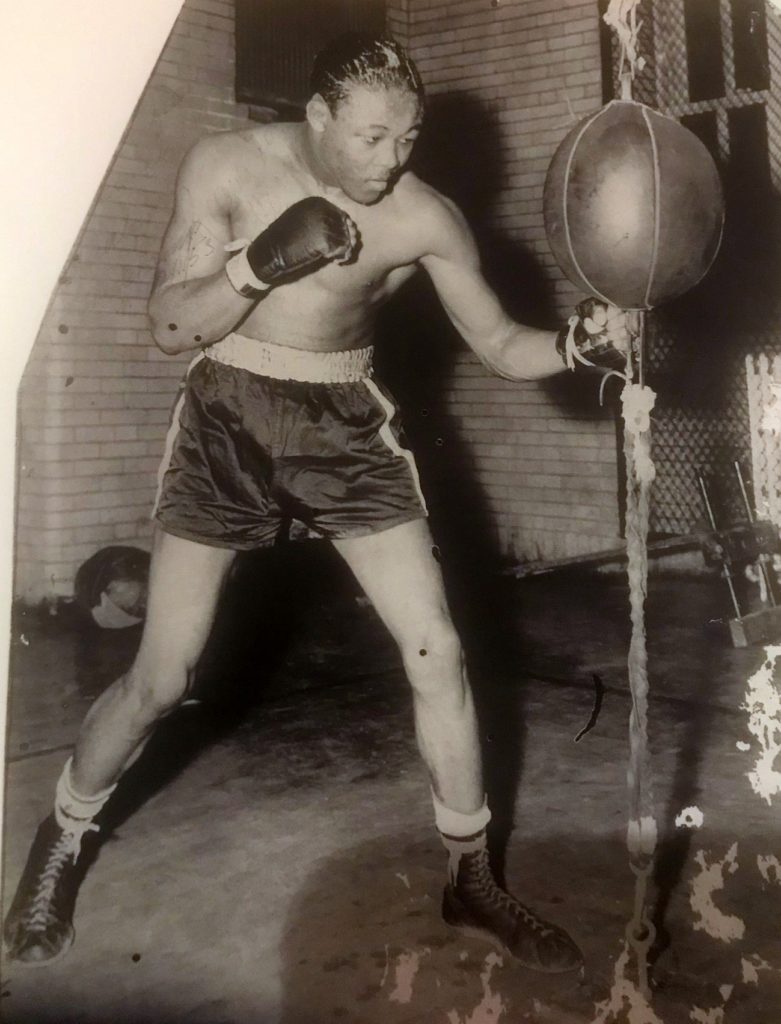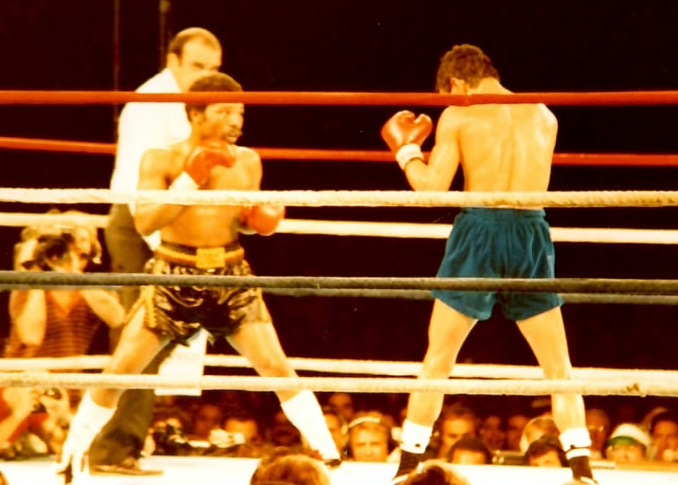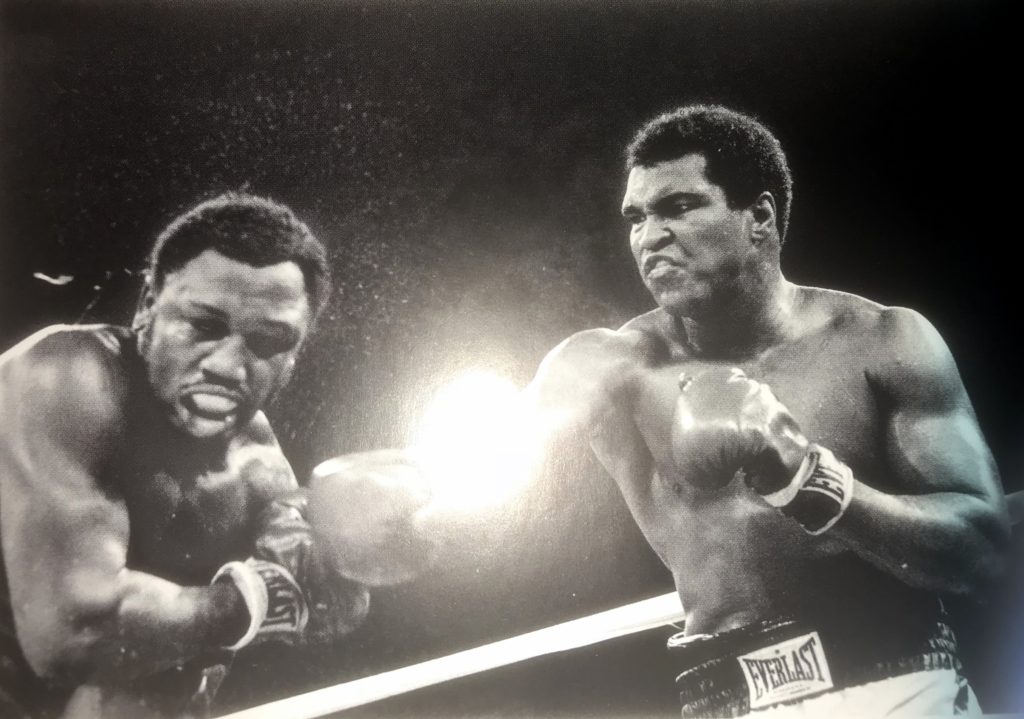 ______________________________
TICKETS AND FIGHT POSTERS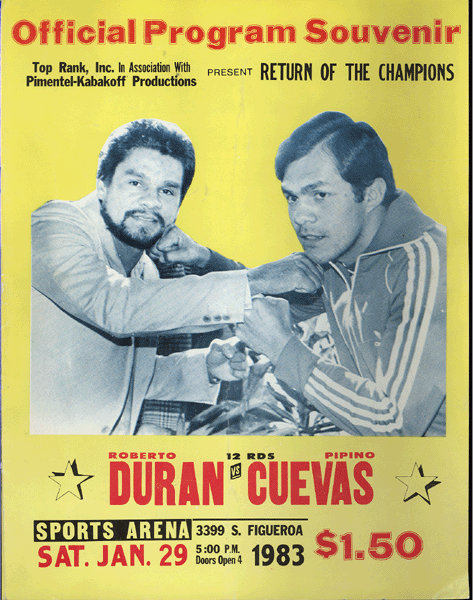 __________________________
A Holiday Memory
Roberto Duran and our Father
By John and Alex Rinaldi
Going into Christmas, we cannot thank our readers enough for their continued support of our website and our boxing publication for over 36 years.
In an almost magical and mythical way, the sport of boxing and its fans have since the days of the bare knucklers, established a special, lasting bond that somehow connects the viewer to the participants in the ring. It is also the type of sport that can lift one's spirits when life's misfortunes and personal tragedies tend to swirl around like a deadly tempest raining down on everything and everyone until all that's left is despair and sadness.
No one is ever immune to this and even the warmest of holidays often play a part in the the overall melancholy of the time.
Christmas was such a time 36 years ago, and it remains to this day a bittersweet holiday for us.
Growing up we had wonderful Christmas days and we still do to this day. There was, however, a Christmas where our world simply fell apart. 
On Christmas Eve in 1982, our Father, and the founder of this publication, Joseph Rinaldi, was diagnosed with terminal liver and colon cancer and was given only three months to live. For a few months before the diagnosis, he was suffering from intestinal pains and was losing weight. He actually thought at the worse that he had an ulcer. Sadly, he found out that at the age of 46, his days, like a prisoner on death row, were mortally numbered.
There is a famous quote by the legendary Confederate General Robert E. Lee where he says, "I would rather die a thousand deaths than surrender." Our Father had what can only be termed as "true grit" as he fought bravely on, challenging the cancer along with the naysayers and charlatans so prevalent in the medical community. Though death greeted him at his doorstop every day for nine long months, he still kept punching back until he eventually succumbed to the cancer on September 23, 1983.
When you watch a person that you admire suffer so badly, who is not just a father, but a mentor and a hero, it is hard to bear and the world goes black.
But sometimes were there is nothing but black and bleakness, miracles and heroes seem to emerge through the darkness, and for a brief time a short reprieve is granted to the forlorn.
This is what happened to us. A savior arrived in the form of Roberto Duran and boxing gave us the only streaks of light, as the sun slowly shone through the cracks caused by the mighty fists of the man with the Hands of Stone.
Roberto Duran was always our family's favorite fighter. From the time he became a world champion, we marveled at his skill, charisma and punching power.
Though he reached the highest heights and peaks of boxing, by 1983, the once great pugilist was considered washed up. In 1982, he went 0-2 when he lost  a title bid against WBC super welterweight king Wilfred Benitez on a close decision on January 20, 1982, and then was robbed in a split-decision loss to Kirland Laing on September 4, 1982.
It was during his training for Laing at Larry Holmes' training quarters in Easton, Pennsylvania, where the Rinaldi Brothers and our dad would go to visit. Before long we became very friendly with the fistic legend.
After the Laing fight, and nearing the end of 1982, it appeared that there was little hope in the future of the career of Roberto Duran. Nevertheless, while others urged Duran to retire, we and The USA Boxing News felt that he was far from washed up. As luck would have it, so did promoter Bob Arum.
Arum's Top Rank, Inc. smartly took on Duran and matched him against the power punching former WBA welterweight king Pipino Cuevas on January 29, 1983 at the Sports Arena in Los Angeles, CA. While the Super Bowl was playing nearby the same week, the hottest ticket in town was for the Duran-Cuevas fight. So much so that a capacity crowd of 16,824 turned out for the fight and produced a live gate of $408,000. Both fighters were each guaranteed $50,000, plus a share of the closed circuit revenue.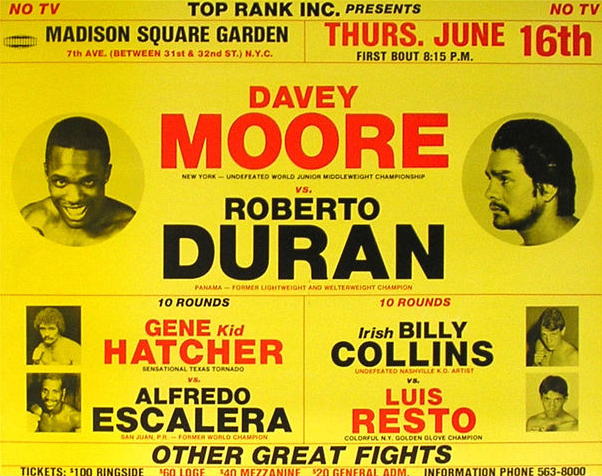 In one of the most thrilling slugfests in boxing history, Duran, 152, brutally stopped Cuevas, 149, at 2:26 of fourth round of the scheduled 12-rounder.
With the illness of our Father, we were unable to go to the fight live, but instead viewed the fight on closed-circuit at the Felt Forum in New York's Madison Square Garden. Duran's performance was so exhilarating that on this night our Father was able to forget about his pain and his dreaded outlook and immersed himself in the exciting ring action.
While our Father courageously battled on, Duran was set to give our Dad one more respite from his impending doom.
With the win over Cuevas, Arum decided that Duran would make a good opponent for the undefeated WBA junior middleweight king Davey Moore. The match was then set for June 16, 1983 at Madison Square Garden.
Going into the battle, this publication was the only one who gave Duran a chance to win. With a sell-out crowd of 20,191 on hand, producing an incredible live gate of $964,305 (this was at a time when the ringside seats were only $100) Duran entered the ring a 5-2 underdog.
On this night, our Father was too ill to attend and was slipping away at a rapid pace. We went in his place and were at ringside to see Duran, 152 ½, give the performance of a lifetime as he tore into Moore, 154, and ferociously pummeled him from pillar to post.
As the crowd cheered, Duran scored an incredible knockdown in the seventh round and in the next round, finished off Moore at 2:02 of Round 8.
The fight was rebroadcast on CBS on June 19, 1983 and although he was racked with pain that no medicine could subside, our Father was laying down on our living room couch and once again, his thoughts were detoured from death to watching Duran pull off the upset win. That was the last time that the pain would ever temporarily leave our Father again.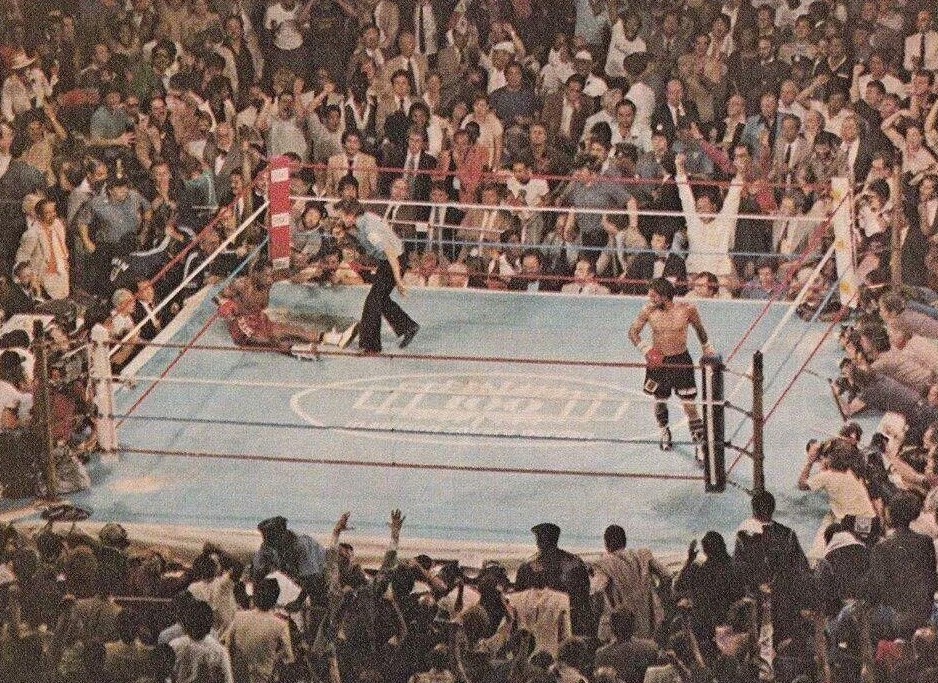 Things would go downhill from there. Our Father was such gallant battler, that we never thought he would die. It was as if Rocky Marciano could ever lose a fight. We thought our Dad would make a comeback. He did outlast all of his physicians' predictions and held out for nine months, while the prognostications said he would be dead in 90 days.
The comeback never came and three months after Duran defeated Moore, the ten-count was tolled for our father. Thankfully, because of the many who read this worldwide publication and website, his memory still lives on.
Because this publication lives on and thrives to this day, our Father and Roberto Duran are both almost like the Jimmy Stewart character in It's a Wonderful Life, where Stewart realizes what an impact he had on so many people just by living his life and doing good to others.
This may be an odd Christmas story because it ends in the death of an extraordinary man. But it shows that boxing and a great fighter like Roberto Duran can take away the pain of a dying man and give him a few happy moments in such bleak times, as well as offer a brief intermission from despair to his loved ones and, provide in its place, thrills and happiness during a family's darkest hours. 
"When we recall Christmas past, we usually find that the simplest things – not the great occasions – give off the greatest glow of happiness." ― Bob Hope.
We think of our father every Christmas Eve. Although he is gone, he is never forgotten by us and is always in our thoughts, and it is every time we think of Roberto Duran, we think about the smiles he gave to a man whose life, like a broken clock,  was running out of time.
That is what makes boxing the special sport it is.
Merry Christmas and Happy Holidays from the both of us to all of our readers.
Keep Punching!
________________________________
To read most Recent Boxing Stories and Press Releases go to the
______________
Eleider "Storm" Alvarez drops Sergey "Krusher" Kovalev three times to capture WBO light heavyweight title by thrilling KO at new Hard Rock Casino Hotel in Atlantic City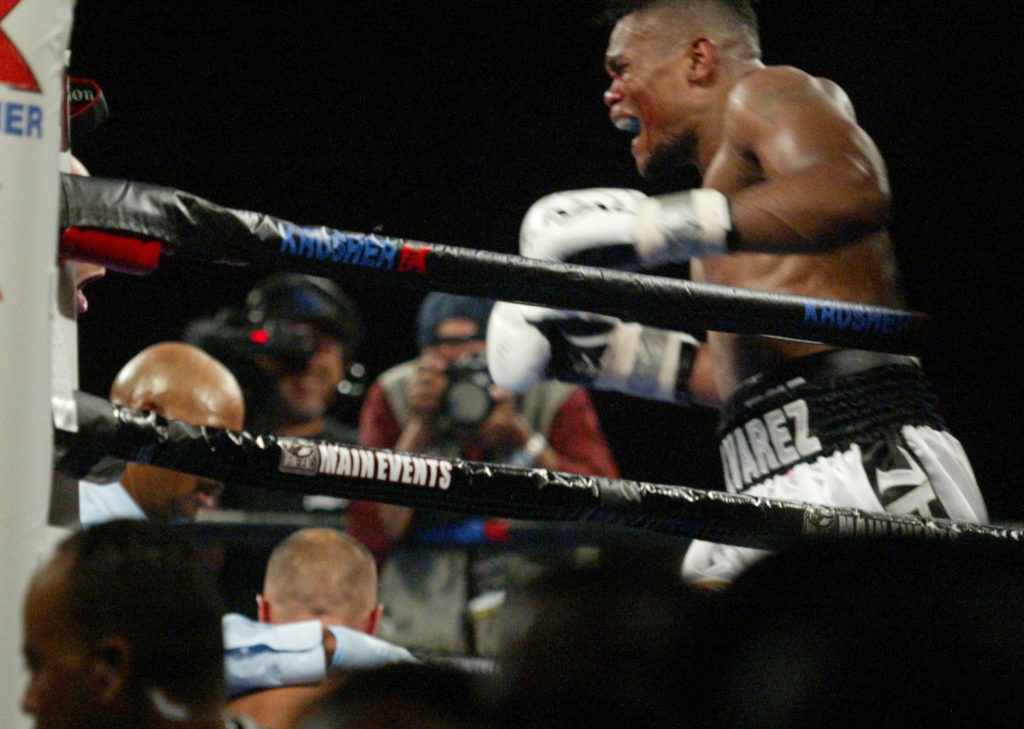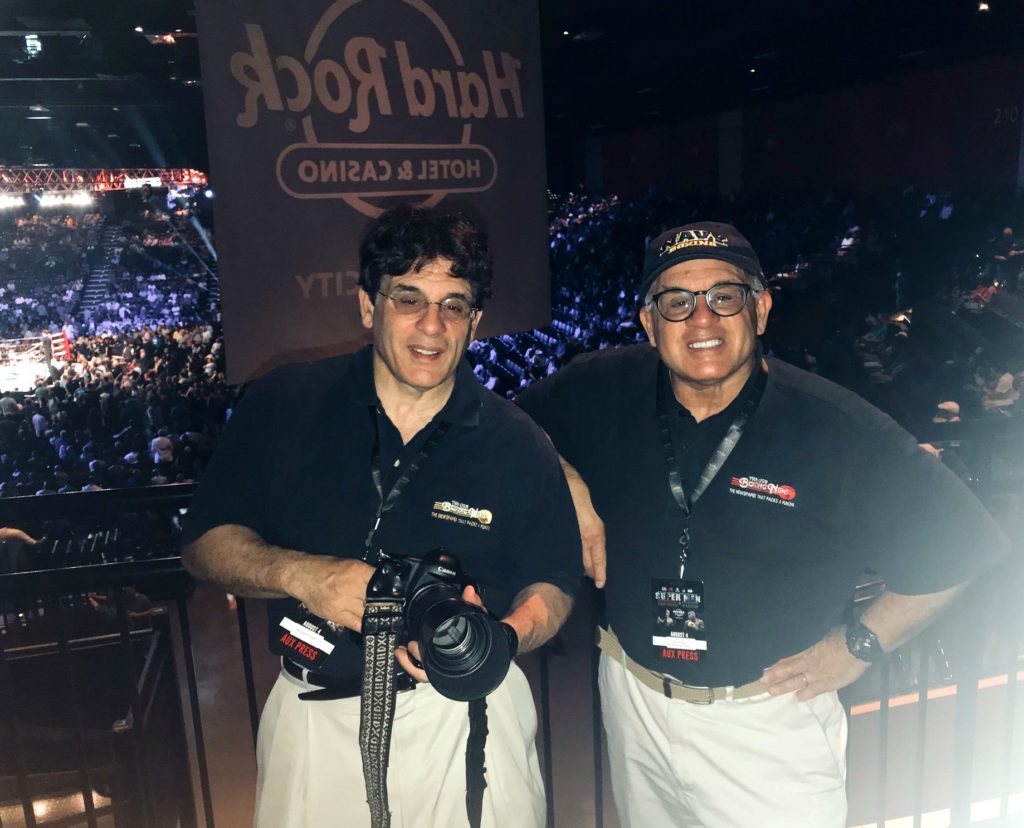 _____________
Check out new Page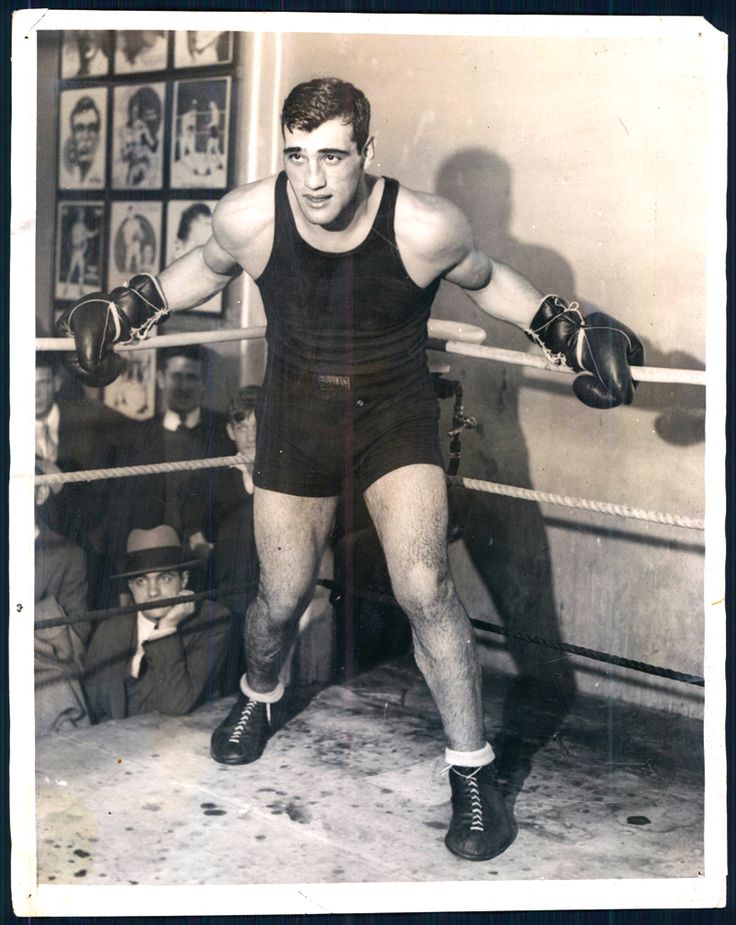 PRIMO CARNERA – His Heavyweight Legend Lives On!
___________________
________________
____________________
_________________________
       ___________________       
SUPERMAN-BOXING CONNECTION  PAGE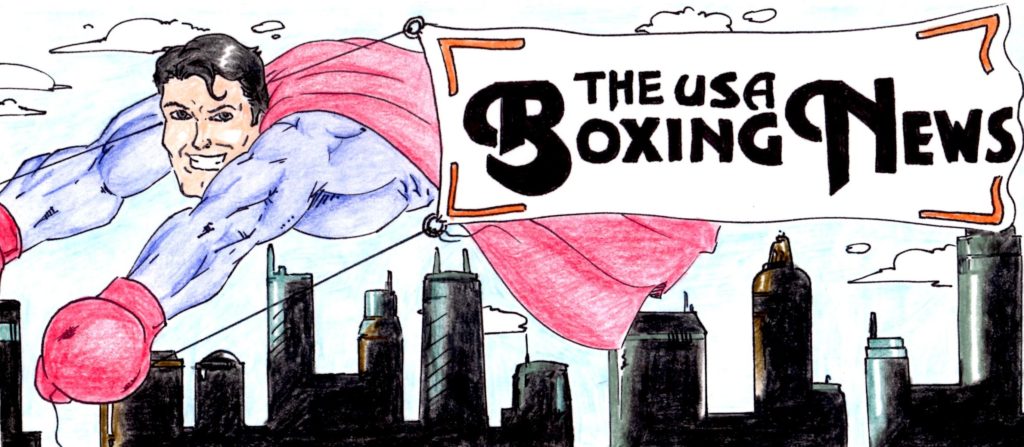 __________________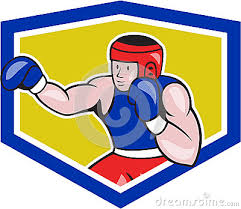 CHECK OUT –  Ruben Gonzalez's   Amateur Boxing Reports    PAGE 
_____________    
For those who thought they were witnessing a real-life "Rocky" wound up being ripped off by "The Sting" instead.
MAYWEATHER vs. McGREGOR
One more day to the Big Fight!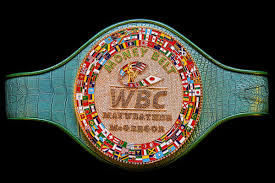 See the Huge Jewel and Diamond WBC Championship belt the winner will receive on New Press Releases and Boxing Stories  Page!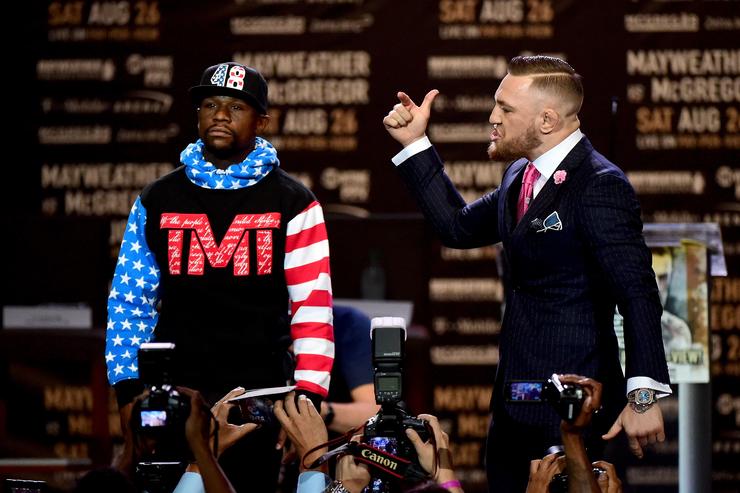 ____________________
Check out UPDATED Rocky Marciano homepage HIS LIFE AND TIMES IN PHOTOS AND VIDEOS  to see exciting films, interviews, training camp footage, and unbelievable fight and behind-the-scene photos of the only undefeated heavyweight champion!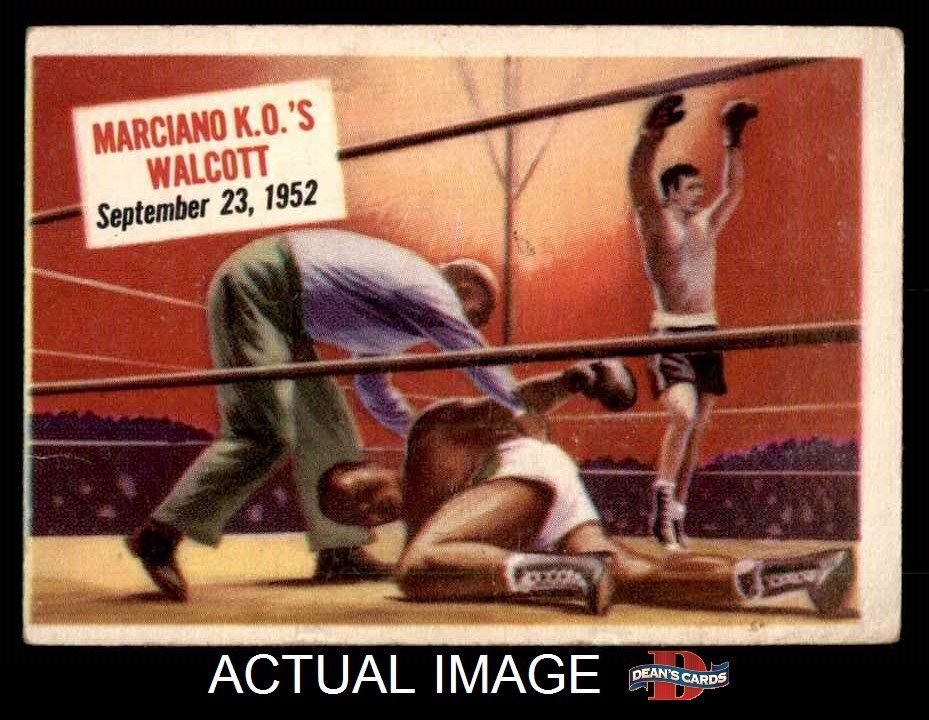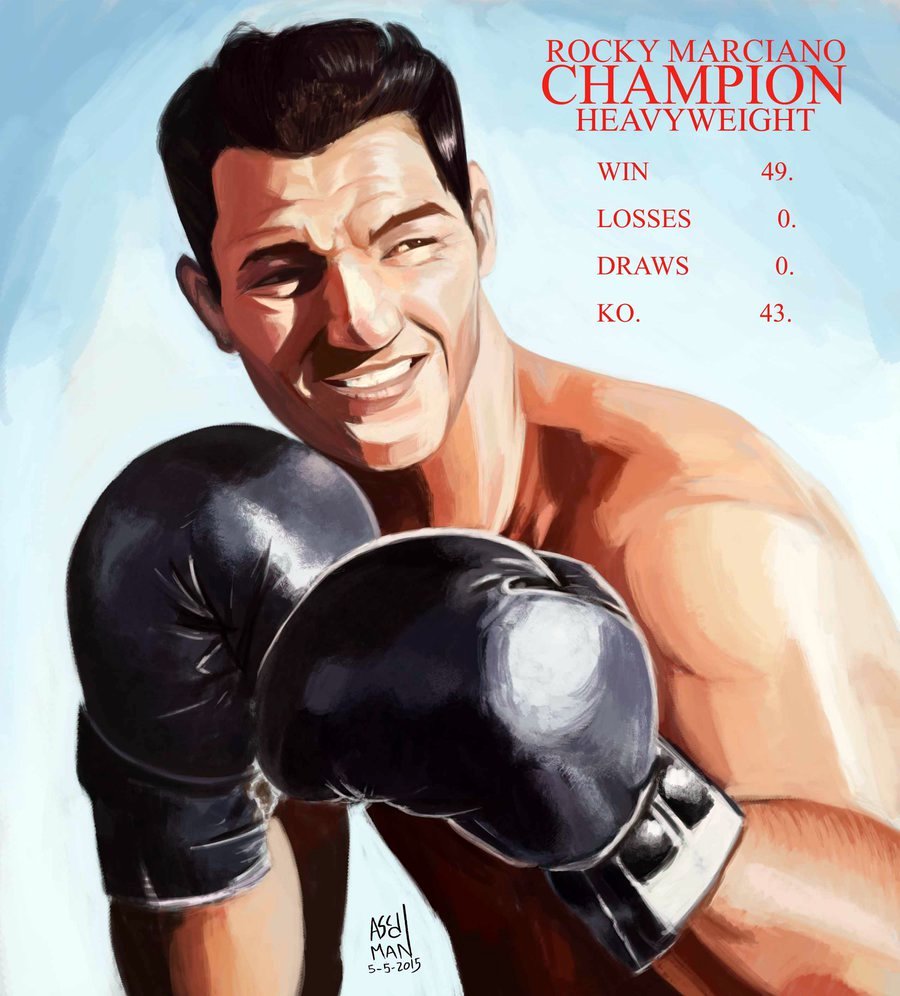 Check out UNC Alex's 'Round Around the Boxing Ring Page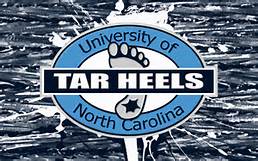 ________________________________
THE USA BOXING NEWS IS INDUCTED INTO THE BARE KNUCKLE BOXING HALL OF FAME IN BELFAST, NEW YORK
_________________________________________________
CHECK OUT  THE BRAND NEW MUHAMMAD ALI PAGE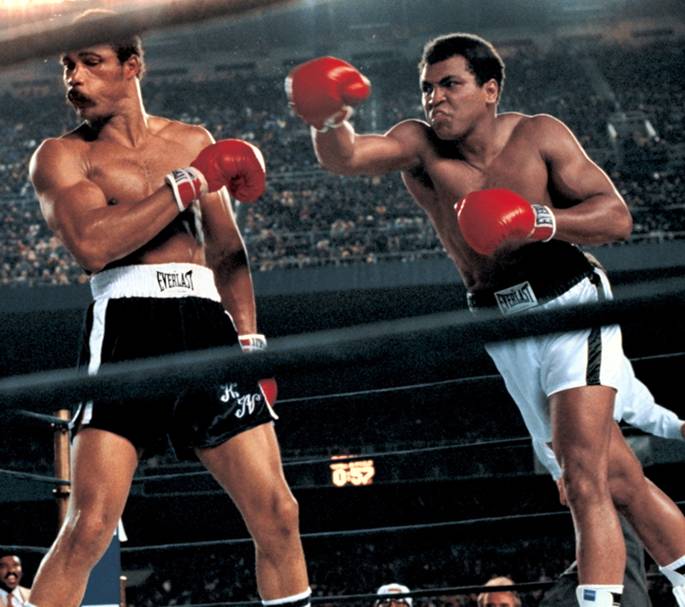 CELEBRATING THE LIFE, LEGEND AND TALES OF THE GREATEST
_________________________
Also check out Press Releases of Upcoming fights and the most comprehensive links to videos and boxing films of the 
Greatest Fights of All-Time!!
To read about his colorful Boxing career and life check out the GERARD RINALDI who was born on this day 55 years ago on the Florida Boxing Hall of Fame Page.

For over thirty (30) years THE USA BOXING NEWS has been widely known as The Publications That Packs a Punch!
Beginning first as pamphlet, identical twins John Rinaldi and Alex Rinaldi,  later nicknamed "The Boxing Twins" by the legendary Roberto Duran in 1983, established The USA Boxing News publication in 1982. In 1989, The USA Boxing News eventually became a full-scale sports publication circulated on newsstands in 48 states, 4 continents, and 10 countries, along with being distributed in all of the U.S. Armed Forces bases throughout the world.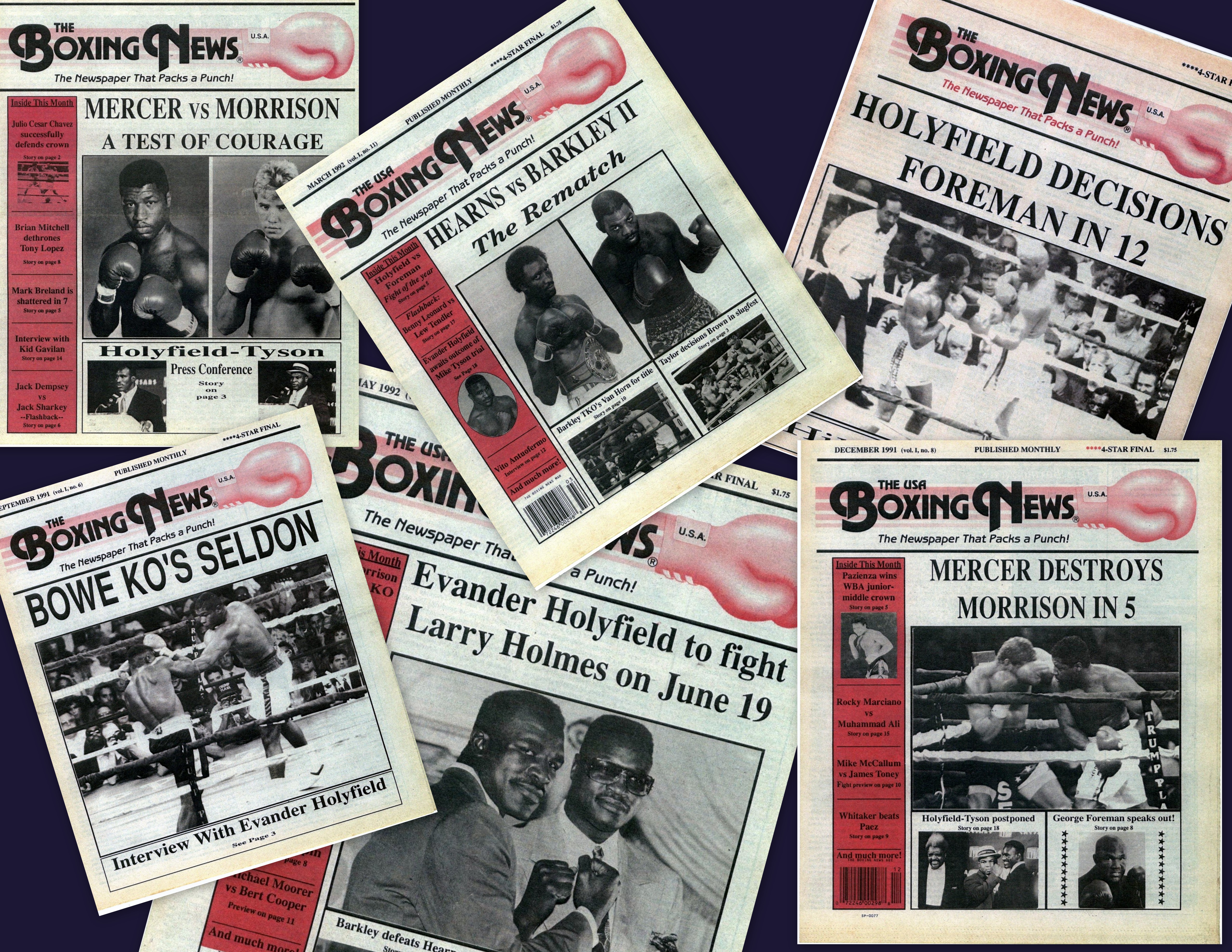 The USA Boxing News, has an award winning staff of over thirty (30) writers, and  is currently celebrating over 25 years as a newsstand publication. It is the only Boxing publication that is 100% boxing fan friendly and includes sections that no publication has ever dared to publish.
xMike Tyson (click photo to see Champions and Boxers with The USA Boxing News)
Besides providing fight coverage from all over the globe, The USA Boxing News also has an Editorial that "Pulls No Punches" called The Boxing Twins Viewpoint and in each issue has a Time Tunnel feature that takes its readers back in time and places them in a ringside seat at a historical and famous fight. The USA Boxing News also has Boxing Newsreel section that provides up to the minute fights news, fight gossip, and fight happenings from all over the world. Another interesting and original  feature is the Hitting The Road with Jack travel log,  as Hall of Fame writer Jack Obermayer provides special, unique stories of his travels throughout the United States, including fight coverage, along with tales of diners and dives that make small and large fight cards from off the beaten path Wyoming towns to big American Cities magically come to life to the delight and benefit of the reader.
Another one-of-a kind section is The USA Boxing News Puzzles and Comics Page. This includes Word Search, Crossword, and Ringside Quote Falls Puzzles, along with boxing comics that offer a new and exciting page for the true and informed boxing fan.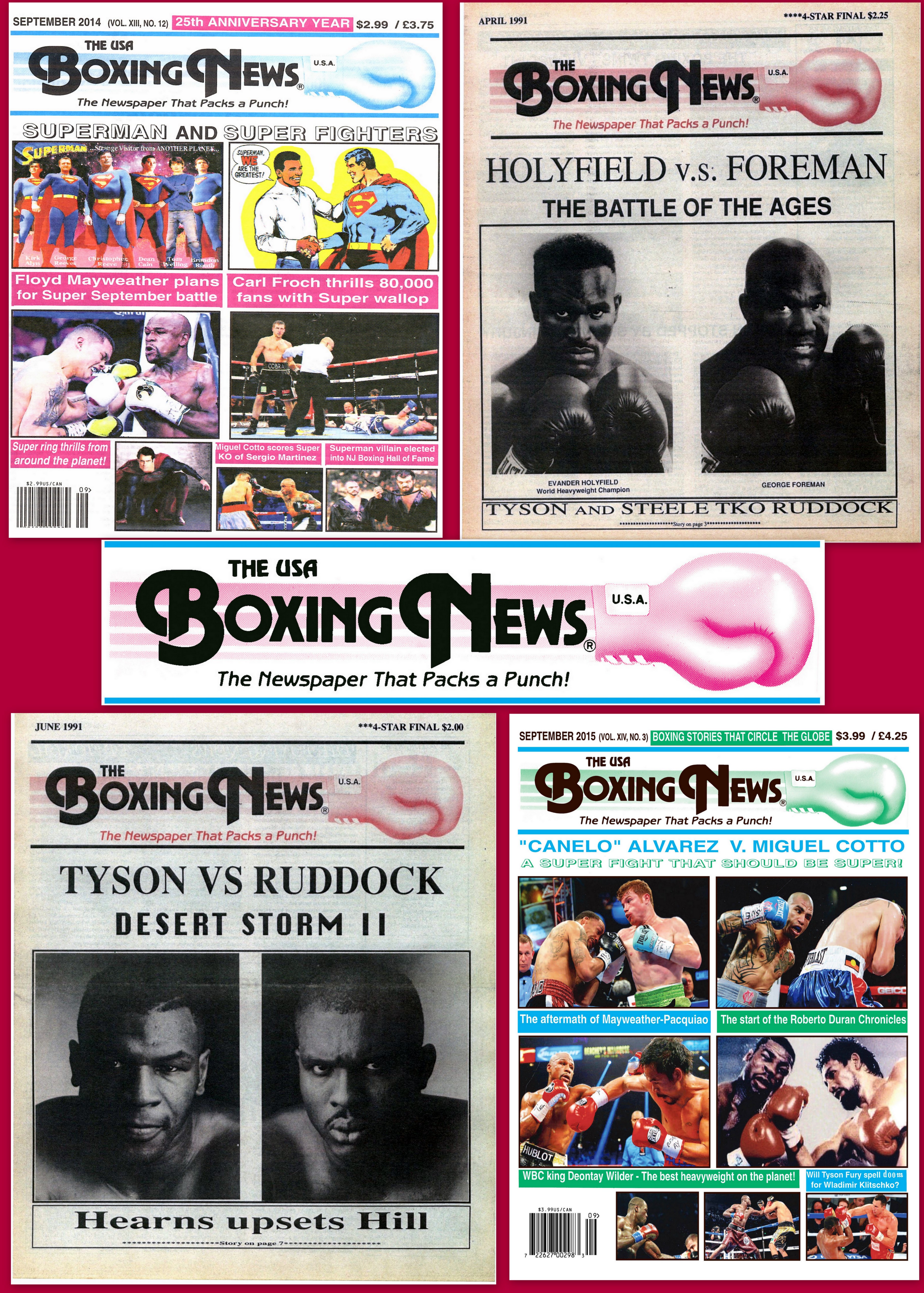 Boxing Historian, Author, and Hall of Famer,  Bert Sugar once said of The USA Boxing News, "They demonstrate an enthusiasm for the sport that has not been seen in a boxing publication in a long time. The USA Boxing News has become what the Police Gazette was over 100 years ago – namely the most informative, original, and entertaining boxing publication of its generation."
If you are a real boxing fan – The USA Boxing News is the publication you cannot live without.
This goes for boxing fans and to fighters and champions as well.  Recently,  former two-time boxing champion Bobby Czyz commented that, "All things considered, The USA Boxing News stands alone as the greatest boxing publication on the newsstands today."
More champions, trainers, cut men, judges, cornermen, and promoters read The USA Boxing News than any other boxing publication, thereby making it one of the top sports periodicals in the world!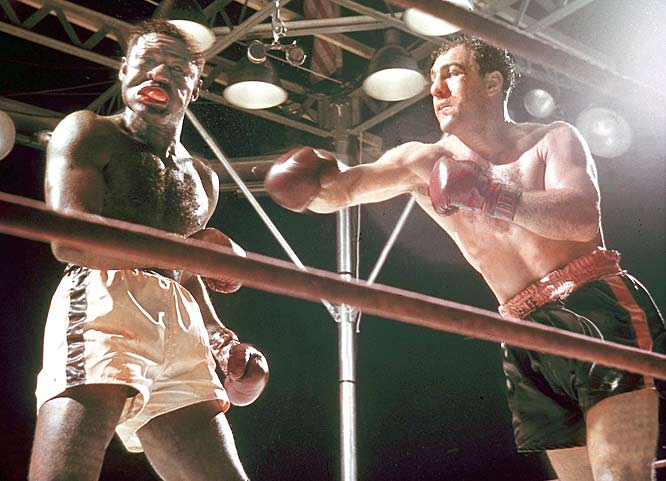 Boxing: Heavyweight Champion Rocky Marciano in action vs Ezzard Charles at Yankee Stadium in Bronx, NY on 06/17/54 (click photo to go to Rocky Marciano page)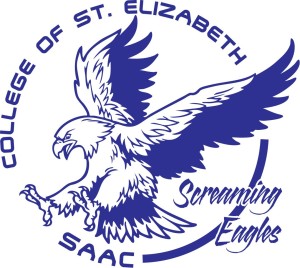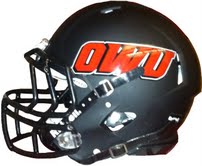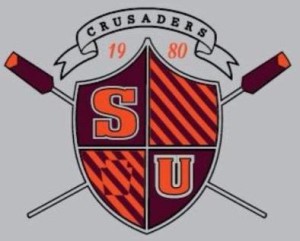 © Boxing Twins LLC – All Rights Reserved
® The USA Boxing News is a registered trademark of John Rinaldi and Alex Rinaldi – All Rights
Reserved