Boxing Feature Stories
B

y

"T

HE

C

ORNELL

B

OXING

P

ROFESSOR

"

 

 

JOSEPH RINALDI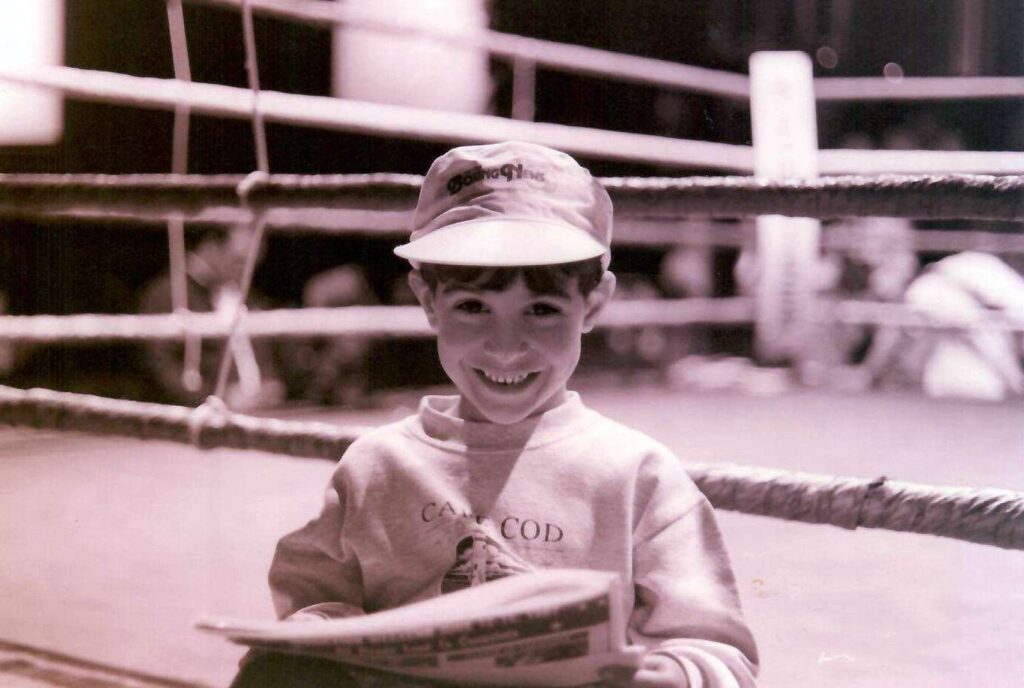 Jersey Joe Walcott
A memorable heavyweight king
Story by Joseph Rinaldi and Alexander Rinaldi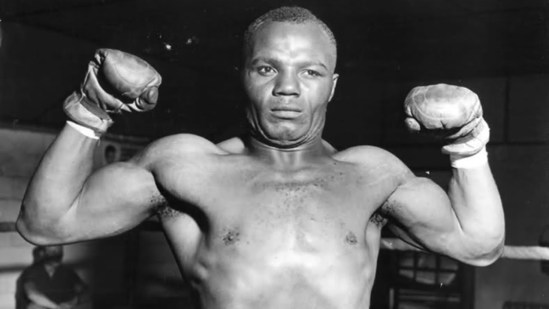 Since the days of the Pharaohs and the Romans, the construction of a statue in one's honor guaranteed that person a perpetual and permanent form of immortality. In fact, in nearly every society perched around the globe there are famous people, such as soldiers, icons, world leaders, celebrities, sportsmen, religious figures, and saviors, to name just a few, who have lived in the past and have left an indelible and momentous impact on the public and people during their lifetime.
Therefore, it is always a great boost and honor for the wonderful sport of boxing when a noted pugilist has a statue erected in recognition for his glorious career and his impact on society and the world.  In 2020, Camden County has set aside $185,000 for an eight-foot bronze statue of former Heavyweight Champion Jersey Joe Walcott, along with two smaller sculptures, including a bronze replica of his championship belt, that will be placed on a pedestal.
There will also be a plaque with Walcott's biography etched out on it.  The statue was the brainchild of the Camden County Historical Society.  Boxing artist Carl LeVotch was awarded the task of sculpting the statue, which will be erected at Wiggins Waterfront Park on the Camden waterfront in Camden, New Jersey.  "This statue is going to speak of the will to achieve," said LeVotch.  "Jersey Joe Walcott achieved greatness."
It is hoped that the proposed statue will become both a tourist stop for people and an incentive to visit the Camden waterfront area.
Walcott's oldest grandson Vincent Cream, 59, of Pennsauken, NJ, remarked, "He [Walcott] wasn't just a fighter – he was a great man."
Born Arnold Raymond Cream on January 31, 1914 in Pennsauken, New Jersey, Walcott remained a Garden State native throughout his life.  At the age of 15, his father died and Arnold had to quit school and he soon gained employment in a soup factory to help support his mother and 11 younger siblings.  To earn extra money, Arnold began boxing and soon took the moniker of Jersey Joe Walcott, in honor of his boxing idol, Joe "The Barbados Demon" Walcott (1873-1935), who was the first black man to win the World's Welterweight Title, which he held from 1901 to 1906.
At the age of 16, Walcott made his professional on September 9, 1930 at the Ice Arena in Vineland, NJ, and KO'd Eddie "Cowboy" Wallace in one round.  In his first 42 fights, Walcott went 31-9-2 before being matched with leading heavyweight contender Joe Baksi on August 2, 1945 at the Convention Hall in Camden, NJ. In front of a packed house of 3,500 fans, Walcott, 188, outpointed the bigger and more experienced Baksi, 212 ½, to capture a 10-round decision by referee Paul Cavalier's round scores of 6-3-1.  Walcott built up an early lead and was able to spend the final three rounds in a strategic retreat, which accounted for Baksi garnering a few stanzas. Unfortunately, the moving away, retreating style Walcott utilized to maintain a lead would eventually come back to haunt Jersey Joe in the future.
In addition to climbing the difficult ladder up the rankings, Walcott began earning money in 1936 as a sparring partner for Joe Louis, and kept up the gig into the mid 1940s.
After the Baksi victory, Walcott won nine straight bouts before he was outpointed over ten rounds by future light heavyweight champion and fistic great Joey Maxim on August 28, 1946 at the Public Service Ballpark, in Camden, NJ.  Joe then dropped a disputed 10-round split decision to contender Elmer Ray in his next fight. Walcott eventually avenged both losses by winning a 10-round majority decision over Maxim on January 6, 1947, and capturing a 10-round majority decision over Ray on March 4, 1947.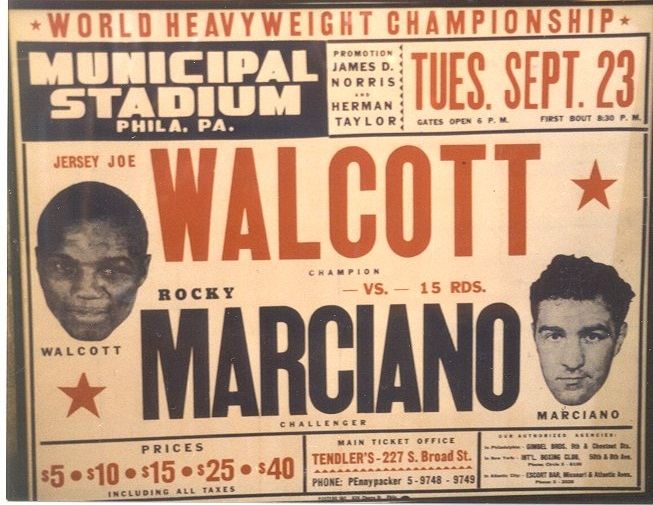 On June 23, 1947 in a fight card promoted by the legendary entertainer Frank Sinatra, Walcott defeated Maxim in their rubber match on June 23, 1947 at Gilmore Field in Los Angeles, CA.  On the same card, heavyweight champion Joe Louis boxed a 4-round exhibition.  A crowd of 9,747 turned out, producing a gross gate of $52,574.  Besides Sinatra, included in the audience were movie stars Cary Grant, Tyrone Power, Lou Costello, George Raft, Mickey Rooney and Lana Turner.  Walcott earned $35,000 in winning by scores of 55-53, 55.5-52.5 and 53-55.  Maxim earned $10,201.75.
The win over Maxim earned Walcott the biggest fight in his career as he next signed to face the feared Joe "The Brown Bomber" Louis in the heavyweight king's 24th title defense on December 5, 1947 at New York's Madison Square Garden.
Joe Louis entered the bout a 10-1 betting favorite before a sold-out arena of 18,194 fans, that produced a live gate of $216,477.  To the surprise of everyone in attendance, Walcott survived an early barrage by the champion in the opening round and then suddenly dropped Louis with a right hand! To his credit, Louis rose quickly and lasted the session.  Walcott proved to be aggressive in the early going as he traded with the power punching champ and repeatedly scored with walloping counter punches, such as in Round 4, when he floored Louis for the second time with a sharp right hand. This time the heavyweight king was visibly hurt and took referee Ruby Goldstein's count of "four" before rising.
For the remainder of the fight Louis desperately tried to knock Walcott out, but was constantly outboxed and outpunched.  Over the final three rounds, figuring he had built an insurmountable lead, Walcott tried to play it safe by dancing away from the champ's mighty swings.  It, sadly,  proved to be the challenger's undoing.
Although Walcott coasted the final few frames, most thought he would soon be announced the new champion.  When the round scores were announced, the fight was ruled a split-decision: Frank Forbes had Louis winning 8-6-1, referee Ruby Goldstein had Walcott the victor at 7-6-2, but the deciding judge Mary Monroe had Louis winning by scores of 9-6, thereby awarding the fight to Louis.  As the crowd on hand erupted into boos, Walcott left the arena in tears.  Apparently Louis' aggression and late round flurry won him the fight, although in a poll of 82 writers, 57 had Walcott winning, 23 had Louis winning, while 2 scored the bout a draw. One such writer who had Jersey Joe winning was former heavyweight champion Jack Sharkey, who covered the bout for the International News Service.
Because of the controversy following the disputed scoring, there was a swelling uproar for a rematch.  Louis, who never feared anyone, was open for the return meeting, which was scheduled for June 25, 1948 at Yankee Stadium.  A crowd of 42,667 turned out and produced a live gate of $841,739.
The rematch proved to be similar to their first bout as Walcott took the early lead and again sent Louis to the canvas with a fast right hand, this time in the third round.  Going into the 11th round, Walcott was ahead on two scorecards by tallies of 5-4-1 and 6-3-1 by two ringside judges, while referee Frank Fullam had Louis ahead at 5-2-3.  Walcott came out for Round 11 moving from left and right and scoring effectively with his spearing left jab.  Suddenly, Louis jolted the challenger with a right hand that sent him backing into the ropes.  Sensing the kill, Louis opened up with both fists that hammered Jersey Joe's head and body.  Although Walcott fought himself off the ropes, he left himself open for the champion's fatal barrage that soon had Jersey Joe crumbling to the canvas.  Although he tried desperately tried to beat Fullam's count, Walcott staggered upwards too late and he was counted out.
The come from behind knockout was the 25th and final title defense of the immortal Joe Louis' career as he earned $250,000 and immediately retired.  Walcott earned his largest purse up to the time as he pocketed $125,000.  Although he lost, Jersey Joe still yearned to be a Heavyweight Champion of the World.
Following Louis' retirement, the two leading heavyweight contenders were Jersey Joe and Ezzard Charles.  The two were matched for the vacant NBA and linear heavyweight title on June 22, 1949 at Chicago's Comiskey Park before a crowd of 25,932, which produced a live gate of $246,546.  Unfortunately for Walcott, the crafty Charles outpointed him over 15 rounds and won by scores of 78-72 (twice) and 77-73.
With the disappointing loss, Walcott jumped on the comeback trail through 1949 to 1950 and TKO'd contender Ollie Tandberg in 5 rounds, KO'd future light heavyweight champion Harold Johnson in 3 rounds, stopped Omelio Agramonte in 7 rounds, KO'd Johnny Shkor in 1 round, outboxed contender Hein ten Hoff in 10 rounds, and was outpointed by the young and impressive contender Rex Layne over 10 rounds before earning a rematch with the current heavyweight king Ezzard Charles.
The Charles-Walcott rematch took place on March 7, 1951 at the Olympia Stadium in Detroit, MI.  The now undisputed heavyweight king Charles entered the bout a 5-1 favorite and the small crowd of 13,853, producing a gate of only $75,502, thought the fight would be one-sided.  In Round 9, Charles dropped Walcott for a 9-count and won by scores of 80-70, 84-66 and 83-67, although the fans on hand booed the decision.
On account of the disputed decision, Ezzard Charles decided to give Walcott another crack at the title four months later on July 18, 1951 at Forbes Field in Pittsburgh, PA. Charles was making the 9th defense of his laurels, while Walcott climbed into the ring a 9-1 underdog.  It was the first World Heavyweight Championship contest to be held in Pittsburgh.  A crowed of 28,272 was on hand, producing a gate of $245,000, to see one of the most memorable upsets in boxing history as Walcott KO'd Charles at 0:55 in Round 7 to become the oldest man at age 37 to capture the heavyweight title (George Foreman would break that record in 1994 at age 45 years-old when he KO'd Michael Moorer in the 10th round to win the heavyweight championship). Walcott landed a whipping left hook that nearly spun Charles' head around.  The champion crashed upon the canvas face-first, where he was counted out by referee Buck McTiernan.  At the time of the stoppage, Walcott was ahead in rounds  by scores of 5-1 by the referee and 4-1-1 by judge Charley Daggert, while judge Red Robinson had the fight even at 3-3.
The third Walcott-Charles fight was voted Fight of the Year for 1951. 
Ezzard Charles pocketed $101,160, while Walcott earned $50,580 and the heavyweight championship.
With the win, Walcott's victory was known like a beacon across the globe.  His incredible accomplishment after years of struggle and disappointment made Jersey Joe the biggest comeback story since James L. Braddock shocked the boxing world in 1935 with his unlikely win over Max Baer to capture the heavyweight crown.
Since Charles was willing to give Walcott numerous chances to win the title, Jersey Joe granted Charles a chance to win back his lost crown on June 5, 1952 at Philadelphia's Municipal Stadium before a crowd of 21,599, producing a gate of $210,313, with an additional $175,00 from television rights.  Although Walcott, 196 ½, entered the ring an 11-5 underdog, he went on to defeat Charles by a 15-round unanimous decision by round scores of 8-7, 9-6 and 7-6-2. 
"This proves I'm really the champion," said Walcott after his first title defense.  "This proves it wasn't any lucky punch in Pittsburgh. I had Charles all the way. This win meant more to me."
Walcott was anxious to defend his title again and signed on to face the feared, undefeated number-one contender and ring terror Rocky Marciano three months later on September 23, 1952 at the same Municipal Stadium.  Marciano had knocked out nearly everyone he had faced in the ring, plus exhibited a tireless and relentless stamina and a knockout blow in either fist.  Walcott figured that he was more experienced and could outbox Marciano similar to the way he did against Joe Louis in 1947. Jersey Joe was even cocky when talking about his upcoming opponent Marciano.  "Write this down," he growled to reporters. "He [Marciano] can't fight.  If I don't lick him, take my name out of the record books."
For a fighter who never bragged, Walcott's comments were quite odd and out of character for him.  Rocky Marciano had bludgeoned every top heavyweight out there going into the Walcott fight, including devastating knockout wins over Joe Louis and Rex Layne, two boxers who had beaten Jersey Joe in the past.
On September 23, 1952, 40,379 fans turned out at Philadelphia's Municipal Stadium, producing gate receipts of $504,545 for Walcott's defense against Rocky Marciano.  The fight was also shown on closed circuit TV in 50 theaters in 31 cities throughout the United States.  The closed circuit television receipts totaled $125,000.  Joe's second title defense earned him $188,070, while the challenger Marciano took home $94,035.  The previous year, Joe DiMaggio was the highest earning baseball player with a $100,000 salary from the New York Yankee.  Walcott nearly doubled that figure in just one fight!
To everyone's astonishment, Walcott came out slugging against his dangerous opponent and lashed out with a left hook that landed squarely on Marciano's jaw that sent "The Brockton Blockbuster" to the canvas! The challenger got up quickly and appeared unhurt, even though this was nearly the same punch that had Ezzard Charles down for the ten-count.  The two then exchanged heavy leather fists for the remainder of the opening round.
After the aggressive first round, Walcott began to box and punch, instead of just firing away with bombs.  Unbeknownst to the champion Walcott, Marciano possessed the superhuman, relentless style of forcing his opponents to fight at a whirlwind pace that they were normally not accustomed to.  Luckily for Jersey Joe, he was also in great shape, so much so that he was able to put on one of the most exciting displays of fighting ever seen in the roped square. 
By the middle rounds it appeared that Rocky was about to turn the tide due to his tremendous body blows, but then the challenger began to rub at his eyes and swing wildly.  What had happened was that Walcott's gloves or shoulder had a liniment on them that blinded Marciano.  The champion took advantage of his foe's unfortunate predicament and piled up the points with swift, jolting combinations.  Since Rocky was able to take the shots, he just kept coming forward.  The challenger still kept on advancing, although he was being outpunched and losing the fight.
By Round 12, the challenger's vision had manged to clear up and he was as dangerous as ever as he pounded away at the champion with both powerful fists slamming into Walcott's skull and ribs.
Nonetheless, going into Round 13, Walcott had built up a commanding lead and was ahead in round scores of 8-4, 7-5 and 7-4-1.  Because of this, even if he lost every succeeding round, all the Walcott had to do was just stay on his feet and he would still keep his heavyweight title by way of a draw.  Unfortunately for Jersey Joe, Marciano was not the type of fighter who wanted his opponents to hear the clang of the final bell. 
When the 13th round started, the challenger, fighting out of his effective crouch, advanced towards Walcott and hammered away with blistering blows that backed the champion up against the ropes.  Just when Walcott was about to throw his right hand, Rocky fired his right fist first that exploded on Jersey Joe's jaw with such force that it nearly caved his face in! As if shot by a cannon, the champion began to slowly collapse, whereby Rocky hit him with one more final blow – a thudding left hook before he went down for good.  With his left arm hanging on the ring ropes like a broken coat hanger, Walcott looked like a battered rag doll. He then crumbled twisted to the canvas where he was counted out by referee Charlie Daggert at 0:43 of Round 13.
It was such a great battle that it was voted the Fight of the Year for 1952 and the 13th Round was awarded Round of the Year.
(
Jersey Joe was now the ex-champion, however, he had a return bout clause that not only got him an immediate shot to reclaim his lost laurels, but he would also earn more than the new champion, something that Marciano was not too happy about.
On May 15, 1953, 16,034 fans turned out at Chicago Stadium to see if Walcott could win back his title.  The live gate was $253,462.37 and the home television and radio revenue amounted to an additional $300,000.  The promoters were the International Boxing Club, who were a pitiful outfit that made the fight available free to fans in their homes via TV and radio.  Because fans did not have to leave their homes to view the contest, the live gate was financially crippled, which accounted for the poor turnout of 16,034.  Why would fans hop in their cars or take the train to Chicago, when they could see the fight on TV, or listen to the fight on the radio, both for free?
Walcott received his career high purse of $250,000, while the champion's share was $166,038.60.
Before the fight, Marciano was the 16-5 betting favorite and an Associated Press poll saw 34 of 36 sportswriters picking Rocky to win.
After their epic first fight and devastating conclusion, it was apparent to all watching that Walcott came out in the rematch boxing cautiously, and even appeared gun shy.  Marciano, on the other hand, was bobbing and weaving and aggressively throwing battering ram shots.  The first round was all Marciano as Walcott jabbed and danced away.  Suddenly, after the challenger threw a jab, Marciano quickly countered with a left hook and a right uppercut that lifted Jersey Joe off the canvas and deposited him on the seat of his pants where he was counted out at 2:25 of the opening round.
After referee Frank Sikora tolled the fatal ten-count, Walcott did get up, but it was too late.  Jersey Joe, like every other former champion before him, failed to regain his championship.
The Marciano-Walcott rematch was also the first championship fight to be filmed on the new 3D technique and would soon afterwards be shown in movie theaters in 3D, with viewers watching the bout with cardboard red and blue tinted 3D glasses on.  Unfortunately for the theater audiences, they were treated to more training footage than actual fight action, thanks to the dynamite charge in Rocky Marciano's right fist.
After the Marciano rematch, Walcott retired from boxing with a record of 51-18-2 (32 KO's) and then began a career as an actor, referee, and even briefly tried professional wrestling in 1963.  Walcott also was employed for the Camden County Corrections Department.  Jersey Joe appeared in the 1956 Humphrey Bogart film, "The Harder They Fall" and later refereed the 1965 Muhammad Ali-Sonny Liston rematch.
In 1968, Walcott lost an election for Camden County Sheriff, but was subsequently named the Director of Community Relations for Camden the same year.
Walcott ran again for the Sheriff position in 1971 and defeated William Strang in the general election.  With the win, Walcott became the first African-American elected to be Sheriff in Camden County.
Joe was not done with his post-boxing accomplishments as he later served as chairman of the New Jersey Athletic Commission from 1975 to 1984.
Walcott was eventually inducted into the New Jersey Boxing Hall of Fame, the World Boxing Hall of Fame and the International Boxing Hall of Fame.
Jersey Joe was a regular fixture at fight cards and was always friendly and accommodating with fans who would come up and ask for an autograph and pose for pictures with.
Sadly as all heroes eventually do, on February 25, 1994, the fatal ten-count was tolled for the great champion at the age of 80.
True to his legend, Walcott has never been forgotten, and like the Phoenix, he will continue to rise again and again when the statue bearing his name and likeness will be unveiled in 2020. Then like the pantheon of heroic immortals before him, Jersey Joe Walcott will live forever in the hearts and minds of the people around the world.
Former heavyweight king Tyson Fury Inks lucrative Co-Promotional Deal With Top Rank/ESPN
Heavyweight Star Tyson Fury and Frank Warren's Queensberry Promotions Ink Co-Promotional Deal with Top Rank, ESPN In Multi-Year Agreement, Lineal Heavyweight Champion will be Key Part of Multiplatform Top Rank on ESPN Lineup in US Details of Debut Fight and Coverage to be Announced Soon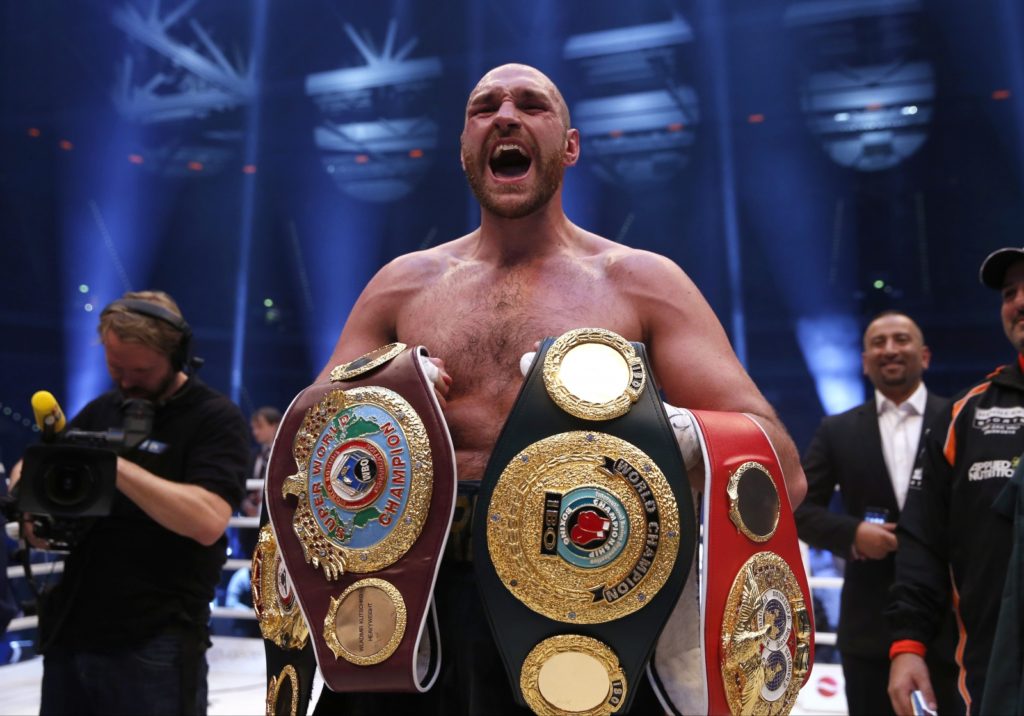 Tyson Fury, one of the world's most dynamic and popular heavyweight boxers, and Hall of Fame promoter Frank Warren are joining forces with Hall of Fame promoter Bob Arum's Top Rank. The agreement will mean that Fury will be a headline part of the boxing lineup under the historic, long-term Top Rank on ESPN relationship.
Fury, the undefeated lineal heavyweight champion, will have his bouts co-promoted by Top Rank and Queensberry Promotions. The deal calls for a minimum of two bouts per year in the United States.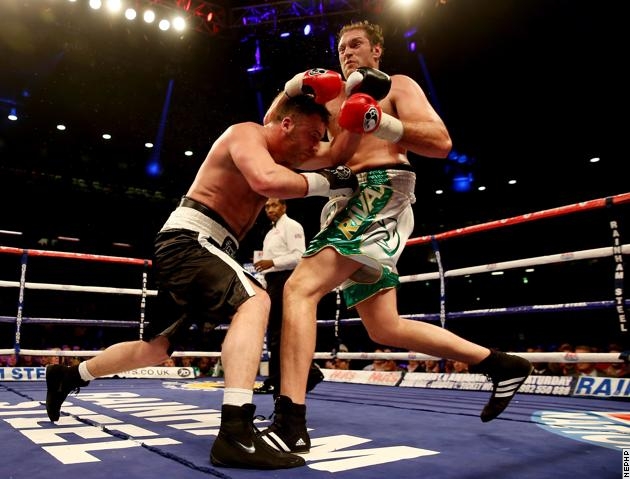 Since announcing the landmark Top Rank on ESPN agreement in 2017, and expanding it in August 2018, the comprehensive alliance has showcased blockbuster Top Rank fights and content across ESPN networks and ESPN+, the multi-sport, direct-to-consumer streaming service in the U.S.
All the parties will work closely to set and announce the details of Fury's debut soon.
BT Sport will continue to be the television home in the United Kingdom for all of Fury's fights.
Top Rank, Fury's management team MTK Global and Queensberry Promotions, worked seamlessly to close the groundbreaking deal.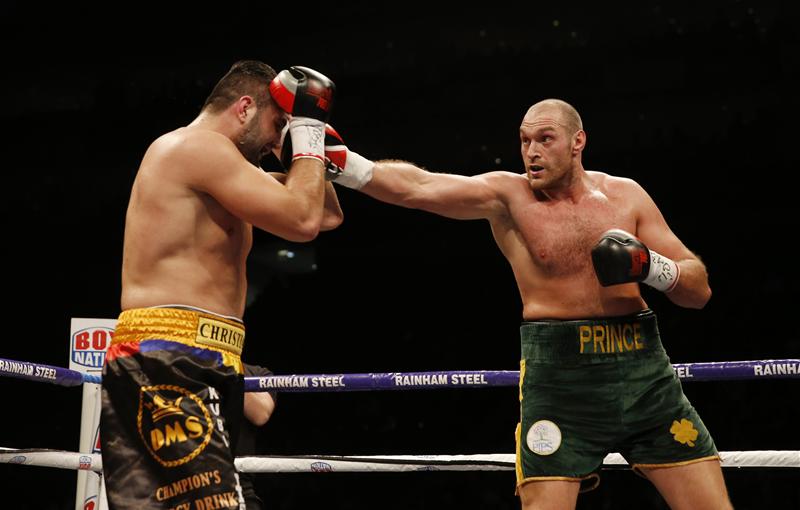 "Top Rank is very excited to enter into the promotional arrangement along with Queensberry Promotions for the lineal heavyweight champion, Tyson Fury," Arum said. "He is a generational heavyweight talent at the peak of his powers. We also look forward to our growing relationship with MTK Global, which represents so many world-class fighters."
'I'm delighted that Frank and Queensberry Promotions have teamed up with Top Rank to promote my fights in America," Fury said. "With ESPN and BT Sport behind me, the biggest sports platforms in the world are now linked up with the best heavyweight in the world!"
"This is a great move for Tyson Fury and a great move for Queensberry Promotions," Warren said. "By partnering up with ESPN and Top Rank in America, we're giving our boxers, including Tyson, the opportunity to perform on the biggest and most powerful platforms on both sides of the Atlantic and become truly global stars."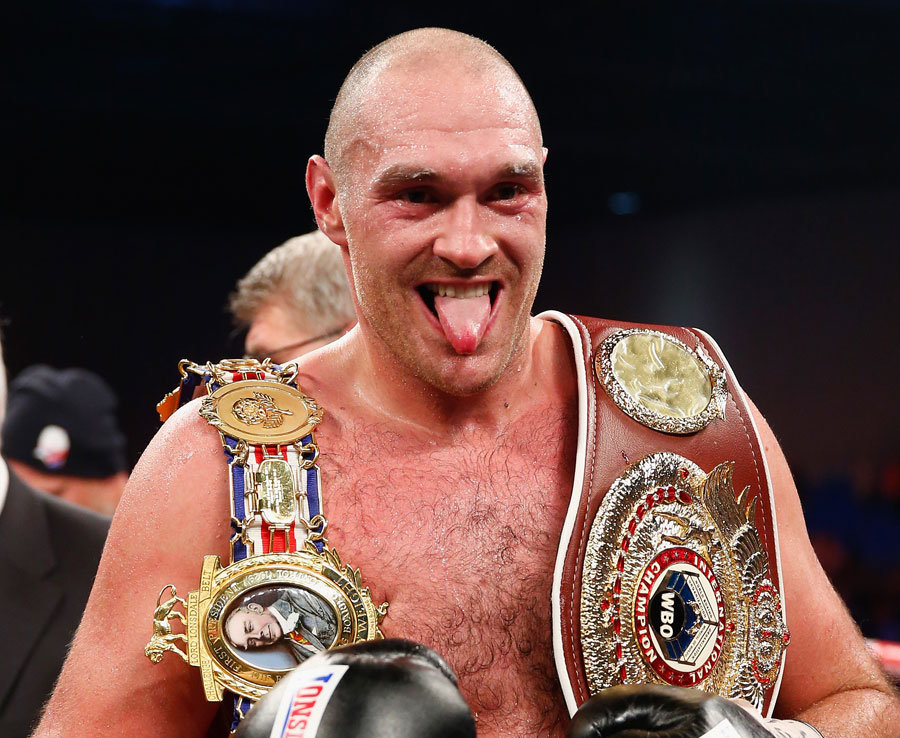 "MTK Global are thrilled to have played a role in what can only be described as a monumental partnership, no doubt the biggest one in the boxing industry, and we're looking forward to working more closely with the teams at Top Rank and ESPN well into the future," said Sandra Vauaghan, CEO MTK Global.
Fury (27-0-1, 19 KOs) won the lineal heavyweight title in November 2015 with a unanimous decision over Wladimir Klitschko, who at the time had made 18 title defenses during a nearly decade-long reign. While never losing inside the ring, Fury relinquished the WBA, IBF, and WBO belts while dealing with well-documented mental health and substance abuse issues. After more than two-and-a-half years away from the ring, Fury, whose weight had ballooned to more than 400 pounds, returned in June of last year.
A pair of wins over Sefer Seferi and Francesco Pianeta set the stage for one of the most dramatic heavyweight title matches in boxing history. Against WBC World Heavyweight Champion Deontay Wilder on Dec. 1 at Staples Center in Los Angeles, Fury put forth a boxing masterclass and survived a hellacious 12th-round knockdown to, seemingly, do enough to defeat Wilder. The judges, however, ruled the bout a split draw. Fury, still just 30, retained his status as lineal champion and realized an against-all-odds comeback story.
To subscribe to ESPN+, visit www.espnplus.com
About Top Rank Innovation has been the standard at Top Rank since it was established in 1966 by Hall of Fame promoter Bob Arum. The boxing industry's leading promotional company, Top Rank has shaped, developed, and promoted the careers of top international pay-per-view superstars and Hall of Famers, including Muhammad Ali, Marvelous Marvin Hagler, Tommy Hearns, George Foreman, Sugar Ray Leonard, Aaron Pryor, Alexis Arguello, Oscar De La Hoya, Manny Pacquiao, Floyd Mayweather Jr., Miguel Cotto, Erik Morales, Terence Crawford, and Vasiliy Lomachenko.
Top Rank has promoted some of the most memorable fights in the sport's history, including 26 Ali events, Leonard vs. Hearns, Pryor vs. Arguello, Duran vs. Leonard, Hagler vs. Hearns, Leonard vs. Hagler, Foreman vs. Holyfield, Morales vs. Barrera, De La Hoya vs. Trinidad, and the most lucrative fight in boxing history, Mayweather vs. Pacquiao. In addition to the previously mentioned super fights, Top Rank possesses one of the largest sports libraries, which includes nearly 10,000 fights.
Known for creating strategic collaborations between athletes, sponsors, and television networks, Top Rank has been an architect of boxing's global growth by staging high-profile events in landmark settings around the world, including Madison Square Garden, MGM Grand Garden Arena, Staples Center, Wembley Arena, Araneta Coliseum, The Venetian Macao, Yankee Stadium, Radio City Music Hall, The "Fabulous" Forum, and AT&T Stadium. Rank has also been the leader within the boxing industry in creating unforgettable in-arena experiences for fans and embracing 21st  century technological advancements to distribute world-class fights and shoulder programming across a variety of platforms.
About Queensberry Promotions Queensberry Promotions is the promotional vehicle of Hall of Fame Promoter Frank Warren.
Frank Warren has promoted some of the sport of boxing's biggest names in his 35+ year career including the likes of Prince Naseem Hamed, Joe Calzaghe, Mike Tyson, Frank Bruno and Ricky Hatton; as well as current stars Tyson Fury, Billy Joe Saunders, Josh Warrington and Carl Frampton.
Some of the events promoted by Frank Warren during his illustrious career include: Frank Bruno v Oliver McCall at Wembley Stadium, David Haye v Dereck Chisora at Upton Park, Ricky Hatton v Kostya Tszyu at Manchester Arena, Prince Naseem Hamed v Kevin Kelley at Madison Square Garden and Joe Calzaghe v Mikkel Kessler at Cardiff's Millennium Stadium.
Queensberry Promotions has a long-term exclusive deal in the UK to promote boxing events on BT Sport, the sport broadcast platform of telecoms giant BT.
About MTK Global MTK Global is the world's foremost fighter management company. Headquartered in Dubai, United Arab Emirates, it was founded in September 2012 by two-time European boxing champion, Matthew Macklin.
MTK Global delivers a wide range of support and services including career development, legal, media, endorsements and sponsorships to more than a hundred professional fighters. It provides boxing shows, events and training gyms in various locations worldwide: Marbella, Spain, London, Manchester, Birmingham, Liverpool, Newcastle, United Kingdom, Johannesburg, South Africa, Sta. Catarina, Brasil and Sydney, Australia.
For general enquiries, email us at: hello@mtkglobal.com
About ESPN+ – ESPN+ is the multi-sport, direct-to-consumer video service from The Walt Disney Company's Direct-to-Consumer and International (DTCI) segment and ESPN. It reached 2 million subscribers in less than a year and offers fans thousands of live events, on-demand content and original programming not available on ESPN's linear TV or digital networks, along with premium editorial content.
Programming on ESPN+ includes hundreds of MLB and NHLgames, exclusive UFC and Top Rank boxing events, top domestic and international soccer (Serie A, MLS, FA Cup, UEFA Nations League, EFL Championship, EFL Carabao Cup, Eredivisie, and more), thousands of college sports events (including football, basketball and other sports), Grand Slam tennis, international and domestic rugby and cricket, new and exclusive series, acclaimed studio shows and the full library of ESPN's award-winning 30 for 30 films. Fans subscribe to ESPN+ for just $4.99 a month (or $49.99 per year) and cancel at any time.
ESPN+ is available as an integrated part of the ESPN App (on mobile and connected devices) and ESPN.com. They are the industry-leading all-in-one digital sports platform, delivering a rich, personalized experience to tens of millions of fans every month.
About ESPN – ESPN, the world's leading sports entertainment enterprise features more than 50 assets – eight U.S. television networks, ESPN Radio, ESPN.com, ESPN International, ESPN The Magazine and more.  ESPN is 80 percent owned by ABC, Inc. (an indirect subsidiary of The Walt Disney Company) and 20 percent by Hearst.
Floyd Mayweather visits with President-Elect Donald Trump
Two winners meet at Trump Tower!
By Joseph Rinaldi
On November 16, the currently "retired" former undefeated boxing champion Floyd "Money" Mayweather made a visit to Trump Towers to congratulate Donald J. Trump on his upset victory over Hilary Clinton for the President of the United States.
Regardless of who one was backing, the Trump-Clinton battle was more like a boxing superfight. "Sports people have told me that my election win over Hilary Clinton was more exciting than a championship fight," said Trump.
Mayweather, who is no stranger to championship battles, smiled for photos with Trump, who he dropped in to see after working on his upcoming January 20 promotion featuring WBC super middleweight king Badou Jack battling the IBF super middleweight champion James DeGale at the Barclays Center in Brooklyn, NY.  
Trump, who was inducted into the New Jersey Boxing Hall of Fame in 2015, is a huge boxing fan, who has not only hosted numerous title bouts, but has been ringside to many of the sport's biggest bouts, including Mayweather's win over Manny Pacquiao on May 12, 2015 at the MGM Grand in Las Vegas.
Just as Mayweather has done in all of his 49 pro bouts, where he has taken on many comers and beaten them all, Trump entered the Presidential race in 2015 against 17 top Republican contenders and defeated them all rather handily in the Primaries.
The oddsmakers, however, thought he would be soundly trounced in the Presidential Election against the former Secretary of State and New York Senator, Hilary Clinton. Trump, however, fought like no other candidate in political history and barnstormed the country before arenas packed to the rafters with thousands of supporters. Trump then went toe-to-toe in three debates that were seen by over 200 million viewers and appeared to win a split-decision in them judged by political pundits and after debate polls.
Going into the final days of the election, the underdog Trump showed his true grit and determination as he was out campaigning in the five key states with 4-5 stops a day at a breakneck pace.  The betting favorite Clinton, however, mostly sat on her questionable polls lead and campaigned lightly while sending others out to get her message out. Her efforts appeared much like light shadow boxing, compared to her opponent, Trump,  who seemed to be engaged in countless rounds of live sparring sessions.
The hard work by Trump was the game changer as he whipped Clinton in the Electoral College by a whopping 306 to 232.  Granted, Clinton won on the Popular Voting, but that was not enough to win her the election.
The determination and ability of Trump to not take an opponent lightly is what has made Floyd Mayweather the great champion he is.  Floyd has never entered a contest in less than 100% shape, which accounts to his perfect ring record.
Although there are talks that Floyd could possibly face Manny Pacquiao again in 2017, he is sticking to his retirement – so far.
"A lot of fighters in the sport of boxing may want to retire, but they have to fight because they have to," stated Mayweather (49-0, 26 KO's). "I don't have to fight. I just made $300 million fighting Pacquiao. I'm okay. Like I said before, I'm happy with my position. Once again, the money don't make me. I make the money. I'm well off. I made smart moves and I'm happy with where my career has gone."
While Mayweather may have taken a break from fighting, Trump has only just began to fight as he begins his battle to run the United States in January.
Trump and Mayweather – a pair of historic figures.
Below is a TWEET from Donald Trump Jr. on the meeting with Floyd Mayweather.
Had a great visit from @FloydMayweather today with @realdonaldtrump. One of the best all time boxing legends.
J

oseph "The Cornell Boxing Professor" Rinaldi at ringside in Germany when WBC heavyweight king Vitali Klitschko retained his title with a brutal TKO over Samuel Peter in 2008
By Joseph Rinaldi
OCTOBER 11, 2008 – BERLIN, GERMANY. The last time Vitali Klitschko was seen in a boxing ring, he stopped Danny Williams in eight rounds to retain his WBC heavyweight title for the first time on December 11, 2004. After suffering a plethora of injuries, finally succumbing to a torn ligament in his right knee, Klitschko retired in 2005.
Since the WBC considered Vitali a champion emeritus, Klitschko was given the opportunity to exit retirement and immediately enter right into a world title fight. Against the current WBC title holder, Samuel Peter, he looked as good as ever as he punched the stocky, slow moving champion into submission in eight, one-sided frames.
Before 12,000 faithful fans at the O2 World Arena in Berlin, Klitschko, 247, repeatedly hammered away with his jab, long right hand and left hooks at the plodding champion throughout the contest. The only drama was that the challenger kept his hands dangerously low at all times and threw punches from his hip, which left him open for Peter's powerful blasts.
Fortunately for Klitschko, of Belovodsk, Kyrgyzstan, Peter hardly showed up for his first and last title defense as he barely put up a battle and behaved more like a 253 1/2 lb. heavy bag.
Right from the start, Klitschko was the aggressor as he steadily stabbed his pile driving left jab into the pudgy face of Peter, of Akwaibom, Nigeria. Vitali then began to swing blows with both fists as he bashed them into the champion's head with a thudding effect. Peter mainly stood there and took the challenger's blows rather than score any counters.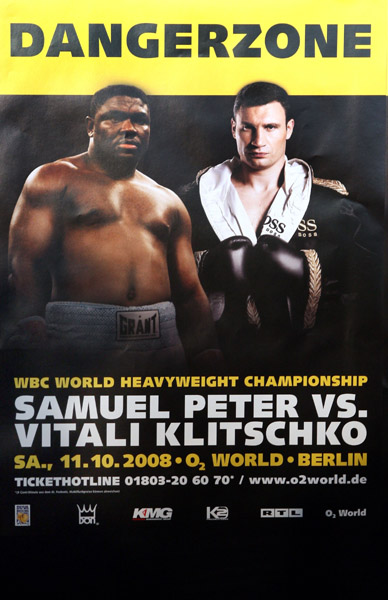 Peter was following a befuddling strategy, which saw him shuffle forward, take punches and then cover up. Rarely did he drill any blows into the challenger's body, or even attempt to land any overhand rights that his 6-ft. 7-in. opponent's wide open jaw was screaming for.
It was expected that the 6 ft. 1/2-in. champion would fight in a bobbing and weaving style to make himself a more elusive target. Klitschko must have thought the Gods were on his side as he was presented with an adversary who fought as if a cement truck had dumped its contents all over him and was drying up rapidly in each successive round.
It was not until the fifth round that Peter began to come alive a little bit and batter the challenger with hooks to the body. For the handful of blows Samuel unloaded, however, he received a bushel of leather gloves to his face in return. Unlike his cautious brother Wladimir, Vitali never stopped punching and trying for a knockout. The crowd in the arena roared with ever punch that crashed into the skull of "The Nigerian Nightmare" in each and every one-sided round.
After the eighth round, Peter knew by the announced scores in the arena that he had yet to capture a frame on two of the three judges' scorecards as tallies of 80-72 (twice) and 79-73, all in favor of Klischko, were heard. Without giving much thought, the battered champion surrendered while still standing.
It was certainly an inglorious way to lose his laurels. Although he was far behind, Peter did have a powerful punch to turn things around. This was, after all, the same fighter who smashed Wladimir to the canvas three times. But on this night, Peter had no guts or confidence as he plodded to a TKO defeat.
With the loss, Peter fell to 30-2 (23 KO's) and now has to get back on the comeback trail.
It was an impressive win for Klitschko (36-2, 35 KO's), who now joins his brother Wladimir, who wears the IBF and WBO belts, and Nicolay Valuev, who is the WBA title holder, as the trio of heavyweight kings.
"If Peter didn't stop the fight, I have the feeling in the next two rounds, I would have knocked him out," said Vitali. "He got more an more punches, and his chin was not so strong as in the first rounds."
With nearly a four-year absence from the ring, Klitschko was taking a chance of fighting a slugger like Peter without any tune-up.
"I knew if I lost the fight, I wouldn't get a second chance. It was a one-way ticket, and I used my chance," explained Vitali.
STEPPING STONES TO GLORY 
The three big fights in 1963 that led Cassius Clay on his quest for the World's Heavyweight Title
Story by Eric Bottjer and Joseph Rinaldi
The year 1963 would see Cassius Clay, the future Muhammad Ali, climb up his final three steps up the ladder on his way to a title shot against the feared and powerful heavyweight champion Charles "Sonny" Liston.
Clay's first opponent in the year was former NFL player and heavyweight contender Charlie Powell on January 24, 1963.
An ex-NFL player, Powell was a 6-foot-4 physical specimen who had legitimate skill as a fighter. He grew up in San Diego, the second oldest of six boys and three girls. His father was a cement finisher and his mom a housewife. He first put on gloves at age 11, when he and other neighborhood kids would spar in front of servicemen on weekends at the Marine base and Naval training center. The military brass rewarded Powell and his friends with steaks and butter, which during the period of World War II, was rationed.
Powell was a high school sports star, earning varsity letters in football, basketball, track and baseball each year. He received 60 scholarship offers for football and baseball, but a half-season in semi-pro baseball eliminated his amateur status and prompted him to jump directly to the NFL's San Francisco 49ers in 1952. Powell was just 19, but weighed an imposing 235 pounds. He also still loved boxing and decided to have a pro fight that year. Powell trained with former world champion Gorilla Jones and had fellow 49er and future Hall-of-Famer Joe "The Jet" Perry in his corner.
"I fought a fellow named Harvey Taylor. He had a big head and I broke my hand on it. I got a 4-round draw and got out of boxing for awhile," said Powell.
After five years with the 49ers (and two more in 1960 and 1961 with the AFL's San Diego Chargers), Powell concentrated full-time on boxing. His brightest moment was stopping Nino Valdes on national TV on March 4, 1959 when the enormous Cuban was the No. 1-rated contender.
Powell's fight with Clay (Ali):
Site: Pittsburgh, Pennsylvania (The Pittsburgh Civic Arena).
Attendance: 11,238 (Pennsylvania indoor record).
Gate: $55,782 (Ten percent was donated to families of 27 men killed in a local mine accident the previous month).
Promoter: Archie Litman.
Participants: Charlie Powell, 30, San Diego, California (23-6-3, 17 KO's) and Cassius Clay (16-0, 13 KO's).
Weights: Clay 205; Powell 214.
Purses: Clay $18,500; Powell $12,500.
Result: Clay KO 3 (2:04).
Pre-fight: Clay hit Pittsburgh harder than the snowstorm that blanketed the city during fight week. Arriving a day earlier than scheduled (he drove non-stop from Louisville with brother Rudy and Howard Bingham), he ventured to "The Hill," Pittsburgh's black neighborhood. "He literally had about 10,000 people following him in the street one day," marveled the show's matchmaker, Don Elbaum.
Elbaum remembered Clay doing an interview with a Sports Illustrated writer later in the week. The writer got off one question before Clay went on a rambling 50-minute monologue. The writer scrambled to keep up and filled a notebook before Clay finally paused. The writer sighed audibly, got up to use the bathroom, but Clay immediately gained a second wind. Grabbing the writer's arm and announcing, "And another thing." Clay had the poor writer scribbling madly on the back of pages already filled.
A week before the fight, Cassius celebrated his 21st birthday and 100 people attended a party for him. He stayed at the ritzy Carlton House (all suites) and each day 600 people crammed a second-floor ballroom to watch Clay train.
Clay asked the boxing commission permission to use a microphone between rounds to "inform the crowd of the complete destruction of a man." The request was denied. He took the denial in stride. "I guess I have to let Angelo talk sometimes," he said. "Between rounds is the only chance he gets."
The brash, young fighter answered each phone call to his room, "Next heavyweight champion speaking." Women constantly tried to find their way to Clay's room. None succeeded, but Cassius was losing his shyness with females and enjoyed the attention. One person he did avoid was Powell. When Clay encountered the ex-football player while exiting an elevator, he quickly walked away. Charlie took this as a sign of fear.
Indeed, at the weigh-in, Powell and his brother Art, who also played in the NFL, intimidated Clay with their physical menace and talk. Powell called Clay "Junior" and suggested they swap punches then and there. Flustered, Clay opened a door to hastily depart the weigh-in and walked into a closet. "I know one thing," Powell said after Clay left. "He's not going to knock me out."
The afternoon of the show, the hotel lobby was crowded with hundreds of fans as Clay ate toast and drank tea in the hotel restaurant before venturing to the lobby. He stood on a couch and shouted predictions, bragging of a "touchdown punch" to knock out Powell, saying it was seven left hooks off a jab.
Powell was unaware of the commotion. He stayed in his room all day, listening to records and reading the Bible. Trainer Eddie Futch occasionally checked in on him. Futch told Powell's manager, Stephen "Suey" Welch that the football player had a chance. "He was diligent for once," said Futch, who watched Powell brave the freezing Pittsburgh weather to jog five miles every morning.
Clay entered the ring that night the #5-ranked heavyweight contender to Sonny Liston's crown. Life magazine sent a reporter and photographer to cover the fight.
The fight: Clay was sharp and could not miss against a surprised Powell. Even when Charlie managed a brutal two-punch combo to the body and head in the second, Clay's return fire cut short the ex-footballer and convinced him of his inferiority. "After I hit him with those two punches on the ropes, he slid away before I could follow-up with anything," Powell recalled. "Before the round was over he came back at me like nothing happened. I knew he was trouble then. He threw punches so easily you don't realize how much they shock you until it's too late."
Powell tried fooling Cassius with bravado, growling late in the second, "C'mon bigmouth, it's almost round three. I thought you could punch harder, you sissy." But when he sat down at round's end, Powell accepted smelling salts.
The third was so one-sided that when Powell finally dropped, referee Ernie Sesto immediately stopped the fight.
Post-fight: Clay admitted that Powell's second round right hand shook him. "That was my roughest fight," he said. "That big monkey was rough. He was hitting and moving fast." Charlie himself was more critical. "I fought the wrong kind of fight. I stood still and tried to floor him with one punch," he said.
Clay told reporters he wanted to fight Billy Daniels and Doug Jones on the same night. He hurried out of the locker room after getting dressed. "I have some pretty girls waiting for me," he explained.
Pittsburgh boxing legend Billy Conn watched from ringside and raved about Clay. "As sure as you're a foot tall, this guy will be the next heavyweight champion," said Conn, who was normally harsh when evaluating fighters. "In 16 months, he'll handle Liston. If you thought I was fast on my feet, this guy's speed will blind you."
Liston himself did not share that opinion. Nine days before Clay-Powell, a reporter sat with Liston in his 21-room rented Chicago mansion and the champion dismissed Clay. "He can't hit hard enough to break an egg," said Liston. "If the fight went more than four rounds, I'd be a disgrace to boxing."
When Clay returned home to Louisville there was a $10 check waiting for him from Long Island's Newsday. The fighter had won the newspaper's contest for best headline pertaining to the fight. Clay's entry: "Beauty beats Beast."
The next bout for Cassius Clay was two months later on March 13, 1963 when he fought the tough light heavyweight contender Doug Jones in New York's Madison Square Garden. A sold-out crowd of 18,732 turned out, producing a live gate of $104,943 (the closed-circuit revenue added an additional $200,000) to see the 3-1 favorite Clay, 202 ½, struggle against the 188-pound Jones. Cassius had a difficult time dealing with the pressure tactics of the aggressive Jones. Throughout his career, Clay (Ali) would always have problems with pressure fighters like Joe Frazier, Ken Norton, Earnie Shavers, Ron Lyle and Leon Spinks.
After ten close rounds, it appeared that Jones had landed the harder shots and was busy enough to take the decision, however, the judges scored for Clay at 5-4-1 (twice) and a loony lopsided score of 8-1-1. The scoring was by the rounds system.
When the scores were announced, a resounding chorus of boos were heard throughout the arena. The crowd was so angry with the decision that they even through debris in the ring!
The Associated Press (AP) scored the bout 5-4-1 for Jones and the United Press International (UPI) had Clay winning at 6-3-1.
The UPI polled 25 writers at ringside and their results saw 13 writers having Jones winning, 10 scoring the bout for Clay, while 2 scribes had the fight a 10-round draw.
The Clay-Jones fight was chosen as 1963's Fight of the Year.
Jones earned $75,000, while Clay pocketed $90,000.
"I thought I won it no worse that 6-3-1," remarked the disappointed Jones after the fight. "I'm not knocking his big mouth. Clay made me a log of dough. He talks a lot outside, but doesn't show much in the ring. He better fight me again before he even thinks of Liston."
Clay had no doubt that he deserved the decision. "I would say I won the fight by about seven rounds to three. I thought I was going to finish Jones in the fourth, but he's tougher than I thought he was. I understand Liston is watching. When I get back to Miami, I'll take care of the bum. He'll fall in eight. I won't mess around next time."
Three months later, Clay would have another scare in the ring as he journeyed across the Atlantic Ocean to face the British Boxing Board of Control (BBC) and the Commonwealth British Empire heavyweight champion Henry Cooper at Wembley Stadium in London, England.
Against Cooper, Clay entered the ring before an audience of 35,000 a 4-1 favorite. At the pre-fight weigh-in, Cassius declared, "You got a Queen, you need a King. I am King."
For the first four rounds it appeared that the "King" was getting crowned by right hands and whistling left hooks by the smaller Cooper, who weighed 185 ½ pounds to Clay's 207 pounds.
The crowd on hand cheered enthusiastically as Cooper repeatedly pressured his loudmouth foe into the ropes and opened up with both fists. Although Clay's jabs soon had the Brit's nose bleeding, Henry kept up a busy punch rate.
Round two was a good round for the swift punching Clay, who soon added a cut right eye on the Englishman as his lightning fast jabs slammed into Henry's face. Cooper clearly outpunched Henry in the frame.
Clay got on his toes in the third as he glided around the ring and opened up with jolting flurries of leather. Soon a chopping right hand slashed open a nasty gash on Cooper's left eyebrow. With blood coming from both eyes and his nose, the end looked near.
Sensing that the bout was soon be stopped due to the uncontrollable flow of blood down his face, Cooper came out for the fourth like a condemned man on a mission to pull of a miracle as he tried to cut the ring off on his fleet-footed opponent. Suddenly, near the end of the frame, Henry fired a quick left hook, known as "Enry's 'Ammer", that sent the cocky Clay to the canvas on the seat of his pants with a dazed look on his face.
"I thought that was it," said Cooper afterwards of the punch that made him a British legend. "Clay was in a lot of trouble, his pupils had gone inside his head."
As Clay tried to rise, referee Tommy Little's count reached four as the bell then sounded.
With the stadium in pandemonium, Clay's corner was in sheer panic! Cassius' trainer Angelo Dundee quickly pulled out smelling salts and shoved them under his fighter's nose to get his senses back as he appeared in a state of shock and confusion.
Dundee reportedly saw that Clay's glove had a small split, so with his finger, he made the cut bigger. Since new a new glove was needed, Ali was given an additional 1-2 minutes more of a rest to clear his head as a replacement glove that the ringside officials had was placed on his fist.
The extra minutes was just what Clay needed as he raced after Cooper as soon as the bell rang for the fifth round and began raining vicious punches on the Brit's face. Although Henry bravely tried to fight back, he was overwhelmed and his face was a bloody horror show. At the 2:15 mark, referee Little had to end the gore-filled bout.
Even though Clay later said that he was too busy looking at the beautiful Elizabeth Taylor at ringside and did not see the left hook coming his way, he did give Henry credit by saying,
"Cooper is the best fighter I ever met. He's really a great fighter and you can't take anything away from him. He shook me every time he hit me."
The left hook that Cooper threw is a punch that would later come back to haunt Ali as he was severely beaten by that punch in three wars with one of the best left hookers of them all – Joe Frazier.
Although his three victories in 1963 made Cassius Clay the #1-ranked heavyweight contender in the world, his struggles with his past two opponents, who both tipped the scales below 190 pounds, failed not only to impress heavyweight king Sonny Liston, but also the oddsmakers, who made Liston a clear 7-1 favorite to defend his laurels.
On February 25, 1964 at the Convention Center in Miami Beach Clay would get the chance to shock the world.
Remembering  Muhammad Ali
A LOOK BACK AT THE NIGHT WHEN THE 7-1 UNDERDOG CASSIUS CLAY AMAZED THE WORLD BY BEATING THE FEARED HEAVYWEIGHT KING SONNY LISTON
Story by Joseph Rinaldi
When an undisputed heavyweight championship changes hands, it is an memorable occasion. When it is a legendary fighter that captures the crown, it becomes an historic moment.
Such was the night of February 25, 1964 at the Miami Beach Convention Center when the 7-1 underdog Muhammad Ali (then Cassius Clay) left the feared        heavyweight champion Sonny Liston anchored on his stool and unable to come out for the start of the 7th round of the 15-round title contest.
The seeds of the epoch-making bout were planted on the night of July 22, 1962 at the Conventional Center in Las Vegas, when heavyweight champion Sonny Liston KO'd Floyd Patterson in two minutes and ten seconds in the opening frame.  It was Liston's initial defense of the laurels he won 10 months earlier when first KO'd Floyd in the opening session.
With such an annihilation of Patterson, no one figured there was a heavyweight in sight to take on the feared and lurking Liston. But there was such an unbeliever at ringside. His name was Cassius Clay.
Whereas in the past most challengers humbly sought out their heavyweight title shots while relying on their fists and the press to stir up public interest, Clay vocally insulted Liston at every chance he got and nearly ordered a match with him.
Of course, Liston did not fear the trash-talking youngster. After all, while Liston sat perched on his throne, Clay had been knocked down in the 4th round against Henry Cooper on June 18, 1963 and needed trainer Angelo Dundee to rip open his glove to give him added minutes to clear his head before the start of the fifth round. Then in Round 5, Clay ripped apart the Englishman's face so bad that the fight was stopped.
In his previous outing, Clay struggled to beat Doug Jones in a 10-round unanimous decision on June 18, 1963 at Madison Square Garden.
Both Cooper and Jones were blown-up light heavyweights, while Sonny was a mighty heavyweight, tipping the scales  at over 200 pounds.
Liston was 35-1 (22 KO's) and had not lost a fight since 1954.
The former 1960 Olympic Gold medalist and top contender Clay was undefeated with 19 wins, scoring 15 knockouts.
Yet, in hindsight, there were plenty of signs that Ali could upset the odds.
Going into his first bout with Ali, Liston was 33 and going on 34 in five months. Ali, was a young 22 year-old.
Besides youth, Ali was 2 1/2 inches taller at 6'3". Liston did, however, have a longer reach at 85 inches, compared to the challenger's 78-inch reach.
Since Liston was taken the 10-round distance against the sharp Eddie Machen on September 7, 1960, Sonny had only fought 6 rounds of boxing (Howard King – TKO-3, Albert Westphal – KO-1, Floyd Patterson – KO-1 and KO-1). Ali, meanwhile had engaged in a whopping 101 rounds of boxing!
A crowd of 8,297 turned out at the Convention Center, producing a live gate of $402,000. Once the TV and radio         revenue was added, the fight grossed $2,686,000. Liston's share was $720,000, while Clay earned $360,000.
While many in attendance felt that the bout would not reach its 15-round conclusion, most were confounded at the matter of the ending of the bout.
Liston weighed in at 218, while Clay tipped the scales at 210.
Such in the case of Muhammad Ali, many of his exploits get embellished further through the years.
A year earlier, in the classic western film, The Man Who Shot Liberty Vallance, starring John Wayne and James Stewart, there is an exchange between two characters: 
Ransom Stoddard: You're not going to use the story, Mr. Scott?
Maxwell Scott: No, sir. This is the West, sir. When the legend becomes fact, print the legend.
The myth of a young Ali was that he was literally unhittable and fast enough to avoid any shots. Well, the Cooper and Jones fight dispelled that fallacy and a look at the Liston fight does also.
That is not to say that Clay was not outboxing the champion. He was in control, but not embarrassing Liston. Sonny was slow, although during the first two rounds he managed to land his hard jab and left-rights to the body. Surprisingly, Liston ducked under many of the volleys of the challenger.
In the third round, Clay began to throw more combinations, which soon caused a swelling under Sonny's left eye. Liston still comes on strong at the session's end and scores with body blows and chopping right hands.
The fourth round even saw a close jabbing duel, with an edge going to Liston.
Round five was the infamous frame where Clay was pushed off his stool by Angelo Dundee after threatening to quit when his eyes were blinded by a type of liniment that may have been on Liston's gloves. Sonny attacked the challenger with a fury and scored with right uppercuts, jabs and chopping rights.
Having recovered his eyesight, Clay was content to fire away with jabs and right crosses, while Liston simply stalked forward. It was a slow round with little action.
Going into the seventh round, the fight was a draw with one judge having Clay winning at 58-56, the other seeing Liston ahead at 58-56, while the third judge had it even at 57-57.
Complaining of a shoulder injury, Sonny did not come out for Round 7.
Upon hearing of Liston's surrender, Clay went ballistic and ran to Sonny's corner and  taunted the beaten fighter.
After the bout, a team of doctors at Miami's St. Francis Hospital checked out the former champion and actually found tendon damage in Sonny's shoulder that bled down into the biceps, which caused swelling and pain. Liston said he damaged the arm in the opening frame.
The February evening saw a changing of the guard when one fighter would be an unwilling participant's to his victor's accension to a sport's legend.
MIKE TYSON MYSTERIES PACKS A MIGHTY WALLOP FOR ADULT SWIM NETWORK!
By Joseph Rinaldi
Since the 2014 Fall Season, former heavyweight king "Iron" Mike Tyson  has starred in an animated adult comedy series, Mike Tyson Mysteries that airs at 10:30 p.m. ET/PT on Adult Swim.
Mike Tyson Mysteries is an original series from Warner Bros. Animation that stars Mike Tyson (50-6, 44 KO's) himself and the network has been thrilled that the series has been clobbering its Monday night competition.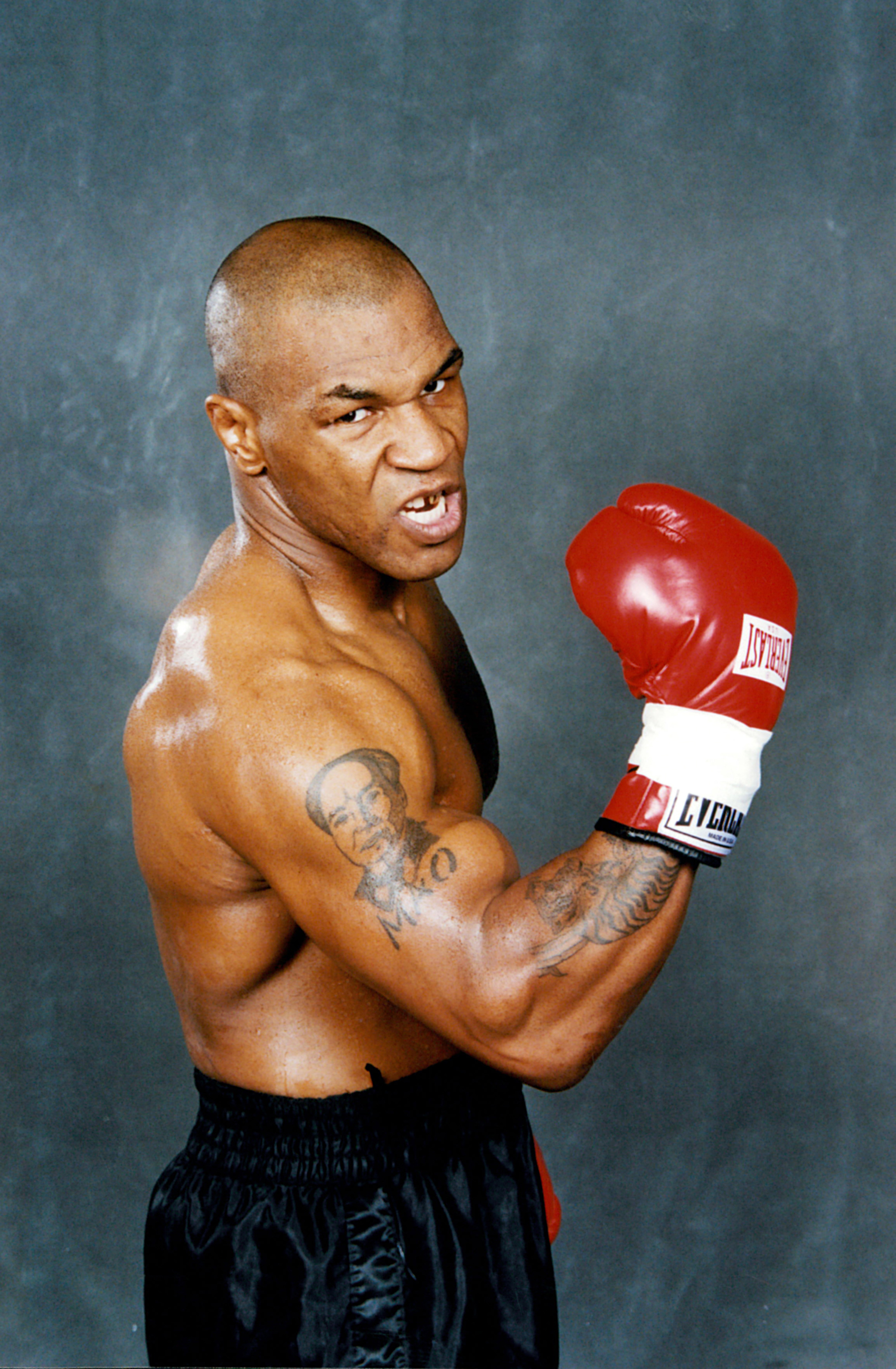 In its first season, Mike Tyson Mysteries aired ten, half-hour shows.
Adult Swim, basic cable's #1 network with young adults for a decade, began airing Season 2 of the successful animated hit Mike Tyson Mysteries in November of 2015. The show's ratings run from .89 to 1.69 million viewers.
In Mike Tyson Mysteries, the former champ is taking the fight from the boxing ring to the streets by solving mysteries featuring colorful and supernatural villains.  Aided by the Mike Tyson Mystery Team — the Ghost of the Marquess of Queensberry, Mike's fictional adopted Korean daughter Yung Hee, and a funny, beer swilling, wisecracking pigeon who was once a man — Mike Tyson will answer any plea sent to him.  If you have a problem that needs solving, "Iron" Mike is in your corner.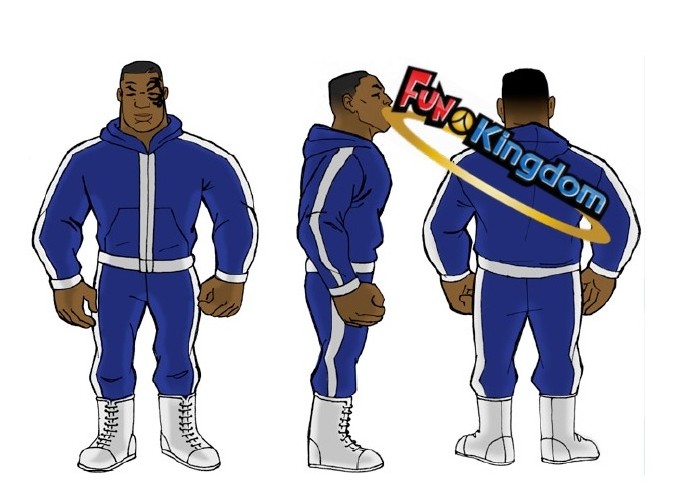 The gloves come off in this half-hour series as Tyson and his team gear up for weekly adventures as they put unsolved mysteries down for the count.
        Mike Tyson Mysteries stars Mike Tyson, Norm Macdonald (Saturday Night Live), Rachel Ramras (MAD) and Oscar® winner Jim Rash (The Way Way Back, Community), and is produced by Warner Bros. Animation. Sam Register (Teen Titans Go!, MAD, The Looney Tunes Show) serves as executive producer with Hugh Davidson (MAD, The Looney Tunes Show, Robot Chicken) as producer.  Mike Tyson Mysteries has the comedy and mystery of a Scooby Doo show, plus the punching of the once undisputed king of the heavyweights. The show also is familiar to Scooby Doo since Tyson's gang drives a Mystery Mobile, while Scooby and his crew rode in the Mystery Machine.
        Besides Mike Tyson, the difference between the two shows is that the ex-champ's show features slight cursing and adult subject matter that was surely never heard on Saturday Morning cartoons.
        For the sport of boxing, it is a great boost to have a former boxing champion as the hero of a cartoon show.  The program will also feature a live Tyson introducing each animated adventure.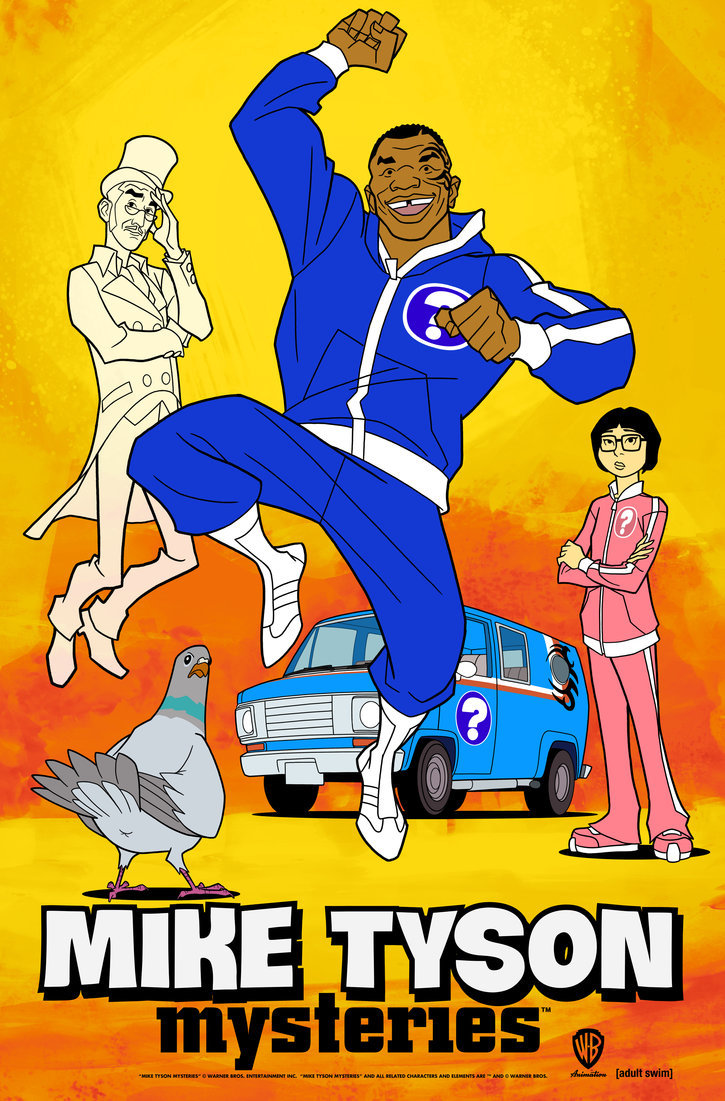 Although it is technically on an "adult" network, Swim is aggressively marketing the show for kids via action figures and play sets.
        "Just to think that I'm selling kid products right now, I'm truly grateful to God. This is almost a dream come true. Only a few years ago I couldn't sell dog poop at a pet store," said Tyson.
        Adult Swim (AdultSwim.com), launched in 2001, is Turner Broadcasting System, Inc.'s network offering original and acquired animated and live-action series for young adults.  Airing nightly from        8 p.m. to 6 a.m. (ET/PT), Adult Swim is basic cable's #1 network with viewers in the age categories 18-34 and 18-49, and is seen in 99 million U.S. homes.
        Tyson became the youngest man to capture the WBC heavyweight title when he TKO'd Trevor Berbick in two rounds on November 22, 1986 at the age of 20. After nine defenses and capturing of the IBF and WBA laurels, Mike was shockingly dethroned by Buster Douglas in 1990.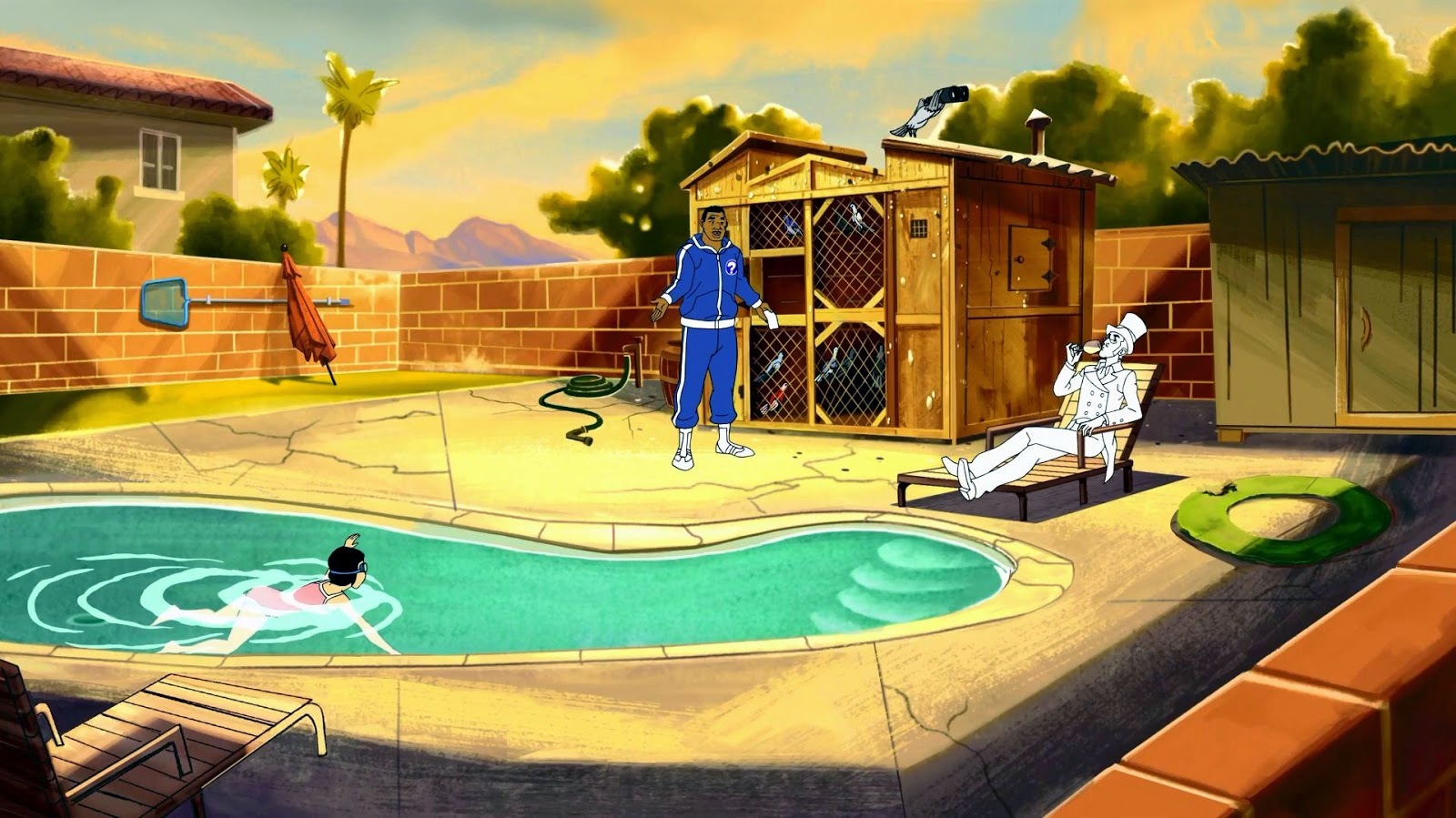 "Iron" Mike later regained the WBC and WBA titles in 1996 with wins over Frank Bruno (TKO-3 for WBC belt) and Bruce Seldon (TKO-1 for WBA belt). Mike was finally dethroned for good by Evander Holyfield when he was TKO'd in 11 rounds on November 9, 1996.
        Mike next made headlines by biting Holyfield's ear and being disqualified in three rounds in their 1997 rematch.
        After going unbeaten in his next six bouts, Tyson challenged heavyweight king Lennox Lewis in 2002 and was stopped in eight rounds.
        Through thick and thin, Tyson is still popular. "I think Mike Tyson's Mysteries will be the best show on Adult Swim," boasted the popular former heavyweight king.
        It is no mystery that Mike Tyson is back with blast and scores a knockout with the viewers.  
Mike Tyson Mysteries Episode Guide
Season 1 (2014-15)
1 "The End" Ethan Spaulding Hugh Davidson October 27, 2014.
Mike and the gang travel to Cormac McCarthy's ranch to help him with his unfinished novel. There, they are warned by the ranch's property caretaker of a Chupacabra attacking McCarthy's horses.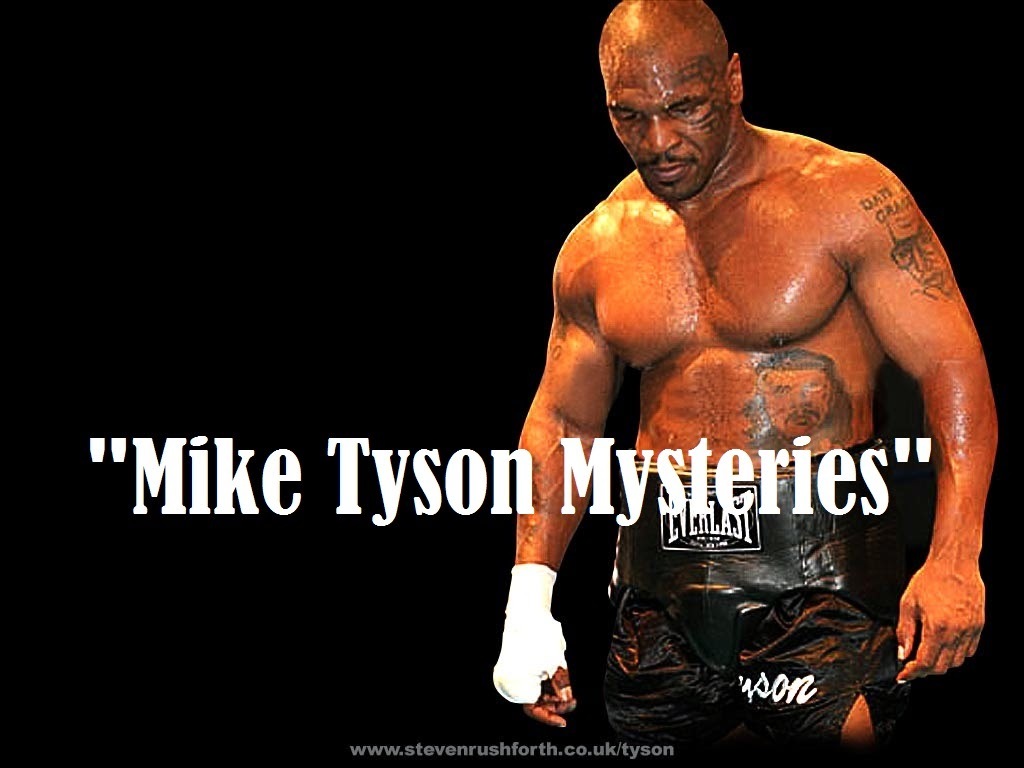 2 "Ultimate Judgment Day" Ethan Spaulding Story: Kevin Shinick
Teleplay: Hugh Davidson November 3, 2014.
Responding to a binary code distress message, Mike and the gang travel to IBM's headquarters which is hosting a chess rematch between Garry Kasparov and Deep Blue. There, they must figure out who sent the message and why. Complications arise when Mike knocks out Kasparov before the match.
3 "Heavyweight Champion of the Moon" Ethan Spaulding Hugh Davidson & Patrick Devine November 10, 2014.
Mike and the gang pick up Buzz Aldrin at the airport in Las Vegas. Just before Aldrin lets Mike in on the biggest secret of the universe, he is killed in yet another one of Mike's car accidents. To solve the mystery of the universe, Mike "borrows" Elon Musk's rocket to travel to the Moon.
4 "Is Magic Real?" Ethan Spaulding Hugh Davidson & Ted Michaels November 17, 2014.
After receiving a message from an "Old Wizard" asking is magic real, Mike and the gang travel to the Camelot Hotel, where they meet the sender – an elderly man who had a winning streak at gambling, but lost it all one night and was banned from the casino. The gang take the Old Wizard to another casino, where Pigeon gets him a $1 million buy-in from Robert Redford, in exchange for some time with Yung Hee.
5 "Mite Tyson" Jeff Siergey Hugh Davidson, Larry Dorf & Rachel Ramras November 24, 2014.
Mike is brought to the hospital after his skin is riddled with mite bites. When Mike, Marquess, Yung Hee, and the doctor suspect that the mites are coming from Pigeon, the gang kicks him out of the house. But when Mike discovers that he was misdiagnosed, the gang rushes out to get Pigeon back before he becomes a test subject for cosmetic products.
6 "A River Runs Through It Into a Heart of Darkness" Ethan Spaulding Hugh Davidson January 11, 2015.
A businessman wants Mike's help in winning over jungle-dwellers who are firmly against his canal project.
7 "Kidnapped!" Ethan Spaulding Hugh Davidson & David Hoffman January 18, 2015.
A Russian mobster abducts Yung Hee after Pigeon fails to pay a gambling debt, forcing Pigeon and Marquess to work together in Mike's absence to rescue her.
8 "House Haunters" Jeff Siergey Hugh Davidson, Larry Dorf & Rachel Ramras January 25, 2015.
The Team helps a married couple with purchasing a new house, but the situation takes a turn for the worse when Marquess discovers a terrifying secret about one potential home.
9 "Night Moves" Ethan Spaulding Hugh Davidson, Larry Dorf & Rachel Ramras February 1, 2015.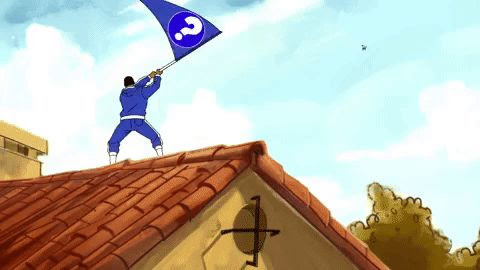 Mike must make a difficult choice when Yung Hee's new boyfriend turns out to believe he is a werewolf and Yung Hee's is scratched during her date.
10 "Ty-Stunned" Jeff Siergey Hugh Davidson, Larry Dorf & Rachel Ramras February 8, 2015.
Mike and the gang take on the most dangerous mystery yet – a murder mystery. However, Mike becomes distracted by purchasing hummus and arranging endorsement deals with his agent, causing a chain of events that lead to the home of the killer.
Season 2 (2015-2016)
1 "What's That Gnoise?" Jeff Siergey Hugh Davidson, Larry Dorf & Rachel Ramras November 1, 2015.
A suburban housewife asks the team to investigate a strange noise coming from her car.
2 "For the Troops" Ethan Spaulding Hugh Davidson, Larry Dorf & Rachel Ramras November 8, 2015.
Mike's agent gets him a gig entertaining armed forces in Afghanistan.
3 "She's a Bayniac" Jeff Siergey Hugh Davidson, Larry Dorf & Rachel Ramras November 15, 2015.
A husband suspects his wife of cheating on him, and calls in the team to investigate.
4 "Last Night on Charlie Rose" Ethan Spaulding Hugh Davidson, Larry Dorf & Rachel Ramras November 22, 2015.
Mike and the team are asked to locate a man who disappeared after appearing on a talk show.
5 "Old Man of the Mountain" Jeff Siergey Hugh Davidson, Larry Dorf & Rachel Ramras December 6, 2015.
Episode details not available yet.
 TO BE CALLED A "CHAMPION"
Walking into the ring at the start of a fight requires a specific kind of courage; however, battling to become the champion of the world involves an even greater challenge. Boxing is no doubt the world's most contact-driven sport. Every punch, jab and movement defines a champion. Boxing does not just need this physicality; it thrives on it. Other than brute strength and cunning moves, a boxer's physical appearance plays a major role in identifying a champion.
The numerous weight divisions illustrate the tremendous shapes and sizes among each individual boxer. No matter how large or small, each boxer fights in the same arena. Standing alone in the ring can be daunting to any fighter, but to African Americans, like Jack Johnson and Joe Louis, their solitude was a lot more intense. As the majority of Americans, and most of the world, saw Jack Johnson and Joe Louis as lesser beings of color, boxing turned its progressive head away from the inequalities of society and looked at these men through colorless lenses.
Decades before the great Jackie Robinson walked onto a professional baseball diamond, Johnson and Louis stood before the world as individuals fighting both physically and metaphorically. African Americans, as well as other minority groups, saw these two men as their own personal heroes and champions of their "team" fighting for equality and freedom.
Elements of race, ethnicity and identity are all extremely important in boxing simply because of the individuality of the sport. Boxing is not a traditional "team" sport, like football or baseball. Of course, there are trainers and managers in every corner of the ring, but once the bell rings, the ending relies solely on the performance of one person. Boxing fans have always recognized this individual courage, and with this recognition comes an overwhelming feeling of respect and pride for each boxer. This respect was greatly felt for early champions of the sport, like Jack Johnson and Joe Louis. Racial inequality and segregation defined American society at the time of these two champions, yet they had risen to become more than just impressive fighters, but the greatest of all heavyweights. The obstacles these two fighters overcame were brutal. After conquering all the social and political barriers, Johnson and Louis prevailed to become World Heavyweight Champions, obtaining the greatest prize in sports. As African Americans saw members of their race achieve something unbelievable, the impossible suddenly became possible. Self discrimination slowly began to disappear, and a special pride grew stronger in the African American community. These champions helped jump start the Civil Rights Movement.
The Civil Rights Movement and the influential African Americans associated with this cause did not just want to benefit African Americans. Civil Rights were meant for all people, including women and other minority groups in the United States. Boxing, arguably the first progressive sport in the country, fought alongside Martin Luther King Jr. and Oliver L. Brown to bring forth great change and to help broaden the term "champion." Great fighters, like Muhammad Ali, Joe Frazier and George Foreman vocally stood by their sport and their race as well, promoting the need to continue bringing color to the sport of boxing. Fighters, like Roberto Duran, Julio Cesar Chavez and Sugar Ray Leonard followed in other weight divisions. As diversity rose in boxing, so did its fan base. Latinos, Italians, African Americans, Irish, etc. flooded arenas worldwide to cheer for "their" fighters. Pride in oneself and in one's background provided boxing with an internal fire, fueling the sport to spread this open-minded tradition within its sport and to others outside it.
Early African American champions were both boxing pioneers and social activists. When Joe Louis defeated Max Schmeling in 1938, he single handedly became an American icon; a hero among the "entire" nation. Muhammad Ali made great strides in the cultural and political landscapes of boxing and American society, becoming a significant, worldwide figure.
Continuing these traditions, Manny Pacquiao represents the constant diversity initiative present in boxing. All are great individuals, and all are champions for multiple reasons. From enduring an onslaught of punches in the ring to bearing the prejudices of society, present and past boxers have prevailed and made their marks in American history. Social change begins with a fearless leader, and who better to fight than a boxer?
Personally, I have an overwhelming pride for this sport and its athletes. Boxing is filled with heartfelt stories, inspiring individuals and undaunted courage from men and even women of all sizes. There will be great social heroes to come, and our boxing champions will be there for the KO.
THE IMMORTAL ROCKY MARCIANO
HONORED IN STATUES AN OCEAN APART
The silver screen is filled with films depicting super heroes, such as Superman, Batman, Iron Man, Spider-Man, Hulk and soon The Green Lantern. Over 60 years ago, the great sport of boxing had an individual who was the closest thing to super hero that the ring has ever seen. He was the famed fistic immortal Rocky Marciano.
During his reign of terror from 1952-1956, Marciano was the most popular and highest paid athlete on the planet. Mind you, that was the same period in which Mickey Mantle and Willie Mays fielded center field in Yankee Stadium and the Polo Grounds.
"The Brockton Blockbuster" had a devastating knockout punch in either fist. Besides that, he could not be hurt, discouraged, or slowed down in a fight. Rocky was simply unbeatable, which he why he retired with an impeccable 49-0 (43 KO's) record.
With his straight ahead style and leading right hands, Marciano gave the appearance to his foes that he was merely a wide-open brawler ready for the pickings. Once in the ring with him, Marciano's adversaries found that he was awkwardly clever, constantly bobbing and weaving under their blows, and putting on such relentless pressure that they could not keep up with the savage pounding they were receiving. Eventually Rocky's opponents would succumb to the beating and end up stretched out on the canvas.
When Rocky fought an opponent, he did not just mercilessly beat them up, he actually ruined them!
On March 24, 1950, Marciano was matched with fellow unbeaten prospect Roland LaStarza in Madison Square Garden. Roland was a slick, talented, boxer-puncher who was a rising star and ranked #10 in the heavyweight division, while the less experienced Marciano had yet to break the top-ten.
The two warriors battled on even terms. In the fourth round Rocky sent LaStarza down with a right hand for a seven-count. In the eighth round, referee Jack Watson deducted a round from Marciano for a low blow.


The loss of the eighth round caused the bout to be scored a draw, with the referee scoring by rounds at 5-5, while one judge had Rocky winning 5-4-1 and the other had Roland ahead at 5-4-1. When the scoring went the New York supplemental points system, the referee's points score was 9-6, which enabled Marciano to win a close split-decision and keep his undefeated record intact.
Roland LaStarza said afterwards about Marciano, "I would throw a hard punch, then he would throw a hard punch. The difference was that Rocky would throw ten more. He just never stopped throwing punches."
The win over LaStarza was the closest time Rocky would have going to the scorecards. Marciano, however, was still growing into his style and powers.
On July 12, 1951, Rex Layne, was an up and coming contender from Utah who had recently defeated Jersey Joe Walcott the previous year on a 10-round decision. That same Walcott would win the heavyweight title six days after Rex's bout with Marciano.
The #6-ranked Layne was a clear favorite to win, but ended up taking a severe beating until he was sent crashing face-first to the canvas in the sixth round down for the count.
"I was on my face. I heard the count from one to ten. I kept telling myself that I had to get up, but I couldn't move. I couldn't make myself move. It was the strangest feeling," said Layne after the knockout loss to Rocky.
The KO blow by Marciano also sheared off Layne's teeth by their gums!
Two fights later and Rocky was a 7-5 underdog against the legendary heavyweight king Joe Louis. Before a sold-out audience at Madison Square Garden on October 26, 1951, Marciano destroyed "The Brown Bomber" in eight rounds with a brutal KO that sent Louis through the ropes and unconscious on the ring apron. Joe would retire after the beating.
In the following year on September 23, 1952, Rocky came from behind to KO Jersey Joe Walcott in the 13th round in front of a massive crowd of 40,379 at Philadelphia's Municipal Stadium. He would then go on to make six successful title defenses.
Three of Marciano's championship battles would be voted Fight of the Year:
Marciano KO-12 Walcott I (1952)
Marciano KO-11 LaStarza II (1953)
Marciano W-15 Charles I (1954)
His second fight with Roland LaStarza before 44,562 fans at New York's Polo Grounds clearly demolished the promising heavyweight contender. The bout was stopped when Roland rose after being knocked through the ropes in the eleventh round and met with a bombardment of deadly shots. LaStarza had to be hospitalized afterwards with broken ribs, chipped bones in his elbows, lacerated ears and ruptured blood vessels! That was not the work of a mere mortal, but a Terminator in boxing trunks!
In 1954 Marciano fought the great former heavyweight king Ezzard Charles in a pair of bouts three months apart at Yankee Stadium. In their first meeting on June 17, with an audience of 47,585 fans at the fabled ball park, Charles managed to avoid a knockout, but received an awful pounding. By the end of the fight, which Rocky won by round scores of 8-5-2, 9-5-1 and 8-6-1, Ezzard's face was sporting golf ball sized lumps!
Remarkably, after such a great battle, Marciano gave Charles a rematch only three months later. Most fighters would have taken three years to grant one, but not Rocky. After dropping Charles in the second round, Marciano was handing the ex-champ another pummeling when an uppercut/elbow ripped open Marciano's nose as blood cascaded out like a crimson waterfalls.
With referee Al Berl threatening to stop the fight, Rocky stormed out in the eighth round and dropped Charles to the canvas. Upon rising, Ezzard was battered back to the floor and counted out as the crowd of 34,330 cheered madly. In fact, if it were not for two straight rain-outs, the audience would have been even larger.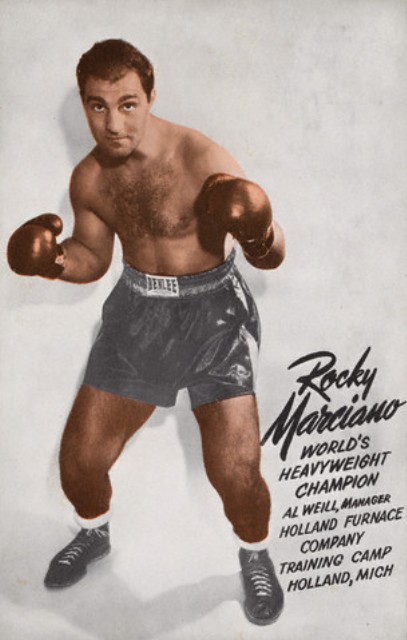 The second Charles fight showed that Marciano had that special quality where he willed himself that he could not be beaten. He would retire in 1956 after two more savage knockout title defenses over Don Cockell (TKO-9) and Archie Moore (KO-9).
Rocky's finale against Archie Moore at Yankee Stadium was the 9th  highest grossing fight at the time. A huge crowd of $61,574 produced a live gate of $948,117. Those numbers were impressive since the eight fights ahead of it on this list were not available on closed-circuit theaters throughout the world as the Marciano-Moore battle was. The closed-circuit numbers pushed the total receipts well over $1 million. Rocky earned $328,374 from the live gate and an additional $140,000 from the closed-circuit revenue.
With such remarkable powers, one would think that Marciano was from the planet Krypton, when in fact, he was born in Brockton, Massachusetts. His mother Pasqualina Picciuto was from San Bartolemeo in Galdo, Capania, and his father Pierino Marchegiano hailed from a small Italian town called Ripa Teatina in the Abruzzo province of Chiety.
The Italian town of Ripa Teatina erected a beautiful statue of the mighty Rocky Marciano throwing his famous right hand punch.
Ripa Teatina labels the statue A Rocky Marciano Campione Del Mondo, which translates to Rocky Marciano Champion of the World.
The statue was dedicated on September 1, 1990 by the town that also awards a "Rocky Marciano Prize" each year to the best athlete and boxer in Abruzzo, which is in a region of central Italy.
On September 23, 2012, the Rocky Marciano Statue Committee, with major funding by the World Boxing Council (WBC), unveiled a two ton, 20-foot statue of the pugilistic legend. On hand was the legendary former heavyweight king Larry "The Easton Assassin" Holmes and the world's greatest promoter Don King.
The statue is located on the grounds of Brockton High School at 470 Forest Avenue in Brockton, MA, in Champion Park. The unveiling was on the 60th anniversary of Rocky's great win over Jersey Joe Walcott to capture the heavyweight crown. The mammoth statue shows Marciano landing the famous KO punch that left Walcott unconscious on the ring floor.
With a pair of colossal statues spanning a distance of 4,000 miles apart from each other across the Atlantic Ocean, it is a giant testament that Rocky Marciano's legend is still celebrated. What a great achievement for boxing's only super hero.
"Float Like a Butterfly"
Photographer Flip Schulke's images of a young Muhammad Ali
 There are good athletes. There are great athletes. There are legendary athletes. Then there are the iconic athletes.  Icons are the athletes that appear about as often as Haley's Comet makes its white tailed way throughout the Milky Way Galaxy.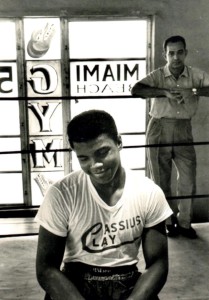 In  the  history of sports there are about a handful of them, and for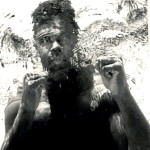 some reason they are getting rarer and rarer. Eventually they will be finding themselves on the short list of endangered species next to the Australian Sea-lion, the Black Squirrel   Monkey, the Marbled Water Frog, and the Spotted Owl.  In truth, there are probably less than a half-dozen iconic athletes left alive. One thing is for certain Muhammad Ali is unquestionably one of them.   In a career and life about as  full and as complex as Leo Tolstoy's War and Peace,  Muhammad Ali shines above them all.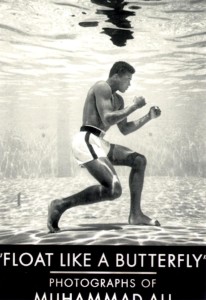 He is  without question the sole and lone lighthouse in both the past and present world of sports.  Unlike other iconic athletes, Ali's life transcends the world of sports. In fact, he became a historical figure during one of the most rivetting decades ever, and one he left his mark in – the 1960's.  During his life he was one of the most loved, hated, pitied, despised, revered, and lionized figures ever to have walked the earth. It is hard to believe that one man has lived so many lives in just one lifetime.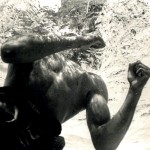 Because of who he is, whatever he does, or whatever involves him is news. As a result, when photos taken of him in from 1961 to 1964 by Flip Schulke, the first ones only a year after Ali won the Olympic Gold Medal, were recently put on display at the Madison Avenue Art Gallery in New York, the world took notice.  There were 28 photographs on display, many of which were shot of the fighter while training under water and at Dundee's Gym in Miami.   The photos are simply stunning and amazing to see as they harken one back to a man that meant so much to so many.
Ingemar Johansson
The fighter with the "Hammer of Thor" that rocked the boxing world
Boxing legend Ingemar Johansson was born in Gothenburg, Sweden on September 22, 1932 and remained in the Swedish city for the remainder of his life.  Johansson was a fine amateur, but was embarrassed in the 1952 Olympics in Helsinki, when moronic referee Roger Vaisburg disqualified him in the second round for "not giving his best" against American Ed Sanders.
Not only was Ingemar's reputation ruined, but the crooked Olympic Organization refused to give him a silver medal. Because of their awful actions, Johansson was wrongly branded a coward in Sweden. Years later, Johansson explained that the referee did not understand of his battle plan, which called for a strict defensive strategy over two rounds, and then a surprise attack in the third. Ingemar's later style of fighting supported that theory as he rolled up a trail of knockouts on his way to the title.  Incidently, it took the International Olympic Committee 30 years to rectify their mistake as they awarded Johansson the silver medal in 1982.  With such a massive hurdle to begin his pro career, Ingemar did not let the bad press deter him on his march to greatness.
  On December 5, 1952, Johansson KO'd Robert   Masson in four rounds in Gothenburg, Sweden. Ingemar remained in Sweden where he became a box office star and racked up 20 straight wins, beating the likes of Hein Ten Hoff (KO-1), Henry Cooper (KO-5), Joe Erskine (TKO-13) and Heinz Neuhaus (TKO-4) before being matched with the also unbeaten and dangerous #1 contender Eddie Machen.  Machen was 24-0 and was feared by most heavyweights. In fact, the reigning heavyweight champion Floyd Patterson's manager Cus D'Amato, had refused to give Machen a shot at the title. In the meantime, Eddie had beaten such notables as Tommy "Hurricane" Jackson (W-12), Bob Baker (W-10), Joey Maxim (W-10 twice) and Nino Valdes (KO-8 and W-10).  Most experts did not give Johansson a chance to even last the distance, let alone win. 
The two leading heavyweight contenders were matched on September 14, 1958 before 53,614 fans at the Ullevi Stadium in Gothenburg, Sweden. At the bell Johansson, 198 1/4, came out trading jabs with Machen, 194 1/4. Suddenly, Ingemar came over Machen's jab with a right hand and left hook that sent the American crashing to the canvas. Although Machen would get up, he would be knocked down two more times. The last knockdown saw Eddie trapped into the ropes and the Swede bashing him to a pulp with both hands until he collapsed unconscious on the ring floor. The end came at 2:16 of the opening round!  The Machen fight cannot be overlooked in Johansson's career. It was not just a win, it was a great win. It established the massive power in the Swede's fists, especially his right hand, nicknamed "The Hammer of Thor" by the Swedish press.
  As stated, Machen was unbeaten at the time and ducked by the heavyweight champion. Even later he was not stopped by the likes of Zora Folley, Ernie Terrell, Floyd Patterson, nor the powerful Sonny Liston. It would not be until the third last fight of his career in 1966 that Machen was finally sent home early when future heavyweight legend Joe Frazier stopped him in 10 rounds – 9 rounds more than Johansson!  The Machen win propelled Ingemar into a shot with heavyweight champion Floyd Patterson on June 26, 1959.  Johansson was again given little chance to win and was slated as a 4-1 underdog. At Yankee Stadium, 18,215 fans turned out to see a heavyweight champion receive one of the most brutal beatings in history as Johansson, 196, TKO'd Patterson, 182, in three painful rounds. 
As usual, Johansson started out cautiously by jabbing away at the champion. What Johansson was doing was watching the punches Patterson threw  and trying to figure out his rhythm.  By the third round, "Ingo" had his man's style solved and "The Hammer of Thor" began to crash home on the champion's skull. Two right hands bashed into Patterson's head that dropped him for a nine-count. Floyd got up and did not know where he was. He thought HE had scored the knockdown and began to walk back to a neutral corner. Johansson fired a left hook to the jaw and Patterson was down for another nine-count.  The champion rose and was dropped five more times before referee Ruby Goldstein finally stopped the beating at 2:03 of the third round.  It was a spectacular win and the type of triumph that great fighters pull off on big nights.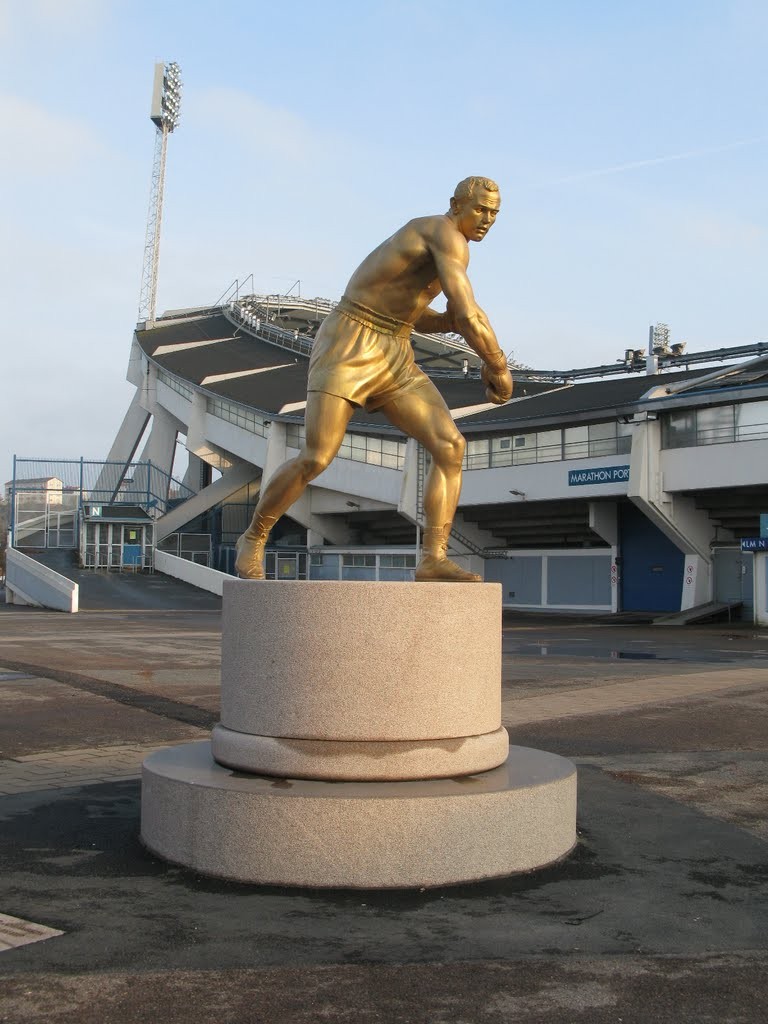 After the terrific win, Johansson was a worldwide celebrity and a hero in Sweden. During his reign, he was very popular as he appeared on countless television shows, had a hit record in Sweden, and starred in the 1960 film "All the Young Men" with Alan Ladd and Sidney Poitier. Sadly, like many men who climb the mountain on the way to the heavyweight championship only to find that they end up perched on the mountain's peak, where the next move is a downward drop,       Ingemar's reign would come to a crashing fall.  Before 31,892 fans at New York's Polo Grounds on June 20, 1960, Johansson, 194 3/4, would be dethroned by Patterson, 190, by being KO'd in the fifth round. In their rematch, Ingemar had a brief shining moment in the second round when he shook up Patterson with a right hand, but was unable to land a follow-up punch.  The two would meet for their third and final time on March 13, 1961 before 13,984 fans at the Convention Hall in Miami Beach, Florida.  This time Johansson, weighing in at the heaviest of his career at 206 1/2, would start off fast and drop Patterson, 194 3/4, twice in the opening frame. This time, however, Floyd survived the knockdowns and floored Ingemar before the round ended.   The fight turned out to be a touch-and-go slugfest until Patterson sent Johansson down and out in the sixth round.  For the three Patterson fights, Ingemar would receive total purses of $281,427, $643,107 and $650,500.  Following the rubber match with Patterson, Ingemar racked up three straight wins before defeating Brian London on April 21, 1963 over twelve rounds to capture the EBU (European) heavyweight title, a belt he previously held from 1957 to 1959.  In the London fight, Johansson had built up an early lead until the final round when London dropped him near the bell.  After that bout, Ingemar retired with an impressive 26-2 (17 KO's) record.
He had a mighty knockout percentage of 60.71%!   Johansson's post-boxing career was relatively successful. He owned a hotel in Pompano Beach, Florida, a fishing boat in Sweden, and a bar called "Ingo's" in Goetborg, Sweden. Ingemar also did  various announcing duties for Swedish television.   In 2000, the Swedish Sports Academy listed Johansson at #3 as the country's best athlete in the 20th Century, behind tennis champion Bjorn Borg (#1) and skiing great Ingemar Stenmark (#2).  Although he held on to the title for only a short time, Johansson was a shooting star in the sport. After Rocky Marciano's retirement, the lights were beginning to dim on boxing's popularity with the heavyweights and Ingemar brought the spotlight back in the ring with the big boys. A colorful knockout artist is the biggest boost in the arm for prizefighting, and Johansson was just what the doctor ordered for the time.  If he were around now, there would be no doubt that the big Swede with "The Hammer of Thor" would be leaving all the current heavyweights sprawled out on the canvas.   In fact, when Mike Tyson ruled the heavyweight division, the editors of The USA Boxing News asked Johansson how he would have made out in the ring against "Iron Mike" in his boxing prime. Ingo stuck out his big clenched right hand fist and said, "I would have knocked him out."   Sadly, the great former champion died on January 30, 2009 at the age of 76.  At the time of his death from Alzheimer's Disease, Johansson was the oldest living heavyweight king   On September 17, 2011, outside of the Ullevi Stadium, the site of Ingo's shocking knockout of Eddie Machen, a statue of Johansson by sculpture Peter Linde was unveiled. It was a fitting tribute to the man with right hand with "The Hammer of Thor" that made boxing history.
THE NIGHT THE GREAT BERNARD HOPKINS PROVES TO BE A "GHOSTBUSTER"
What makes boxing such a wonderful sport is that the heart and soul of an athlete can prevail over insurmountable odds to provide a memorable victory.
Before a sold-out house of 11,332 fans at Atlantic City's Boardwalk Hall on October 18, 2008, Bernard "The Executioner" Hopkins once again delivered a KO blow to Father Time as he brutally defeated the unbeaten, reigning middleweight champion Kelly Pavlik over 12 rounds.
In some of Hopkins' recent fights, especially in his last one against Joe Calzaghe, where he dropped the undefeated Welshman in the opening frame and then slowed his punch rate, Hopkins has reigned in on his aggression, which ultimately cost him the decision against Calzaghe.
Against Pavlik, there was no let up in Hopkins' attack as the boxing legend savagely beat up on his adversary in every round. Bernard came into the fight not just a prohibitive 3-1 underdog, but a fighter, who at 43, was 17 years younger than his highly touted, undefeated foe.
The question beforehand was not only that Hopkins would lose, but that this could be the first time that someone would knock out the unstoppable "Executioner" in the ring. That was a feat that such punchers as Roy Jones, Oscar De La Hoya, Glenn Johnson, William Joppy, Antonio Tarver and Felix Trinidad all failed to do.
When the hooded Hopkins entered the arena, one could feel the intensity burning inside him as he made the slit throat sign before he defiantly crossed his arms. When his hood was pulled off and he squared off against Pavlik, one felt that for once he planned to live up to his frightening nickname.
Right at the bell, Hopkins, 170, came out faster than he ever did and stabbed jolting jabs so hard into the face of Pavlik that it appeared that he wanted to drive his fist plain through the head of the middleweight title holder.
Pavlik, 169, fired back with his poking jabs, but was simply blasted by the furious blows of Hopkins.
Every punch that Hopkins threw had fire and ferocity behind them. Never once had he blasted away at a rival with such brutality and power. To his credit, Pavlik (34-1, 30 KO's) never stopped trying and advanced towards Bernard with jabs and right hands that dug deep into the legend's ribs.
Although Pavlik was pretty aggressive, he was surprisingly outpunched by Hopkins, who showed absolutely no fear in walking through the blows fired by his knockout artist opponent.
After the first round, things got worse for the 4-1 favorite Pavlik in each succeeding frame. In the second round, Hopkins (49-5-1, 32 KO's) began to unload with terrific uppercuts that bashed hard into Kelly's chin.
The fifth round was a thriller as the two boxers went to-to-toe, landing two-fisted bombs at each other. It may have been the closest round of the fight, but one thing was certainly clear when the dust was settled – Pavlik could not hurt the old warrior with his punches. It was a telling moment for Kelly's fans who ventured from Ohio to see their man perform. If he could not hurt the seasoned veteran, just how could he win?
The answer was that he could not. Although Kelly did well in the tenth and eleventh rounds, he was exhausted by the twelfth. The cunning Hopkins must have sensed this and opened up to try to score a knockout. As each blistering shot bounced off Kelly's head, the Hopkins fans in the arena crossed their arms and yelled out, "B-Hop! B-Hop!" across the arena. Pavlik was in dire trouble as Bernard fired right crosses, left hooks and uppercuts at the wobbling middleweight champion. It looked as if Pavlik would collapse under the assault of the leather-wrapped fists, but somehow he remained upright under the heavy barrage.
Hopkins was so fired up, that even when the bell rang, he refused to stop punching. It took a few seconds afterwards to calm down the burning fury of the fistic great.
"I wanted to pick it up and step it up," remarked Hopkins. "I wanted to stop him."
The scoring was unanimous for Hopkins at 109-98, 108-99 and 107-100.
It was a remarkable and sensational win for Hopkins. The victory over such an opponent as Pavlik further helps cement his place among boxing's all-time greats. Who would have ever thought that it would not be until Bernard reach the ripe old age of 36 that he would being to peel off victories over such fabled pugilists as Trinidad, De La Hoya, Tarver, and now Pavlik? It is a testament to his work ethic of always staying in tip-top condition. Most likely, he will be back in the gym the next week after the fight.
For Pavlik, he may have suffered his first professional loss, but he surely did not disgrace himself. He is still the middleweight king of the world. Kelly just had the misfortune of fighting a legend who once more uncorked lightning in a bottle and went twelve rounds with Father Time – and won!
CHARLEY "THE IRVINGTON MILKMAN" FUSARI
ONE OF THE GREATEST WELTERWEIGHT CONTENDERS OF ALL-TIME
In an era of one champion per weight class and where fighters fought in bouts against opponents who sometimes outweighed them by over ten pounds, former welterweight contender Charley Fusari shined above them all.
Known as "The Irvington Milkman" on account of the fact that he was an actual milkman and lived in the New Jersey town of Irvington, Charley Fusari, in the nine years that he boxed as a professional, brought pride and excitement to the area and in the process built up a nationwide and word-wide reputation as a great fighter.
Originally born in Acamo, Sicily, he moved with his family to Irvington, a town that bordered New Jersey's largest city of Newark. In the same school that spawned the legendary comedian Jerry Lewis, Fusari possessed the movie star good looks of a matinee leading man, and with his tall (5 ft. 10 in.) lean, muscular body, and golden blond hair, he was a favorite with the women, a fan base that has eluded many a professional athlete.
Besides that he could punch – and punch he did.
After following his brother Tommy into the sport of boxing, and eventually surpassing him in both skill and promise, Charley became a professional in 1944 at the age of 19.
Thanks to his years as a milkman where he lugged bottles and cases of milk up countless porches, stoops, stairs and staircases, Fusari also developed an innate sense of conditioning that only comes out of hard work and rapidity. This would serve him well in next chosen profession as a prizefighter.
Becoming a ranked contender was not an easy feat in any era, especially in Fusari's time. Boxing was the country's second biggest sport, close behind only baseball, and fighters were heralded as the greatest athletes of their generation. Nearly every nationality had boxers that represented them and their backgrounds. The competition was fierce, but the rewards were bountiful. A man could go from a truck driver to owning a fleet of them in less than five years. Such was the state of boxing in the pre and early television years.
After fighting and winning ten bouts in 1944, Fusari upped the pace the very next year in 1945 when he won twenty two more fights. It was not long before the neighboring fight halls in Newark, Camden, Elizabeth and New York, began hanging and displaying fight posters promoting Charley's next bout.
The interesting thing about these fight posters was that the favorite of the two fighters would always be listed in bold red lettering on top, while the underdog's name would be printed in black letters right below him. As 1945 was on the way, Charley's name soon found its way in the bold red lettering.
Wins over tough fighters such as Johnny Rinaldi and Joey Peralta, enabled Charley to slowly move into the area reserved for the up and coming – those with promise to become eventual contenders. It was on account of those wins that Charley soon made his way into the doors and the venue known as the St. Nicholas Arena in New York. Referred to as the farm club of New York's famed Madison Square Garden, St. Nick's proved to be a training ground for those serious transitory fighters – the ones on the way up and those on the way down. In 1946, Charley's star was clearly on the ascent.
Paired up with sturdy veteran Maxie Berger, Charley easily decisioned him in ten rounds. He did the same against five more fighters, including Humberto Zavala, a ranking welterweight in his own right. On account of his big wins over Berger and Zavala, Charley was soon matched up against the very tough and experienced Freddy Archer.
This was the same Freddy Archer who previously recorded two wins over such great ring champions as Beau Jack and Ike Williams. Archer clearly represented a step-up in competition.
Managed by the shrewd and canny Vic Marsillo and trained by Vic's brother Tony, the Fusari-Archer bout took place at Newark's Ruppert Stadium and it filled the joint to the rafters.
Although both men were hometown boys (Archer hailed from Newark), Fusari showed simply no mercy as he dismantled Archer from the beginning of the bout, knocking him down three times in round one alone. The punishment continued to the sixth as Archer was sent to the canvas a fourth time, courtesy of a hard right cross to the jaw. Although Freddy managed to rise, his corner had seen enough and stopped the bout before the start of the seventh. This was Charley's greatest victory to date and earned him the right to fight at New York's famed Madison Square Garden.
After a tune-up against Jack Larrimore, whom Charley knocked out in three rounds in Fall River, Massachusetts, the Garden signed Charley to take on the always tough and durable Tippy "The Garfield Gunner" Larkin on December 13, 1946. Unfortunately, Larkin pulled out of the match, and Charley squared off against Chuck Taylor.
Taylor was no pushover, having defeated Archer twice beforehand, as well as already fighting in two previous Main Event fights at Madison Square Garden. With his experience, Taylor handled Charley well over the first three rounds. After that it was all Fusari. Savoring his first Garden Main Eventer, Charley went after Taylor with a heavy volume of head and body shots, to the point that Taylor could not come out for the seventh round. Another knockout and another win – his 44th straight.
After his showing against Taylor, Madison Square Garden officials waited little time and immediately arranged for Charley to get in the ring against Tippy Larkin. The bout was scheduled for February 14, 1947. It may have been cold outside, but in the Garden it was heated with excitement as 18,000 fans paid a gross gate of $115,000 to see the Main Event matchup between the two popular local welters.
With over 100 victories in his win column coming into the bout, Larkin was slated as an easy betting favorite over the 21 year-old Fusari. As the saying goes the odds don't make fights – the fighters do, well, before the first round ended, Larkin was knocked down on the seat of his trunks as he took a six-count in stunned disbelief!
It was only the beginning. Charley knocked Tippy down four more times – once in the second, once in the seventh, and twice in the ninth round, which prompted referee Arthur Donovan to stop the bout and award the victory to Charley. This was the biggest win of his career as well as his 45th consecutive win. It also established Charley as the #2-ranked welterweight contender for Sugar Ray Robinson's title behind #1-ranked Tommy Bell.
For some reason it also marked the end of his winning streak. Charley lost decisions in his next two bouts to Tony Pellone and Eddie Giosa.
He eventually got back in his winning ways by knocking out Joe DiMartino in the Garden on August 22, 1947. DiMartino had previously won the All-Army title while in the service and recently had defeated former welterweight champion Marty Servo. Against Fusari, DiMartino appeared out of his league as Charley clobbered him from pillar to post.
Fusari then defeated Larkin a second time as well as out-pointed the ever-dangerous Attilio "Rocky" Castellani and knocked out the highly-touted Vince Foster in one round in New York's Madison Square Garden.
Two fights later, Fusari was paired with the legendary former middleweight champion Rocky Graziano, who was on the comeback trail on September 14, 1949 at New York's Polo Grounds.
Graziano was not only one of the most popular fighters of his time, but he was also personal friends with Fusari. Once the bell sounded to begin their sold-out bout at the Garden, friendship flew out the window quicker than a hamburger in the mouth of a starving dog. Although Charley was outweighed by a whopping twelve pounds (Graziano weighed 159 ½ to Fusari's 147 ½) he took the fight to the famed New York brawler, nevertheless. For nine rounds Fusari jabbed away at the former middleweight champ, avoiding getting into a slugfest with the heavy hitting Graziano. Besides making Rocky miss, Fusari countered well with both hands as he appeared to have Graziano off-balanced most of the fight.
Charley's best round came in the ninth when he slammed Rocky with volleys of telling shots that seemed to stun the Dead End Kid. It was a perfect round to seemingly wrap up the fight for himself. All he had to do was get through the tenth and final round. For some reason, it was easier said than done. Rocky began the round as a man possessed and chased Charley around the ring throwing haymakers bent on destruction. Charley avoided most, but not all. As for Rocky, he needed only one big shot to land. And land it did. Trapped against the ropes, Rocky clocked Fusari with a fusillade of blows with one roundhouse right connecting hard on the jaw and sending Charley to the resin on the ring floor. Bravely, Charley rose at nine, but once the fight continued, Rocky leaped upon him with so many punches that the referee jumped him to save him from further punishment. There was less than a minute remaining in the round.
Afterwards, when the scorecards were looked at, it appeared that Fusari was so far ahead (by round scoring Charlie was ahead, 4-3-2, 5-4 and 5-3-1) going into the last round that the only way that Graziano could have won was by knockout.
Surprisingly, the Graziano fight helped Fusari more than it hurt him. Maybe it was Charley's brave and impressive fighting that earned him the credit due, or maybe it was the fact that Charley was not up against a great welterweight, but instead against an all-time great middleweight champion, who had such a great age, experience and weight advantage over the 24 year-old former milkman.
As a result, six fights later, Charley was matched against arguably one of the greatest fighters ever to lace on a pair of gloves at the height of his ring prowess – Sugar Ray Robinson.
Staged at Roosevelt Stadium On August 9, 1950, in Jersey City, New Jersey, Robinson, who had one single loss on his record, a decision loss to Jake LaMotta (whom he eventually beat 4 out of 5 times), was at his legendary best as he outpointed the rugged Fusari over twelve rounds. To his credit Fusari fought hard and tough – it was just that Robinson was just so fast, so hard a puncher, and plainly so great a boxer, especially at welterweight, that no man at the time could have defeated him at 147 pounds.
Just like in the Graziano bout, the loss certainly did not harm Fusari or his future title hopes, especially since Sugar Ray bludgeoned Jake LaMotta to capture the 160-pound title in his next bout. After winning the middleweight crown, Robinson abdicated his welterweight throne.
After avenging his loss to Tony Pellone, the National Boxing Association (NBA) then set up a match for March 14, 1951, between Fusari and Johnny Bratton to battle for the welterweight title vacated by Robinson.
Fighting in Batton's hometown of Chicago before a national television audience, both fighters fought toe-toe in one of the most exciting championship bouts in welterweight history. While Bratton may have knocked Fusari down twice, Charley fought back and pummeled Bratton with non-stop punches for most of the fifteen hard fought rounds. When the fight concluded Bratton was awarded the fight and the title on a split-decision, even though most TV views strongly disagreed.
Unfortunately, the fight turned out to be the last hurrah for Charley Fusari. He fought four more fights winning two and losing two before hanging up the gloves for good on March 11, 1952. Charley was only 27 years-old. His final ring record was an impressive 65-12-1 (38 KO's).
Good looking and articulate till the end, Charley left the ring fairly unmarked and unhurt. With his ring earnings Fusari entered into some successful business including a popular restaurant that he owned and operated on Broad Street in Newark. It was a regular hangout for many sports and entertainment luminaries, including many players of the New York Yankees such as Yogi Berra and Phil Rizzuto.
Sadly, Charley died after a bout with cancer in 1985 at the age of 61.
Had Charley come out in an earlier time, or especially at a later time, it is safe to say that he would have eventually captured that elusive welterweight championship title. He was the "goods" and he was a fan favorite. Fighters like him are always rare and for those who were privileged to see him fight, they witnessed one of boxing's best.
Johnny Bratton said it most eloquently when he commented about Fusari after he defeated him for the welterweight title, "This is no game for anybody without heart. Fusari had it."
Editor's Note: Charley's son Rob Fusari is a Grammy Award-winning songwriter and singer who launched the career of Lady Gaga.