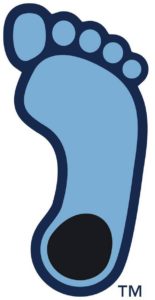 UNC Tar Heel Alex 'round The Boxing Ring
By Alexander R.  Rinaldi    
President Donald Trump pardons former heavyweight champion and ring icon Jack Johnson with former heavyweight champion Lennox Lewis,  present WBC heavyweight Champion Deontay Wilder, and film legend

Sylvester Stallone at the White House
By Alexander Rinaldi
For over 100 years former heavyweight champion and ring icon Jack Johnson and his memory were plagued and marred by a crooked conviction and subsequent prison term for violating one of the vaguest and dragnetting laws of all time – the Mann Act.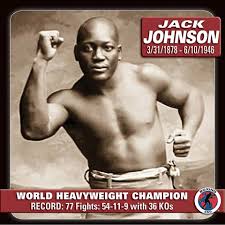 The ridiculous Mann Act, which made it illegal to "transport" women or girls across state lines "for the purpose of prostitution or debauchery, or for any other immoral purpose," was nothing more than a vehicle to nab famous people, particularly African Americans, into a web of false prosecutions. Not surprisingly, it was no secret at the time that Johnson was convicted solely because he was black, and because the woman he was accused of transporting was white. Unfortunately, the former champ had to undergo not only ten (10) months in prison, but also the embarrassment and disgrace that went with it.
President Trump was advised of the plight of Jack Johnson in a phone call with Sylvester Stallone. The actor revealed that Johnson was one of the inspirations behind the Apollo Creed character in the Rocky films.
Thankfully, after former Presidents George W. Bush and Barack Obama flatly refused to pardon boxer Jack Johnson, this week President Trump took up the gauntlet and did the right thing in cleansing the criminal record of the former heavyweight king and clearing his name and memory in the process.
"He [Jack Johnson] represented something that was both beautiful and very terrible at the same same," said President Trump. "I am taking this right righteous step to correct a wrong that occurred in our history."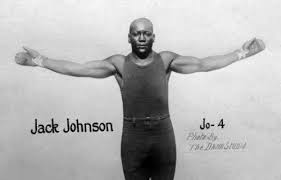 Surrounded in the Oval Office by former heavyweight champ Lennox Lewis, present WBC heavyweight champion Deontay Wilder, and famed actor and film icon  Sylvester Stallone, Trump signed the pardon.
A well-known boxing fan and champion of the sport, Trump was thrilled to be in the company of Stallone and the boxing greats. He even asked Lennox Lewis, "Lennox, if I really went and started working out, could I take Deontay in a fight? This is forty-and-oh, thirty-nine knockouts," he said, citing Wilder's record. "Could I take him in a fight, if I really went to work?" Lewis, replied jokingly, "You'd have to get past those long arms," he said.
The son of former slaves, Jack Johnson was the first black to become heavyweight champion of the world when he defeated the reigning champion Tommy Burns in Australia in 1908. Considering that the then racist sport of baseball took almost 40 more years to permit black players to join their ranks, boxing was way ahead of the other sports by having blacks fight for world boxing titles.
Nicknamed the Galveston Giant, Johnson was the world heavyweight boxing champion from 1908–1915. His legend was cemented two years later when he accepted the challenge of former undefeated heavyweight champion Jim Jeffries. In what was billed as "The Fight of the Century" Johnson pummeled the hapless Jeffries Into submission in the 15th round. In that round, Johnson went after Jeffries and caught him against the ropes with a right uppercut, followed by three left uppercuts that sent the ex-champ Jeffries to the canvas for the first time in his career.
Though he could no longer put up a defense,  Jeffries bravely got up, only to have Johnson hit him with a left hook that sent him to the canvas and through the ropes, and putting his torso outside the ring. Helped to his feet by one of his seconds and a fan, as soon as Jeffries was back in the ring he was rushed again by Johnson, who knocked him down again with a right to the head. As promoter Tex Rickard moved in to separate the fighters, Jeffries got up, but his manager had entered the ring to stop the fight and save his fighter from being knocked out.
In his statement, Trump acknowledged some of the leaders who have pushed for Johnson to be pardoned, including Senator John McCain and the Reverend Jesse Jackson, as well as Stallone. He also took a moment to criticize his predecessor, noting that a series of congressional resolutions had failed to secure a pardon for Johnson. "They thought it was going to be signed in the last Administration, and that didn't happen," he said. "That was very disappointing for a lot of people." He also noted that Johnson had been imprisoned "for what many view as a racially motivated injustice." Trump was pleased to be able to "correct a wrong that occurred in our history."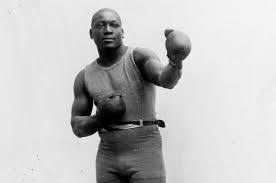 Trump's years in the boxing world seem to have left him with an appreciation for the sport, and with some enduring friendships—even now, Don King, the aging impresario, seems to be one of Trump's confidants. Hanging out with Stallone and a couple of heavyweights, paying respectful tribute to Jack Johnson, Trump looked as if he were in his element.
During the ceremony, the WBC even presented Trump with a championship belt.
People can say what they want about President Trump, all we know is that he has consistently been a friend of boxing and has done the honorable thing in pardoning jack Johnson.
"I am overwhelmed," said Linda Hayword, Jack Johnson's great-great niece. who pressed Trump for the posthumous pardon. "Our family was deeply ahsamed that my uncle went to prison. I only regret that my older relatives did not live to see this day."

Former Welterweight and Middleweight contender and Professional Bull fighter Luis Folledo passes at 79
IBF cruiser king Murat Gassiev KO's former champ Krzysztof Wlodarczyk in three at Newark's Prudential Center
October 21- Newark, New Jersey. Highlighting the World Boxing Super Series, IBF  cruiserweight champion Murat Gassiev, the youngest member in the cruiserweight lineup scored one of the best knockouts in years when he dismantled former IBF and WBC champion Krzysztof Wlodarczyk in three rounds in front of a crowd of his Polish faithful.
Gassiev, of Russia,  (25-0, 18 KO) was the aggressor from the opening bell stalking the Polish battler around the ring behind a stabbing jab and some hard combinations.  For some reason, Wlodarczyk, of Poland,  (53-4-1, 37 KO) seemed to be content giving angles and dancing away from the power fists of Gassiev. He only threw a sporadic number of jabs and though they were piercing jabs, they showed little effect upon the champion.
After seeming to breeze through the first two rounds, halfway through the third, Gassiev hammered the challenger with a jarring left uppercut to the jaw that knocked his head back as if it was attached to a hinge.  He then followed the blow with a thudding left hook to the liver that landed like a Russian RS-26 intercontinental ballistic missile.
Upon impact,  Wlodarczyk crumbled to the dark ring floor writhing in pain and temporarily paralyzed. The referee counted quickly to 10, though he could have easily counted to a thousands. The Polish former champion was in no way going to rise.  
This is the Champions League of boxing and I am going to prove that I am the world´s best cruiserweight. The competition will be tough, but to be the best, you have to beat the best.
"It is an honor to be in the World Boxing Super Series," said the IBF champion Gassiev. "This is the best fighting the best. I have never lost a fight, I am the IBF champion and I look forward to winning the other belts as well to cement my position as the best fighter in the division."
With the victory, Gassiev will now meet unbeaten WBA World cruiserweight champion Yunier Dorticos (22-0, 21 KOs) in the semifinals of the World Boxing Super Series (WBSS) tournament in his next fight in early 2018.
Dorticos, who was on hand at the fight,  said he's looking forward to meeting Gassiev in the semifinals of the WBSS tournament, and now he's got his wish. 
Terence Crawford KO's Julius Indongo in three rounds to become undisputed Jr. Welterweight champion before a sold-out arena in Nebraska
August 20 – Lincoln, Nebraska. Before a sell-out house of 12,100 fans, undefeated Terence Crawford (32-0, 23 KOs) made boxing history at the Pinnacle Bank Arena in Lincoln, Nebraska, by defeating Julius Indongo (22-1, 11 KOs) via a devastating third-round knockout to unify all four world titles in the junior welter division.
With the extraordinary win, Crawford became the first time a boxer to have unified all four belts in a weight class since Jermain Taylor beat Bernard Hopkins in 2005. More impressively, the bout itself was the first four-belt unification fight since Hopkins defeated Oscar De La Hoya in 2004. This was a fact not lost on the Nebraska phenom.
"It means a lot to me being it's the first time all four belts have been on the line at one time in a long time," exclaimed Crawford before the fight. "Only been done [three times] ever before. I am just ready for the moment and excited for the fight. This is what we do it for, to be called one of the best in the world, in the division. Why not shoot for greatness?"
Wearing a Nebraska Corn Huskers college football jersey bearing the number 140, representing the weight limit for junior welterweights, Crawford wasted little time going after his African counterpart.
At the sound of the bell for round one, to match the southpaw stance of Julius Indongo, the reigning IBF and WBA junior welterweight champion, Crawford came out as a southpaw  leading with a long right jab and punches to the body. The sinewy and lanky Indongo tried to score from the outside, but his punches were wide and Crawford avoided nearly every one of them. Crawford accurately timed and countered Indongo's shots and landed a few nice, hard counter rights. Though Indongo managed to land a few blows of his own Crawford counters were striking with radar-like precision.
In round two, Crawford upped the pace and began circling left and right to get an angle on Ondingo.  Indongo, meanwhile,  moved forward and backwards in a relatively straight line in an attempt to land from the outside. Crawford continued to land good counters and managed to score with some hard punches on the inside. Suddenly, in the remaining minute of the round, Crawford connected with a two punch combo to the body that dropped Indongo hard and fast to the canvas. Like the great champion that he was, Ondongo bravely and quickly rose from the floor only to be greeted by an onslaught by Crawford at the bell.
Between rounds, Crawford's corner was extremely confident as they appeared to be urging their charge to finish off maters. Crawford heeded their advice, along with the cheers of the crowd, and went after Ondongo with the preying style of a panther. Indongo seemed understandably gun-shy, but still came straight to Crawford with a couple of looping shots. Seeing an opening, and with the timing of a Swiss clock, Crawford countered a wide blow from Indongo and scored with a body blow. The punch landed like a hydrogen bomb to Ondongo's liver and knocked him to the canvas as if he was shot by a high powered rifle. Unable to rise, much less move, Referee Jack Reiss counted Ondongo out as the Crawford and the fans at the Pinnacle Bank Arena in Lincoln, Nebraska erupted in jubilation.
With all the belts on the line, it was an amazing and impressive victory and performance for the 29-year-old Nebraskan.
 "We have been practicing body shots all camp and everything we worked on in camp came out today," said Crawford, who was thrilled to win all four belts.
"Belts matter," continued the new undisputed junior welterweight champion. "And I am the only world champion at 140lbs – it is a big deal to me. Now I want to rest up and enjoy this moment. My managers and coaches will see what is next for me."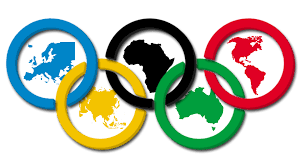 IOC Executive Board to propose nine new Members to Session in Lima
August 11 – The Executive Board (EB) of the International Olympic Committee (IOC) will propose nine new Members for election at the 131st IOC Session in Lima.
Five of these nine new proposed Members are Individual Members. Amongst these five are three women and two men. In line with Olympic Agenda 2020, the IOC's strategic roadmap for the future of the Olympic Movement, the IOC Members Election Commission, chaired by HRH The Princess Royal, proposed them to the EB following a targeted recruitment process that is guided by a specific set of criteria.
Four new proposed Members, in accordance with the Olympic Charter, are representatives of the constituents of the Olympic Movement: the National Olympic Committees (NOC) and the International Federations (IF). These four have been chosen in close consultation with the Association of Summer Olympic International Federations (ASOIF) and the Association of National Olympic Committees (ANOC).
These nine candidates offer various skillsets and come from backgrounds as diverse as sports, management, volunteering, engineering, business administration, commerce and tourism, the media and NGOs. All of them can bring skills and experience needed by the IOC, and aim to further strengthen the ranks of the Olympic Movement in the years to come.
All proposed members have been vetted by the IOC Ethics Commission, which has conducted integrity checks.
The nine candidates (full CVs attached) are:
Five proposed Individual Members:
Baklai TEMENGIL
(Female, Palau, ONOC Vice-President, Individual Member, 23.10.1966)
Jiri KEJVAL
(Male, Czech Republic, President of the Czech Olympic Committee, Individual Member, 30.11.1967)
Kristin KLOSTER AASEN
(Female, Norway, Vice-President of the Norwegian Olympic Committee, Individual Member, 04.01.1961)
Khunying Patama LEESWADTRAKUL
(Female, Thailand, President of the Badminton Association of Thailand, Individual Member, 16.02.1965)
Luis MEJIA OVIEDO
(Male, Dominican Republic, President of the Dominican Republic Olympic Committee, Individual Member, 04.09.1953)
###
Two proposed Members representing an NOC or a continental association of NOCs:
Neven Ivan ILIC ALVAREZ
(Male, Chile, PASO President, Member representing an NOC or a continental association of NOCs, 04.04.1962)
Khalid Muhammad AL ZUBAIR
(Male, Oman, President of the Oman Olympic Committee, Member representing an NOC or a continental association of NOCs, 23.11.1970)
### 
Two proposed Members representing an IF:
Jean-Christophe ROLLAND
(Male, France, Olympic rowing champion, President of World Rowing, Member representing an IF, 03.07.1968)
Ingmar DE VOS
(Male, Belgium, President of the International Federation for Equestrian Sports, member representing an IF, 05.08.1963)
"These nine candidates will add to the huge range of knowledge and experience within the IOC membership. In line with Olympic Agenda 2020, the IOC has taken another step towards a more diverse membership, which will continue to drive reform and reflect the world in which we live," IOC President Thomas Bach said.
In addition, the IOC EB was informed that the family of Mr Kun-Hee Lee has asked the IOC not to consider Mr Lee for re-election as an IOC Member.
Mr Lee has been entirely dedicated to the Olympic Movement. He was first elected as an IOC Member in 1996 at the 105th IOC Session in Atlanta. He served on two IOC Commissions: Cultural (1997), and Finance (1998-1999). In 1991, he received the Olympic Order. As well as being the Honorary President of the Korean Olympic Committee, he helped to bring the Olympic Winter Games to PyeongChang.
Our thoughts are with his family at this difficult time during his continued illness.
The addition of nine new Members and the withdrawal of Mr Kun-Hee Lee would bring the total number of Members to 103.
The 131st IOC Session is scheduled to take place from 13 to 16 September 2017

MAYWEATHER PROMOTIONS IS PROUD TO ANNOUNCE THE 8TH TITANS OF THE TRADE: BREAKFAST OF CHAMPIONS AT MGM GRAND
Click HERE for Photos from the last Titans of the Trade Event
Las Vegas (August 1, 2017) – Mayweather Promotions is preparing for this signature event for the 8th consecutive time! Titans of the Trade: Breakfast of Champions is set to take place on the morning of the Mayweather vs. McGregor weigh-in, Friday, August 25 at MGM Grand. This event celebrates the continuous achievements of individuals who are influencers the sports and entertainment world to make it what it is today.
This year's theme is Dream, Conquer, and Sparkle-exemplifying the acknowledgement of those who have shined or sparkled in their respective professional fields. The ability to shine bright within the industry is noteworthy and deserves recognition and presentation of one of our prestigious awards.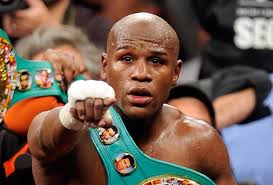 Honorees from our 2016 Titans of the Trade affair include: first African American VP in Major League Baseball history; Marian Rhodes, former WBC World Champion; Alicia Ashley, 2016 Olympian; Vashti Cunningham, Chi-Town's finest breakers; The Monster Kids, and Premier Boxing Champions' President of Boxing Operations; Sylvia Browne-Owens. Honorees to be recognized at the upcoming event include: multi-talented musician and actress; Tally, undefeated boxing world champion and MMA fighter; Heather Hardy, UC-Riverside's top performing female basketball player; Simone Decoud, former UNLV softball coach; Shan McDonald, and remarkable boxing referee; Sparkle Lee.
Honorees:
Young Trailblazer Award recipient- Tally is an up and coming multi-talented rap artist, songwriter, actress and musician from sunny Nashville, Tennessee.  Growing up, Tally took interest into becoming an artist when she began making YouTube covers, landed lead roles in her school plays, and starting playing the guitar, which helped her songwriting skills. Music always played an important role in her life and that landed her a star role in the second season of Lifetime's The Rap Game. After being eliminated after the first episode, she didn't let that deter her future success. She continued to focus on her music career, ultimately landed her another opportunity on the third season of The Rap Game, as well as performing at the 2017 Radio Disney Awards.
Young Trailblazer Award recipient- Simone Decoud has made headlines due to her continuous success as a point guard at UC-Riverside. This Riverside native has been a three-time, All-Big West Honoree, who has averaged 11.5 points, 5.9 rebounds, and 3.1 assists per game this season.  Simone has finished her junior year in college as the team's seventh all-time leading scorer and second on the career assists list and expects to graduate with a degree in Media Cultural Studies. After graduating, she will look to begin her professional basketball career overseas.
Golden Glove Award recipient- Heather "The Heat" Hardy has let her talent do all the talking. She has contributed to diversifying the sports industry by her remarkable success as a female boxer and strength through her continuous achievements in the industry. Being a single mother and a professional boxer has come with a lot of hard-work and dedication but Heather has conquered her adversities through recognition in combat-sports. Her most recent achievement was her TKO win at her MMA debut against Alice Yauger on June 24th. Heather is also unbeaten in the boxing ring with 20 wins, 4 KO's and the WBC super bantamweight & featherweight world titlesTitans of the Trade Award recipient- Shan McDonald was inducted into the UNLV Athletics Hall of Fame after leading the Rebels to 511 victories in 17 seasons, seven-straight NCAA tournaments from 1990-96, and three appearances in the Women's College World Series. The former UNLV softball coach  drove her team to break, or tie, 30 school records, which helped earn her the 'all-time winnings coach's title. She has proven to be a true titan  in sports.   
Meritorious Achievement Award recipient- Sparkle Lee has lead a reputable career as a boxing referee that has helped reshape the image of the 'third man in the ring' for all women. She has made history on countless occasions including as the first female referee to be inducted in the International Boxing Hall of Fame. Her love for boxing started as a routine workout at Gleason's Gym in the 80's and transpired into a career of 30+ years, paving the way for female referees to follow.
In addition to our honorees, the event will be hosted by, TV personality and fashion designer; Angel Brinks. Plus 2 special guest performances by talented Las Vegas native; Cabria Anderson and singer and songwriter, Jade Novah.
This year's Titans of the Trade: Breakfast of Champions- Dream, Conquer, & Sparkle is sponsored by: The Money Team, Mayweather Sports, MGM Grand, SHOWTIME, FNOM, Screaming Images BoxRaw, Alexandre Crepin, Fight Label, Versace Fragrances, Smooth Operators Salon, Too Pretty Brand, and PINTA USA.  
Click HERE to purchase tickets to the most anticipated breakfast in the industry.
# # #
In conjunction with this great event, those who have a strong desire to work and contribute their efforts within the Sports and Entertainment Industry, the Floyd Mayweather Jr. Foundation offers a scholarship for women on a bi-annual basis. This program is funded by the proceeds donated to the foundation as a result of the Titans of the Trade Breakfast. It is designed to offer assistance to women with the potential to make a positive impact, further their education, and benefit the profession as a whole. To apply for The Floyd Mayweather Jr. Foundation Advancement of Women in Sports & Entertainment Scholarship visit: http://tfmjf.org/scholarships/. The deadline to apply for the spring semester is November 15.
Contacts:
Nicole Craig, Mayweather Promotions, (702) 807-1788
Swanson Communications, (202) 783-5500
Boxing Mourns the loss of former heavyweight contender Alex Stewart who fought battles against such greats as Mike Tyson, Evander Holyfield, George Foreman, and Michael Moorer
November 29 – Pelham, New York. Boxing mourns the loss of former top ranked heavyweight contender Alex Stewart who died unexpectedly of a blood clot in his lung at his home in Mt Vernon, NY on November 16.  He was 52 years old.

Stewart, nicknamed "The Destroyer" was born in London, England and raised in Jamaica. In a colorful career spanning two decades, Alex fought many of his bouts at New York's Felt Forum at Madison Square Garden and at the Atlantic City Boardwalk Hall.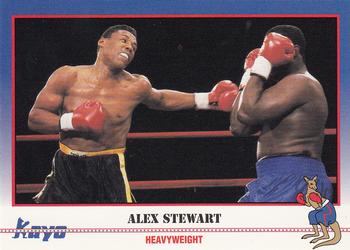 He began his professional boxing career with 24 straight KOs before losing to the legendary Evander Holyfield in the first of two epic battles with the former heavyweight champion. The first came in 1989, when Holyfield won by TKO in round eight and in 1993 when Holyfield captured a close decision victory.
The highlight of his career came when Stewart fought a memorable battle with George Foreman in 1992. Although  Big George won by a close majority decision, Stewart's brave and compelling performance made him a household name. Considering the fact that the bout took place only two years before Foreman would recapture the heavyweight title, Stewart's effort was even more noteworthy. In the bout,  Foreman knocked Stewart down twice, but to his enduring credit, Stewart stormed back and nearly won the fight.

At the time, Foreman was in the middle of a comeback that he would cap off by knocking out Michael Moorer to become the oldest man to win the heavyweight title at the age of 45 in 1994. After the Stewart bout Foreman remarked, "I thought I had him in the third round but the referee let it go on. I didn't want to hurt the kid and now the kid hurt me."
Stewart agreed especially after seeing Foreman's swollen face after the fight as George's face was neatly hidden behind large sunglasses. "Was that a fight or was that a fight?" Stewart asked reporters afterward.

Stewart also fought a hard tough fight against future heavyweight champion Michael Moorer in 1991, a bout which Moorer won by TKO in round four.
Stewart's last huge heavyweight battle was against the then returning former champion Mike Tyson in 1990, in which the former champ knocked him out. Before a sell-out house at Atlantic City's famous Boardwalk Hall, Iron Mike stopped Stewart in the first round. 
Prior to turning professional in 1986, Stewart was a world-ranked amateur heavyweight Stewart and was a member of the Jamaican 1984 Olympic team. Unfortunately, he was beaten by Sweden's Håkan Brock in the heavyweight competition, losing by a 5-0 decision. A year earlier Stewart captured a bronze medal at the Pan American Games, and later lost to future WBO heavyweight champion Michael Bentt in an exciting give-and-take match in the 1985 in the Heavyweight Golden Gloves Finals.
It is safe to say that Stewart fought in what is now considered to be a golden time for heavyweight boxing. He was a durable, tough fighter with a big punch. In a career that spanned 13 years, Stewart garnered an impressive record of 43 Wins (40 knockouts, 3 decisions), 10 Losses (7 knockouts, 3 decisions). Through it all he fought the giants of his time and never ducked a soul.
After retiring from boxing Stewart was a driver for a liquor distributor in the New York City area, and later worked in a factory making boxes for the same company. The fighter is survived by his wife, Angella, and a daughter, Ajay-Tenille.
Stewart died after being rushed to a hospital in Mount Vernon, New York. He had a blood clot in his lung.
He was a colorful fighter and a real crowd pleaser. He will be missed.
 2000 Year-Old Ancient Greek Statue 
The Boxer at Rest
Arrives in America for viewing
Over two thousand years, before baseball, before football, before basketball, and before virtually any and all other sports    that exist today – there was boxing. 
There is no greater proof of this than to view "The Boxer at Rest" statue currently on tour in the United States starting with the Metropolitan Museum of Art in New York.   The bronze Greek sculpture, created sometime between the late Fourth and Second Century,  B.C. is on loan from the Museo Nazionale Romano – Palazzo Massimo alle Terme, in collaboration with the Italian   Ministry of Foreign Affairs.  "We are proud to host The Boxer at Rest, a special loan made possible by the Republic fo Italy," exclaimed Thomas P. Campbell, Director and CEO of the Metropolitan Museum. "More than 2,000 years have passed since the virtuoso work of art was created, yet the powerful realism of its subject continues to captivate viewers today. The  privilege to display this marvelous statue in the United States for the first time – and in the context of the Met's exceptional collection – is a particular honor."  Just one look up close at the statue and one can see how real to life the sculpture actually is to the true sport of boxing. For instance, the athlete's head displays a black and swollen eye, cauliflower ears, cut forehead,  fat and scarred lips, broken nose, as well as various cuts throughout his countenance.  More revealingly, in a stroke of genius, the artist, whose name is unknown, utilized copper inlays on the bronze subject to show the flow of blood that the fighter experienced right after a fight.  During ancient times, as it is today, the  fighter would make the head the primary target. That is why it is so illuminating to observe the aforesaid detailed     facial damage, which proves this.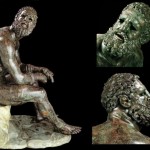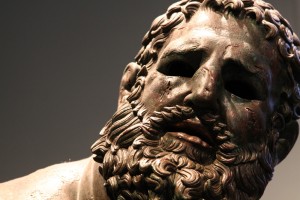 The reddish gold of the ancient copper contrasted with the green of the weathered bronze captures the pure essence of a boxer who just finished a fight.  One even sees wear and tear on the hands and feet, further displaying the rigors and lifetime badges that a fighter wears.  More importantly it is the gloves worn by the fighter in the statue that clearly identifies the subject as a pugilist.  Though the statue has been around for more than two millenium, for a few hundred years it was actually hidden from sight.  The Boxer at Rest sculpture was excavated in Rome in 1885 near the baths of Constantine, where it was thought to have been initially displayed. 
The statue was then intentionally buried sometime in the Fifth Century to possibly   preserve it from barbarian invasions that ravaged Rome and Italy during that century and whose raids stole and damaged many fine and great pieces of art.  Finally, it is the realism of the sculpture and of the subject itself, that harkens the viewer to a world so long ago, and to a great and historic sport not too different than today. 
   
FORMER GREAT HEAVYWEIGHT CHAMPION
PRIMO "THE AMBLING ALP" CARNERA
Live TV's Frankenstein Monster
1957 – Contrary to what has been written about him by prejudiced and imaginative fiction writers with their quills dipped in poison ink, Primo Carnera (1906-1967) did not wind up broke when his boxing career ended, but instead wound up having a very successful post-boxing livelihood. When Carnera's boxing career came to an end in 1937, the great former heavyweight champion had a huge estate in his hometown of Sequals, Italy.This writer personally visited the home in 2001 and even then, it was by far the biggest house in the area. The stories that the "mob" handlers of his took all of his money makes a good story, but it is simply pure nonsense. The minute he began to make a nice living in fisticuffs, Primo would send money to Italy.
Maybe in the U.S. his funds were low, but his accounts across the ocean were substantial, compared to most citizens in Italy. Carnera began boxing in 1928 and already by 1929, he entered Ring Magazine's top ten rankings. The editor of the ring, Nat Fleischer, was certainly a foremost authority of the sport, and would spot a fixed fight or a fake fighter in a minute, yet he placed Primo in his rankings. That goes to show that the tall tales of Carnera's road to the title in the path of fixed bouts actually is plain and utter fantasy. On June 29, 1933, Primo KO'd Jack Sharkey to win the heavyweight championship before 40,000 fans at the Madison Square Garden Bowl in Long Island City, New York. Unlike most of the champs before him, Carnera was a fighting champion and defended his title three times within a 12-month period. Carnera's first defense was at the Piazza di Siena in Rome Italy, where he outpointed the Spanish contender Paulino Uzcudun over 15 rounds in front of 70,000 fans on October 22, 1933. Primo's second defense of his crown was a 15-round win against the #2-ranked heavyweight contender, and former light heavy champ Tommy Loughran on March 1, 1934 at the Madison Square Garden Stadium in Miami, Florida. Loughran's two previous bouts were a 15-round win over former champ Jack Sharkey and a 10-round win over contender Ray Impelletiere. Morevoer, in 1931, Loughran had easily beaten Max Baer on a 10-round nod at New York's Madison Square Garden. Against the underrated sharp boxing skills of Carnera, Loughran was trounced, winning just 1 round on referee Leo Shea's scorecard, only 1 round on judge Colin McLaughlin's card, and 3 rounds on judge Roy Latham's card. The 12,000 fans in attendance saw a talented fighter easily whip a very clever opponent.
The fighting champion then took on the feared #1-ranked contender Max Baer on June 14, 1934 and was stopped in 11 rounds before 56,000 fans at the Madison Square Garden Bowl. When World War II came to an end, Primo returned to the ring in a brief comeback attempt and went 2-3 from 1945-1946. Considering that by then he was a bad diabetic and had a kidney removed in 1938, it was remarkable that he was even able to engage in any boxing. Following his retirement from the ring, Primo became a successful professional wrestler and was undefeated in his first 120 matches (119-0-1) before he was defeated by Yvon Robert in Montreal, Canada on August 20, 1947. Primo was such a talented wrestler that in 1948 he beat the legendary former world heavyweight wrestling champion Ed "Strangler" Lewis. After that win, Carnera (then 143-1-1) faced the reigning world heavyweight wrestling king Lou Thesz and was defeated. Carnera retired from the wrestling ring in 1962 a very wealthy man. Although he kept his villa in Sequals, in 1953, Primo and his wife Giuseppina eventually became American citizens. In Los Angeles in the 1950's and early 1960's they operated a successful liquor store and restaurant. Another field that Carnera found prosperity was in acting. Primo first acted in a short film, The Bigger They Are when he was a heavyweight contender in 1931.
After he became the heavyweight boxing champion of the world, Primo appeared in two films in 1933, Mr. Broadway and The Prizefighter and the Lady, which also starred his future conquerer, Max Baer. From 1939-1943, Primo also appeared in nine Italian films. In the popular 1949 film, Mighty Joe Young, Carnera had a great sequence in a tug of war match with the giant gorilla along with a team of professional wrestlers on his side. After they are easily beaten by the gorilla, Primo attempts to slug it out with Mighty Joe before being tossed across the room. After appearing in IiTallone di Achille (1952), Prince Valiant (1954), Bob Hope's Casanova's Big Night (1954), and A Kid for Two Farthings (1955), Primo appeared on the Matinee Theatre TV series in a live, color broadcast version of Mary Shelley's Frankenstein, where he played the menacing monster in 1957. Since he was 6' 5 1/2″ tall, Carnera
was a perfect size for the famous monster. The production's director, Walter Grauman then added thick-soled boots and a padded suit that made Primo more larger and terrifying. The show was broadcast live at 3 PM on the east coast and at noon on the West Coast on NBC. The network wanted the design of the creature to not resemble the famous Universal Studios Frankenstein Monster. In a three-hour period, a team of five makeup artists working in shifts applied the makeup to the former heavyweight king. The appearance was of bald head crisscrossed with large stitches. According to Grauman, in the rehearsal, there was a scene where the monster had to pick up a victim and toss him across the room. Carnera did not want to rehearse the toss because he feared that he would hurt the stuntman and planned on just doing the stunt feat on the live telecast. Well, during the live telecast, Grauman said, "Primo picked up the stuntman as if he were a weightless rag doll and threw him into the wall. The stuntman crashed so hard into the wall that he smashed right through the set construction! It was a miracle that the stuntman wasn't seriously hurt." Unfortunately, since it was a live broadcast, there appears to be no videotaped kinescope of the production, and it is sadly lost forever. One of boxing's most underrated fighting champions, Primo Carnera compiled a terrific ring record of 88-14 (71 KO's).  Considering that 6 of is 14 losses took place when he was well past his prime, his record still ranks as one of the foremost in boxing history.  Notwithstanding, Primo Carnera reigned as one of the top heavyweights in the planet throughout most of the 1930's, a great era for talented heavyweight boxers. It was an era that clearly would have demolished the heavyweights of the current 21st century.
It is a shame that no-talent and revisionist writers wrote falsehoods and cruel fiction stories about his fights. No fighter ever came forward throughout Carnera's career and even into the 21st Century, that a bout against Primo Carnera was fixed or crooked. Considering that Carnera defeated 88  men, and numerous hearings were held in the 1950's, and still no one ever came forward to verify any wrong doing is a testament to the truth that Primo was indeed a fistic great.  The legendary editor of Ring Magazine, Nat Fleischer never believed that Carnera's record was built on fake bouts. In fact, he regularly ranked Primo in his list of top-ten Ring ratings: #3 in 1931, #4 in 1932, World Champion in 1933, #2 in 1934, and #3 in 1935.
The U.S.A. Boxing News is the only boxing periodical with the guts to write the truth, compared to most of the others that are now buried in graveyard of past publications. While hearsay and extreme prejudice has soiled the name of Primo Carnera, hopefully, the fans of today will recognize the difference between fact and fiction. The FACT is that Primo Carnera was a boxing legend who would have had no problem being a champion in today's era.