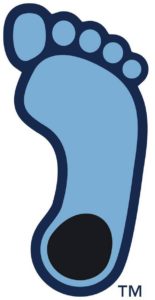 UNC Tar Heel Alex 'round The Boxing Ring
By Alexander R.  Rinaldi    
Boxing Mourns the loss of former heavyweight contender Alex Stewart who fought battles against such greats as Mike Tyson, Evander Holyfield, George Foreman, and Michael Moorer
November 29 – Pelham, New York. Boxing mourns the loss of former top ranked heavyweight contender Alex Stewart who died unexpectedly of a blood clot in his lung at his home in Mt Vernon, NY on November 16.  He was 52 years old.

Stewart, nicknamed "The Destroyer" was born in London, England and raised in Jamaica. In a colorful career spanning two decades, Alex fought many of his bouts at New York's Felt Forum at Madison Square Garden and at the Atlantic City Boardwalk Hall.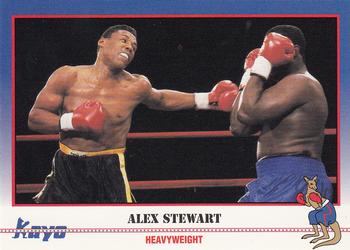 He began his professional boxing career with 24 straight KOs before losing to the legendary Evander Holyfield in the first of two epic battles with the former heavyweight champion. The first came in 1989, when Holyfield won by TKO in round eight and in 1993 when Holyfield captured a close decision victory.
The highlight of his career came when Stewart fought a memorable battle with George Foreman in 1992. Although  Big George won by a close majority decision, Stewart's brave and compelling performance made him a household name. Considering the fact that the bout took place only two years before Foreman would recapture the heavyweight title, Stewart's effort was even more noteworthy. In the bout,  Foreman knocked Stewart down twice, but to his enduring credit, Stewart stormed back and nearly won the fight.

At the time, Foreman was in the middle of a comeback that he would cap off by knocking out Michael Moorer to become the oldest man to win the heavyweight title at the age of 45 in 1994. After the Stewart bout Foreman remarked, "I thought I had him in the third round but the referee let it go on. I didn't want to hurt the kid and now the kid hurt me."
Stewart agreed especially after seeing Foreman's swollen face after the fight as George's face was neatly hidden behind large sunglasses. "Was that a fight or was that a fight?" Stewart asked reporters afterward.

Stewart also fought a hard tough fight against future heavyweight champion Michael Moorer in 1991, a bout which Moorer won by TKO in round four.
Stewart's last huge heavyweight battle was against the then returning former champion Mike Tyson in 1990, in which the former champ knocked him out. Before a sell-out house at Atlantic City's famous Boardwalk Hall, Iron Mike stopped Stewart in the first round. 
Prior to turning professional in 1986, Stewart was a world-ranked amateur heavyweight Stewart and was a member of the Jamaican 1984 Olympic team. Unfortunately, he was beaten by Sweden's Håkan Brock in the heavyweight competition, losing by a 5-0 decision. A year earlier Stewart captured a bronze medal at the Pan American Games, and later lost to future WBO heavyweight champion Michael Bentt in an exciting give-and-take match in the 1985 in the Heavyweight Golden Gloves Finals.
It is safe to say that Stewart fought in what is now considered to be a golden time for heavyweight boxing. He was a durable, tough fighter with a big punch. In a career that spanned 13 years, Stewart garnered an impressive record of 43 Wins (40 knockouts, 3 decisions), 10 Losses (7 knockouts, 3 decisions). Through it all he fought the giants of his time and never ducked a soul.
After retiring from boxing Stewart was a driver for a liquor distributor in the New York City area, and later worked in a factory making boxes for the same company. The fighter is survived by his wife, Angella, and a daughter, Ajay-Tenille.
Stewart died after being rushed to a hospital in Mount Vernon, New York. He had a blood clot in his lung.
He was a colorful fighter and a real crowd pleaser. He will be missed.
 2000 Year-Old Ancient Greek Statue 
The Boxer at Rest
Arrives in America for viewing
Over two thousand years, before baseball, before football, before basketball, and before virtually any and all other sports    that exist today – there was boxing. 
There is no greater proof of this than to view "The Boxer at Rest" statue currently on tour in the United States starting with the Metropolitan Museum of Art in New York.   The bronze Greek sculpture, created sometime between the late Fourth and Second Century,  B.C. is on loan from the Museo Nazionale Romano – Palazzo Massimo alle Terme, in collaboration with the Italian   Ministry of Foreign Affairs.  "We are proud to host The Boxer at Rest, a special loan made possible by the Republic fo Italy," exclaimed Thomas P. Campbell, Director and CEO of the Metropolitan Museum. "More than 2,000 years have passed since the virtuoso work of art was created, yet the powerful realism of its subject continues to captivate viewers today. The  privilege to display this marvelous statue in the United States for the first time – and in the context of the Met's exceptional collection – is a particular honor."  Just one look up close at the statue and one can see how real to life the sculpture actually is to the true sport of boxing. For instance, the athlete's head displays a black and swollen eye, cauliflower ears, cut forehead,  fat and scarred lips, broken nose, as well as various cuts throughout his countenance.  More revealingly, in a stroke of genius, the artist, whose name is unknown, utilized copper inlays on the bronze subject to show the flow of blood that the fighter experienced right after a fight.  During ancient times, as it is today, the  fighter would make the head the primary target. That is why it is so illuminating to observe the aforesaid detailed     facial damage, which proves this.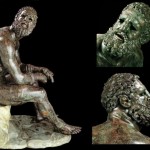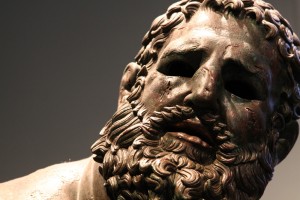 The reddish gold of the ancient copper contrasted with the green of the weathered bronze captures the pure essence of a boxer who just finished a fight.  One even sees wear and tear on the hands and feet, further displaying the rigors and lifetime badges that a fighter wears.  More importantly it is the gloves worn by the fighter in the statue that clearly identifies the subject as a pugilist.  Though the statue has been around for more than two millenium, for a few hundred years it was actually hidden from sight.  The Boxer at Rest sculpture was excavated in Rome in 1885 near the baths of Constantine, where it was thought to have been initially displayed. 
The statue was then intentionally buried sometime in the Fifth Century to possibly   preserve it from barbarian invasions that ravaged Rome and Italy during that century and whose raids stole and damaged many fine and great pieces of art.  Finally, it is the realism of the sculpture and of the subject itself, that harkens the viewer to a world so long ago, and to a great and historic sport not too different than today. 
   
FORMER GREAT HEAVYWEIGHT CHAMPION
PRIMO "THE AMBLING ALP" CARNERA
Live TV's Frankenstein Monster
1957 – Contrary to what has been written about him by prejudiced and imaginative fiction writers with their quills dipped in poison ink, Primo Carnera (1906-1967) did not wind up broke when his boxing career ended, but instead wound up having a very successful post-boxing livelihood. When Carnera's boxing career came to an end in 1937, the great former heavyweight champion had a huge estate in his hometown of Sequals, Italy.This writer personally visited the home in 2001 and even then, it was by far the biggest house in the area. The stories that the "mob" handlers of his took all of his money makes a good story, but it is simply pure nonsense. The minute he began to make a nice living in fisticuffs, Primo would send money to Italy.
Maybe in the U.S. his funds were low, but his accounts across the ocean were substantial, compared to most citizens in Italy. Carnera began boxing in 1928 and already by 1929, he entered Ring Magazine's top ten rankings. The editor of the ring, Nat Fleischer, was certainly a foremost authority of the sport, and would spot a fixed fight or a fake fighter in a minute, yet he placed Primo in his rankings. That goes to show that the tall tales of Carnera's road to the title in the path of fixed bouts actually is plain and utter fantasy. On June 29, 1933, Primo KO'd Jack Sharkey to win the heavyweight championship before 40,000 fans at the Madison Square Garden Bowl in Long Island City, New York. Unlike most of the champs before him, Carnera was a fighting champion and defended his title three times within a 12-month period. Carnera's first defense was at the Piazza di Siena in Rome Italy, where he outpointed the Spanish contender Paulino Uzcudun over 15 rounds in front of 70,000 fans on October 22, 1933. Primo's second defense of his crown was a 15-round win against the #2-ranked heavyweight contender, and former light heavy champ Tommy Loughran on March 1, 1934 at the Madison Square Garden Stadium in Miami, Florida. Loughran's two previous bouts were a 15-round win over former champ Jack Sharkey and a 10-round win over contender Ray Impelletiere. Morevoer, in 1931, Loughran had easily beaten Max Baer on a 10-round nod at New York's Madison Square Garden. Against the underrated sharp boxing skills of Carnera, Loughran was trounced, winning just 1 round on referee Leo Shea's scorecard, only 1 round on judge Colin McLaughlin's card, and 3 rounds on judge Roy Latham's card. The 12,000 fans in attendance saw a talented fighter easily whip a very clever opponent.
The fighting champion then took on the feared #1-ranked contender Max Baer on June 14, 1934 and was stopped in 11 rounds before 56,000 fans at the Madison Square Garden Bowl. When World War II came to an end, Primo returned to the ring in a brief comeback attempt and went 2-3 from 1945-1946. Considering that by then he was a bad diabetic and had a kidney removed in 1938, it was remarkable that he was even able to engage in any boxing. Following his retirement from the ring, Primo became a successful professional wrestler and was undefeated in his first 120 matches (119-0-1) before he was defeated by Yvon Robert in Montreal, Canada on August 20, 1947. Primo was such a talented wrestler that in 1948 he beat the legendary former world heavyweight wrestling champion Ed "Strangler" Lewis. After that win, Carnera (then 143-1-1) faced the reigning world heavyweight wrestling king Lou Thesz and was defeated. Carnera retired from the wrestling ring in 1962 a very wealthy man. Although he kept his villa in Sequals, in 1953, Primo and his wife Giuseppina eventually became American citizens. In Los Angeles in the 1950's and early 1960's they operated a successful liquor store and restaurant. Another field that Carnera found prosperity was in acting. Primo first acted in a short film, The Bigger They Are when he was a heavyweight contender in 1931.
After he became the heavyweight boxing champion of the world, Primo appeared in two films in 1933, Mr. Broadway and The Prizefighter and the Lady, which also starred his future conquerer, Max Baer. From 1939-1943, Primo also appeared in nine Italian films. In the popular 1949 film, Mighty Joe Young, Carnera had a great sequence in a tug of war match with the giant gorilla along with a team of professional wrestlers on his side. After they are easily beaten by the gorilla, Primo attempts to slug it out with Mighty Joe before being tossed across the room. After appearing in IiTallone di Achille (1952), Prince Valiant (1954), Bob Hope's Casanova's Big Night (1954), and A Kid for Two Farthings (1955), Primo appeared on the Matinee Theatre TV series in a live, color broadcast version of Mary Shelley's Frankenstein, where he played the menacing monster in 1957. Since he was 6' 5 1/2″ tall, Carnera
was a perfect size for the famous monster. The production's director, Walter Grauman then added thick-soled boots and a padded suit that made Primo more larger and terrifying. The show was broadcast live at 3 PM on the east coast and at noon on the West Coast on NBC. The network wanted the design of the creature to not resemble the famous Universal Studios Frankenstein Monster. In a three-hour period, a team of five makeup artists working in shifts applied the makeup to the former heavyweight king. The appearance was of bald head crisscrossed with large stitches. According to Grauman, in the rehearsal, there was a scene where the monster had to pick up a victim and toss him across the room. Carnera did not want to rehearse the toss because he feared that he would hurt the stuntman and planned on just doing the stunt feat on the live telecast. Well, during the live telecast, Grauman said, "Primo picked up the stuntman as if he were a weightless rag doll and threw him into the wall. The stuntman crashed so hard into the wall that he smashed right through the set construction! It was a miracle that the stuntman wasn't seriously hurt." Unfortunately, since it was a live broadcast, there appears to be no videotaped kinescope of the production, and it is sadly lost forever. One of boxing's most underrated fighting champions, Primo Carnera compiled a terrific ring record of 88-14 (71 KO's).  Considering that 6 of is 14 losses took place when he was well past his prime, his record still ranks as one of the foremost in boxing history.  Notwithstanding, Primo Carnera reigned as one of the top heavyweights in the planet throughout most of the 1930's, a great era for talented heavyweight boxers. It was an era that clearly would have demolished the heavyweights of the current 21st century.
It is a shame that no-talent and revisionist writers wrote falsehoods and cruel fiction stories about his fights. No fighter ever came forward throughout Carnera's career and even into the 21st Century, that a bout against Primo Carnera was fixed or crooked. Considering that Carnera defeated 88  men, and numerous hearings were held in the 1950's, and still no one ever came forward to verify any wrong doing is a testament to the truth that Primo was indeed a fistic great.  The legendary editor of Ring Magazine, Nat Fleischer never believed that Carnera's record was built on fake bouts. In fact, he regularly ranked Primo in his list of top-ten Ring ratings: #3 in 1931, #4 in 1932, World Champion in 1933, #2 in 1934, and #3 in 1935.
The U.S.A. Boxing News is the only boxing periodical with the guts to write the truth, compared to most of the others that are now buried in graveyard of past publications. While hearsay and extreme prejudice has soiled the name of Primo Carnera, hopefully, the fans of today will recognize the difference between fact and fiction. The FACT is that Primo Carnera was a boxing legend who would have had no problem being a champion in today's era.