Bo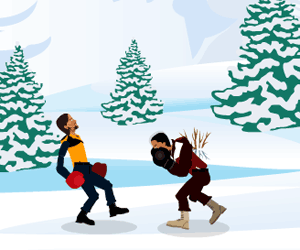 xing in New England and other places
By Kirk Lang
John Gotti III brutally stops Alex Citrowske in the opening frame in the exciting Winter Brawl at the Mohegan Sun Casino Arena
Story by Kirk Lang
Photos by Bill Peterson, CES Boxing and Kirk Lang
January 21 – Uncasville, CT – Mohegan Sun Arena. Connecticut's first boxing card of 2023 – titled Winter Brawl – turned into the John Gotti III show, what with the planned 10-round main event between Juiseppe "The Sicilian Nightmare" Cusumano and Istvan "The Hungarian Hammer" Bernath falling through the day before, when it was announced Cusumano would be unable to fight due to illness.
Gotti, the son of John A. Gotti and grandson of the legendary "Teflon Don" John Gotti, ex-head of the Gambino crime family, was not officially the new main event, but considering the arena practically emptied out after his fight, the 10-round featherweight clash between local favorite Irvin Gonzalez Jr and Dannis Aguero Arias – which was expanded from 8 rounds to 10 when the heavyweight fight fell through – turned into the de-facto walk-out bout.
Gotti, a former mixed martial arts competitor, was looking to notch his second pro victory, but considering the fan support he had, with many of his most ardent fans wearing "Gotti" baseball-style caps, you would have thought he was a champion, or at least a top-20 ranked contender already. He had six MMA fights under promoter Jimmy Burchfield, whose home base is in nearby Rhode Island, and Burchfield so far promotes his boxing matches, though he has not officially signed Gotti, of Oyster Bay, NY, to an exclusive contract.
Alex Citrowske, 174, of Saint Cloud, MN, may not have been the stiffest test for Gotti, but the undefeated 30-year-old did what he had to do, and looked good doing so, before registering a first-round stoppage in the scheduled 4-rounder. Gotti, 175 ½, dropped Citrowske three times before referee John Callas was forced to wave off the one-sided beating at the 2:59 mark.
 A good-looking man with a well-tailored beard, and muscles that make him look like he can be the next action movie hero, Gotti wasted no time at the outset of the opening round pounding away at Citrowske with repeated left hooks and straight rights meant to do harm. Citrowske tried to get on his bicycle and avoid the storm, but that was not to be as a left hook-straight right combo sent him to the canvas. To his credit, Alex got to his feet rather quickly, as he would each time he was dropped, but he was in over his head against Gotti.
After being given a standing 8-count, Gotti resumed his attack, first trying to bomb away with consecutive right hands. A hard left hook created the second knockdown. When the action resumed, Gotti made a point of trying to land something meaningful with three different straight right-left hook combinations. After the last combination missed its mark entirely, Gotti tried something new. He held his left hand out like a measuring stick for a second, and then delivered one of his patented straight right-left hook combinations. It worked perfectly as Citrowske hit the canvas hard, and though he showed no quit in him, getting up rather fast, Callas had seen enough and waved his arms to call a halt to the slaughter.
Gotti, who turned pro in October, improved to 2-0 while Citrowske saw his ledger fall to 1-2-1 (1).
As for Worcester, Massachusetts' Irvin Gonzalez Jr., things did not go exactly as planned for him. Not only was his main event fought in front of a near empty house, Gonzalez suffered a stoppage loss in front of hundreds of fans who made the trek from his home state to Mohegan Sun to see him. The 31-year-old Dannis Aguero Arias, who replaced original opponent Headley Scott, of Jonesboro, GA, was no second-rate substitute. He came into the fight with an impressive 19-2 record with 16 knockouts and was riding a streak of eight consecutive stoppage victories. His 4th round TKO of Gonzalez made it nine straight. Gonzalez, 125 ½, started off the fight strong. In the opening stanza, he used his height to his advantage and was the busier fighter.
Gonzalez also seemed in control for the majority of the second round before Arias, 123 ¾, stepped it up in the final minute of the frame, as he unleashed a barrage of leather in Gonzalez' direction in a neutral corner. He made even more use of his fists in the third frame and one assault forced referee John Callas to administer a standing 8-count against Gonzalez in Arias' corner.
In round four, Arias connected with a solid right in the early going and another right hand later in the round, with about a minute remaining, sent Gonzalez crashing to the canvas at center-ring. Callas did not bother to give a count as he waved the action off at the 2:04 mark. Arias, now 20-2 (17), captured the vacant WBC silver featherweight title with his victory. Gonzalez, who had not fought in 13 months due to elbow and hand surgeries, saw his ledger dip to 15-4 (11).
Junior middleweight Chordale Booker, 18-1 (7), won a dominant, though less than scintillating eight-round decision victory over McAllen, Texas' Angel Hernandez. The scores were 80-72 (twice) and 79-73.
Mitch Louis-Charles, a Quebec, Canada native now fighting out of Boston, MA, pulled off the upset of the night when he stopped previously unbeaten Josniel Castro, 9-1 (7). Castro was content to fight off the backfoot in the early going of the bout, but got more aggressive in the third round. Maybe he should have stuck to sticking and moving rather than pressing forward, because Louis-Charles got off some good combinations at the start of the fourth stanza, not long after, a beautiful right to Castro's jaw sent him to the canvas and he never beat the count. The official time of the stoppage was 1:36.
"It was a year-and-a-half I hadn't fought," said Louis-Charles. "My coach was telling me to get more active and use that double jab [which set up the right hand]."
Louis-Charles, 154 ½, said a lot of pre-fight trash talking "motivated me" and made him put forth an extra effort to show Castro, 153 ½, who the better man is. He upped his record to 7-3-2 (4).
In light heavyweight action, Kendrick Ball Jr., of Worcester, MA, 174, escaped with a majority draw after looking less than his normal self against Argentinian Victor Hugo Exner. Exner, who had the most impressive back muscles of the night, took the fight to Ball, who found himself unable to keep the shorter man at the end of his longer arms. Exner, 174 ½, applied more pressure as the rounds wore on, and by the end of the sixth, most reporters at ringside thought unbiased judging would see Exner's hand raised in victory. Reporters and boxing fans alike were dismayed when the majority draw was announced. On the bright side, at least Exner was given a draw against the local guy, rather than heading home with a robbery loss. It could have been worse. Ball's record is now 19-1-3 (12) while Exner's ledger stands at 9-12-2 (3). Although Exner did not get the win, he proved that you should never pre-judge a man by his record. He had more losses than wins, but gave the once-beaten Ball all he could handle over six rounds.
Rising local lightweight Alejandro Paulino, 134, of New London, CT, won via 5th round stoppage over Alliance, Ohio's Ryizeemmion Ford, 8-4 (6). He dropped Ford, 134, in the third frame and in the fifth stanza, stunned his man with a hard right, then followed up with a barrage of shots that forced referee Danny Schiavone to end matters at the 1:17 mark. Paulino upped his record to 12-0 (10).
Kevin Walsh, 130 ¼, of Brockton, MA, claimed the vacant New England junior lightweight title with a six-round majority decision over New York City's Christian Otero. The scores were 59-55, 59-54 for Walsh, while one judge saw it 57-56 for Otero. A right hand put Otero on the canvas in the opening round, however, that did not deter him as he was aggressive over the course of the fight. Walsh's boxing ability, though, was a level above Otero's. Walsh raised his unbeaten record to 7-0 while Otero dropped to 4-3.
In heavyweight action, Gabriel Aguilar Costa, of Woburn, MA, overcame a second-round knockdown to earn a split decision victory over Brockton, MA native Chad Leoncello. It was sweet revenge for Costa, who suffered a stoppage loss to Leoncello two months ago. Costa is now 1-3 while Leoncello falls to 1-1-1.
Mixed martial arts fighter Mike Kimbel, 141 ½. Of Waterbury, CT, had a great pro boxing debut, stopping Baldwin, New York's Robert Banks in the fourth round of their scheduled four-rounder. The action was moderate through three frames, but in the fourth Kimbel stepped it up, stinging Banks with numerous shots, most notably left hooks. After a final assault, referee John Callas stepped in and waved it off. The time was 1:50. Banks is now 0-2.
Stevie Jane Coleman, 134, of Columbia, CT, earned a hard-fought four-round decision victory over Michaela Nogue, 134 ½, of Egg Harbor, NJ. Two judges had it 39-37 for Coleman, while one judge saw it a draw at 38-38. Nogue did put forth a solid effort, especially in the middle rounds, but Coleman finished strong in the final stanza to get the edge in a competitive scrap. Her record now stands at 4-1 (1) while Nogue dips to 2-3.
____________
Heavyweight Cassius Chaney rebounds with first-round stoppage at Mohegan Sun in stirring KO-filled CES Promotions "Summer Heat" fight show.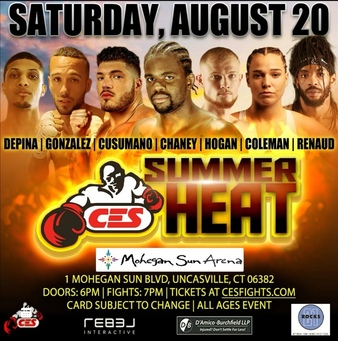 Story by Kirk Lang
August 20 – Uncasville, CT. Heavyweight Cassius Chaney is back to his winning ways after stopping Matthew "El Matador" McKinney in the first round of a scheduled eight-round special attraction at Mohegan Sun Saturday night.
Chaney, who suffered his first pro setback to George Arias back in December, was not exactly elated when he earned the victory at the 2:07 mark. That is because McKinney seemed to find the canvas all too easily from punches that barely landed. After the third knockdown – the result of a body punch – referee Johnny Callas stepped between the fighters and called it off.
Chaney, 252, of New London, CT, who headlined CES Promotions "Summer Heat" card, was visibly displeased and could be seen mouthing, "Come on man," as McKinney, 260, of Fullerton, CA, laid at his feet.
Cassius would subsequently tell this reporter, "I was very disappointed because I really needed the rounds." But McKinney was not looking for a battle.
"He [McKinney]told me he did not want to get knocked out and suspended," said Chaney, referring to the fact that if McKinney had been knocked out cold, he would face a 90-day suspension that is supposed to be honored nationwide with every state athletic commission.
Chaney had trained for nine weeks, although he was expecting to face Shawn Miller, not McKinney. He was looking to put on a real show in his first fight with CES Promotions. Chaney was promoted for years by Main Events but elected to part ways when his contract expired.
Two days after the fight at Mohegan, Chaney said he was "still upset" because "it was a lot of work and I felt really good and CES put in a lot of work."
Cassius added, "My fans and supporters were looking forward to it going some rounds." 
Maybe things did not go the way Chaney had planned, but he came to do his job, even if McKinney clearly was not as eager to mix it up and give the fans an entertaining main event. In fact, McKinney, 9-6-2 (6), would make a hasty exit from the arena. He was seen leaving, check apparently in his pocket, going up the arena escalator and quickly exiting the arena, before some members of the press were done using the bathroom, and before they had made their way up the escalator.
Chaney, who played basketball for the University of New Haven before making the transition to The Sweet Science, is already looking to move on past McKinney.
"I'm hoping to fight again soon, possibly in South Africa if it works out," he said. "I'm going there, possibly to box Kevin Lerena for his fight, and fight on the card while I'm there."
With Saturday's victory, the 6'6" Chaney improved to 22-1 with 15 knockouts.
In other heavyweight action, 6'4" heavyweight Juiseppe Cusumano, 235, of Carni, Siciliy, demolished Dennis Ventura, 215 ½, of Lynn, MA, in the second round in the night's co-featured bout. A minute into the first frame, Cusumano seemed focused on an opening round knockout, as he let loose with a blistering attack. Ventura, however, survived that early onslaught, as well as another two-fisted volley before the round's end.
If Ventura thought he could weather some early storms and upset "The Sicilian Nightmare" later in the fight, it was not to be.
Cusumano, in the opening moments of the second round, caught Ventura along the ropes and let loose with an array of left hooks to the body. With no response from the hurt Ventura, who was half-slumped along the ropes, referee Danny Schiavone was forced to step in and wave the fight off at the 1:53 mark.
Cusumano improved his overall record to 21-4 (19) and is now on a two-fight win streak since his last defeat, a stoppage loss to Daniel Dubois a year ago in August. Ventura fell to 4-2 (3).
Unbeaten middleweight Frances Hogan, 159 ¼, of Weymouth, MA, got off to a slow start against Cleotis Pendarvis, of Lancaster, CA, but ultimately closed the show in impressive fashion in the fourth round with a beautiful right jab-straight left combination that made Pendarvis collapse at Hogan's feet along the ropes. The fight was halted at the 2:59 mark. Prior to the end, Hogan had scored a knockdown in the third round, courtesy of a huge overhand left, followed by a right hook to the body. Frances improved to 12-0 with 11 knockouts while Pendarvis dropped to 21-11-2 (9).
Unbeaten super featherweight Alejandro Paulino, 136, of New London, CT, had a lively opponent in Brandon Idrogo, 134, of Bronx, NY, at least in the early going, but Paulino showed over the six-round contest who the better fighter was. He was awarded the fight by scores of 60-59, 59-55 and 58-56. Paulino started to turn it up a notch in the third frame and in the sixth and final round, he was ripping uppercuts and left hooks, trying to close the show in impressive fashion for his many cheering fans, who stood up and stomped their feet in appreciation. Alejandro strung all kinds of power punches together, but Idrogo proved to have a solid chin and an equally durable mid-section. With the win, Paulino upper his record to 11-0 (10) while Idrogo fell to 6-3 (6).
Jalen Renaud, 148 of Springfield, MA, cruised to a six-round decision over Michael Ogundo, 144 ¾, of Quincy, MA. The scores were 60-54, 59-55 and 58-56. He is now 9-0 (3) while Ogundo tumbles to 16-16 (13).
Cranston, Rhode Island-based Gary Balletto Jr., whose father used to fight for Jimmy Burchfield, scored a second-round stoppage of Jeremiah David Austin, of Niagara Falls, NY. He started off fast in the opening round, teeing off on Austin in the opening minute, but then calmed things down a bit. Halfway through the second frame, however, Gary again took it up a notch. This is clearly a guy who does not exactly like to patiently box as he fired off rights and lefts in rapid succession. Referee John Callas was watching closely as Balletto, 178, hammered his opponent with brutal left hooks. He was giving Austin, 181 ½, a chance, but Balletto kept pounding away with bad intentions. Finally, Callas stepped between the fighters and called it off. The official time was 2:55. Balletto is now 3-0 (2). For Austin, who was unfortunately making his pro debut, he will have to look for his first win another day.
Heavyweight Sean Bey, 218 1/3, of Providence, RI, dropped John Shipman, 206, of Dallas, TX, twice in opening round and once in the opening seconds of the second frame to force a stoppage at the 12-second mark! This fight followed a theme for Bey, as none of his pro fights have gone past two rounds. He raised his record to 7-0 (7) while Shipman goes to 4-3 (2).
Jonathan DePina, 135, of Boston, MA, earned a six-round decision victory over Cristian Otero, 135 ¼, of New York, NY, by majority scores of 59-56 and 58-56 (twice). To be honest, though, this fight could have easily gone in Otero's favor. He came out in aggressive fashion at the start of the fight, and one would have thought Cristian was the favored fighter, not the so-called opponent. Otero was letting his hands go round after round, while DePina was often laying back. DePina may pack a little bit more power than Otero, but many in press row did not feel his power edge deserved him the fight.
DePina improved to 9-1 (4) while Otero fell to 4-2 (2).
In the night's opening bout, 21-year-old Stevie Jane Coleman, 146 ½, of Columbia, CT, wasted no time dispatching of Jesenia Rivas, 146 ¼, of Denver, CO. The official time was 39 seconds of the first round. Coleman came out pumping some jabs in Rivas' face. Jesenia offered some leather back, but Coleman, during an assault, rocked Rivas, who was making her pro debut, with a left hook. She followed up with a straight right, then followed that up with another left hook-straight right combination. With referee Danny Schiavone keeping a close eye on matters, he was forced to call a halt to the action after a Coleman blasted away at Rivas' head with a half dozen power shots to the head. The night was a "first" for Coleman, as she scored the first stoppage victory of her career. She has clearly been improving every fight under trainer Paul Cichon. In fact, her only loss was her pro debut. Enjoying an unbeaten run since then, she raised her overall record to 3-1 (1).
Photos by Sean Bey, Gary Davis  and CES promotions.
________
Jalolov Stops Mulowayi in Final Round of ShoBox Main Event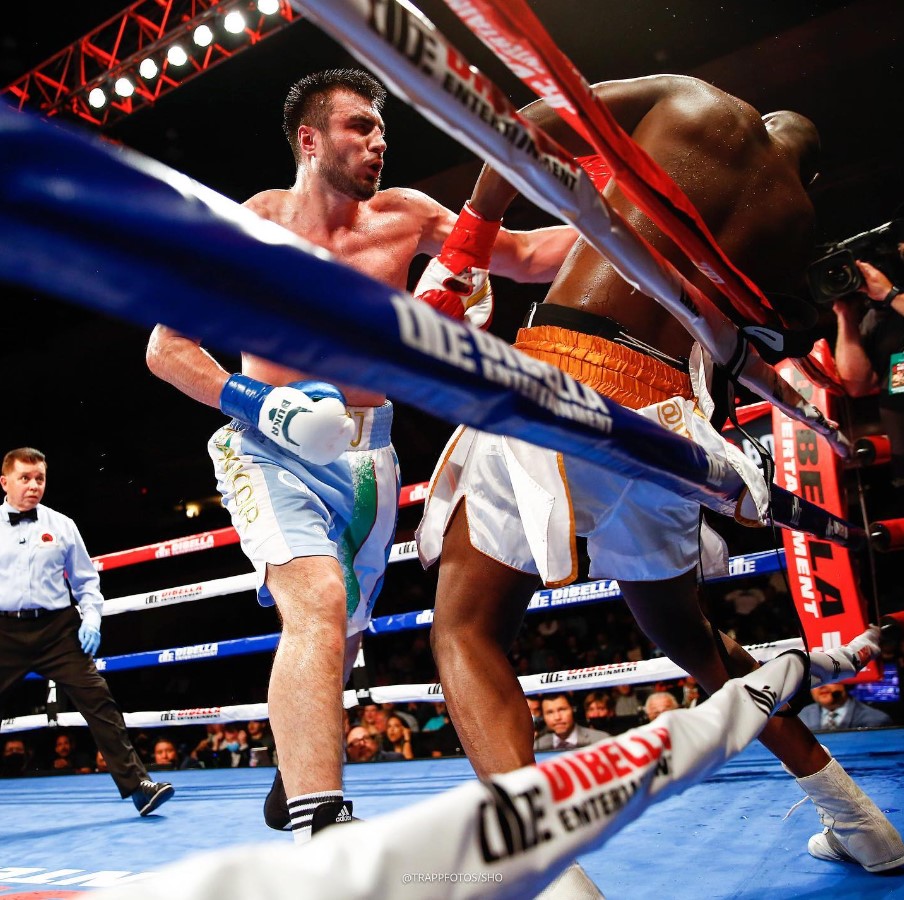 Story by Kirk Lang
Verona, NY. It was not always a pretty affair throughout the contest, but 2020 Olympic super heavyweight gold medalist Bakhodir Jalolov ended matters in impressive fashion with a final round stoppage of 35-year-old Belgian Jack Mulowayi.
Bakhodir-Mulowayi was the 8-round main attraction of a ShoBox:The New Generation broadcast promoted by Lou DiBella and held at the Turning Stone Casino in Verona, New York on June 10.
The 27-year-old Bakhodir, of Sariosiyo, Uzbekistand, seemed to drop Mulowayi with a straight left midway through the round. However, perhaps because it was a delayed reaction fall after some wobbly legs from Mulowayi, referee Benjy Esteves ruled the trip to the canvas a slip.
Bakhodir clearly possessed the better overall skills and with his power – he had knocked out every man he faced going in – it seemed there was a good chance he would render the judges' scorecards useless. With Mulowayi doing little to deter Bakhodir from coming forward, the southpaw Uzbek fighter would continually find openings for his favorite punch – the straight left. A straight left had Mulowayi on unsteady legs in the third frame. Bakhodir followed up with an aggressive attack, but Mulowayi hung in there.
Things turned a bit ugly in the fourth frame, with Mulowayi, 242, warned for hitting behind the head early on, and later, Bakhodir, 251, had a point deducted for excessive holding when Benjy Esteves was unable to separate the two fighters. The crowd expressed its displeasure with the grappling with some booing before Esteves took the point away. Bakhodir can be a force in the future, but it seems he would rather hold when he gets an opponent in close quarters rather than work over his foe with shorter range punches.
Bakhodir briefly showboated in the fifth frame when he took a page of Sugar Ray Leonard's handbook to wind-up with one hand only to jab with the other. Soon after, he did a Roy Jones Jr., raising a leg off the canvas in an exaggerated fashion before letting loose with a punch that targeted his rival's face.
There was no more game playing after the fifth. A left hand from Bakhodir, thrown more like a hook, sent Mulowayi to the canvas face-first and even the fight fans in the cheap seats must have heard the thud his face meeting the canvas made. Fortunately, Mulowayi was able to get up from the knockdown. In addition, there were just a couple of seconds left in the round, so Bakhodir couldn't mount a follow-up attack. Bakhodir tried to finish his adversary off in the early part of the seventh, but he could not, and when Bakhodir's punch output lessened in the second half of the frame, Mulowayi resorted to some trash-talking.
But his time was coming.
One round later, Bakhodir came out punching in combination, and his last shot was a huge straight left hand that put Mulowayi flat on his back! Referee Benjy Esteves waved the fight off without a count and called ringside physicians over. Mulowayi stayed on the mat for several minutes before he got up on his own accord.
Bakhodir raised his record to 11-0 (11 KO's), while Mulowayi saw his ledger drop to 11-3-1 (7 KO's).
 "I feel really good about my performance," said Bakhodir. "The opponent was at a really good level and a great fighter."
He added, "He [Mulowayi] was a really tough durable guy." Mulowayi had never been on the canvas, amateur or pro, prior to getting in the ring with Bakhodir.
In another heavyweight contest, Bronx, New York-based George Arias out-hustled Alante Green, of Cleveland, OH, over eight rounds to raise his unbeaten record to 18-0 (7 KO's). The scores were 78-74 and 77-75 for Arias, while one judge saw it 77-75 for Green.
Green, who was coming up from cruiserweight for the first time, did not have the firepower to make Arias hesitate. More athletically gifted and possessing the harder punches, Arias scored points while fighting off his backfoot, taking advantage of Green's come-forward but largely ineffective game plan. Green had a few moments in the contest, such as the third stanza when he landed a solid left hook with Arias backed against the ropes. Soon after, he scored with two consecutive hooks.  At the very end of the round, he caught Arias with a thudding straight right.
Arias, however, got back on track in the fifth round, and continued to put rounds in the bank with his superior boxing skills. Green resorted to holding in the sixth frame, but it was not excessive enough to warrant a point deduction. Arias dominated the seventh frame, but Green seemed to save some energy for the eighth and final round. He was a bit busier with his hands and he also used his feet more, making himself a little bit more difficult to hit than in previous rounds. It was a nice mini comeback, but it was too little too late. Arias got the victory and the previously unbeaten Green saw his record fall to 10-1-1 (7 KO's).
In a lightweight contest scheduled for eight rounds, Quebec, Canada native Chann Thonson, 132 1/2, punished and bloodied formerly undefeated Tyler Tomlin, 134, of Cheatham County, TN, en route to a fifth-round stoppage. The time was 1:01.
Thonson came out a man on a mission, looking to cut the ring off quickly. Before the opening round was over, he had marked up Tomlin's left eye with a straight right. He administered a one-sided pummeling in the third frame and had Tomlin walking back to his corner on shaky legs after landing some serious power punches. By the fourth round, Tomlin was bleeding from the mouth and nose, and his left eye was looking worse.
A minute or so into the fifth round – after Thonson was gifting Tomlin with leather fist after leather fist – referee Mark Nelson had a ringside doctor take a close look at Tomlin. On the advice of the doctor, Nelson waved the fight off at the 1:01 mark.
Thonson extended his undefeated record to 11-0 (7 KO's) while Tomlin fell to 13-1 (9 KO's).
Coming into the ring with a 72-pound weight advantage, "The Sandman" Amron Sands, 282, of Orlando, FL, outworked Joe Jones, 210, of Jersey City, NJ, over 8 rounds to win by scores of 77-75 on all three scorecards. He is now 12-2 (9 KO's) while Jones dips to 13-5 (10 KO's).
In a light heavyweight contest, New Haven, CT's Charles Foster, 173, stopped Bo Gibbs Jr, 172 1/2, of Carney, OK, at 2:48 of the 4th round. Foster sent Gibbs to the canvas in the opening session with a straight left and continued to dominate throughout the contest. He hurt Gibbs early in the fourth round with another left. Later, the same punch made Gibbs look like one of those bobblehead dolls. Finally, a variety of power shots from both hands had the referee watching matters with a close eye. Soon after Gibbs' mouthpiece went flying, referee Charlie Fitch ended matters.
Foster improved to 21-0 (11 KO's) and Gibbs dropped to 23-3 (9 KO's). These more significant fights and other bouts were promoted by New York City-based Lou DiBella. Also, a special thank you to Turning Stone Director of Public Relations Kelly Abdo for her efforts in making sure The USA Boxing News had credentials. Abdo and her team were busy preparing for multiple events related to the International Boxing Hall of Fame induction weekend, including not only the Friday night fights, but also the Saturday banquet and the Sunday induction, which took place at the casino for the first time in the Hall of Fame's history.
Photos by Kirk Lang and Al Derouin – courtesy of SHOWTIME
______________
Boxing Hall of Famer Gaspar "El Indio" Ortega Dies
 One of the Last of the 1950s TV Stars
Story By Kirk Lang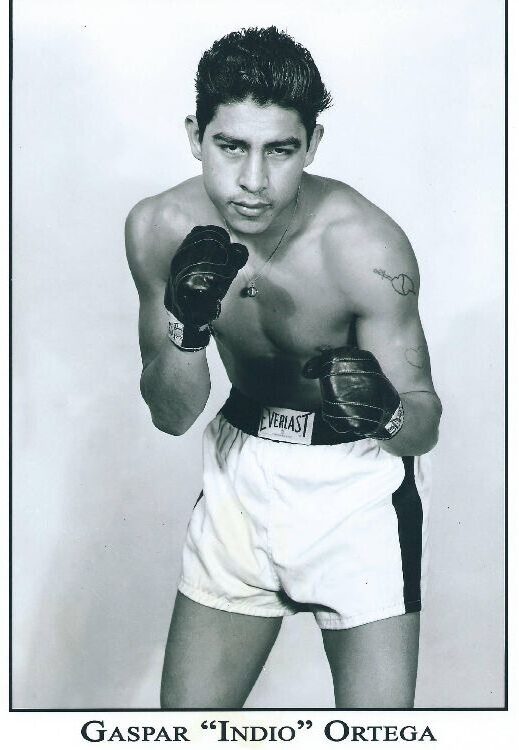 Gaspar "El Indio" Ortega, a true warrior of 1950s era boxing, died Thursday on December 16, 2021. He was 86. Ortega was one of the last men standing from that Golden Age of fisticuffs, along with former 1950s welterweight champion Tony DeMarco, of Boston. But the last 14 months have seen the passingo of both old school pugilists. DeMarco, who was inducted into the International Boxing Hall of Fame just two years ago, died in October 11, 2021, and now Ortega's passing leaves a hole in the Connecticut Boxing community.
Both Ortega and his son Michael are inductees in the esteemed Connecticut Boxing Hall of Fame, Gaspar as a fighter and Michael as a world-class referee. Retired referee Joe Cusano, who lived about a mile or so down the road from Ortega in East Haven, remembers Ortega not just as a great warrior, but as a valuable member of society aterward, when Ortega ran a drug program for the City of New Haven in the 1990s called Project More.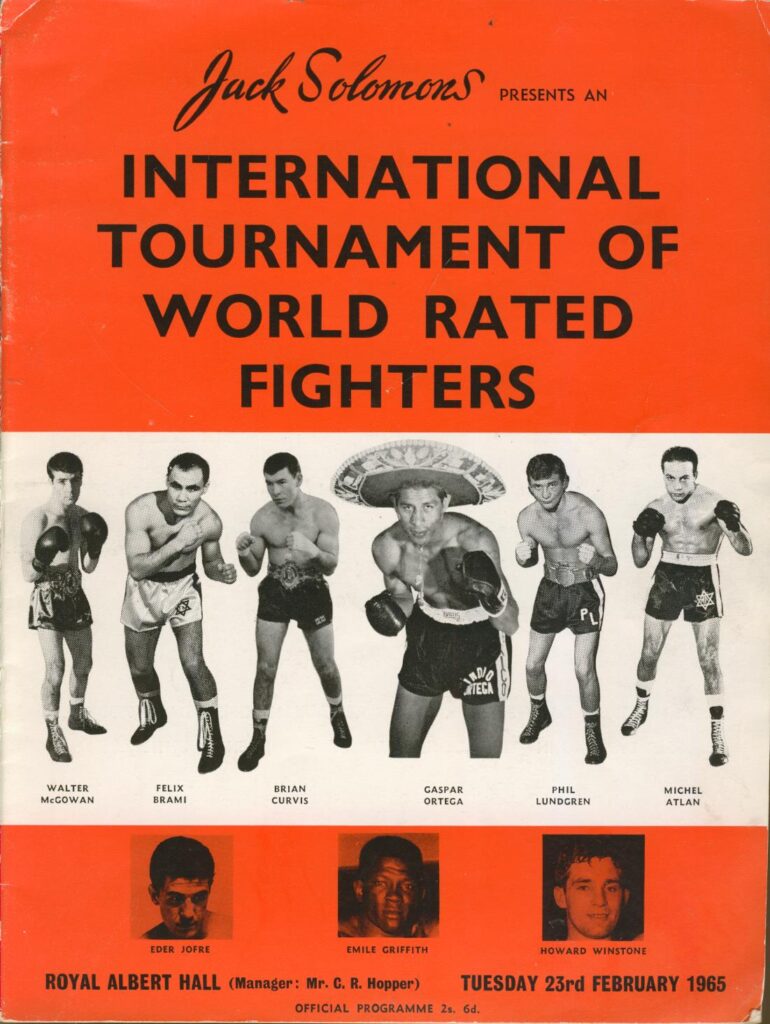 "He helped a lot of people including my brother, who ultimately died from drug overdose years later," said Cusano. "He helped my brother and impressed my parents with his fluid Italian."
Born in Mexicali, Mexico, on October 31, 1935, Ortega turned pro at 17 after first trying his hand at another dangerous sport – amateur bullfighting. His first bout was a first-round knockout. Half Mexican and half Indian, he became famous for wearing an Indian headdress into the ring for his bouts, to pay homage to his mother's bloodline.
Ortega relocated to New York City in 1954 and became one of the famous faces of televised boxing. He had a trio of bouts with Tony DeMarco between November 1956 and February 1957, winning the first two by split decision before DeMarco exacted some revenge in their third meeting. DeMarco had reigned as welterweight champion the previous calendar year, so he was still in top form when Ortega bested him.
Gaspar split a pair of bouts with welterweight legend Kid Gavilan in 1957, earning a "W" three months after losing a decision to the "The Cuban Hawk." All in all, Ortega fought 10 past or future world champions and five Hall of Famers. He retired with a record of 131-39-6 (69 KO's), though Ortega said he had more fights, and more wins, than are officially listed. His lone title opportunity came against Hall of Famer former welterweight and middleweight champion Emile Griffith on June 3, 1961 in Los Angeles, CA in 1961's Fight of the Year. Ortega would lose the World's Welterweight Title contest via a 12th round stoppage, but he believed he over-trained for that fight, because there's only one other stoppage loss on Ortega's 175-plus fight record, and an earlier fight with Griffith, 14 months prior, showed he was an equal to the champ.
The first meeting with Griffith was a non-title affair and the action went back and forth as Griffith won a close split-decision before his home base at Madison Square Garden. Ortega did not beat the champ when he fought Griffith in 1961, but in another bout in '61, four months earlier, against Benny "Kid" Paret, Ortega showed he was not only able to go tit-for-tat with a champion, he could actually beat one. Paret was the reigning World Welterweight Champ when they fought in February, but Ortega had begrudgingly agreed to Paret's request that the title would not be on the line. Gaspar won a 10-round decision at the Olympic Auditorium in Los Angeles, CA. Griffith then beat Paret for the title a month later, which set up Gaspar's title shot against Griffith. Ortega would fight on for four more years, retiring in 1965 two months shy of his 30th birthday. His career saw him fight 20 times at Madison Square Garden.
Ortega ranks third as far as most victories by a Mexican boxer, according to the World Boxing Council, which presented Ortega with a WBC belt 20-plus years ago. Only Luis Villanueva "Kid Azteca," with 192, and Luis "Baby" Vazquez, with 138, rank higher.
Fellow Connecticut Boxing Hall of Fame fighter inductee Luigi Camputaro was saddened to hear of Ortega's passing. "Gaspar was a good man, both in and out of the ring," he said. "He was a great role model to all."
It was about 20 years ago when Ortega and AJ Raccio, who was involved with Hamden's Parks and Recreation Commission, teamed up to open a boxing gym for troubled youth. From that partnership, the two would co-train Elvin Ayala and could be seen working his bouts at the Connecticut casinos. Most of the attendees at the fights had no clue the slender man working Ayala's corner was a Mexican and 1950s era boxing legend.
Richard Schwartz, vice president of the New York-based Ring 10, which helps fighters in need, remembers Ortega fondly. "Pure skill and determination and was as tough as a bucket of nails, Schwartz said. "Ortega fought in an era when fighters were far more active, and Ortega was far more active than most. In May 1964, Gaspar fought 11 bouts in one month. I asked him, 'How come you fought so many times?' He replied, 'I had to put food on the table.' He was tough."
 "El Indio" may not have ever won a world title, "but he was a gallant warrior who held his own with the greats and was a real classy gentleman," said Schwartz.
Ortega was inducted into at least three boxing halls – The Connecticut Boxing Hall of Fame (2006), The New Jersey Boxing Hall of Fame (2003) and the World Boxing Hall of Fame in 1995.
        Questions/Comments: kirklang@yahoo.com
_________
CES BOXING STARTS OFF THE CHRISTMAS SEASON WITH MERRY MIRACLE UPSETS  AND JOLTING JINGLE BLOWS AT THE HOLIDAY BASH!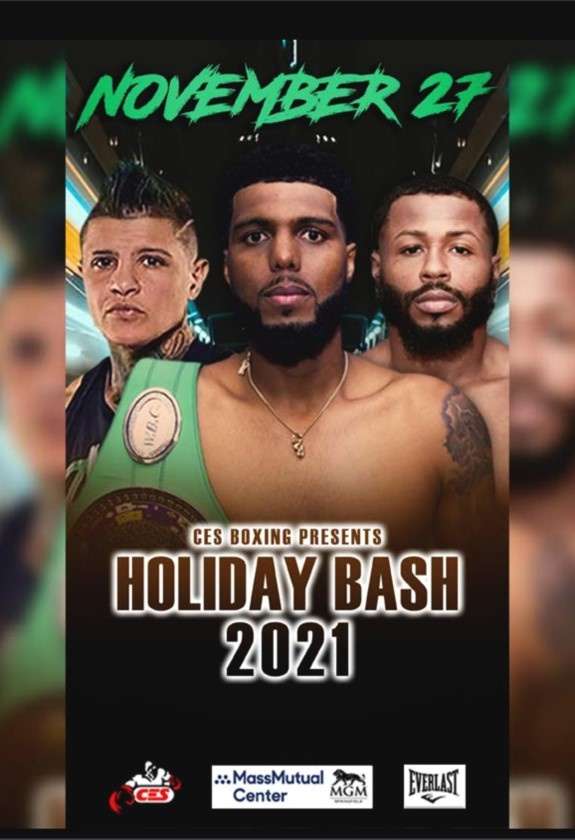 Story by Kirk Lang
Springfield, MA. With less than a month before Christmas, two underdog boxers walked out of the Mass Mutual Center late Saturday evening feeling like kids again
Forty-year-old Mike Guy – who had not won a fight in two years – not only defeated local hero Kendrick Ball Jr., of Worcester, MA, but also picked up some shiny hardware, the WBC USNBC super middleweight championship.
The other upset of the night was Puerto Rico's Jayron Santiago Lopez, who won a split decision over New Britain, CT's Nathan Martinez. After an accidental headbutt opened a cut over Martinez' eye in the sixth and final round, the fight went to the scorecards and Santiago Lopez got the nod with two judges scoring the bout for him 58-56. The third judge saw it 58-56 for Martinez.
Going into the featherweight bout, Santiago Lopez had more losses than wins. Now he record is at least even steven at 8-8-1 (5).
Kendrick Ball was the taller man against Mike Guy – 6'2" compared to 5'8" – was younger and on an eight-fight winning streak. He previously fought in August across the street from The Mass Mutual Center at MGM Springfield, winning a decision over Tyi Edmonds. Guy, on the other hand, had not tasted victory in 2021 heading into his bout with Ball, and he went winless the entire calendar year of 2020. It seems he had had enough. He certainly was not going to finish 2021 without a "W."
Known for his relentless style, Guy brought everything he had on this night and did not disappoint. He caught Ball with a solid right hand to begin the opening round and before it was over, Guy dropped him with an overhand right! Ball got up off the canvas, but Guy delivered more punishment with Ball bullied against the ropes.
The second frame saw Guy trying to capitalize on the knockdown late in the first round, but Ball did not wilt under the pressure. Guy continued his forward march in round three, bombs away. Ball finally created a little distance with some improved boxing late in the stanza. He also experienced some success with keeping Guy at bay in the fourth round. Ball boxed well in round five and by the end of round six he was ripping off impressive combinations. Guy, however, regained control in the seventh frame, especially in the second half of the stanza when he threw combinations as if he was being paid by the punch.
Guy established who was boss at the start of the eighth round with a beautiful straight right-left hook wallop. He followed up with a barrage of leather as Ball, seemingly tiring, was unable to maneuver away from the ropes. Ball had a brief moment in which he summoned the energy for a mini-rally, but it was not enough. Guy came back and cracked him with a beautiful combination at the round's end to remind Ball that this was not going to be a holiday celebration for the local hero.
Early in the ninth round, Guy knocked Ball's head back with a huge right hand. He followed up with a flurry of punches along the ropes, forcing the referee to step in and call a halt to the proceedings at the 1:26 mark.
With the surprise loss, Ball fell to 17-2-2 (11), while Guy's record improved to 13-7-1 (6).
As for the Martinez-Santiago Lopez fight, early on it looked as if things might bode well for Martinez. Although he started slow in the opening frame, he dropped Santiago Lopez in the second round after connecting with consecutive right hands. Martinez continued to dominate the frame, although his work rate seemed to slow in the third round. It was not a particularly impressive session from either guy, but Santiago Lopez probably deserved the round, due to the fact he was busier. Martinez looked like a sharpshooter in the fourth round, taking his time to pick his shots rather than just fire away hoping to land something big.
Santiago Lopez worked behind a solid jab in the fifth round. Between his steady jab and side-to-side movement, Martinez found it hard to get an edge on him. He finally let his hands go in the final 10 seconds of the frame, but it was too little too late.
An early accidental headbutt in the sixth frame would send the fight to the scorecards, and from this reporter's perspective, the local fighter should have been a little worried, as he did not exactly dominate. Sometimes a hometown hero can get a decision he does not deserve, but justice prevailed on this night, with the correct fighter getting the decision victory.
Santiago Lopez, who had lost three of his previous four bouts, upped his ledger to 8-8-1 (5), while Martinez fell to 7-2 (2).
In other action, longtime CES-promoted pugilist Shelly "Shelito's Way" Vincent, 27-2 (1), pitched a one-sided shutout of ShellyBarnett, 5-6-2. Though 42, she looked more like 22 against the far less experienced of the two Shellys. Not normally known for her boxing finesse, Barnett had Vincent looking like the female version of Willie Pep, slipping punches like the great featherweight legend. Vincent, a fan-friendly featherweight who always sports a brightly colored mohawk, has now won four in a row since her last defeat, a decision loss to Heather Hardy for the vacant WBO featherweight title back in October 2018. Hardy is the only person to ever defeat Vincent. She also beat her back in 2016, when the vacant WBC International title was up for grabs.
In junior middleweight action, Jalen Renaud, of Springfield, MA, registered quite possibly the knockout of the night with a fourth-round stoppage of muscle-bound Jurmain McDonald, of Jefferson City, MO. While Guy stopping Ball was an impressive finish, definitely the upset of the night, Renaud's bout-ending shot was more thunderous than Guy's succession of blows bringing an end to his opponent.     Renaud, tall and lanky, was more athletic than his body beautiful foe. McDonald would impress if he was at the beach, but in the ring, it was all Renaud. McDonald looked stiff and slow by comparison. He was not exactly busy with his hands and there seemed to be no spring in his legs. In the fourth frame, Renaud landed a right hand counter that sent McDonald crashing and flat on his back. The referee waved the fight off immediately, at the 1:37 mark.
Renaud is now 7-0 (3), as McDonald fell to 5-5 (2).
Steadily improving 21-year-old welterweight Stevie Jane Coleman improved to 2-1 with a four-round decision over LeAnn O'Malley, 1-1, of Las Vegas, NV. O'Malley looked to be the aggressor against Coleman. However, Coleman's boxing skills, which are being constantly sharpened under the tutelage of Paul Cichon, a Connecticut Boxing Hall of Fame inductee, carried her through to victory. Coleman lost her pro debut in May, but rebounded this past September at the Hartford Civic Center against Christina Barry.
Springfield featherweight Joshua Orta, extended his unbeaten record to 8-0 (4) with a fourth-round stoppage of Kody Murray, 0-1, of Bristol, VT. A barrage of blows quickly had Murray, a late substitute opponent, literally sitting on the bottom ring rope taking a ton of punishment. The referee ruled it a knockdown and as he was giving a count he decided to end matters at the 2:24 mark.
In a heavyweight battle, Timothy Hatfield, of Providence, RI, won his pro debut with a first-round TKO of Rodrigo DaRocha, of Woburn, MA. Soon after the opening bell, a two-fisted attack put DaRocha down near a neutral corner and he was unable to beat the count. The official time of the stoppage was 1:03. DaRocha fell to 0-2.
Springfield super featherweight Isaiah Cruz, 2-0 (1), spoiled the pro boxing debut of Darren Mima, of Kingston, NY, with a fourth-round TKO. Cruz was the far quicker fighter over the first three rounds. Mima, perhaps frustrated by his own shortcomings, and unable to match Cruz punch for punch, resorted to excessive holding in the third round. Mima is apparently used to grabbing, as he is a 19-fight MMA veteran. However, this is boxing and the punch-and-grab tactics only seemed to make Cruz angry. One round later, he pounded his foe with hard left hands to the body. Cruz was then able to create some distance between himself and Mima. Although Mima's grabbing tactics made a comeback, it would be a short return. Cruz put Mima down with a crackling left hook. When Mima got up and the fight resumed, another left hook would force the referee to end the contest, mere seconds before the bell to end the four-rounder. The official time was 2:58.
The eight-bout card was presented by Jimmy Burchfield's Classic Entertainment & Sports. Burchfield is New England's most active promoter for decades and rightfully has a plaque on the wall of the Connecticut Boxing Hall of Fame. Burchfield was inducted in 2012.
_________
Film of legendary featherweight king Willie Pep begins filming in West Hartford, Connecticut
Story by Kirk Lang
Photos by Alyssa Lang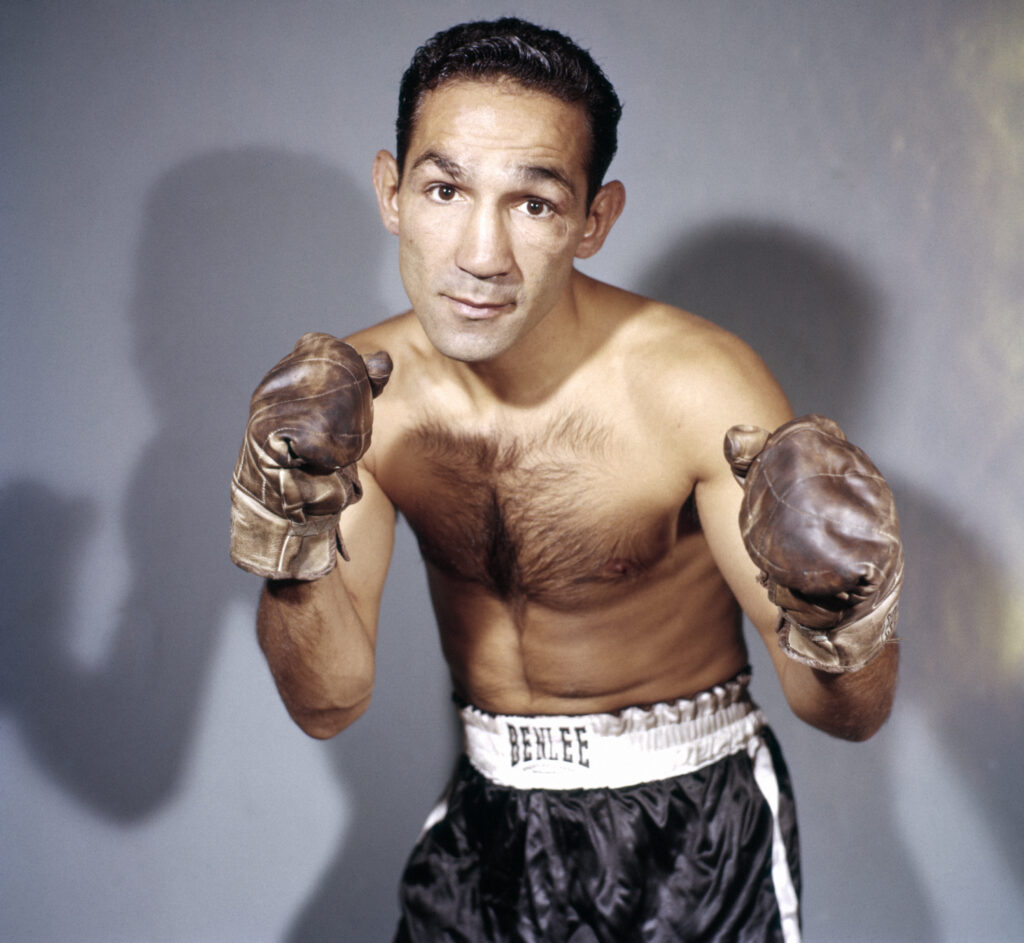 West Hartford Connecticut. Five Penske Truck Rental vehicles could be seen parked in front of 146 and 150 Raymond Road this past week. However, it was not a case of anyone moving in or out, but rather, moving on up.
That is because legendary 1940s era featherweight champion Willie Pep, who was born in Middletown and grew up in Hartford, will see his story immortalized on the big screen. The rental trucks housed, among other items, wardrobes, lighting equipment, and various period props. The interiors of the two West Hartford residences served as the Pep home and Willie's sister's home as scenes with actors were overseen by director Robert Kolodny.
It's been nearly 80 years since Pep won his first world title and most everyone that saw him perform in his prime has passed on. However, writer/producer Steve Loff and actor/producer James Madio want to make sure Pep, one of the greatest featherweights of all time, and arguably the greatest defensive fighter that ever lived, is given his just due. If fighters of lesser skill and legend can see their stories turned into movies, then Pep surely deserves a film.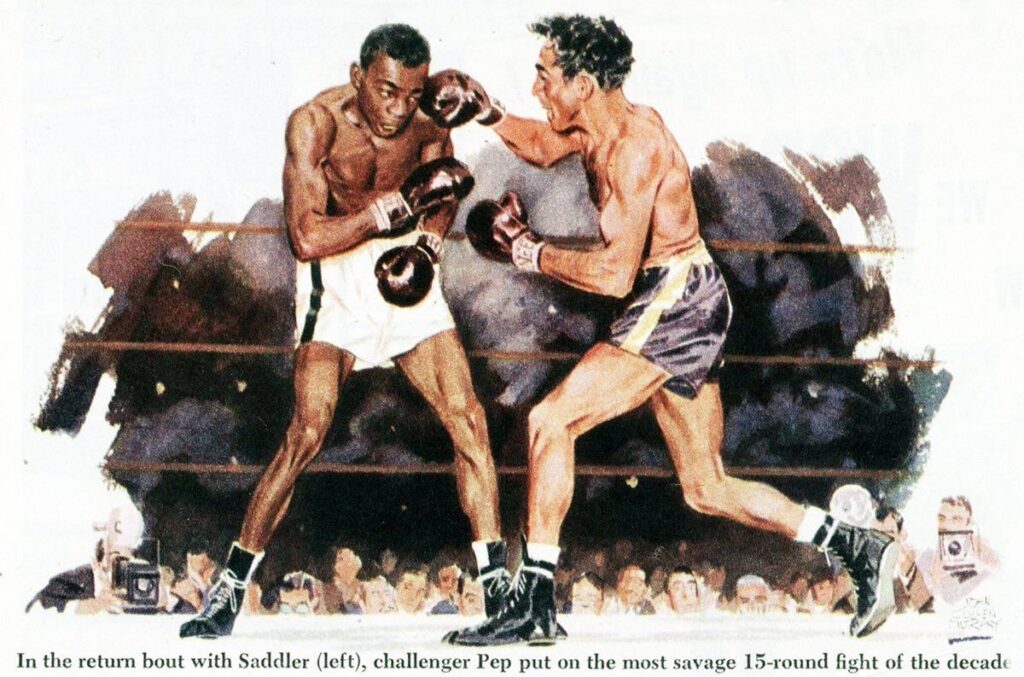 Pep was the youngest to win the featherweight title (20 years old), was the first featherweight boxer to regain the title and at one point boasted a record of 135-1-1. Even after fighting on into his 40s, he retired with a ledger of 229-11-1.
James Madio, perhaps best known for a co-starring role in The Basketball Diaries with a young Leonardo DiCaprio, and as a key cast member of the HBO series Band of Brothers, was told by his boxing fan father years ago that he looked like Pep and that portraying the legend was a role he was born to play. When Loff linked up with Madio in 2008 in Los Angeles, he noticed a picture of Pep on his bulletin board. After Madio gave him the back story, Loff said he would be glad to help make the Pep project a reality. Thirteen-and-a-half years later, after a revised script that now focuses on one period of Pep's life – his 1960s comeback – it is finally happening.
"We never gave up," said Loff. "Willie always signed, 'Keep punching.' So that was something that always kept Jim and I going. I never felt even years ago when I had the draft that wasn't getting traction, before I wrote the new draft, I never felt we were dead. I always felt like, for some reason, I always felt like, if we just keep going, it's not a matter of if we'll make this movie. It's just a matter of when. I'm proud that we stayed with it for all this time."
And as for Madio, he said he's "dedicated to bringing Willie's story to audiences and to cement Willie's legacy in cinematic history."
And Madio is not above pitching in wherever he's needed. Shortly after he arrived on location – before he was in wardrobe – he was outside with crew members. When one individual who was helping hold the roof-area aluminum framework of a canopy tent amid strong rains and wind got called away, Madio immediately raised his arm to grip a portion of the framework. Another crew member told him he did not have to do that and took over for him, but his quick assist showed his humbleness and that no task is beneath him, though he is the star of the movie.
Madio said his grandfather (James Madio Sr.) was a "knock-around club fighter from New York in the late 1930s."
"No record or serious bouts but he fought for watches and jewelry," he said. Madio's father turned him into a boxing fan.
After not getting any support for a Pep movie for some time, Loff revised the original 240-page script from a cradle to grave tale into a faux documentary script focusing on Willie's comeback in the 1960s.
"It was like a bible, a little too long," said Loff. "About five to six years ago, I came up with this idea, when our project was floundering, and it was too big a budget, I said what if we had found some documentary footage in the days and weeks leading up to Willie's comeback. What if I wrote that story and made that the script? And when I did that, that changed everything."
Loff added, "That's when we really started to get interest. Appian Way, Leonardo DiCaprio's production company partnered with us on this. It opened everything. I think it was just a more inspired way to tell the story so that reflected on the page. There's heart and soul in the way this story's being told now and I was just really excited about that approach, and it afforded me an intimacy with the characters that I wasn't getting as this objective observer and trying to tell the story of all the facets and pieces of Willie's life."
Rain made Friday's filming more challenging, but it didn't throw the shoot off schedule, although movie cameras are so sensitive, the sound of torrential rain outside could possibly be picked up and interfere with dialogue. Friday represented day 10 of a scheduled 18-day shoot and the fifth and final day of interior scenes at the Raymond Road residences.
Scenes shot involved Pep, Pep's son Billy, played by Keir Gilchrist, and Willie's sister Fran, played by Shari Albert. Cast and crew was scheduled to move on to exterior scenes in the south end of Hartford, where Pep grew up.
And for prop master Diego Quecano, that meant overseeing everything from period cars to car key chains to re-creating license plates, including Pep's "W*Pep" plate." The movie takes place in the 1960s but there are various flashbacks to the 1940s, Quecano said. The crew had its work cut out for it when it had to re-create a fight at Madison Square Garden at a local boxing gym. There will be no digital effects for the Garden scene, yet Quecano promises, "It's really beautiful. You're going to see it in the film." Quecano secured 1940s era pencils and pads for the actors playing judges, among other things, from local antique shops.
For scenes at the Pep home, Quecano was responsible for cooking all the Italian food that will be on camera. "And because this is the 1960s, we have a Jello mold," said Quecano. It's all about the details. Even a watch Madio will wear has an engraving on the back that says, "For the Champ – It was a pleasure watching you fight."
The film is being made on a budget of roughly 1.5 million dollars. More often, films are being shot here in the Nutmeg State, in part because of an enticing tax credit not seen in New York City and other locales.
Loff explained Connecticut allows a 30 percent tax credit on all monies, "whether it's above the line talent like cast and directors or producers or below the line expenses, all of it qualifies for 30 percent tax credit."
He added, "So if we spent a million in theory, we get $300,000 back. There's always a loss. You assume a 5 or 10 percent loss. On $1 million, you're probably going to get $250,000 let's say. You're going to lose a little bit, but what we did here is we used that credit, and I'm still working through this process, we're using the tax credit to take a loan up front."
Big budget films sometimes get five to six weeks' worth of shoot time. Blockbuster movies may even get 12 weeks at times.
"We've got 18 days," said Loff. "It's really tight. $1.5 million is really tight. You can't pay people what they deserve to get paid for their services. You're getting a much younger crew, so it's important that you have good management at the top. We have a few veterans. You sprinkle in a few veterans. We have a great DP, a director that works fast, so despite the fact that we have a young crew, despite the fact we have a short schedule of 18 days and not a lot of money to work with, we're doing our best to maximize all that and we are on schedule and on budget as of today."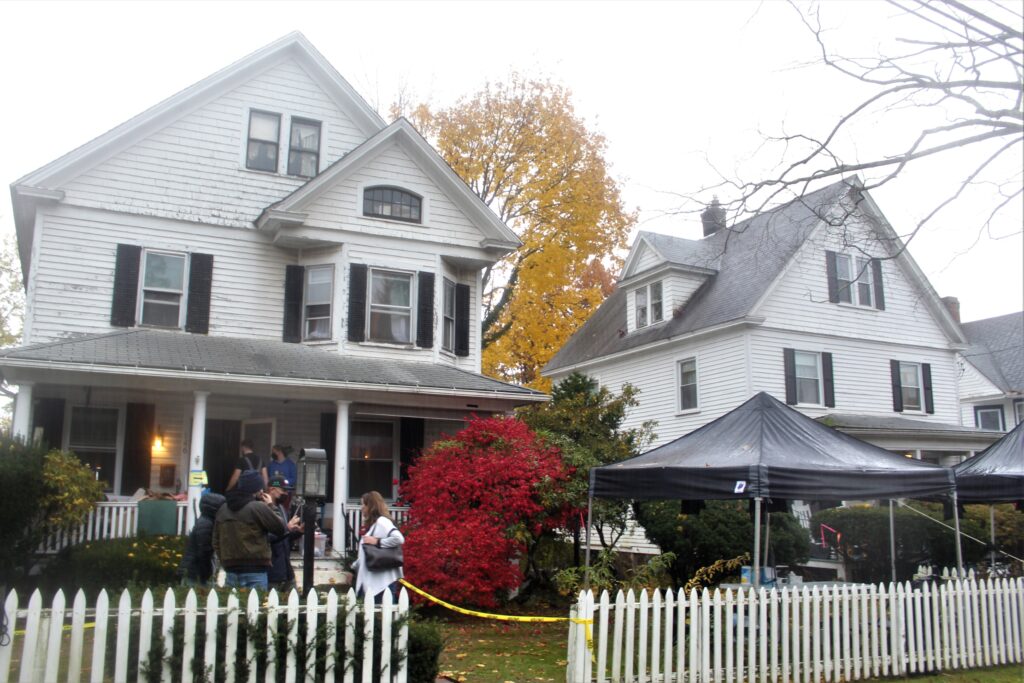 For many, seemingly random occurrences or run-ins are not so random, and Madio ran into Loff in Los Angeles back in 2008 mere days after his dad told him he looked like Willie Pep.
"That's when I told [Loff] the Willie story and we immediately started the development process. Over a decade later here we are. Unreal. A dream come true."
The film's working title is Pep and is slated for a late 2022 or early 2023 release, according to Loff.
_________
Boxing Returns to Connecticut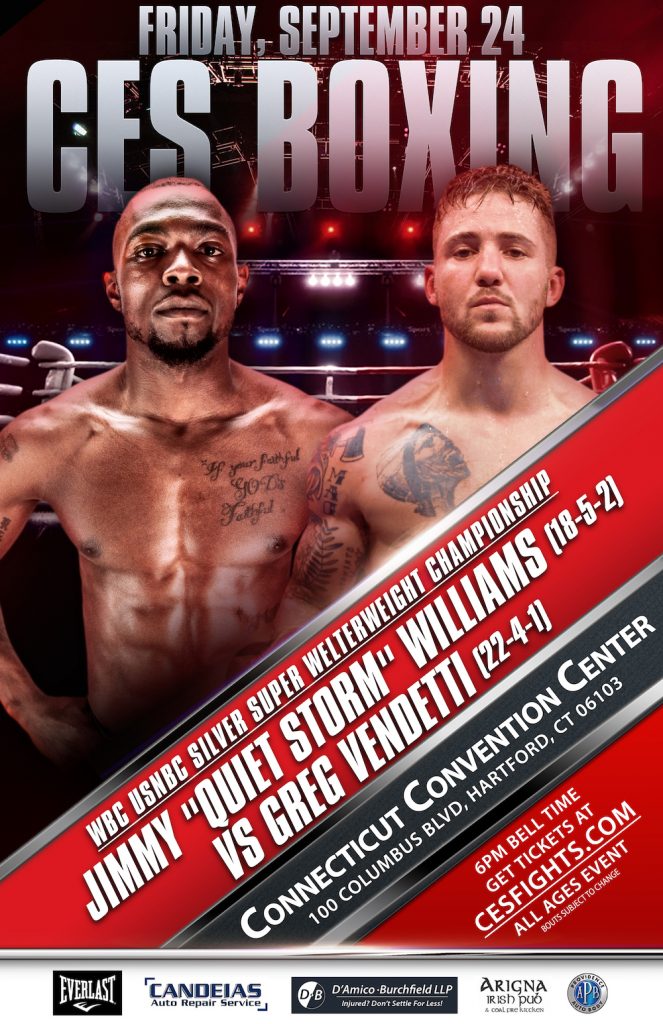 By Kirk Lang
Boxing returned to Connecticut's capital city on Friday September 24 – after a lengthy absence due to the Corona Virus / COVID 19 pandemic – with a six-bout card promoted by CES Boxing. The main event saw Greg "The Villain" Vendetti, of Stoneham, MA, win a 10-round decision over New Haven-based CES fighter Jimmy Williams at the Connecticut Convention Center.
Vendetti, 31, earned the nod with clear-cut scores of 99-91 and 97-93 on two judges' cards.  However, judge Ken Ezzo, somehow had it 96-94 for Williams. Fortunately, two judges paid attention to what transpired in the ring and the right man walked away with the victory. Vendetti also earned the vacant WBC USNBC silver super welterweight title.
"A piece of hardware is always good for the collection," said Vendetti, who added, "I feel good. I got the job done. I wanted the knockout but what can you do?"
Williams, 35, gave a good account of himself over the first two rounds, but the more aggressive Vendetti – preferring hard left hooks and chopping right hands rather than a steady jab – seemed to take control in the third frame. After nailing Williams with a big hook less than 20 seconds into the round, he followed up with a whirlwind attack with Williams trapped against the ropes. He would continue to land big shots and had the crowd cheering in the final 30 seconds as he let loose with a barrage of leather.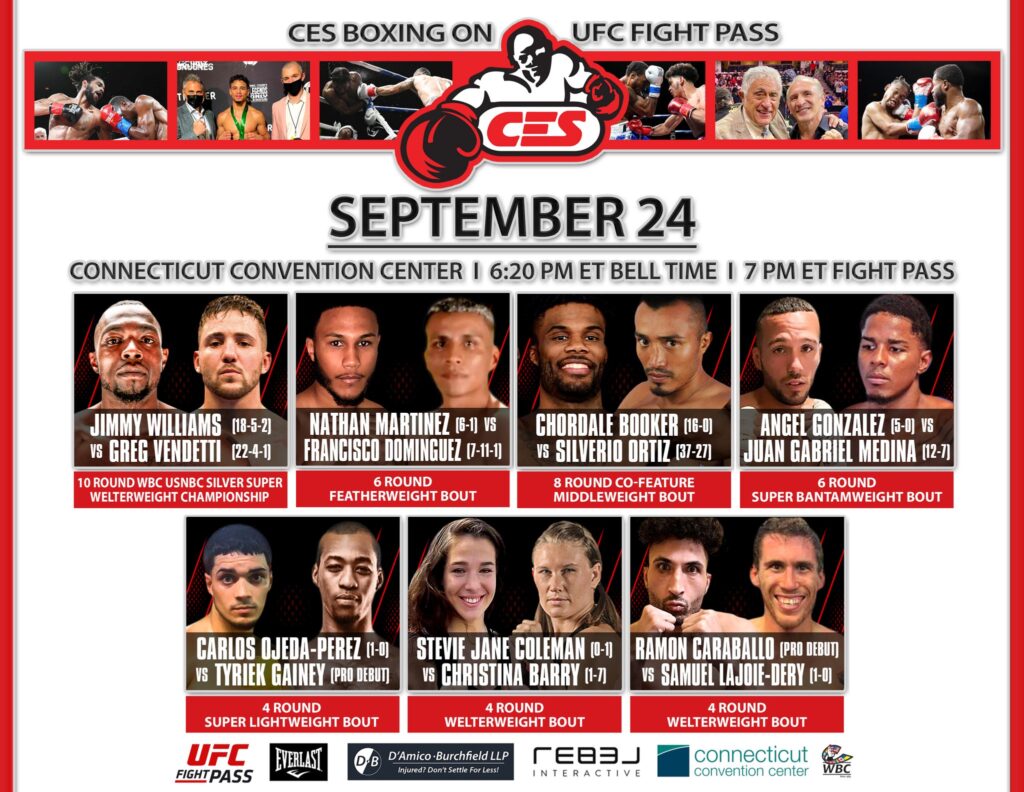 The bearded and heavily tattooed Vendetti continued to impress in rounds five and six, as Williams was unable to land hard stiff jabs to make his opponent think twice about coming forward. He also seemed to forget to follow up his jab with straight right hands or better yet, combinations, that might have curtailed Vendetti's desire to come at him like a bull.
The seventh-round saw Vendetti trying some big right uppercuts with Williams once again up against the ropes. Williams didn't do anything in the 8th to try to turn things around. In the first half of the 9th round, Vendetti seemed to rock Williams with a big shot.
In the last minute of the 10th and final round, Williams, 152 ½, let his hands fly a little more, which created some nice two-way action between the two fighters. Williams again got bullied to the ropes, but this time he fired back with equal aplomb, and both fighters' efforts had dozens standing and cheering them on.
Vendetti, 153, raised his record 23-4-1 (12) while Williams fell to 18-6-2 (6). Williams fell to 18-6-2 (6).
Williams thought his career was back on track in his previous fight, when he defeated former junior middleweight champion Yuri Foreman in June in Atlanta, GA. However, Foreman was 11 years removed from his seven-month championship reign. And with the loss to Vendetti, Williams has only two wins in his last eight fights. Before Vendetti, he was on a two-bout win streak, but before that suffered consecutive defeats, had a draw and had another pair of losses before that.
In the 8-round co-main event, undefeated middleweight on the rise Chordale Booker won a lopsided eight-round decision over Silveiro Ortiz, 157, of Yucatan, Mexico.
Booker, who raised his record to 17-0 (7), was fighting in his home state for the first time. He didn't get to truly impress, as Ortiz' strategy to hold and clown around made things a bit ugly. He was twice deducted points, once for hitting behind the head and the second time, in the seventh round, for hitting below the belt.
"I knew he was a veteran type," said Booker, "Uses his head, punches low. He did what he could to try to survive the fight."
CES Boxing matchmaker Michael Parente admitted, "Booker had his hands full."
"Ortiz is a tough veteran who rarely gets stopped and you can see why," he said. "He's tricky, elusive and likes to maul his opponents, and when you're not used to that style it can be frustrating. "
Parente added, "I'm sure Chordale wanted to close it out with a knockout in front of his fans, but this fight will be good for him in the long run. Not every opponent will stand in front of you as a stationary target. They're all different and he faced a unique one on Friday that I think will be a good lesson going forward."
Booker was asked who he wants next.
"Whoever wins this next fight (between Williams and Vendetti), I want him next," he said.
Returning to the ring for the first in nearly two years, featherweight Nathan Martinez, 126, of New Britain, won a unanimous six-round decision over Francisco Dominguez, 126 ½, of Ciudad Juarez, Mexico. The 19-year-old Martinez was simpler busier and more aggressive than the 35-year-old veteran in front of him. He raised his record to 7-1 (2) while Dominguez fell to 7-12-1 (1).
Undefeated Angel Gonzalez, 116, of Hartford, registered the only stoppage of the night when Juan Gabriel Medina, 117, of La Ramona, Dominican Republic, quit on his stool before the start of the fifth round. It was unclear why Gonzalez' corner informed Dr. Michael Schwartz they were done, as Medina's fourth round with Gonzalez was fought on even terms. Gonzalez is now 6-0 (4) and Medina dropped to 12-8 (11).
Ramon Caraballo, 146, of New Britain, had a successful pro debut in taking a four-round unanimous decision over Samuel Lajoie-Dery, 146, of Montreal, Canada. Lajoie-Dery came out on a tear in the opening round but after he got hit with a solid straight left in the second frame it made him think twice about attacking so aggressively.  Caraballo followed up with a volley of shots that put Lajoie-Dery on the canvas in center-ring. However, he made it to his feet and finished the round in impressive fashion, connecting with three good straight right hands just before the bell to end the stanza.
Lajoie-Dery also tasted the canvas in the first 30 seconds of the third round. And once again, he came back strong. However, his no quit heart wasn't enough to win the fight. Caraballo got the nod on all three cards. Two judges had it 38-36 and a third card had it for Caraballo by a score of 38-37.
Carlos Perez, 140, of New Haven, fighting for the first time since 2019, won a unanimous four-round decision over Tyriek Gainey, 134, of Paterson, NJ. All three judges scored it 40-36. Gainey loses his pro debut while Perez rises to 2-0.
In the second swing bout of the night – and the only female match-up – Stevie Jane Coleman, trained by Connecticut Boxing Hall of Fame inducted trainer Paul Cichon, also cruised to a unanimous four-round decision by scores of 40-36 on all three cards. "Scary" Christina Barry may have been bigger but she wasn't better. Coleman bounced back from an unsuccessful pro debut in May, when she suffered a six-round majority decision loss to Kelsey Wickstrum. However, that fight took place in Tennessee. On Friday evening, she refused to lose in her home state, in front of family and dozens of friends. Coleman is now 1-1. Just 20 years old, she has plenty of time to fine-tune her skill set.
The September 24 card marked CES Boxing's third post-COVID boxing show with fans (There had been a behind-closed-doors event in October 2020), according to Parente, who added he was "thrilled' with Friday's turnout.
"There are still restrictions in place to ensure the safety of fans, fighters and staff, but it's great to see boxing in front of a live audience again," he said. "I thought the crowd was energetic and amped up throughout the night. This was the first boxing event in Hartford since October 2019. The fans in this area waited a long time and it showed on Friday."
_________
Arturo "Thunder" Gatti  and  "Bad" Chad Dawson  Lead Connecticut Hall of Fame Induction Class of 2019
Story By Kirk Lang
Photos by Alyssa Lang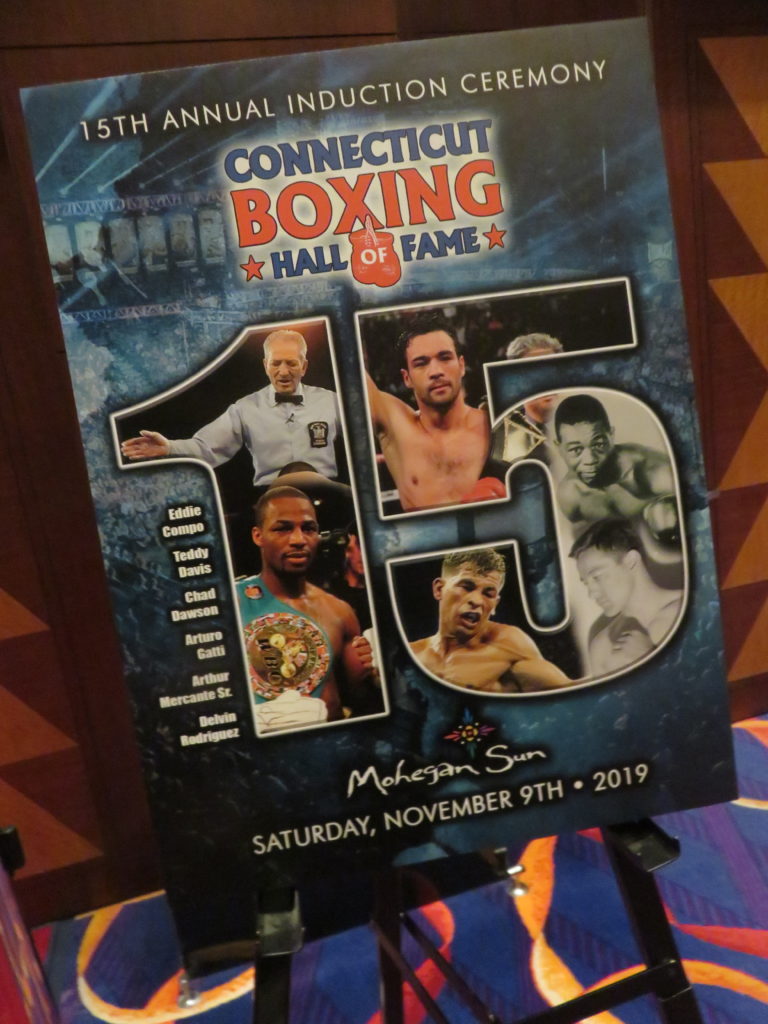 The late Arturo "Thunder" Gatti, who was dubbed "The Human Highlight Reel" for his blood-and-guts performances and ability to bounce back from the brink of disaster, was posthumously inducted into the Connecticut Boxing Hall of Fame at Mohegan Sun on November 9.
While no one associated with Gatti was present to accept his induction plaque – trilogy opponent Micky Ward, who usually attends the annual dinner, was home nursing a double ear infection – top notch judge Glenn Feldman, founder and past president of the Hall, read some remarks he sought out from Kathy Duva, of Main Events, Gatti's former promoter, and Pat Lynch, Gatti's manager.
"He was an icon, an idol, a legend, an energetic impish presence and a great and loyal friend," said Duva, who would add that the induction honor was "bittersweet."
Gatti's life ended in July 2009 at only 37 years of age under a cloud of controversy. His death was initially treated as a murder, with his Brazilian wife looked at as the prime suspect. A knife and bloody purse strap seemed to implicate her. However, Gatti's death was subsequently ruled a suicide by Brazilian authorities.
Though the induction came 10 years after Gatti's life was cut short, his presence was definitely felt on this night, due in large part to a gigantic banner that Feldman and Connecticut Boxing Hall of Fame President John Laudati unveiled and raised to the roof of the Uncas Ballroom.
"This banner will be raised to the roof at the Mohegan Sun Arena," said Feldman, "Hopefully at the next boxing match." It featured an image of Gatti and Ward entrenched in battle with the words "Fight of the Century." That's not exactly an exaggeration either, since the fight was truly an epic battle, as well as the fact the current century (that of the 21st variety) isn't even 20 years in yet.
The previous boxing match dubbed "Fight of the Century" took place between Muhammad Ali and Joe Frazier 31 years prior to Gatti-Ward I, in the 20th century.
Feldman, reading words from Lynch, said, "Arturo was one of the most special and gifted fighters boxing has ever seen. He was known as the heart and guts warrior and was exactly that." Lynch added, "Arturo never quit in the ring and he never quit in life."
Gatti was a modern posthumous inductee along with another legend, referee Arthur Mercante Sr. Mercante Sr. refereed more than 140 title fights across 47 years, and became a judge after retiring as a referee in 2001. The first title bout he worked was the second fight between Ingemar Johansson and Floyd Patterson on June 20, 1960. The most famous bout he worked was the first Ali-Frazier fight, which took place at Madison Square Garden on March 8, 1971. Mercante had many assignments in Connecticut over the years.  One of his children, Arthur Mercante Jr., followed in his father's footsteps to become a top notch referee.
Mercante noted he inducted his father into the International Boxing Hall of Fame back in 1995.
"And now here I am 24 years later for his induction into the Connecticut Boxing Hall of Fame, he said, adding, "It is especially moving because he is still recognized as one of the best referees in the sport."
Mercante added, "To continue to be recognized by your peers all these years later is quite an accomplishment and my family and I are humbled and thankful for the award, which means another award that my brothers and I will have to fight over."  Mercante had said early in his speech that the Connecticut award marks his father's seventh induction into a Hall of Fame.
The living members of the 2019 induction class were former light heavyweight champion "Bad" Chad Dawson and two-time USBA welterweight champion Delvin Rodriguez. Two other inductees who went in posthumously were Teddy "Redtop" Davis and featherweight Eddie Compo.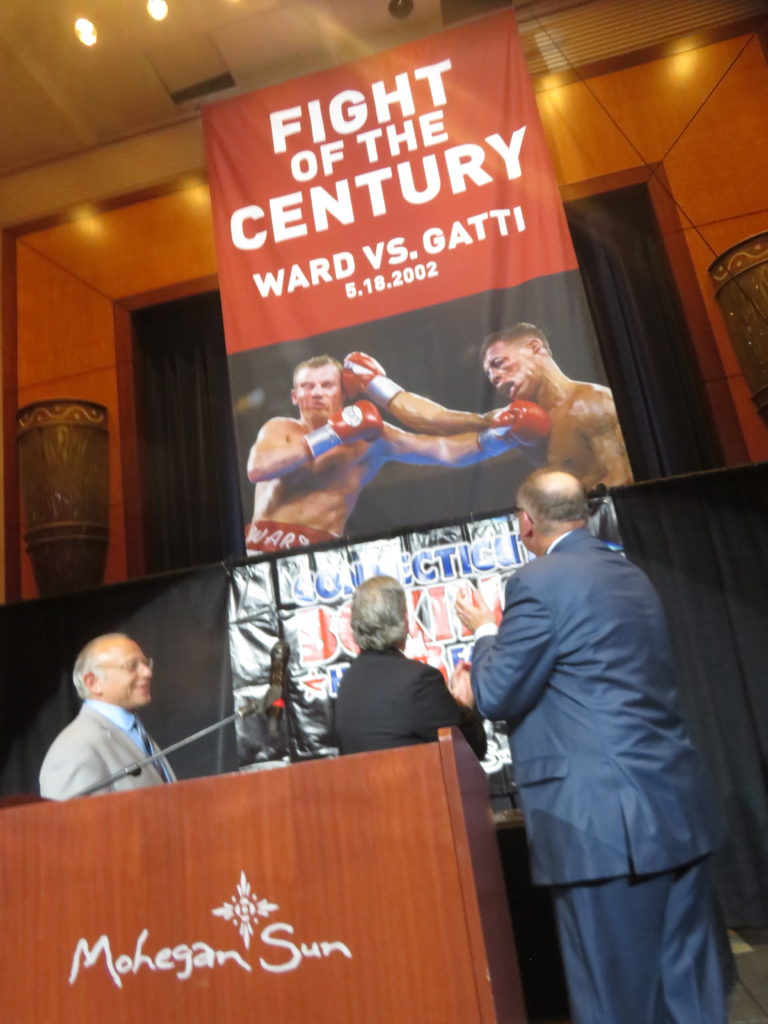 Davis, who once took legendary featherweight champion Willie Pep the distance in back-to-back fights in 1948, won the New England lightweight title in Boston in 1953 against George Araujo. He retired in 1960 and passed away in 1966 at 42 years old. The New Haven-based Compo won his first 25 professional fights and eventually fought for the title against Pep in Waterbury in 1949. The match was much anticipated, as Compo boasted an impressive record of 57-1-3 heading into his fight with the featherweight legend. However, Pep recorded a 7th round TKO. Compo retired from the ring in 1955 and finished his career with a 75-10-4 ledger. He passed in 1998 at the age of 69.
Dawson's entry into the Hall marked the first time in 15 gatherings that an active fighter saw induction, and as such, rather than speaking solely about past glory days, both he and promoter Jimmy Burchfield promised there's more entertaining fights ahead.
"Chad has given the world of boxing so many thrills throughout the years, and it's not over yet," he said. "It's far from over."
Six years removed from the last time he held a world title, Dawson is confident he can rise again after some setbacks.
"I'm 37. I'm not that young 23-year-old kid that won that world title back in 2007," said Dawson. "I'm older, more mature…I just learned so much over the years. When I won my world title I thought I was the man, but I was still a little boy. I'm 37 and I'm still learning how to be a man, still learning every day, learning from my wife, learning from the people around me. People don't understand that boxing is a dangerous sport. If I told you I wasn't scared every time I get into that ring I'd be lying to you."
He added, "It's a dangerous sport and due to recent ring tragedies we just had, you know sometimes I've got to second-guess myself and think am I doing the right thing at my age? Should I still be fighting? Should I give it up? But I've still got that passion inside me and I still believe I've got one more world title inside me and I still can be one of the best fighters in the world."
As he talked at the podium, Dawson was surrounded by his four children of varying ages – all boys – wearing T-shirts under their suit jackets with images of their father on them. The oldest one, Chad Jr., now 16, earned a bit of fame himself years back when he would accompany his father into the ring in his prime years, throwing educated punches as a toddler that he learned from his champ dad. He and another son now box amateur.
"All four of my boys look up to me," said Dawson. "They are the greatest gift God gave me."
Dawson won the light heavyweight title in February 2007 with a unanimous decision over previously unbeaten Tomasz Adamek. He would go on to twice defeat Antonio Tarver as well as Glen Johnson and in October 2011 fought Bernard Hopkins to a no-contest in a bid to become champion again after having lost his light heavyweight crown to Jean Pascal. The fight was initially ruled a TKO victory for Dawson but that result was later ruled a no-contest when it was determined Hopkins was unable to continue after getting thrown from a clinch in the second round. A rematch took place in April 2012 and Dawson dominated the boxing legend en route to a unanimous decision victory. And Hopkins' career was far from over. Though Dawson gave him fits, Hopkins went on to win the IBF light heavyweight belt, as well as the WBA strap, in 2013 and 2014, respectively, in his late 40s, further cementing his legendary status as one of boxing's all-time greatest pugilists.  Hopkins won three world titles in his 40s between 2011 and 2014, but he never had his way with Dawson, because at his peak, Dawson was as good as anyone. In fact, The Ring magazine once had him ranked 10th on their pound-for-pound list. However, no less than Floyd Mayweather Jr., once gave him even better praise. During one of his retirements, he proclaimed Dawson the best pound-for-pound fighter in the sport.
Dawson isn't that young gun anymore but he told everyone assembled at the induction dinner," Don't write me off yet. I've still got one or two special moments in me."
The night's final inductee was Rodriguez, who retired in 2017 with a 29-9-4 record. During his peak, he could always be counted on for truly entertaining fights. A two-time USBA welterweight champion and a regular face of ESPN's Friday Night Fights broadcasts, he won 19 of his first 22 bouts (one bout in there was a draw).
He would lose his USBA belt to Jesse Feliciano by stoppage in March 2007 but regained the belt in July 2008 with an 11th round TKO of Oscar Diaz in Diaz' hometown of San Antonio, Texas. Diaz was 26-2 at the time.
In 2008, he tangled with Isaac Hlatshwayo and managed a draw in Hlatshwayo's home country of South Africa. The two would meet again, this time at Mohegan Sun in August 2009 with the vacant IBF welterweight championship on the line.  It was Rodriguez' first world title shot. Once again, he fell a tad short, losing a split decision. 
However, the night of his Connecticut Boxing Hall of Fame induction, Feldman presented Rodriguez with an IBF championship belt.
Feldman told him, "Many people felt you had won one, if not both of your fights against Isaac, and in honor of those two great fights, please accept this IBF world title belt. This is a belt that may have alluded you 10 years ago, but we're going to make up for that right now, and on behalf of IBF President Daryl Peoples (who was sitting at a nearby table), congratulations."
Rodriguez was elated to be enshrined among greats such as Marlon Starling, Willie Pep and others, but on a more basic level, he was simply happy to see so many familiar faces again.
"An event like this brings so many memories back to mind," he said, as he looked out into the crowd and saw referee Johnny Callas, a gym owner who also served as a mentor to Rodriguez as a youth. Rodriguez came to the United States at 8 years old from the Dominican Republic. He also talked about Ishmael "Mike" Salazar, who was a volunteer trainer at the Hat City Boxing Club in Danbury. Salazar passed away in 2016 at the age of 98. Rodriguez, who now does some broadcasting work, also made sure to mention his wife Evelyn, who has been "with me since she was 15."
He added, "I've got so many friends because of boxing. Good friends, bad friends, but you learn. You learn business. I became a businessman because of boxing…Thanks to all the people that surrounded me. There are so many people that couldn't make it tonight. It is because of everyone that my life turned out the way it is."
In addition to the inductees, there were five awards presented early in the night. Kevin and Roma Smith received the Amateur Officials of the Year Award; Feldman took home The William Hutt Official of the Year Award; Felix Parilla, who was named the Outstanding Boxer at the New England Tournament of Champions for the second straight year, earned The Roland Roy Amateur Boxer of the Year honors; NABA light heavyweight champion Charles Foster, 29, received the Professional Boxer of the Year award; and Sherman Cain, a longtime writer for the Journal Inquirer in Manchester, was presented The George Smith Contribution to Boxing Award.
The night's Master of Ceremonies was Randy Gordon, former Editor-In-Chief of The Ring magazine, former chairman of the New York State Athletic Commission, and current host of "At the Fights" on Sirius XM Radio Network. The night began with a cocktail reception just outside the Uncas Ballroom. There was also a silent auction and a 50/50 raffle that earned one lucky winner $895.
Fighter attendees at the 15th annual dinner/induction, included, among others, "Iceman" John Scully, "Poison" Junior Jones, three-division champion Iran Barkley, former ESPN welterweight champion Troy "Schoolboy" Wortham, former IBO super middleweight champion Dana Rosenblatt, former NABF junior welterweight champion "Sucra" Ray Oliveira, former USBA lightweight champion Israel "Pito" Cardona and ex-welterweight king Marlon Starling.
Scully, a regular attendee, told The USA Boxing News, "I love going to the event because I am sure to see someone I have not seen in a long time from my boxing past in the state."
He added, "I think most guys like me are at the age and time in their boxing career where they really appreciate running into people from days gone by."
Steven Ike, a local boxing historian and serious autograph collector, said his highlight moment of the night was running into two granddaughters of the late Vic Cardell, a 2007 inductee who fought the likes of Kid Gavilan, Ike Williams, Carmen Basilio and others in the 1950s.
He gave them the only Vic Cardell autograph he had.
"They had never met him (Cardell passed in 1987). I just felt they should have it," he said. "It made them happy."
"You've got to love the Connecticut Boxing Hall of Fame," said referee Danny Schiavone, 'Because it's geared toward honoring the great boxing people from around our region."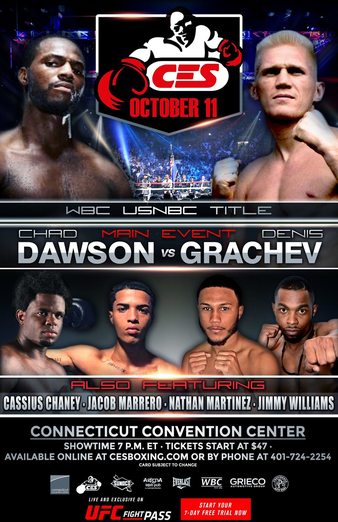 Dawson Defeats Grachev
By Kirk Lang
October 11, 2019 – Hartford, CT – Returning to the ring for the second time following a two-year layoff, former light heavyweight champion "Bad" Chad Dawson looked sharp in taking an eight-round unanimous decision over Russian-born Denis Grachev at the Connecticut Convention Center.
Dawson took far less punches than he did back in June against Quinton Rankin, who caught him numerous times with straight lefts and dropped him and almost stopped him with a left uppercut in the fifth round of their eight-round affair at Foxwoods Resort Casino.
Dawson boxed beautifully against Grachev, even if that meant giving the crowd less action than it hoped for. When Grachev tried to pressure Dawson, the 37-year-old New Haven pugilist sidestepped like a light heavyweight Willie Pep or stepped back just enough to be out of range of the shorter Grachev's punches.
Someone in the crowd yelled out "Let's get this party started," at the start of the third round, apparently displeased with the lack of back-and-forth action and Dawson's unwillingness to unnecessarily put himself in harm's way over the first two frames. Dawson knew how close he came to losing in his previous fight, so he made sure this time out to keep his opponent at the end of his punches, at the end of his longer arms.
Halfway through the third stanza however, Dawson began to get a bit more aggressive, clearly putting more steam on his punches. The fourth was another good round for Dawson and in the fifth, he displayed some shifty movement that had Grachev punching at air.
Grachev had his best moment of the fight halfway through round six when he countered a hard left uppercut from Dawson with a hard right hand. Grachev followed up with more leather as Dawson seemed content to try Muhammad Ali's rope-a-dope technique employed against George Foreman in 1974. Before the round was over, Dawson was off the ropes and landing some good shots to end the round, including another uppercut and a quick one-two combination just before the bell to end the stanza.
Fifteen seconds into the 7th round, Dawson ripped Grachev with a three-punch combination and as the round progressed, Dawson showcased some slick footwork, making the man who thought he was going to frustrate Dawson with pressure look foolish. Dawson closed the round with some impressive straight left hands. The eighth and final round was another dominant three minutes from the former champion.
Dawson was announced the winner by scores of 80-72 (twice) and 79-73.
"I'm 37 years old but I feel like I'm 25," said Dawson," who is once again reunited with his amateur trainer Brian Clark, who was inducted into the Connecticut Boxing Hall of Fame last year. Dawson, who will be inducted into the same Hall on Nov. 9, added, "I'm ready for any of the big guys at the top. If any of these guys wanna test me, the better the competition, the better I'm gonna perform."
With his latest victory, Dawson wins the vacant WBC USNBC light heavyweight title and improves to 36-5 (19), with two no-contests. Grachev is now 19-9-1 (10).
In the night's co-feature, unbeaten Main Events-promoted heavyweight Cassius Chaney scored a first-round knockout of former cruiserweight title challenger Santander Silgado. Following a couple of jabs with the first right hand he threw, Silgado, 28-8 (22), fell flat on his back and was laid out, positioned like he was in the midst of making a snow angel. He didn't move for a minute or two but eventually got up with some kindly assistance and left the ring on his own accord.
Chaney said he had wanted to get some rounds in, "but once he threw a few punches my thoughts changed."
Chaney added, "He wanted to land something sneaky so I felt I needed to land something clean that he felt. And I threw a basic double jab-right hand combination. He saw the jab but the right hand landed right on the chin and I knew he was done."
The official time of the stoppage was 1:03. Chaney improved to 17-0 (11). A former University of New Haven basketball star, Chaney turned to pro boxing at a later age than most. However, this 32-year-old, who doesn't drink, smoke or do any other drugs, is determined to do everything it takes to achieve his goal of becoming heavyweight champion, and this year has been an impressive one. His win over Silgado was preceded by an ESPN+-televised performance back in July in which Chaney knocked Joel Caudle out of the ring before stopping him a short time later. This New England prospect is on the fast track to reaching contender status.
David Benavidez Gives Boxing Fans a Taste of Training Camp
By Kirk Lang
Photos by Alyssa Lang and Kirk Lang
It was billed in a press release as his official start of training camp but David Benavidez' challenge of WBC super middleweight champ Anthony Dirrell was still months away when he took on three sparring partners under the pavilion at the International Boxing Hall of Fame in upstate New York during the Hall's 30th annual induction weekend.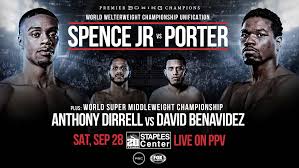 "This is not really the start of my camp," said Benavidez. "I still have 16 weeks left 'til the fight. So I just came out here, enjoyed the people, got some good sparring and just enjoyed myself. I put a show on for the fans."
Benavidez, 21-0 with 18 knockouts, became the youngest ever super middleweight champion in September 2017 when, at 20 years old, he won a 12-round decision over Ronald Gavril for the vacant WBC super middleweight championship. However, a career misstep saw him test positive for a banned substance last September and he lost his crown.
At the time, Benavidez was scheduled to make the second defense of his belt against Dirrell. The title subsequently became vacant and Dirrell took possession of it in March with a victory over Avni Yildirim.
The June 7th sparring in Canastota, New York, along with some shadowboxing the following day, provided a little sample of training camp life for approximately 100 boxing fans that crowded around the outdoor ring in perfect weather. Benavidez, who is intent on getting his belt back, didn't appear to be too far from fighting weight, and looked sharp as he went three rounds a piece with a trio of local sparring partners.
Benavidez, far more experienced than his opponents, clearly seemed to be holding back at times, but he also made sure to work on defensive maneuvers. However, he did let his hands go here and there, including when he positioned Syracuse, New York-based 6-foot-four-inch pro boxer Lawrence Gabriel, whose record currently stands at 3-2-1, into a neutral corner. Benavidez let the crowd know he could turn the heat up whenever he felt like it. In fact, although Gabriel has survived bullets – in 2015 he was the victim of multiple gunshot wounds while trying to stop a crazed gunman at a Syracuse bar – he couldn't survive Benavidez. He came close though. As his third and final round with the former world champion neared its end, Gabriel got caught with a beautiful hook to the body. He rose to his feet, but needed a break and leaned against the ropes until the bell rang.
"He's a big puncher and he snaps every single punch," Gabriel said. "And he gets his body into the right position to get power on all of his punches. He's tough."
Next up for Benavidez was the smallest of the three sparring partners – Luis "Azucar" Rojas. What Rojas lacked in stature he more than made up for in aggressiveness. Unfazed by Benavidez' pedigree as a recent ex-world champion, he'd get in close and confidently let loose with combinations, usually to the head. Benavidez seemed to admire his opponent's tenaciousness, but a well-placed power punch every so often let Rojas know who the real king of the ring was.
"I think he's good," said Rojas, who added, "I think he can be better. I've seen him fight before. I know he's better than that."
Did Rojas think Benavidez was holding back?
"Sometimes," he said.
What did he learn from his three rounds with the former champion who is still at the top of the class at super middleweight?
"That you've got to stay ready, all the time," said Rojas, who admitted to not being at his peak physically at this point in the summer.
The last sparring partner for Benavidez was 25-year-old Michael Rycraft, of Utica, NY. Tall and quick with his hands as well as his feet, Benavidez had to work harder in those final three rounds.
"The last one, he was the best one," said Benavidez. "So I had to use every movement right. There could be no wasted movements."
As good as Rycraft was, Benavidez left him with a bloody nose his corner-men had to attend to.
Rycraft seemed to appreciate the sparring, the opportunity, more so than the others that scrapped with Benavidez. He was seen talking with him and thanking him well after the sparring was over.
He told The USA Boxing News, "It's a blessing. It's a blessing to be in this position, to learn from a champion, a true champion, a young champion at that."
Avid boxing enthusiast Mark Jones, of Syracuse, NY, who watched Benavidez' nine rounds of sparring – a pre-cursor to actual training camp -believes Benavidez has the goods to defeat Dirrell.
"I think he'll beat Dirrell based on his youth and the fact that Dirrell is in the post-prime phase of his career," he said. "Benavidez has a big frame. I think he could eventually perform well at light heavyweight."
Dirrell-Benavidez is scheduled to take place in late September in Los Angeles.
Clary Decisions Gonzalez to Win Vacant NABA Super Feather Title
By Kirk Lang
Photos by Al Derouin
August 29, 2019 – Mashantucket, CT – Foxwoods Resort Casino. 
In an all New England match-up of super featherweights, Providence, Rhode Island's Toka Kahn Clary, 128, won a lopsided 10-round decision over previously once-beaten Irvin Gonzalez, 127, of Worcester, MA to take the vacant NABA super featherweight title. The scores were 99-91 twice and 98-92. However, this fight was far more competitive and exciting than the scorecards would indicate.
While Kahn Clary clearly had the speed advantage – at times looking like a southpaw version of a young Shane Mosley – his 23-year-old opponent was never discouraged and always answered back with punches of his own – often delivered in spirited combinations – that kept things interesting. Kahn Clary-Gonzalez headlined the latest installment of DiBella Entertainment's Broadway Boxing, held on this night at Foxwoods Resort Casino's Fox Theater.
Kahn Clary, trained by Peter Manfredo Sr. earlier in his career, is now a pupil of Hall of Fame trainer Freddie Roach. Kahn Clary's sparring sessions with all-time great Manny Pacquiao seem to have given him an extra level of confidence in the ring, knowing that if he can trade shots with Manny at the Wild Card gym, then he can surely dare Irvin Gonzalez to try to hit him.
Gonzalez seemed a little bit in awe of Kahn Clary's speed in the early going, hardly able to avoid the right jab and Kahn Clary's preferred weapon of choice – the straight left hand. Kahn Clary bloodied Gonzalez' nose in the second round. In the third frame, Gonzalez began to step up his aggression, willing to fire back more than he had in the first two rounds. The end of the fourth frame saw Gonzalez get off a couple of stiff right hands. If Kahn Clary wasn't so quick-fisted, Gonzalez would have had more highlight reel moments. The fifth round featured great ebb and flow with both men trading serious punches that spurred on their respective cheering sections. Later in the round, Kahn Clary missed some big bombs that might have dropped Gonzalez had they landed. The final 30 seconds of the round turned into a live-action Rock 'em, Sock 'Em Robots affair. Gonzalez even seemed to hurt Kahn Clary as he took some shots along the ropes. However, Kahn Clary stood there strong and immediately fired back with a succession of power punches.
Gonzalez seemed a little arm weary to start the sixth frame but may have done enough throughout the round to earn the stanza, as Kahn Clary seemed to ease off the gas a bit himself. However, Kahn Clary came back strong in the seventh round, beginning with a right jab-right hook combination. In addition to his speed, it's other things Kahn Clary does that are impressive, such as the lost art of feinting. Over and over again, he'd feint with his lead hand, or make a half step with his lead foot, and make Gonzalez think he was going to step forward and punch and then he'd fool him. Gonzalez was not only contending with far superior hand speed, he was often unsure of when Kahn Clary was actually going to attack. The combination of his speed and his feints often left Gonzalez perplexed, but the young pugilist showed no quit in him. He kept trying and gave a great account of himself. Gonzalez boxed well in the 8th frame but Kahn Clary landed the best punch of the round – a smashing straight left to the face that might have briefly stunned Gonzalez – with less than 20 seconds to go.
Gonzalez' nose would bleed once more, in the 9th round, after a beautiful straight left from Kahn Clary with about 1:20 left to go. Late in the 10th frame, Kahn Clary absolutely battered Gonzalez in a neutral corner. Referee Johnny Callas kept a watchful eye on things, seemingly ready to stop the fight, but every time it looked like Kahn Clary might get the stoppage, Gonzalez fired back with something. He eventually got out of the neutral corner but couldn't get away from Kahn Clary, who kept firing punches from all angles until the final bell, giving the crowd a great ending to a dominant but entertaining victory.
He improves to 27-2 (18) while Gonzalez falls to 12-2 (9).
Kahn Clary's last defeat was a close decision loss at featherweight last October to unbeaten top contender Kid Galahad. Now fighting at super featherweight, he feels he's not draining himself to make weight.
Asked whether he might return to the 126-pound class or stay at 130, Kahn Clary responded, "I've still got a six-pack at 130. I'm staying here. One-hundred-and-twenty-six kills me. I'm staying here."
In the night's co-main event, WBA super middleweight champion Alicia "The Empress" Napoleon-Espinosa, 161, of Lindenhurst, NY, stopped Schemelle Baldwin, 163, of Newark, DE, in the fourth round. The official time was 1:30.
Napoleon-Espinosa, 12-1 (7), was making the second defense of her belt and apparently had trouble finding an opponent of similar pro experience. Baldwin came into the fight with a record of 3-0-1 (2). Not only did the records not compare, Baldwin was also significantly slower of hand than the champion. Napoleon-Espinosa had her way with Baldwin, firing bursts of punches while consistently moving in and out of range without getting countered. Baldwin's mouthpiece was sent flying in the second round. Early in the third frame, Napoleon-Espinosa began hammering away at Baldwin in Baldwin's corner. The assault lasted for more than a minute. When the fight was dangerously close to getting stopped Baldwin let loose with a haymaker to show she still had some fire in her.
The fourth round was a repeat of the previous frame, with Baldwin again getting blasted in her own corner. A plastic piece of her chest protector fell out. Soon after, with Baldwin merely serving as target practice for the champion, referee Al Lobianco stepped in and ended matters.
Undefeated Hurshidbek "Hershey" Normatov, 152, of Andijan, Uzbekistan, now based in Brooklyn, NY, won the NABA super welterweight title with a lopsided eight-round decision over 38-year-old veteran Walter Wright, 154, of Seattle. WA. The scores were 80-72 (twice) and 79-73. Normatov's straighter punches and effective use of the ring negated Wright's offensive attempts for the most part. Wright's corner was yelling and imploring him to get closer and cut the ring off as early as the third round. Wright finally seemed to let his hands go at the start of the fourth frame. It seemed he was getting braver as the fight wore on. However, Normatov, a 6'2" southpaw, nailed him with some very stiff straight lefts to close out the round and make him think twice about being brave.
Normatov opened the fifth with some impressive combinations. In the sixth he was back circling the ring, scoring with jabs and straight lefts. Normatov maintained control in rounds seven and eight but for some reason kept looking up at the clock in the final round, which seemed odd because he didn't look all that tired and he never let loose with punches in bunches to close out the final 10 to 15 seconds of the fight in impressive fashion. Normatov is now 9-0 (3) while Wright falls to 17-7 (8).
Stephan "Big Shot" Shaw, 251, of St. Louis. MO, extended his undefeated record to 12-0 (9) with a fourth-round stoppage of Willie Jake Jr, 233, of Indianapolis, IN. He dropped Jake in the opening round and then twice in the third stanza –  the first of the third round knockdowns had Jake going through the ropes nearly falling on judge Glenn Feldman– before seriously hurting Jake in the fourth with a left hook as Jake was in a neutral corner. Shaw followed up by targeting the head with hooks, straight right hands and uppercuts. Soon after, referee Johnny Callas ended matters, giving Shaw a TKO victory at the 0:56 mark. Jake is 0-2 in 2019 after riding a seven-fight unbeaten streak that dated back to July 2016. His record now stands at 8-3-1 (2).
Former WBC/IBF/IBO light heavy king Chad Dawson returns to the ring in start of comeback trail to become champion once again
Story by Kirk Lang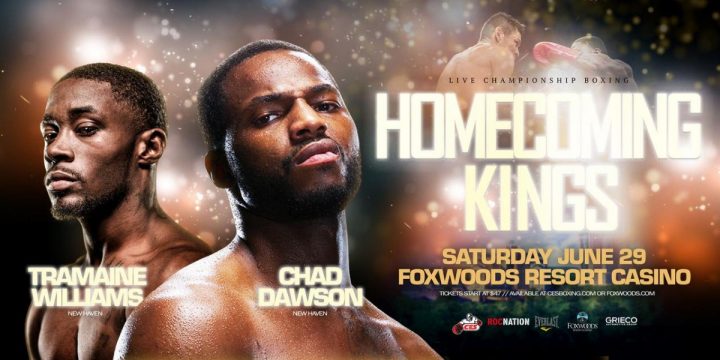 Mashantucket, CT – Foxwoods Resort Casino – Making his return after more than two years away from the sport, former light heavyweight champion "Bad" ChadDawson is giving himself one more go-round to try to reach the elite level once again.
In December 2017, he was TKO'd by Andrzej Fonfara, and in October 2014, Dawson – two fights removed from losing his WBC belt to Adonis Stevenson by first-round knockout– was outpointed by little known Tommy Karpency.
The 36-year-old New Haven fighter's latest comeback almost hit a sour note. After outboxing fellow southpaw Quinton Rankin, 32, of Charlotte, NC, with relative ease over the first four rounds of their eight-round main event, Dawson got caught with a perfect rear hand left uppercut from Rankin that created the fight's only knockdown and had Dawson buzzed for some time.
Fortunately for "Bad" Chad, a follow-up left hand to the back of the head from Rankin when Dawson was "down" – he did not hit the canvas, but collapsed to a squatting position and made contact with the ring floor with both gloves – prompting referee Micheael Ortega to provide him more time to recover than simply a standing 8-count.
Richard Schwartz, one of Rankin's cornermen, complained that Dawson was given 41 seconds to clear his head before the action resumed. However, if Rankin, 32, had not thrown the illegal punch after the knockdown, he would have been able to mount a follow-up attack sooner rather than later while Dawson was in his most vulnerable state.
With roughly 1:20 remaining in the round, the action resumed and Rankin, 179, attacked Dawson, 178, along the ropes. Soon after however, time was called and Dawson received another respite, the result of referee Michael Ortega taking a point from Rankin for another punch behind the head. The slight break seemed to be the trick for the ex-champ because when both men to box again, Dawson looked like his younger self, ripping hard rapid-fire shots to the body with both hands. Trapped in a neutral corner, now seeing the man he dropped turning the tide in the same round, Quinton looked visibly tired. In addition to power punches, Dawson also did not forget the jab, and a series a right jabs set up a beautiful left uppercut seconds before the bell to end the round.
While Rankin's most consistent punch of the night was a sneaky straight left, he also made the fight ugly. In addition to some punches behind the head, he was often guilty of pushing up on his opponent's chin with his right arm. In the seventh round, Rankin finally had a point deducted for such a maneuver.
In the eighth and final round, the former champion boxed smartly, not wanting to give his opponent any possible chance to score another knockdown, or worse, connect with a fight-ending punch. With a minute left in the stanza, Dawson impressed the judges and the audience with a trio of right hooks in rapid succession. When there were only twenty seconds left on the clock, Dawson landed a solid right hook to the body, and Rankin, in one last good effort, countered with a hard straight left.
Other than the fifth round, the fight was pretty much a one-sided affair, as the judges had it 80-68 and 78-72 twice.
 "He [Rankin] was very durable, a very strong guy," said Dawson. "He came to win and think for a two-year layoff that was a good guy to come back against. The kid was strong. He was better than what his record said."
Dawson, 37, improved to 35-5 with 19 knockouts while Rankin fell to 15-6-2 with 12 knockouts.
In the night's co-main event, another New Haven fighter notched a lopsided victory. Featherweight Tramaine Williams won a 10-round unanimous decision against Neil John Tabanao of the Philipines. The scores were 99-91 twice and 98-92. Williams, like Dawson, learned the fundamentals of boxing under the tutelage of local legend Brian Clark at New Haven's Ring One Boxing gym. Because of the New Haven connection with the top two guys on the A-side of the bout sheet, the fight show was billed as "Homecoming Kings." Foxwoods Resort Casino is little more than an hour from New Haven.
But whereas Dawson is trying to return to former glory, Williams' star is still rising. The sky is the limit for him as long as he stays dedicated to his craft. Generally considered the most talented young boxer in the Nutmeg State, the win over Tabanao is the latest step on the path to a world title opportunity.
The opening round of Williams-Tabanao was a feel-out round for both fighters. Neither man had many solid connects and it seemed like they were an inch too far apart from one another at all times. Williams certainly possesses the speed to quickly close the gap but he seemed content to be patient and observe his man from afar, at least in the opening stanza.
A minute into the second round, Williams jumped in with two straight lefts that caught Tabanao's attention. Later in the frame, Williams seemed content to make his adversary miss. A very solid defensive fighter, Williams draws comparisons to the recently deceased Pernell Whitaker, boxing's former pound-for-pound king.
The third round saw Williams gradually increase his offensive output and "The Mighty Midget" ended the round with a beautiful right hook with about 12 seconds left in the frame. The fourth round saw increased use of the right hook but the best punch of the round was perhaps a lead straight left with about 25 seconds left.
Williams, 123, upped the aggression in the fifth stanza, yet also showcased some great upper body movement in evading Tabanao's offensive attempts. Tabanao, 123, had some success in the sixth with a few right hands to the body, but Williams never allowed him to get into a groove. As Williams continued to dominate in rounds seven and eight, Tabanao was simply perplexed. Unable to land anything of significance, he found himself rushing at Williams like a bull at one point in the 9th frame.
In the tenth and final round – halfway through the frame – Williams landed two successive straight lefts that caused Tabanao to fall back a step. He followed up with some good power shots, but was unable to get Tabanao out of there early.
Williams, 123, improved to 18-0 with 6 knockouts. Tabanao saw his ledger dip to 17-6 with 11 knockouts.
 "Tramaine controlled the action, the fight, to his pace," said Williams' trainer Mike Conroy, who had no issue with his fighter taking Tabanao the full 10 rounds. "Sometimes people don't understand the art of boxing. Everybody wants to see the knockout but we knew he was a durable guy so we were not going to go in there and try to knock somebody out that hadn't ever been stopped."
On July 27 at the College Park Center in Arlington, VA, Williams, 26, won a 10-round unanimous decision over Yenifel Vicente, 33, to capture the vacant USBA and NABO super bantamweight championships on the undercard of the super lightweight unification clash between Maurice Hooker and Jose Ramirez. That means that Williams engaged in two fights in less than a month, which makes Tramaine on pace to earn "Pro Fighter of the Year" honors from the Connecticut Boxing Hall of Fame in 2019. The late July clash with Vicente was Williams' fourth bout of the year, and that still leaves August through December for him to rack up a few more wins.
by Kirk Lang