THE ORIGIN OF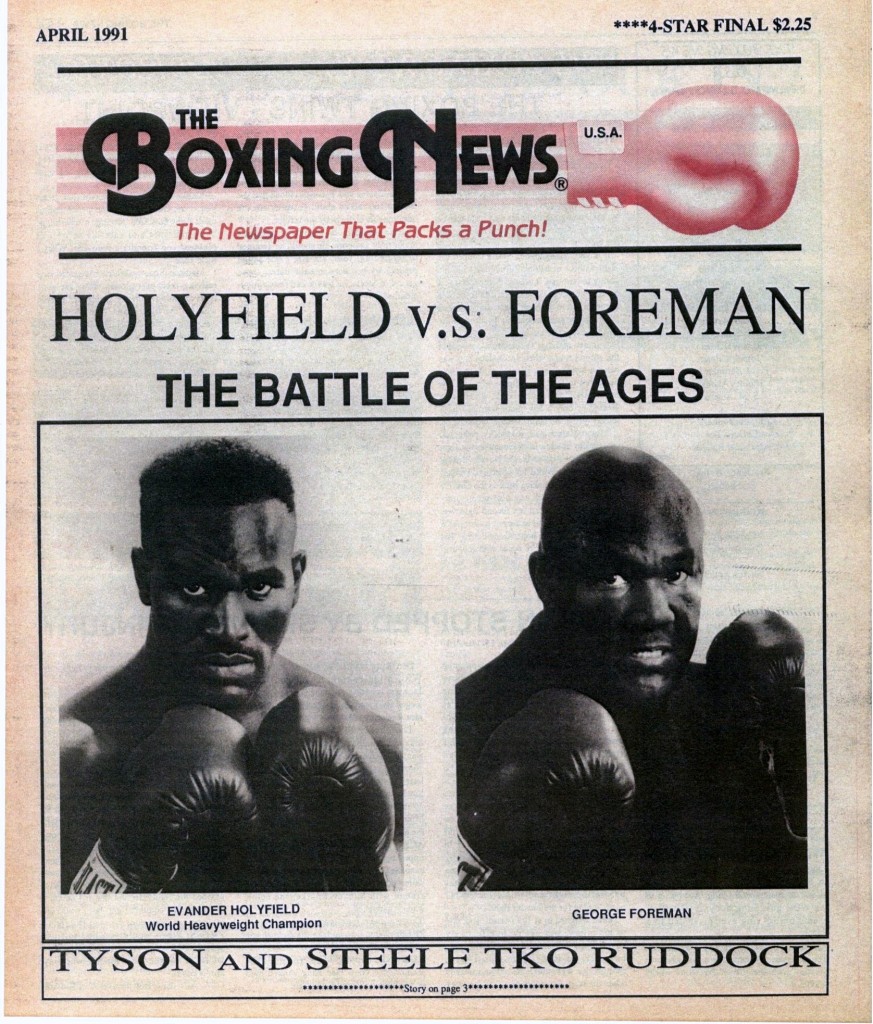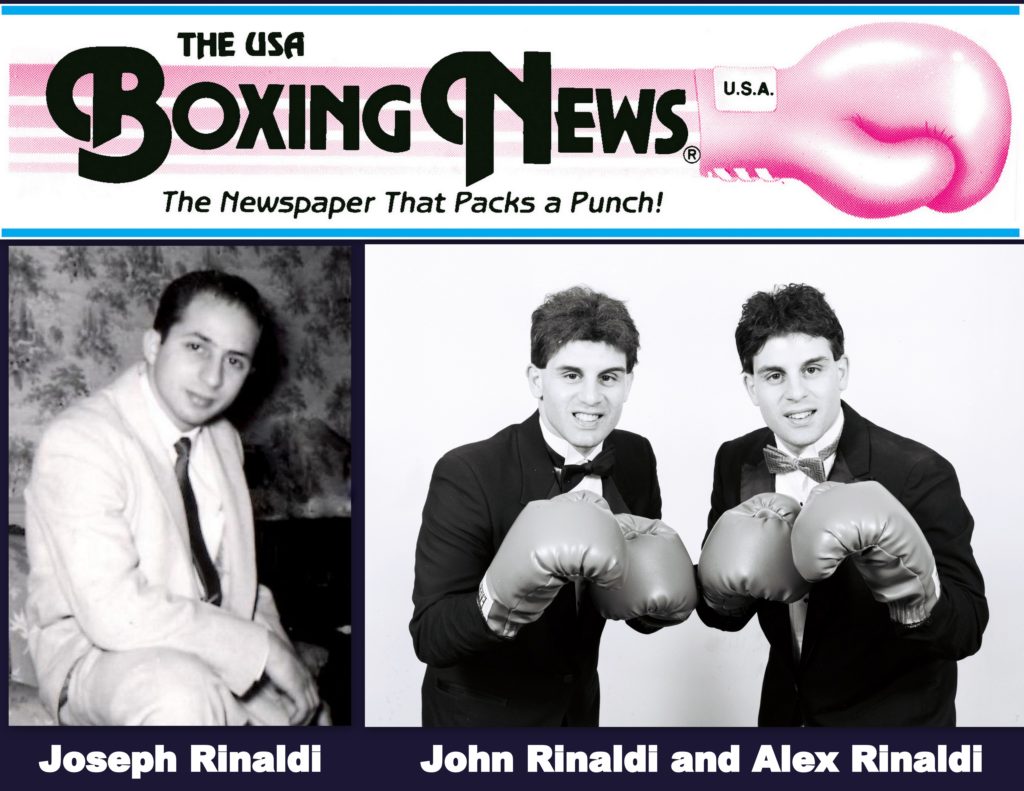 Born to Rose and Gerard Iasilli on October 14, 1936 in New York near Yankee Stadium in the Bronx, young Joseph had to fight in life to overcome adversity at an early age.  Before he turned three, Joseph's dad died of pneumonia leaving his mother and him penniless in heart of the Great Depression.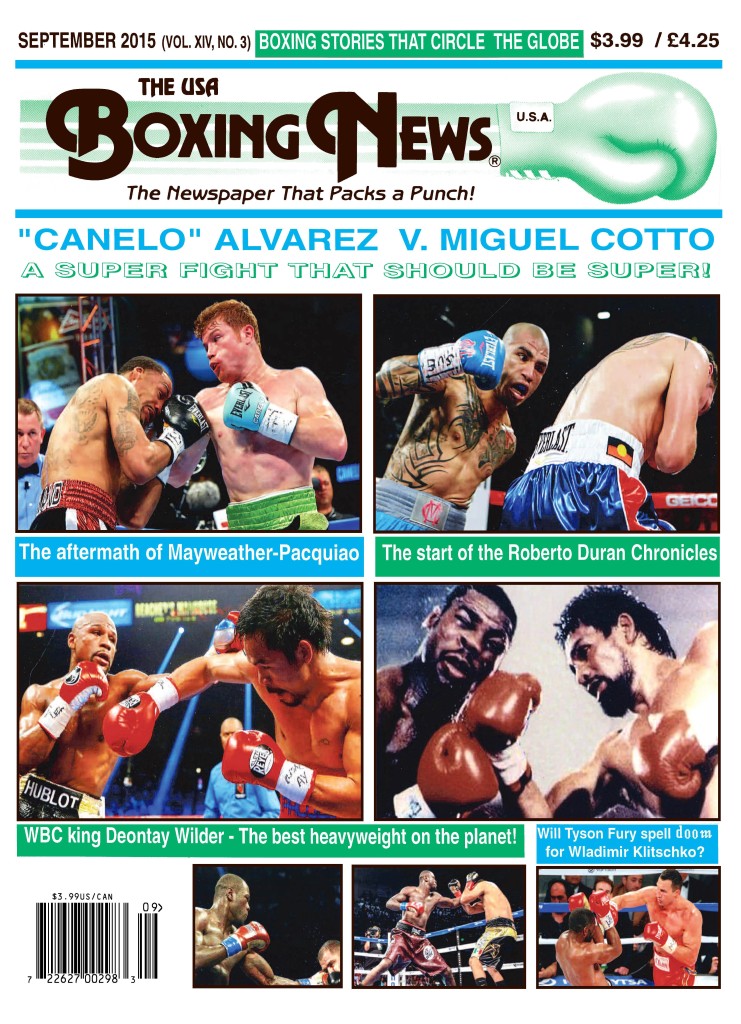 Later his mother married a widower named John Rinaldi. It was then that Joseph's last name was changed to Rinaldi and they moved with his new father to Nutley, New Jersey.  Life, however, was tough and Joseph took any job he could at an early age to help out with the family's finances. 
By the time he was ten, Joseph had his own shoeshine booth at a Montclair, New Jersey barbershop and became friendly with many of the New York Yankee ballplayers, such as Yogi Berra, Phil Rizzuto, Vic Raschi, Whitey Ford and Allie Reynolds, who frequented the establishment.  The fabled players would often give him autographs, signed photos, and tickets to ball games, as well as tickets to all the World Championship Boxing matches that were held in Yankee Stadium.
The first championship bout Joseph saw was when the legendary Joe Louis engaged in his final title defense against Jersey Joe Walcott on June 25, 1948.  He watched in amazement how Louis rose off the canvas in round three to later KO Walcott in the 13th Round.
From then on, Joseph was a fixture at fights in Yankee Stadium, Madison Square Garden, St. Nicholas Arena, Roosevelt Stadium, Eastern Parkway Arena, Ruppert Stadium, and Laurel Garden.
In the 1950's Joseph's Uncle Mike Strolla was a financial backer of rising heavyweight contender Roland LaStarza and soon the teenager was working in LaStarza's training camp
On March 24, 1950, Joseph was at ringside when Roland faced another up-and-coming heavyweight named Rocky Marciano at Madison Square Garden.  It was a great battle that was scored even, with referee Jack Watson having he bout 5-5, judge Arthur Schwartz scored it 4-5 for Marciano and judge Artie Aidala had LaStarza winning at 5-4. Under New York's supplemental scoring system, however, referee Watson had Marciano wining 9-6, since he dropped Roland down for a seven-count in round 4.
When he was 14 Joseph met the up and coming heavyweight contender Rocky Marciano, who was making a public appearance at a local Grand Union Supermarket.  Because it was in the middle afternoon, and the store was frequented with more housewives than men, Rocky asked Joseph to hang it with him for a while.  The minutes turned to hours and during this time Rocky and Joseph realized that their heritage and backgrounds were all too similar. As a result of this chance meeting, young Joseph Rinaldi developed what was to become a life-long friendship with Rocky Marciano.
Joseph was also a terrific athlete and eventually became one of the fastest sprinters in the United States.  Though he was planning on trying out for the Olympics, he instead volunteered for the United States Air Force during the Korean War.
The war ended two weeks before Joseph was scheduled to be shipped out. Instead of going overseas to fight, over the next four years, Joseph would spend his remaining time in the service fighting in the boxing ring for the Air Force. He was finally promoted to the rank of Corporal and before long became the featherweight champion of his base on Long Island, New York.
Through the years Joseph also kept up his friendship with LaStarza and was at the Polo Grounds when Roland was TKO'd in the 11th Round in his rematch with Marciano, this time with the Heavyweight Championship of the World at stake.  LaStarza gave a gallant effort and at the time of the stoppage, it was a close fight with Marciano ahead on two cards,  referee Ruby Goldstein having Marciano winning 3-7  and judge Young Otto scoring it 4-6, but judge Harold Barnes had the fight even at 5-5. Joseph was on the fence during that battle, since he was friendly with both combatants.  The second Marciano-La Starza fight was so exciting that it was voted 1953's Fight of the Year.
Upon leaving the service Joseph took up writing and covered boxing for the South Amboy Citizen, the Fords Beacon, the Trenton Evening Times, the Rahway News Record, the Cranford Chronicle, and the Westfield Leader.
Besides writing, Joseph opened his own barbershop named The KO Barbershop and later his own insurance agency named the Rinaldi Insurance Agency.
In 1980, Joseph Rinaldi, the former successful Amateur Boxer founded the The USA Boxing News in 1980. Joseph Rinaldi always felt that there was something lacking in all of the boxing magazines sold and produced at the time. As a result, he vowed to publish a new type of boxing publication that was not only fan friendly, but also informative and historical as well.
Having spent many hours and days at both Rocky Marciano's and Roland La Starza's training camps, Joseph Rinaldi wanted boxing fans who were unable to attend these type of training camps, or actually meet the prize fighters, to know what it was like to be there and what the boxers themselves were thinking while going through this intense regimen. To him they were the kings of professional sports. He also wanted the readers to know the thoughts of fighters well beyond the press clips and short word bites often seen in the press. In effect, he wanted the lives, dedication,  and triumphs of these great athletes to come to life on the pages of a boxing publication.  
Throughout his life, Joseph Rinaldi revered boxers and felt that they were the greatest athletes ever to grace a world stage. He was so impressed by their work ethic, their overall athleticism, and their humbleness, that he dedicated his life to chronicle their achievements along with boxing's rich and colorful history. Thus began the birth of what was to become The USA Boxing News.
To assist him were his sons John Rinaldi and Alex Rinaldi, later nicknamed "The Boxing Twins" by the legendary Roberto Duran in 1983.  Together they established The USA Boxing News publication in 1982 in Bridgeport, Connecticut, which started as a pamphlet passed out at fights at the Ice World in Totowa, New Jersey and throughout the entire North Eastern Tri-State area.
Next to his family, Joseph loved New Jersey, Florida, and boxing.  In addition to covering fights in New York and New Jersey, Joseph Rinaldi covered many bouts in the state of Florida. He eventually owned a second home in Stuart, Florida.
Sadly, during 1982, when he was planning on enlarging The USA Boxing News, he was diagnosed with liver and colon cancer on Christmas Eve of 1982 and given less than three months to live.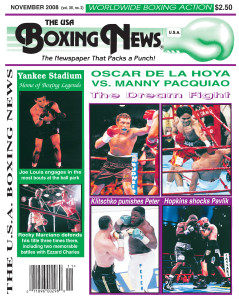 Ever the fighter, Joseph battled  cancer with the courage of a championship pugilist and continued undaunted with his plans for the forging of the future of The USA Boxing News.
Tragically, on September 23, 1983, in Stuart, Florida, the fatal 10-count was tolled on one of the most prolific writers and publishers in boxing history.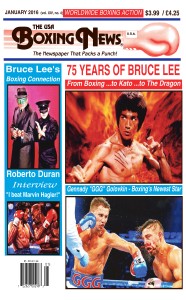 Joseph's last wish was to be buried with the gloves that won him his Air Force Featherweight Championship.  He was a fighter to the end.
In 2018 Joseph was posthumously inducted into the New Jersey Boxing Hall of Fame.
When Alex attended law School in Connecticut from 1982-1985, The USA Boxing News began being printed in the state of Connecticut, and they soon started establishing a major presence in New England, New York, New Jersey, Pennsylvania, and Florida.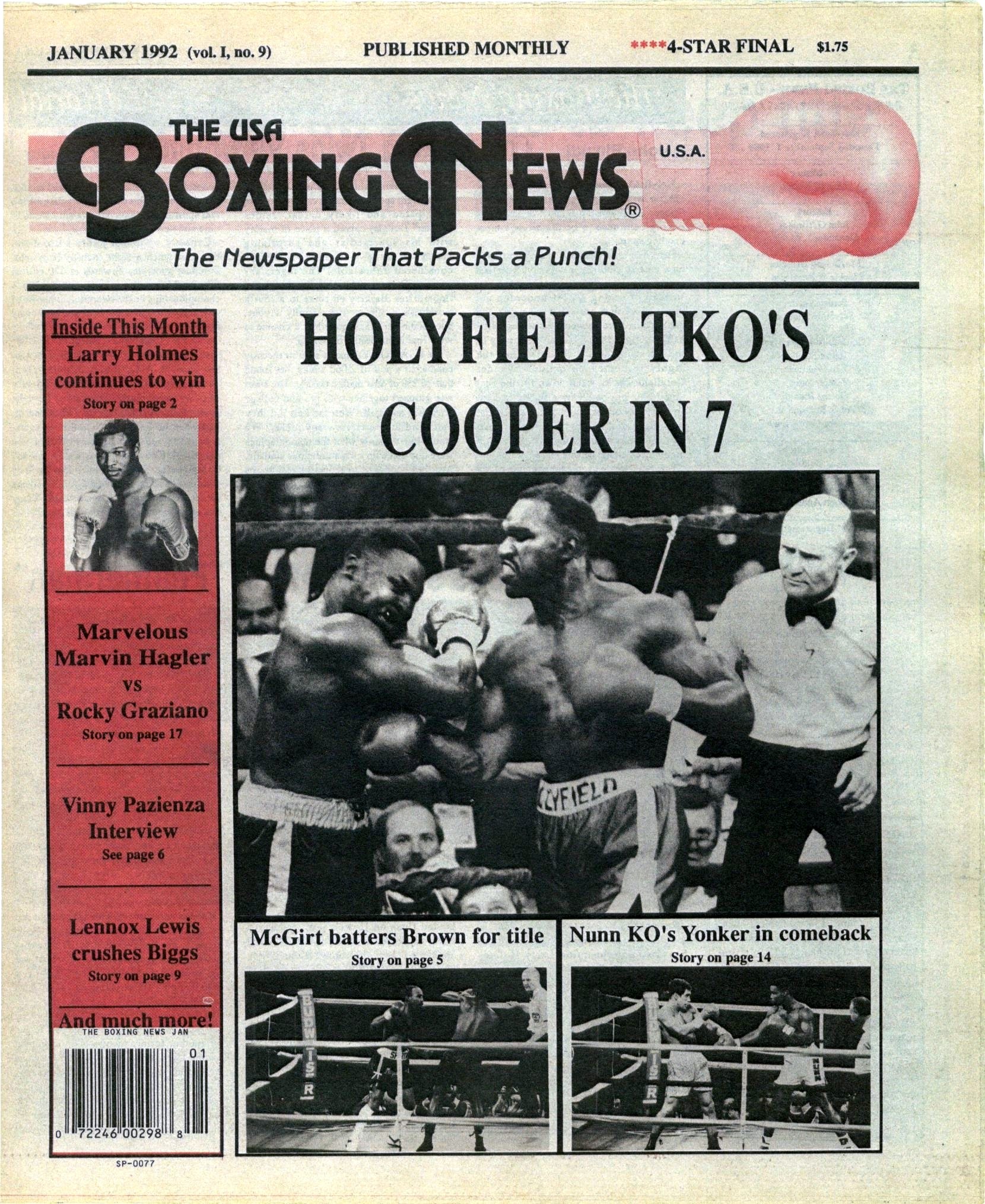 In 1989, John and Alex took the torch even further than Joseph anticipated, and before the decade of the 1980s ended, The USA Boxing News became a full-scale sports newspaper circulated on newsstands in 48 states, 4 continents, and 10 countries, along with being distributed in all of the U.S. Armed Forces bases throughout the world.
The USA Boxing News, has an award winning staff of over thirty (30) writers, and  is currently celebrating over 26 years as a newsstand publication. It is the only Boxing publication that is 100% boxing fan friendly and includes sections that no publication has ever dared to publish.
Besides providing fight coverage from all over the globe, The USA Boxing News also has an Editorial that "Pulls No Punches" called The Boxing Twins Viewpoint and in each issue has a Time Tunnel feature that takes its readers back in time and places them in a ringside seat at a historical and famous fight.
The USA Boxing News also has Boxing Newsreel section that provides up to the minute fights news, fight gossip, and fight happenings from all over the world.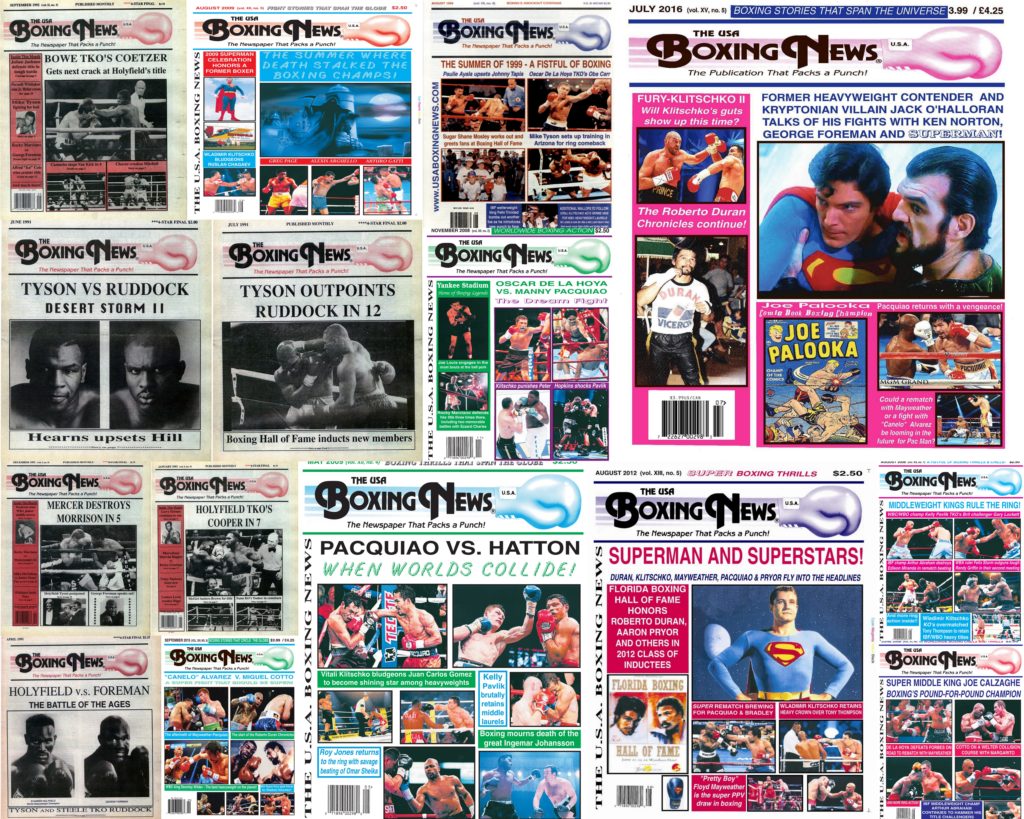 Another interesting and original feature is the Hitting The Road with Jack travel log,  as Hall of Fame writer Jack Obermayer provides special, unique stories of his travels throughout the United States, including fight coverage, along with tales of diners and dives that make small and large fight cards from off the beaten path Wyoming towns to big American Cities magically come to life to the delight and benefit of the reader. 
After the recent death of Jack Obermayor, long-time USA Boxing News writer Frank Bartolini has picked up the baton and now writes his own version of a writer-on-the-road-series chronicling grassroots to arena boxing in his new INSIDE RINGSIDE feature, which is sure to thrill boxing fans of all ages!
  In addition, The USA Boxing News for years published rare and exciting photographs from the world-renown photographer Barry Taub, who in each issue took the readers on a Photo Flashback where he described the behind scenes story that surrounded the taking of his one-of-a-kind photographs that were published.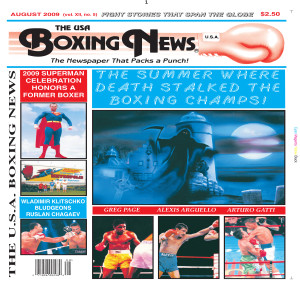 Whether it be John F. Kennedy on the Presidential Trail or Joe DiMaggio coming out of a famous fight at Madison Square Garden, Barry Taub's stories and photos harkened readers back to an important and exciting time and bygone era in the 20th century sports and political history.
  Another one-of-a kind section is The USA Boxing News Puzzles and Comics Page. This includes Word Search, Crossword, and Ringside Quote Falls Puzzles, along with boxing comics that offer a new and exciting page for the true and informed boxing fan.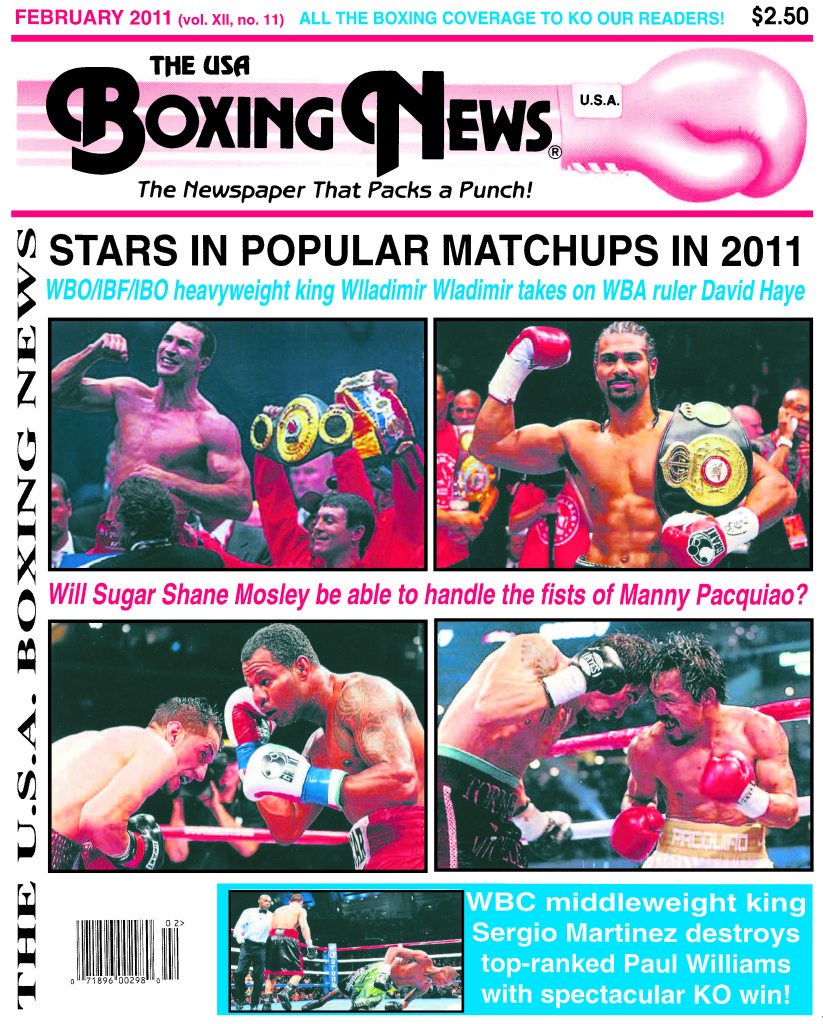 Boxing Historian, Author, and Hall of Famer,  Bert Sugar once said of The USA Boxing News, "They demonstrate an enthusiasm for the sport that has not been seen in a boxing publication in a long time. The USA Boxing News has become what the Police Gazette was over 100 years ago – namely the most informative, original,  and entertaining boxing newspaper of its generation."
This goes for boxing fans and to fighters and champions as well.  Recently,  former two-time boxing champion Bobby Czyz commented that, "All things considered, The USA Boxing News stands alone as the greatest boxing publication on the newsstands today."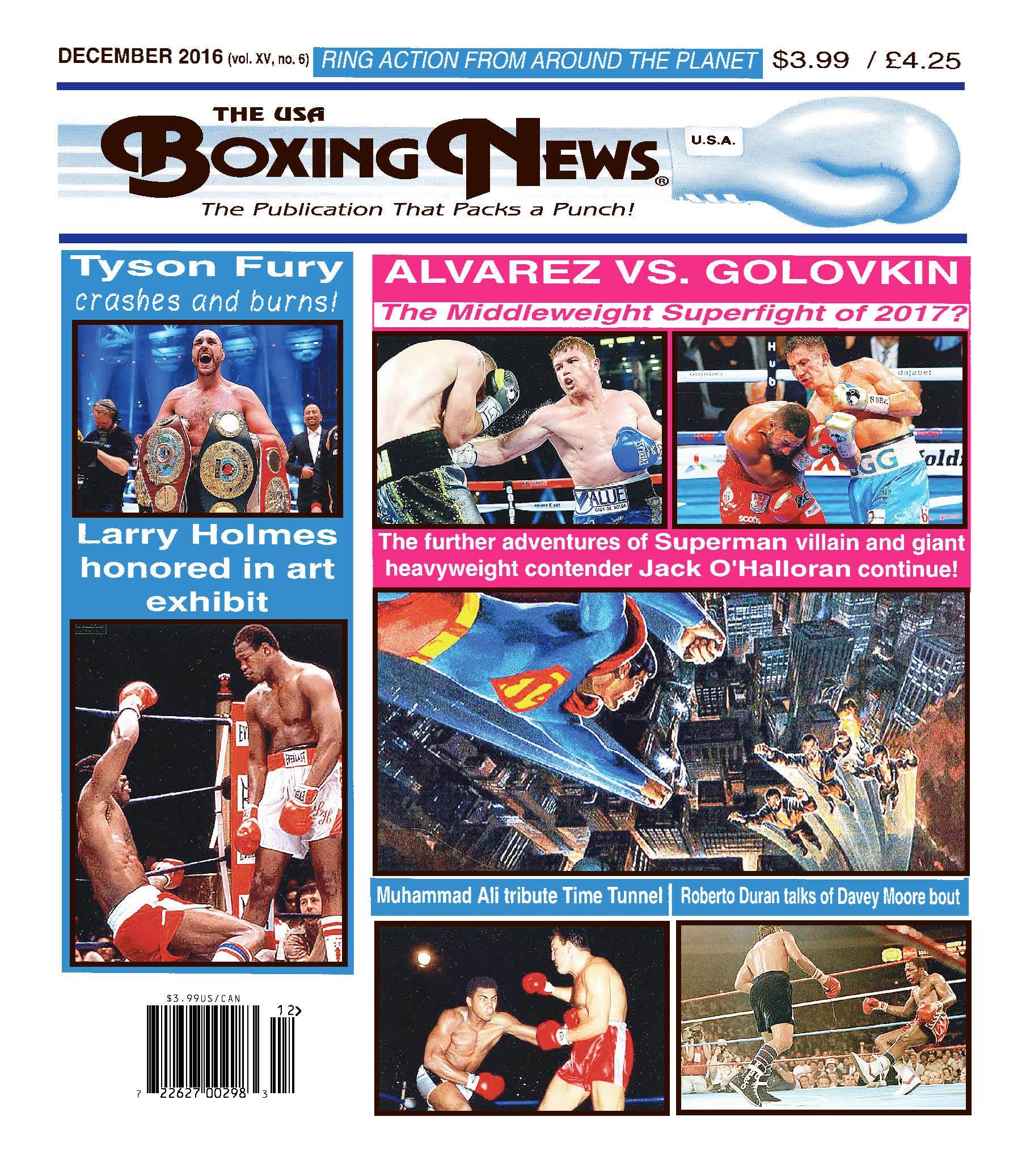 If you are a real boxing fan – The USA Boxing News is the publication you cannot live without.