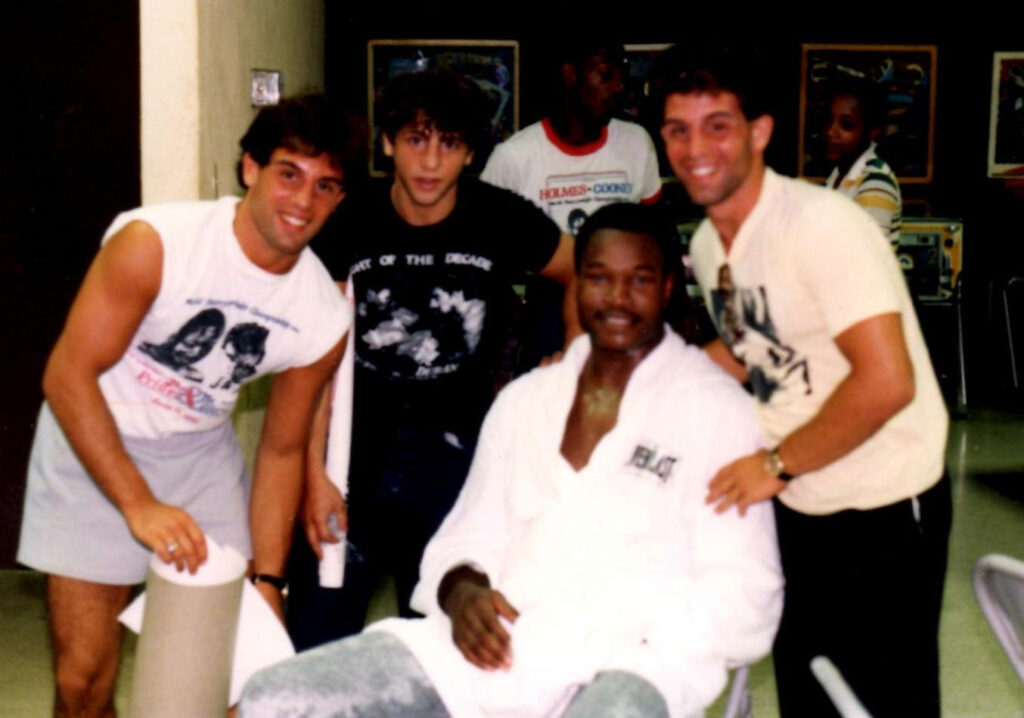 Boxing News Interviews with Legendary Fighters
Alexis Arguello
Former Featherweight, Super-Featherweight and Lightweight Champion
By John and Alex Rinaldi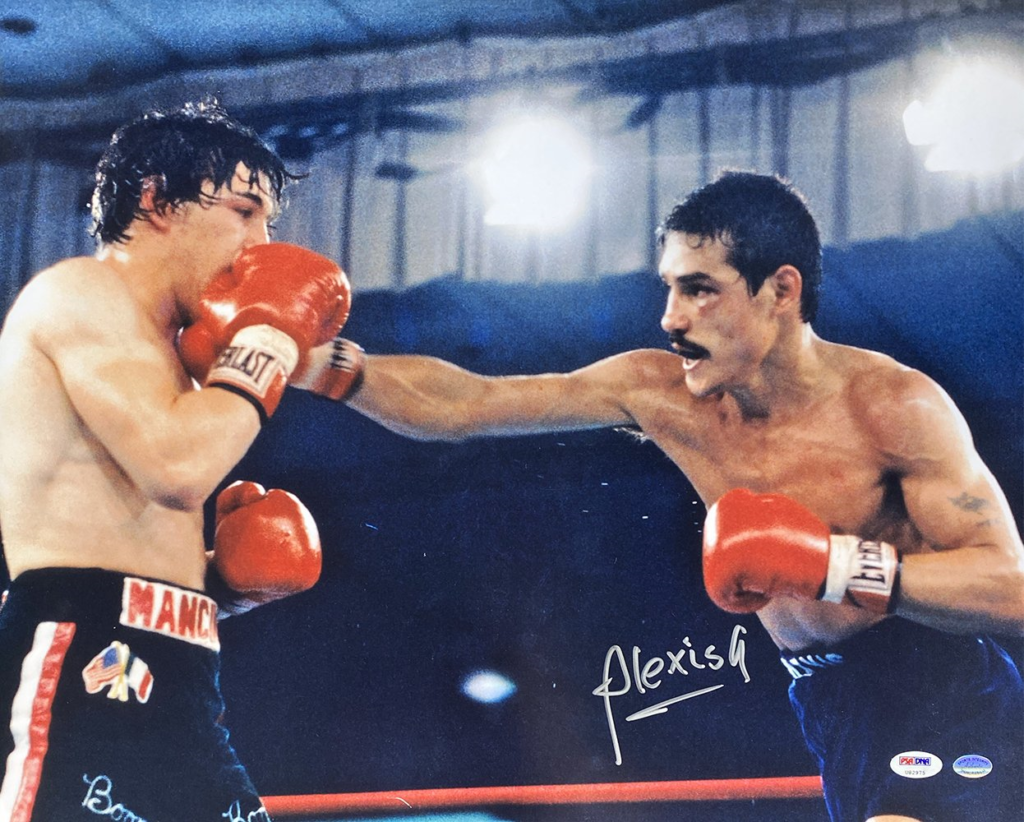 On July 1, 2009, the boxing fraternity lost one of its greatest fighters when Alexis Arguello was found dead in his home in Managua, Nicaragua by a gunshot wound to the chest. Early reports ruled the death a suicide, however, the entire incident was very suspicious. Alexis was only 57.
At the time of his untimely passing, Arguello was the mayor of Managua, a position he was elected to last year.
Arguello was so popular in Nicaragua, that the country's president, Manual Ortega canceled his vacation to attend the funeral service.
"We are upset," said Rosario Murillo, spokeswoman for Ortega. "This is a heartbreaking announcement. He was the champion of the poor, an example of forgiveness and reconciliation."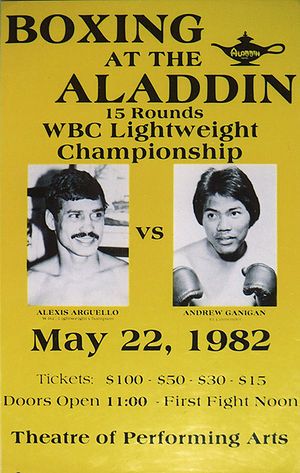 Former ring opponent Ray "Boom Boom" Mancini, who Arguello stopped in 14 rounds in defense of his WBC lightweight title in 1981, remarked of his ring conqueror, "Tall guys like him, they have that leverage. The punching power all comes from the torque, from the core. It's like swinging a baseball bat. When they catch you at the end of those punches, they can knock a wall down with it. This guy was great. He dissected you through the whole fight. He takes a little piece of you, he takes another piece of you, so when it gets into the later rounds, it's over."
Upon hearing of Arguello's demise, Oscar De La Hoya stated, "I still find it hard to believe. Alexis was my idol. When I was young, I heard so much about him and his fights and loved his style in the ring. In my opinion he was one of the biggest and most influential fighters boxing has ever produced. He was definitely a legend in the boxing world because of all the joy he brought to his fans with his unforgettable career and amazing personality."
Bob Arum, who promoted Arguello's memorable first meeting with Aaron Pryor said of the great battle, "It was like the Ali-Frazier fight in Manila with two smaller guys. Certainly, Alexis is among the top five greats during my time. He was phenomenal. He was the best tactician of any fighter I promoted."
His old foe Aaron Pryor was upset upon hearing of Alexis' death. "He left an impact on me, "said Pryor. It takes a special person to be a public person. He said all of the right things. He made all of the right moves outside the ring. He was a WBA judge. I beat him and couldn't get none of those jobs. He did it by being a great champion and a good personality. It was a great fight we had (of their 1982 first battle). This was a great champion."
Another legendary boxing champion Roberto Duran attended Arguello's wake at the National Palace of Culture in Managua. "I can't believe it," said Duran of Alexis' death. "He was my friend, my brother. His death is a great loss for world boxing."
The first fight The USA Boxing News ever covered with Arguello was his memorable first meeting with Aaron Pryor at the Orange Bowl in Miami on November 12, 1982. That bout was so big that people forget that Roberto Duran was in the contest that followed it.
The legendary triple crown champion was born on April 19, 1952 in Managua, Nicaragua. He dropped out of school at the young age of nine to run away and work on a farm. By the time he was 13, Alexis ventured to Canada to work in an attempt to make more money. He came back home a year later and gave his parents a handful of cash amounting to $1,000 that he had saved.
On August 1, 1968, Arguello entered the world of prizefighting with a first-round TKO of Cachorro Amaya. Over the next six years Alexis won 35 bouts with 29 knockouts and only two losses, which earned him a shot at the WBA featherweight champion, Ermesto Marcel, of Panama.
The bout with Marcel took place on February 16, 1974 in Panama, and Alexis was outpointed by the crafty champion. Marcel retired shortly afterwards and after a couple of more victories, Arguello was matched with the new WBA featherweight champion, the power-punching Ruben Olivares on November 23 of the same year.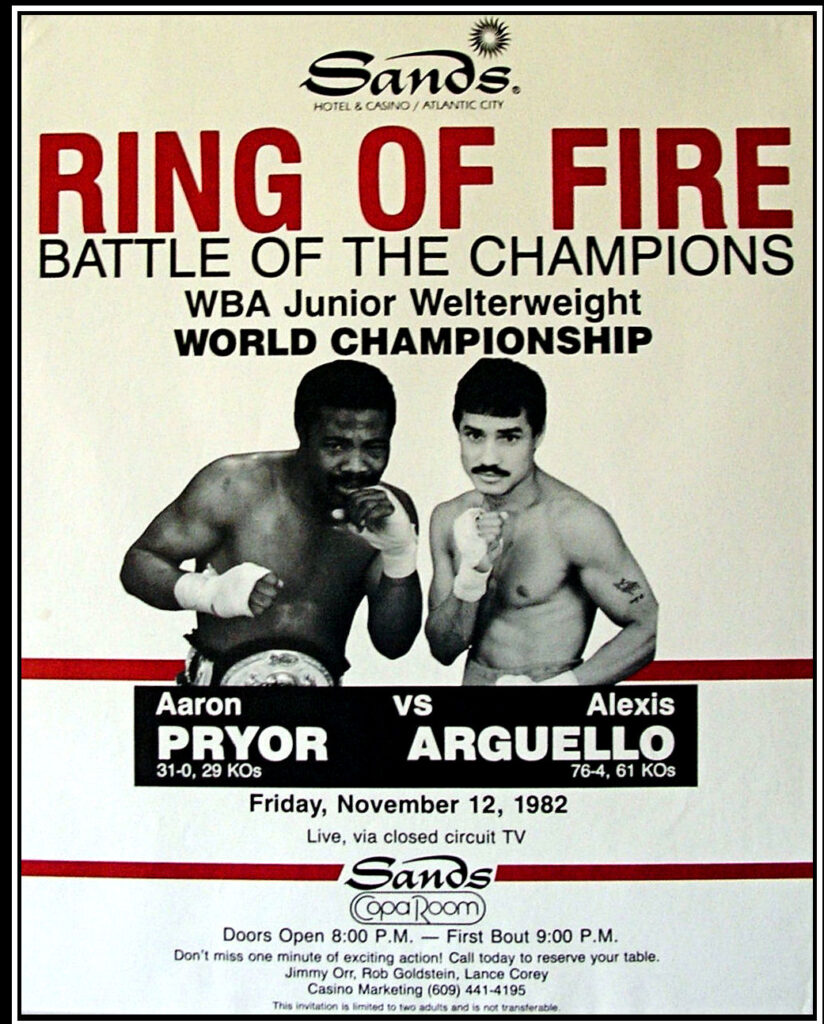 In a featherweight slugfest, Arguello pounded the relentless Olivares all over the ring before knocking him out in the thirteenth round.
Arguello would defend the featherweight title three times before moving up in weight and challenging champion Alfredo Escalera for the WBC super-featherweight title. The bout was fought in the champion's homeland of Puerto Rico on January 28, 1978 and Arguello never looked sharper as he sliced Escalera's face apart with pinpoint punches before the bout was stopped in the thirteenth round. With the win, Arguello had captured his second world title.
Over the next two years, Arguello would defend the junior lightweight laurels eight times, with knockouts over former and future world champions Escalera (KO-13, in their rematch), Rafael Limon (TKO-11), Bobby Chacon (TKO-7), and Rolando Navarrette (TKO-5).
In 1980, Alexis relinquished the super-featherweight title to pursue the lightweights. Along the way he lost a close ten-round decision to the cunning Vilomar Fernandez, but later earned a crack at Jim Watt's WBC lightweight crown.
In a one-sided affair held in England on June 21, 1981, Arguello outpunched and outboxed the Scottish titleholder over fifteen rounds to walk away with his third world championship.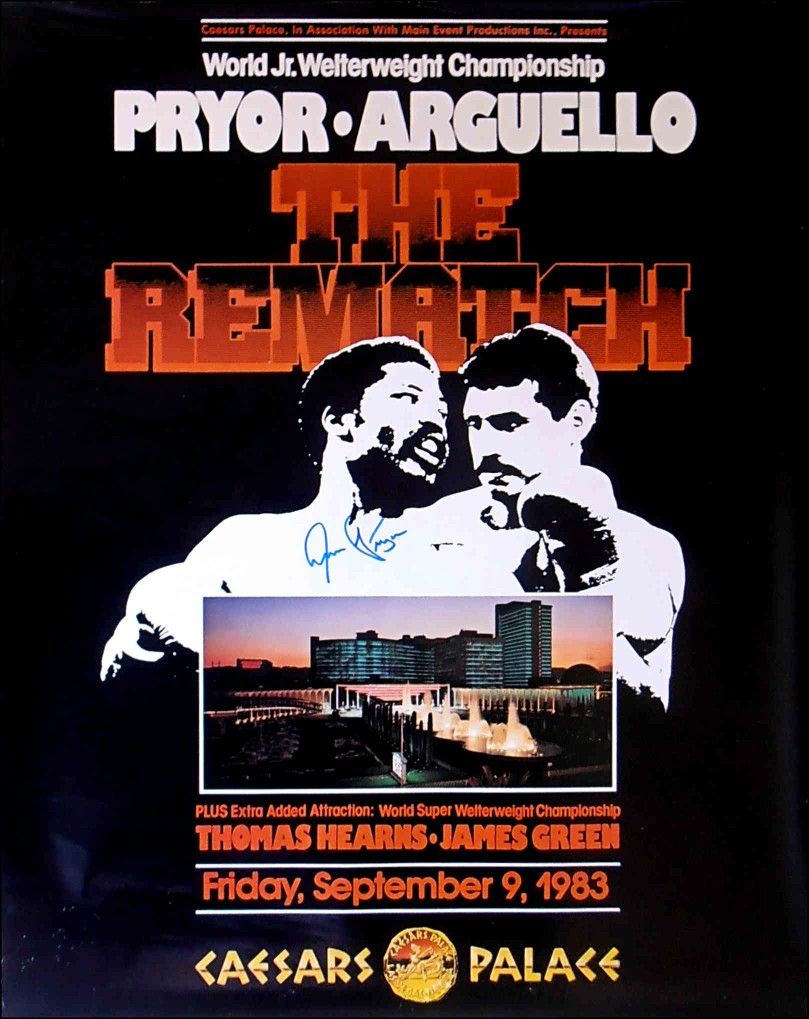 It was at the lightweight division where Arguello cemented his legendary status as every one of his title defenses were held on network television, garnering huge ratings. In the process, all of his defenses were also exciting, especially his fight with future WBA lightweight champion Ray "Boom Boom Mancini on October 3, 1981. After the challenger won the early portion of the bout with his whirlwind punching style, Arguello began to take control in the middle frames as Mancini was pounded to a pulp in the fourteenth round.
Arguello had three more title defenses before making an attempt to become the first man to win four world titles. This time he had to face the toughest opponent of his career, Aaron Pryor, with Pryor's WBA junior welterweight title on the line.
In one of the greatest fights of all-time, the two warriors savagely attacked one another with arsenals of powerful blows that would have knocked any lesser fighters out.
After the champion Pryor seemed to be out on his feet in the thirteenth round, he somehow came out fresh for the fourteenth stanza and battered Arguello mercilessly around the ring until the bout was halted with Alexis sinking to the canvas.
Alexis challenged Pryor one more time on September 9, 1983. In the return bout, Arguello took a worse beating and was counted out in the tenth round. His dream of a fourth title vanished with the loss.
In 1985, Arguello made a brief comeback and TKO'd Pat Jefferson in five rounds. On February 9, 1985, Alexis scored an upset win when he pummeled former WBC junior welterweight champion Billy Costello in the fourth round. Though it was a great victory, he had to retire due to minor heart problems.
His heart problems, thankfully, cleared up and he entered the ring on August 27, 1994 to win a majority ten-round decision over Jorge Palomares in Miami Beach. In his next bout on January 21, 1995, Arguello dropped a ten-round verdict to Scott Walker in what was to be his final fight. He retired with a storied 82-8 (65 KO's) record.
Since his retirement, the former title holder provided boxing commentary for the Telemundo Hispanic station and also ran an import/export business specializing in sports equipment. Besides his business affairs, after the Nicaragua government went back to its old regime, Arguello was able to get back his home, cars and other personal property that the country had taken from him. Alexis' new goal in boxing was to enhance the sport of pugilism in Nicaragua and give the poor youth a chance to fight their way out of poverty. He traveled all around the world to get donations to build up his country's boxing program, In the end, Arguello had become a champion of humanity. In the 2008 Summer Olympics in Beijing, China, Alexis marched in the opening ceremonies holding the flag of his country with his nation's athletes. Alexis also was in a variety of commercial endorsements.
It was due to his popularity that he won the election of mayor in his country's capital.
He will be sorely missed.
In 1992 this paper conducted an interview with the immortal Arguello. He was not just a great fighter, but a wonderful person to meet. For a fan, he never failed to have a smile to sign autographs and pose for pictures with. In all our years of covering boxing and meeting him, Arguello was always a class act and one who loved his fans.
To honor and remember him for the outstanding pugilist he was, we are including our interview with him as a memorial to a boxing immortal.
NEWS: Tell us about your project in building up boxing in Nicaragua.
ARGUELLO: It is a project in Central America that I am directing. That is one of the mistakes in the business. Former fighters do not involve themselves in the industry, because nobody but us has to make the chance to show them how to respect a sport such as boxing. Every man in every nation should come forward to enhance his country. Because my country is a poor, third-world country, boxing would be a great incentive for the young, poor kids that want to succeed in life. I believe that everybody should have the opportunity. If my government doesn't want to help, I have to find the help, and I think the American people are wonderful and would try to help.
NEWS: You won your first title against the dangerous Ruben Olivares, Was he difficult to beat?
ARGUELLO: Well, actually his experience was great. Only my strength and desire to give my country the pro championship af the world was the tool that kept me in the fight. Olivares' age came to flourish and then my youth began to shine, and I wanted to go for it. In the early rounds he was dominating with his experience and his good skills in boxing. Beyond the ninth and tenth rounds, his conditioning was going down and my conditioning was going up, because I was young, only 22 years-old and he was 32-33 years-old. That is when boxing ends, when you go beyond 30.
NEWS: Did Olivares ever hurt you in that bout?
ARGUELLO: A couple of times he did, but like I said, my hunger and my desire to give my country the first championship of the world kept me there hanging on until the opportunity came.
NEWS: Your next title was against Alfredo Escalera. What do you recall about that fight?
ARGUELLO: I became a little greedy. I won the featherweight title and defended it a couple of times, then I saw the opportunity to go for the second title. I made the move to go up to the higher weight division. In those days, a champion in another weight class would have to win some fights to get into the rankings of the next weight class. I did it and followed the route like that. I fought about seven or eight times and became the #1 contender and I got the title shot, even though Escalera didn't want to fight me. I was the #1 contender and the WBC informed Escalera that he would have to defend his title against me, because that's the rules. We went to Puerto Rico to try to get the second title. Arthur Mercante stopped the fight in the thirteenth round because Escalera was bleeding badly, his upper lip was split open, and he had a cut in his eye. It was really a bloody fight.
NEWS: They say you were like a surgeon in there.
ARGUELLO: Things that happen in boxing, a cut or a knockout, that's all part of the business.
NEWS: In that weight class you seem to be at your best with successful title defenses over Chacon, Limon and Navarrette. Do you consider 130 pounds as your most impressive weight?
ARGUELLO: It was impressive. Not only that, back then there were good fighters and the proof of that is that after I beat them up, they became champions. I made eight successful title defenses and it was fun. That's the best way to prove how good of a champion you are. The idea is not only to become a champion and win a title, but defending it is the most exciting thing. I defended my title eight times and I am proud of that, and I wanted to try for the third title.
NEWS: Watt seemed to be your easiest title victory. Did that surprise you?
ARGUELLO: I did the same moves. I fought a couple of times before I got the title shot. Once I became the #1 contender, the champion [Watt] had to defend the title against me. The WBC went to an open bidding to decide what will be for the champion and what will be for the contender. The fight took place in London, England in the Wembley Arena. The fight was a great fight, because I knew I was fighting with a good champion, a gentleman champion. We went fifteen rounds and it was a great performance for both of us. All the judges saw that I won. I was really proud and I felt good about my people, that I didn't let them down. I was born with the idea of how to compete. Competition is one of the best gifts we could give to our kids.
NEWS: Were you disappointed that you never got the chance to fight Roberto Duran?
ARGUELLO: Not really. I was happy, because it would have been like a collision of two trains. It would have been a tough fight, because Duran was a helluva fighter.
NEWS: How would a fight between the two of you have gone?
ARGUELLO: Well, I would have tried to use my advantages: my height advantage, my weight advantage, but it would have been hard with a man that puts as much pressure as Duran.
NEWS: When you defended your lightweight title against Ray Mancini, did you carry him in that bout?
ARGUELLO: No, not at all. Nobody tried to carry anyone. I always wanted to connect on my punches. Punches come with time. You get to know an opponent. You get to see how you are affecting him. One thing that was really truthful was that Mancini was a 10-round fighter, and I was a 15-round fighter. When he went beyond ten, his condition went down, instead of going up, like mine. I became a normal 15-round fighter. When a 15-round fighter goes to fight against a guy who never went fifteen rounds, then that's a big advantage.
NEWS: As a lightweight it seemed that you were a slow starter. It appeared that you did not get going until after three or four rounds.
ARGUELLO: Young fighters don't understand that you have to diversify, because in those three minutes of fighting you can fight toe-to-toe or look good by making beautiful movement. You have to look good to the fans, you have to make the move that goes with the balance that a boxer brings into the ring. You just wait for the opportunity. When the punches come and it doesn't produce a knockout, you keep waiting, trying until you hit the target. Once you hit the right place at the right time, the opponent goes down and the referee counts from one to ten. The fight is then over.
NEWS: You had your last lightweight title defense against Andy Ganigan. Was he a hard puncher?
ARGUELLO: Yes. He scared the hell out of me. He hit me right on my chin in the first round and put me to the canvas. I was scared, but I got up and I put him away in five rounds.
NEWS: In the fight with Aaron Pryor, do you feel that the "magic potion" that he took late in the fight affected that bout's outcome?
ARGUELLO: I have no idea because I never in my professional career used anything. I could not tell you because I never took anything in a bout, but that's what people say. I wanted to try to win the fourth title. I failed because I was fighting a good champion, a good fighter and he beat me and I have no regrets.
NEWS: Were you surprised he stood up to some of your big punches?
ARGUELLO: I was really surprised. In one of the rounds I hit him with everything I had in my power and the guy came off the ropes laughing at me. That was the time I said to myself, "Alexis, you're in big trouble!"
NEWS: After that first Pryor fight, you had a chance to fight for your fourth title against the other junior-welterweight champion, but you took the harder one with Pryor in the rematch. Why did you do that?
ARGUELLO: I always fought with the best in the world. I always wanted to prove something. My opinion is that either you beat the good ones, or you're not good enough to be a good one.
NEWS: Pryor stopped you in the first encounter. What did you feel that you were going to do differently in the rematch?
ARGUELLO: I thought that in the first fight I didn't have the weight on me. I really tried for the second bout. I worked super hard, but it was only one-sided, because he still had his punching power and I didn't. I hit him with everything. He was a great champion and I'm so sorry about the way he ended up his career. He was a great champion and I don't want to take anything away from him.
NEWS: You came back three years later and fought Billy Costello, a former champion. In that bout you were a big underdog, yet you were successful. What do you remember about it?
ARGUELLO: I won, but I didn't reach 100% of condition, I just reached 60% of conditioning. I was 33-34 years-old and I wanted to keep my career on top. I didn't want to leave the business as a loser, I wanted to leave it just like that.
NEWS: Did you have a heart problem after that fight? Is that why you did not fight anymore, or was it because you wanted to end on a winning note?
ARGUELLO: Well, that is what actually happened, but I saw the opportunity in quitting the way I did. I said "let it go" and that was that.
NEWS: What kind of heart problem did you have?
ARGUELLO: When I was in Reno for that fight, it was really cold there. When I got back to Miami I got bronchitis and went to my doctor, a heart doctor from my country that had been taking care of me the past fifteen years. When I went to him, he said, "Alexis, I noticed something wrong in your heart that I never saw before." I asked him what was wrong and he said, "Your waves are really weird. The waves of the heartbeat." I asked him if that was bad and he answered, "Yeah, because you're an athlete and I never saw this. Alexis, you're 34 and I think you should quit." A physician from Mexico said the same thing. He was a highly regarded MD and told me, "Alexis, you are at the end of your career and you should retire." I sat down with my family, my kids and my trainers and I said it was over. The end of Alexis Arguello came like everything does in life.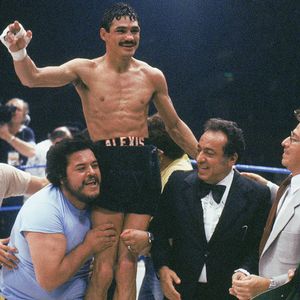 NEWS: Even though the problem cleared up, you still decided not to come back?
ARGUELLO: It's nonsense to try to come back and regain something that is not with you anymore.
NEWS: What fights stand out as your greatest?
ARGUELLO: Each one of them.
NEWS: You don't have a specific performance that stands out?
ARGUELLO: Yeah there is, but every step of the way was a step forward. I worked hard for every time I fought and every time I defended my title. I would have to say that the Escalera fight and the Pryor fight stick in my mind as the highest.
NEWS: Since you fought in four weight classes, which one were you the most comfortable in?
ARGUELLO: I believe that as long as you keep winning I think that any weight class is comfortable. The hardest part is when I tried to win my fourth crown and I failed trying, but I'm really proud and happy for what I did.
  [END]
___________
Earnie "The Black Destroyer" Shavers
Former #1 ranked heavyweight contender
By John and Alex Rinaldi
In the 1970's, the heavyweight division was in its Golden Age. Besides champions like Joe Frazier, George Foreman, Ken Norton and Muhammad Ali taking turns sitting on the throne, the division was chock full of talented contenders such as Jerry Quarry, Ron Lyle, Jimmy Young, Roy Williams, and Jimmy Ellis. The most powerful puncher of the group was a shaven-head slugger out of Warren, Ohio named Earnie Shavers. 
Shavers was born on August 31, 1944 in Garland, Alabama.
 Earnie started his pro career on November 6, 1969 with a second-round knockout of Silas "Red" Howell in Akron, Ohio.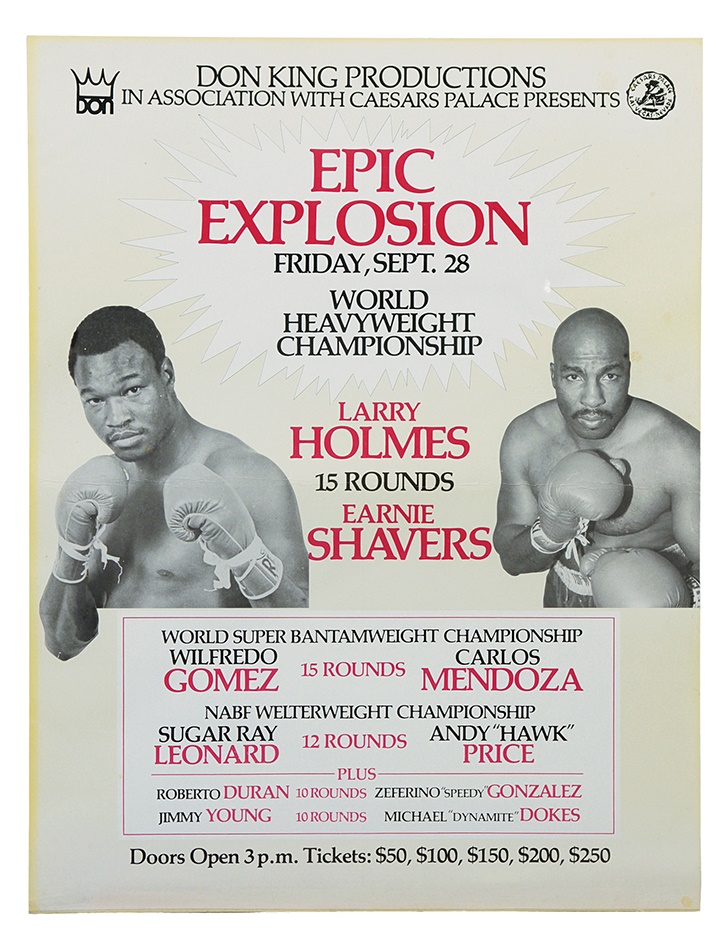 In 1973, Shavers began the year by stopping future contender Jimmy Young in three rounds on February 16. On June 18, Shavers punched his way into the spotlight by blowing out former WBA heavyweight king Jimmy Ellis in one round. 
Shavers' luck then ran out in his next bout on December 14, when he was KO'd in the first round by Jerry Quarry at New York's Madison Square Garden.
Earnie's next big fight occurred in Denver, Colorado against Ron Lyle on September 13, 1975. In one of the most thrilling fights of the year, the two heavy-fisted contenders bombed away at one another. In the second round, Earnie smashed Lyle hard to the canvas, where Ron barely beat the count. By round six, Shavers grew weary and was knocked out.
The year of 1976 saw Shavers beat contenders Henry Clark (W-10 and KO- 2) and Roy Williams (KO-10) in exciting battles. 
On September 29, 1977, Shavers finally got a crack at the heavyweight title against aging champion Muhammad Ali. The bout was held in New York's Madison Square Garden and shown live on television throughout the world. In an exciting contest that saw Shavers rock Ali repeatedly throughout the fifteen rounds, the champion escaped with a disputed fifteen-round decision loss.   For his gallant title challenge, Earnie received a purse of $300,000, while Ali pocketed $3 million!
In his next bout, which took place on March 25, 1978, Shavers was matched with the unbeaten and untested Larry Holmes. In a one-sided affair, Holmes outboxed Shavers over twelve rounds and briefly dropped him late in the bout. 
Earnie knocked out his next three opponents before facing former WBC heavyweight champion Ken Norton on March 23, 1979. The winner of the fight was to get a crack at Larry Holmes, who had beaten Norton for the title in June of the previous year. Against Norton, Shavers gave the most impressive performance of his career as he bombed out the former champ in the opening round. Next up was the rematch with Holmes. 
On September 28, of that same year, Shavers got his second chance at Holmes and this time the WBC heavyweight title was at stake. The first six rounds resembled their first encounter as Holmes continuously stabbed the challenger's face with stinging jabs and sharp right hands. 
In the seventh, Shavers finally got his chance as Holmes lazily dropped his left after throwing a jab. Suddenly, Shavers countered with a powerful overhand right that crashed the champion to the canvas. Struggling to beat the count, Holmes rose on wobbly legs and barely lasted out the round as Shavers tried to finish him off. 
After that round, Earnie was exhausted as Holmes picked him apart with his blows. In the eleventh, the bout was stopped after Shavers' eyes were badly cut and almost closed. 
Though he would continue to fight on over the next few years, Earnie Shavers' days as a leading heavyweight contender were gone. He retired with an impressive 74-14-1 (68 KO's) record. 
In 1994, The USA Boxing News caught up with Shavers at the Boxing Hall of Fame in Canastota, New York. The following is the interview that took place: 
NEWS: In your title fight with Muhammad Ali at Madison Square Garden on September 29, 1977, you gave him a helluva battle. Did you think you won the fight? 
SHAVERS: At first I felt I won the fight. But I kept watching it over and over again. Since he was the champ, you had to be really decisive to beat him. I had trouble following him off the hook, so I think he won the fight. 
NEWS: In the Ali fight, you went out there with both fists blazing and then paced yourself. Although you nailed the champ with jolting 1-2's, you then employed a different style where you were more patient. Did you train for that or were you afraid you would punch yourself out because Ali had such a great chin?
SHAVERS: We knew Ali could go the distance, and he could take a good shot so I didn't want to put myself out and give him a chance to knock me out. So we kind of paced ourselves. In training camp, we worked on sparring with a guy who fought like Ali, pacing ourselves. I think that could have hurt me too, because I had him in trouble in the second round, but I was thinking of going the distance, instead of after him. I let him off the hook. 
NEWS: Did you feel when you had signed with Ali for the fight that he was ready to be taken? 
SHAVERS: Yes, I felt it. It was time for him to step down. I really had hoped in my heart. I felt confident that I was going to win the fight, but it just wasn't meant to be. 
NEWS: What were your thoughts after the fight?
SHAVERS: At first I thought I won. I then watched the film a few times and still felt I won the fight. I thank God I didn't win, because money was my God. If I had won that fight I would have been a very wealthy man – and I would have been on my way to Hell, first-class!
NEWS: Some people say, "I might not have liked the road I traveled then, but it took me to a nice place in the long run."
SHAVERS: Yes, it did. It allowed me to have a name that was a household word around the world, where 70 million people viewed that fight. We broke all the records with that fight. Then, God allowed me to get on the doorstep and give me a little key. It gave me a platform to work with now.
NEWS: Let's talk about the fighter Jimmy Young. You fought| him in 1973, and you knocked him out in three rounds. In the following year, you battled him to a 10-round split-decision draw. What do you remember about your fights with him? 
SHAVERS: Well, I fought him twice. I knocked him out in the first fight, in the second fight I underestimated him. I figured he'd be an easy win. I didn't train like I should have trained and  underestimated him. He came back and had a draw with me. He was a very cagey fighter. He's a good fighter. He didn't get the respect he deserved. He can fight a lot better than people thought he could fight. But I guess he had the wrong management. You need the right connections in the fight game to get a good position. See, him not being a big puncher and the wrong management, kind of hurt his career.
NEWS: Now we're going to talk about the Jimmy Ellis fight on June 18, 1973 in Madison Square Garden. He was the first former champion you ever fought and you blew him out in one round. How did that feel? 
SHAVERS: I felt good. We kinda tricked Jimmy. He was a good boxer and we conned him into punching with me. My corner put my strategy together and Jimmy dropped. It worked, Jimmy tried to flatten me, and he proved he wasn't a better puncher than I was. You don't punch with a puncher and survive those times.
NEWS: And you nailed him. 
SHAVERS: Being a boxer, he probably wanted to fight me. 
NEWS: In your next fight six months later, again at Madison Square Garden, Jerry Quarry knocked you out in one round. What happened?
SHAVERS: In that fight we had a lot management problems with Don King and my manager. They tried to get me to choose sides. I was concentrating on which side to take instead of concentrating on the fight and it cost me the fight. 
NEWS: You took Quarry lightly and out of nowhere he just clocked you? 
SHAVERS: We had a fight and my mind was on who to side with. I couldn't concentrate on the fight.
NEWS: Is it true that Don King released you right after that fight? 
SHAVERS: No, he didn't dump me. We got rid of him. My manager bought him out, Joe Genaro bought him out, then I bought Genaro out. That's what happened. 
NEWS: How was your relationship with King afterwards? 
SHAVERS: We're friends. I realize that I made a few mistakes and he took advantage of me with a few things, but he made up for it down the road. They gave me a good job and paid me about $175,000 a year. I was managing his training camp. They made me Director of the Don King Training Camp. I looked over the fighters, the grounds, transportation, over everything. 
NEWS: When was that?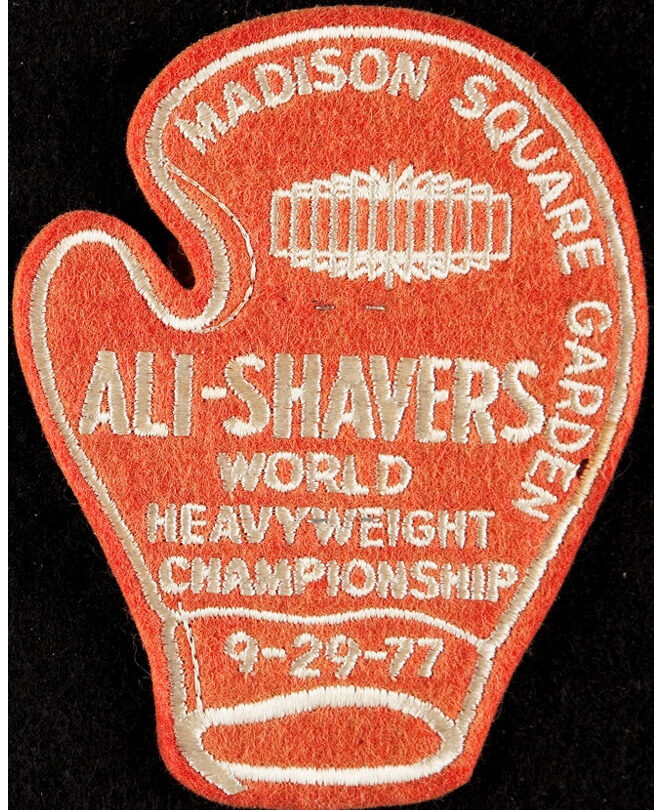 SHAVERS: I was there from 1985 to 1986. Then I got saved. 
NEWS: That's the time you found the Lord. You were still employed, so you were doing well then. 
SHAVERS: Yeah, I was doing well, about $175,000 a year, so I'd say I was doing pretty good.
NEWS: That's funny because people were making it sound like you were destitute. It seems like you were doing very well. I'm glad we cleared that one up. 
SHAVERS: Well you see, you can be in California and people on the other coast will know more about you than you do. Everyone had me destitute, but I was doing quite well. My base salary was $3,000 a week, plus. So I wasn't doing bad. 
NEWS: You were doing great. Now let's go to your fight with Ken Norton on March 23, 1979. Going in, what was your game plan? 
SHAVERS: To go out and put the pressure on him. I knew Norton could not fight well backing up and I put a lot of pressure and a lot of combinations on him, and it worked. 
NEWS: Your strategy was to bomb him out right away? 
SHAVERS: Yes, I figured three rounds. 
NEWS: Were you surprised that you hurt him so fast in the opening frame? 
SHAVERS: Yes, I was. I figured it would be three rounds to catch him, but he was right there and I caught him. 
NEWS: Do you consider that devastating knockout of the former champion one of your greatest performances in the ring? 
SHAVERS: Definitely. 
NEWS: Now here's a great fight that a lot of people might not have caught, but it was a great slugfest – your battle with Ron Lyle on September 13, 1975. You almost had him out early and somehow he came back and knocked you out. 
SHAVERS: You see, first of all he had a long count – a very long count. Second, I hit him out with a left hook and they gave him a long count and he came back in the sixth round and stopped me. I say more that I punched myself out and the altitude in Denver at the Mile High Stadium and it cost me. Leave it to Mile High. But he's a great fighter, a good puncher and if I had nothing else to say, I'd say he could punch. He hit harder than anyone else in my career, except for Roy Williams. They both hit hard, both fight pretty even there. But he came back and wanted to fight. 
NEWS: In your bout with Roy Williams on December 11, 1976, you started out strong, it looked like you were going to end matters early, but somehow he survived and weathered the storm. Then you started to get tired and Williams began to come on. Just when it looked like he was going to stop you, you came out of nowhere with a knockout punch and left him stretched out on the canvas.
SHAVERS: In the first eight rounds I think I was ahead on points. He came back in the ninth and in the beginning of the tenth round to make up for the first eight. He literally had me out on my feet. But I was determined to stay in there and hang in there and I came back and hurt him with a couple of good shots. God gave me strength and Bingo! – I knocked him out. 
NEWS: That was on network television and it was such a great win. 
SHAVERS: Yeah, I was happy for the knockout. 
NEWS: You fought perennial contender Henry Clark. In your  first meeting with him at the Pavillon de Paris in Paris, France, on March 28, 1976, Henry battles tough. Clark was a durable, top-five contender and the contest goes the distance, where you captured a 10-round decision. In the rematch six months later, you battled at Yankee Stadium on the undercard at the Norton-Ali III fight, and right away – BANG! – in the second round he's out. 
SHAVERS: Well in the first fight I had a bruised knuckle. The third knuckle on my right hand was bruised and I couldn't use my right hand. I had to do all the work with my left hand. I threw three or four right hands, but it hurt, so I couldn't use my right hand, anymore. I knew that then I could only use my left hand. In the second fight my hand was in great shape and I knew Clark was going to be in trouble then.
NEWS: There was a fight that should have taken place, but never did. It was the proposed match-up between you and up- and-coming heavyweight Gerry Cooney. After Cooney demolished Ron Lyle in one round, HBO wanted Cooney to next fight you, but the bout did not materialize. There were stories that Cooney's managers kept backing up. What really went on? 
SHAVERS: We signed to fight three times, and he pulled out three times. The first time because of his back, then Cooney hurt his neck, and the third time I don't know what he hurt, but we never fought. 
NEWS: Do you feel you would have blown him away? 
SHAVERS: I figure two or three rounds at the most I would have knocked him out. They didn't take the fight, though. I was looking forward to Gerry, because he was a good fighter, but I don't feel he would have lasted three rounds. 
NEWS: Let's go back to your first fight with Larry Holmes on March 25, 1978. It was your next bout following the Ali contest. After your close loss to Ali, many considered you the "Uncrowned Champion" in the heavyweight division. You were next matched six months later with an undefeated fighter named Larry Holmes. At the time, Holmes was not considered to be the great fighter he is looked upon as now. Did you take him lightly in your first bout with him? 
SHAVERS: I was having managerial problems with Genaro and I did very little sparring for the fight, because he wouldn't spend the money. I was in a condition half as good as I should have been in. I did very little boxing for the fight and he beat me. 
NEWS: What did you do differently for the second Holmes fight on September 28, 1979, with the WBC heavyweight championship at stake? 
SHAVERS: I got in a little better shape, but I got a pinched nerve when I fought Norton, and I still had it in the Holmes bout, too. We should have postponed the fight, but we didn't, and it is history now. I had him in trouble, but Holmes had improved considerably over the past year. In fact, he improved a lot. I had him in trouble, but I got thumbed in the third round. I am not saying that if I didn't get thumbed I would have won the fight, but it would have been a much better one.
NEWS: Tell us how you felt in the seventh round when you were far behind on all the scorecards and it looked like you were totally exhausted. Suddenly, that right hand of yours explodes on Holmes and he falls to the canvas like a tree. What was your feeling when he fell? Did you think he would get up? If he did, what were you planning to do? 
SHAVERS: Well, I didn't think he would get up. He went down so hard that he dropped like a sack of potatoes. I figured the fight was over. I was the champ for eight seconds, but then Holmes got up and went to work on me. I think when he got up I tried too hard for that one big shot. I should have put some combinations together. I tried to take him out with one shot and just couldn't do it. He got away. 
NEWS: Were you fatigued at that point? 
SHAVERS: Yes. I was a little bit tired. I wasn't in the condition I should have been in because of the pinched nerve. I couldn't train the way I wanted to train for the fight.
NEWS: Were you going out for the seventh round with the intention of knocking Holmes out?
SHAVERS: Oh yeah. I knew I was getting tired and I was going to try and take him out. 
NEWS: You next fought Bernardo Mercado, a fighter you were expected to beat. If you won, there were talks of you going against the WBA heavyweight champion, or fight a third match with Holmes. But Mercado scored an upset and knocked you out. 
SHAVERS: With him and Tex Cobb, I didn't get up for the fights. I figured they were nobodies and I would just go out there and knock them out, but I underestimated them and I paid for it. 
NEWS: It seemed like you were beginning to slip and that after the Holmes fight, the "old" Earnie Shavers just was not the same anymore.
SHAVERS: At the time I wasn't sure what it was. You never want to admit that you may be slipping. I probably was, but I didn't want to admit to it. 
NEWS: You are a big, bulky guy. When you fought, after two or three rounds you appeared tired. Was it because you were so tensed up to trying for a knock all the time, or was it your training? What was it? 
SHAVERS: It was more of being tensed up. I learned to relax later on in my career. I was tense and I burnt myself out. When I relaxed I went a lot longer. 
NEWS: Did you do any weightlifting in your training? 
SHAVERS: I never ever lifted weights in training. I did it one year during high school football, that's all. Everybody said I lifted weights, but I never did. 
NEWS: In your last big fight on June 11, 1982, you dropped a ten-round decision to James "Quick" Tillis. Was it because you had reached the end of your career? 
SHAVERS: Yes. I was at the end of my career. I should have never taken the fight, but I did, because Don King said that if I won, I would get a title shot. James won it. He was a good fighter at the time. He moved good, and I lost the fight.
NEWS: Your last few fights were knockout victories, but then you retired. 
SHAVERS: Well, the training was getting hard and I didn't want to run anymore. I knew it was time to get out because I would have gotten hurt, so I retired.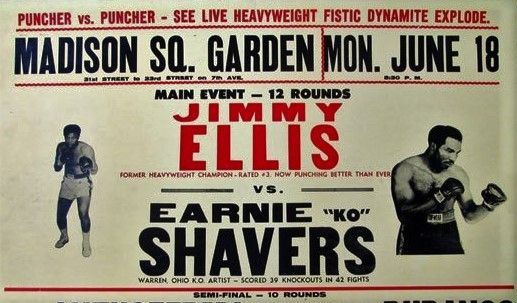 NEWS: If you could change things in your career, what would they be? 
SHAVERS: I would probably train harder and be more dedicated. Some fighters I faced I underestimated them and they beat me. That's the part of my life I would change. 
NEWS: What do you think of the crop of heavyweights fighting today? 
SHAVERS: I don't follow the fight game that closely, but the guys I see are not of the same caliber as the ones from my era. We trained much harder and were more dedicated. The guys today fight ten fights and then want to go for the title. They don't have the experience. 
NEWS: Earnie Shavers vs. Riddick Bowe? 
SHAVERS: Bowe, about two rounds.
NEWS: What about Mike Tyson?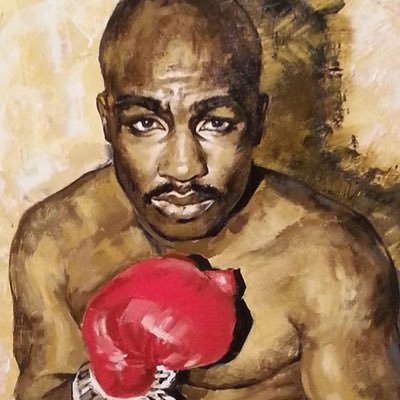 SHAVERS: Probably two or three rounds. After he comes in, I would take him out. I came out of retirement in 1987 to fight Mike Tyson. I had one exhibition and had one fight, but Mike Tyson and his managers in Las Vegas said, "Earnie, we'll never fight you because you're a puncher and you're dangerous. We don't want you, so go and retire." 
I saw Mike Tyson and his managers a month later in England on television and they said, "We didn't want to fight Earnie Shavers because he punches too hard." 
Mike would like to come to you, and at that time he was a pretty fair fighter, but he could be hit, and everything I hit two or three times didn't last. 
NEWS: Here's a match-up many wonder why it was never arranged at the time in the 1970's Earnie Shavers vs. George Foreman. 
SHAVERS: Foreman refused to fight me from day one. He won the Olympics in '68, and I won the '69 National AAU title. A week after I won the Nationals the promoters called me and wanted me to fight George Foreman on the Joe Frazier-Dave Zyglewicz card in Houston, Texas on April 22, 1969 as amateurs. They would give me $500, but the deal was that I would have to make George Foreman win. So I told them to take the $500 and what to do with it. 
We confronted Foreman six times in the pros to fight me and every time he turned me down. I would knock George out because he punches too wide. 
NEWS: Did you see Foreman's classic slugfest with Ron Lyle in 1976? 
SHAVERS: You see, for each fighter you fight differently. You pressure him and you make him fight a lot different. I was a harder puncher than Lyle and I think I would have been a little bit sharper. I would love to have fought George, he was there. 
NEWS: It seems that when you fought a fighter who came in to slug with you, that you loved it.
SHAVERS: Yes, because of my style I didn't have to look for them, because I knew where they were going to be. Ones that would give me trouble were guys like Muhammad Ali or Jimmy Young – guys who would move a lot. They would give me trouble. 
NEWS: Against Ali you did a great job in cutting the ring off. 
SHAVERS: I did a good job, but I could have done a better job than what I did. But I did a pretty good job I think. 
NEWS: Let's get to another subject. You were working for Don King and he is treating to very good with a nice $175,000 a year job, but suddenly your life changed completely around. What happened? 
SHAVERS: I was making the money, but there was something missing in my life I had no piece of mind that I thought the money and security would bring. I had no peace at all. 
There was a young lady, who was one of my customers, because I also had a home delivery meat company, who always had a smile on her face. One day I asked her why she was so happy all the time. She said, "I have Jesus in my heart. I thought, "Oh, another one of those." 
But she never preached to me. She allowed me to see her lifestyle and the way she lived and all the peace she had. A year later she invited me to Cleveland, Ohio to a nightclub. I worked for Don King now, and I was a womanizer. She was a very pretty lady, that's what God had to use to get me there. When I went to Cleveland to the nightclub, my whole life changed. There was a gentleman there whose wife was killed and he got saved. There were people who came up and testified and reflect on their lives. 
I was so happy and so amazed that I forgot about the lady and I enjoyed the night. Sunday she invited me to church in Warren, Ohio. Her brother-in-law was pastor of the church, It was a small church, about fifty or sixty members. We grouped together. He got saved five years prior to me being saved. He was in a rock and roll band. I bought his organ for my daughter. 
That Sunday he preached on only values. Never saying about problems. How would I know? I had the big house, the car, the money, the clothes, and the women, but no peace or values. When God created each and everyone of us, he created a hole in our hearts that only Jesus Christ can fill. I could relate to that. I was empty all those years. The pastor said, "Unless you accept Jesus Christ as your Lord and your Savior, you can never fill the hole in your heart." 
My whole life has changed. It doesn't mean when you are saved everything will be all pieces of cake, or whatever. It is hard work, but I have the peace that I never had before. The peace that I know when I am confronted with anybody or anything, if I keep my faith strong in the Lord Jesus all will work out for the best. No matter what happens in my life, I always keep my faith and God makes it work out. I never lived a better life and I have the peace of mind I never had before. All the glory I once had in the fight game, the Lord has given it back a million times.
NEWS: Why couldn't you still work for Don King after you were saved? 
SHAVERS: What happened was that my parish friend told me, "Earnie, what you have to do is turn your whole life over to the Lord. Then pray daily and spread God's word daily. Surround yourselves with good Christians and you can grow." 
A month later I quit the job. I was getting myself crazy. I went to Don King and said, "Don, I want a $500 a week raise for my retirement program." Mrs. King said, "Give it to him." Don said, "Let me think about it." I was hoping, "Please God let him say no." 
Two weeks later he called me and said, "We can't afford to pay you that money." I thought to myself, "Thank You Lord," and I walked away from the job. 
NEWS: How is your relationship with King these days? 
SHAVERS: We're good friends. I call him on holidays and stuff like that.
NEWS: What are you doing now since you left the job with King?
SHAVERS: I'm an evangelist. The good Lord has taught me how to get by. I just depend on him, keep myself clean and work hard. And in the process He meets my needs. I don't make a move unless I pray. If He tells me to do it, I do it and it works. If I don't do it, then he opens no doors from me. 
NEWS: So are you now comfortable in your boxing retirement?
SHAVERS: Yes. If I made $20 million in the fight game, I couldn't live the life I am living now. I wouldn't have the peace of mind that I have now. God meets my needs and all my bills are paid. I am happy, I have everything I want. 
NEWS: How come you never fought Joe Frazier in the 1970's? 
SHAVERS: Joe Frazier, George Chuvalo, and George Foreman are the only top three guys I didn't fight. They wanted a purse of $1 million to fight me, and they couldn't get it. 
NEWS: After seeing what George Foreman did to Frazier, do you feel you could have beaten him? 
SHAVERS: Foreman and I were both great punchers and I also would have destroyed Frazier.
NEWS: Your career just never had the right timing. You were robbed in your Ali fight. Then you were defeated by Holmes and lost your chance at the WBC champion Norton. When Norton lost his title, you then knocked him out in one round. You were always close to a championship, but never got it. 
SHAVERS: God knew that I didn't need to be a champion. Money was my God, but boxing eventually gave me a name to give me a platform to help others. I have seen thousands and thousands of lives a year change when they accept Jesus Christ as the Lord and Savior. 
NEWS: So you are the Champion Evangelist? 
SHAVERS: Yes. I am the Champion Evangelist. 
NEWS: To a fighter starting out right now, what kind of advice would you have? 
SHAVERS: Put the Lord first in your life over everything else. You take Him and all the rest will fall into line. 
NEWS: When you go over your whole career, what stands out as your shining moment?
SHAVERS: Fighting Ali allowed me to be seen by 70 million people throughout the world. It made me a household name throughout the world and gave me the platform that I am working on now in the ministry. I turn down hundreds of engagements a year to speak because they want to come and hear me because of my name from the fight game. They come see me as a fighter, but they leave as Christians.
___________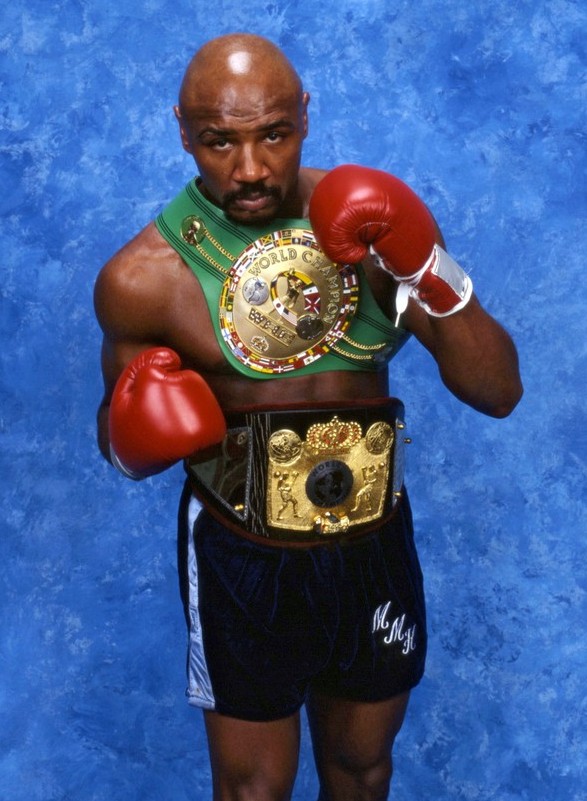 Marvelous Marvin Hagler
Former World Middleweight Champion
By John and Alex Rinaldi
The legendary middleweight king was born on May 23, 1954 in Newark, New Jersey.  Following the bloody Newark riots of the 1960's, Hagler's family picked up and moved to Brockton, Massachusetts.
After a successful amateur career that was capped off with winning the National AAU Middleweight Championship, Hagler turned professional and knocked out Terry Ryan in three rounds in his professional debut. That fight was held in Brockton. Hagler would fight twenty-five of his first twenty-six fights, winning all of them, in the New England area before venturing into Philadelphia to tackle tougher opposition. 
In his first fight in Philadelphia, Hagler faced tough contender Bobby "Boogaloo" Watts and lost a close ten-round decision on January 13, 1976. Two fights later on March 9, Hagler dropped another ten-round decision, this time to Willie "The Worm" Monroe, a slick ranking middleweight. Hagler, though, would not lose another fight for eleven years. 
Over the next three years Hagler would work himself up to the number one middleweight contender by defeating tough contenders Eugene "Cyclone" Hart (KO-8), Mike Colbert (KO-12), Kevin Finnigan (KO-9 & K0-7), Bennie Briscoe (W-10), Sugar Ray Seales (KO-1) and Willie Monroe in a rematch (KO-12). 
On November 30, 1979 Hagler finally got his title shot against undisputed middleweight champion Vito Antuofermo. In a tough, grueling contest, Antuofermo came on in the latter rounds and kept his title with a controversial draw.  One judge had Antuofermo winning at 144-142, another judge had Hagler the victor at 145-141, while the third and deciding judge had it even at 143-143. Regardless, Hagler still left the ring a top-rated contender. 
On September 27, 1980, Hagler received another title opportunity in London against the then middleweight  king Alan Minter. Three rounds later, Minter's face was ripped to threads as Hagler was declared the new middleweight champion on a third-round TKO. 
Hagler made seven easy title defenses from 1981 into 1983 with wins over Fulgencio Obelmejias (TKO-8, KO-5), Vito Antuofermo (TKO-5), Mustafa Hamsho (TK0-11), Caveman Lee (TKO-1), Tony Sibson (TKO-6) and Wilford Scypion (KO-4), before facing the toughest challenge of his career – the then feared current WBA junior middleweight king Roberto Duran. The bout took place on November 10, 1983 and became one of the largest grossing middleweight fights of all-time. Duran counterpunched effectively over the course of the bout and hammered Hagler with hard right hands. Hagler, though, kept up the pressure and managed to win the last two rounds to squeak out a razor-thin decision to retain his title by a unanimous 15-round decision by scores of 144-143, 144-142, and 146-145.
Successful defenses against Juan Roldan (TKO-10) and Mustafa Hamsho (KO-3) followed before Hagler faced another legend Thomas "Hit Man" Hearns. 
On April 15, 1985, in one of the most exciting fights in history, Hagler and Hearns stormed out of their corners with fists blazing in an attempt to score a knockout. After receiving a terrible cut in round three, Hagler lashed out at Hearns in a fury to score a third-round TKO, It was the crowning moment of Hagler's career. 
The following year Hagler retained his title for the last time against future junior-middleweight champion John "The Beast" Mugabi. Mugabi was stopped in the eleventh round.
Sugar Ray Leonard then came out of retirement and secured a match with the feared champion. The bout was set for April 6, 1987. 
Entering the fight a 3-1 favorite, Hagler was outboxed over twelve, close rounds and left the ring an ex-champion. Two judges had Leonard winning by tallies of 115-113 and 118-110, while one judge had Hagler ahead at 115-113. After the split-decision defeat, Hagler never fought again.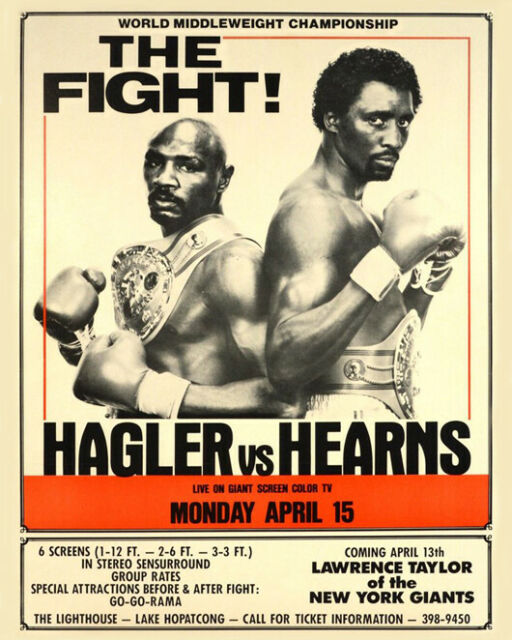 Sadly, on March 13, 2021, Marvelous Marvin Hagler died after suffering chest pains at his home in Bartlett, New Hampshire. His cause of death was listed as "natural causes" by his wife Kay.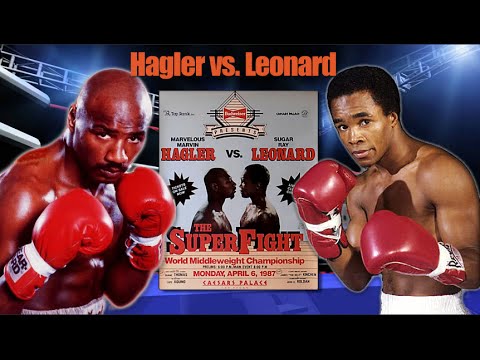 Hagler was elected to the Boxing Hall of Fame in Canastota, NY, in June of 1993. This interview was conducted during the Induction Weekend of 1993. 
NEWS: Marvin, what attracted you to boxing? 
HAGLER: Boxing was my love. It still is my love. It's an art. That is the way I always treated boxing. 
NEWS: What was it like to go from Boston to fight in Philadelphia in the early part of your career? 
HAGLER: In the beginning I was knocking many people out and was searching to find recognition. The only place that I could go was to where all the tough ones were. At the time they were all rated. I think you had about four guys in Philadelphia at the time in the top-ten. There was no money in Boston, so I had to go to Philadelphia for the big money. Those were very tough fights. I remember those days very well. 
NEWS: Up to the Roberto Duran fight, what was your toughest fight and why? 
HAGLER: My mother. 
NEWS: Besides your mother. 
HAGLER: All my fights were very tough. If it was up to them and I let them beat me, they would be b here (inducted into the Hall of Fame) instead of me.
NEWS: Let's talk about your first title shot against then champion Vito Antuofermo. Do you think you beat him? 
HAGLER: I felt I won the fight. In the second fight, after I became champion, I gave him the opportunity to do it again. The same with Leonard. If he felt as though he beat me, or whatever, and I was still champion, I would have given him a rematch right away. But when he got the belt, he played games with it. 
NEWS: In your title-winning fight against Alan Minter, were you afraid for your life after that knockout victory in England when glass bottles came flying your way from the pro-Minter crowd? 
HAGLER: No. I really didn't see anything. I was very happy, my dream had come true. I just had won the middleweight championship of the world. The only thing that was sad was that I never had the opportunity in my life to show the belts in the ring to the people after I won the championship. 
NEWS: You did that, though, so many times while being one of the last great middleweight champions. 
HAGLER: Yeah, but not at the moment when it really counted. That is the moment that I missed the most. 
NEWS: Tell us about the first of your superfights. The one with Roberto Duran. What were your thoughts going into that? 
HAGLER: That was a very good fight. He showed a lot of technique and skill and we had a lot of respect for each other in the first few rounds. I think that was the only part of the fight that I lost the first few rounds, because I tried to adapt to his style. 
NEWS: It seemed at that time in your career that Leonard and Hearns were ducking you and the only one that was willing to step forward was Roberto Duran. 
HAGLER: At that time, everyone was waiting for me to get old. They found out that I was still dangerous. I was able by the Duran fight to suck Hearns, then Leonard, into multi-million dollar fights. They felt that I was getting old. What they didn't realize was that I was gaining much prestige on my age factor and on my skill, because I was still very active. What I wanted to do, and what I did, was make sure to give all them guys an opportunity to dethrone me. And this is the only thing that I am very happy about.
NEWS: Let's get back to Roberto Duran. When you fought him, it was right after he won his third title by demolishing Davey Moore. When you were preparing for that fight, were you expecting him to be such a sharp counterpuncher, or did you figure he was going to move forward and brawl you like he did with Leonard and Moore?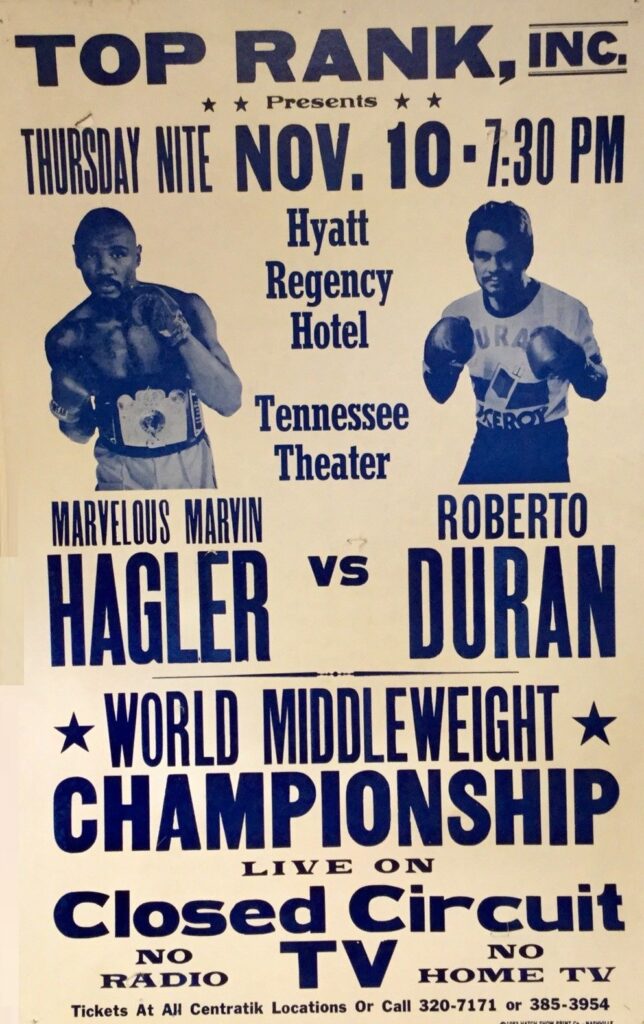 HAGLER: I thought he might fight me like Leonard, but he changed his strategy. I was surprised he counterpunched, and automatically I tried to change my game plan. After awhile, I started to make him fight. I came in southpaw and very quickly. As you know, Roberto Duran, who I give a lot of credit to, was very skillful and very experienced, and I was very thrilled to be in the ring with a three-time world champion. I think I did a tremendous job with him. I handled him by fighting him very well in the inside. I think I only lost the first few rounds because I couldn't figure out what the hell was going wrong. Duran kept countering over my right hand. 
NEWS: In that twelfth round, it looked as though Duran shook you with the right hand that smashed hard into your jaw. Were you hurt by that jarring blow?
HAGLER: No, I never was hurt. I was just more or less confused. I was wondering why I was getting hit. I sat down in the corner asking my trainer, "What's going on? He said, "Duran's waiting for you to throw the right hand, so he can counterpunch over it." After that, I started feinting with the right hand, and started catching him with the straight left. 
NEWS: What was your greatest performance? 
HAGLER: The Thomas Hearns fight would be the highlight of my career. 
NEWS: Hearns previously cancelled out on two prior occasions before you met. 
HAGLER: Well, with Tommy Hearns, we finally had to do the same thing. We had to pinpoint these guys. We had to pin them down to where they had to fight. There was too much publicity. The people wanted to see it – it was a people's fight. The same with the Leonard situation. That was a people's fight. The Duran fight, too, was a people's fight, with Duran having come from Panama, a three-time world champion, and him going after his fourth world title. It was a different situation then. 
Because Duran fighting for a fourth world title meant something more. Unlike the fighters today, when they go for two or three, and keep moving up. I think really that Duran was the last one. Him and Alexis Arguello were the last real ones that if they wanted to move up, it was a legit move – something that people really looked forward to. 
But now, you can move from middleweight and you only move two, three, four pounds. These fighters today really don't work very hard. They don't know how to control their food and their activities. You got to realize that you're a fighter and you can't eat the foods you want to eat. Many times I starved myself to make the weight. I think that is all part of the game – to sacrifice, and, this is what the fighters of today are not willing to do. 
NEWS: On the memorable clash with fellow legend Thomas "Hit Man" Hearns on April 15, 1985, what are your thoughts? 
HAGLER: I give Tommy a lot of credit. He showed a lot of courage in there and, as you know, that was the biggest, best three rounds that the people acknowledge in boxing. As I said earlier, it was the highlight of my career. I thought at the time after the fight, that I would stop and retire, then go on to something else. Then came Mugabi. Then everyone started calling me an old man – that I was slowing down. 
NEWS: Did Hearns hurt you at all in the epic battle? 
HAGLER: No, I was never hurt in the fight. 
NEWS: Hearns claimed later that he almost knocked you out in that first round. 
HAGLER: They all say the same thing. 
NEWS: None of Hearns' powerful shots ever had you stunned or shaken up?They certainly appeared to have dynamite in them.
HAGLER: No, I have never been hurt in the ring. 
NEWS: Did you think they were going to stop the fight in the third round because of that severe cut on your forehead with blood dripping down into your eyes? 
HAGLER: I was, that's why I went for such a quick knockout. 
NEWS: After Hearns, you fought eleven months later and stopped John "The Beast" Mugabi. Your next defense was against Sugar Ray Leonard 13 months later on on April 6, 1987.  Many people felt that you won the fight. Are you still bitter? What are your thoughts today? 
HAGLER: I'm not bitter about it. I had to go on with my life. That's exactly what I am doing right now. The past is in the past. Now I must look towards the future. My future now is in the movies. 
NEWS: In the thrilling battle against Sugar Ray Leonard, did Leonard's swift and jolting blows have any effect on you? 
HAGLER: No. I was never hurt by Leonard. Never. 
NEWS: Do you feel that if it went fifteen rounds, you would have knocked him out? 
HAGLER: Oh yeah. I felt as though I beat him anyway, so it didn't make any difference. I was prepared to go fifteen rounds if I had to, and I wish the fight was fifteen rounds. It should have been. We gave it everything that we could so we could have the fight. 
NEWS: If you had a chance to change your strategy against Sugar Ray Leonard, to do something different to make it more convincing, what would you do? 
HAGLER: I would have knocked him out. That's the only way you could do it. But you can't knock somebody out who keeps moving around. I thought that my strategy was perfect. I felt as though he was going to run and we trained very hard. I trained three months. No sex, no alcohol, no nothing. I wanted this guy very bad. I wanted to go out of this game as a champion.  I was only one fight away from beating Carlos Monzon's record. I have no regrets of that fight. Now it's all in the past. 
NEWS: Regardless, you still felt you won?
HAGLER: Leonard didn't come to take the fight away from me. He didn't come this way. It was not like a championship fight because it was like an amateur fight. He [Leonard] pitter-pattted punched and he ran. He went back to like the Golden Gloves, or the Olympics. Not the way you fight for a world title. After the fight everyone said that he was so great. If Leonard was so great, why didn't he even give me a rematch right away if he was such a "great" champion? 
If the decision was changed around and if Leonard felt as though he won the fight, me being the champion, I would have said, "Okay, we'll do it again." But Leonard always has this game, this thing about what he does, and he waited a long time. We put in a line that within ten months we'll fight. I heard nothing from Leonard's people. After time, I felt that he was just waiting for me to get a year older. Very smart, huh? 
But not being a champion this don't prove nothing to me. I know I was a year older and I understood what he was trying to do, so I accepted the challenge. Now when I had problems with my marriage at the same time, and my head was a little screwed-up, and he knew this, then Leonard wants to fight. So I said, "Wait until when I finish this matter, then we'll fight."
It was after ten months, almost a year. After when I finished with my matter, I asked him if he still wanted to fight, and he said, "No. It's next year." That means I'm another year older. I said, "Forget this guy. He doesn't want to fight." What was I supposed to do, sit around and wait for him? So I said "ciao, bye." I wanted to do something else, and I wasn't going to sit around and wait for him. 
NEWS: How frustrating was that all for you? Did it throw you off for awhile? 
HAGLER: No, not really. I still know in my heart that I won the fight. They can take away my belts, but they can't take away what I know is true. I wait for the day when finally Leonard admits to himself that, too, but I just want to go on with my life and that's the best way to do it.
NEWS: Didn't you think back to the Antuofermo fight and the fact that you gave him a shot once you became the champion? 
HAGLER: Antuofermo was a very gutsy warrior, a lot of courage. When I fought Antuofermo in the first fight for a draw, I always hoped that when something like this ever happened to me, it would be reversed. Antuofermo, by being champion and still standing, was awarded the fight. I thought the same thing would happen when I fought Leonard, that I would be awarded the fight. 
I fought Leonard successfully, and even though there were two big personalities, him being the television commentator, or whatever, a lot of things had to do with it. But we gave Leonard a big opportunity, and I was hoping that if it came down to the wire, in the same type of situation as with Antuofermo, that they would give me this edge if that was the case. Besides the fact that they knew that I was one fight away from Monzon's record. And behind it at the time, too, and they wanted to split the titles up, the WBA, WBC and IBF. I saw what was happening. If the Leonard fight had to go the distance, I was just looking for a fair shake. 
NEWS: You were at the top of your game in the Leonard fight, why didn't you ever come back?
HAGLER: Too much politics. And you see what's happening in boxing now. Too much confusion. The public really doesn't understand this game and they don't even know who the real champion is now. I think I retired at the right time. I am just very happy that I could walk away from the game knowing I gave them all a shot. I have nothing to really look back at. If Leonard didn't want to give me a return match, I still know in my heart that I won the fight and would leave it that way.
NEWS: Look at the fighters out today, especially in the middleweight division. Do you see anybody out there who would have given you trouble? 
HAGLER: I ain't seen nothing in boxing now (chuckles). I'm glad that I retired from the game, because it's not interesting anymore. You don't see any real exciting fighters out there. The only one that I really like right now is Chavez. 
NEWS: How about when you see the heavyweight division with all the old heavyweights coming back like George Foreman and Larry Holmes, and making a lot of money. Do you feel that there is a lot more money that could be made for a fistic great like you?
HAGLER: I know there's a lot of money in there, but what's important is your health. I'm in the movie industry in Italy now, trying to start a new career in something else.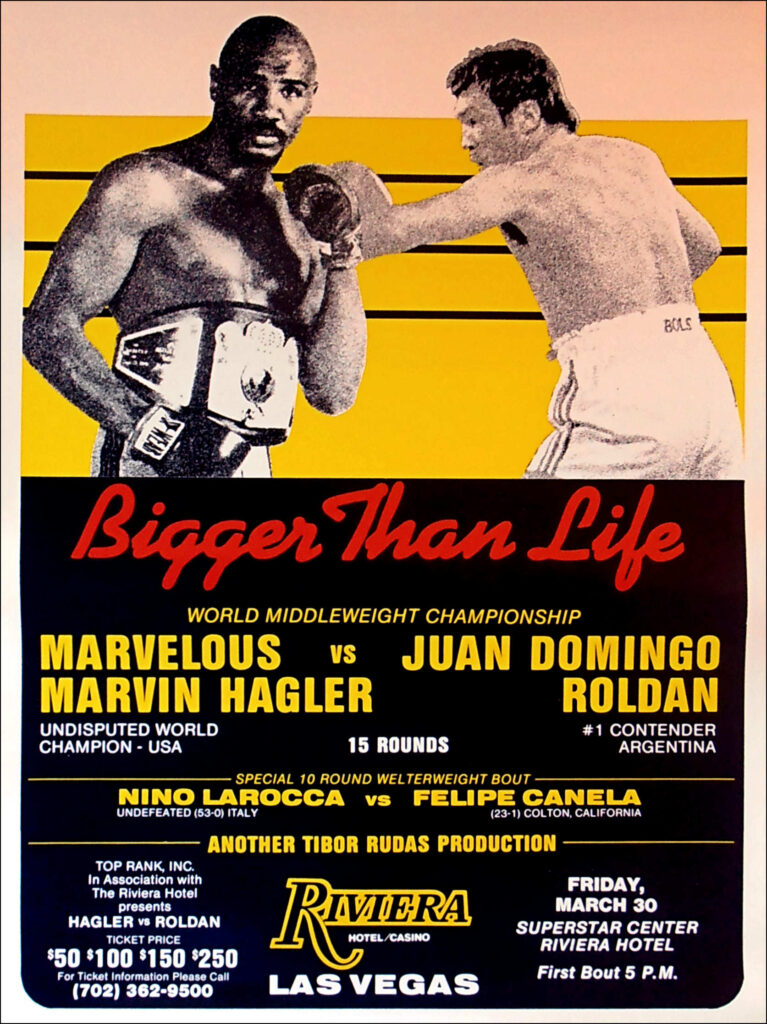 NEWS: Are you disappointed at the coverage the middleweights are getting today? 
HAGLER: What middleweights? I had an interview in London and they said, "WBA, WBC, IBF, are these the alphabet boys?" I'm glad that I moved out of my division. I don't see any real talent like Hearns, Duran and myself. Unlike in my era and in my time, I think these fighters today still have to do a lot more work. I would like to see my division unite and become very strong, and have a real strong middleweight champion. 
NEWS: Do you miss being in the sport of boxing? 
HAGLER: I miss boxing. Everyday I think about it. Now I understand when Muhammad Ali, George Foreman, Sugar Ray Leonard, and Roberto Duran return to the ring. It is not for the money. It is not for the glory. It is for the love of the sport. 
NEWS: Did you have any words with Sugar Ray Leonard following the bout? 
HAGLER: After the fight with Leonard, Leonard spoke to me over my shoulder, and said, "You beat me Marvin." After that he collapsed. No one has shown that on the tape. I felt as though I won the fight. 
NEWS: How did you become a movie actor in Italy? 
HAGLER: Well, a director from Rome telephoned me and started asking me about this film. They sent me a script for Indio. I read the script and liked the character, and it seemed more or less a part I could play. So we telephoned back and he said for me to fly to Rome for a meeting. I went there and had the meeting and I started thinking, "There's nothing left for me in America now." I think I have done everything. My family is secure. If I wanted to do acting, I thought then was the time. 
I think in movies I needed a new challenge in my life. You need something to go on. Because if you stop to think now that you're finished boxing, what do you do? There is nothing. You look at all the fighters before when they finished boxing. They don't have the education, they don't have a good job. I'm not going to go work in a factory again. I'm not going to go work in a hotel, like a Joe Louis, standing and shaking hands. I thought I had too much pride, too much class, in myself. I thought that I'm going to gamble and I'm going to give it a shot and took up acting. So I took the role and I found out that I liked it. It was fun. It was also hard work, too, and I was able to keep my mind very clear. I had a direction where I wanted to go. So I think that is what led me into acting. 
NEWS: How is your film career doing in Italy? 
HAGLER: It's going very good. I like it. It's a new challenge for me. I'm trying to learn the language and that's the hard part. I think that in another year I'll be able to do much better. I love the culture there in Italy. I hope that, just like in boxing, to start from four to six and eight rounds, finally going to the main event. In the film industry, I'm really not looking to win an Oscar or anything. Just something for my own pride; to know that I'm able to show the world that I could become a good actor. Because in the world of boxing, once you're a fighter, they have a stereotype image about you. They think that a fighter cannot think, cannot talk. I want to prove everyone wrong. I also want to show the younger fighters that are coming up that there is another life after boxing. 
NEWS: Is it true you are being heralded as the "Italian Arnold Schwarzenegger?" 
HAGLER: No (laughs). I think that's really because of the adventure films that I have done. The action/Rambo types. 
NEWS: You mean like the Indio films? 
HAGLER: Yeah. I like to do more of those things. Now we're waiting for other ones to come out. In my new film, Night of Fear, I play a killer – a terrorist. 
NEWS: Do you speak English or Italian in these films? 
HAGLER: I mix sometimes. For me right now, I'm interested in playing different characters other than myself, such as a doctor or a lawyer. The film industry is not so much a strenuous thing, because you are not getting hit, it's just a lot of reading.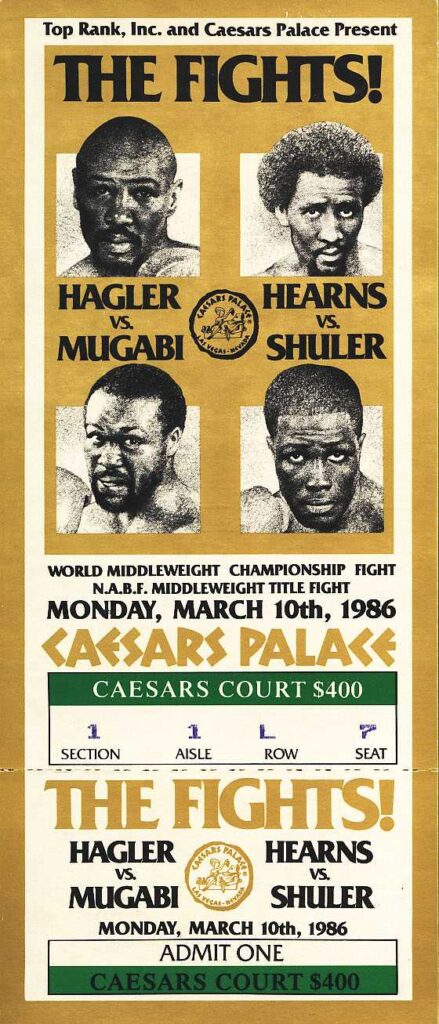 NEWS: How many films have you made so far? 
HAGLER: Three films. The first two were Indio and Indio II, which I played Sergeant Iron. I have never been in the service, never in the military, so I had to learn what it was like. When I did the first Indio film, I was co-starring with actor Brian Dennehy. One day I asked Brian if we could go over some lines, because we had a few scenes with each other. He said, "Sure Marvin." When we were finished, we took a break, and he said, "I want to say something. You were a great fighter." We then started to talk about boxing, what I thought of Mike Tyson and all. I'm worried about the script and he wants to talk about boxing (laughs).
NEWS: Any thought about moving back to the States? 
HAGLER: Yeah, it's always in the back of my head. But what I want to do now is establish myself in the acting field. 
NEWS: Are you ever going to make a comeback in boxing? 
HAGLER: No. People are kind of tired of seeing all the old-time fighters after they have retired, or whatever, and returned, like Leonard, Larry Holmes and George Foreman. I want to be much different than any of those other fighters. I hope to set an example. I believe once I settle down and get a little older, when I'm not travelling, then I can spend some time with the kids, and give them my knowledge. It takes time. You cannot just teach a kid, what it took you years to learn, in one night.
NEWS: You are still a big name out there, even though you have not fought in six years. 
HAGLER: All over the world. Everywhere I go. I've been to Australia, I've been to Austria, and I've been living in Italy. Everyone always asks the same thing even today, "When are you back coming Champ?" They feel that boxing has really died. With Tyson having that bad break, there are no boxers left that people are excited really about. 
What's important is that the movie industry helps me focus on a new career. It also keeps my face in front of the public. Whether it's on a big screen or little screen, it is very important. 
NEWS: When you were fighting you were considered one of the four Legends, along with Roberto Duran, Sugar Ray Leonard and Thomas Hearns. Did you realize that at the time that you were thought of as a Legend? 
HAGLER: No. I really never paid attention. I just had to do my job and really strive to be the best, not the greatest. I'm happy to be here in the Boxing Hall of Fame, it's a great honor for me. To be called a Legend is a giant step. It's like a dream. 
NEWS: Is your induction into the Boxing Hall of Fame the crowning moment of your illustrious career? 
HAGLER: This is maybe the glory part of my career, because I never had the opportunity to gain the glory. I was never able to raise my belt in the ring, so I am looking at this point here as the glory part of my life. I probably won't even know what it all means until I leave here [The Boxing Hall of Fame]. 
NEWS: Five years from now, when a father brings his child to the Hall of Fame and shows him your plaque on the wall, what do you want to be remembered as? 
HAGLER: Being a technical fighter. Anyone can go in and throw punches like "BOOM" in there, but to be able to set a guy up is a different thing. To be able to work off your punches, this is what I was all about. Because when I was growing up, seeing fighters when they were number six in the world, that meant something. I started from #10, then #9, then #8, then #7, #6, #5, #4, # 3, #2, till #1. I stayed a long time at #1, but I eventually became champion, and I am very proud of my career.