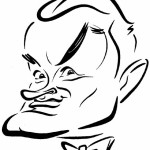 Comedian Bob Hope and his Boxing Roots
Legendary entertainer Bob Hope (1903-2003) had a brief career as a boxer in 1919 fighting under the name Packy East. He had three wins and one loss, and later, once his show business career took off,  he participated in a few staged charity boxing matches during his long successful life. Besides participating actively in the sports of golf and boxing, Bob Hope also owned a small stake in his hometown baseball team, the Cleveland Indians.      
Hope appeared in over 70 films and shorts, as well as appeared on Radio and Television.  From the 1950's till his death, Hope became a Television staple for his yearly anticipated Television Specials. On these Television specials, Hope would often  have famous boxers from Jack Dempsey, Max Baer, Rocky Marciano, Joe Frazier, Muhammad Ali, and Larry Holmes to lighter fighters like Roberto Duran, Marvelous Marvin Hagler, and Sugar Ray Leonard as guests, to name a few. Besides his show Business career, Hope also served as an active honorary chairman on the board of Fight for Sight. He hosted their Lights On telecast in 1960 and donated $100,000 to establish the Bob Hope Fight for Sight Fund.
Often times Bob Hope frequently recruited numerous top celebrities for the annual "Lights On" fundraiser; as an example, he hosted Joe Frazier, Yvonne De Carlo, and Sergio Franchi as headliners for the show at Philharmonic Hall in Milwaukee on April 25, 1971.  Bob Hope also entertained Armed Forces troops all over the globe in every war from World War II to the Gulf War.