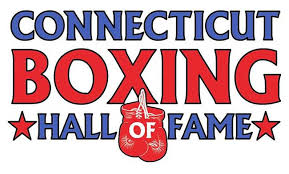 FOR IMMEDIATE RELEASE
SAVE THE DATE CT BOXING FRIENDS & FANS 14th ANNUAL GALA INDUCTION DINNER/CEREMONY!! SATURDAY EVENING, October 13th, 2018 AT THE MOHEGAN SUN BALLROOM NEAR THE CONVENTION CENTER.DETAILS BELOW.
PLEASE TAKE SOME TIME TO VISIT OUR CT BOXING HALL OF FAME MUSEUM. The NEW location at Mohegan Sun is near the SKY Entrance at Mohegan Sun, next to Jersey Mike's. TICKETS ON SALE NOW !! DETAILS BELOW !!AT THE MOHEGAN SUN UNCAS BALLROOM –THE CT BOXING HALL OF FAME 14th ANNUAL GALA INDUCTION DINNER/CEREMONY –RECEPTION/COCKTAILS 6:00PM (CASH BAR)
7:00 PM DINNER & INDUCTION CEREMONY – DINNER WITH VEG. & DESSERT included$90 / TICKET**TICKETS ON SALE NOW**Please call Sherman Cain @ 1-800-237-3606 (Ext.321)
And for CREDIT CARD ORDERS PLEASE CALL ANN MURPHY at MOHEGAN SUN 860.862.8846
THE 2018 CBHOF INDUCTEES ARE: •
Cocoa Kid
•John Harris
•Bill Gore
•Brian Clark
•Angel Vazquez
•Don Trella◦
The Minor Award Winners for 2018 are:
◦Pro Boxer of the Year – Anthony Laureano
◦Amateur Boxer of the Year – Nephateria Miller
◦Official of the Year – Pete Hary Jr
◦Amateur Official of the Year – Jason Concepcion
◦Contribution to Boxing – Roland Roy
◦NO TICKETS WILL BE AVAILABLE AT THE DOOR> TICKETS ARE AVAILABLE NOW, GET OFF THOSE ROPES AND ORDER YOUR TICKETS SOON !!
The 14th Annual Induction Ceremony & Dinner will held in the gorgeous Uncas Ballroom at Mohegan Sun and will include: ◦The Induction Ceremonies, *Full Dinner & Speeches (*Alcoholic Beverages available, but not included in ticket price)◦Surprise Auction/Sale featuring boxing !
◦ A 50/50 Raffle – 1/2 to the CBHOF SCHOLARSHIP FUND & 1/2 to the CASH winner!! Last year's winner got hundreds of $$!!
You will meet & rub elbows with the Inductees, as well as Professional & Amateur Boxers, Promoters, Trainers, Judges, Referees, Doctors and many other boxing dignitaries. (There will even be some professional FANS there…lol!)
You'll hear speeches, trade some boxing stories, have some laughs, take some photos, get some autographs, make new friends and party with old friends, all while supporting a great cause…BOXING IN CT!Please consider joining us and celebrating our 14th Annual Ceremony with our Inductees…You'll have a great time!
Connecticut Boxing Hall of Fame
Class of 2017 Announced
UNCASVILLE, Conn. (Augus14, 2017) – The Connecticut Boxing Hall of Fame (CBHOF) has announced its six-member Class of 2017 to be inducted during the 13TH annual CBHOF Gala Induction Dinner on Saturday night, October 28, in the Uncas Ballroom at Mohegan Sun.
The new CBHOF inductees are pioneer boxer "Professor" Charles Hadley, ring physician Dr. Tony Alessi, international boxing judge Clark Sammartino, referee/judge Dick Flaherty, boxing writer Dan Parker and boxer/boxing contributor Hugh Devlin, Sr.
"We continue to break barriers at CBHOF as we induct 'Professor' Charles Hadley who may have been the best 'pound-for-pound fighter of his era," CBHOF president John Laudati said. Like many black athletes of this period, he never received the recognition he richly deserved. The CBHOF will rectify that this year. Other members of this year's class are equally deserving and represent all aspects of this great sport. Dr. Alessi is not just an accomplished ring physician but also a world-renowned sports doctor. Clark Sammartino is one of the best judges boxing has ever seen. Dick Flaherty has not only refereed championship fights all over the world, but he was in charge of the action for Ward-Gaetti I, one of the greatest fights of all time. Dan Parker is an International Boxing Hall of Famer whose career as a reporter is unparalleled in any sport. Hughie Devlin Sr.'s contributions to this sport in Connecticut are immeasurable. We look forward to seeing boxing fans of all ages at this year's dinner. It will be a wonderful evening for our inductees, our award winners, and especially for their family and friends."
Fighting out of his adopted hometown of Bridgeport, Tennessee-native "Professor" Charles Hadley (25-13-6, 14 KOs) was the reigning World Colored Heavyweight Champion from 1881-1883. His professional career was from 1869 to 1891.
A familiar figure at ringside for major fights at Mohegan Sun and Foxwoods Resort Casino, Dr. Tony Alessi is a graduate of the University of Rome who moved to the Nutmeg State after completing his residency and neuromuscular fellowship at the University fo Michigan. Alessi is a neurological consultant to the Connecticut State Boxing Commission, as well as the NFL Players Association and New York Yankees Player Development. He is based in Norwich, where he CEO for a medical management company.
At the height of career as a boxing judge, Clark Sammartino would average 100 bouts a year, including 10 world championships. A Providence native and Brown University graduate, he started judging boxing matches after he retired as an oral surgeon. The 80-year-old Sammartino has judge fights involving some of boxing biggest stars such as Mike Tyson, Evander Holyfield, Oscar de la Hoya, Julio Cesar Chavez and many others. This past June he was in Belfast, Northern Ireland, judging an International Boxing Federation (IBF) world bantamweight title fight between Lee Haskins and Ryan Burnett.
An accomplished referee/judge from Braintree, Massachusetts, who now lives in Glastonbury, CT, Dick Flaherty has worked numerous notable fights featuring Bernard Hopkins, Chad Dawson, Vernon Forrest and Sal "Canelo" Alvarez, among the more notables. Flaherty is best known for judging the first of three Arturo Gatti-Micky Ward fights, held at Mohegan Sun, voted the 2002 Fight of the Year), in which Dick scored the Round of the Year (ninth), 10-7 for Ward, and the fight, 94-93, in Ward's favor. His score proved to be the difference as Ward won a 10-round split decision.
Waterbury, CT-native Dan Parker was a Waterbury sportswriter back in the early part of the 20th Century, whose articles in the New York Daily Mirror later exposed corruption in boxing. He exposed International Boxing Club (IBC) corruption and, due to Parker's crusade, it was disbanded. Parker is induced in the prestigious International Boxing Hall of Fame, as well as the National Sportswriters and Sportscasters Hall of Fame.
Hugh Devlin, Sr. (22-13) made his professional boxing debut in 1927 at the age of 18, stopping Johnny Lorenzo in New Bedford, Mass. He developed into one of New England's top featherweights, fighting across Connecticut in New Haven, West Haven, Waterbury and New London. Devlin's contributions to the Norwich boxing community made him an icon in southeastern Connecticut. He opened a restaurant in New London where menus were shaped like boxing gloves.       
Individual Connecticut award winners were also announced: Jimmy Williams, Conn. Professional Boxer of the Year; Kevin Bonilla, Conn. Amateur Boxer of the Year; Hector Rosario, Contribution to Boxing; Danny Schiavone, Professional Boxing Official of the Year; Sachs Medina, Amateur Boxing Official of the Year:
Tickets for the CBHOF 13th annual Gala Induction Dinner, reasonably priced at $90.00, will soon go on sale and be available to purchase by calling Kim Baker at Mohegan Sun (1.860.862.7377) or Sherman Cain at the Manchester Journal Inquirer (1.800.237.3606 X321). Doors open at 5:30 p.m. ET, cocktails from 6:00- p.m. ET (cash bar), followed by a full sit-down dinner.
Go online to www.ctboxinghof.org for additional information about the Connecticut Boxing Hall of Fame, its 13th annual Gala Inductee Dinner, event sponsorship opportunities, or past CBHOF inductees.
Visit the Connecticut Boxing Hall of Fame at the Mohegan Sun Casino
Story by Kirk Lang and John Rinaldi
Photographs by Richard Esposito and John Rinaldi
Uncasville, CT.  The Mohegan Sun Casino has provided the Connecticut Boxing Hall of Fame with a space for the new museum honoring those fighters, writers, promoters and officials who have been involved in boxing throughout the Nutmeg State.
At the Mohegan Sun, which regularly hosts championship boxing matches, the Connecticut Boxing Hall of Fame will be open 24/7 daily during the year.
On hand are classic fight posters featuring well-known names such as Chico Vejar and Gaspar "Indio" Ortega, fight-worn clothing that belonged to 1980s and 1990s era champions Vinny Pazienza and Marlon Starling, and even an old MacGregor heavy bag – housed in a wood and glass case – that showed some of the wear and tear inflicted by the quick jab of the legendary 1940's featherweight champion Willie Pep.
Besides the wall plaques and boxing artifacts and memorabilia,  on the wall a flat-screen television continuously displays highlights and interviews with the elite of Connecticut's boxing community in constant rotation. 
"This is a Hall of Fame," said John "The Iceman" Scully, a former light heavyweight contender and trainer of champions, who is a 2009 inductee into the Connecticut Boxing Hall of Fame. "What we had before was more like a corridor. This is spectacular!"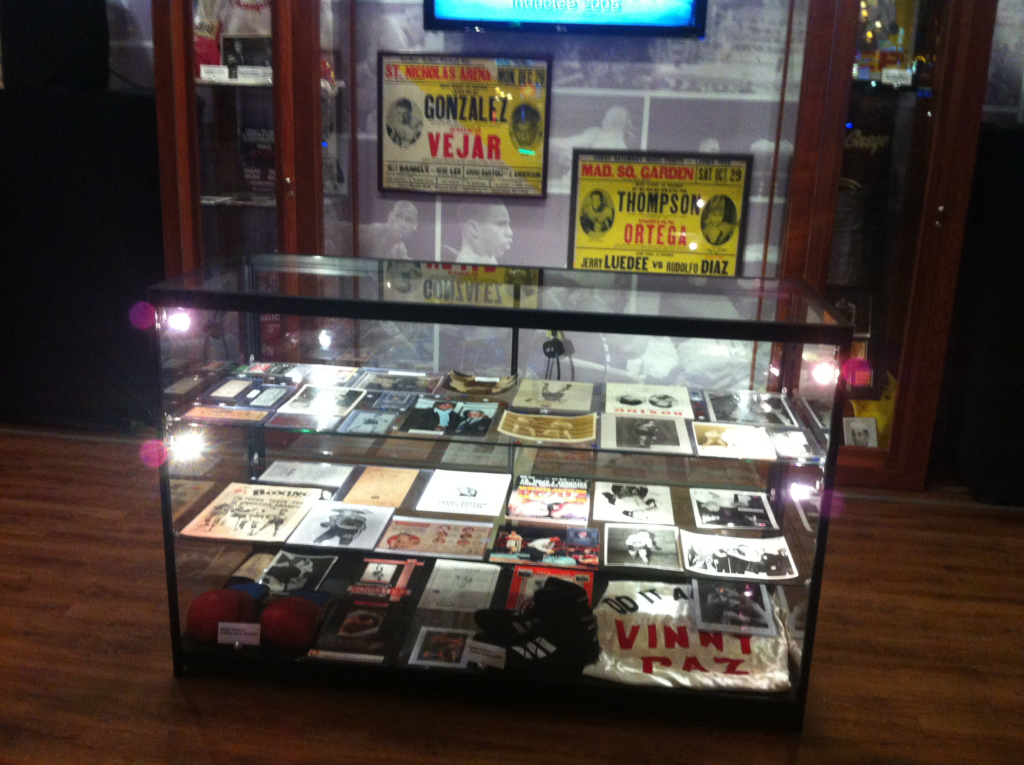 Scully was one of about 50 boxing enthusiasts who made sure to visit Mohegan Sun on Monday, June 26, 2017 for a ribbon-cutting for the Hall's new space, just off the Sky entrance to the gambling mecca, still one of the largest in the world.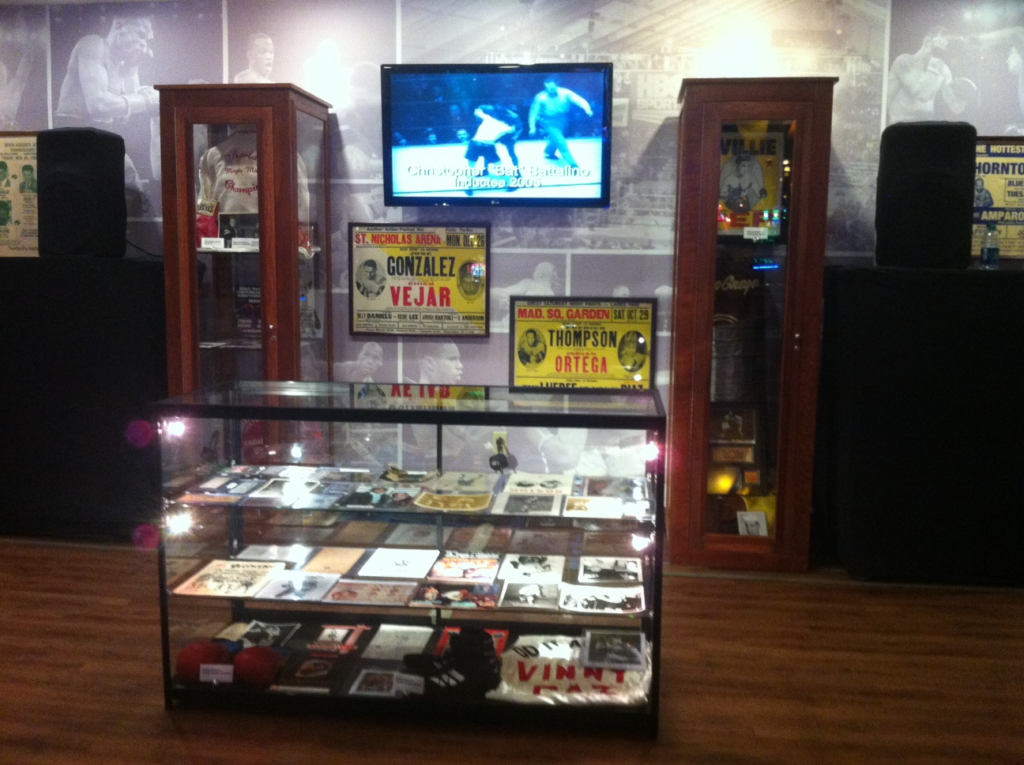 The Connecticut Boxing Hall of Fame had been previously been given wall space inside Mohegan Sun Arena. What it has now is truly a museum and there is a plan to rotate memorabilia every four months.
Longtime referee turned boxing judge Joe Cusano told The U.S.A. Boxing News, "I can remember 20 years ago talking about this (some kind of space) with Glenn Feldman and Don Trella, planning on something like this. And to see it happen now and be available to the public, it's just great. This is really the perfect place. More people will get to enjoy this, here, than just about anywhere else."
Micky Ward, forever remembered for his three classic battles with the late Arturo Gatti – the first and best of the trilogy took place at Mohegan Sun – was inducted into the Connecticut Boxing Hall of Fame in 2010. He said of the new museum, "It means a lot. It's great for the people to be able to [see the Hall] without going to an event, because that's the only way you could see it before."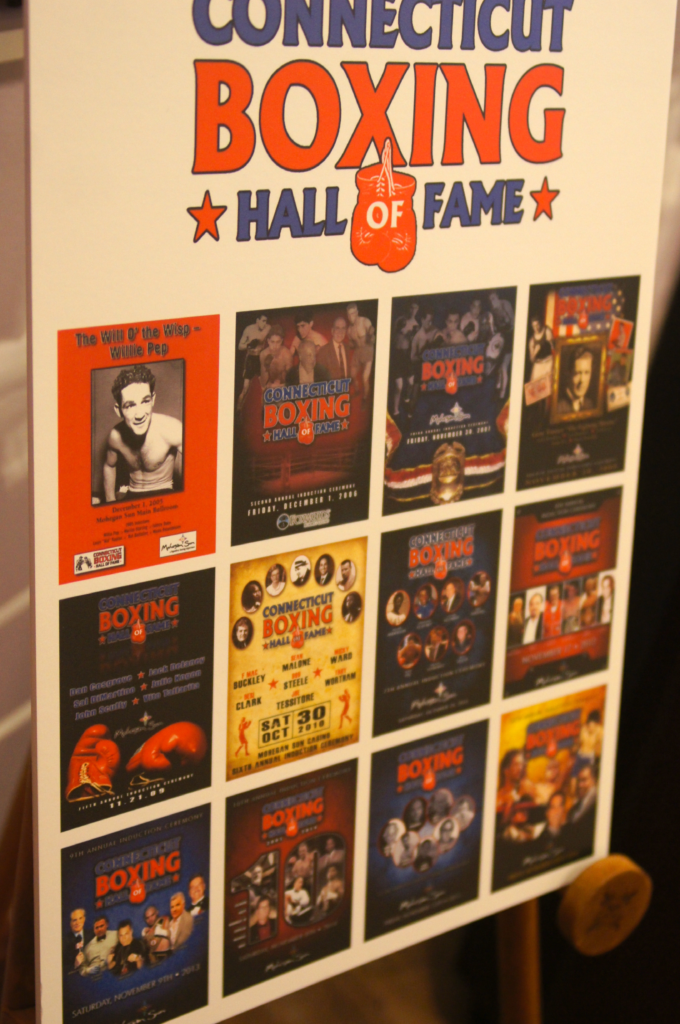 Ward added, "Now any gambler comes by they can see it, any basic person can see it without going to an event. It's out in the open now. It's great for the boxing fan."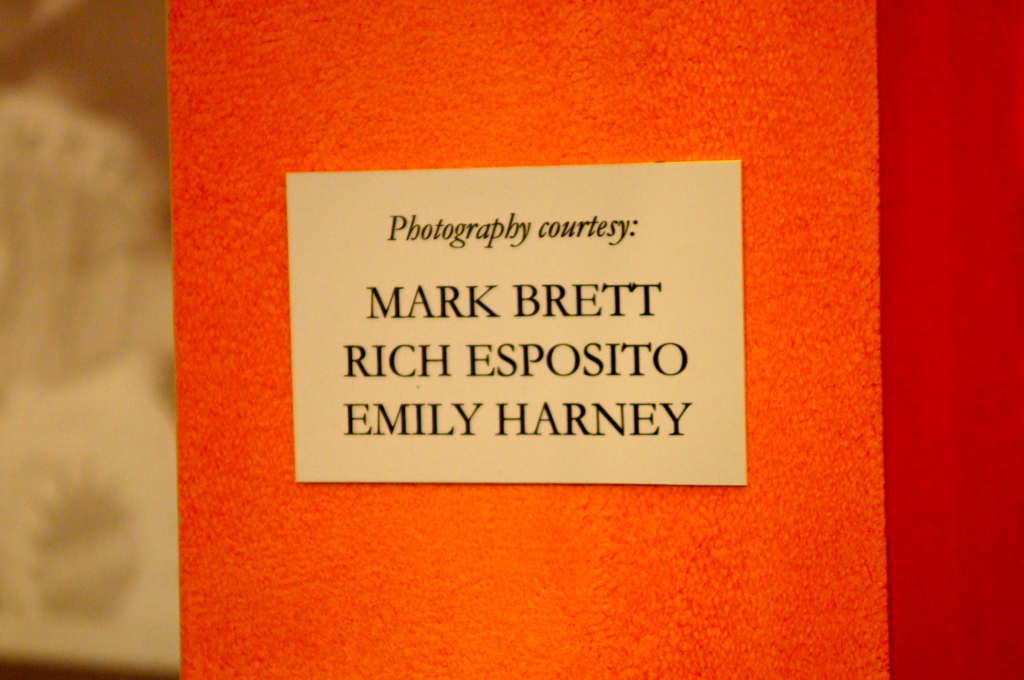 Diana Duke, 70, daughter of 2005 inductee Johnny Duke, a longtime trainer at the Bellevue Square Boys Club in Hartford, CT, was more than elated to see her father properly immortalized with the rest of the best from the Nutmeg State.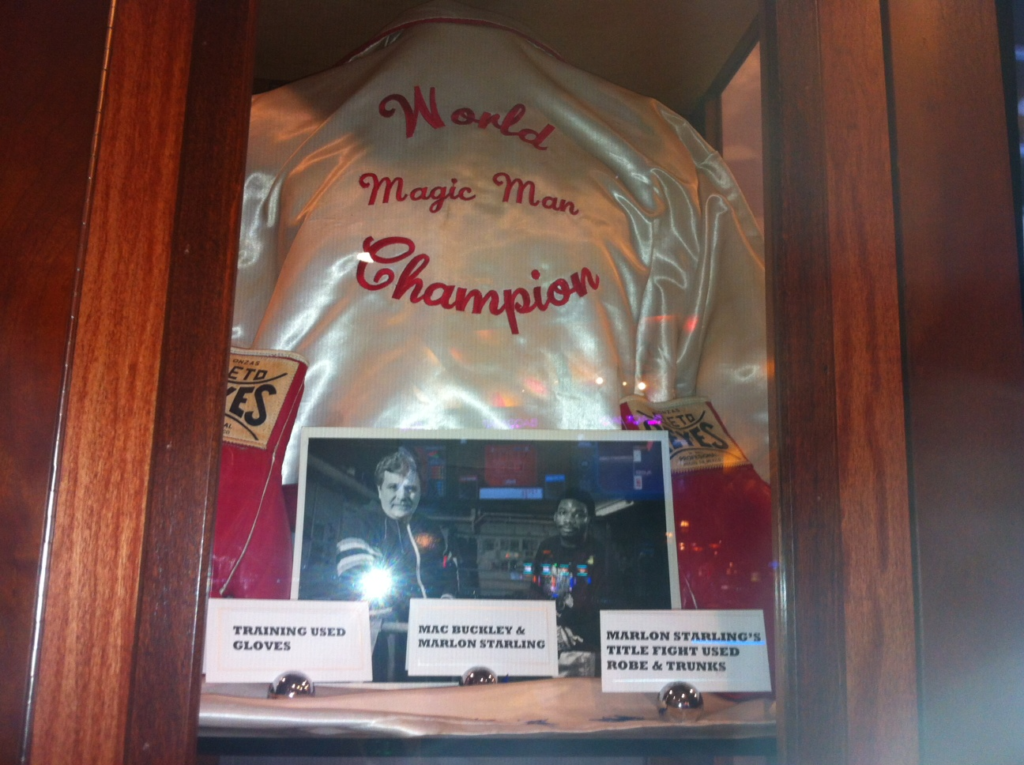 "It gives you chills to think that somebody finally recognizes those who fought hard for the business, fought in the business, and to walk in and see a rolling film of my dad, who is no longer with us, it sent chills down my spine," said Duke. "It's just an honor to see somebody took the time to put this together for the public to see."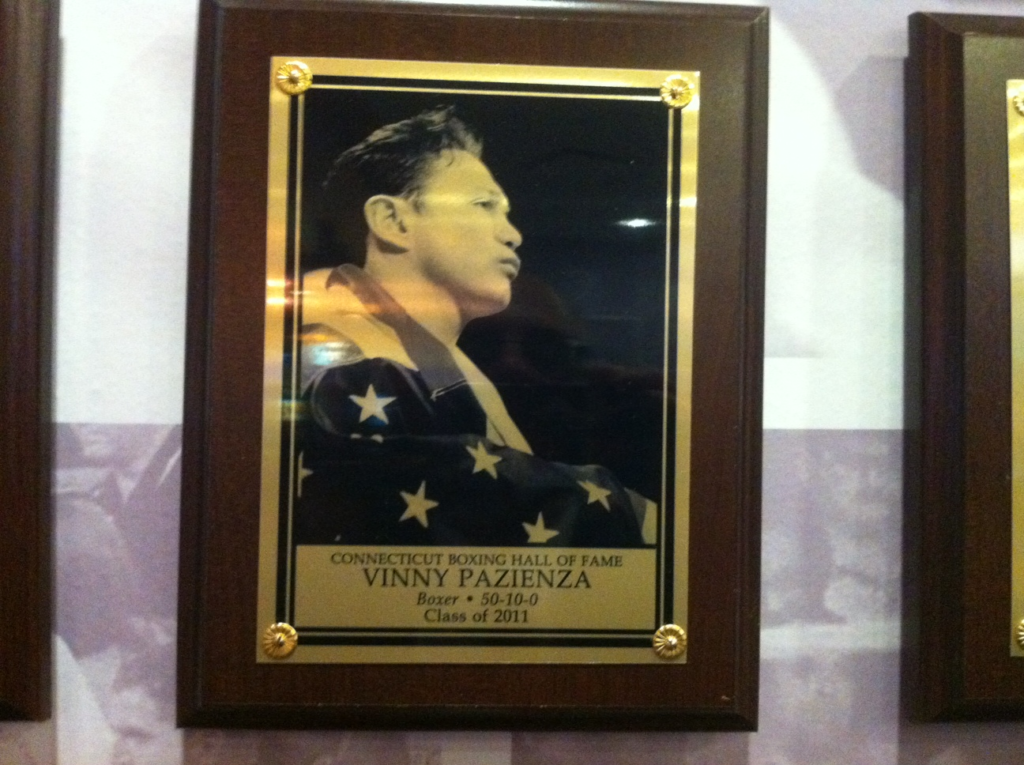 "This is really a culmination of years of hard work," said Connecticut Boxing Hall of Fame President John Laudati during the ribbon cutting ceremony. He thanked, among others, Mohegan as a whole for generously donating the space; the Hall's board of directors, Mohegan's engineering department for the care put into the new museum and a few dignitaries from Foxwoods Casino in attendance.
"People don't understand how generous both casinos have been to this organization," said Laudati. "We really wouldn't be here without support from both the Mashantucket Pequots (Foxwoods) and the Mohegans." Before he wrapped up, the Hall's president gave a special thanks to two Connecticut Hall board members, George and Renee Phillips. George is listed on the Connecticut Boxing Hall of Fame's website as Vice President and Renee as Secretary.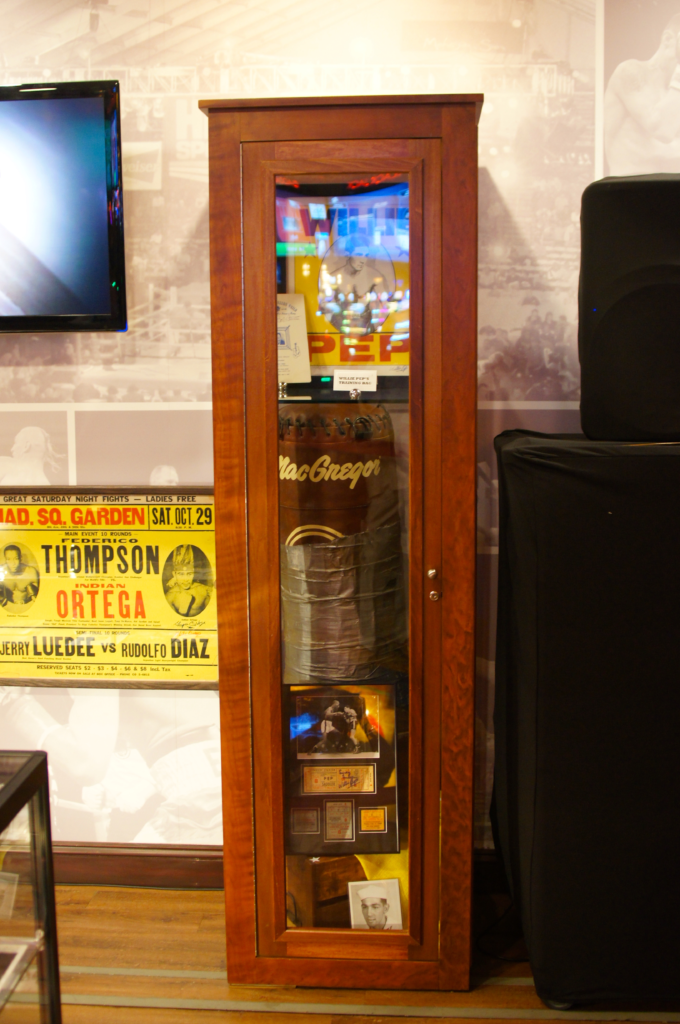 "Most of what you see in these cases they have donated," said Laudati. "It's on loan to the Connecticut Boxing Hall of Fame. George is the official curator. This is intended to be a rotating display."
Just before the actual ribbon cutting, Laudati called up "the most important people here tonight," the living inductees, which included, among others, Micky Ward; former IBO super middleweight champion Dana Rosenblatt; 1985 ESPN welterweight champion Troy "Schoolboy" Wortham; referee Michael Ortega (son of Gaspar Ortega); judge Glenn Feldman; Manchester-based trainer Paul Cichon and Foxwoods' athletic commissioner Kenny Reels. Marlon Starling, one of the Hall's most famous inductees, also made it to the new museum, albeit some minutes after all the official hoopla.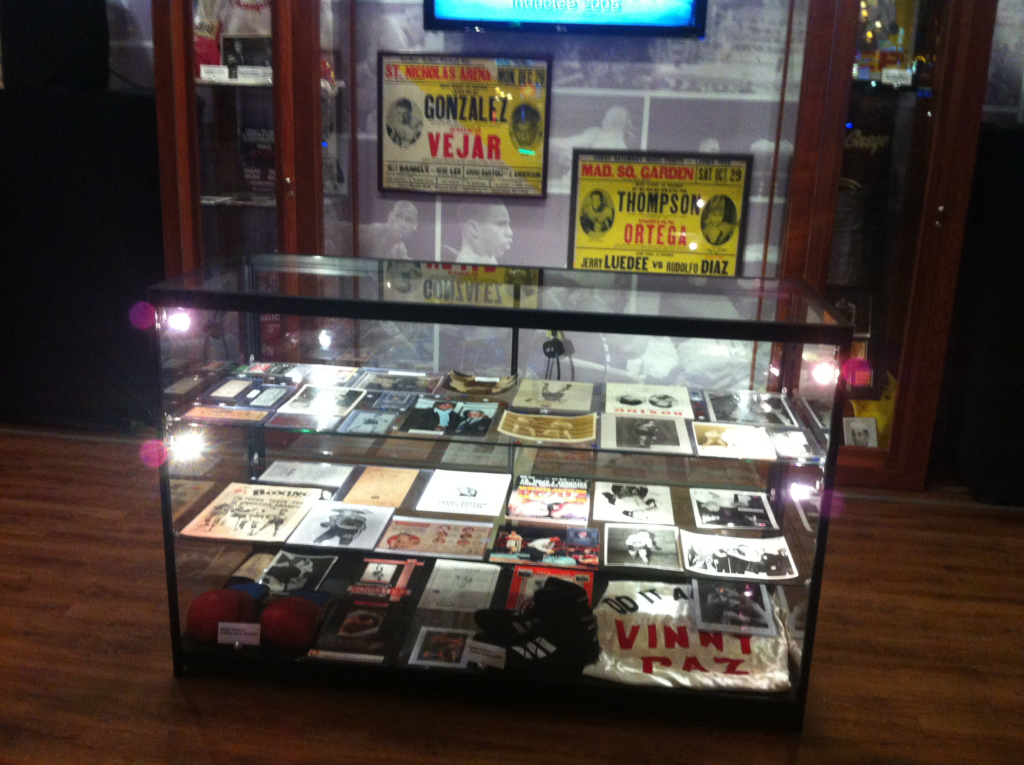 "I am so juiced to this new Connecticut Boxing Hall of Fame," said the former WBA and WBC World Welterweight Champion Starling. "I love the Connecticut Boxing Hall of Fame and it is nice that there is a place for fans to visit."
The inductees on-hand were but a small sampling of all that help make Connecticut boxing a success.
Besides being a world class judge, Feldman was the Connecticut Boxing Hall of Fame president for 10 years before Laudati took over the position.
"It's a very proud moment for me," he said. "This space is worth a lot of money. Let's face it, and they donated it to the Connecticut Boxing Hall of Fame and we're very appreciative of that. They're boxing people and they're going to keep boxing alive in Connecticut. It's a great thing."
After the ribbon-cutting, Scully spent some time closely looking at all of the display cases. He was surprised to see the museum had the boxing shoes from his final fight in 2001, as well as the specially made Kronk gloves he wore in a bout against former super middleweight and light heavyweight champion Graciano Rocchigiani in Berlin, Germany on March 22, 1997, where he lost a close decision. Of course he took a couple of photos. Scully had previously sold both items on the Internet some years ago.
"I figured they might have something of mine in there, but if you asked me to guess, those two items would never have entered my mind as something they might have," said Scully.
Eighty-one-year-old and former welterweight contender Gaspar Ortega, whose bouts were regularly televised in the 1950s and '60s, was equally impressed with the new museum.
"Today I feel very proud," he said, standing about 10 feet from a framed fight poster advertising a fight he had at Madison Square Garden with Federico Thompson. "I feel very proud that the people still remember me, and they still love me."
Museums such as the Connecticut Boxing Hall of Fame honor men such as Ortega, who compiled an astonishing 131-39-6 (69 KO's) record in a career that spanned from 1953 to 1965. Those fighters who plied their trade in venues all over the world would be long forgotten today if it were not for recognition provided in such museums as the CBHOF.
The CBHOF Vice President George Phillips said, "This Hall of Fame is wonderful for the sport and a great way to preserve the history of boxing in Connecticut."
Besides the numerous displays that included vintage press passes, photographs, posters and memorabilia, the wallpaper of the museum is comprised of photos taken at various boxing bouts that were contested in Connecticut.  The photos are by Mark Brett, Emily Harney and The U.S.A. Boxing News' staff photographer Richard Esposito. The Connecticut Boxing Hall of Fame is a great place to visit when at the Mohegan Sun Casino, or just for a boxing fan to visit who happens to be in the area.
In additon to the unique exhibits, the CBHOF routinely airs clips such as Jack Dempsey fighting Gene Tunney and Micky Ward squaring off against Arturo Gatti, all which can be viewed all day and night on the large screen monitor located on the main wall in the museum.
Much credit must be given to the following who are on the Board of Directors of the Connecticut Boxing Hall of Fame for the fantastic job they did in keeping the memory of fisticuffs alive in the state:
John Laudati – President
George Phillips – Vice President
Peter Hary – Vice President
Renee Phillips – Secretary
Chritopher Mund – Treasurer
Mike Mazzulli – Sgt. Of Arms (For Life)
Dan Schiavone – Sgt. Of Arms
Bob Trieger – CBHOF Publicist
Glenn Feldman – President Emeritus
John Burns – Director Emeritus
Manny Leibert – Director Emeritus
George Smith – Director Emeritus
Kim Baker – Board Member
Sherman Cain – Board Member
Johnny Callas – Board Member
Dick Flaherty – Board Member
Robin Hayes – Board Member
Mark Langlais – Board Member
Bill Morande – Board Member
Kenneth Reels – Board Member
Chris Renstrom – Board Member
Roland Roy – Board Member
Michael Stergio – Board Member
Maynard Strickland – Board Member
Don Trella – Board Member
Marlon "Magic Man" Starling – Board Member and former welterweight champion
The Mohegan Sun Casino now has 400 new rooms, an 18-hole golf course, poolside cabanas, famous entertainers and championship boxing.
The museum is located in the Sky Entrance through the Riverview Garage.
The address, phone number of the Mohegan Sun Casino is :
mohegansun.com
1 Mohegan Sun Blvd, Uncasville, CT 06382
(888) 226-7711
So boxing fans, if you want to visit an entertaining museum, take a trip to the Connecticut Boxing Hall of Fame located in the Mohegan Sun Casino in Uncasville, CT. You will not be disappointed!
The publishers of The USA Boxing News take especially great pride in the fact that it was in the city of Bridgeport, in the great state of Connecticut where the publication was born and eventually flourished to become the success that it has been for over thirty (30) years!
Just like The USA Boxing News, the Connecticut Boxing Hall of Fame is a champion for the sport of boxing!