John and Alex Rinaldi
"The Boxing Twins"
Born identical twins in 1960 in Brooklyn, NY, John and Alex Rinaldi spent their childhood growing up in Upstate New York in Gardiner. Later they moved to Oak Ridge, NJ, but retained the Gardiner home for summer, weekends and vacations. Later they had a residence in Stuart, Florida.
The twins were hit with the boxing bug early on. Their dad's uncles, Mike and Angelo Strolla, were among the backers of the great heavyweight contender Roland LaStarza and they often met the former heavyweight title challenger at many family events.
Through their father, Joseph Rinaldi, a former amateur boxer and track star, John and Alex developed at an early age a strong interest in boxing. In fact, one of their earliest remembered presents was a pair of boxing gloves. Even while still toddlers, the twins were exposed to frequent boxing matches on television.
With money earned from selling newspapers in the morning and afternoon starting at the age of 12, John and Alex began collecting boxing films and from their father's extensive knowledge of the sport, he advised the twins what fights to purchase for their 8mm movie projector. Soon, the thrilling fights of Rocky Marciano, Joe Louis, Carmen Basilio, Jack Dempsey, Sugar Ray Robinson and other fistic greats flickered on their private silver screen, fueling their interest not only in boxing, but of the sport's colorful history.
At Jefferson Township High School John and Alex were sports stars at Jefferson Township High School, lettering in both football and track. In fact, Alex Rinaldi still holds the school's 400-meter relay record with three other teammates, Damian Purvis, Wayne Longo and Joe Iasilli. 
From high school through college, John and Alex covered boxing for such New Jersey newspapers as The Daily Advance, The West Milford Argus and The Daily Record, and later for national publications such as Sports Illustrated, Boxing Japan,  and The National.
Both twins went to college where they participated in collegiate boxing. Alex attended Rutgers University, where he won the school's Junior Welterweight Title in 1979. John first attended Montana State University, where he captured the school's Lightweight Championship in 1979. He then transferred to Florida Southern College and won the Lakewood Boxing Central Florida Championship in 1982.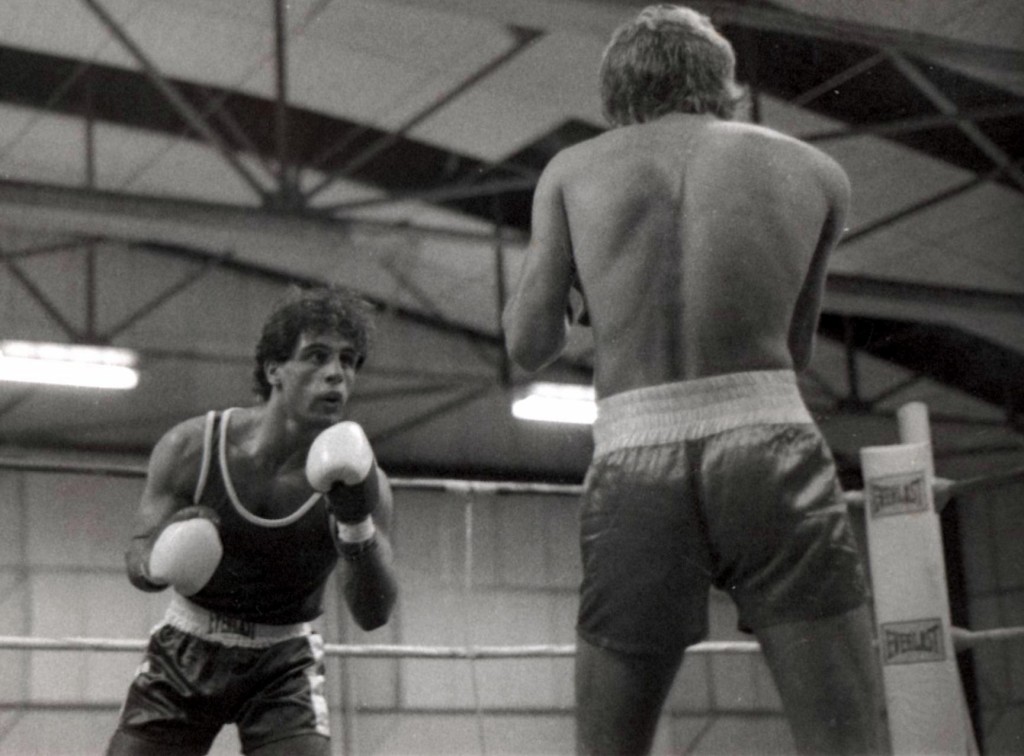 As a result of their vast boxing knowledge and interest, 1982, their father Joseph Rinaldi, along with John and Alex, formed The USA Boxing News, which began in Bridgeport, Connecticut, originally as a pamphlet, which was handed out at fight cards. Sadly, in 1983 their beloved father died, but the twins persevered on with the publication, eventually turning their modest pamphlet into a full-scale International Newspaper in 1989.
John and Alex were nicknamed "The Boxing Twins" by the legendary Roberto Duran during a dressing room interview after Duran knocked out Davey Moore at a sold-out Madison Square Garden to capture the WBA junior middleweight crown in 1983. From then on, Duran would always smile and say, "Boxing Twins" whenever he saw the two brothers.
With the Rinaldi Twins editing and publishing their publication, The USA Boxing News is now distributed in 48 states, 10 countries and in Armed Forces bases throughout the world. The USA Boxing News is the only publication that is circulated worldwide that originated from the states of Connecticut, Florida and New Jersey.
Besides its current edition, from 1990 to 2004, The Boxing Twins also simultaneously published a Spanish edition, known as Las Noticias de Boxeo USA.
Unlike many other publications, The USA Boxing News employs writers and photographers from every corner of the planet.
John and Alex have covered boxing events from all over the world in every continent, and have interviewed such fistic greats as Roberto Duran, Mike Tyson, Archie Moore, Sugar Ray Leonard, Marvelous Marvin Hagler, Billy Conn, Alexis Arguello, Oscar De La Hoya, Felix Trinidad, Bernard Hopkins, George Foreman, Roy Jones, Larry Holmes, Ike Williams, Joey Maxim, Carmen Basilio, Kid Gavilan, Manny Pacquiao, Floyd Mayweather, Vitali Klitschko, Thomas Hearns, Wladimir Klitschko, Lennox Lewis, Joe Frazier, Riddick Bowe, Muhammad Ali, and many others.
Before he filmed the popular Rocky Balboa film in 2006, the famed actor Sylvester Stallone was interviewed by the "The Boxing Twins" and personally discussed the proposed film with them.
Alex and John also served as members of the International Boxing Hall of Fame Board of Directors from 1990-2000. Alex later served as Vice-President, while John served as the Secretary for the IBHOF.
Besides their involvement in the International Boxing Hall of Fame as directors and officers, Alex Rinaldi was the IBHOF attorney, and handled all of their legal matters including the registrations of the museum's trademark and all of their complex licensing matters.
At each annual Induction Weekend at the International Boxing Hall of Fame from 1990 to 2000, the Rinaldi Twins interviewed many of the inductees and visiting champions on the museum grounds before thousands of fans. Another popular activity John and Alex took part in was hosting their annual Boxing Jeopardy Game, which was the most popular event of the Induction Weekend from 1995-2000.
John and Alex were also steady philanthropists to the International Boxing Hall of Fame where they donated various funds, merchandise, and exhibits to the museum. In addition to their support of the Hall of Fame, the Twins also supported Joe Frazier's Golden Gloves Program, which assisted disadvantaged youngsters in Philadelphia and in other urban areas, for over twenty years.
More importantly, The USA Boxing News was the first worldwide boxing publication to recognize the International Boxing Hall of Fame, and as a result of the tireless journalistic effort of John and Alex Rinaldi, the IBHOF eventually achieved worldwide status.
The twins have also served as members on the Board of The Primo Carnera Foundation and were invited guests at the 2001 Primo Carnera Festival at Sequals, Friuli-Venezia Giulia, Italy, which honored the legendary former heavyweight champion.
Since they were youngsters, John and Alex always held activities to raise funds for the Muscular Dystrophy Association (MDA) and continue to this day in their efforts with annual drives to raise money for the organization through The USA Boxing News.
On account of their philanthropic efforts, in 2005 John and Alex won the Superman of Metropolis Award and in 2006 they were bestowed with the coveted "George" Award, named after the legendary Superman actor George Reeves, at the annual Superman Celebration in Metropolis, Illinois, by the Metropolis Chamber of Commerce for Helping Make the World a Better Place.
John, who is also a member of the Writers Guild East, was honored by the World Boxing Organization (WBO) with a title belt for the WBO's Achievement Award – A Champion For The Sport of Boxing in 2009.
Besides writing, Alex is certified as Attorney and Counselor of Law to practice before the U.S. Supreme Court in Washington, D.C., as well as a licensed attorney in the states of New Jersey and New York. Alex is also a partner of the esteemed law firm of Salny, Redbord and Rinaldi, whose clients include former IBF light heavyweight and WBA cruiserweight champion Bobby Czyz.
It was a wonderful twist of fate, that the twins were elected into The New Jersey Boxing Hall of Fame in 2014 – the same year they celebrated their 25th Anniversary of The USA Boxing News as a newsstands publication.
Another proud moment for The Rinaldi family was when their brother and former staff writer of The USA Boxing News, Gerard C. Rinaldi, who was inducted posthumously into The Florida Boxing Hall of Fame in 2012. John and Alex were on hand to give an acceptance speech for their talented late brother during the 2012 Florida Boxing Hall of Fame Induction Weekend.