---

JANUARY 2018 ISSUE OF
 THE USA BOXING NEWS 
New Issue out on Newsstands NOW!!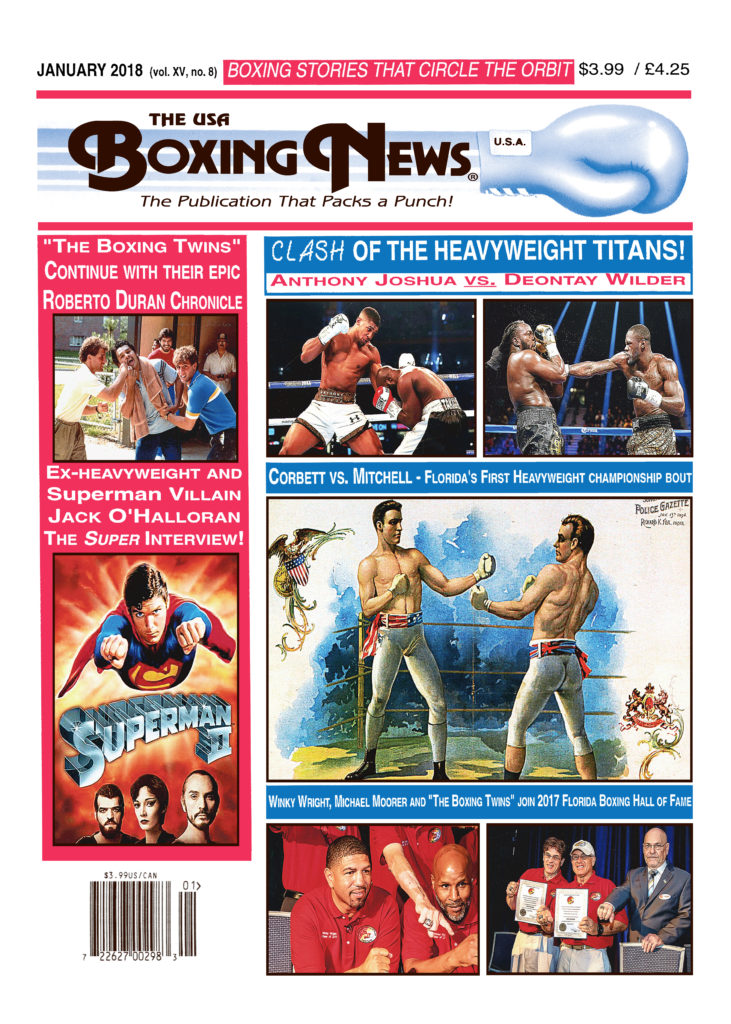 Currently on Newsstands throughout United States, Canada,  South America, Britain, Europe, Greece, Japan, China, Philippines, Australia, New Zealand, and on all of the United States Armed Forces Bases across the globe in June!
Look for it at a newsstand in your neighborhood today!!!
SOME OF THE TOPICS COVERED IN JANUARY 2018 ISSUE
JANUARY 2018 Issue
– Former heavyweight contender and Superman villain Jack O'Halloran talks in exciting detail about his his boxing career, about his friends like Steve McQueen and Robert Mitchum, and his dive into the movies.
– Exclusive Interview Series with the legendary Roberto "Hands of Stone" Duran as he talks about some of the most    famous fights of his career!

– Former heavyweight Champion Evander Holyfield salutes the Boys & Girls Clubs

 

– Abner wallops Andres Gutierrez to retain WBA Featherweight Title

– Heavyweight showdown between Deontay Wilder and Anthony Joshua looms large in the New Year!

–  Fight action in Connecticut by roving New England reporter Kirk Lang!

– Michael Moorer, Winky Wright, John David Jackson and "The Boxing Twins" lead the Florida Boxing Hall of Fame Class of 2017!
–  In honor to the great heavyweight champion James J. "Gentleman Jim" Corbett,  The USA Boxing News Time Tunnel is featuring James J. Corbett  taking on British champion Charley Mitchell in Florida.
– Fight Stories and Ring Action from around and across the Globe.
– The USA Boxing Newsreel featuring thrilling boxing news and fight gossip.
– The thrilling INSIDE RINGSIDE column by Frank Bartolini.
– The Movie Raging Bull and the death of Jake LaMotta
– Joe Catena's enthralling coverage of fights.
–  WBA super middleweight Champion George Groves KO's Jamie Cox in sensational slugfest!
– Per-Ake Persson's stirring coverage of European battles!
– Test your boxing knowledge and trivia and enjoy comics on the Puzzle and Comics Page.
– Kirk Lang's rip-roaring fight coverage.
– WBC heavyweight king Deontay Wilder proves to be the best heavyweight on the planet.
– Boxing action in Brooklyn, New York chronicled in all its colorful glory!

– Heavyweight Champion Anthony Joshua stops challenger Carlos Takam in 10

– "Iron" Mike  Tyson enters the ATM ring
– The Boxing Twins –

John and Alex Rinaldi

– give their colorful viewpoints and provide wild and wooly features!
– And more fight thrills inside to read!
Because of coverage like this 

THE USA BOXING NEWS

continues to be the only sports publication in the world that always 

PACKS A PUNCH!
__________________________
For those interested in purchasing the current issue directly, send a check for $4.99 (6£), which includes first-class postage and handling.

Ordering by Mail

The U.S.A. Boxing News

1358 Hooper Avenue

Suite 273

Toms River, NJ 08753

U.S.A.

Ordering by E-Mail

usaboxingnews@aol.com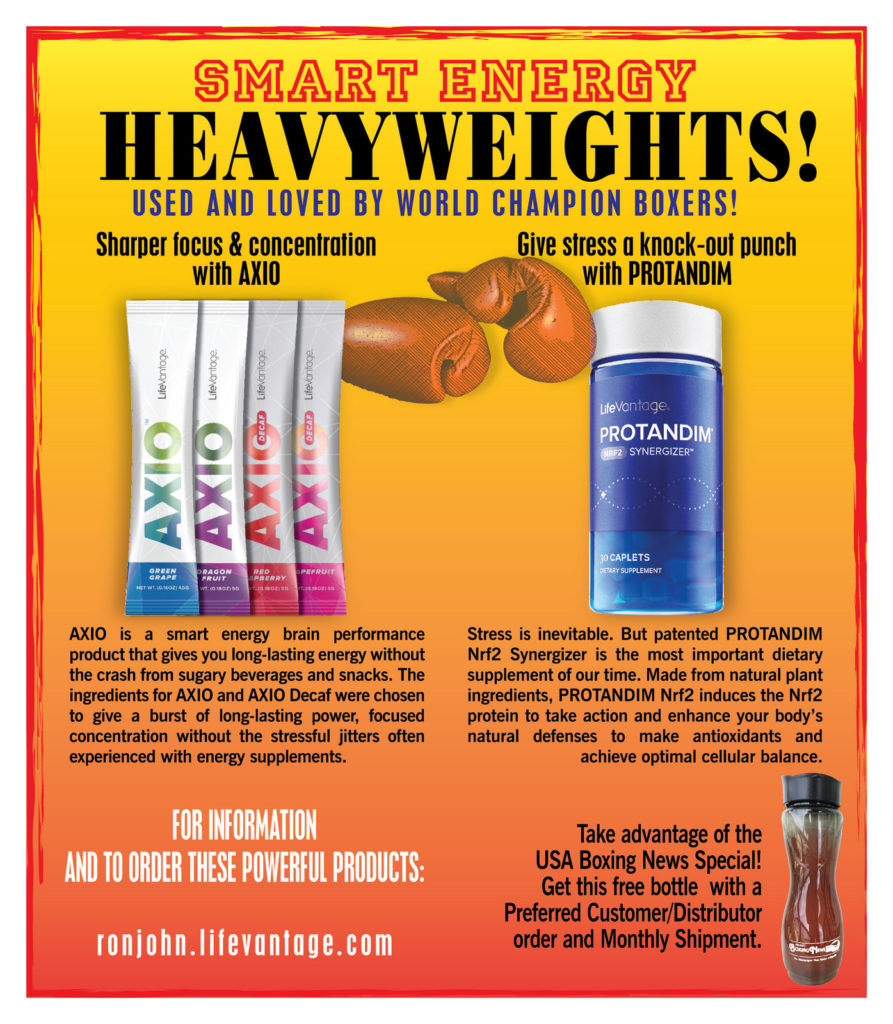 AXIO AND PROTANDIM ARE TAKEN BY CHAMPION MANNY PACQUIAO AND FORMER TWO-DIVISION CHAMPION BOBBY CZYZ ALONG WITH THE BOXING TWINS AND THE RESULTS HAVE BEEN PHENOMENAL!