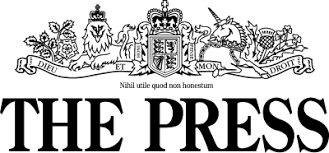 BOXING NEWS STORIES and
FOR IMMEDIATE RELEASE:
Hooker Stops Saucedo in 7
Retains 140-Pound Title 
Mean Machine KOs Roberto Arriaza in 3 in Welterweight Co-Feature
2016 U.S. Olympian Antonio Vargas fights for 1st title against Jesus Perez in Kissimmee, Florida
Maurice Hooker to defend WBO 140-pound title against Saucedo LIVE on Friday at Chesapeake Energy Arena in Oklahoma City
Midnight ET/9 p.m. PST on ESPN
Undercard action on ESPN+ at 6:30 p.m. ET
Hooker to defend WBO junior welterweight title against Saucedo
LIVE on Friday at Chesapeake Energy Arena in Oklahoma City and broadcast on ESPN at midnight ET
Undercard broadcast begins at 6:30 p.m. ET on ESPN+

Vasiliy Lomachenko  and Jose Pedraza ready to square off in New York City for the unified Lightweight title
By Tamera Delafave
On Saturday, December 8th, in the heart of the Christmas Season, all eleven floors at Macy's Department Store located at Herald Square in New York City, will be adorned with a variety of gifts, colorful tapestries, and bright decorations.  Merriment, shopping, and jolly good cheer will abound in the city as if capsulized in a holiday snow globe.
While this is going on, about a block away at the Hulu Theatre at Madison Square Garden, there will be no jollies, there will be no shopping, and there will be no presents. Instead, in its place will be volleys of swift jabs, right crosses, and left hooks, with the only good cheer coming from the enthusiastic crowd assembled to watch one of the biggest lightweight battles in years. For on this date, at this time, in the midst of thousands of toasts to one's good health, two of boxing best, Vasiliy Lomachenko and Jose Pedraza, will bravely engage in an anxiously awaited unification bout for the 135 pound title.    
Following the Heisman Trophy presentation on ESPN, the Top Rank fight card is all set to capture not only the preceding sports audience, but also the imagination and viewership of boxing fans around the globe.
Already a household name, Vasiliy Lomachenko (11-1, 9 KO's), who hails from the Ukraine, but now resides in Oxnard, California, is a former two-time Olympic gold medalist and three-time world boxing champion, who currently holds the WBA lightweight title. Although he will be squaring off against the tough WBO lightweight king Jose Pedraza, he, nevertheless, looks to expand his trophy cabinet by adding Pedraza's WBO belt to one of the shelves.
Pedraza, of Puerto Rico, He is far from an easy mark. Besides being the present WBO lightweight champ, he was also a former IBF junior lightweight champ, and sports an impressive ledger of 25-1 (12 KO's). Pedraza won the WBO title by decisioning Raymundo Beltran this past August where he knocked the champion Beltran down in the eleventh round to seal the deal.
As their records indicate, both fighters are knockout punchers who make no bones about the fact they each possess dynamite in their fists.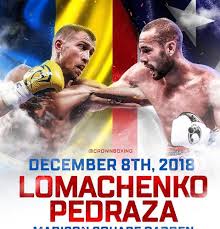 "I am ready to fight an excellent opponent like Jose Pedraza," said Lomachenko. My goal has always been to unify the titles, and Pedraza is standing in my way."
This bout also represents Lomachenko's fourth time fighting in either the big room in Madison Square Garden or at its Hulu Theatre. "There is something special about fighting in New York City and Madison Square Garden," revealed Lomachenko who is also arguably considered the most talented amateur boxing in history with a posted record of 396-1. "The fans in New York City are true boxing fans, and I can't wait to put on another spectacular performance for them."
With a reach advantage of 5 ½ inches, Pedraza is just as confident as Lomachenko is. "I am grateful to have this opportunity since I didn't get a chance to unify titles when I was champion in the junior lightweight division," said Pedraza. "In this division, I will achieve my goal, and I will do it against one of the best boxers in the world. There will be a surprise on December 8th."
The winner of this bout will have two of the four major boxing titles in the lightweight division, with Mikey Garcia holding the two other belts, namely the WBC and IBF titles. There has already been great interest in Lomachenko fighting Garcia, but first the Ukraine superstar has to first get past Pedraza who has no intention of leaving the bout a loser.
On the undercard will be WBO super-bantamweight champion Isaac Dogbane (20-0, 14 KO's) defending his crown and lightweight prospect Teatime Lopez (10-0, 8 KO's) going for his eleventh straight win.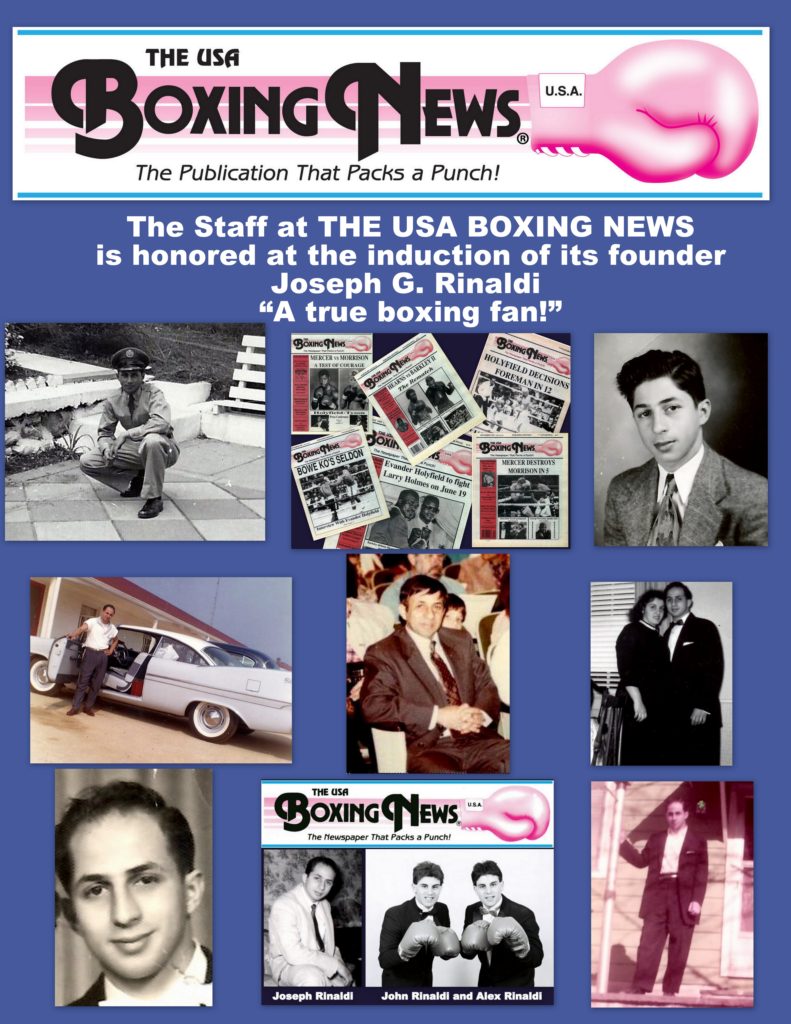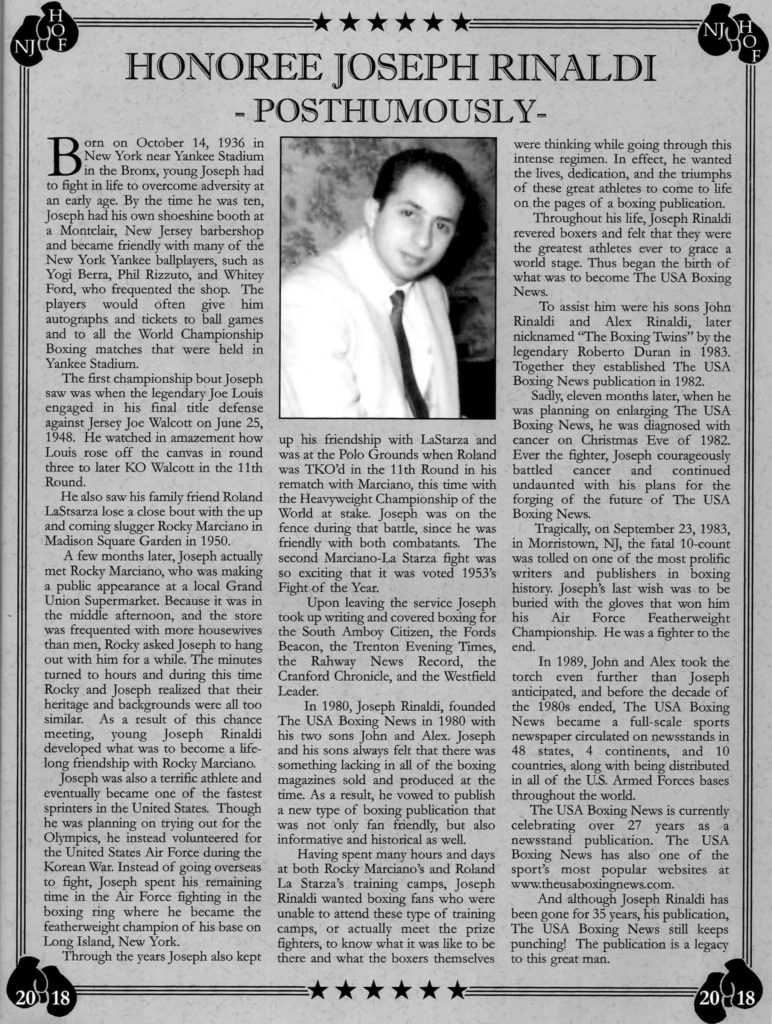 FOR IMMEDIATE RELEASE:

Return of 3-time world title challenger
Aleksandra Lopes
Headlines Granite Chin Promotion's
"Championship Boxing at The Armory"
 Nov. 21 at National Guard Armory in Dorchester, MA
QUINCY, Mass. (November 1, 2018) — The return of three-time world challenger Aleksandra Lopes will headline "Championship Boxing at The Armory," presented by Granite Chin Promotions (GCP), Thanksgiving Eve (Wednesday, Nov. 21), at the National Guard Armory (70 Victory Road) in Dorchester, Massachusetts.
Many of New England's most talented and popular boxers will be on the card, which will also feature a Massachusetts State title fight in Granite Chin Promotions' third and final show of 2018.
"We are excited to be running once again on Thanksgiving Eve," said GCP co-promoter Chris Traietti, who will also be fighting on this card. "Throughout the last few years, Granite Chin has been trying to make it a Thanksgiving tradition to bring local boxing to the area as a fun way to get people together."
The wildly popular Lopes (18-4-3, 1 KO), fighting out of Marshfield, MA, is a native of Poland.  She hasn't fought since last December due to injuries suffered in a car accident.  Lopes will face
Missouri welterweight Ashleigh Curry (7-11-4, 1 KO) in the six-round main event.
Former N.E. welterweight champion Derek "The Surgeon" Silveira (14-2, 7 KOs), fighting out of Salem, MA, takes on Mexican veteran Franciso "El Mono" Medel (12-15, 8 KOs) in the six-round co-featured event.
Iraq-War veteran Traietti (26-5, 21 KOs), of Quincy, MA, will not have his N.E. cruiserweight title on the line in a six-round bout versus upset-minded Sam "The Russian Concussion" Horowitz (6-3-2, 5 KOs), of Chicago.
Claremont, NH favorite Ricky Ford (3-1-1, 1 KO) will meet Saul Almeida, of Woburn, in a four-round middleweight match.
Travis Demko (8-1, 1 KO), of Stoughton, MA, takes on Brazilian Carlos Gallindo, fighting out of Woburn, MA, in a six-round match for the vacant Massachusetts State Welterweight Championship.
World Boxing Council (WBC) Latino cruiserweight champion Vinnie "American Dream" Carita (18-1-1, 17 KOs), a court officer in Brockton, MA and Pembroke, MA resident, squares off with 61-fight veteran Steve "The Spoiler" Walker, the former Mid-West middleweight titlist, in an eight-rounder.
Gloucester, MA super middleweight prospect Henry Gedney (1-0), a winner at the 2017 Rocky Marciano Tournament, is scheduled to fight Francisco Neto (1-0), of Woburn, in a four-round bout to open the show.
Providence middleweight Anthony Concepcion (1-0, 1 KOs), trained by newly crowned World Boxing Organization (WBO) World middleweight champion Demetrious "Boo Boo" Andrade, tests himself against former Pacific Coast lightweight champion Roberto "El Viejo" Valenzuela in the four-round opener.
All fights and fighters are subject to change.
Tickets, priced at $60.00 ringside and $40.00 standing room, are available to purchase on line at
https://eur04.safelinks.protection.outlook.com/?url=WWW.TICKETRIVER.COM&data=02%7C01%7C%7C8eadd0515808469a4cdc08d63606ecc5%7C84df9e7fe9f640afb435aaaaaaaaaaaa%7C1%7C0%7C636755800699338618&sdata=iDQvM%2FOsaWTYc1IDC3t%2B%2Fu9EtMbj8Egv1vbhT2YYqU4%3D&reserved=0.
Doors open at 6 p.m. ET with the first bout scheduled at 6:30 p.m. ET.
 INFORMATION:  
Facebook.com/GraniteChin
Since May 2017, the numbers on the 22-show FIGHTNIGHT LIVE series have showed promise and potential for the new platform with an average of 136,405 views per event and more than 3.0 million total views for the franchise. Since Sept. 2018, Season II shows have averaged 315,000 views.
The Sept. 2018 "Kings Boxing Tuesday Night Fights" (594,447) from the Sands in Bethlehem, the Oct. 2018 "Hard Hitting Philly Special" (297,545), the Oct. 2018 hour-long Bareknuckle "Freeview" (292,253), the Sept. 2017 "Real Deal Promotions: Empire State" from Resorts World Casino (225,000), the August 2017 CES "Super Saturday" from Foxwoods (203,000), the Oct. 2018 CES "Super Saturday" from Foxwoods (196,656), the Sept. 2018 "Card Fit For Kings" from Philadelphia (195,620), the Sept. 2017 CES "Twin River Twinbill" from Lincoln, R.I. (157,000) and the March 17, 2018, Murphy's "St. Patrick's Day Clash" (151,253) all logged 150,000 or more views, and collectively the 22-show series has seen a total of 3,000,915 views across all devices.
In addition to the raw viewership numbers, the fully-interactive, fan-friendly productions have seen more than 266,000 collective live post engagements (more than 12,000 per show), including more than 198,000 "likes" or "loves," more than 40,000 comments and more than 13,000 shares.
The Sept. 2018 "Kings Boxing Tuesday Night Fights" from the Sands in Bethlehem set a new bar with 594,447 views and the Sept. 2017 DiBella-CES doubleheader carried the series to three-quarters-of-a-million views in just over four months. The Sept. 2017 DiBella card saw more than 40,000 viewer interactions including almost 39,000 "likes" or "loves" and the March 17, 2018, Murphy's "St. Patrick's Day Clash" set a new high-water mark for shares with 2,182.
The FIGHTNIGHT LIVE page on Facebook has more than 83,000 fans and more than 88,000 followers.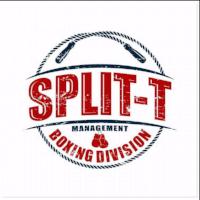 By Kirk Lang
Mohegan Sun – Uncasville, CT – Bouncing back from an 11-month layoff after breaking his jaw in a loss to Sullivan Barrera, Joe Smith Jr. got back in the win column with a first-round knockout of Melvin "The Romantic Redneck" Russell on June 30, 2018.
A union laborer with Local 66 on Long Island when he's not stepping into the ring for prize money, Smith dropped Russell twice before referee Steve Willis ended matters at the 1:45 mark.
Smith, 179, of Mastic, NY, initially came out patient in the opening stanza, pawing with the jab. However, when Russell, 177, of Ashland, Kentucky, dared to respond to handful of Smith power punches with a few of his own, Smith seemed to take offense and stepped up the aggression. He worked Russell into a corner and after a few jabs followed up with a beautiful right uppercut. A follow-up right hand and left hook sent Russell to the canvas – on his knees – a minute into the round.
Russell beat the count and then grabbed Smith as Smith closed in on him while throwing a left hook. However, "The Irish Bomber" wouldn't be stopped. He threw multiple rights to the body while his left arm was being held by Russell. Soon after, Russell had Smith in a full-fledged arm bar. Willis had to break the fighters and not long after, Russell found himself in danger again. Beginning an attack with a few jabs, and a nondescript right hand thrown in the mix, Smith then landed a perfect right uppercut to Russell's temple that sent the 39-year-old crashing to the canvas near a corner. Russell managed to get to his knees but then fell forward, signaling Willis to call a halt to the slaughter. Smith, 28, raised his record to 24-2 (20 knockouts). Russell, who has now lost four of his last five bouts, fell to 11-5-2 (7 knockouts).
"At first I wasn't sure if I was going to come back or not, cause of the jaw injury," said Smith. "For the second time I broke it. But I started missing it a lot, so here we are. I'm back."
He added, "I want to fight a champion. That's what I'm looking for, a world title."
In the night's co-feature, rising New England prospect "Action" Anthony Laureano, 138 ¼, of East Hartford, CT, took a six-round unanimous decision over Juan de la Cruz Rodriguez, 139 ½, of Haymarket, VA by scores of 60-54 and 59-55 twice.
Laureano did everything right, paying attention to the body as much as the head, displayed great combination punching and was the aggressor all night long. However, he found in de la Cruz Rodriguez a young man who refused to submit, a young man who refused to visit the canvas even once. The best Laureano could do was give de la Cruz Rodriguez a bloody nose halfway through the second round.
Laureano impressed with his overall skill, showing signs that he's one to watch for the future. But de la Cruz Rodriguez, who entered his bout with Laureano with more losses than wins, showed that records can be deceiving. If he was supposed to be an easy mark, he wasn't. He made Laureano work for his paycheck. He took so many solid punches it was a wonder how he stayed on his feet all night long, and he never backed away from Laureano, not even in the sixth and final round.
With a little less than two minutes to go in the fight, Laureano sent de la Cruz Rodriguez' mouthpiece with an overhand right. Laureano dominated from start to finish, but de la Cruz Rodriguez was right there in the mix with him all the way.
Laureano upped his record to 8-0 (3 knockouts) while de la Cruz Rodriguez fell to 8-10-1 (6 knockouts).
In other action, heavyweight Cassius Chaney, 246, of New London, CT, registered a first-round stoppage of Elder Hernandez, 250, of Morelia, Mexico after dropping him twice.
A jab-right hand combination created the first knockdown soon after the opening bell. After Hernandez beat the count, he came at Chaney with a mixed attack. Chaney responded with an assault to the head that forced Hernandez to backpedal a couple of steps. It wouldn't be long before Chaney connected with a hook to the body that resulted in Hernandez dropping to a knee. Chaney, looking frustrated when it was clear Hernandez was going to stay down, said "What? C'mon!" as he gestured for his opponent to get up and fight on.
But he would not get his wish. Referee Steve Willis called a halt to the action at the 2:47 mark. Chaney improved to 13-0 (7 knockouts) while Hernandez fell to 5-3 (3 knockouts).
''MANDATORY''
STEVENSON vs. GVOZDYK
WBC Light Heavyweight World Championship
December 1 at Vidéotron Centre in Quebec City
TICKETS ON SALE FRIDAY
MONTREAL (September 25, 2018) – Fans of boxing, prepare your agenda:  World Boxing Council (WBC) and lineal light heavyweight world title fight between the champion Adonis "Superman" Stevenson (29-1-1, 24 KOs) and the mandatory challenger, Oleksandr "The Nail" Gvozdyk (15-0-0, 12 KOs), will be held December 1 at Videotron Center in Quebec City.
Tickets will be in presale Wednesday and Thursday and general admission go on sale this Friday at Gestev.com.
International Boxing Federation (IBF) super welterweight mandatory challenger Marie-Eve Dicaire (13-0-0, 0 KOs), North American Boxing Federation (NABF) heavyweight champion Oscar Rivas (24-0-0, 17 KOs), WBC International welterweight Mikael Zewski (31-1-0, 22 KOs) and fan-favorite Sébastien Bouchard (16-1-0, 6 KOs) will also take part in this gala event.
Tickets, starting at $50.50, taxes and service fees included, will be on sale at Gestev.com and Ticketmaster.ca, as well as at the Champions Boxing Club (514-376-0980), GYM (514-383-0666) or by calling 1-855-790-1245.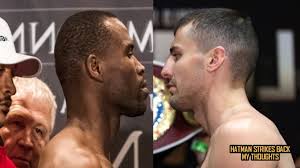 The "Mandatory" event will be broadcast in the United States on a major network and in Canada on pay-per-view via Indigo, Bell TV and Shaw TV. More details will be given Oct. 9 during a press conference in Quebec City, attended by all the participants of this exciting boxing card.
"We are very excited to be returning to the Videotron Center for this fifth Superman world championship defense in Quebec City, more than anyone else in the history of boxing," GYM President Yvon Michel said. "The challenger is talented and seasoned. The danger is present, but the belt will remain with Quebecers! The challenge is colossal, but the show will be solid and the evening fantastic, an appointment not to be missed,"
"The clash between Adonis Stevenson and Oleksandr Govdzyk will be the third world championship fight in the young history of the Videotron Center and the second for champion Adonis Stevenson," added Martin Tremblay, Chief Operating Officer of Quebecor Sports and Entertainment Group.  "Fans from all over Quebec will appreciate the quality of this gala. The Videotron Center occupies an important place in combat sports with its sixth event in 2018,"
"I am very proud to be back in Quebec City for this mandatory title defense and offer the opportunity to American viewers and on the international scene to rediscover the beauties of Quebec City as well as the hospitality and the Latin passion of the Quebec boxing fans," Stevenson commented.  "I know many believe December would be the end of my reign against this young undefeated Olympic medalist. The message I am prepared to send with this fight is: I am still the No. 1 light heavyweight and I still have several chapters to add to my journey as world champion. December 1st at the Videotron Center is a personal invitation to Quebec fans. You will not be let down, I will win by KO!."
"I am one of the best boxers in the light heavyweight division and the time has come for me to prove it to the rest of you," Gyozdyk insisted. "The WBC gave me this opportunity and I am thankful for it. Adonis has been in this position too long. My time is now!"
"Oleksandr has been waiting for this opportunity for a very long time," Gvozdyk noted. "He respects Adonis Stevenson as a fighter, but make no mistake, his time is now. 'The Nail' is going to leave Canada as the new WBC light heavyweight champion."
"The WBC championship bout between Stevenson and Gvozdyk will be among the best fights of the year, proclaimed Top Rank CEO Bob Arum. "It's a must-see for all boxing fans."
ADONIS ''SUPERMAN'' STEVENSON
 Recognized as one of the most powerful punchers, pound-for-pound, in the boxing world, Stevenson will attempt to successfully defend his title for the 10th time on December 1st.
In his last outing on May 19 at the Air Canada Center in Toronto, he fought a draw with former WBA light heavyweight and WBC super middleweight world champion, Badou Jack, in a spectacular fight, while Floyd Mayweather Jr watched from ringside.
World champion since his violent knockout over the American Chad Dawson in 2013, "Superman" will try to hammer his mandatory aspirant nicknamed, at the Videotron Center.
OLEKSANDR ''THE NAIL'' GVOZDYK
 Bronze medalist at the London Olympics, Ukrainian-born Gvozdyk moved to Oxnard, California, to begin his professional career in 2014. He has marched forward ever since, racking up 15 wins in 15 bouts, 12 by knockout.
During his last appearance in the ring on March 17 at Madison Square Garden in New York, he defeated Frenchman Mehdi Amar by unanimous decision to become Stevenson's mandatory challenger, winning the interim light heavyweight WBC title along the way.
Teammates of Vasyl Lomachenko and Oleksandr Usyk, Gvozdyk is a talented and dangerous boxer, as evidenced by his victories by referee stoppage over Yunieski Gonzalez, Isaac Chilemba and Tommy Karpency. In addition, he is now trained by the legendary American trainer and commentator Teddy Atlas.
 : @groupeyvonmichel
 : @yvonmichelGYM
 #GroupeYM
#StevensonGvozdyk
#Mandatory
ABOUT GROUPE YVON MICHEL (GYM)
Promoter of Champions
Groupe Yvon Michel (GYM) was founded in 2004 by Yvon Michel and his associates. The organization's mission is the development of top level boxers through support to management and especially by direction in competition. In order to achieve its objectives, GYM is active in talent recruitment and event organization, developing major partnerships with Videotron, TVA Sports, Loto-Québec, Mise-O-Jeu, Montreal and Lac Leamy Casinos, RNC Media and the 91.9 Sports, & CO, Imprimerie Bel and Centre Dentaire Lapointe, Rival in addition to cooperating closely with Rixa Promotions. The entire GYM team is actively working with the GYM Foundation Inc. GYM President Yvon Michel was inducted into the Boxing Canada Hall of Fame in April 2017. GYM currently has 3 world champions in its ranks: light heavyweights Adonis Stevenson (WBC), Eleider Alvarez (WBO) and Artur Beterbiev (IBF).
Philadelphia, PA (September 27, 2018) – This past Tuesday night, one of the most thrilling fights in recent memory, Anthony Mercado and Victor Vazquez waged an eight-round war for the ages that saw Mercado overcome a horrible cut over his right eye, a knockdown, and multiple instances where the fight could have been stopped to persevere and somehow comeback to win the fight. 
The bout, for which some at ringside were saying it was the best fight in Pennsylvania, headlined a nine-bout card at The Sands Bethlehem Event Center and was promoted by King's Promotions.
The show was streamed live to a record audience of over 500,000 views on Facebook Fightnight Live.  The show can be seen on-demand by CLICKING HERE
Mercado was cut badly over his right in round two from an accidental headbutt.  In round three, Mercado landed a hard flurry on the ropes that forced Vazquez into the ropes, and referee Gary Rosato ruled that ropes kept Vazquez from being knocked down and administered an eight-count.  Vazquez fought back in round four and landed a couple of booming left hooks that rocked Mercado.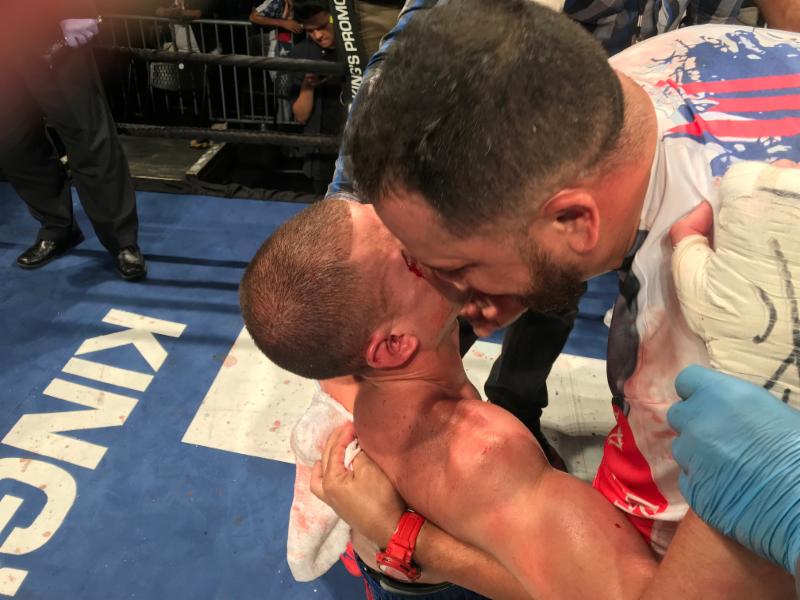 The continued to trade heavy shots at will, which led to some brutal exchanges with each guy landing some vicious power punches.  In round six, Vazquez landed some booming shots that had Mercado in trouble for much of the round,  One such flurry had Mercado seemingly a punch or two a way from getting stopped.  At the end of the round, Vazquez landed a flush left hook to the jaw that put Mercado plummeting to the canvas.  Mercado got up just as the bell rang, and he stumbled to the corner.  Vazquez went in for the finish in round seven, but Mercado, with blood now covering the whole right side of his face, was able to stabilize himself and work his way back into the fight.  Mercado made it all the way back, and was able to box his way to win the decisive eighth round.
Mercado, 140.8 lbs of Puerto Rico won by scores of 77-74 and 76-75 twice to raise his mark to 12-5.  Vazquez, 137.9 lbs of Yonkers, New York fought a great fight, but now falls to 10-5.
"I just thought of my dad.  I thought the fight was close to being stopped.  It was not easy, he is a good boxer.  I did not feel the cut.  I will have to talk to my team, but money talks for a rematch," said Mercado
Vazquez said,"It could of went any way.  He is a good opponent.  He is tough.  We both have power.  We both came ready for the fighter.  Today we are both winners."
In the co-feature, Raeese Aleem stopped Alcides Santiago at the end of round five of their scheduled six-round super bantamweight bout.
Aleem beat Santiago down, and scored a knockdown in round five.
Aleem, 121.9 lbs of Las Vegas, was making his first start under new trainer and former world champion Bones Adams, is now 12-0 with six knockouts.  Santiago, 122.6 lbs of Arecibo, PR is 6-3.
Joe Hanks stopped Terrance Marbra at 2:54 of round one of their six-round heavyweight bout.
Hanks scored one knockdown before the fight was halted.
Hanks, 253 lbs of Newark, NJ is 23-2 with 15 knockouts.  Marbra, 220 lbs of Saint Petersburg, FL is 9-7.
Erik Spring took a six-round unanimous decision over James Robinson in a rematch of junior middleweights.
Spring sealed up the fight with a knockdown late in round six, and came home home with the win by scores of 59-54 twice, and 58-55.
Spring, 153.3 lbs of Reading, PA is now 11-2-2.  Robinson, 152.9 lbs of York, PA is 5-12-5.
Colby Madison remained undefeated with a six-round unanimous decision over Nicoy Clarke in a heavyweight bout.
Clarke fought most of the bout with a cut over his left eye that was caused by a punch.
Madison, 241 lbs of Owings Mills, MD won by scores of 60-54 twice and 59-55, and is now 7-0-2.  Clarke, 211.5 lbs of Jersey City, NJ is 2-2.
Good looking prospect Money Powell IV won a six-round unanimous decision over Josue Obando in a middleweight contest.
Powell, 163.1 lbs of Fort Mitchell, AL won by scores of 60-54 twice, and 59-55 to go to 8-0.  Obando, 165 lbs of Jalisco, MEX is 16-23-1.
Michael Coffie scored four knockdowns en-roue to a 2nd round stoppage over Curtis Head in a scheduled six-round heavyweight bout.
Coffie registered the knockdowns evenly as he put Head on the canvas twice in each round, and the bout was stopped at 1:57.
Coffie, 270.5 lbs of Brooklyn, NY is 4-0 with three knockouts.  Head, 257 lbs of Southfield, MI is 4-3.
Martino Jules thrilled his hometown fans by dropping Felix Sosa in round's one and three, which paved the way for a four round unanimous decision in a contest featuring undefeated featherweights.
Jules, 124.5 lbs of nearby Allentown, PA won by tallies of 40-34 on all cards, and is now 5-0.  Sosa, 124.1 lbs of Jersey City, NJ is 1-1.
Kenny Robles dropped Corey Gulley in round two, and finished him at 2:13 of round three from a wicked flurry of punches in a junior welterweight fight scheduled for six-rounds.
Robles, 138.2 lbs of Staten Island, NY is now 4-1 with two knockouts.  Gulley, 140.6 lbs of Killeen, TX is 2-3-2.
KING'S PROMOTIONS RETURNS TO SUGARHOUSE CASINO ON FRIDAY, NOVEMBER 9TH.  THAT SHOW WILL FOLLOWED UP BY KING'S PROMOTIONS RETURN TO THE SANDS BETHLEHEM EVENT CENTER ON TUESDAY, NOVEMBER 13TH,  DETAILS ON BOTH SHOWS WILL BE ANNOUNCED SHORTLY
Philadelphia, PA (September 17, 2018) -Surging super middleweight Brandon Robinson won his 11th straight bout as he took out Ernest Amuzu in round three of their scheduled eight-round bout that headlined a nine-bout card this past Friday night at the 2300 Arena in Philadelphia.
The spectacular show was promoted by King's Promoted and was streamed live all over the world on Facebook Fight Night Live.  -Note–The show can be viewed by clicking here.
Robinson of Upper Darby, PA bided his time until in round three, when he landed a nice body shot that drove Amuzu into the corner.  That set up a furious flurry by Robinson.  Robinson rocked Amuzu several times until he was defenseless, and the bout was stopped at 2:04.
Robinson is now 11-1 with eight stoppages.  Amuzu of Prichard, Alabama is 24-4.
"It was a good fight.  Ernest Amuzu came to fight, and he was a worthy opponent. We work hard in the gym and the reward is even better," said Robinson.  "The finish came from a jab, and then I touched the body a couple of times.  We started to wear him out, and that was that.  A knockout is always great.  I want to fight Derrick Webster for the number-five spot in the IBF.  It is nothing personal just business.  I know that I can beat him."
In the exciting co-feature, Terrel Williams registered three knockdowns en-route to a ten-round unanimous decision over David Grayton in a welterweight contest.
Williams scored a knockdown in round one from a perfectly placed right hand. A round later, it was another straight right that put the southpaw Grayton the canvas.  Garyton began to mount a comeback in the middle rounds as he tried to will himself back into the fight.
In round six, Williams gained back the momentum as yet another right hand sent Grayton down.  That knockdown seemed to actually fuel Grayton as he did his best work over the next few rounds.  Williams came back to have a good round ten and came home home with the victory by scores of 98-90, 98-89 and 97-92.
Williams of Los Angeles, California is now 17-0.  Grayton of Washington. D.C. is 15-3-1.
Three-time Olympian, Anvar Yunusov was impressive as he dropped Angel Monreal twice in round one, and got the stoppage win at 2:39 of that opening frame,
Yunusov scored both of those knockdowns with hard left hands, with the finishing blow being a left that sent Monreal plummeting to the deck.
Yunusov of Tajikistan who now resides in Philadelphia is 5-0 with two knockouts.  Monreal of Monterrey, Mexico is 10-11-1.
Alejandro Jimenez won a four-round unanimous decision over Jerrod Miner in a bantamweight bout.
Jimenez of New Hope, PA won by scores of 40-36 on all cards, and is now 3-0.  Miner of Philadelphia is 1-2-1.
Keeshawn Williams won a four-round unanimous decision over Farhad Fatulla in a welterweight contest.
Williams was the quicker and more skilled fighter, who flashed a piston jab that cut the left eye of Fatulla.  Williams won by 40-36 scores on all cards.
Williams of Washington, D.C. is 3-0-1.  Fatulla of Salt Lake City, Utah is 1-2.
Daiyann Butt remained undefeated by winning a four-round unanimous decision over Anthony Smith in a junior welterweight fight.
Butt of Philadelphia won by scores of 40-36 on all cards, and is now 2-0.  Smith of Fresno, California is 1-3.
Yueri Andujar made an impressive pro debut by taking out previously undefeated Crystian Peguero in the 3rd round of their scheduled four-round featherweight bout.
Andujar used his height to land wicked combinations that hurt Peguero throughout the contest.
The fight culminated in round three when Andujar landed a booming uppercut that rocked Peguero.  With Peguero hurt, Andujar landed three more crushing shots, and the bout was stopped at 2:06.
Andujar of Reading, PA is 1-0 with one knockout.  Peguero of Philadelphia is 2-1.
James Bernadin made a successful pro debut with a 3rd round stoppage over Christopher Burgos in a super featherweight battle.
In round two, Burgos began to bleed under his left eye.  In round three, Bernadin landed a right-left combination that was followed by a booming right to the head that dropped Burgos.  Burgos got to his feet, but wobbled and the fight was stopped at 2:19.
Bernadin of Lancaster, PA is 1-0 with one knockout.  Burgos of Philadelphia is 1-3-1.
Shyngyskhan Tazhibay remained perfect by winning a four-round unanimous decision over Justin Johnson in a welterweight bout.
Tazhibay of Washington, D.C. won by scores of 40-36 and 39-37 twice, and is now 7-0.  Johnson of Pittsburgh, took the fight on one day notice is 6-18-6.
KING'S PROMOTIONS WILL BE BACK ON TUESDAY, SEPTEMBER 25TH AT THE SANDS BETHLEHEM EVENT CENTER WITH ANTHONY MERCARDO TAKING ON VICTOR VAZQUEZ IN THE MAIN EVENT.  UNDEFEATED STEPHEN FULTON WILL ALSO SEE ACTION ON THE NINE-BOUT CARD 
FIGHTNIGHT LIVE scores knockout partnership with Everlast – The Choice of Champions – for 24 Events In 2018-19
Fan-friendly, interactive FREE series with more than 1.6 million fans served now "Powered by Everlast."
Online: https://www.facebook.com/FaceFIGHTNIGHTLIVE/
NEW YORK (Sept. 19, 2018) – After opening Season II last Friday with nearly 200,000 views to bring its series viewership above 1.6 million, FIGHTNIGHT LIVE today announced a 24-show partnership with Everlast: The Choice of Champions and the preeminent brand in boxing since 1910.
Under the agreement, Everlast becomes the title sponsor of "FIGHTNIGHT LIVE, Powered by Everlast" for all shows during the 2018-19 season and enjoys benefits such as: Broadcast Billboards; "Tale of the Tape" and "Matchup" graphics during the live shows; sponsored interviews; in-venue ring announcer acknowledgements before each fight; between-show social media integration, and much more.
"We are delighted that Everlast – a brand synonymous with boxing – sees value in what FIGHTNIGHT LIVE has accomplished since May of 2017. We've had 18 shows originating from New York, Atlantic City, Philadelphia, Boston and New England, Phoenix and America's Heartland, where more than 300 up-and-coming fighters and eleven different promotions gained an incredible amount of exposure via this exciting, truly social platform. To be able to have several events with more than 150,000 or 200,000 views only scratches the surface, and with Everlast's partnership, we are truly ready to take FIGHTNIGHT LIVE to the next level here in Season II," said Mark Fratto, Principal and Director of Business Development, Linacre Media.
"We are proud to partner with FIGHTNIGHT LIVE. At Everlast we have always believed in supporting people and ideas that break the mold and blaze new trails and FIGHTNIGHT LIVE is doing just that," said Chris Zoller, Vice President of Marketing and Product Development at Everlast. We're seeing a shift in how fight sports content is being consumed. Highly engaging content and experiences delivered via emerging channels is the heart of our brand strategy. FNL is the perfect combination of high-quality fight sports content and accessibility."
Now in its second season, FIGHTNIGHT LIVE is the fan-friendly series that – among other aspects – prides itself on the real-time conversations held between fight commentators and the viewing audience. FIGHTNIGHT LIVE has showcased more than 300 fighters during 18 live event broadcasts since May 2017, and in doing so, the interactive platform has generated the loyal interest of fight fans from across the United States and around the globe, including significant audiences in Mexico, the United Kingdom and other parts of Europe, and even fans in South America, Asia and Australia.  
Now at more than 1.6 million views for the series, FIGHTNIGHT LIVE has continued to deliver impressive numbers throughout its first 18 shows:
Since May 2017, the numbers on the 18-show FIGHTNIGHT LIVE series showed promise and potential for the new platform with an average of 90,001 views per event and more than 1.6 million total views.
The Sept. 2017 "Real Deal Promotions: Empire State" from Resorts World Casino (225,000), the August 2017 CES "Super Saturday" from Foxwoods (203,000), the Sept. 2018 "Card Fit For Kings" from Philadelphia (195,620), the Sept. 2017 CES "Twin River Twinbill" from Lincoln, R.I. (157,000) and the March 17, 2018, Murphy's "St. Patrick's Day Clash" (151,253) all logged 150,000 or more views, and collectively the 18-show series has seen a total of 1,620,014 views across all devices.
In addition to the raw viewership numbers, the fully-interactive, fan-friendly productions have seen more than 183,000 collective live post engagements (more than 10,100 per show), including more than 124,000 "likes" or "loves," more than 31,000 comments and more than 10,000 shares.
The Sept. 2017 "Real Deal Promotions: Empire State" set a new bar with 224,658 views and the Sept. 2017 DiBella-CES doubleheader carried the series to three-quarters-of-a-million views in just over four months. The Sept. 2017 DiBella card saw more than 40,000 viewer interactions including almost 39,000 "likes" or "loves" and the March 17, 2018, Murphy's "St. Patrick's Day Clash" set a new high-water mark for shares with 2,182.
The FIGHTNIGHT LIVE page on Facebook has more than 83,000 followers.
Created and produced by Linacre Media out of New York City, the FIGHTNIGHT LIVE series features professional announcers, multiple camera angles, television graphics, replays and behind-the-scenes access and interviews. The streamed shows are available globally wherever Facebook is available. The initiative not only enables fans from around the world to tune in, but also gives up-and-coming fighters a global platform to showcase their abilities, gives promoters an accessible "broadcast" solution and gives sponsors the ability to reach a mass audience via branded content.
More FIGHTNIGHT LIVE Fall 2018 dates will be officially announced in the coming weeks.
FIGHTNIGHT LIVE is available online at: https://www.facebook.com/FaceFIGHTNIGHTLIVE/
 Follow all the action via social media at FaceFIGHTNIGHTLIVE on Facebook, @FaceFIGHTNIGHTLIVE on Instagram and @FIGHTNIGHTLIVE_ on Twitter, or by using the hashtag #FIGHTNIGHTLIVE. For the latest Linacre Media events and broadcast schedule, follow @LinacreMedia across all social platforms or use the tags #LinacreMediaEvents or #LinacreMediaOnTV.
About Everlast Worldwide Inc.
The preeminent brand in boxing since 1910, Everlast is the world's leading manufacturer, marketer and licensor of boxing, MMA and fitness equipment. From legendary champions Jack Dempsey and Sugar Ray Robinson to current superstars Deontay Wilder and Dustin Poirier, Everlast is the brand of choice for generations of world champion professional athletes. Built on a brand heritage of strength, dedication, individuality and authenticity, Everlast is a necessary part of the lives of countless champions. Based in Manhattan, Everlast's products are sold across more than 75 countries and 6 continents. For more information, visit www.everlast.com.
SHOWTIME SPORTS® RELEASES CONTROVERSIAL THOMAS MATTICE vs. ZHORA HAMAZARYAN FULL-LENGTH FIGHT IN ADVANCE OF REMATCH FRIDAY, SEPTEMBER 28 ON SHOBOX: THE NEW GENERATION  Immediate Rematch Set For Co-Feature Of Tripleheader Featuring Devin Haney vs. Juan Carlos Burgos From Pechanga Resort Casino In Temecula, Calif.     
Photo Credit: Rosie Cohe/SHOWTIME
Watch, Share or Embed Mattice vs. Hamazaryan: https://s.sho.com/2OhsH9G
WHAT: Fans can relive the controversial first fight between lightweight contenders Thomas Mattice and Zhora Hamazaryan, available now in its entirety on SHOWTIME Boxing YouTube channel ahead of the rematch September 28 in the second of back-to-back Fridays of ShoBox: The New Generation action.
In one of the most widely disputed fights of 2018, Mattice (13-0, 10 KOs) kept his undefeated record intact when he overcame a knockdown in the second round to escape with the eight-round split-decision victory over the previously undefeated Hamazaryan (9-1, 6 KOs). Two judges scored the fight 76-75 in favor of Mattice with the third judge scoring it 77-74 in favor of Hamazaryan.
Less than three months after judges in Iowa awarded Mattice what Hall of Fame analyst Steve Farhood called "the worst decision I've ever seen in the history of ShoBox", Mattice and Hamazaryan will face off in the co-feature of the ShoBox telecast from Pechanga Resort Casino in Temecula, Calif.
Hamazaryan, who recently returned stateside after an extended stay to be with family and train in his native Armenia, is looking forward to his opportunity to exact revenge. 
"I respect Thomas Mattice," said Hamazaryan, who is currently training with John Pullman and Buddy McGirt. "He fought a good fight last time, but everyone knows I won the fight and he does too. I respect that I got a rematch and we can settle this once and for all.
"My gameplan is to do the same thing I did last time, but just more pressure and aggression. Because of what happened last time, I can't leave it up to judges. I must get the knockout. If I don't, then the same thing will happen again and I will get robbed. I can't have that."
Mattice, who has watched the July fight multiple times, is hoping to prove that his decision  win was no fluke.
"It was important to me to get this rematch so that I can display to the fans the kind of fighter I am and show that I deserved to win the first fight. I'm looking to continue my rise and show the world that I'm the real deal.
"We're just trying to work on the mistakes we made in the first fight. He may try to do things differently this time, but we'll adjust and be ready come fight night. It was a controversial decision but I have to remember that at the end of the day I'm a fighter and not a judge. I just have to go out there and fight my fight, and things will be taken care of."
The September 28 ShoBox is headlined by top undefeated lightweight prospect Devin Haney (19-0, 13 KOs) facing three-time world title challenger Juan Carlos Burgos (33-2-2, 21 KOs). The opener will see two undefeated middleweight prospects meet as Cem Kilic (11-0, 7 KOs) and Donnie Marshall (9-0, 6 KOs) face off in the ninth matchup of undefeated prospects of 2018 on ShoBox: The New Generation. The previous Friday, Jon Fernandez (16-0-0, 14 KOs), one of the top prospects in boxing and Sergio Martinez protégé, will face O'Shaquie Foster (13-2, 8 KOs) in the main event of a ShoBox telecast from Firelake Arena in Shawnee, Okla.
For more information visit www.sho.com/sportsfollow on Twitter @ShowtimeBoxing, @SHOSports, #ShoBox, or become a fan on Facebook at www.Facebook.com/SHOSports.
About ShoBox: The New Generation
Since its inception in July 2001, the critically acclaimed SHOWTIME boxing series, ShoBox: The New Generation has featured young talent matched tough. The ShoBox philosophy is to televise exciting, crowd-pleasing and competitive matches while providing a proving ground for willing prospects determined to fight for a world title. Some of the growing list of the 77 fighters who have appeared on ShoBox and advanced    to garner world titles includes: Errol Spence Jr., Andre Ward, Deontay Wilder, Erislandy Lara, Shawn Porter, Gary Russell Jr., Lamont Peterson, Guillermo Rigondeaux, Nonito Donaire, Devon Alexander, Carl Froch, Robert Guerrero, Timothy Bradley, Jessie Vargas, Juan Manuel Lopez, Chad Dawson, Paulie Malignaggi, Ricky Hatton, Kelly Pavlik, Paul Williams and more. 
For regular updates on our fighters, events, and promotions, please check Banner Promotions Facebook Page , and follow us on Instagram and Twitter @BannerBoxing 
PABLO CESAR CANO DEFEATS RUSLAN MADIEV IN MAIN EVENT 
OF GOLDEN BOY GOLDEN BOY BOXING ON ESPN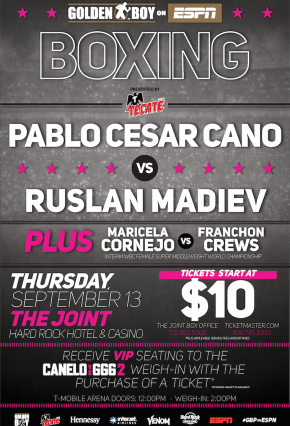 FRANCHON CREWS-DEZURN CAPTURES WBC SUPER MIDDLEWEIGHT TITLE WITH VICTORY AGAINST MARICELA CORNEJOP
Las Vegas (Sept. 13, 2018): Mexican warrior Pablo "El Demoledor" Cesar Cano (31-7-1, 21 KOs) defeated Kazakhstani boxer Ruslan Madiev (12-1, 5 KOs) via fifth-round technical decision in the scheduled 10-round main event of the Sept. 13 edition of Golden Boy Boxing on ESPN at The Joint at the Hard Rock Hotel & Casino, Las Vegas. After a vicious head-butt worsened nasty cut on the left side of Cano's forehead, the fight was stopped at the end of the fifth round. Cano was awarded the technical decision victory with three scores of 49-46.
"I felt comfortable in there before the cut," said Pablo Cesar Cano. "We worked hard. It was a good thing that he came out and threw a lot of punches because I took advantage of it. If he wants the rematch, he can get it any time."
 
"I feel very well," said Ruslan Madiev. "I wanted to take it slow in the first few rounds and then start to apply more pressure. It was an unfortunate head-butt." 
 
Franchon Crews-Dezurn (4-1, 1 KO) of Baltimore, Maryland captured the WBC Super Middleweight Title by scoring a dominant 10-round unanimous decision win against Maricela Cornejo (12-3, 5 KOs) in tonight's main event. 
"This is for my mom," said Franchon Crews. "This is the first time, but I know her will and determination wasn' stronger than mine. There were some rough areas in there, but it's a learning curve and we did 
Bilal Akkawy (18-0-1, 14 KOs) of Sydney, Australia scored an eight-round unanimous decision victory against Cristian Olivas (16-3, 13 KOs) of Tijuana, Mexico in an eight-round light heavyweight fight. Akkawy won with three scores of 80-71.
 
"I feel good. This was my first fight in the United States," said Bilal Akkawy. "It's an honor to fight with Golden Boy Promotions. I really had to stop and enjoy the moment. I could have worked on a few things, but there are no excuses. He was tough. Next time you will see a better Bilal."
 
Francisco Esparza (8-0-1, 3 KOs) of Las Vegas, Nevada defeated Dihul Olguin (13-11-3, 9 KOs) of Guadalajara, Mexico via unanimous decision in the first bout of the evening, which was held in the super featherweight division. Esparza won with scores of two scores of 80-72 and 79-73.
 
"I feel good. I did what I had to do to win," said Francisco Esparza."He was a tough opponent. I learned to keep my distance. Next time, maybe I'll pressure a little more. His fight was on the inside, so I threw long punches."
 
Cano vs. Madiev was a 10-round super lightweight fight presented by Golden Boy Promotions in association with 360 Promotions. The event was sponsored by Tecate, "THE OFFICIAL BEER OF BOXING" and Hennessy, "Never Stop, Never Settle." The fights took place on Thursday, Sept. 13, 2018 at The Joint at the Hard Rock Hotel & Casino, Las Vegas.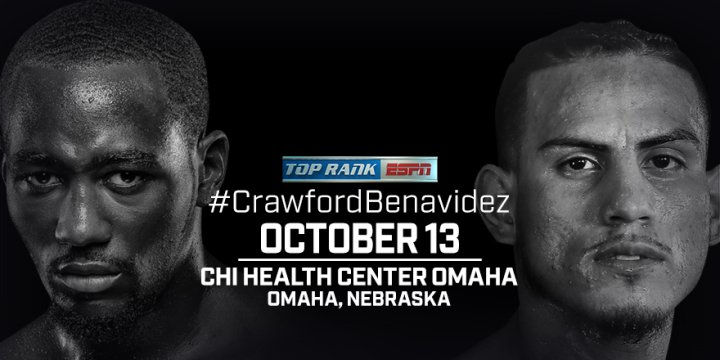 Terence Crawford to defend WBO title at the CHI Health Center Omaha in Omaha, Nebraska
Tickets go on sale Tuesday, Sept. 11 at 10 a.m. CST

d
OMAHA, Neb. (Sept. 10, 2018) – Terence "Bud" Crawford will return to the scene of many of his greatest professional triumphs intent on stopping a man who has repeatedly lobbied for a fight. Crawford will make the first defense of his WBO welterweight world title against Jose Benavidez Jr. on Saturday, Oct. 13 at the CHI Health Center Omaha (formerly the CenturyLink Center). Crawford-Benavidez will air live and exclusively on ESPN and ESPN Deportes at 10:30 p.m. ET with undercards streaming live in the United States at 7 p.m. ET on ESPN+ – the new multi-sport, direct-to-consumer subscription streaming service from The Walt Disney Company's Direct-to-Consumer & International segment in conjunction with ESPN.It was Benavidez who challenged Crawford in Corpus Christi, Texas, this past February, accusing him of ducking a potential showdown. Crawford invited Benavidez to "step outside" before cooler heads prevailed. They will settle the score in front of a raucous crowd who will be cheering on their hometown hero.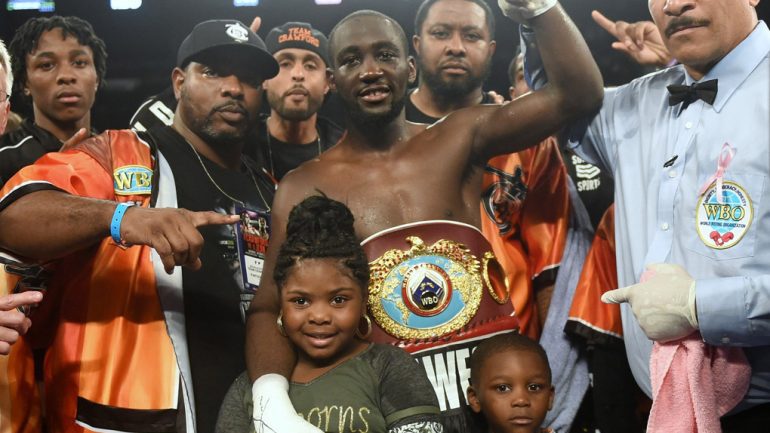 ESPN's coverage of the event starts Friday, Oct. 12 with a live telecast of the Top Rank on ESPN Crawford vs. Benavidez Jr. Weigh-In.  Lineup (ET):
5:00-6:00 p.m., ESPN+ (LIVE, entire card)

5:30-6:00 p.m., ESPN2 (LIVE, Main and Co-Main Events)

9:00 p.m.-9:30 p.m.; 1:30 a.m.-2:00 a.m., ESPNEWS (repeat)
Promoted by Top Rank, tickets to this world championship event go on sale Tuesday, Sept. 11 at 10 a.m. CST. Priced at $178, $103, $63, and $38, not including applicable fees, tickets can be purchased at the CHI Health Center Omaha box office, all Ticketmaster outlets, by phone at 800-745-3000, or online at ticketmaster.com.
"The Crawford-Benavidez fight is an old-time grudge match. These are two elite fighters who don't care for each other, to put it mildly," said Bob Arum, Top Rank's founder and CEO. "They will battle each other at a fever pitch. I can't wait to watch the action."
"This fight is the fight he has been calling for, and now he will get the chance to see what it's like to be in the ring with a real champion," Crawford said. I'll happily give him his first L."
"I've been wanting this fight for three years. I know I have what it takes to beat him, and I am going to beat him," Benavidez said. "Crawford has been running his mouth and saying I'm a nobody. I'm going to take full advantage of this opportunity."
Crawford (33-0, 24 KOs) is a three-division world champion, a pound-for-pound elite who was recently named "Fighter of the Year" at the 2018 ESPY Awards. In his first bout of 2018, June 9 at the MGM Grand Garden Arena in Las Vegas, he defeated defending WBO welterweight champion Jeff Horn via ninth-round TKO. Crawford did not miss a beat against Horn despite a nearly 10-month layoff due to a hand injury. Prior to dominating Horn, Crawford became only the third fighter of the four-belt era to unify all the belts when he knocked out fellow unified 140-pound champion Julius Indongo in the third round. Crawford has drawn a total of 44,360 fans in four bouts at the CHI Health Center Omaha, including nearly 11,000 when he knocked down Yuriorkis Gamboa four times en route to a ninth-round TKO to retain the WBO lightweight title in one of the best fights of 2014. Five months after the Gamboa win, Crawford cruised to a wide unanimous decision against Ray Beltran, who went on to win that title more than three years later. In his most recent CHI Health Center Omaha appearance, Dec. 10, 2016 against John Molina Jr., 11,270 fans packed the building as Crawford battered Molina before stopping him in the eighth round. Crawford is 11-0 with eight knockouts in world title bouts and is ranked by many boxing experts as the world's best fighter.
Benavidez (27-0, 18 KOs), a former WBA interim super lightweight champion, turned pro in 2010 following a standout amateur career that included a 2009 National Golden Gloves gold medal at 141 pounds. His road to this career-defining fight has been anything but smooth, as he was shot multiple times in an August 2016 incident in his hometown of Phoenix. After a nearly 18-month layoff, Benavidez returned on Feb. 3, 2018 in Corpus Christi with an eighth-round TKO against Matthew Strode. It was before the weigh-in for the Strode bout that Benavidez confronted Crawford. Benavidez last fought on the Crawford vs. Horn undercard, knocking out the previously undefeated Frank Rojas at 1:23 of the opening round.
For more information visit: www.toprank.com, www.espn.com/boxing; Facebook: facebook.com/trboxing,facebook.com/trboxeo, facebook.com/espndeportes; Twitter: twitter.com/trboxing, twitter.com/trboxeo, @ESPN @ESPNBoxeo, @ESPNDeportes. Use the hashtag #CrawfordBenavidez to join the conversation on social media.
To subscribe to ESPN+, visit plus.espn.com.
About ESPN+
ESPN+ is the premium multi-sport, direct-to-consumer subscription streaming service from The Walt Disney Company's Direct-to-Consumer & International (DTCI) segment in conjunction with ESPN.  ESPN+ offers fans two exclusive, original boxing programs The Boxing Beat with Dan Rafael (Tuesdays, weekly) and In This Corner (twice monthly).  In addition to exclusive Top Rank boxing content, programming on ESPN+ includes hundreds of MLB, NHL and MLS games, thousands of college sports events (including football, basketball and multiple other sports from more than 15 conferences), UFC (beginning in 2019), Grand Slam tennis, international and domestic rugby, cricket, new and exclusive documentary films and series, acclaimed studio shows and the full library of ESPN's award-winning 30 for 30 films. Fans subscribe to ESPN+ for just $4.99 a month (or $49.99 per year) and cancel at any time. 
PHILADELPHIA, Penn. /ORANGE, Calif. (Sept. 10, 2018) –  Michael Dutchover (10-0, 7 KOs), a fast rising talent in the junior lightweight division, headlines a prospect rich card on Friday, Sept. 21, from the Doubletree Hotel in Ontario, Calif. 
Scott Burt Brings Belfast to Bare Knuckle Boxing World in Big Way
BILOXI, MISSISSIPPI – Bare Knuckle Boxing Hall of Fame President Scott R. Burt put his Belfast, New York, landmark squarely in the World's limelight last weekend as he was center stage of the Mississippi Coastal Coliseum's Main Event to present Australia's Rowdy Bec Rawlings with the coveted Police Gazette's Diamond Belt.  Burt was named the sole caretaker of America's Oldest Most-Sought After belt in 2016.  "This is the first time the belt has been ringside in 129 years" stated Burt "It was last won the squared circle by the Great John L. Sullivan in 1889 in Richburg, Mississippi, in the most famous bareknuckle fight of its era; a fight Sports Illustrated recently called "The Outlaw Brawl That Started It All."  Sullivan, who trained in William Muldoon's barns here in Belfast for this fight, now owned by Burt, won that 1889 fight in 2 hours 16 minutes outside in 104 degrees weather.  The fight lasted 75 rounds and saw then Champion Jake Kilrain not able to come out for round 76.  Both fighters were arrested afterwards because bareknuckling was illegal then.
VICTORY BOXING PROMOTIONS INKS NATIONAL GOLDEN GLOVES CHAMPION KIANTE IRVING
LEASE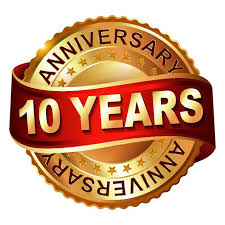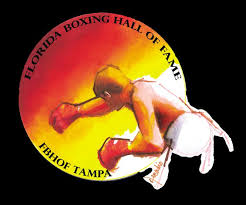 Story and Photos by John and Alex Rinaldi
"No person was ever honored for what he received. Honor has been the reward for what he gave." – Calvin Coolidge
No better quote explains the inductees every year into the Florida Boxing Hall of Fame. This year was the FHBOF's 10th year anniversary, and, as usual, they inducted a group of worthy individuals.
The inductees in the FIGHTER group were: Christy Martin, Bobby Cassidy, Steven Frank, Derrick Gainer, Mark Lanton, Lemuel Nelson, Johnny Williams and Cornelius Boza-Edwards.
The inductees in the TRAINER/MANAGER group were: Patrick Burns and Jorge Rubio.
The inductees in the PROMOTER group was Joe Scheafer.
The inductees in the MEDIA group were Edwin Pope, Rene Giraldo and Tom Archdeacon.
The inductees in the PARTICPANT group were Don Kahn, Murray Gaby and Johnny Torres.
Rounding out the 2018 inductees were those in the OFFICIAL/COMMISSION group that included Don Balas, Bernard Soto and Rocky Young.
The weekend was held from June 22-24 at the Westshore Grand Hotel in Tampa, Florida.
The Florida Boxing Hall of Fame Weekend Celebration offers a lot of fun and activities for boxing fans. Besides being able to get up close and personal with each inductees for photos and autographs, there was plenty for boxing aficionados to enjoy. On Friday night beginning at 7:30 there was a thrilling night of amateur boxing. Saturday at 10 AM opened up with fist castings with the inductees, memorabilia for sale and display, signings, autographs and wonderful Florida Boxing Hall of Fame items to purchase.
Saturday also featured 2009 FBHOF inductee Brian Garry conducting an interesting Referee & Judge Seminar at 10 AM, 2014 inductee and historian Don Cogswell hosting "Barroom Banter and the Real Deal" at 1:30, and FBHOF Board of Directors member Steven Canton hosting "The ABC's of Boxing is ABD (always be different)" at 2:30.
After the Saturday afternoon festivities were completed. Most ventured back to their rooms or the hotel pool until the evening, which was when the Saturday Night Banquet took place with guest speaker Steve Yerrid.
On Sunday the morning began at 8:30 with the Breakfast of Champions buffet breakfast and wrapped up at 11 AM with the Formal Induction Ceremony. Afterwards, everyone on hand was treated with an incredible Florida Boxing Hall of Fame cake and coffee donated by Alessi Bakery to enjoy.
The Mission Statement of the Florida Boxing Hall of Fame is: To honor former boxers and those who have contributed to boxing, in accordance with the Rules and Regulations as set forth herein. To encourage the membership to be of service to God and benevolent to others. To promote the sport of boxing. To assist within its means ill or disabled veteran boxers who are in need or their families. To further the general welfare of the youth of the community with a special emphasis on those whose social and economic conditions indicate need for assistance. To cooperate with all authorities and agencies in the prevention of juvenile delinquency. To establish a permanent Boxing Hall of Fame museum in Tampa, Florida. The Florida Boxing Hall of Fame is a public Charity.
Besides honoring fighters and those connected with boxing, the FBHOF provides scholarships (The Don Hazelton Scholarship) and promotes a "Knockout Illiteracy" Campaign which encourages reading to children.
Credit must be given to Walter "Butch" Flansburg, who is the President of the Florida Boxing Hall of Fame and the work of his tireless wife Kathy Flansburg. Others who work with the FBHOF are Hall of Fame announcer Bob Alexander (Media/Public Relations), John Daddono (Fund-raising) and Dr. Mel Jurado (Corporate Governance).
"After being here for ten years, this is a milestone for the Florida Boxing Hall of Fame. It is amazing. We got some great people here that wanted to help us and get things together," stated Butch Flansburg.
It takes a herculean effort to run the Florida Boxing Hall of Fame with all the philanthropy and boxing work. The FBHOF is currently undergoing plans for a museum building and has been on display at the Tampa Bay History Center.
The induction ceremony is an enjoying program with the excellent Bob Alexander handling the Master of Ceremonies duties. Alexander is already a member of the FBHOF (Class of 2010) and is such a marvelous announcer that his descriptions of each inductee can bring tears to one's eyes. Alexander weaves a colorful story of each inductee that gives the audience and insight into their careers. Bob is the best in the business.
Each inductee is presented with a wonderful FBHOF ring and a certificate by Butch Flansburg.
Highlighted are some of the inductees of the 2018 Class into the Florida Boxing Hall of Fame.
Christy Martin was the lone female inductee in 2018. Due to her gutsy boxing skill and walloping punches, along with the exposure provided by the legendary promoter Don King, Christy single handedly pushed female boxing into respectability among boxing fans. Thanks to Don King, Christy, of Bluefield, West Virginia, whose father worked in the coal mines, was nicknamed "The Coal Miner's Daughter" in reference to the classic Loretta Lynn country song.
Martin began her career in Bristol, Tennessee on September 9, 1989 and went 19-1-1 (14 KO's) before Don King began placing her on the undercard of his championship fight shows. Christy's biggest exposure to fans began when King had Martin fighting on the bills featuring the popular headliner Mike Tyson. She TKO'd Erica Schmidlin at the Cores States Spectrum in Philadelphia, PA, on the night when Tyson defeated Buster Mathis, Jr. on December 16, 1995.
From 1996-1997, Martin fought on the undercard of four huge Mike Tyson fights at the MGM Grand Arena in Las Vegas, NV, including his win over Frank Bruno (Christy decisioned Deirdre Gogarty – March 16, 1996), Mike's win over Bruce Seldon (Christy KO'd Melinda Robinson – September 7, 1996), Tyson's shocking loss to Evander Holyfield (Christy TKO'd Bethany Payne – November 9, 1996), and in Tyson's ear-biting loss to Holyfield in their infamous rematch (Christy TKO'd Andrea DeShong – June 28, 1997).
On August 23, 1997, Christy made her debut at the fabled Madison Square Garden on the undercard featuring headliners Felix Trinidad, Ricardo Lopez, William Joppy and Wilfredo Vazquez. Christy outpointed Isra Girgrah before a packed house.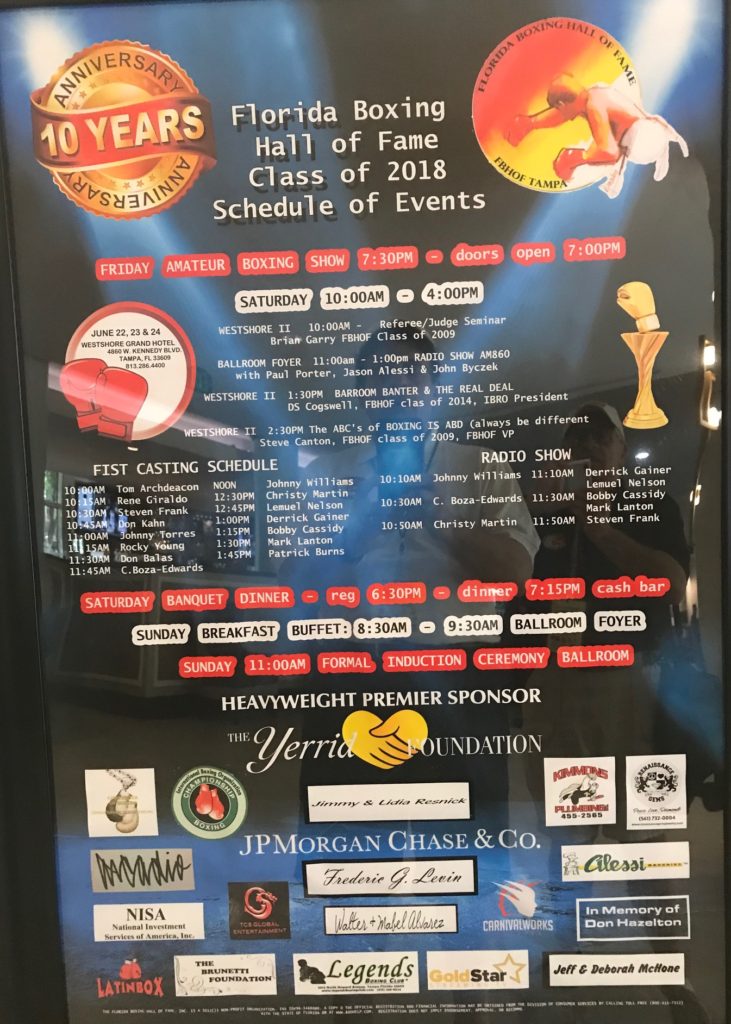 Christy kept on fighting on the undercards of championship fights, plus headlined some shows of her own. Her biggest fight was her victory over Mia St. John, another popular female boxer at the time, in the main event at the Silverdome in Pontiac, MI, on December 6, 2002.
The win over St. John launched Christy into a female superfight against Laila Ali for the IBA World Female Super Middleweight Title at the Mississippi Coast Coliseum in Biloxi, MS, in her next fight on August 23, 2003. Ali, the daughter of the immortal Muhammad Ali, 162, was naturally bigger than Christy, 35, who though weighed in at 159 for the fight, usually fought as a welterweight. The bigger and younger Ali, 25, jumped on Martin right from the start and battered away with both fists. In the third, Christy was dropped to her knees and in Round 4 she was sent again to the canvas and counted out at the 0:28 mark.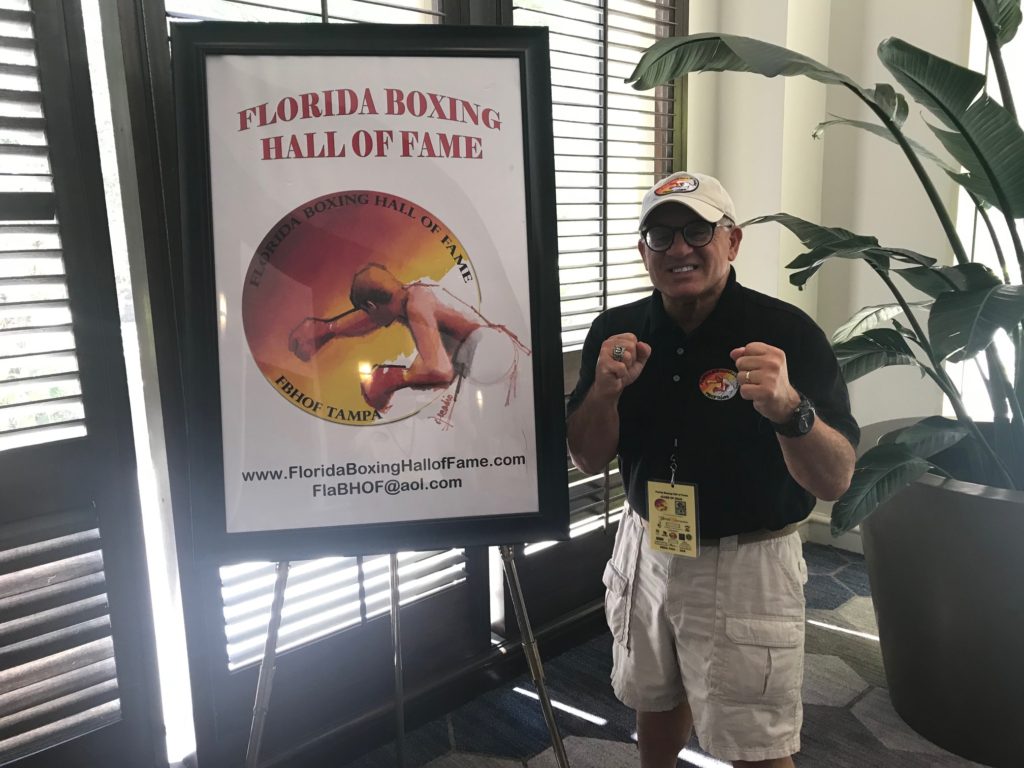 "I usually box, but I had to jump on her," said Ali. "I'm definitely stronger than her. Christy is tough, she's definitely tough. She cracked me, but she didn't hurt me."
The loss over Ali, plus her advancing age had taken its toll as she went 3-3-1 in her next seven fights. Christy managed to capture lightning in a bottle when she captured a majority win over Dakota Stone for the vacant WBC World Female Super Welterweight Championship at the Mohegan Sun Grandstand in Syracuse, NY, on September 2, 2009.
Christy lost her next two fights before retiring in 2012 with an impressive 49-7 (31 KO's) record. She currently runs Christy Martin Promotions, where she promotes boxing shows in North Carolina.
"This is a great honor to be inducted into the Florida Boxing Hall of Fame. After 23 years in boxing, for somebody to take notice, is great," said Martin. "My love of boxing has never wavered, which is why I am promoting boxing events in North Carolina and hope to also promote soon in Florida. Thank you to Don King for giving me the chance to fight on his big shows, especially those with Mike Tyson. I have to applaud Mike for not saying, 'I don't want a woman to fight on my undercard.' He embraced it and we still keep in touch to this day."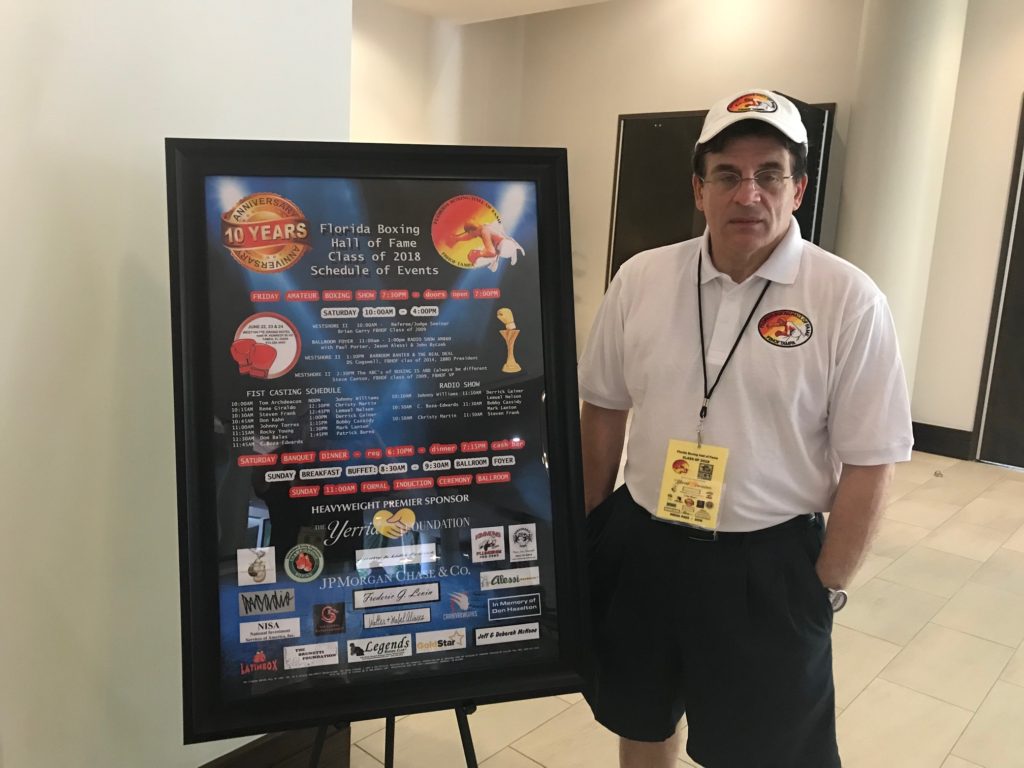 Johnny "The Ghetto Blaster" Williams was born in Bradenton, Florida on January 30, 1970. Johnny was a sports star in High School playing baseball, basketball, track and football. He has three cousins that made it all the way to the NFL, where they won six Super Bowl rings between them! With all his high school sports, Johnny also managed to earn a black belt in Tae Kwan Do. In 1989 Williams took up boxing and won the 1989 Sunshine State Games in the 165-pound Novice Class, and later the Florida State Sunshine Games in the 165-pound Open Class.
After only three amateur fights, Williams decided to join the pro ranks on July 30, 1992 and defeated Anthony Salerno at the Hyatt Regency in Tampa, Florida.
From then on, Williams became one of the top middleweights of the era and he TKO'd Donnie Herring on April 29, 1994 to capture the USA Florida State Middleweight Title.
He finally earned a shot at the WBO middleweight championship on June 28, 1997 against the talented and undefeated champion Lonnie Bradley at the MGM Grand in Las Vegas, NV. Bradley, 160, was making the 6th defense of his laurels and was a dangerous champion. Although Williams, 159 ½, put up a good showing, he just could not handle the jolting blows of Bradley and was TKO'd at 0:45 of Round 8.
That was Williams' only shot at world title honors and he eventually retired in 2001 with a respectable 20-7 (12 KO's) record.
Johnny later became a USA certified coach and is currently helping kids get off the streets and into the gym.
"We have no future without the kids," said Williams. "The kids, if we do not raise them right and respectable, there is no future. What I do in boxing is about the kids and to show them how to be a man. Getting an education, choose boxing, or if you don't choose boxing, just choose something else and be the best. I wear boxing on my sleeve. I want to thank the Florida Boxing Hall of Fame and everyone for this moment."
Cornelius Boza-Edwards was a terrific fighter who fought regularly on network television and always provided fans with a thrilling fight no matter if he won or lost. Boza-Edwards was born on May 27, 1956 in Kampala, Uganda and made his way to the United Kingdom in 1976 and KO'd Barry Price in his first fight at the Hilton Hotel in Mayfair, London on December 13, 1976.
Cornelius eventually settled into residency in Las Vegas, Nevada.
Over the next four years, Boza-Edwards went 27-1 before he faced the reigning WBC super featherweight champion Alexis Arguello in a non-title fight at Resorts International Hotel and Casino's Superstar Theatre in Atlantic City on August 9, 1980. Arguello was considered one of the most powerful and dangerous punchers in the sport at the time and Cornelius gave the great fighter all he could handle before succumbing to the powerful blows of Arguello in the eighth round of the scheduled 10-rounder.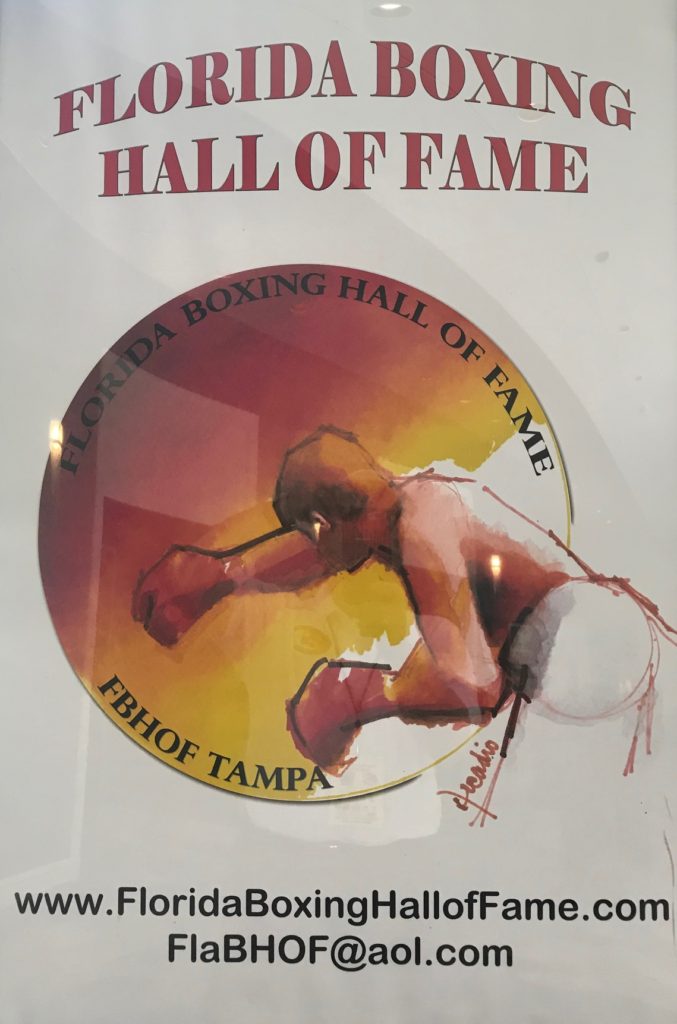 Although he lost, Boza-Edwards' stock rose and after two wins he was matched with the WBC World Super Featherweight Champion Rafael "Bazooka" Limon at the Civic Auditorium in Stockton, CA, on March 8, 1981. On national TV, the viewing audience were treated to an exciting scrap as Boza-Edwards captured the title with a 15-round unanimous decision.
In his first defense of his laurels, Cornelius took on the talented former champion Bobby "Schoolboy" Chacon on May 30, 1981 at the Showboat Hotel and Casino in Las Vegas, NV. Once again on network television, boxing shone brightly and the two sluggers traded leather at a torrid pace before Boza-Edwards stopped Chacon in the 13th round.
The strain of two straight wars had their effect on Boza-Edwards and he was KO'd in his next fight against the power punching Rolando Navarrete at the Stadio de Pini, in Viareggio, Toscana, Italy on August 29, 1981.
Boza-Edwards won his next seven fights, beating contenders such as Juan Alvarez (TKO-3), Arturo Leon (TKO-4), Carlos Hernandez (TKO-4 for the EBU Super Featherweight Title), Johnny Verderosa (TKO-3), Roberto Elizondo (W-10), Blaine Dickson (W-10) and Pedro Laza (TKO-9), before facing Bobby Chacon on May 15, 1983 at the Caesars Palace Sports Pavilion in Las Vegas, NV.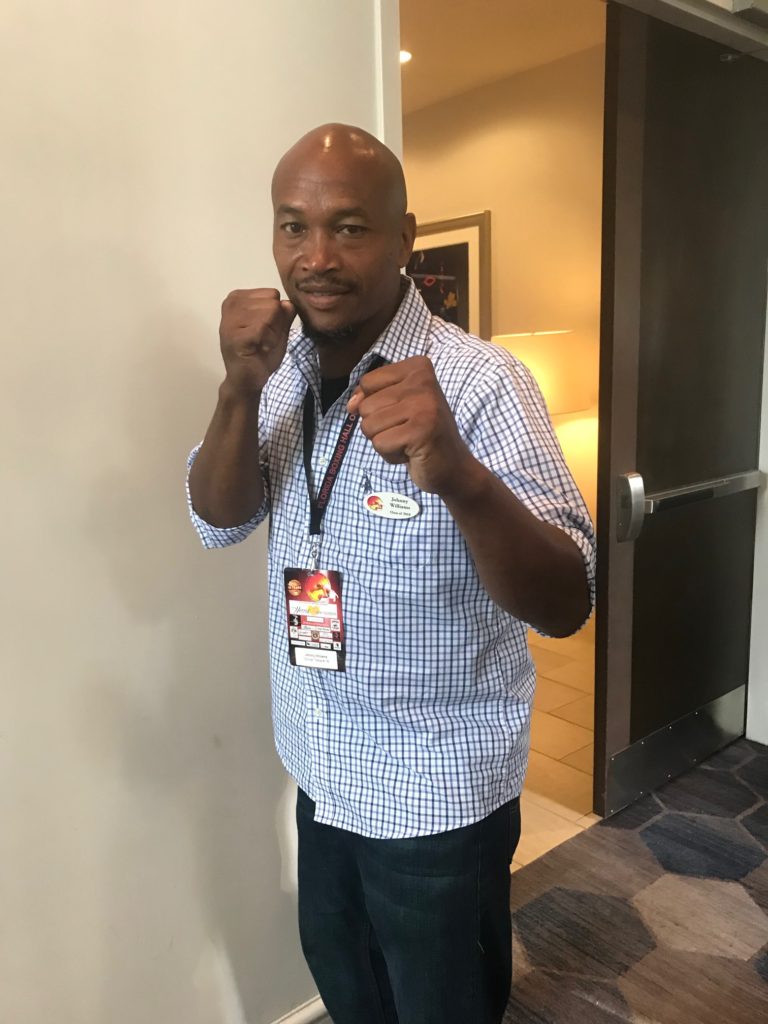 Chacon, 129 ¾, was the WBC super featherweight champion and Boza-Edwards was the #1-ranked contender. Bobby, however, recently signed a contract to fight Hector Camacho first. When Chacon backed out of the Camacho fight, the WBC stripped Chacon of the title.
Nevertheless, the fight was promoted as a "Championship Contest" and aired live on NBS Sportsworld. The Boza-Edwards-Chacon fight turned out to be one for the ages and an instant boxing classic. The two fought at a sizzling pace and Boza-Edwards was dropped in the second round. Cornelius rose and tore into Chacon with both fists blazing and opened up a cut over Bobby's left eye.
Round 3 saw Boza-Edwards, 129 ¾, pound Chacon to the canvas and rip open another nasty cut over his foe's right eye.
Chacon's cuts inflicted by the fists of Boza-Edwards were so bad that action was halted in Rounds 7 and 8 to have Bobby's wounds examined by ringside physician, Dr. Flip Holmansky.
Going into the twelfth and final round, Boza-Edwards was ahead on two of the three judges' scorecards. The bloodied and swollen Chacon came out with the look of desperation and the two traded leather at a fierce pace before Chacon floored Boza-Edwards. Although he got to his feet and finished the fight punching away, the knockdown cost Cornelius the win as he lost by scores of 113-115, 112-115 and 111-117.
Although he lost, the fight was voted as 1983's Fight of the Year.
Boza-Edwards would fight on and lost in two subsequent world title opportunities
Cornelius was outpointed over twelve rounds by WBC World Lightweight Champion Hector "Macho" Camacho on September 26, 1986 at the Abel Holtz Stadium in Miami Beach, FL.
In his last fight on October 10, 1987, Cornelius was KO'd in 5 rounds at the Zenith Palais, in Paris, France, against WBC World Lightweight king Jose Luis Ramirez.
Boza-Edwards recorded a terrific 45-7-1 (34 KO's) record. He was one of the most thrilling and gutsy fighters of his generation and set the example of the type of great individuals who are inducted in the Florida Boxing Hall of Fame.
"Thank you Florida Boxing Hall of Fame! I am happy to be here and to see everyone here to give support for what we do," remarked Boza-Edwards.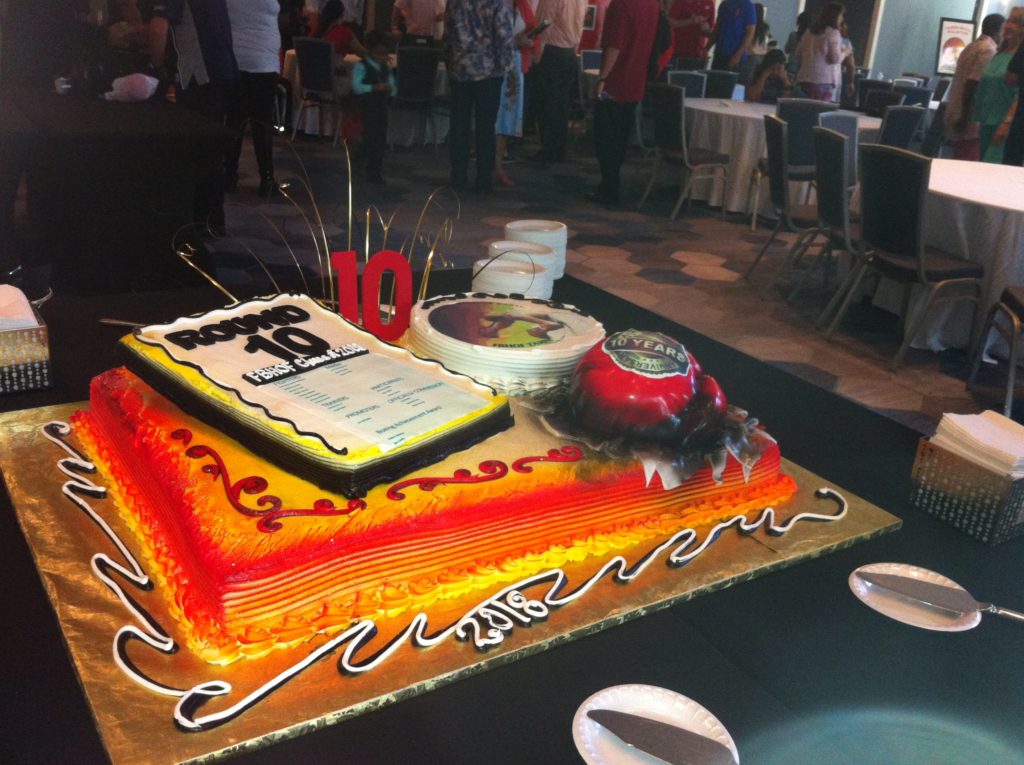 "Irish" Bobby Cassidy was born on April 19, 1944 in Levittown, New York. Bobby never had an amateur bout and instead jumped right into the professional ranks on March 19, 1962 with a KO win over Bobby Noble at Sunnyside Garden, in Queens, New York at the age of 19. In the course of his 18 year-career, Bobby fought middleweights and light heavyweights, beating such contenders as Christy Elliot, Jimmy Dupree, Tom Bethea, Don Fullmer, Tommy Hicks, Dennis Cochrane and Ramon Ranquello.
On May 11, 1979, Cassidy outpointed John Capobianco at the Long Island Arena in Commack, NY to capture the USA New York State Light Heavyweight Title.
Bobby retired in 1980 with a 59-16-3 (27 KO's) record. Following his boxing career, trained WBC light heavyweight king Donny Lalonde and WBO middleweight champion Lonnie Bradley. Bobby also made an appearance in the classic "Rocky" film with Sylvester Stallone.
Steve "Lion Heart" Frank was a talented super middleweight who was born on April 15, 1966 in Guyana, but later moved to Brooklyn, NY. He was a leading middleweight challenger in the 1990's and beat the likes of Joe Harris, Willie Driver, Rasheed Ali and Tracey Muse. Unfortunately, at the same time the IBF middleweight king was the legendary Bernard "The Executioner" Hopkins. Frank got his title opportunity against Hopkins on January 27, 1996 at the Veteran's Memorial Coliseum in Phoenix, Arizona, where he was TKO'd in the first round.
Frank wrapped up his career with two impressive wins over Dennis Murdock and Billy Durbin before retiring with a 17-4-1 (5 KO's) ledger.
"Wow, the Florida Boxing Hall of Fame!" exclaimed Frank. "If you ask any young boxer what his dreams or aspirations would like to be, most fighters would say, 'I want to be a world champion.' To be inducted into the Florida Boxing Hall of Fame is mind blowing! I am truly honored, humbled and ecstatic over my induction. I would like to congratulate my fellow inductees because I know all the hard work it took for us to be here. I would like to thank the Florida Boxing Hall of Fame, which found me worthy of such an honor."
Lemuel Nelson was a ranked super featherweight and lightweight contender in the 1990s and 2000s. He was born on December 3, 1975 in Pensacola, Florida.
On January 9, 1999, Nelson outpointed Brian Adams at the Civic Center in Pensacola, FL, to capture the IBC Inter-Continental Lightweight Title. Lemuel defended his laurels against Gilberto Salinas, Louie Leija and Bernard Harris, and garnered victories in non-title bouts against Gary Richardson, Rosembler Palacios and Ariel Alberto Nistal before earning a shot at world title honors.
Nelson challenged WBO World Super Featherweight Champion Acelino Freitas on June 10, 2000 at the Fox Theater in Detroit, MI. Freitas was one of the most dominant super featherweight kings in history as his defense against Nelson would be his third and he would go on to defend his laurels 11 times, even later adding the WBA 130-pound belt to his collection. When he cleaned out the super featherweight division, Freitas would move up and capture the WBO Lightweight Championship.
Against Frietas, Nelson was overwhelmed and stopped in two rounds.
That was Nelson's sole shot at world title honors as he retired in 2003 with a 25-8-1 (13 KO's) record.
"I want to give thanks to the Florida Boxing Hall of Fame for taking the time to reward me with their confidence for the hard work I put forth in boxing," said Nelson. "This has been a long time coming. It has been a blessing and I am glad to go down in history in the Florida Boxing Hall of Fame."
Mark Lanton was born on March 28, 1966 in Haverstraw, New York. At the age of 11, Mark entered a boxing gym and began a storied amateur career. He continued to box after enlisting in the U.S. Army and became a 4-time Army European Welterweight Champion. In the 1980s, Mark was the winningest Armed Forces fighter, later becoming a 2-time All-Army and Armed Forces Light Heavyweight Champion. Lanton captured a gold medal at the Western Olympic Trials for the 1992 Barcelona, Spain Olympics.
After leaving the Army in 1992, Mark became a New York police officer and began serving in the Air Force Reserves.
In 1995 Lanton moved to Pensacola, Florida and joined the Roy Jones Jr. stable.
Mark's first professional bout was on April 25, 1998, when he outpointed Cordell Parker at the Coast Coliseum in Biloxi, MS as a middleweight. Over the next two years, Lanton was a busy fighter, sporting a 10-2-1 (5 KO's) record, before being called to active duty multiple times to serve in the Iraq War. Not only was a a brave fighter, he was a gallant soldier as Mark served as a Combat Medic where he was responsible for saving the lives of thousands of soldiers.
"Boxing kept me on the straight path," said Lanton. "Boxing has always been faithful to me, but I was not always faithful to her. I played other sports like football and I wrestled in High School, so there were times I didn't give boxing the attention she demanded. But when I returned to boxing, she welcomed me with open arms. I lost a lot of girlfriends when I chose boxing over them, and I am glad I did! Boxing convinced me to join the Army. I found a love affair with boxing for 41 years and it is still going strong and it will never end. I look forward to meeting Jack Johnson, Joe Louis and Sugar Ray Robinson in Heaven, so they could show me some of their moves. I want Muhammad Ali to show me some of his magic tricks, and I want Jake LaMotta to tell me some of his jokes. I thank God that I am part of the greatest sport on Earth and to be in the great family of boxing, and to top it off – to be a Florida Boxing Hall of Famer!"
Derrick "Smoke" Gainer was another Pensacola fighter who was born on August 22, 1972. He was good friends with Roy Jones Jr. and fought on many of the superstar's shows.
Gainer, who turned professional in 1990, was such a rising contender that he earned a shot at Julian Flores' IBO Featherweight Title on November 30, 1993 at the Civic Center in Pensacola, Florida. After twelve rounds, "Smoke" captured a unanimous decision and the championship.
Derrick never defended the title as he raked in wins over the likes of Harold Warren, Roberto Villareal and Javier Diaz. On June 15, 1996, Gainer was matched with former WBC Featherweight king, and current WBU Featherweight Champion Kevin Kelley at the Coliseum, in Jacksonville, Florida. In a savage battle, Gainer and Kelley traded forceful blows at each other as the fans went wild. Kelley sent Gainer crashing to the ring floor in Round 3. In the the fourth frame, Gainer dropped Kelley. Derrick was floored again in the fifth and eighth rounds before referee Frank Santore Jr. stopped the fight at 2:16 of Round 8.
Gainer subsequently went on a 7-bout winning streak before he faced Kevin Kelley in a non-title rematch on July 18, 1998 at New York's Madison Square Garden. There was no stopping "Smoke" in this fight as he took the fight to Kelley and battered him mercilessly throughout the contest, depositing Kevin to the canvas in Rounds 1 and 7. After ten rounds, Gainer was the unanimous winner by tallies of 96-92, 96-94 and 96-93.
Two fights later, Gainer outpointed Harold Warren for the USBA Super Featherweight Title on January 9, 1999 at the Civic Center in Pensacola, Florida.
In his next bout, Derrick KO'd Donovan Carey to capture the interim WBA-NBA Super Featherweight Championship on June 5, 1999 at the Grand Casino in Biloxi, MS.
Five more wins followed before Derrick was matched with the fearsome Diego Corrales for the IBF and IBA World Super Featherweight Championships on March 18, 2000. Although the first two rounds were fought on even terms, the mighty fists of Corrales hammered Gainer twice to the canvas in Round 3 before referee Jay Nady stopped the fight.
Future Hall of Famers rarely quit and Gainer garnered two wins before facing WBA World Featherweight Champion Freddie Norwood at the New Orleans Arena, in New Orleans, LA on September 9, 2000.
Norwood failed to make the 126-pound weight limit as he tipped the scales at 129. Although he could not retain his title, Gainer, who weighed 125, still had the chance to win it. Sensing that this could be his last opportunity to become a world champion, Derrick came out swinging and set a fast pace – too fast for Norwood. Going into the 11th round, Gainer was ahead on all scorecards at 95-92, 96-91 and 96-92 when he came out like a terror and bombarded Norwood with leather bombs. Freddie was near helpless when referee Paul Sita halted the proceedings. After ten years, Derrick Gainer had become a world champion by a highly regarded boxing organization.
Derrick defended his laurels three times before facing the IBF Featherweight Champion Juan Manuel Marquez on November 1, 2003 at the Van Andel Arena, in Grand Rapids, Michigan. Derrick was cut badly by an accidental head clash by Marquez and when the scores were announced, Gainer was on the losing end of a seventh-round technical decision.
After being away from for 17 months, Gainer returned to the ring to fight WBA Featherweight Champion Chris John at the Birama Arena, in Kelapa Gading, Jakarta, Indonesia on April 22, 2005. Even though Derrick dropped the champion in the opening frame, he wound up losing a 12-round unanimous decision.
Gainer went out a winner in his career as he won his next four fights and then retired in 2012 with a 43-7-1 (25 KO's) record.
"I would like to thank the Florida Boxing Hall of Fame for this honor," said Gainer. "It is hard what we do. I would like to thank Roy Jones Jr. for his support. I had only three amateur fights. I had great coaching and great sparring. There were so many guys that came into the gym that worked so hard. We pushed each other to the limit all to make us world champions. I want my kids to know that even if you lose, you can go back and work harder to win, like I did with Kevin Kelley."
The Florida Boxing Hall of Fame is a wonderful institution that honors those who are a credit the great sport of pugilism. All inductees into the FBHOF have given their hearts and soul to boxing.
For any fan who wants to meet great fighters up close and personal, check you calenders to attend the 2019 Florida Boxing Hall of Fame Induction Weekend!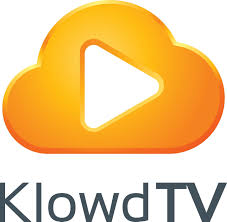 KlowdTV to Air Live & Exclusively in the U.S.:
Rakhimov v. Castellanos
The IBO Featherweight Title Bout between Shavkatdzhon Rakhimov and Robinson Castellanos to air Live and Exclusively on KlowdTV
Sunday, August 19th at 10:00 AM EST 
LAS VEGAS, NV. – August 10th, 2018 – KlowdTV is proud to announce that it will stream the IBO Super Featherweight title bout between Shavkatdzhon Rakhimov and Robinson Castellanos on Sunday, August 19th at 10:00 AM EST / 7:00 AM PST.
"We are happy to give boxing fans this special event from Ekaterinburg, Russia," said Robert Herring, Sr., CEO of KlowdTV. "We got an incredible response for the July 21st Cruiserweight world title fight, and all fans who subscribed to that fight, will be able to see this important bout featuring one of the best young fighters in the world in Rakhimov against a tough competitor in Castellanos, who has defeated many top names in the sport." 
Rakhimov of Ekaterinburg, Russia will be fighting in front of his hometown fans.
The 23-year-old Rakhimov is a three-year professional who already has great victories over Visita Gairabekov (1-0), Mirzhan Zhaxylykov (9-0), Rogelio Jun Doliguez (21-3-2), Jimmy Paypa (19-3-1), and Emanuel Lopez (27-6-1). In his last bout he won the IBO Super Featherweight title with an 8th round stoppage over former world champion Malcolm Klassen on February 10th.
Castellanos of Celaya, Mexico has a deceiving record of 24-13 with 14 knockouts.
The 36-year-old Castellanos is a 16-year professional, who started out slowly by only going 7-9 in his first 16 bouts. Since then he has gone 17-4 with big wins over Alejandro Sanabria (24-0-1), Christopher Perez (19-0), Alberto Garza (23-4-1), Aldimar Silva (12-1), Orlando Rizo (14-2), Miguel Angel Gonzalez (16-3-1), Omar Estrella (16-4-2), former world champion Celestino Caballero (36-4-2), former world title challenger Ronny Rios (22-0), former world title challenger Rocky Juarez, and former world champion Yuriorkis Gamboa (26-1).
In his last bout, Castellanos competed for the WBA Super Featherweight title, but came up just short as he was on the wrong end of a controversial technical majority decision with Jezreel Corrales on July 15th.
There will be a full undercard featuring:
WBC INTERNATIONAL SUPER FEATHERWEIGHT TITLE
Mahmaddakhuja Yagubov (11-0, 7 KO) v. Victor Gonzalez (18-1, 9 KO)
INTERNATIONAL SUPER WELTERWEIGHT BOUT
Magomed Kurbanov (14-0, 11 KO) v. Charles Manyuchi (22-3, 13 KO)
CRUISERWEIGHT DEBUT
Evgeny Tischenko – 2016 Olympic Gold Medalist
KlowdTV is a 24/7 live streaming service that has over 32 live channels and 50 music channels.
KlowdTV can be accessed on the KlowdTV Box, Apple TV, Opera TV, Smart TV's, Amazon Fire TV, Android TV, Computer browsers, ROKU, and all IOS or Android devices.
To sign up visit www.klowdtv.com and choose the premium package option.
The Rakhimov v. Castellanos bout is available on KlowdTV to United States viewers only. There will be no free trials available for live boxing events.
For additional information contact:
Taylor Scott
Press Coordinator
KlowdTV
Phone: 858-270-6900 x 119
____________________________
"Storm" blows away "Krusher" in shocking upset!
To capture WBO/IBA light heavyweight championsip
Story by John Rinaldi
Photographs by Alex Rinaldi
August 4. Atlantic City, New Jersey. When Sergey "Krusher" Kovalev signed on to defend his title against the unbeaten #8-ranked WBO contender Eleider "Storm" Alvarez, it appeared that Kovalev, who has rebounded from his two losses to Andre Ward to capture the WBO light heavyweight and subsequently score two straight knockouts, would have no problems in handling Alvarez, who had not stopped an opponent in over three years.
Not only did Kovalev enter the ring confident before a sold-out crowd of 5,642 at the Etess Arena, the oddsmakers tabbed him a 5 ½ to 1 favorite to successfully defend his laurels.
The Alvarez-Kovalev battle is what makes boxing the great sport it is. Just when the fans see a pattern developing in a bout, one mighty punch throws the storyboard out the window. In this case it was an overhand right hand.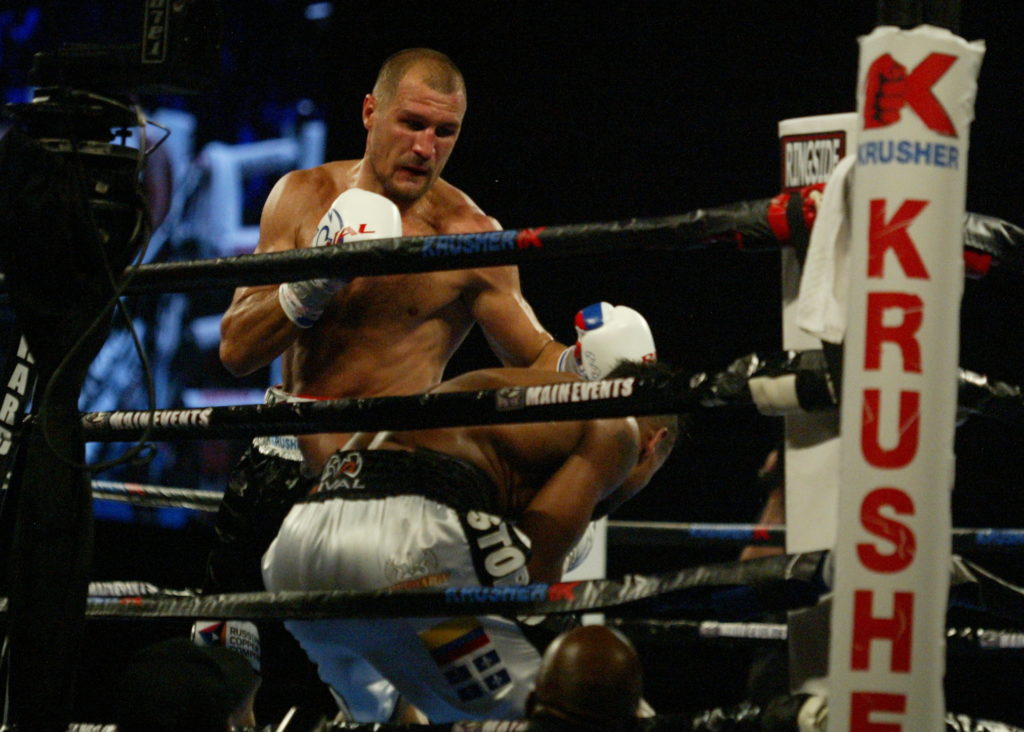 Billed as Krusher vs. Storm, the fight left the audience standing on their feet cheering as they just witnessed one of the most thrilling knockouts in recent years.
Alvarez has spent the last five years trying to obtain a title opportunity. While he was put on the waiting list, he managed to score wins over top light heavyweights such as Jean Pascal, Lucian Bute, Issac Chilemba, Danny McIntosh, Isidro Prieto, Ryno Liebenberg, Alex Johnson and Andrew Gardiner.
The fight was exciting right from the outset as the former 2008 Olympian Alvarez, of Apartado, Colombia, but now residing in Montreal, Quebec, Canada, came out confidently firing fast jabs and quick combinations off the head of the stalking champion. Kovalev, of Kopeysk, Russia, but now taking up residence in Fort Lauderdale, FL, appeared unbothered by the challenger's blows and marched forward jabbing and landing right hands and left hooks to Alvarez's skull and ribs.
Due to the speed of Alvarez, the Colombian appeared to have an early edge in the first three rounds as he scored well and slipped many of the champion's power shots.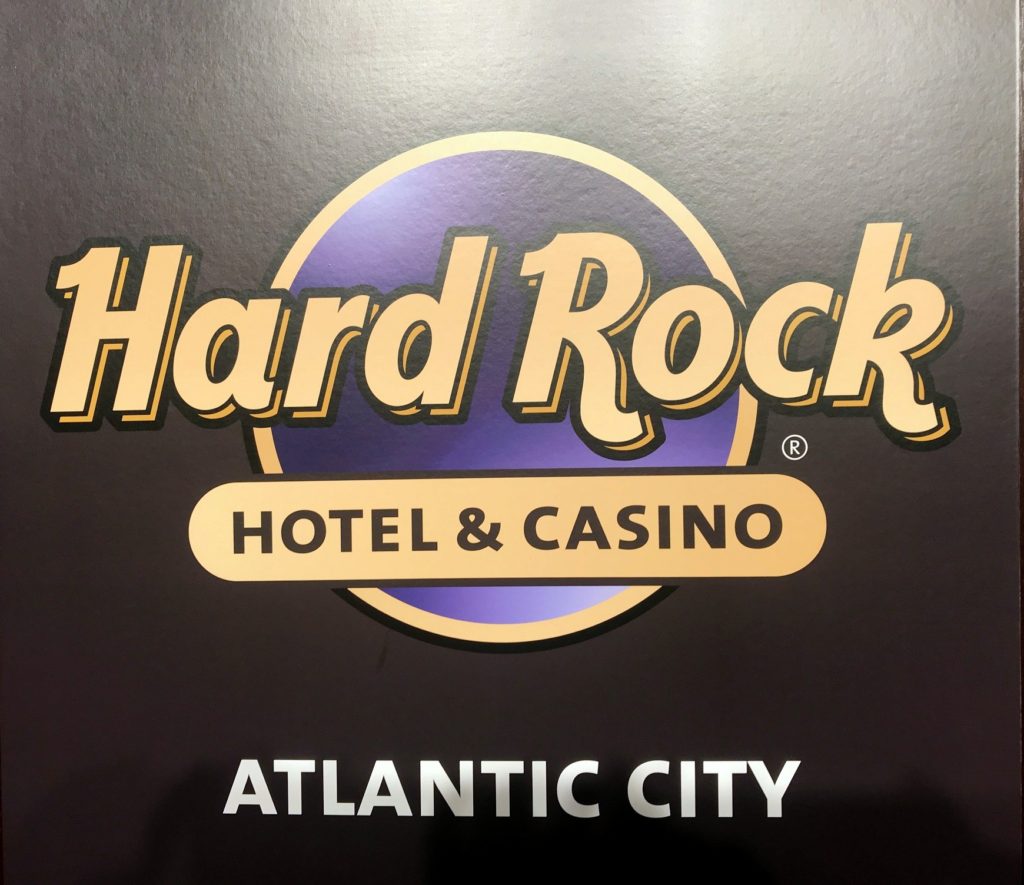 The fourth round started on a bad note for Alvarez as referee David Fields warned him for a low blow. It would get worse as Kovalev stopped the challenger in his tracks with a vicious body assault. Alvarez, 34, was visibly shaken and soon was being blasted by a savage assualt of right hands, uppercuts and hooks. The champion kept up his attack as he began landing right hands in pairs off the challenger's head. Although Alvarez held up from the pounding he was getting, he repeatedly was driven into the ropes and battered by the relentless Kovalev. It was a miracle that "Storm" actually was able to weather the storm of fists that rained upon him.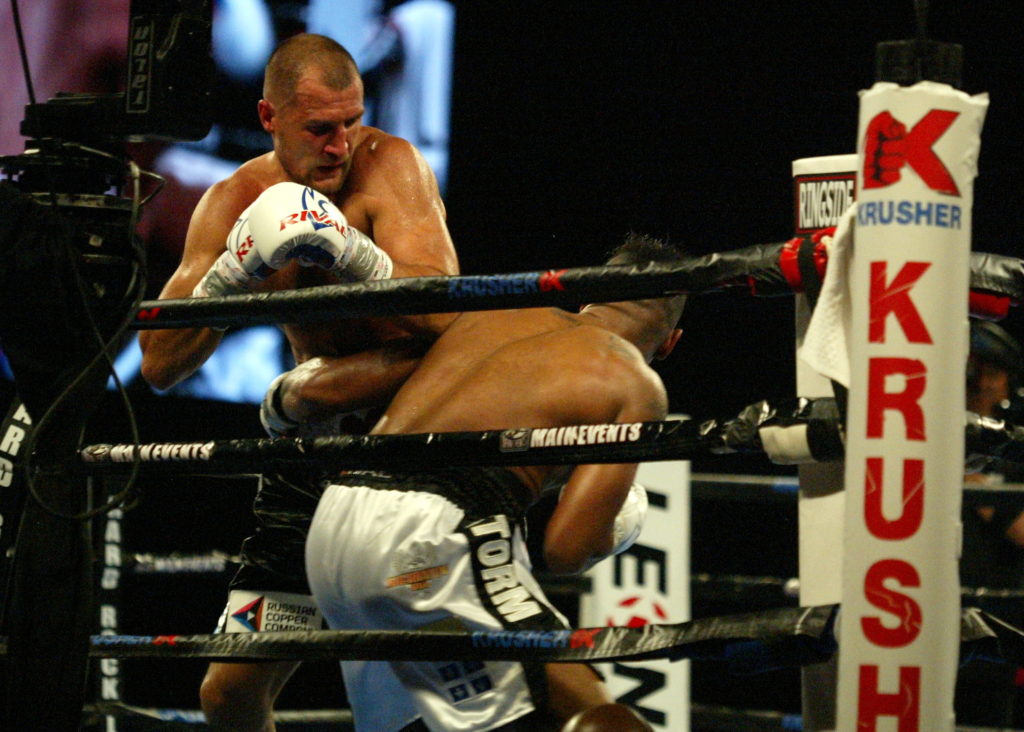 Surprisingly, Kovalev, 35, slowed down his attack in Round 5, which would proved later to be a fatal mistake on his part. Although he was pressing the action, Sergey was content to march forward and stab the challenger with jabs, and then scored well with his walloping left hook and right crosses. If he had fought with the same intensity as in the previous frame, Alvarez's later comeback could have been derailed.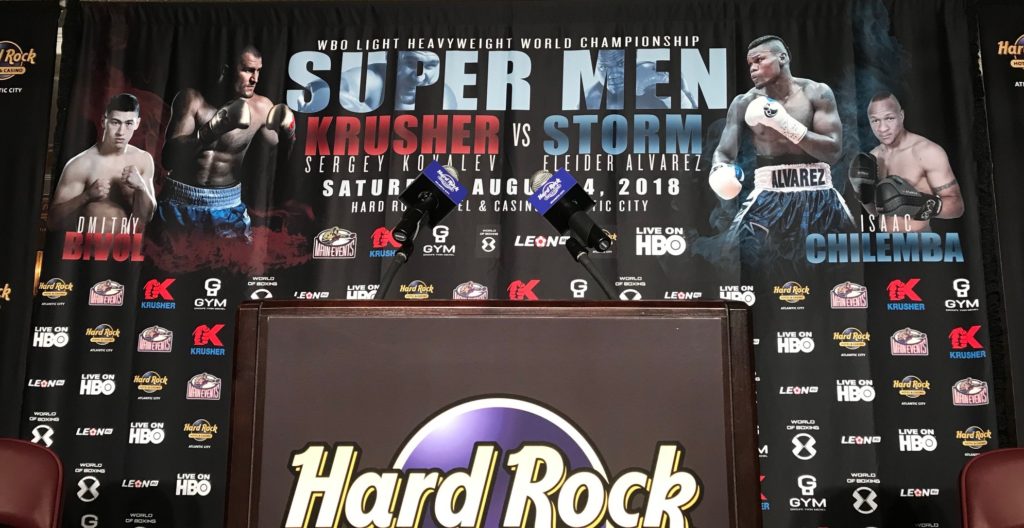 Apparently his corner noticed that their man had slowed his pace, because Kovalev came out more aggressive in the sixth round by driving Alvarez into the ropes and letting loose with a terrific two-fisted assault. The challenger's swift shots enabled him to punch his way out of trouble.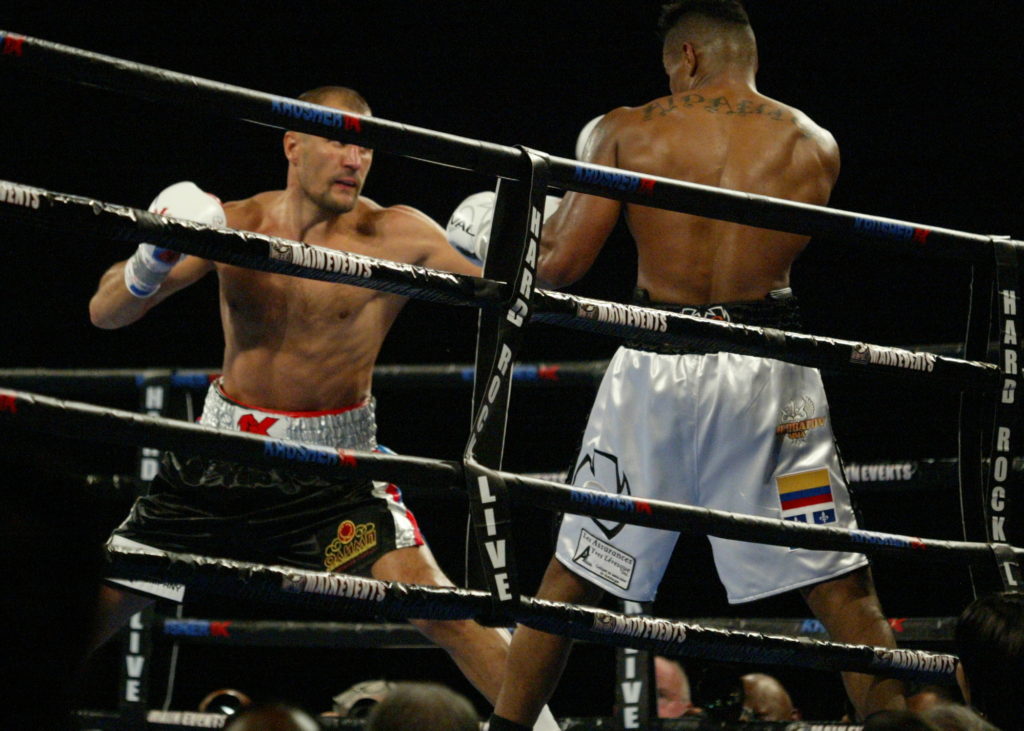 Going into the fateful seventh frame, Kovalev was winning by margins of 58-56 on one judge's scorecard and 59-55 on the other two officials' tallies.
For the first two minutes, Kovalev appeared in control with his blistering punches. Alvarez's cut on his left eye was bleeding and the padded mitts that found that target certainly did the challenger no good. The champion was confident as he jabbed and hooked with his left hand. He may, however, been too confident, or arm weary, for now his left hand was constantly hanging below his belt.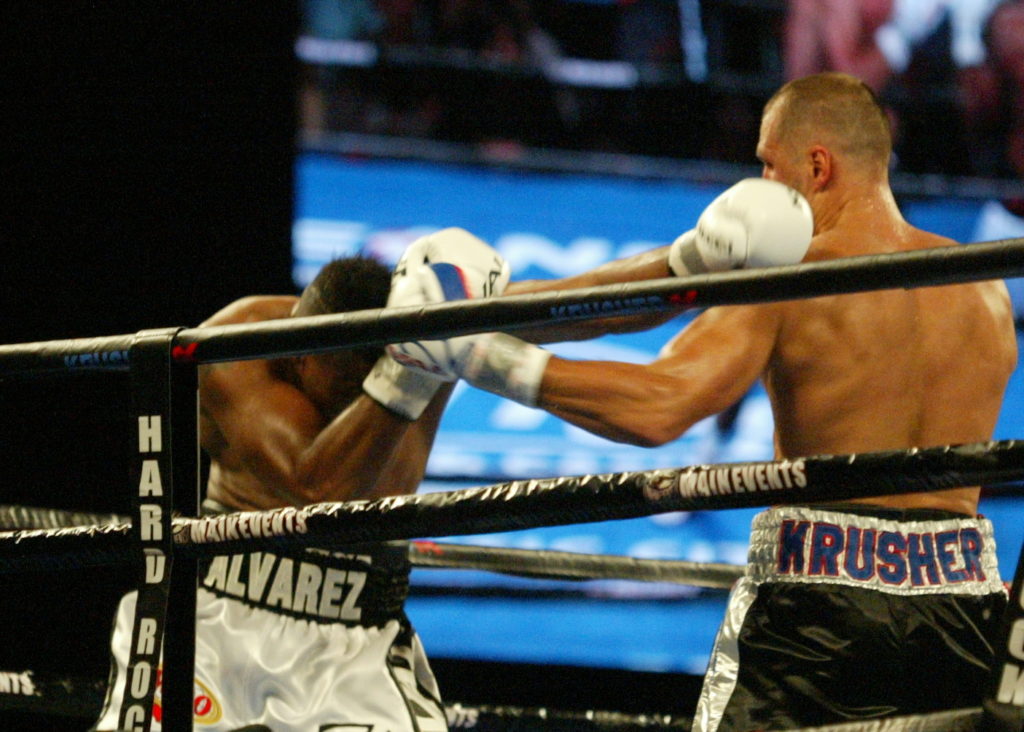 Throughout the bout, Alvarez was effective with landing his counter right hands shots over the jab of Kovalev, but now in the seventh round, the champion was giving his foe a better opening to his head.
Just as Kovalev (32-3-1, 28 KO's) jabbed from his hip, Alvarez lashed out with an overhand right hand to the temple that sent the champion on the seat of his trunks on the ring floor!
Referee Fields reached "four" as Sergey made his way back to his feet. There was less than a minute to go, but still enough time for Alvarez, 174.4, to finish the job.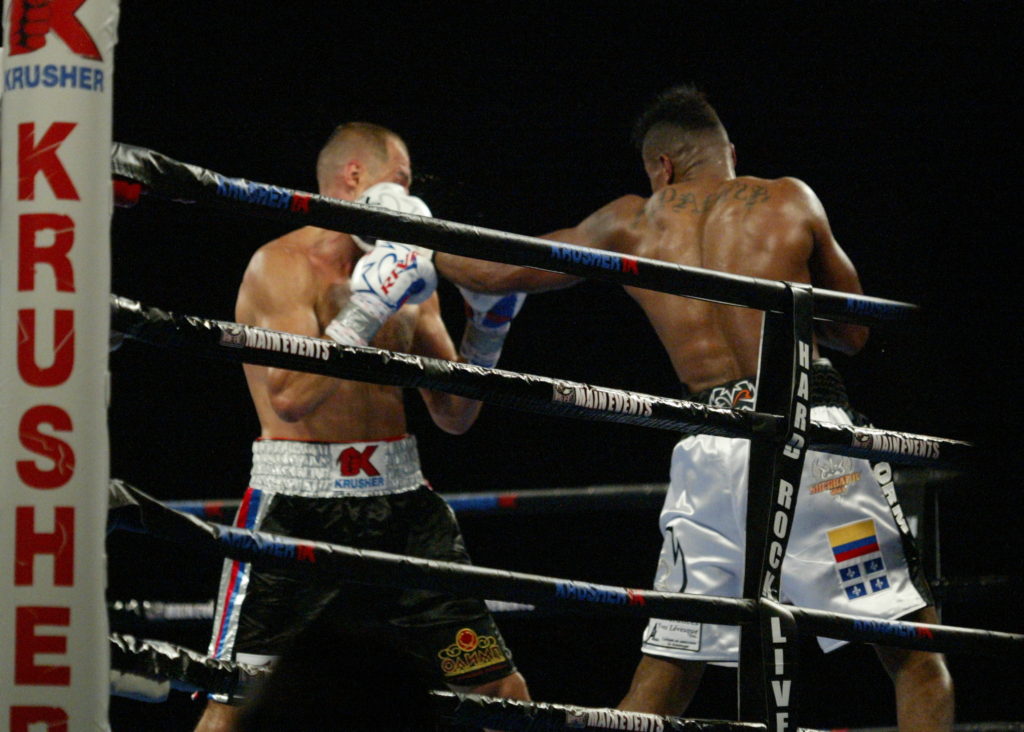 Kovalev was hurt, but still willing to wage war as he traded blows with the challenger. Alvarez kept his cool and looked for another opening. The search was a short one when a telling left hook suddenly sent the champion crumbling to the canvas for the second time in the bout!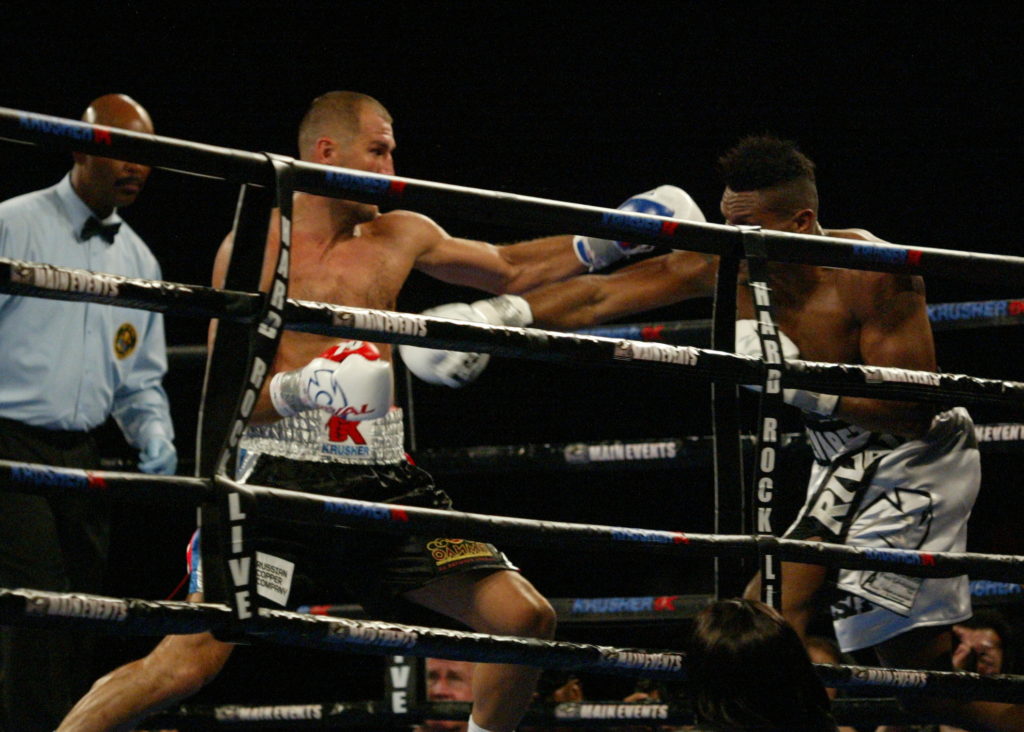 As the fans on hand erupted in a frenzy, Kovalev once more got to his feet at "four" and as referee Fields continued his mandatory eight-count, he looked the champion over and decided to let the bout continue.
As soon as Fields released Kovalev, 174, and allowed the fight to resume, Alvarez instantly jumped on the hurt title holder with two crushing right hands that dropped the Russian again upon the canvas.
That was all referee David Fields had to see as he stopped the contest at 2:45 ouf Round 7.
It was the type of fantastic knockout that makes boxing better than any other sport in excitement and surprising, shocking moments.
"I knew if I was going to hit him [Kovalev] with my best punch and I knew that the effect of the blow was going to put him down," said Alvarez (24-0, 10 KO's). As for the finishing shots, Eleider explained, "It was a two-punch combo that I have been throwing my whole career and we worked on it in camp."
The new champion added, "It was my dream to be a world champion my whole life, so when my manager told me I had the chance to fight Kovalev, I said 'yes' without any hesitation. When I started to prepare for the fight, we went to the mountans of Bogota to train in the high altitude. We trained with teams from Brazil and Colombia and fought against all different types of boxers and styles. I did that because I figured that the fight against Kovalev would not go only one way, and that I would have to adapt during the fight. If the fight was inside, I was ready to fight inside, and if the fight was going to be fought from the outside, I was ready for that. All that together made me ready. I knew it was going to be tough fight and everyone saw a tough fight. Our game plan was working. After the sixth round, my trainer told me to go after Kovalev and fight inside. I wanted to show that I could stay strong and do things. Kovalev's punches were not as hard as they were in the beginning of the fight."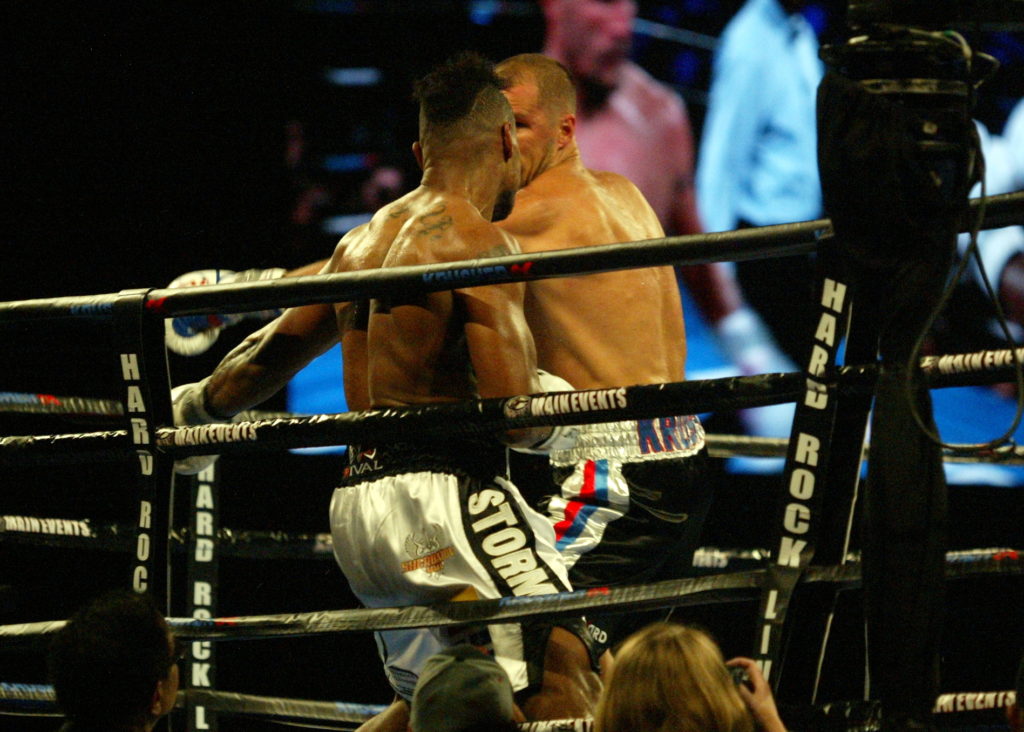 Regarding how he felt after knocking down the champion, Alvarez stated, "I figured I should knock Kovalev out now, because maybe he would be too tough after. I knew that he was hurt and I went for the kill."
Kovalev, meanwhile, was taken to the hospital and was unable to attend the post-fight press conference.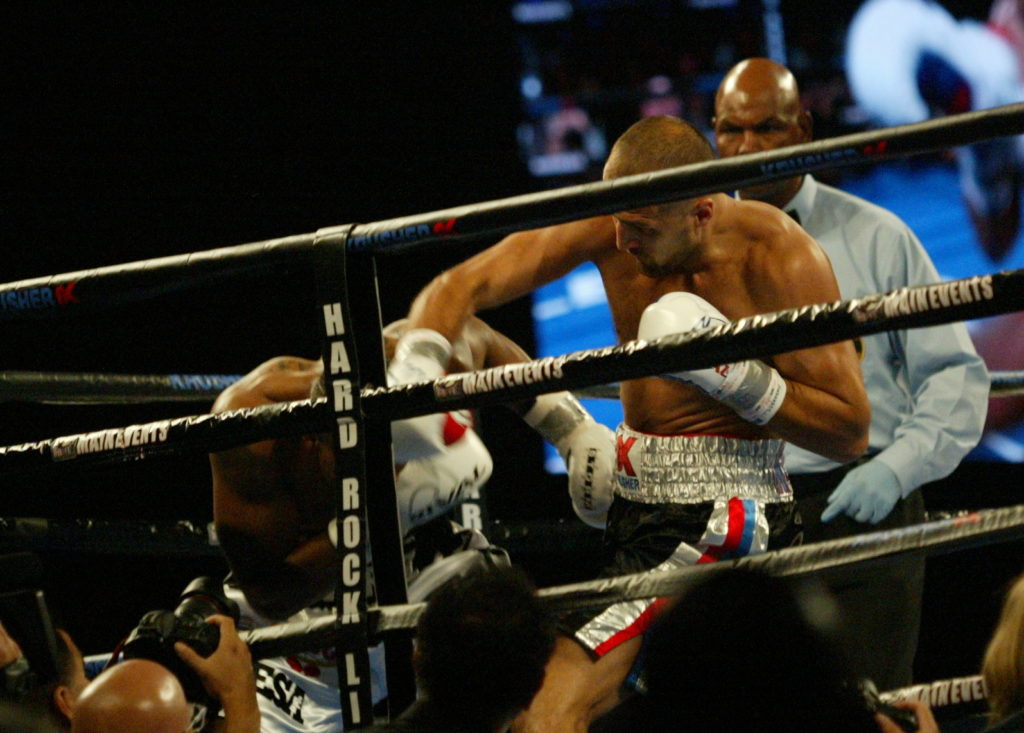 The former champion's promoter, Kathy Duva, told the media that although there is a rematch clause, it is too early to say when, or if, the return fight with Alvarez will take place.
Between the new Hard Rock Casino and Hotel, along with the upset win by Eleider Alvarez, boxing scored a knockout on this evening.
If Kovalev decides to hang up the gloves, then WBA light heavyweight king Dmitry Bivol, who successfully defended his title against Isaac Chilemba by a 12-round unanimous decision on the undercard, could be next in line for Alvarez.
Bivol, 174.6, of St. Petersburg, Russia, started off strong by jabbing away at Chilemba's head and stomach and then nailing him with crackling left hooks. The challenger, was gutsy, but offered little offense in the early going.
Chilemba, 175, of Blantrye, Malawi, came into the fight ranked #12 by the WBA and recently captured the vacant WBC International light heavyweight title by outpointing Blake Caparello on March 16 of this year. Apparently that win earned him a title opportunity, considering that he had lost 4 of his last 9 fights.
Trained by the legandary Roy Jones Jr., Chilemba made up for his lack of championship skills with guts and courage as he held off the power shots of Bivol and even scored well with his own combinations.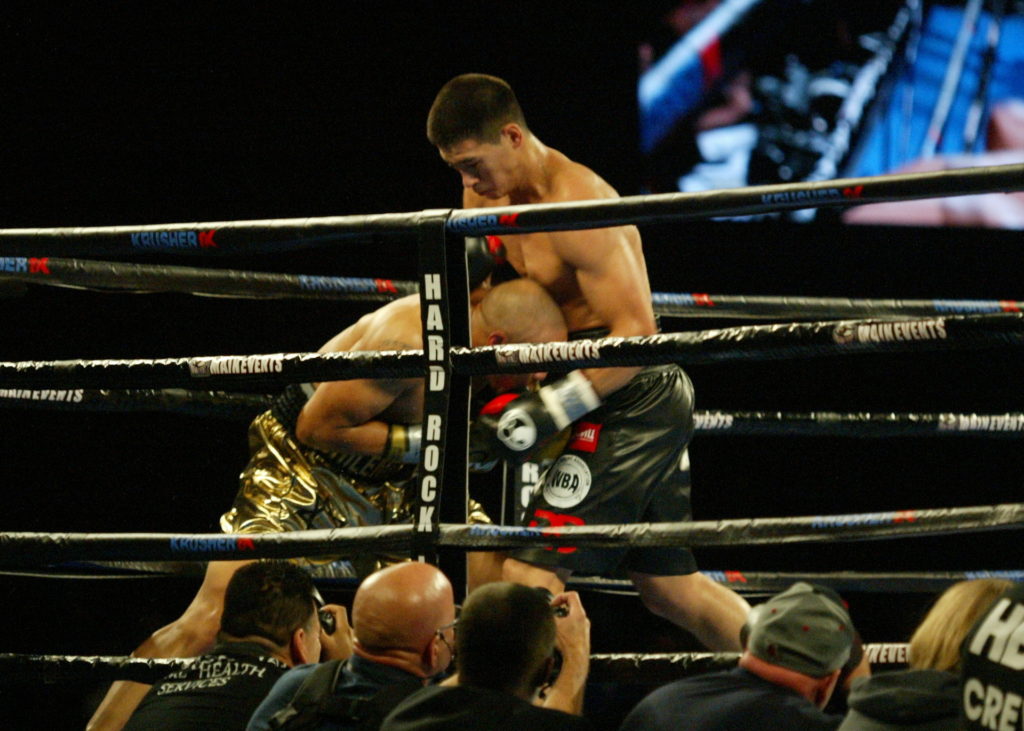 Bivol should have upped the pressure, but appeared content to be the aggressor and land enough blows to bank the rounds. One wondered if Roy Jones had switched outfits with his charge in between rounds, that he would have made a better showing.
After twelve rounds, two judges had the undefeated Bivol (14-0, 11 KO's) pitching a shutout at 120-108, while one judge saw it closer at 116-112, all for Bivol.The win over Chilemba (25-6-2, 10 KO's) was the second successful title defense of the laurels Bivol won by KO'ing Trent Broadhurst for the WBA belt on November 4, 2017. Going into this fight, Bivol had knocked out his last five opponents, so it was surprising that he was unable to finish off the challenger. Chilemba proved to be a sturdy opponent who was able to shake off the champion's power punches and last out the fight on his feet.
"Chilemba is a good fighter and he had champion spirit tonight," said Bivol after the contest.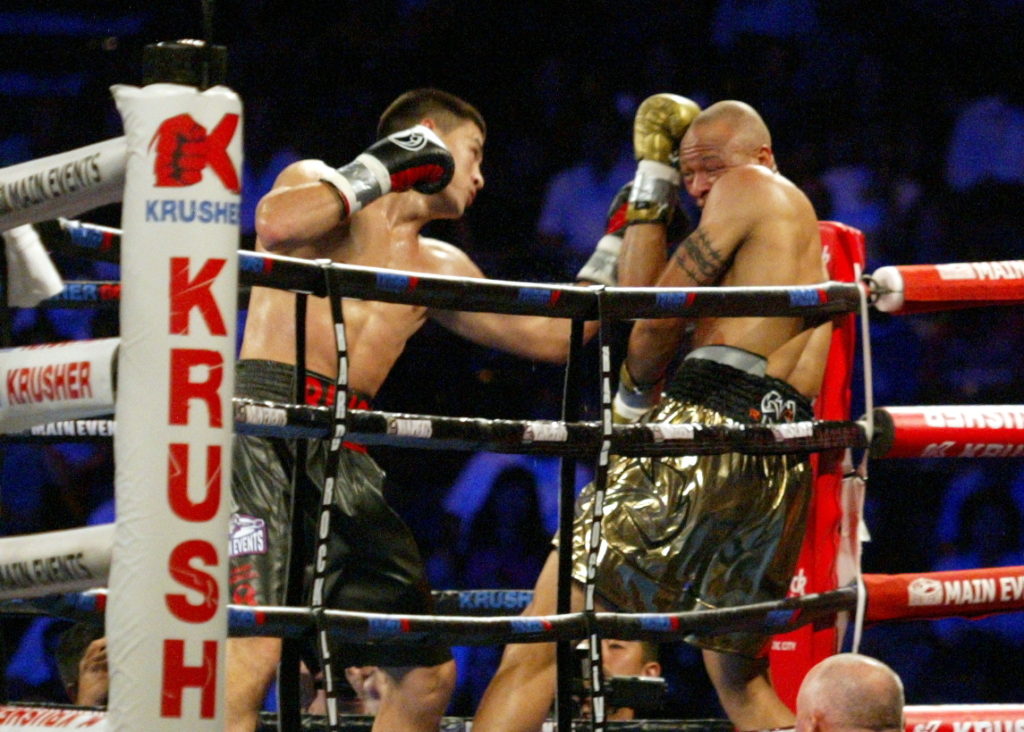 August 4 – 2018
Promoter: Main Events
______________